Supported by Fantini Mosaici, the leading Italian hand-crafted luxury surfaces company, a stimulating entrance experience designed by AB+ AC Architects will welcome visitors to the 10th edition of Downtown Design. from 8-11 November in Dubai Design District The feature incorporates a unique integrated multi-sensorial walk-through installation – 'Carved in the Now' – that showcases the beauty of mosaic in a new light.
The symmetrical configuration of the tranquil entrance has been produced by Fantini Mosaici and designed by Lisbon-based Arianna Bavuso and Andre Chedid, it features white walls clad in diamond-shaped, sound-absorbing foam panels, contrasting with orange polycarbonate panels and an elegant nude-tinted felt carpet. This first space will usher visitors to the octagonal shaped pavilion that Step into a mesmerizing world of expertly crafted hand-carved mosaics, enchanting lights, and soothing sounds at 'Carved in the Now', a futuristic mosaic cave located at the entrance of Downtown Design Dubai.
The tactile leather curtains of the pavilion open to reveal an enchanting cave of light, formed of irregular and organic precious mosaic yellow Siena stones, Murano glass, citrine crystals and shards of gold leaf, all hand-crafted by Fantini Mosaici.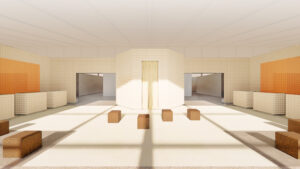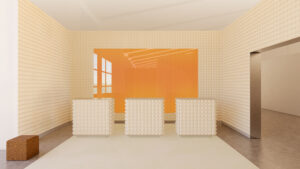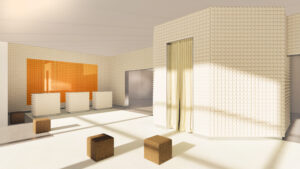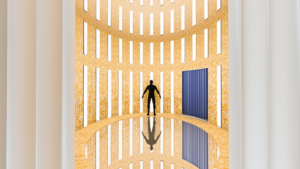 "We took our design inspiration from the city of Dubai, with its dream for a unified humanity and a desire to push the boundaries and limits of architecture and design. 'Carved in the Now' is an encapsulating, kaleidoscopic room where the spiritual qualities of joy, abundance and creative transformation are projected in the infinite thanks to the fascinating magic of mirrors positioned both on the floor and ceiling, that create the illusion of a tower, seemingly carved from the cave, rising both overhead and underfoot,' explain the architects.
They add: "The powerful message that we want to express through this hand-crafted piece is inviting you to stay, slow down and discover, while replenishing your energy."
Invited by Downtown Design to design the main entrance experience and installation to the region's leading design fair, architects Bavuso and Chedid are excited about making their debut in the vibrant Middle East design arena with a second collaboration with Fantini Mosaici, following the success of their '(Back to the Future)' installation, which was shown during Milan Design Week and which leading media outlets – including major international publications – ranked as being among the best presented during the world leading design event. 'Carved in the Now' is a continuation of this narrative, which focusses on hand-crafted mosaic.
"We look forward to unveiling our innovative approach to mosaic design. The contemporary and unconventional language that we chose for this project will transform the way you think about this ancient art form," the duo states.
"This is an amazing opportunity. We eagerly anticipate revealing our designs and interpretation of how mosaic can be used in a completely different way, with a modern and unusual approach to the size and cut of mosaic. The experience will be amplified by the use of light, sound and mirrors – and the therapeutic crystals intermingled with the mosaic generate an aura of contemplation, reflection and rejuvenation," they add.
Enrico Fantin, CEO and President of Fantini Mosaici is looking forward to showcasing this innovative approach to transformation, saying: "As a testament to our dedication to the region, we have proudly exhibited at Downtown Design for the past decade. This year, our support of the main entrance will feature a specially commissioned octagonal space that houses 'Carved in the Now' – a one-of-a-kind experience that will inspire architects and designers to reimagine the use of mosaic in their projects."
"Mosaic is a versatile and sustainable material with limitless applications, and one with which designers can experiment with to create bespoke designs," says Fantini, whose Milan-based firm has worked on some of the world's most prestigious landmark projects since its inception in 1900. In the UAE, the company's portfolio includes the Grand Mosque and Qasr Al Watan Presidential Palace in Abu Dhabi, the Palazzo Versace Hotel and Resort several luxury boutiques for Hermès, Louis Vuitton and Cartier, to name but a few. The soon to open new Cartier boutiques in Riyadh and Kuwait also feature mosaic work by Fantini Mosaici.