Downtown Design is returning for its 10th edition, with a special emphasis on the design of the installations. The anchor event of Dubai Design Week will showcase the latest collections, innovative products and design solutions from over 300 prominent brands from across the globe, and rising talent of the region, complemented by a programme of talks, creative pop-ups and engaging experiences. Here are the stand out installations we look forward to visiting this year: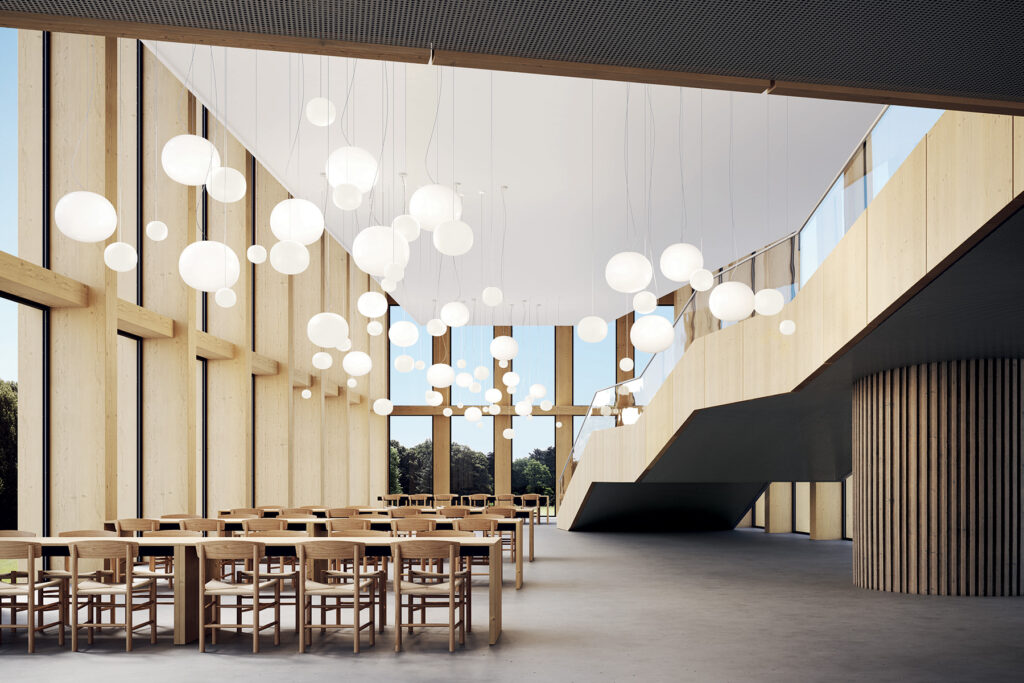 This year, Huda Lighting will be present at Downtown Design alongside a list of partners; Lodes, Masiero, BOMMA, ITALAMP, Panzeri, Penta and SLAMP, each contributing their own touch of opulence to the company's display at the fair.
Kohler
Water's Versatility by Nada Debbs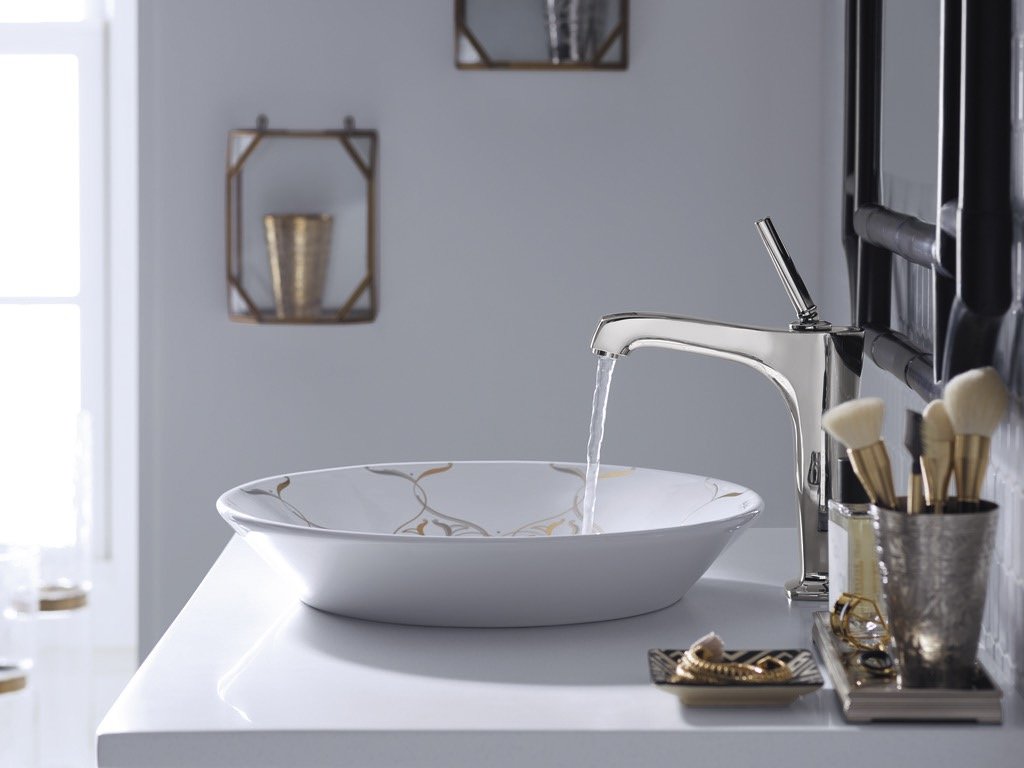 KOHLER collaborated with renowned designer – Nada Debs, who in turn has coalesced her Japanese upbringing and Arab heritage. In both regions, screens carry profound cultural significance. They represent modesty, without shunning external influences.  The presence of natural wood in the design offsets a veritable message from KOHLER, signifying 150 years of their existence and presenting new product ranges that resonate with contemporary lifestyles. The wooden louvre screen is intentionally crafted to evoke a sense of spirituality as visitors navigate the booth, fostering feelings of serenity and poise. Scents and sounds will play a role in formulating a truly immersive encounter at KOHLER's booth.
Cosentino
Balneum by Kristina Zanic Consultants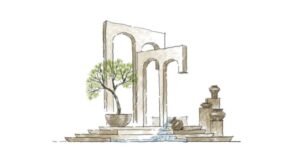 Crafted by the renowned interior design firm Kristina Zanic Consultants, this exhibit showcased at Downtown Design deconstructs a time-honoured design, simplifying it down to its essential elements. The muse for the marvel is the ancient Mediterranean bathhouse, Balneum, derived from the Latin word for bath. Using the carbon-neutral Dekton® Pietra Kode is expected to imbue understated luxury at the booth. In addition, a cohesive, calming colour palette with soothing landscape features will paint a picture of tranquillity and trance.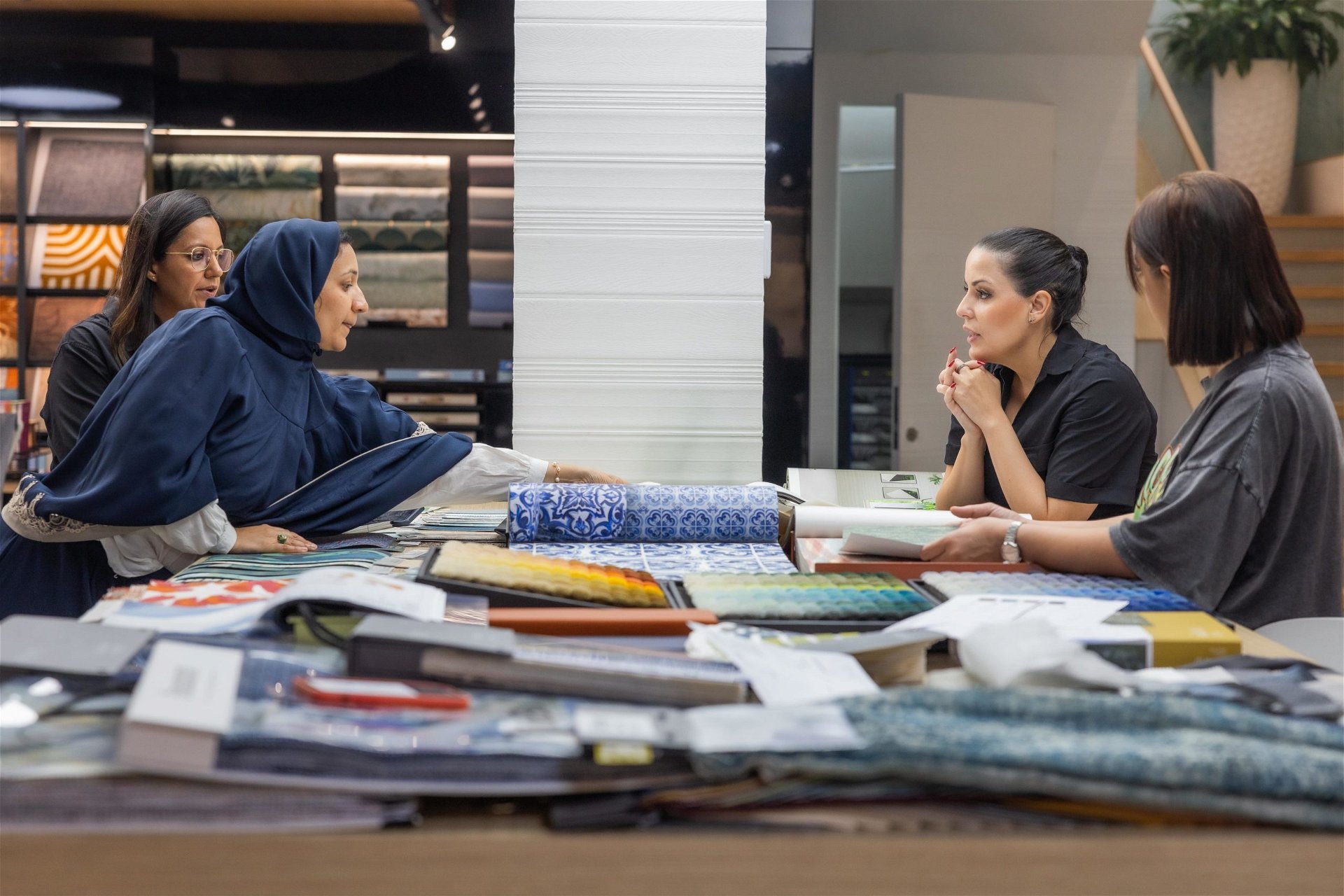 Bringing forth an sensorially-tuned installation that resembles an ethereal underwater world, NGC Nafees and Brand Creative come together this year at Downtown Design to represent the former in renewed light. This venture, building upon their ongoing impactful rebranding efforts, harmoniously solidifies their collective strengths.
Under the guidance of Brand Creative, the initial living room concept has transmogrified into the vibrant hues and luxurious textiles of an aquatic dreamscape. Inspiration bubbled from conversations about the fluidity and drapery of fabric, reminiscent of the gentle flow of water. Through the integration of sound and light projections, the space springs to life with vivid bursts of colour intermingling with soft, soothing tones, evoking a sense of perpetual motion and dynamism.
'Carved in the Now'
Installation by AB+AC Architects and Fantini Mosaici
Main entrance installation at Downtown Design 2023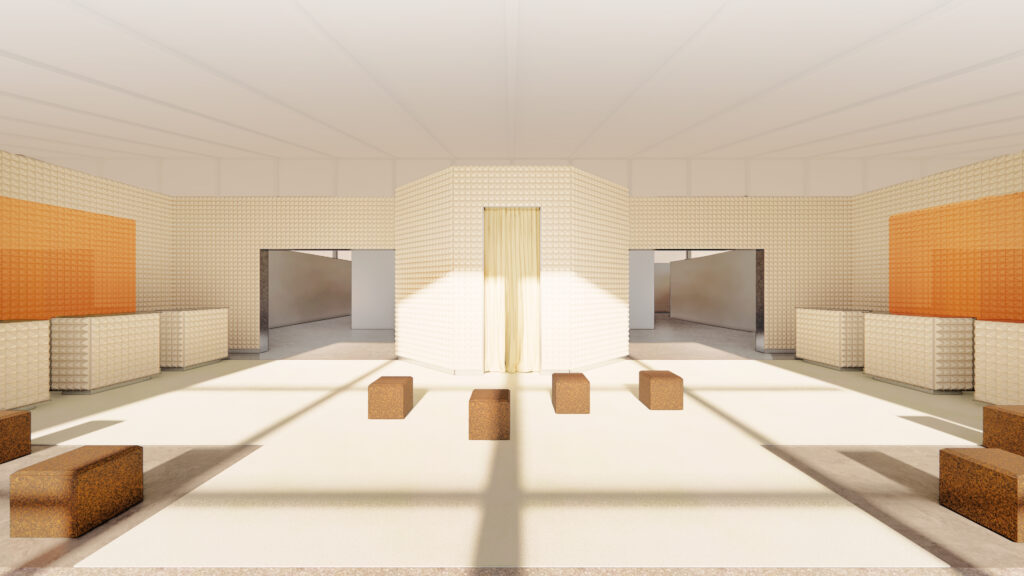 Supported by Fantini Mosaici, the leading Italian hand-crafted luxury surfaces company, a stimulating entrance experience designed by AB+ AC Architects will welcome visitors to the 10th edition of Downtown Design. from 8-11 November in Dubai Design District The feature incorporates a unique integrated multi-sensorial walk-through installation – 'Carved in the Now' – that showcases the beauty of mosaic in a new light.
The symmetrical configuration of the tranquil entrance has been produced by Fantini Mosaici and designed by Lisbon-based Arianna Bavuso and Andre Chedid, it features white walls clad in diamond-shaped, sound-absorbing foam panels, contrasting with orange polycarbonate panels and an elegant nude-tinted felt carpet. This first space will usher visitors to the octagonal shaped pavilion that Step into a mesmerizing world of expertly crafted hand-carved mosaics, enchanting lights, and soothing sounds at 'Carved in the Now', a futuristic mosaic cave located at the entrance of Downtown Design Dubai.
The tactile leather curtains of the pavilion open to reveal an enchanting cave of light, formed of irregular and organic precious mosaic yellow Siena stones, Murano glass, citrine crystals and shards of gold leaf, all hand-crafted by Fantini Mosaici.
Interstuhl
What If We Fly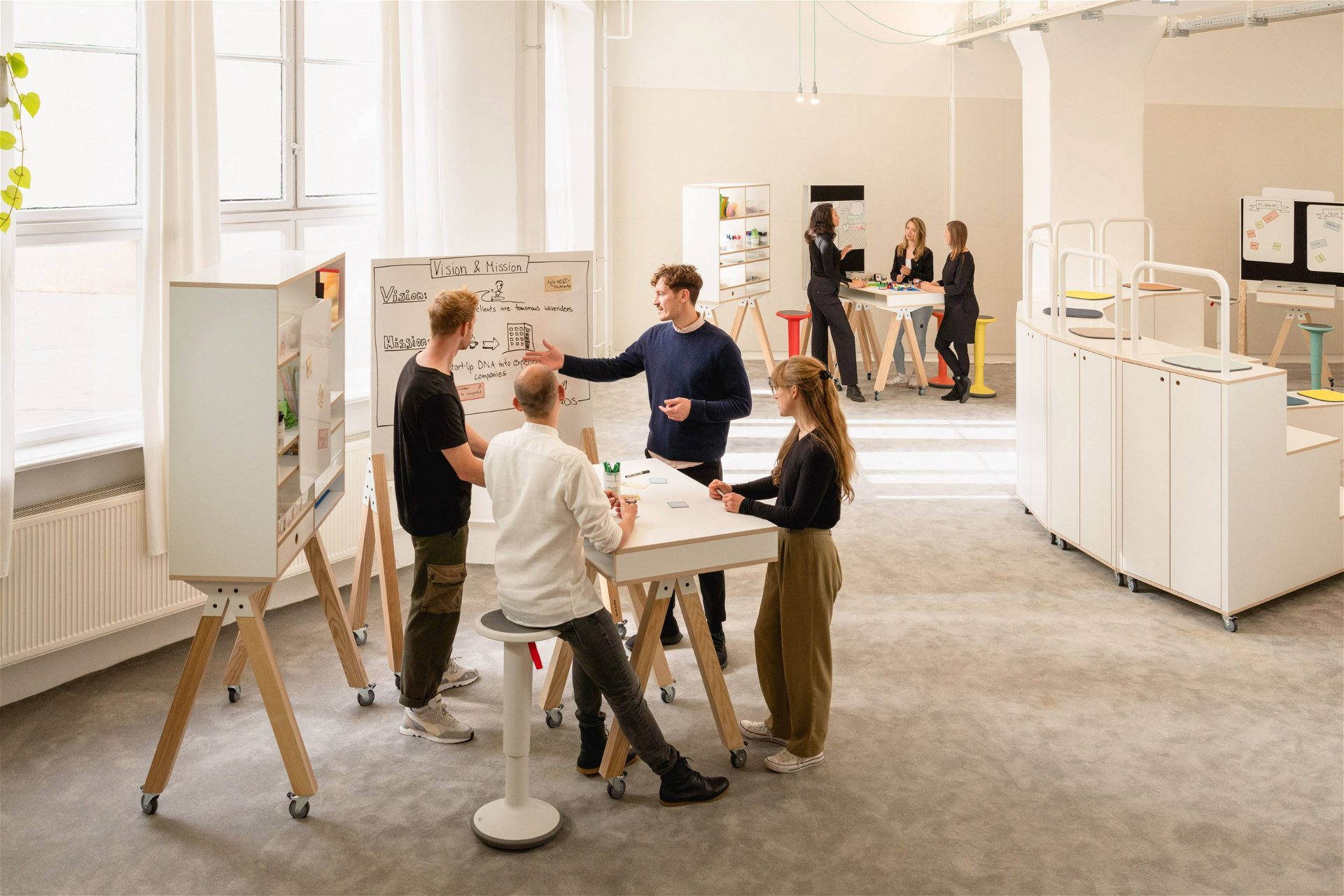 Coming together with one of their UAE partners, Mobili Emirates Furniture, Interstuhl is set to exhibit their 'on-the-go' solution for flexible workspaces. Team building and office dynamics today demand furniture that is transformative and adaptable. What If We Fly from Interstuhl is just that and more. With products such as stools that can be joined to form makeshift step seating, to white boards that can be fragmented and fused, depending on the requirement, the range is intuitive and ingenious.
ICEX
The Spanish Design Narrative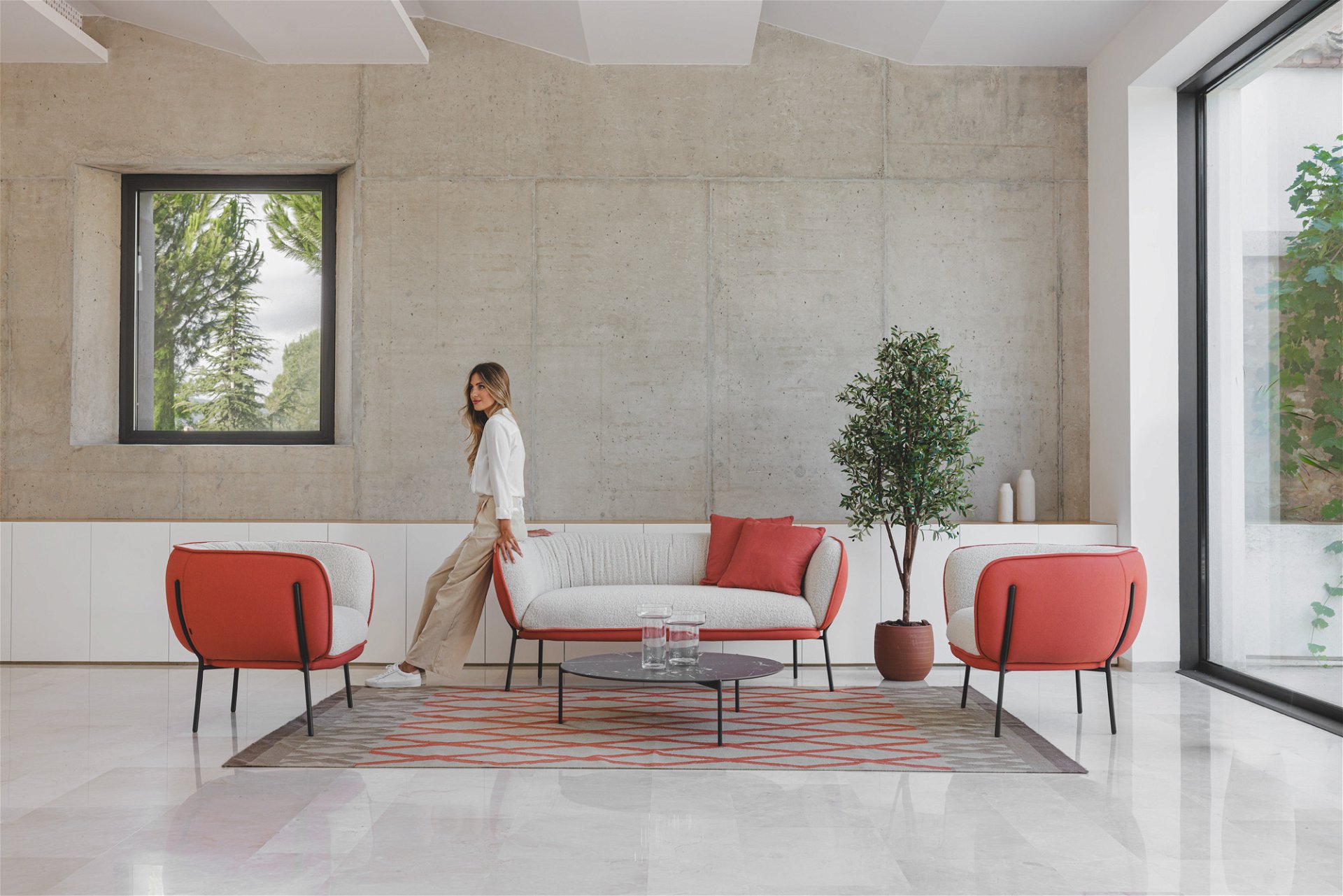 Returning year after year to Downtown Design with brands like Porcelanosa, ACTIU and more, ICEX has always assumed the responsibility of bringing "Interiors from Spain" under a single umbrella. This year,
iSiMAR
 (outdoor furniture), 
Naxani
  (bathroom), and 
Legado Artesano Castilla-La Mancha
, (a display of artisanal crafts by industrial designer Natalia Ortega) shall also grace the stall.
Predominantly a corporate furniture brand, ACTIU will introduce their latest soft seating lines and fabrics along with their first Type A certified task chair, AS WORK at Downtown Design 2023. "These additions represent a significant expansion and diversification of our portfolio, tailored to meet the needs of the hospitality, third spaces, and contract sectors", testified Diego Sanchez Serrano, Dubai Showroom Manager, ACTIU. The brand's acoustic booth, QYOS will also share limelight. "Our phone booth has garnered remarkable success in the Middle East in just two months since its launch", mentions Diego, excited about the reactions of passersby visiting the ICEX booth.
The Bowery Company
Clean lines and Scandinavian Simplicity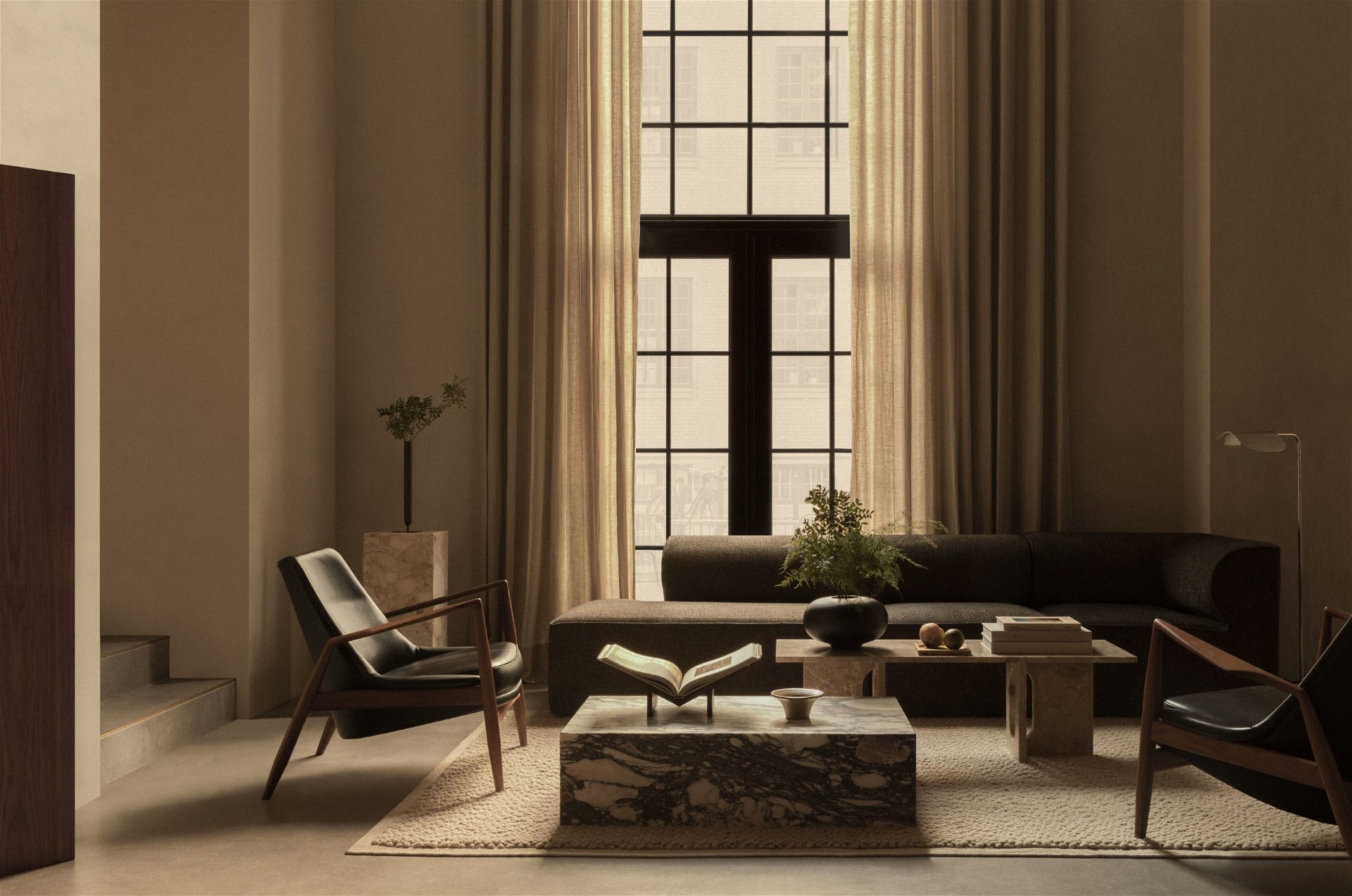 Christiane Nasr, the founder of The Bowery Company, identified a notable absence of stores or brands in the U.A.E. that could capture the urban vibrancy of New York City or the sleek minimalism of Scandinavian furniture. This multi-brand retail venture brings design trends that emphasize expressive interior elements while also cultivating a sense of comfort and nostalgia in the Middle East. At Downtown Design 2023, the Bowery will flaunt their repertoire of Danish furniture brands such as 101 Copenhagen, Audo Copenhagen and Ferm Living. Norrii and Fest Amsterdam will also imbibe the spirit of austere aesthetics at the stand.
Atlas Concorde
Material Fete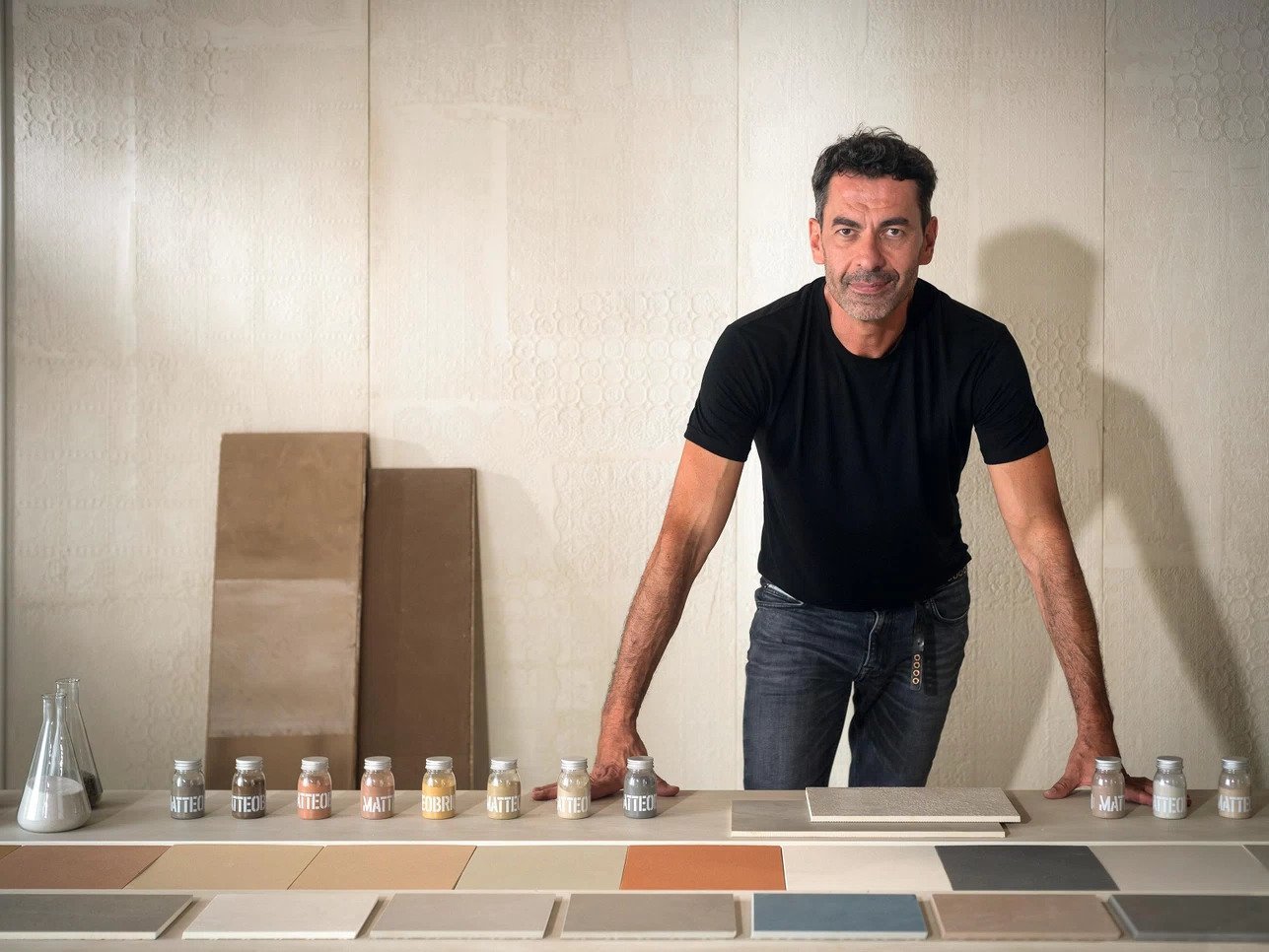 Atlas Concorde is a prominent global brand in the production of ceramic surfaces for various applications, including floors, walls, furnishings, worktops, and outdoor spaces. They have a strong focus on design and architecture, offering a wide range of styles to cater to diverse demands in private and public spaces, commercial properties, hospitality venues, and both indoor and outdoor areas.
At the Downtown Design, passersby can explore joint projects with a range of accomplished professionals. This includes Mario Ferrarini, a renowned designer with expertise in bathroom furnishings, Matteo Brioni, an architect and entrepreneur with a deep understanding of natural materials and finish trends, and Piero Lissoni, an architect and designer celebrated for his distinctive minimalistic style and elegant creations.
Various Collectives
Create an identity campaign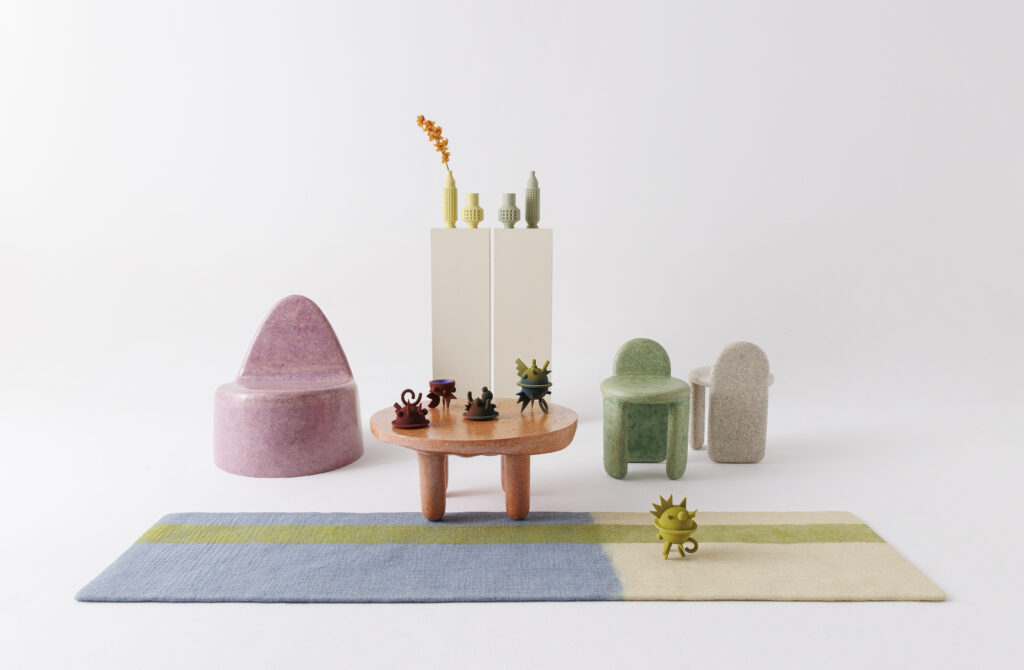 Creating an identity campaign is all about the story of the brands. Their design aesthetics, creative approach, and overall contribution to the industry. This year identity magazine in collaboration with Downtown Design brings you the story behind some of the collectives featured at the milestone event. So make sure to keep a look out on the website.