"Designing a home is not only about designing a living space, but a space in which you can be yourself," begins Lebanese product designer Thomas Trad, whose newly completed apartment is a 40-minute drive from Beirut, in the village of Baabdat. "I bought the flat three years ago, when they were still building the foundations, just because I fell in love with the view and it was always a dream for me to escape the city, where I used to live," he confides.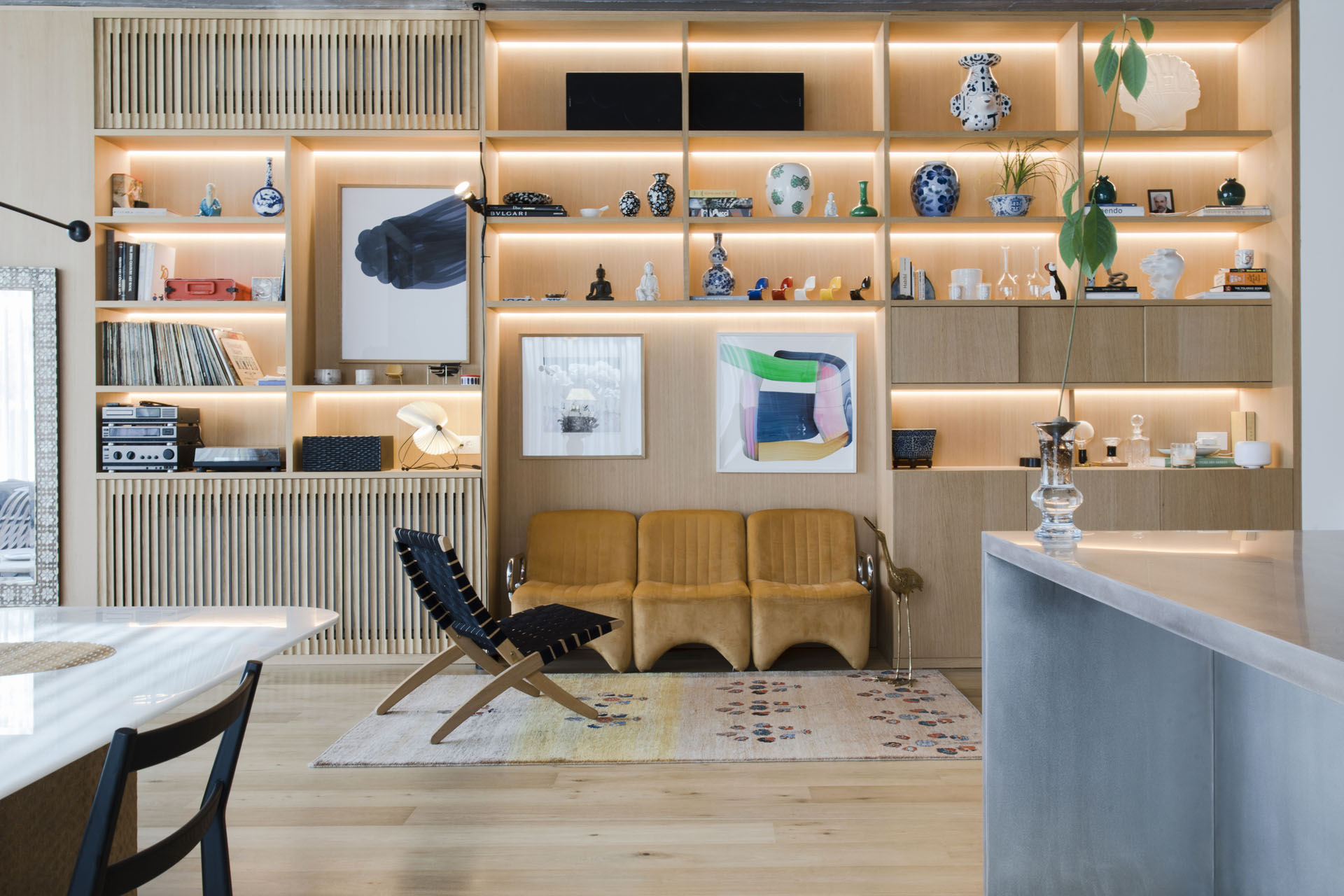 Set on the ground floor of a three-storey building (which was completed last year), the 170-square metre apartment opens up to a light-filled space with its own 120m2 of outdoor space. Greeting visitors as they enter through the main door is an open space encompassing the joint kitchen and dining areas, as well as a living area,Th all situated along a glass façade providing a view of the mountains.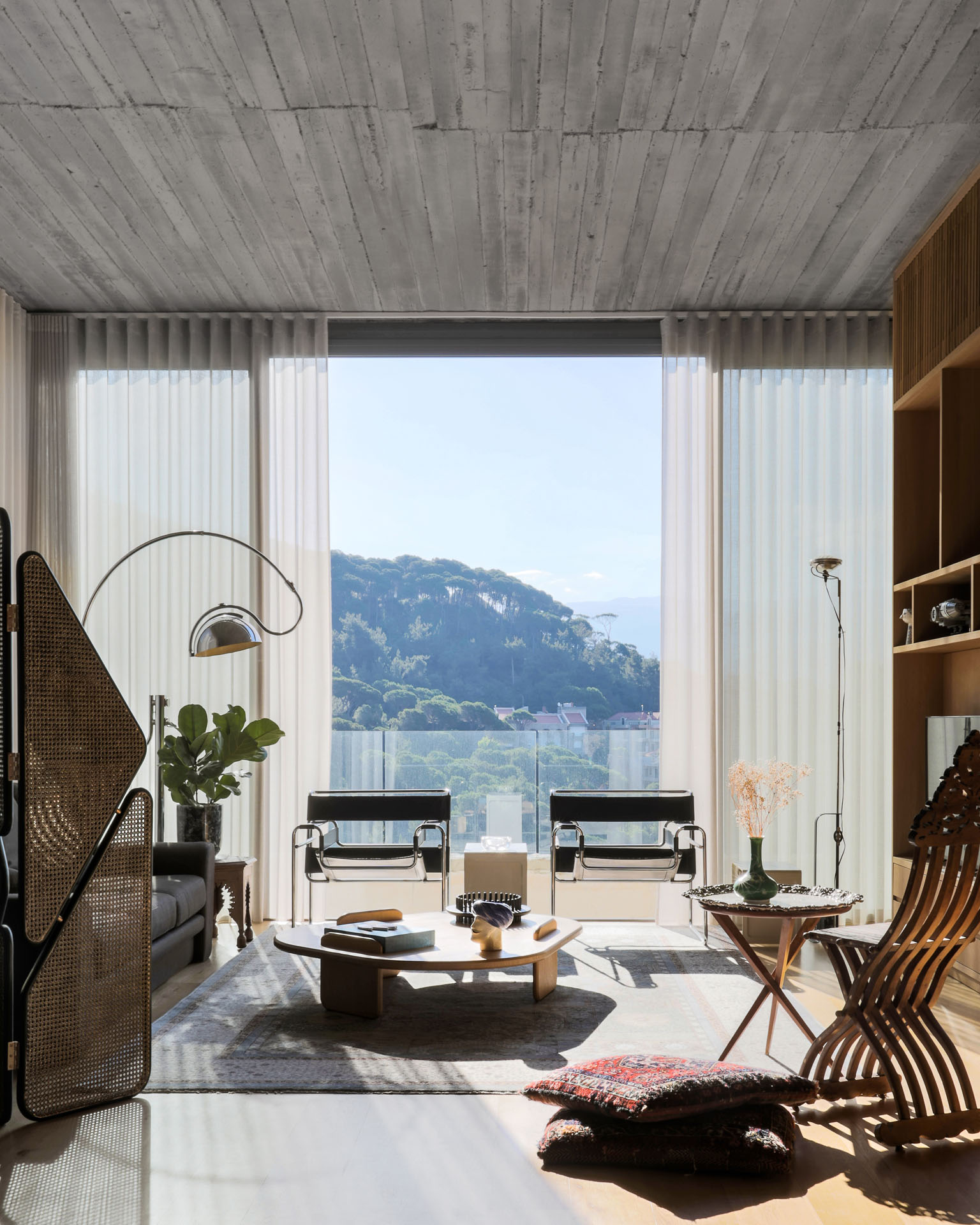 "Originally, these spaces were divided and narrow, neglecting the surrounding nature," Trad explains. "Merging them created a more spacious area, inviting sunlight and nature into the home."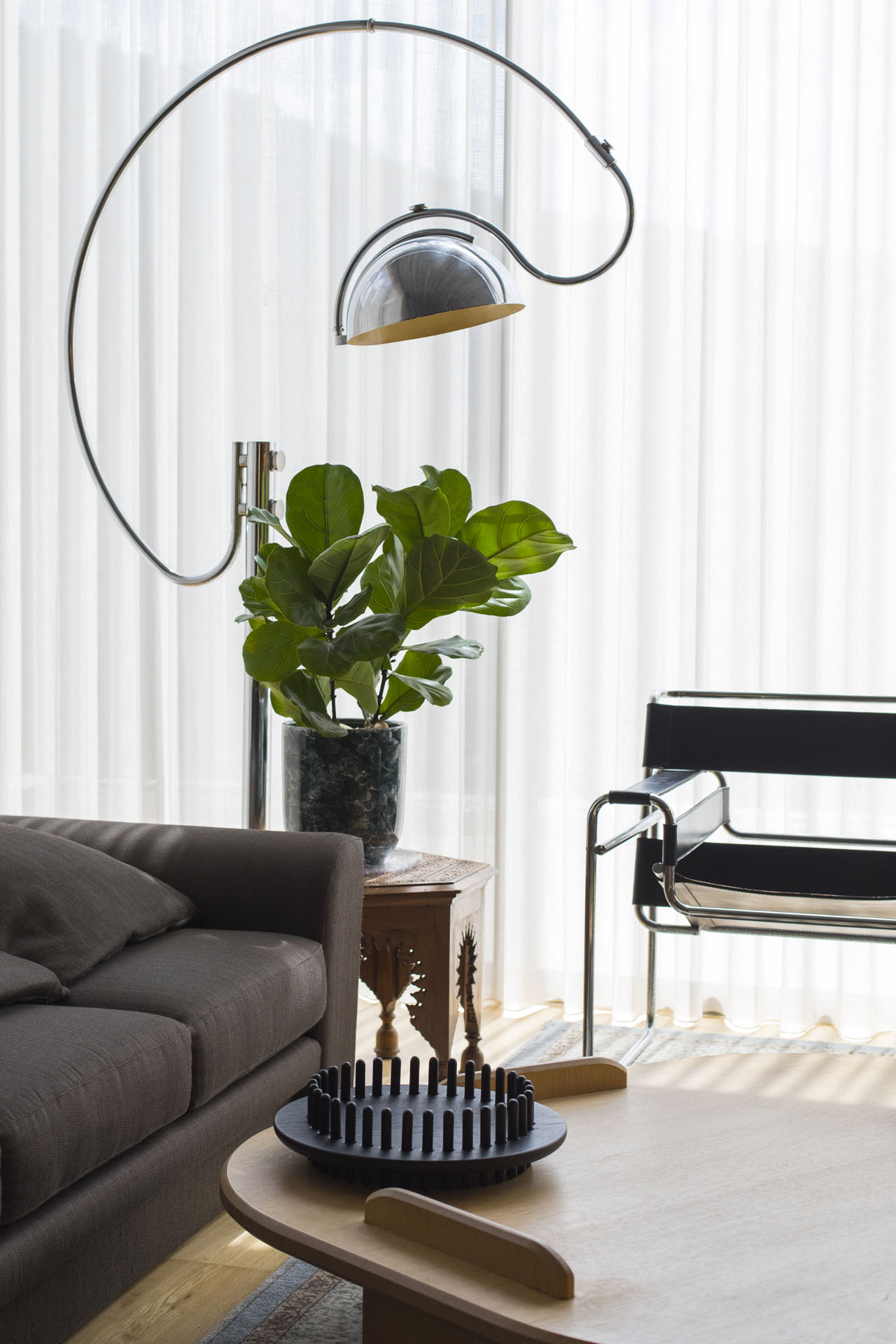 One of the key elements that immediately stands out is the extensive use of wood, which is present from the spanning bookshelf to the wall cladding."Inspired by Japanese architecture, wood is the primary material used in the apartment," Trad says. "Being in the heart of nature, the glass façade invites in natural light, which reflects delicately on the wood and creates a warm and relaxed atmosphere."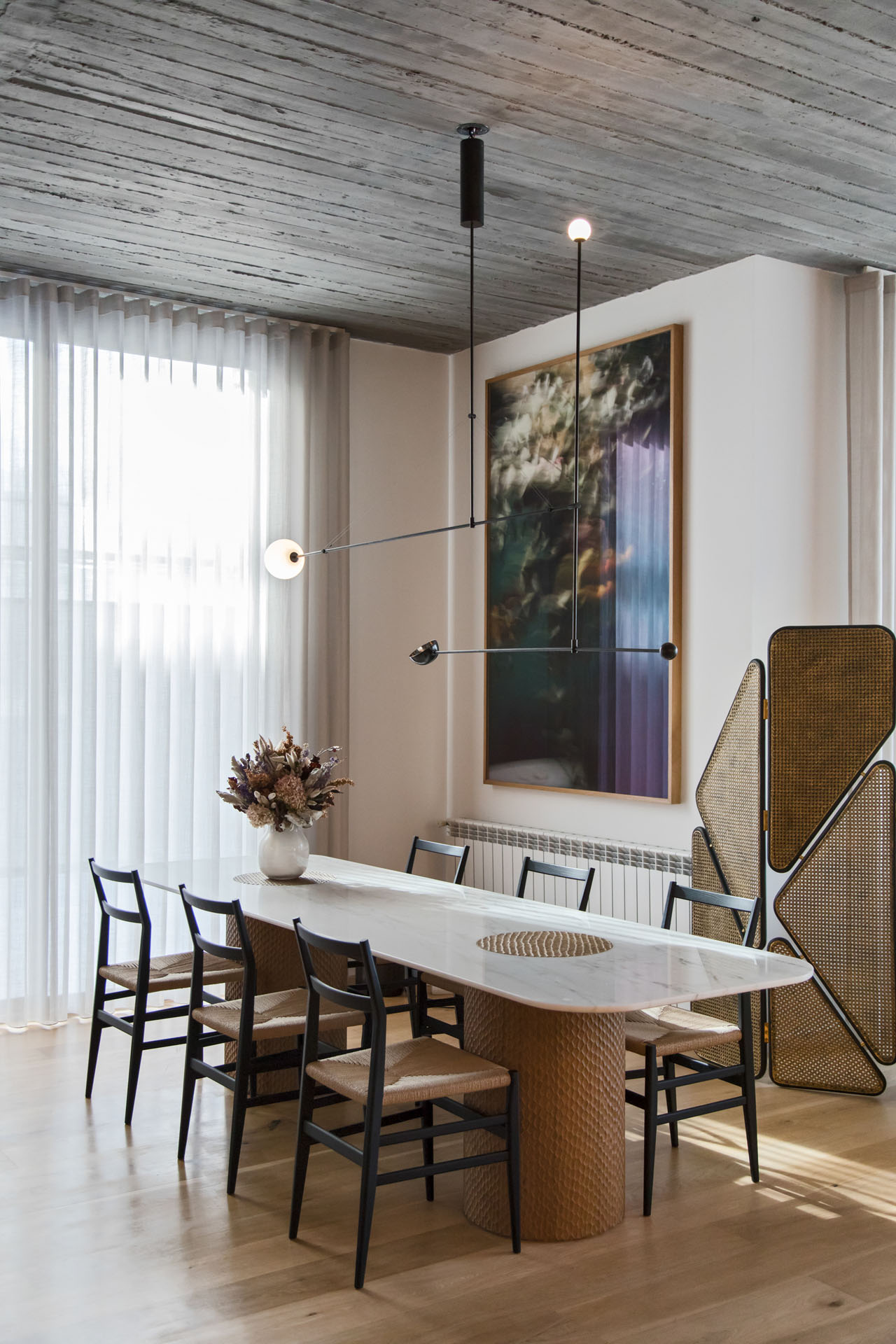 Upon entering the apartment, a nine-metre-long bookshelf extends on the right wall and merges with the continuous textured wall cladding, which also provides the hidden seamless doors of the entrance, the washroom and the corridor. "When designing my home, I wanted to recreate the feeling of peacefulness and ease of mind you find in Japanese houses," says Trad.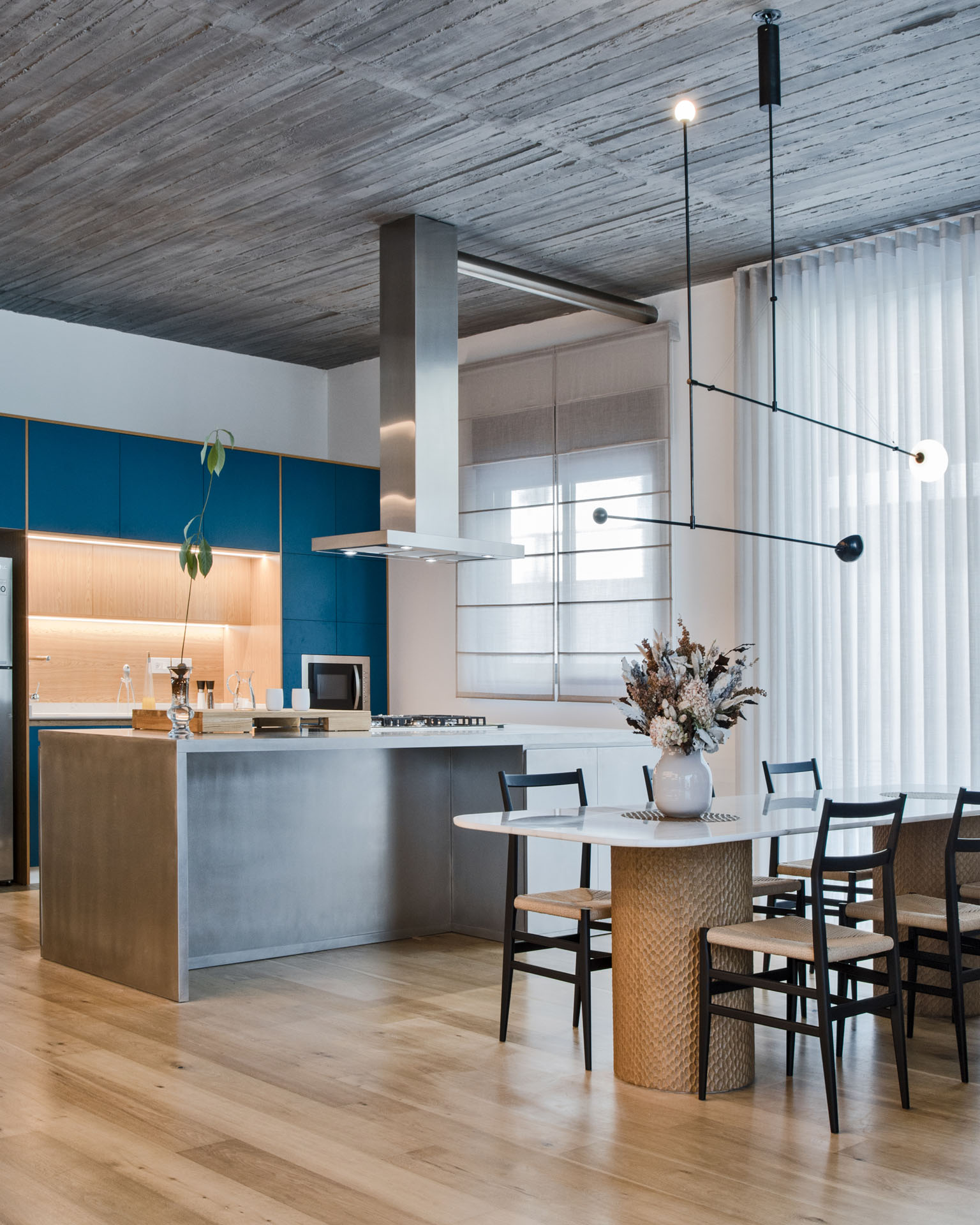 Contrasting the serene materiality of wood is an eclectic mix of furniture and objects, some of which comprise Trad's own designs. "Each piece of furniture has a personal value to me," explains Trad, "which creates an intimate and eclectic space that reflects my passion for Japanese architecture mixed with Syrian oriental mirrors and contemporary Wassily chairs [by Knoll]."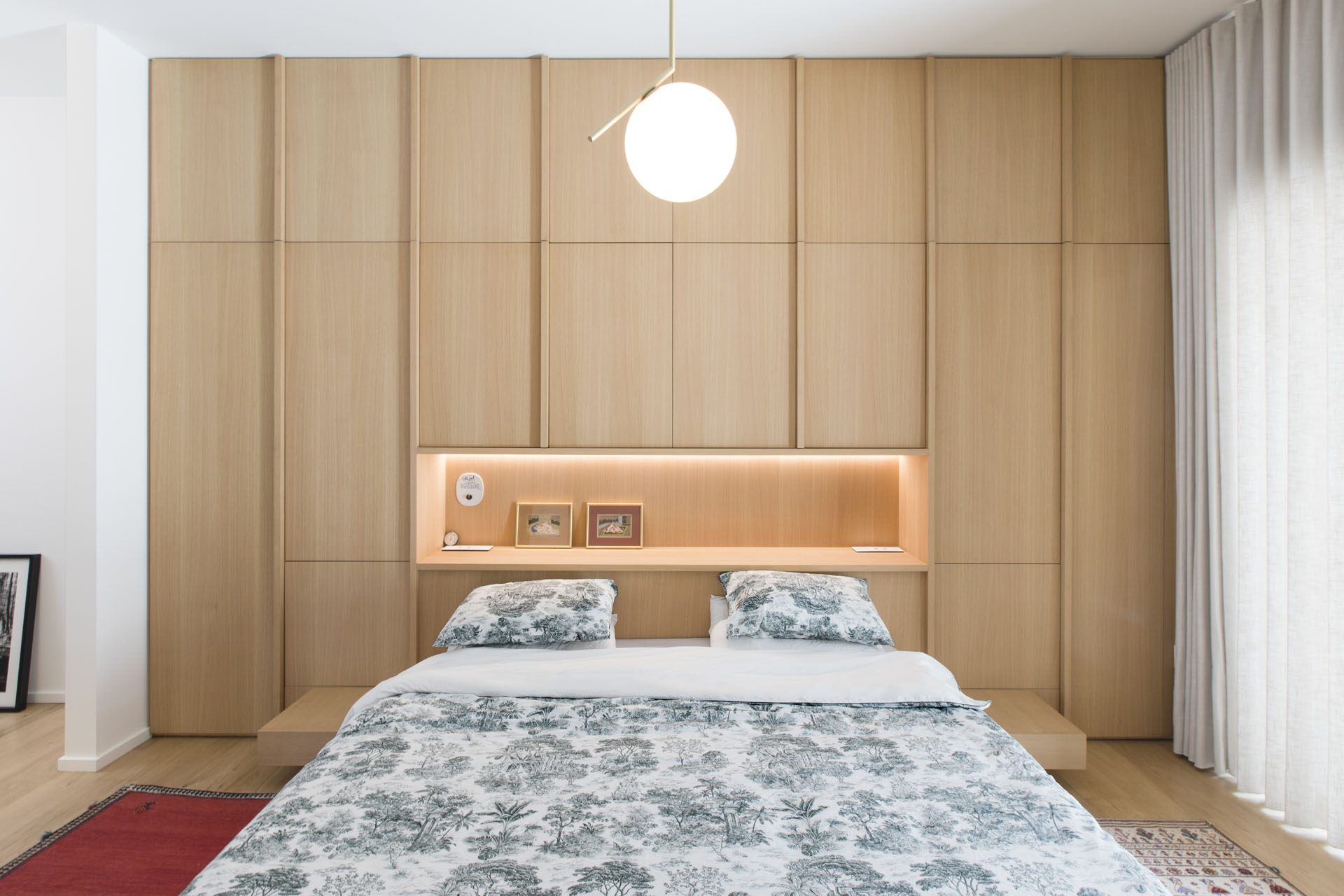 The bookshelf, which Trad views as the main element of the apartment, doubles as a display of sorts, showcasing various objects of personal value. "Collected by my father and me throughout the years, [it includes] antique vases, modern sculptures, illustrations and paintings. It's like a time capsule, bringing together stories and fragments of different times and spaces, placed in a grid," Trad shares.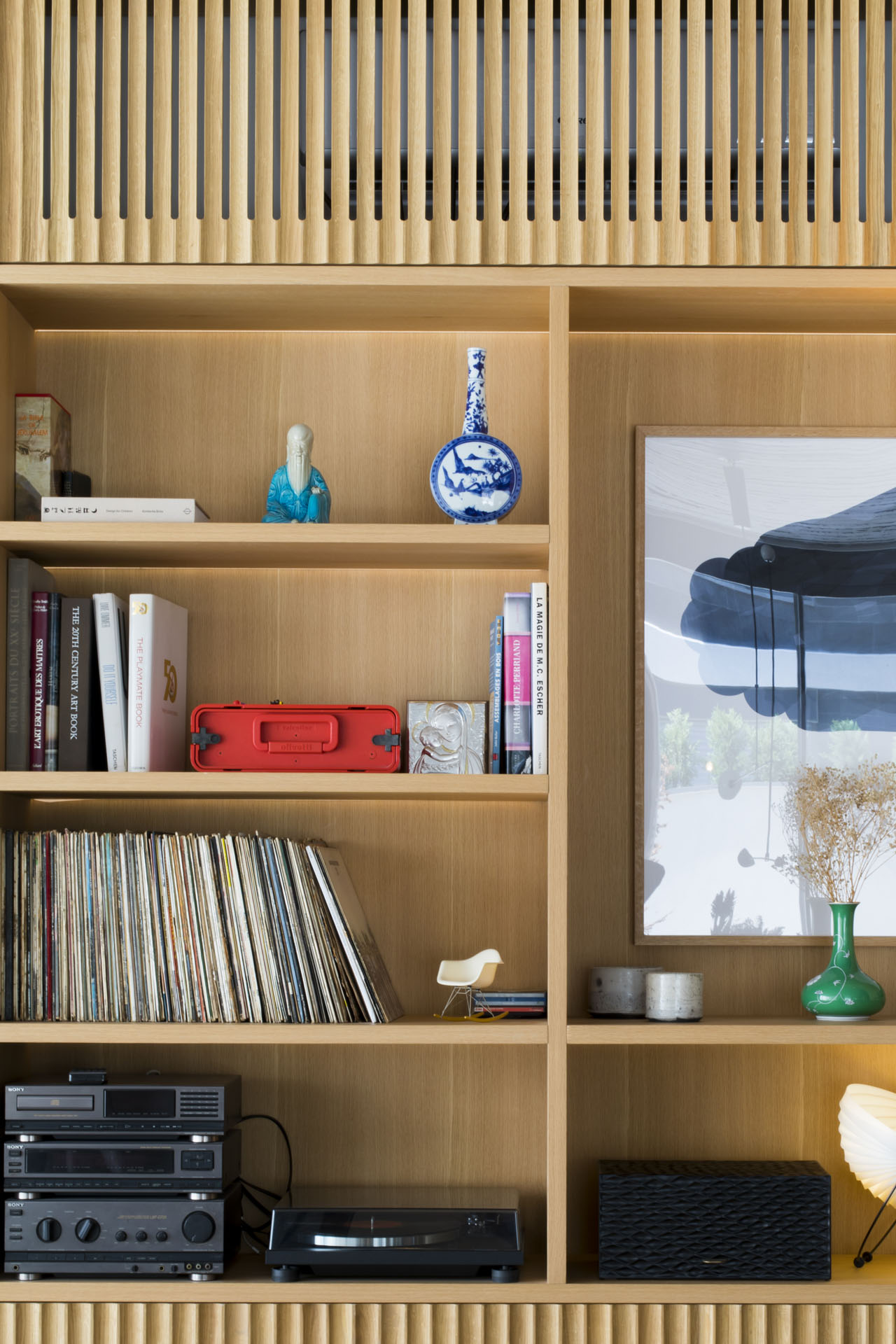 "Aside from the bookshelf, the kitchen island is where I spend most of my time," he shares. "Since I'm as passionate about cooking as I am about design, I'm always experimenting with flavours, textures and new recipes at the centre of my home, by the island, which has become a gathering spot."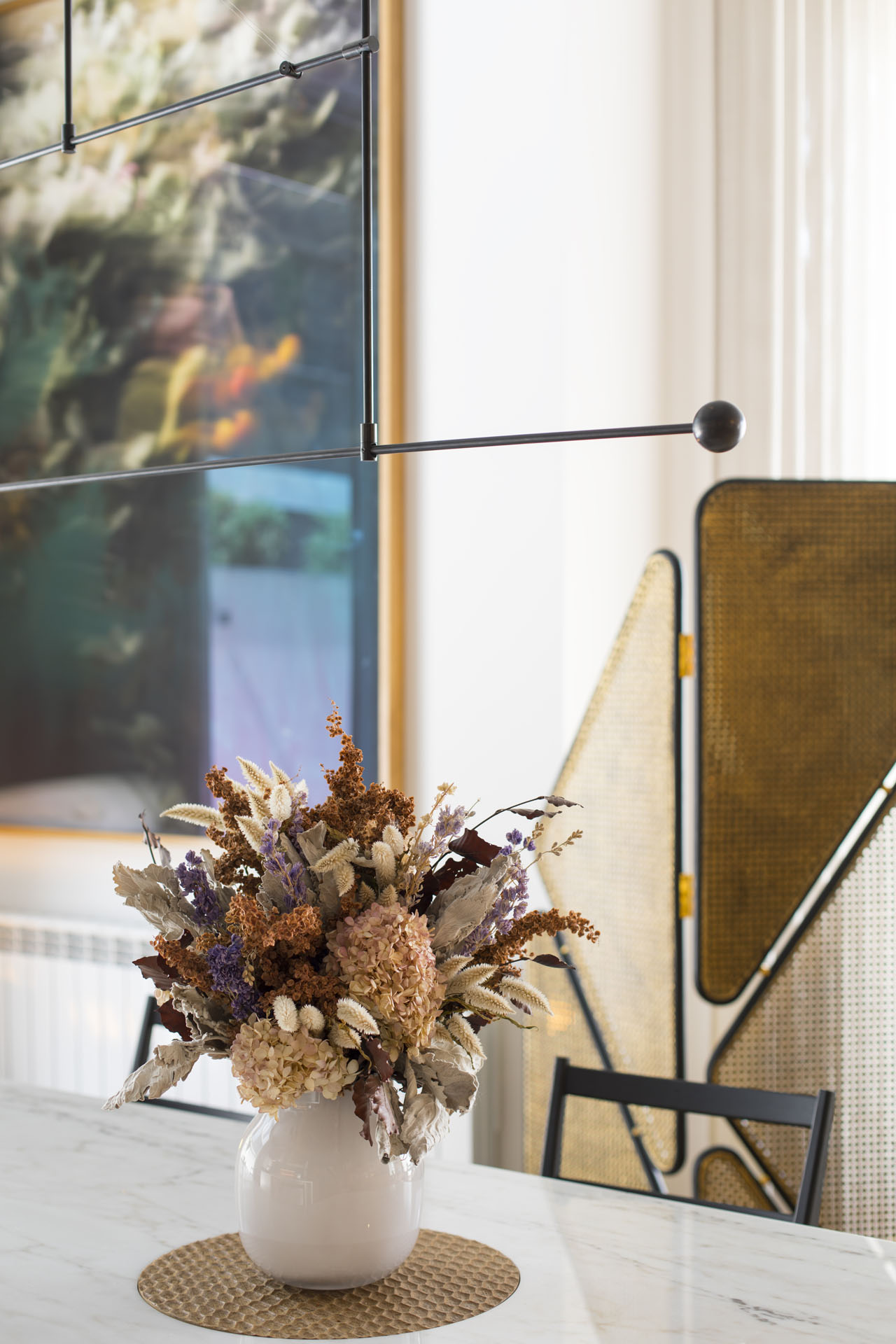 Trad's own designs include the dining table ("Designed well before the apartment and fits perfectly within the plan," he adds), which is set parallel to the kitchen island. The coffee table is also one of Trad's earlier designs and has moved across three different apartments so far, he admits. Additionally, since taking down the walls of the living area, Trad has placed the Eva partition to create a subtle separation between the kitchen/dining area and the living room, without blocking the view to either space.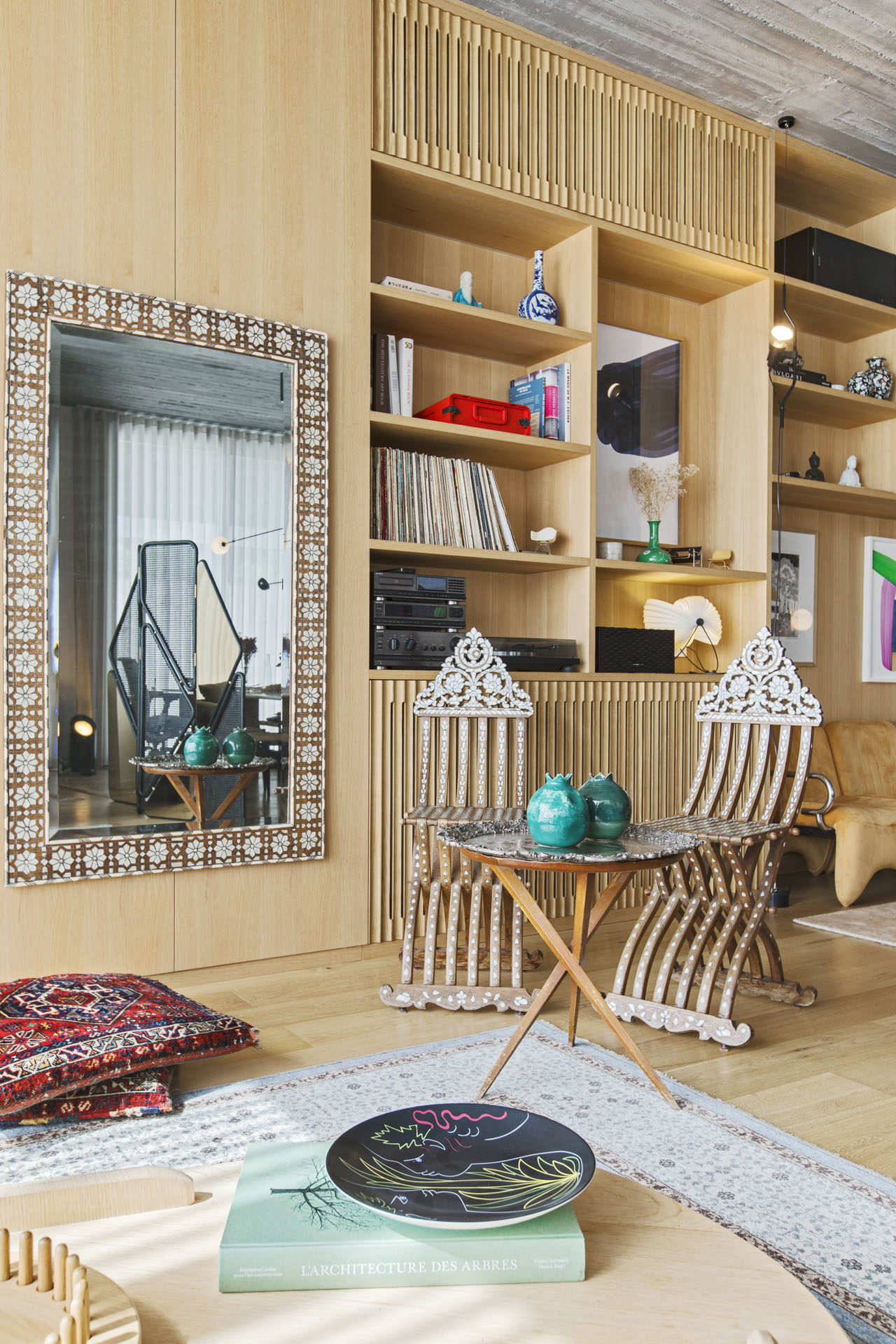 An alumnus of London's Central Saint Martins, Trad worked with world-renowned studios such as Fredrikson Stallard and Michael Anastassiades before returning to Beirut in 2016 to launch his own design studio, through which he expresses his fascination for manufacturing processes, craftsmanship and the beauty of materials.
"In my home, as in all my designs, the contrast between textures and materials is vital. Mixing carved wood with marble, placing a huge stainless steel kitchen island surrounded by wooden cladding and flooring… In my opinion, while creating a space, we shouldn't be limited to one style, pattern, trend or colour palette. There should always be room for evolution, without being bound to one set design," Trad explains.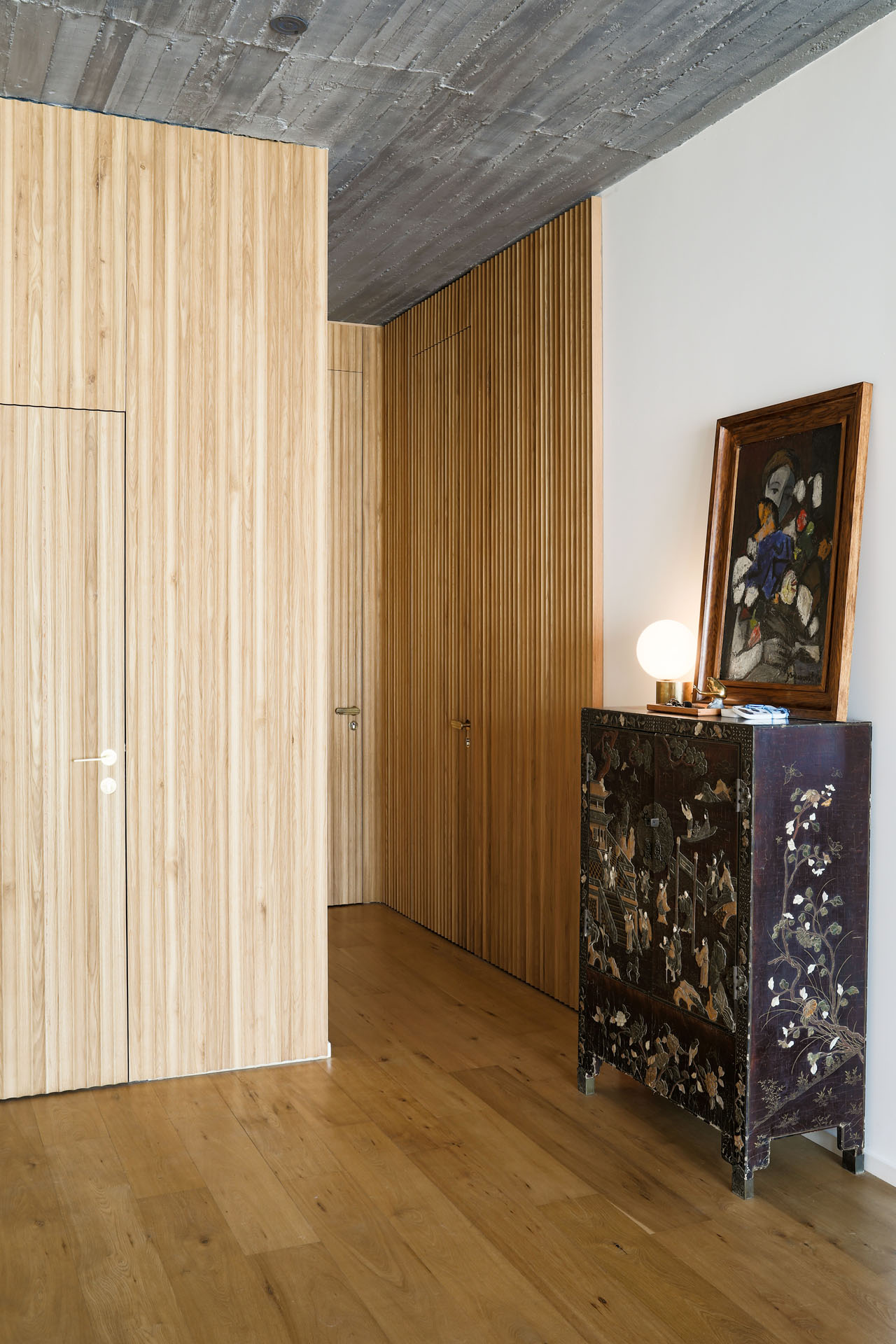 This is exactly the reason why the designer has kept his space flexible, one that can adapt and evolve through time in line with his own growing furniture collection.
The designer is currently designing a home for an artist in Lebanon, working on a new collection which he describes as "more sculptural" than his earlier designs, as well as experimenting with new materials and smaller-scale objects.
"I'm also very excited about branching out my studio to Dubai very soon," he shares.