Designers across the Middle East have been revisiting traditional craft techniques to create contemporary collections, objects and furniture pieces. While some of these collections are highly innovative, they also engage local craftspeople and artisans from across the region and abroad. identity curates a selection of objects that represent the Middle East's intangible heritage as well as global artisanal traditions.
---
Carlo Massoud, Cities
Produced in Beirut, Lebanon
Marble (Carrara, rouge de France, Guatemala, Mero Marquina)
2018
Cities presents modern-day relics that trigger memories and associations of structures from across the globe. Created using different types of marble, each object can be decoded to reveal the likes of Casa Malaparte in Capri, The Louvre in Abu Dhabi or the Guggenheim Museum in New York. Each piece has been made by hand using tools such as a saw, a lathe and a carver. Each object begins as a cube and is later carved like a sculpture into its completed form and finally polished using sandpaper.
---
Kawther Alsaffar, Dual Bowls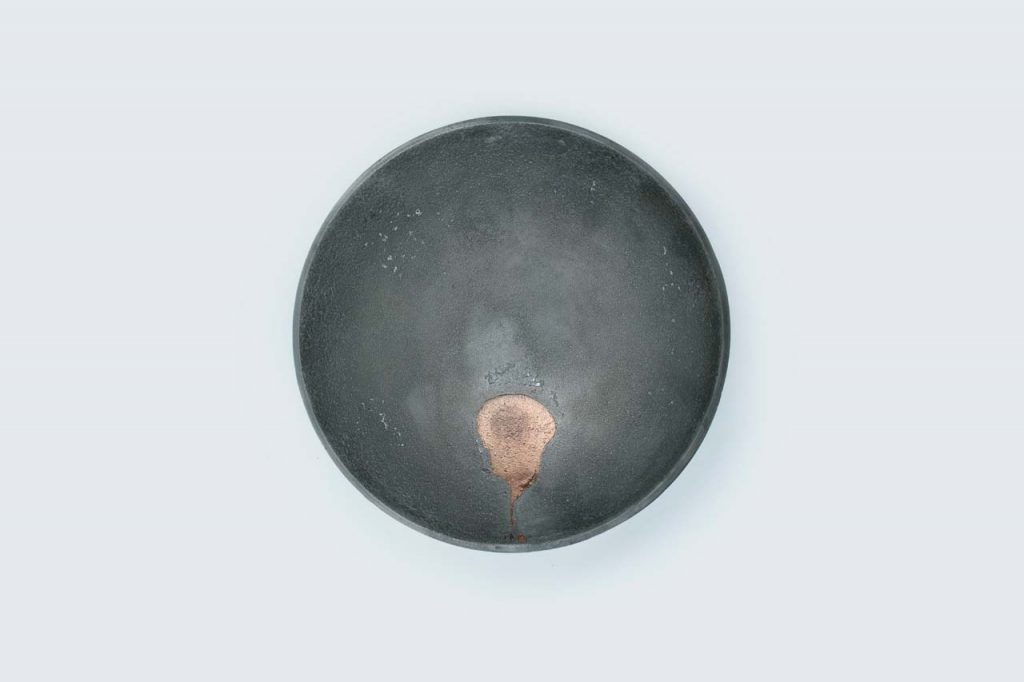 Produced in Kuwait
Copper, brass, zinc, aluminium
2016-present
The Dual Bowls have been created as affordable art pieces as well as functional objects fabricated with unique sand-casting methods developed with Alwafi Foundry in Kuwait, celebrating a community of craftsmen and designers while giving power back to those who deserve it the most. The sand-casting moulds in Alwafi Foundry use sand from the neighbouring Nile River, requiring only the addition of water. While this method of using sand for casting was originally employed by craftsmen to save on cost, its natural utility makes it sustainable and easy to recycle. It also reveals the beauty of the casting process, and of the raw imperfections that are usually masked and removed in more modern casting methods. The act of pouring multiple metals into these moulds pushes the limits of the casting techniques and allows the Dual Bowls to be easily produced in a variety of metals and finishes.
---
T Sakhi, Zamãn, Sculpting Time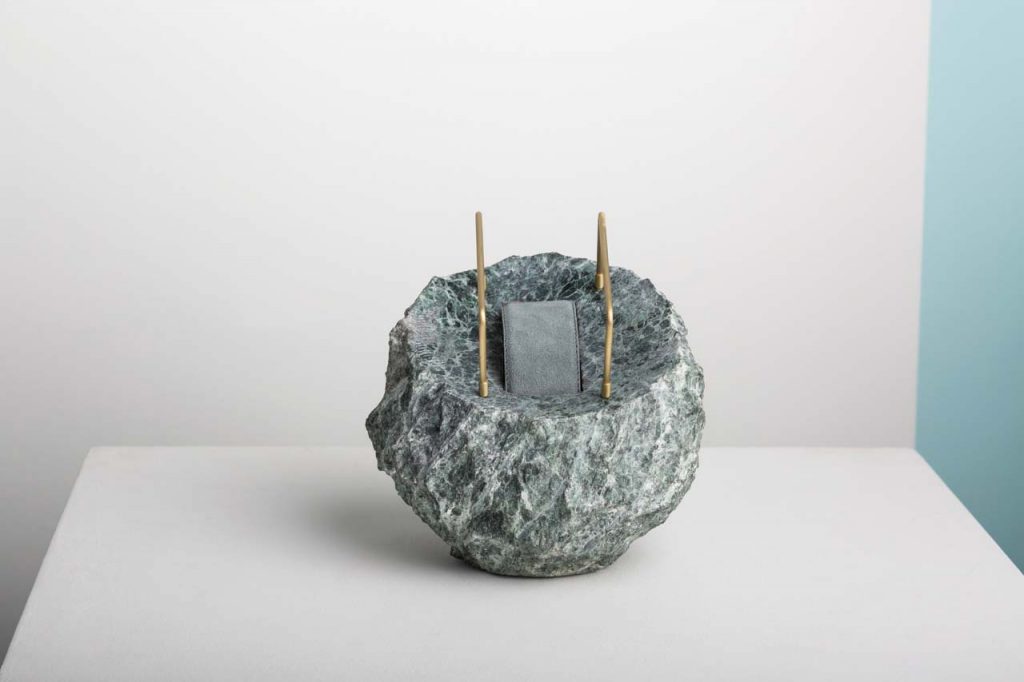 Produced in Cairo, Egypt
Indian Green, Red Travertine, Galala, Nero Marquina, brass, suede
2018
Zamãn, Sculpting Time by Lebanese duo T Sakhi was crafted in the Egyptian quarries of Marmonil Group in Cairo. The watch stand has been directly hand-carved into the mineral by Egyptian craftsmen to create a negative space for storage and display. The making of the collection is inspired by Skara Brae, where humans used to carve into the rock for shelter and to store their belongings. Similar to the discovery of precious gemstones while carving into rock, the collectable work of mechanical art – the watch – becomes a timeless and contemplative artefact. The brass holders were produced in Lebanon to emphasise the strong duality of both cultures and expertise in craftsmanship.
---
Nada Debs and Salim Azzam, Patterns in Nature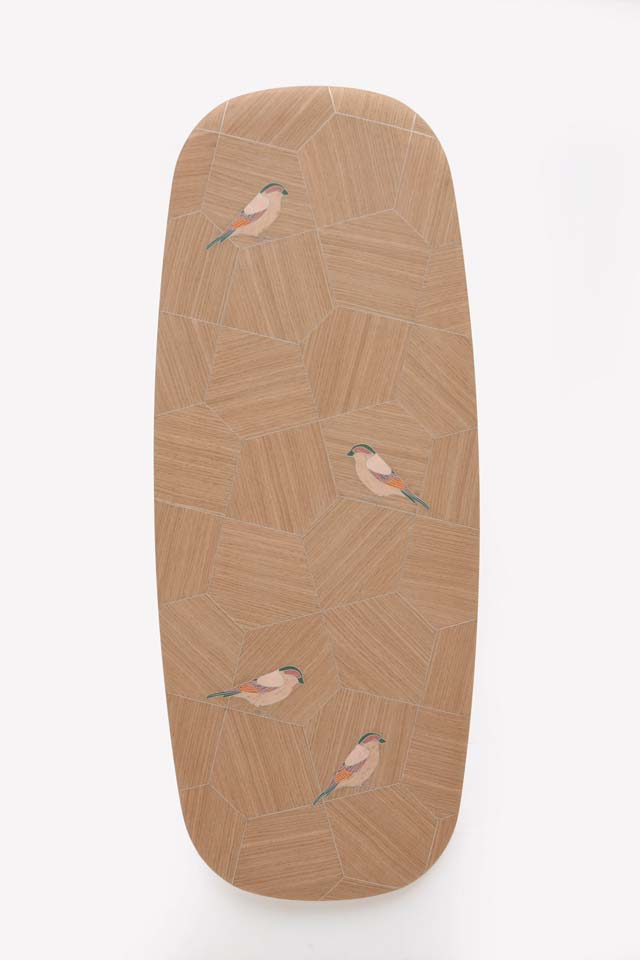 Produced in Beirut, Lebanon
Walnut wood, olive wood, French oak
2019
Patterns in Nature follows Nada Debs' exploration of new craft techniques: this time in collaboration with fashion designer Salim Azzam. Both brands cultivate ecological and ornithological awareness, using nature as the ultimate source of inspiration to create this handcrafted furniture collection that marries flora and fauna in a show of poetic synergy of birds, botany and narratives about nature.
The collection uses a craft technique called Contour Inlay, contouring the traditional marquetry technique with tin inlay. The sharp contours of the different marquetry veneers offers the illusion of a hand-drawn illustration.
---
bahraini—danish, Atlas Stools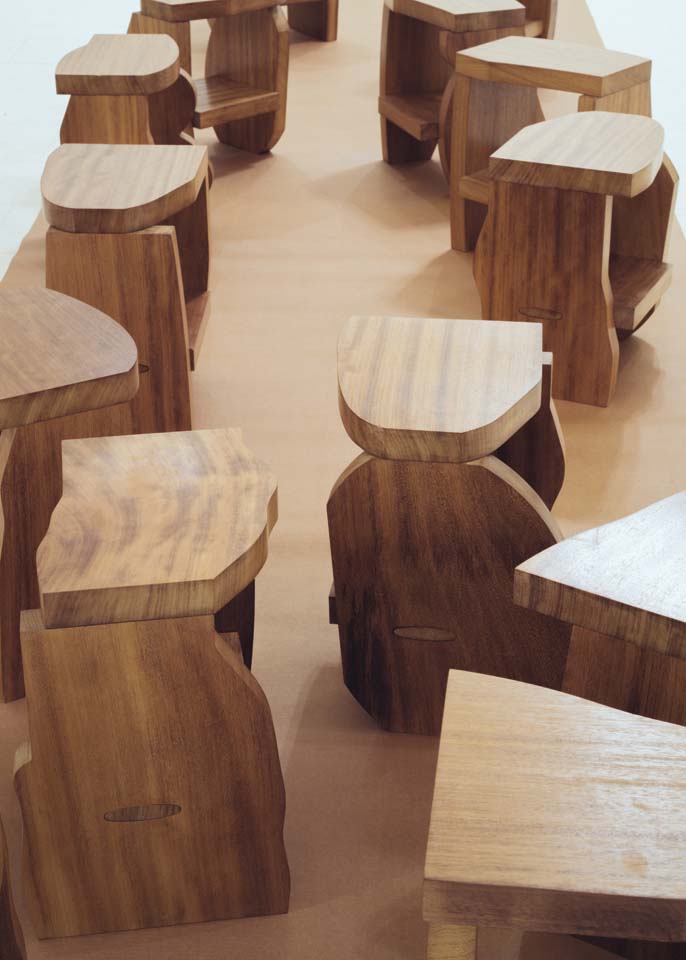 Produced in Bahrain
Teak wood
2017-present
The Atlas Stool series consists of fourteen stools, seven of which are individual. When spread out on the floor, they appear to be dancing as a result of their different appearances and positions. The stools are made from teak wood, which has long been used for boat making in Bahrain, and due to its stability and strength. The wood was cut in an industrial CNC milling workshop in Salmabad, Bahrain to make the stool, and later finished by artisans in a carpentry and boat-making workshop in Muharraq, Bahrain.
---
Rula Yaghmour, Kutleh, design series_02, vases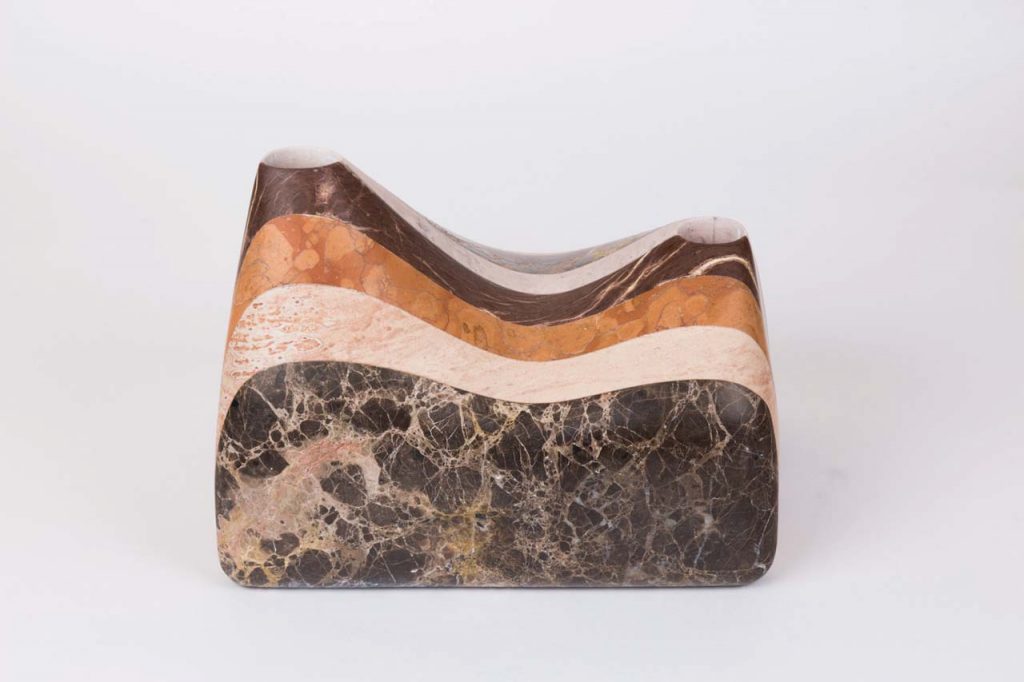 Produced in Jordan
Stone and marble
2019/2018
Kutleh (meaning 'block' or 'mass' in Arabic) is a project that repurposes the surplus produced from cladding tiles used in everyday construction projects in an attempt to create blocks out of the discarded material. The curvilinear forms of this collection bend and twist, revealing the underlying beauty and the concealed layers of stone and marble. Architect Rula Yaghmour's appreciation and understanding of materiality has ushered in a fruitful collaboration with stone and marble fabricators A.W. Yasin & Sons Co; a family business who have been in the stone and marble industry since the early 1960s. Kutleh marries technology and craftsmanship, forming new masses from offcuts of old slabs and tiles.
---
Tarek Elkassouf, Flame, Contained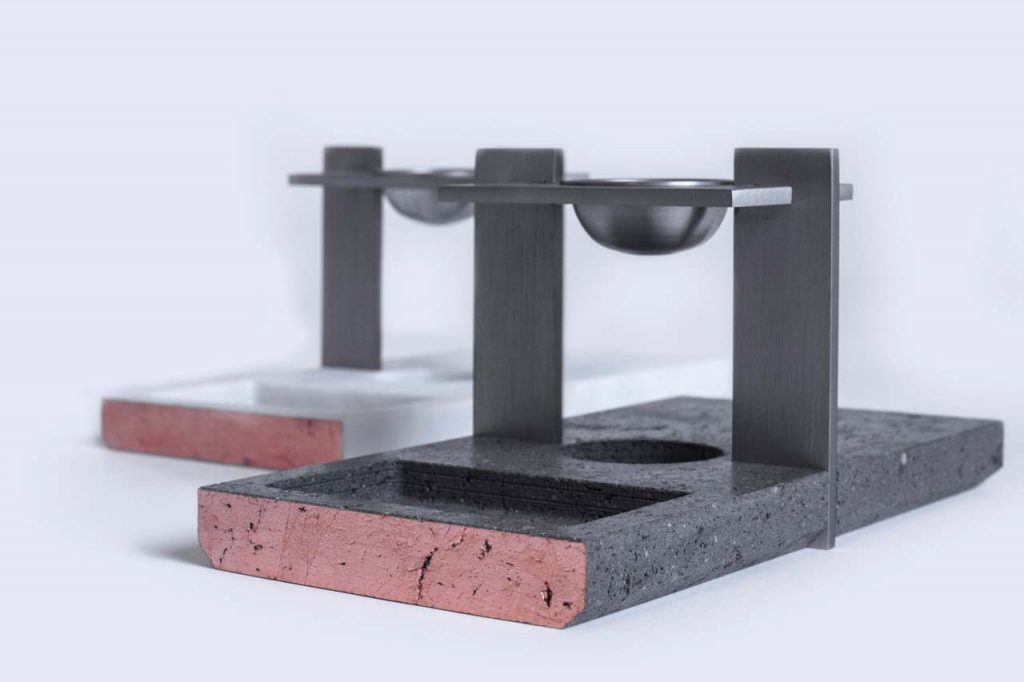 Produced in Lebanon
Carrara marble, basal, copper leafing
2020
Flame, Contained offers a series of ashtrays, candle holders, a censor burner and a ritual tray – all of which embody the idea of life as fire, offering objects that contain the flame while giving it new life and vitality. Tarek Elkassouf invites us to question our relationship with the powerful force of nature that burns both externally and internally. The collection is also an echo of the fires that raged across the Australian landscape earlier this year, where the designer was based. In Flame, Contained, fire meets ice in a paradox of materials that are designed to fuse and blend from one collectible work to the next, where lava stone, born from volcanic heat and pressure, is soothed by the cooling touch of Carrara marble.
---
Faissal El-Malak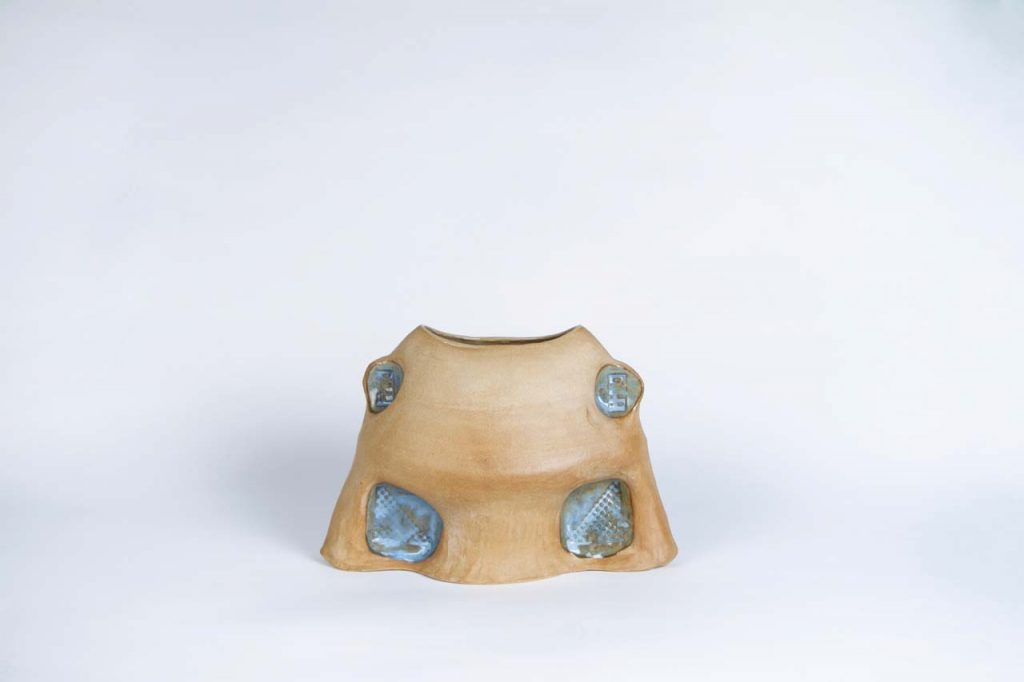 Spool; A dancer, a leaf and a spool of thread
Produced in Dubai, United Arab Emirates
Glazed ceramic
2019
Inspired by a playful approach to Palestinian motifs and the functional aspect of Palestinian embroidery, Faissal El-Malak's collection observes its narrative, decorative and talismanic properties while exploring the structural qualities of patching together various components. Spool is born out of an exploration of new materials, handcrafted in clay by Xeina Malki. If you look closely at these pieces, the final shape is what exists in the negative space outside the motif. This negative space is, in itself, inspired by historical vessels from archaeological sites around the Levant.
---
Aljoud Lootah , Mudeem collection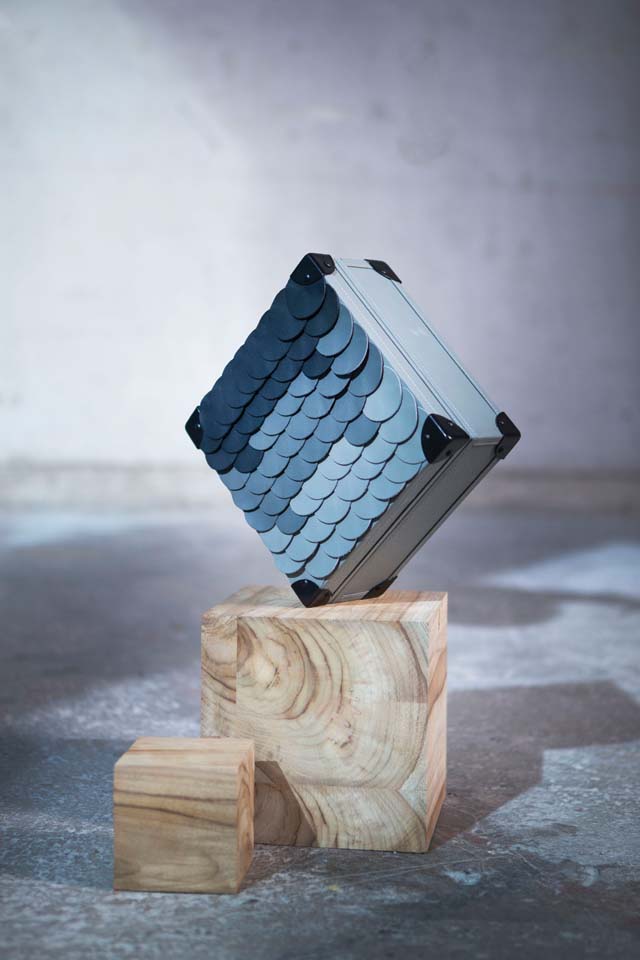 Produced in Dubai, United Arab Emirates
Camel leather, metal, suede
2019
The Mudeem collection is a set of hand-crafted storage boxes inspired by the traditional Mandoos wooden chests that have been reinterpreted to celebrate the deep-rooted values of Emirati culture and heritage. Mandoos are wooden chests decorated with brass nails that were commonly used in the past to hold a person's most valuable and precious possessions such as documents, jewellery, clothes, money and a bride's dowry. With Mudeem, Aljoud Lootah examines innovations in material manipulation while giving new life to tradition. It explores the endless possibilities of camel leather and highlights the delicacy and fineness of the material. Each detail is made by hand by pleating, layering, airbrushing and forging while other parts of the leather are folded, woven and cut out, resulting in a permanent three-dimensional surface.
---
Meshary AlNassar
The 401 Collection
Produced in Puglia, Italy
Ocean blue Travertine
2019
The 401 Collection is a group of collectable stone objects made from prehistorical ocean Travertine and embedded LED technology that function as three decorative lighting sculptures. Kuwaiti designer Meshary AlNassar was inspired by tactile product design and childhood memories and his interaction with nature at a young age. These memories involved nostalgic moments that recall the five senses in everything from trees, courtyards and days under the sun. The collection was made in a small workshop in Puglia, combining traditional sculpting methods and technology.
---
david/nicolas for Carpenters Workshop Gallery, supernova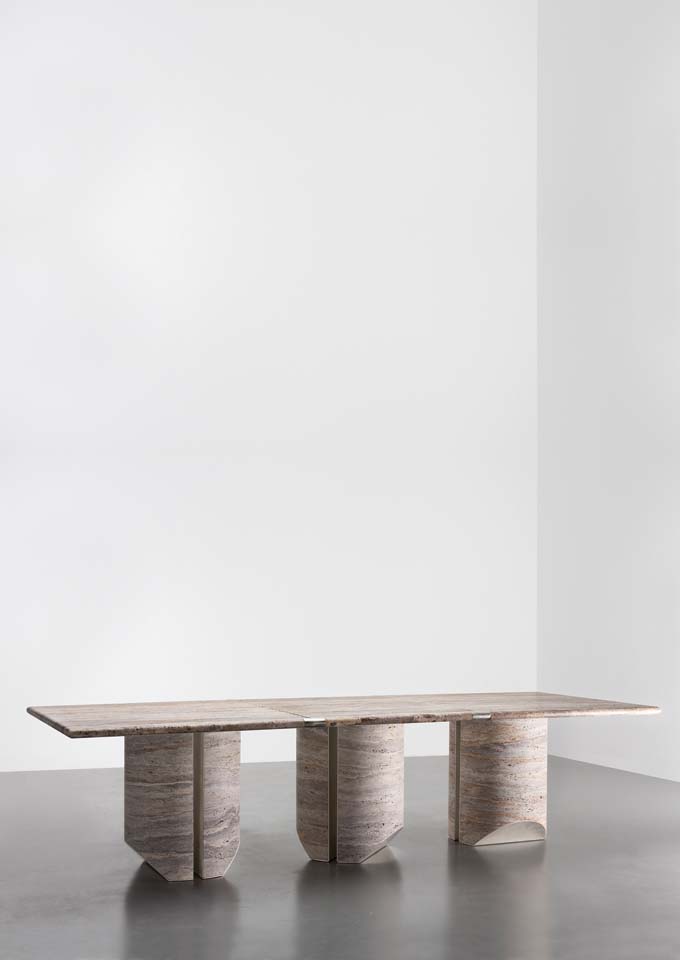 Produced in Italy
Travertine, rose wood, palm wood, bronze, glass, stainless steel
2018
The death of a star results in either a black hole or a supernova. david/nicolas' supernova collection looks at this death as a transformation that outshines everything around it, evolving into a new life. It is a reminder of Beirut, a city that has been reborn, again and again. The dialogue between past and present, contrasting materials and forms, and transformation and regeneration in Supernova is also a reflection of the designer's homes; an amalgamation of influences from the Middle East and Europe. The collection includes two series: The Constellation and Monocle. It was created by 20 different artisans, using materials such as travertine and metal that interact with bronze and wood.
---
Thomas Trad, Eva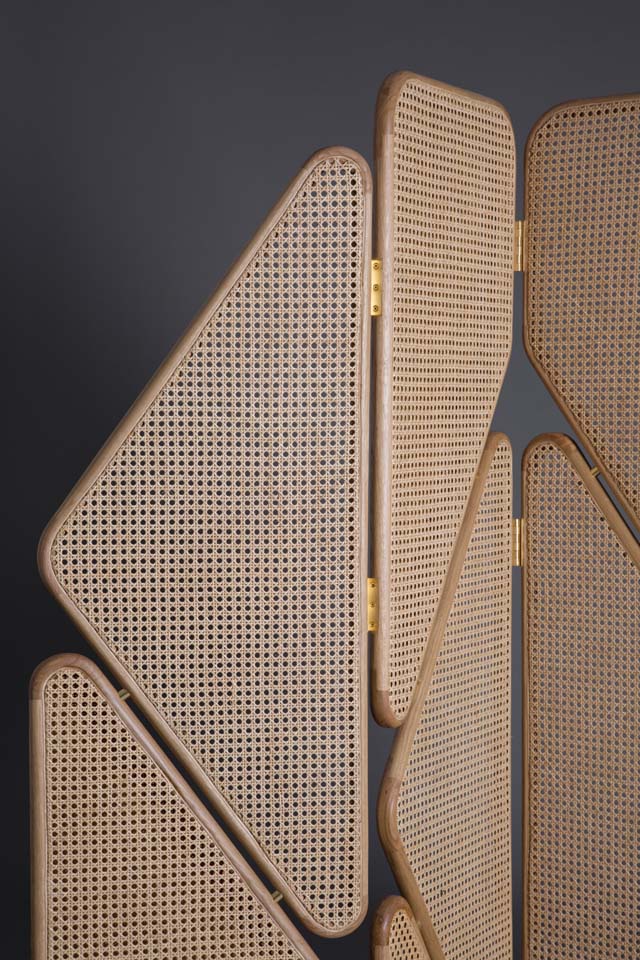 Produced in Beirut, Lebanon
Solid oak, rattan, brass, stainless steel
2017
Eva is a partition made of French oak, gold tainted stainless steel and rattan. The play of mirrors and rattan give a sense of blurred privacy with see-through openings that offer a sneak-peek of what's behind the screens while the mirrored side reflect the inside. Eva can be used as a room divider as well as a changing space. It embodies a beautiful marriage between heavy machinery and skilled handcraft with the assembling of the wood and rattan.
---
Ammar Kalo, Carabus Collection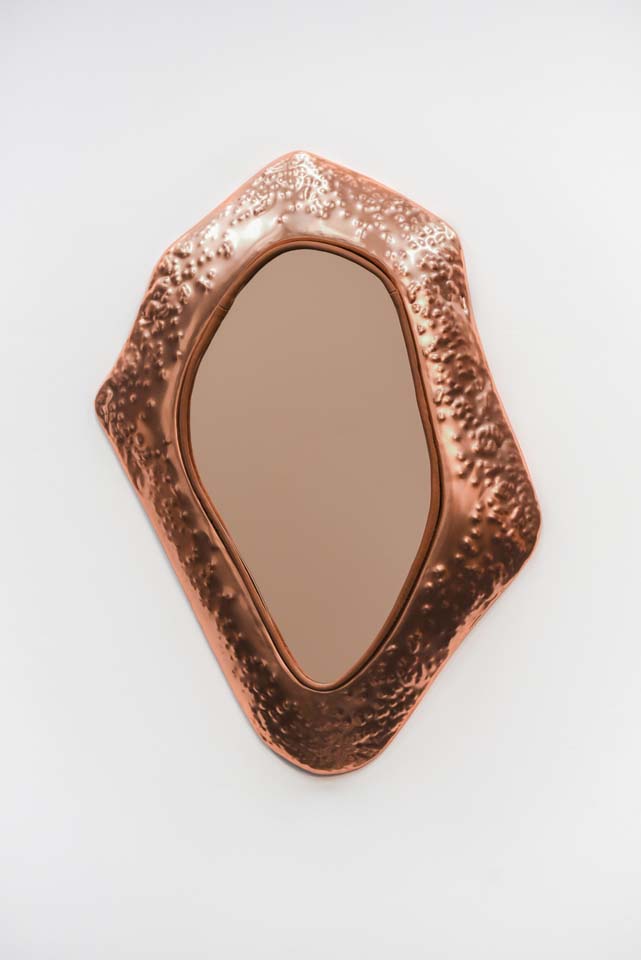 Produced in Sharjah, United Arab Emirates
Copper, hardwood, tinted mirrors, camel leather
2019
The Carabus collection is the result of conflating concepts of traditional craft with processes of advanced robotic fabrication. The aim was to address issues like tacit material knowledge and craftsmanship through a contemporary lens. Carabus embraces the imperfections of the process and highlights both machine and handcraft using robotically formed copper as well as camel leather and walnut wood. Forming tool marks are celebrated throughout the objects and recall the qualities of handcrafted objects. Even though the copper shells were made using a robot, the forms and textures maintain an organic softness so as not to take over the project. Most of the materials in the collection were handcrafted and hand-assembled including the formed copper pieces and leatherwork that was created by a leather craftsman using traditional leather-making techniques.  The wood components were also hand shaped and finished.
---
Dima Srouji, Hollow Forms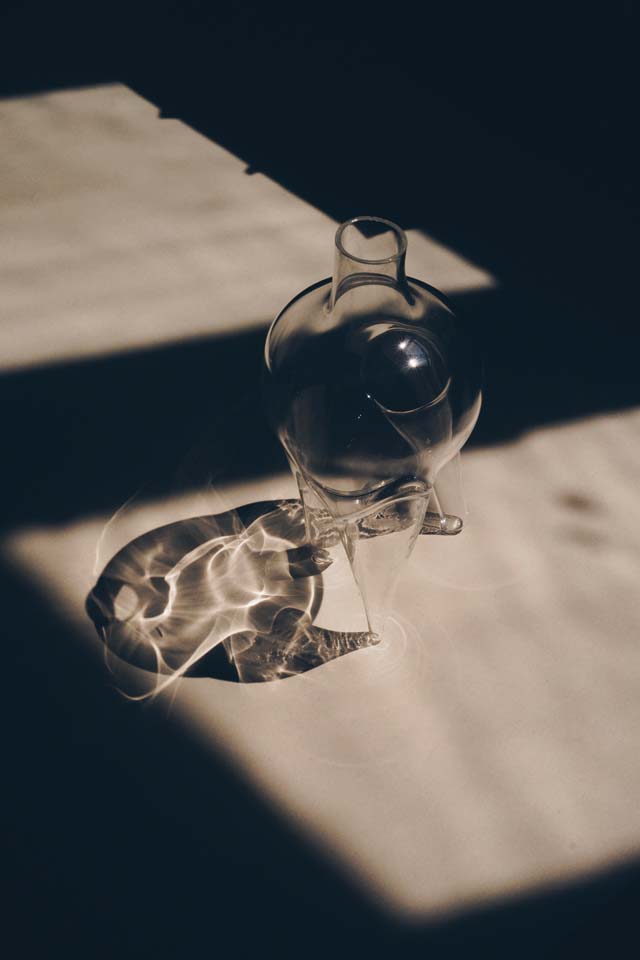 Produced in Palestine
Handblown glass
2017
Hollow Forms is a glass intervention that reactivates the dying industry of glassblowing in the region and sheds light on the history of the craft in Palestine. The collections are inspired by the Palestinian landscape and a sense of place with a contemporary twist. Hollow Forms was created in close collaboration with expert glassblowers, the Twam family, from the outskirts of Jerusalem.