Kitchen trends are showing us that the kitchen space is beginning to take its rightful place at the heart of the home. Here we explore various trends, products and materials that are propelling kitchen design to the forefront.
Biophilia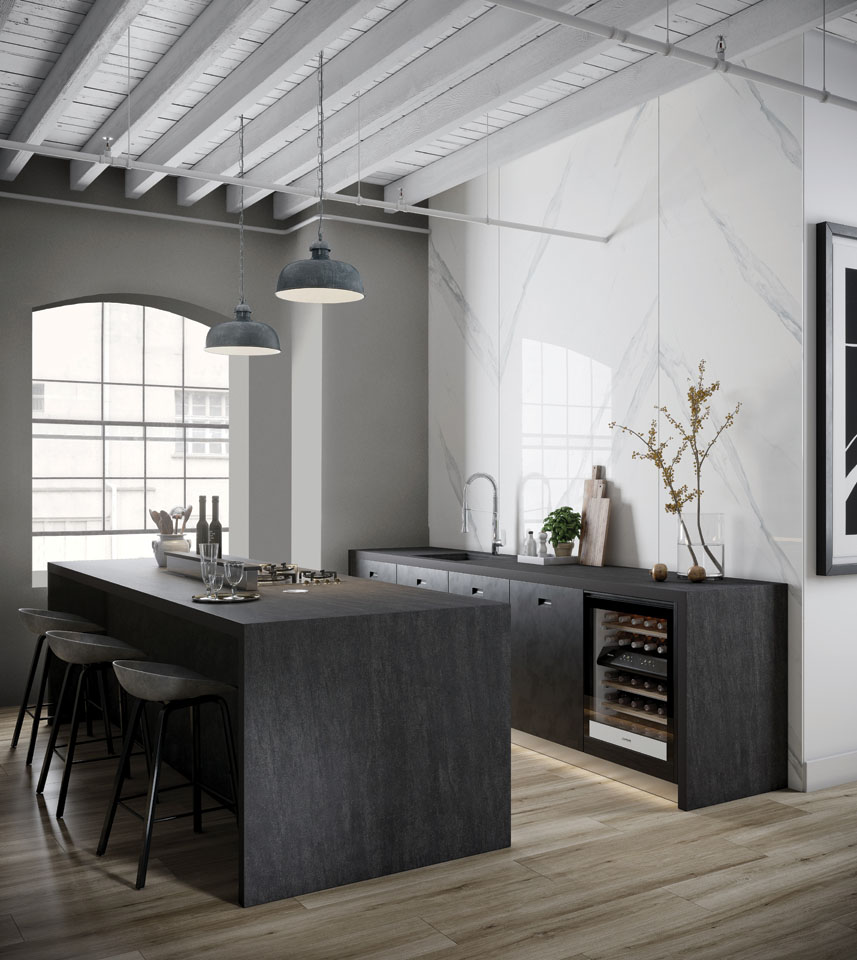 Being confined to one's home environments and lacking a connection to nature has brought the importance of nature back into the living space, and in turn, into the kitchen. Natural materials and textured finishes are becoming more widely available amongst new kitchen collections as brands rush to offer a sense of naturalness back to our homes. Part of Cosentino's Dekton Portfolio '20 collection, the Bromo range comes in a dark blue shade, inspired by homogeneous metamorphic rocks such as slate, born to fit seamlessly into the Natural Collection by Dekton®, a series in which Cosentino continues to express its desire to recreate the best of nature and its geology. Featuring a carefully-created texture and nature aesthetic, this colour proposal is neutral enough to be perfect for any type of environment. Also, as part of its commitment to sustainability and a circular economic model, various Dekton® colours are made with recycled materials from the product's manufacturing process.
Metallics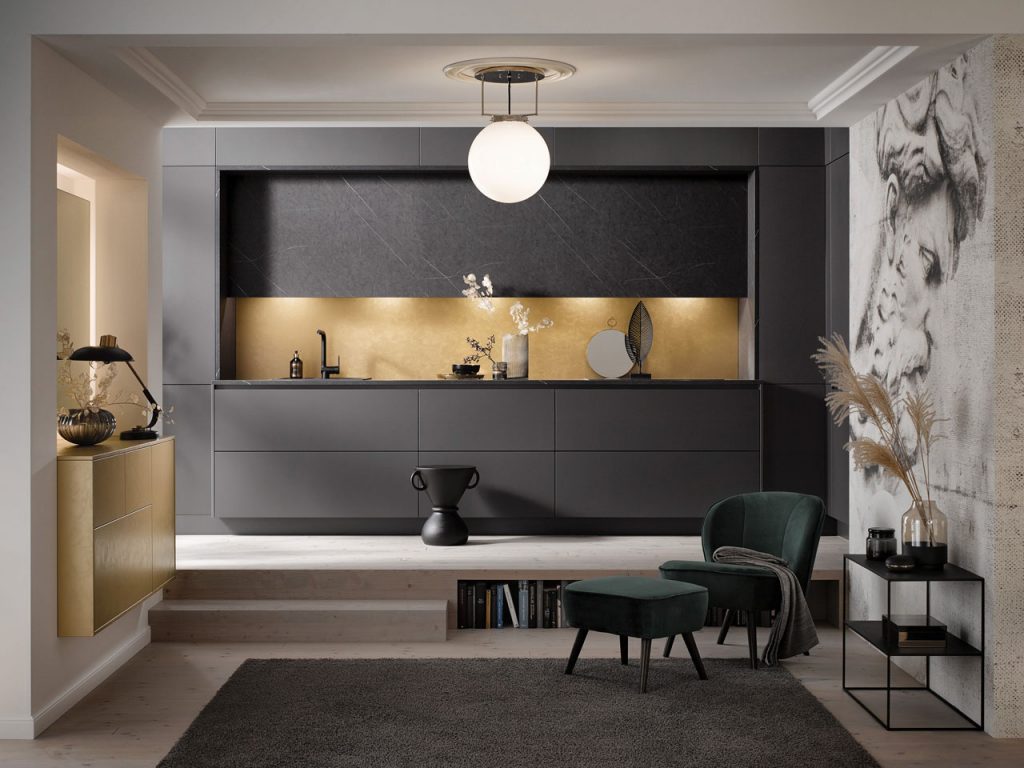 With kitchens moving to more dominant positions in the house, the need for them to stand out is becoming more desired. Hacker Kitchen's 2020 ranges offer just that with this Metallic Gold collection that boasts a textured gold effect that adds lustre and theatre to any space.
While dramatic, the design remains elegant and harnesses the metallic trend and updates it for the ultimate in-home style. The gold contrasts spectacularly with high gloss black cabinets, and has been designed with the Middle East and the Asia Pacific regions in mind. Additionally, Hacker's tropicalised kitchens adhere to the heightened attention to hygiene and safety. The kitchens are specially sealed and treated with an anti-fungal layer during the manufacturing process, using a sealant that expands and stretches with temperature. This makes the cabinets less penetrable by moisture, and therefore increasing durability.
Open plan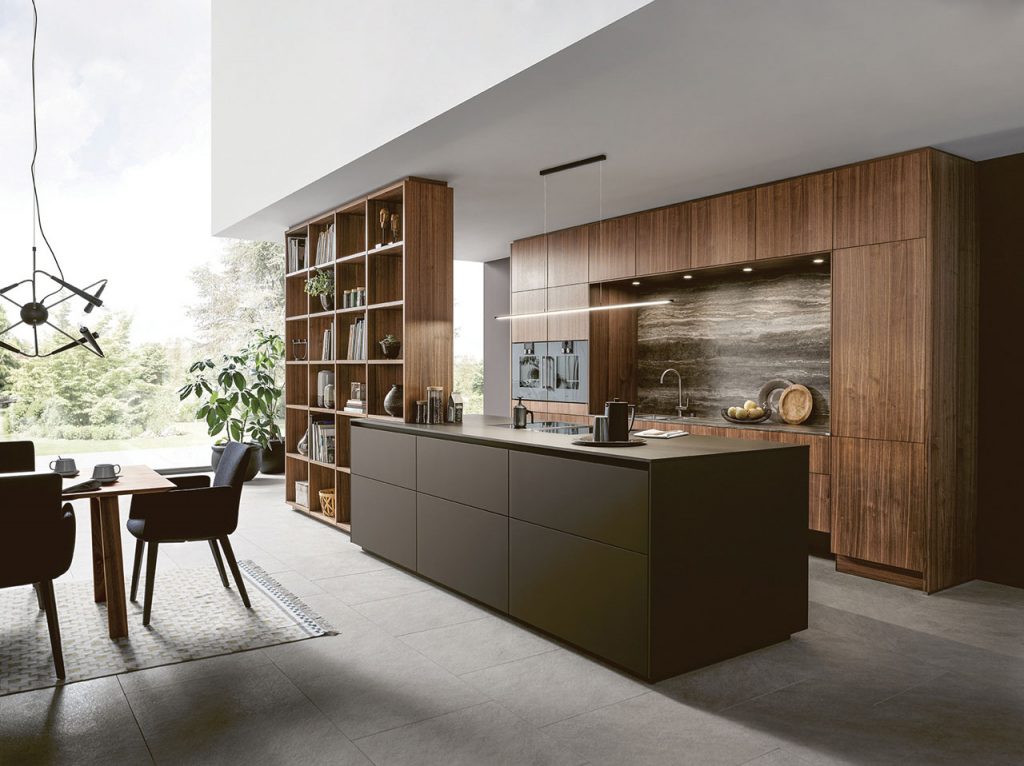 The lines between living room and kitchen are blurring as kitchens become more open plan and part of the larger living space. This can certainly be said of Schuller's Next125 high-end kitchen range. Open on both sides and serving as a room element, the open shelf unit subtly emphasises the homely character while, simultaneously, acting as a bridge between cooking and dining. The kitchen uses the innovative Fenix laminate material in mocha brown that features an easy-care, anti-fingerprint finish complete with ceramic elements for recess and worktops that reinforce its homely character. The absence of an extractor hood allows for a clear view of the living space as vapours and odours are extracted by downdraft directly at the hob. The lighting in the recess can also be used as ambient lighting in the evening. All these elements come together to create an interplay of living and kitchen spaces.
Clean lines
Minimalism in the kitchen is becoming more prominent, with more people beginning to declutter their spaces and opting for less but more valuable pieces and ample open space. Kitchens are also employing this strategy, focusing on efficiency and formal cleanliness, as well as aesthetic simplicity. The new APR 60 collection by Italian brand Boffi designed by Pierro Lissoni and CRS Boffi offers just that, while also leaving room for customisation. From mixing between wood and glass or steel and wood, the collection also offers an abundance of colours to choose from. Its' defining features, however, include a raised worktop with a special section that creates a gap with the door and extra-thin shelves that look like lines, adding to the minimalism of the kitchen space. Another feature that adds to its minimalistic approach is the handle-less base units where the fronts can be opened by gripping the protruding part of the door. Its 'Tip On' base units are fitted with a push-opening mechanism that doesn't require an immediate hand-rail, allowing for smoother interaction.
Flexibility
With living spaces becoming smaller within residential developments as more spaces become dedicated to common areas and amenities, the sizes of kitchens are being reduced to suit the new floor plans and with this comes its own set of challenges, from storage to appliances. Turin-based Adriano Design has taken flexible kitchen appliances to a whole new level with the design of the new Ordine for Italian kitchen brand Fabita that can be hung up like a pan between uses to ensure safe efficiency. Advancing the flexibility of induction cooktop technology, Ordine strays from the typical model and instead opts for a sculptural form that is atypical of other space-saving objects found in the market. With both burners mounted on the wall, Ordine takes on an ornamental form that becomes decorative rather than space-consuming. The twin appliances can be used separately or simultaneously, and come in different colours as well as wall or countertop versions.