The exhibition 'Desert Cast: Towards an Identity' is an exploration of existing design references and motifs found across Kuwaiti housing projects that have been reapplied in conjunction with local craft in an attempt to create an authentic design identity that acknowledges the past and present. The work of three Kuwait-based designers – Jassim AlNashmi, Kawther Al Saffar and Ricardas Blazukas – 'Desert Cast' was first showcased through the Abwab initiative during Dubai Design Week in 2018.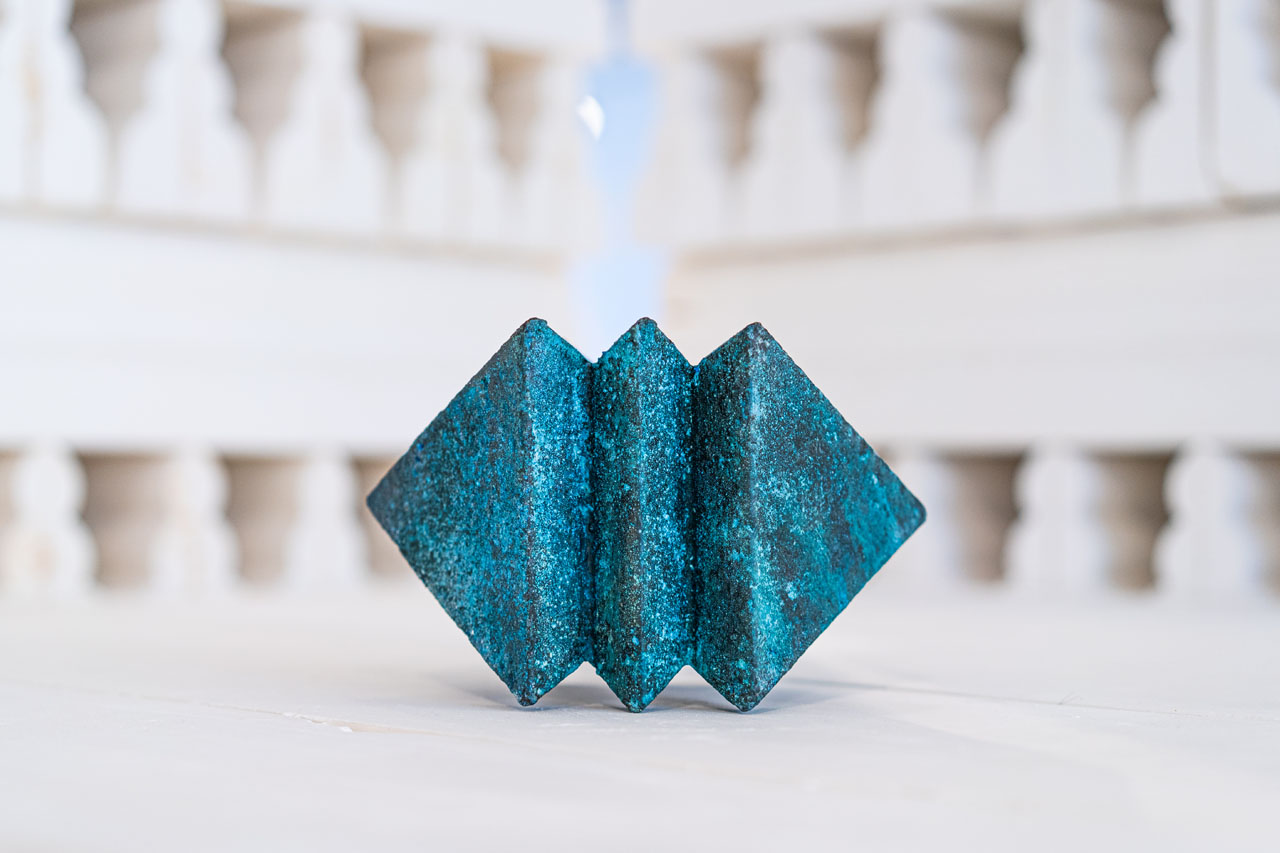 The first iteration presented a series of stools that analysed the replication of the classical Greco-Roman architectural elements that typically adorn Kuwaiti homes, in what the designers deem as a disingenuous sense of luxury. This contributes to the country's struggle in developing a context-based design identity, which in addition to borrowed classical elements also includes motifs that are an "orientalist, over- generalisation of Middle Eastern culture".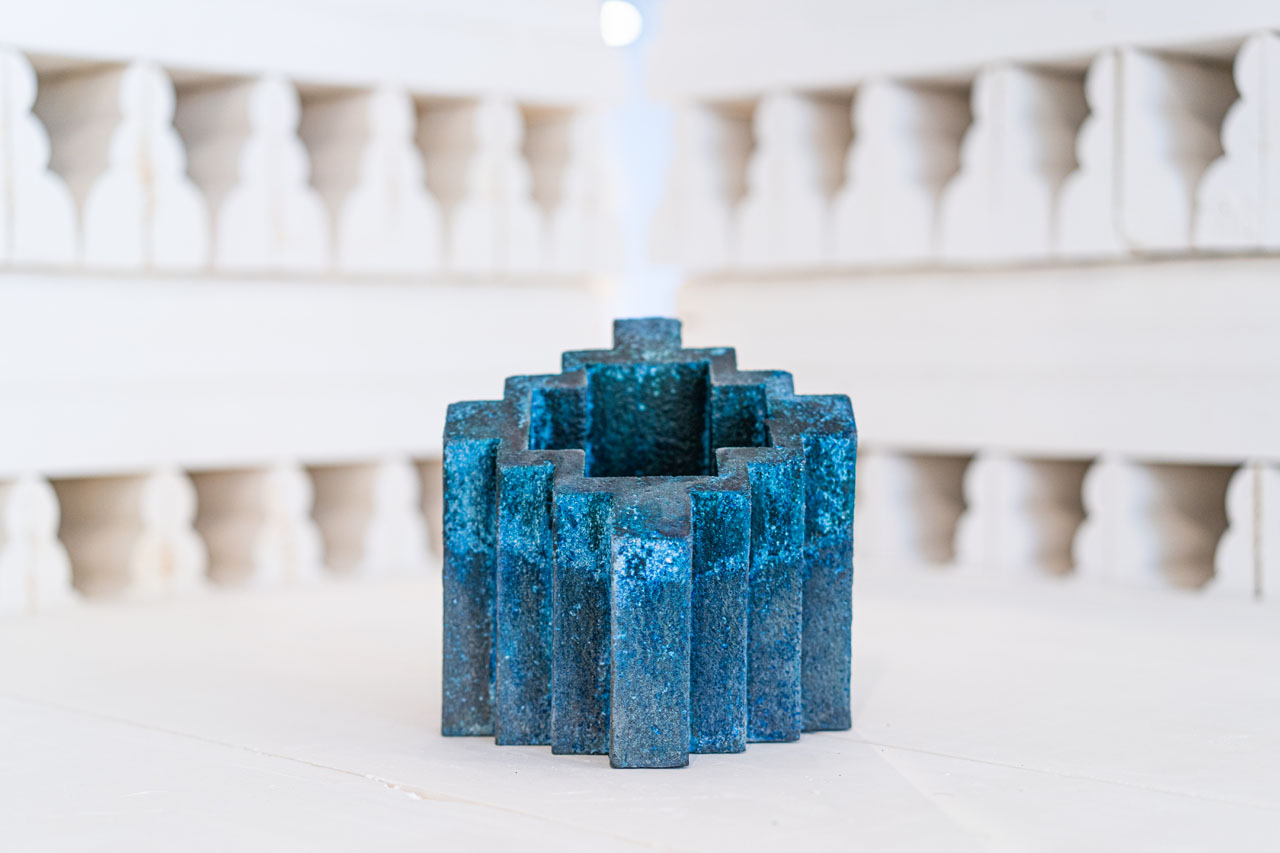 The latest exhibition showcases a reinterpretation of 2D gypsum profiles, that are often used to extrude gypsum cornices and friezes. By using a technique like wire-cutting, this creates sculptural pieces that embrace their craft. 'Towards an Identity' also utilises the process of copper oxidisation on the aluminium sculptures that gives the pieces their distinctive colouring through a natural chemical reaction.
By borrowing these profiles in their work, the designers have morphed them by overlapping the designs with locally embellished processes, such as sand-casting, which is native to the region; foam-cutting which is part of contemporary design education; and lost-foam casting – burying foam in sand – in an attempt to combine technology and ancient craft.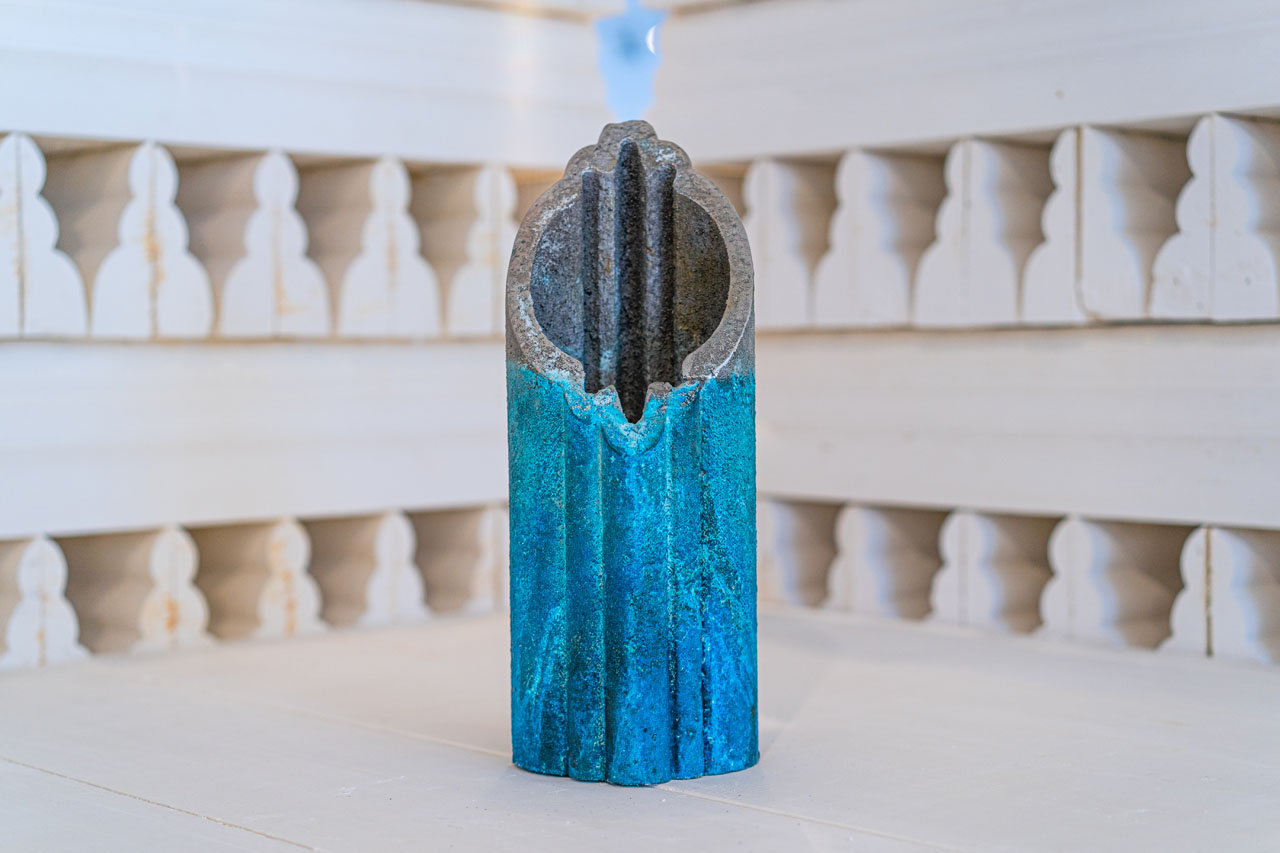 "The shapes themselves are a conversation around what identity is and whether Kuwaiti identity is taken from our past, our present or an amalgamation of both those things," says AlNashmi. "These profiles are actually taken from the gypsum factory and broken up and abstracted – in similar way to what has been done with Kuwaiti houses. Contractors and craftsmen are taking references, such as classical Roman architecture, reapplying them and saying, 'this is luxurious'."
"There is a term for it – 'false luxury' – which I think explains it very well. William Morris spoke about it in the Arts & Crafts movement, where they were taking ideas and reapplying them without thought," Al Saffar adds.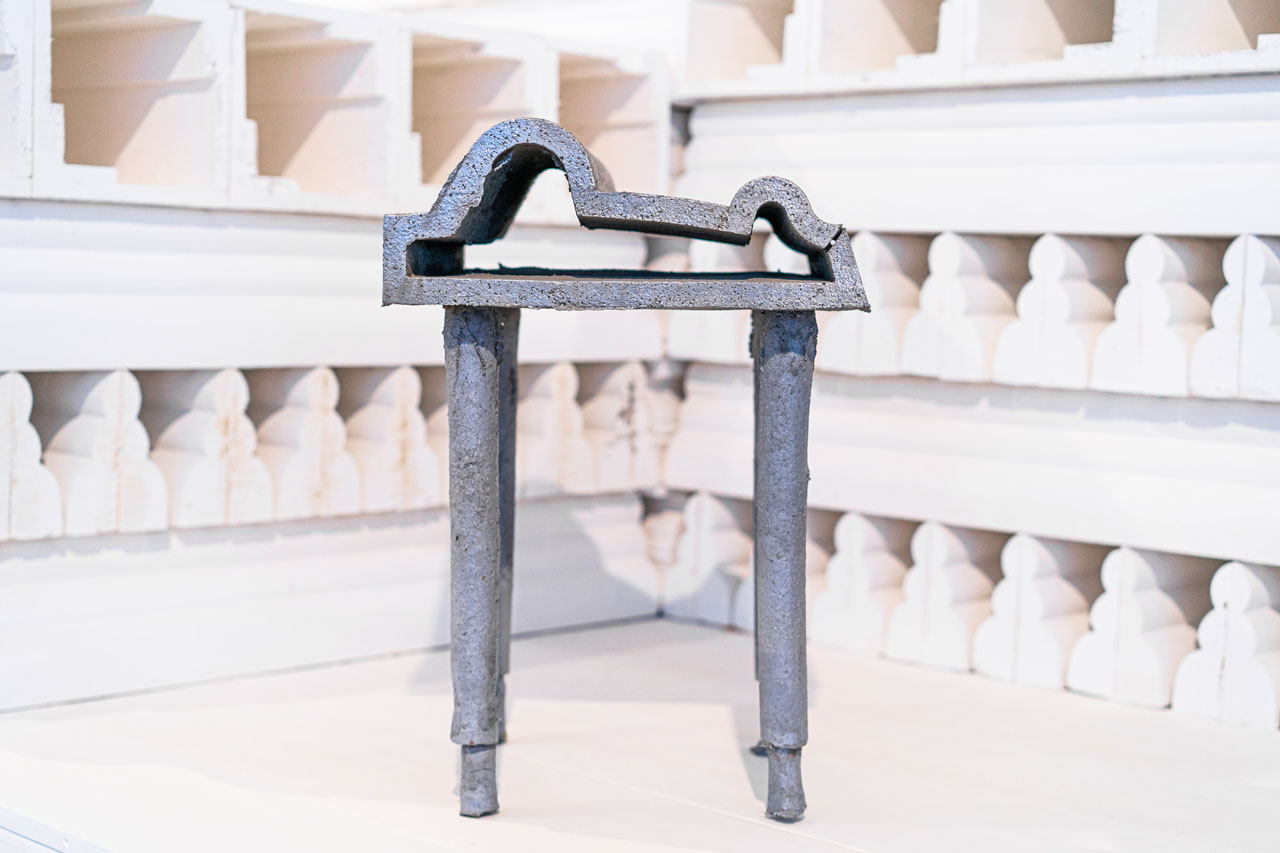 By synthesising local craft and design technology, 'Desert Cast' creates the possibility of a Kuwaiti identity that is rooted in its migrant history, while embracing its contemporary image.
"We started by looking at the materials and processes that were in Kuwait, and seeing how we could examine a contemporary culture that can be produced out of what already exists, as opposed to looking at a nostalgic version of Kuwait or a version that doesn't include its multinational society and its trade history as an indication of what is happening today," explains Al Saffar.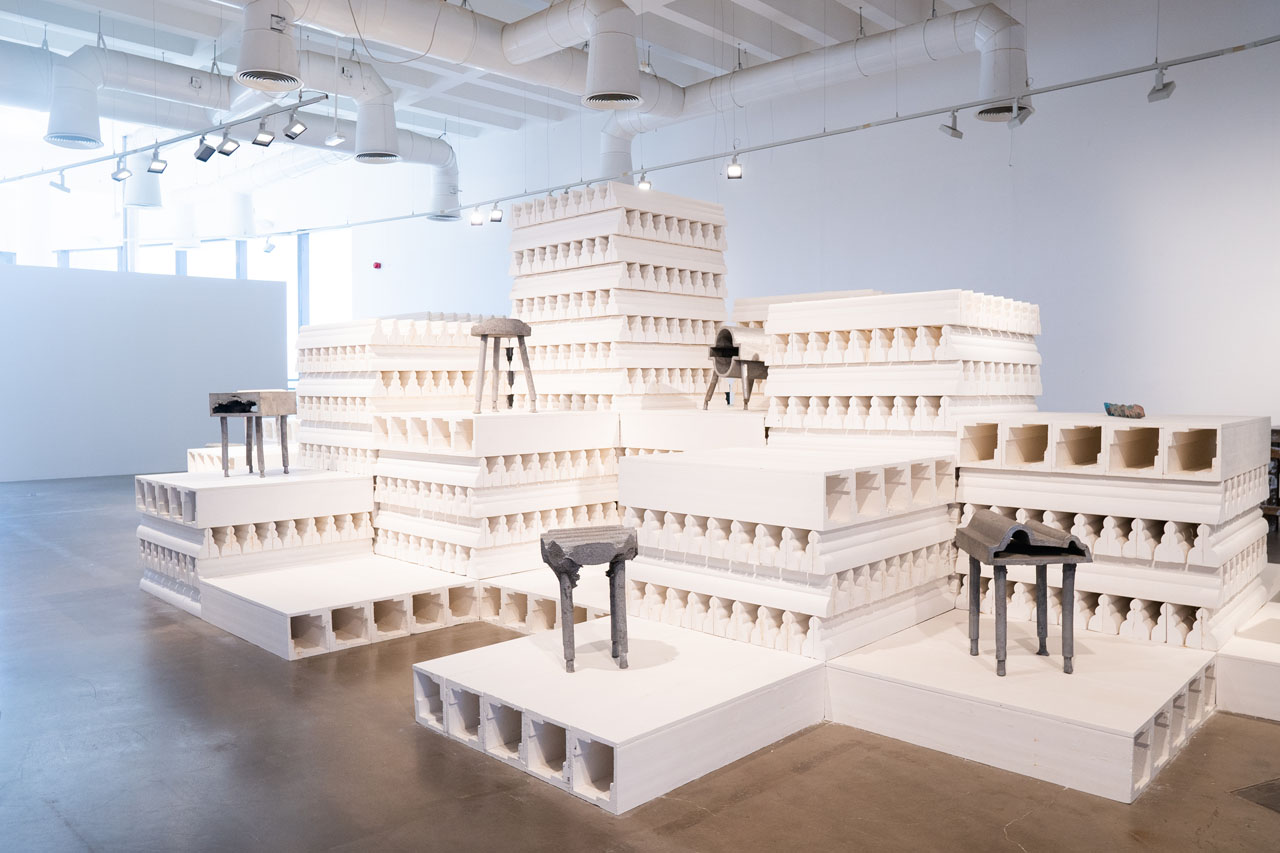 "One of the things we thought was very important to pinpoint is that we don't think that identity should just be based on your passport. Some of the craftsmen in Kuwait – who are from all over the world – have been living in the country for many years. We want people to be more honest about the reality of Kuwait; to stop rejecting migrants and craftsmen as not Kuwaiti; and stop glorifying people with a Kuwaiti passport and instead glorify craft, glorify skill."
AlNashmi adds: "What we are looking to do is ask, 'What is already here and how can we use it and make it more contemporary?' in the same way that any design movement has been done in the past in other countries. We need a similar movement in our own country and for this we need critique and conversation."