Styled Habitat's office in  Dubai Design District is a renovated design studio that exemplifies the co-existing notions of work and home
---
The often-detached concepts of office and home life have come to a collision in recent months, with many questioning the boundaries and intersections of the two distinct realities. Interior design practice Styled Habitat tackles these precise boundaries in the renovation of its studio in Dubai Design District, creating a space that encourages the best of both worlds.
Opening up to an airy yet casual living room-like space, the studio emulates a sense of being in a private loft that aptly overlooks Dubai's Downtown and Burj Khalifa. The large, inviting space acts as the central core of the studio, serving as a welcoming lounge, meeting and collaborative space.
"We studied different models of office spaces but we found that traditional models didn't represent Styled Habitat's aesthetics or values," says founder, Rabah Saeid. Instead, she decided to marry elements of both to create a space that felt authentic to Styled Habitat; one that is welcoming, personal, calm and contemplative.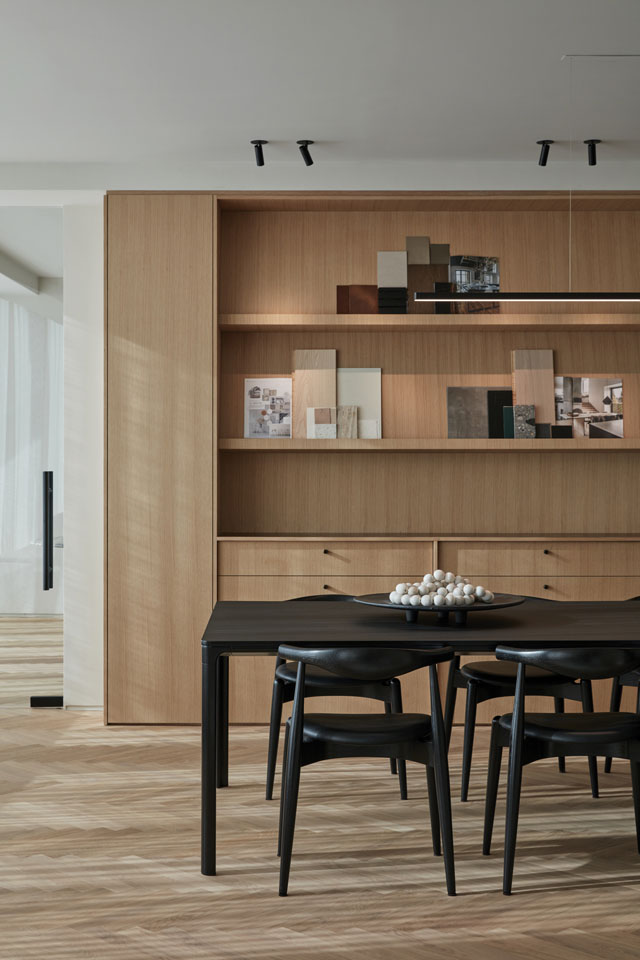 "The studio environment allows for team members and guests to step back and be able to see the whole space while still being able to zoom in on how individual moments play together," Saeid explains.
The result is a studio comprising fluid spaces that adapt to its various uses. The hybrid model combines both open and closed office plans teamed with a selection of finishes, textures and furniture that further contributes to the feel of a comfortable and inviting living space.
The open central core overlooks a series of beautifully plastered arches that separate the public space from the individual offices on one side, while on the other side, a tall, floor-to-ceiling custom materials library establishes an anchor between public and private spaces.
"Good design has to be functional and meet the actual needs of the users," Saied explains. "Pulling a space together is all about building character. The series of arches create a visual boundary for the lounge area and emphasise the thickness of the openings and walls with an old-world plaster finish. This is further balanced by the European herringbone wood flooring. All these elements collectively melt together to give the studio a sense of character and history, but more importantly, an approachable and inviting feeling."
Another area that has been given meaningful attention is the pantry that was once an isolated storage room but has now been transformed into a dramatic space. The decadent room features custom joinery, integrated appliances, rich four-season marble countertops and a marble ledge, that acts as both a functional shelf as well as a display to showcase beautiful collections of handmade ceramics. Much like other areas of the office, interwoven spaces take precedent over closed doors, with the pantry similarly spilling into the studio using a cosy bench dressed in vintage velvet set at the end of the counter, creating an alluring spot to enjoy a cup of coffee.
"The pantry becomes more of a flow-through from the rest of the studio," says Saeid. "It is not choppy or an afterthought or purely utilitarian."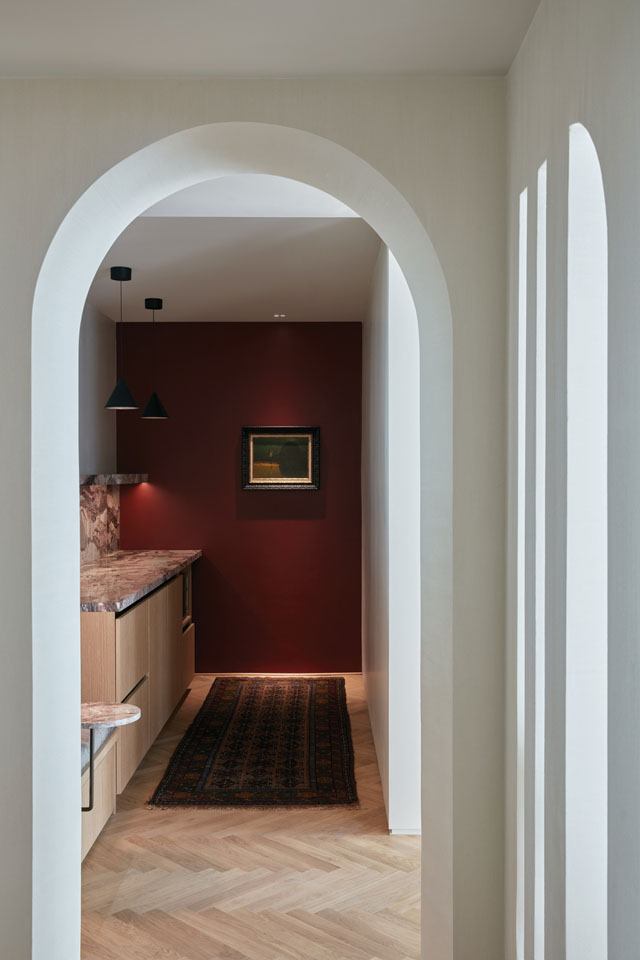 Saeid's attention to detail and nuanced design choices is also expressed in the endless curiosity of "honest" materials, textures and objects that are carefully curated and positioned across the studio. From natural oak herringbone floors, pitted travertine tables and marble countertops to textured linen fabrics and a plush rug area all, all chosen elements are used to enhance the lived-in narrative of the space.   
"I love the challenge of adhering to a limited palette of whites, linens, warm wood and a few hints of black," Saeid comments. "To achieve a curated, well-lived in space, we layered tones and textures in a way that was super considered yet minimal. We also needed to energize the deepest parts of the studio where there was little natural light such as the pantry by painting the back wall a rich burgundy colour and carefully placing lights to draw attention to the vintage framed artworks."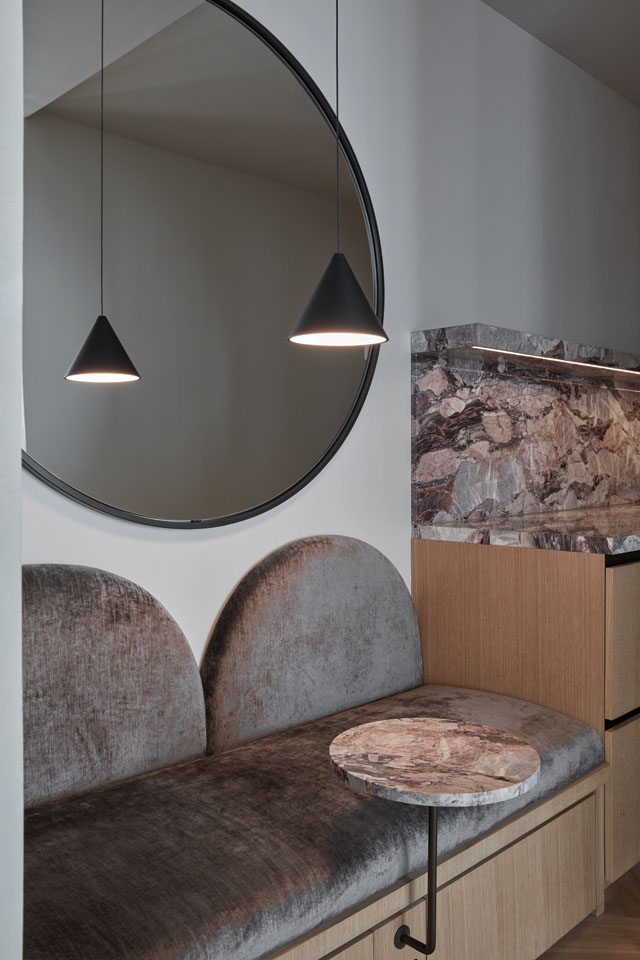 The studio also boasts a range of brands and products that are showcased in a manner that feels collected and admired, celebrating their quality and craftsmanship. From locally-made custom designs to classic pieces and contemporary works, each of these serves their intended function and highlight Styled Habitat's creativity in seamlessly mixing different styles.
One example of this is the classic CH20 Elbow Chair designed by Carl Hansen & Son whose curvy and graceful form fits beautifully against the pure and simple lines of the Fredericia-Mesa table. Other brands that grace the studio include lighting from Flos, furniture pieces from Ikonhouse – who's Alserkal Avenue showroom is also designed by Styled Habitat – as well as pieces from Cassina and DesignItch.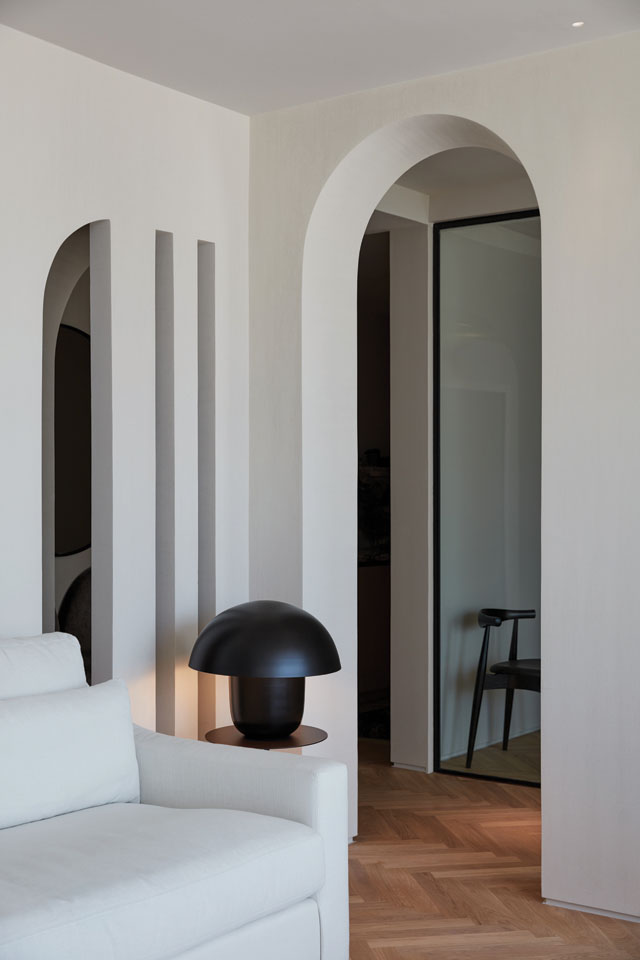 "I find that allowing the design to unfold piece by piece, material by material, is when the magic of design can take you by surprise. This unfolding is what stimulates comfort and excitement in design," Saeid points out.
"In my opinion, there are no hard-and-fast rules. Anything that truly makes your heart sing should find its rightful place in your space," she adds.
Photography by Oculis Project