One of the main challenges of designing an office is determining how to present the company's image to the public while ensuring that specific work culture is supported so people can perform most effectively and efficiently. The best office interior is one that also feeds the needs both of employers and employees.
---
Edelman by ROAR
The central concept of 'Cultural Villages', based on the idea that each entity has its own character and personality within a common identity, was the guiding inspiration when designing the new Dubai offices of this international company. The new space needed to unify two teams of former competitors, to link with the Abu Dhabi office and to balance two audiences – the millennial workforce and the older clientele.
The Civic Square reception zone has a rich hospitality look and feel, while the Creative District is more playful, with vibrant colours. The Urban Park is a public space with a large open floor plan, amphitheatre, multi-function area for meetings and presentations, and café-style seating for eating lunch. The City Lofts is the most mature, refined area, where senior managers and consultants meet clients.
The interior palette has an ombre gradient colour transition that serves as a wayfinding device and gives each area its own identity.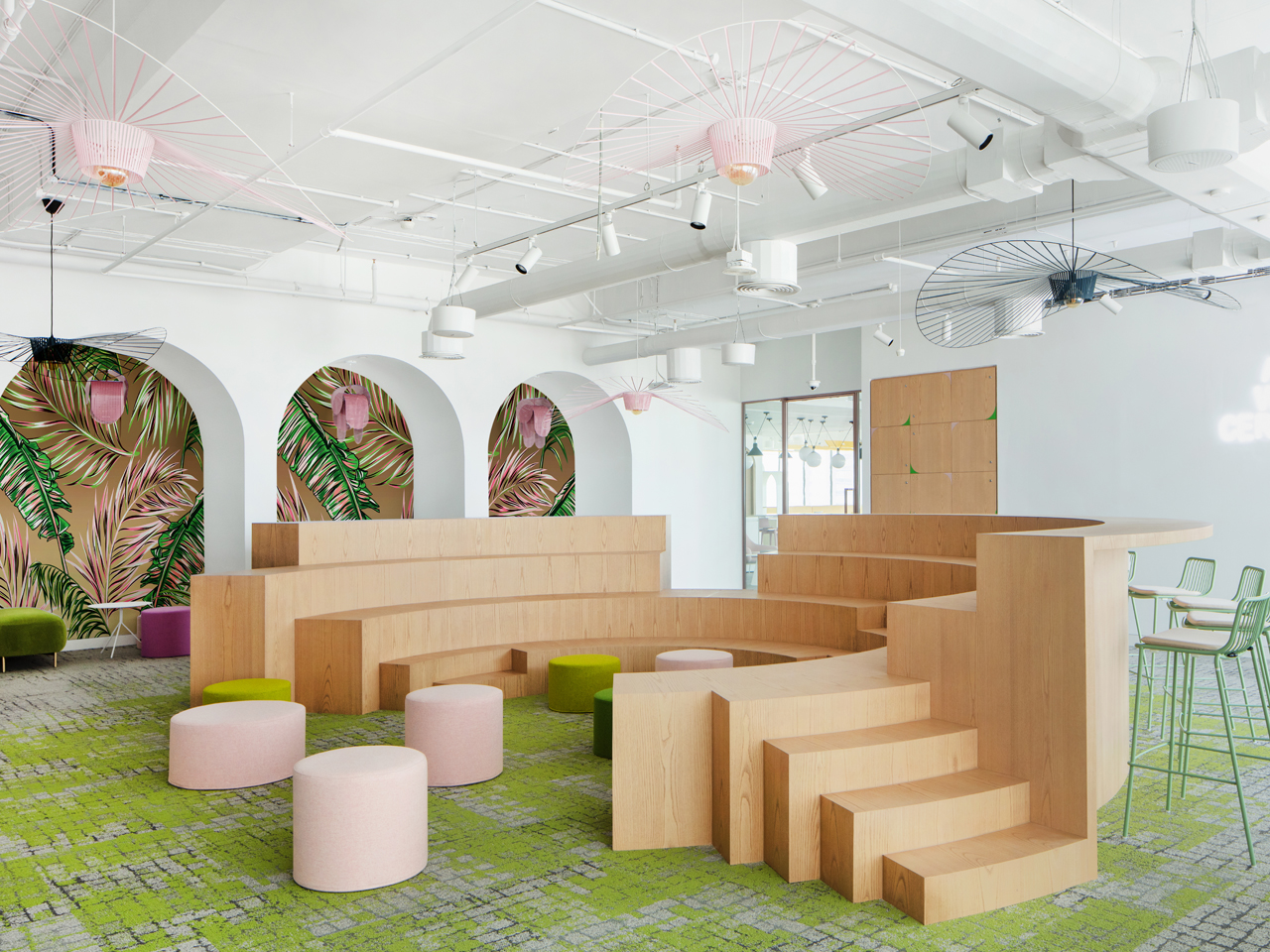 C3-EdenRed office by DZ Design
Credit card graphics and the company's bold red signature colour provided the inspiration for the offices of this leader in payment solutions. The corporate colours are incorporated into the ceiling design, which flows through the entire office corridors that interconnect the various work disciplines.
The open-plan working space doubles as a co-working area, while private cabins line the glazed façade. Full-height glazed partitions allow natural light to penetrate into every area of the internal office spaces. Careful thought went into creating quiet rooms for meetings and brain-storming sessions, away from the busy office floor. These rooms can be converted into either private offices or meeting rooms. Two interconnected boardrooms, each accommodating 25 people, can be combined for larger groups of up to 50. They can be accessed from the CEO's cabin via a concealed door.
Flexible modules for storage, connectivity and communications enables spaces to be adjusted to meet specific needs.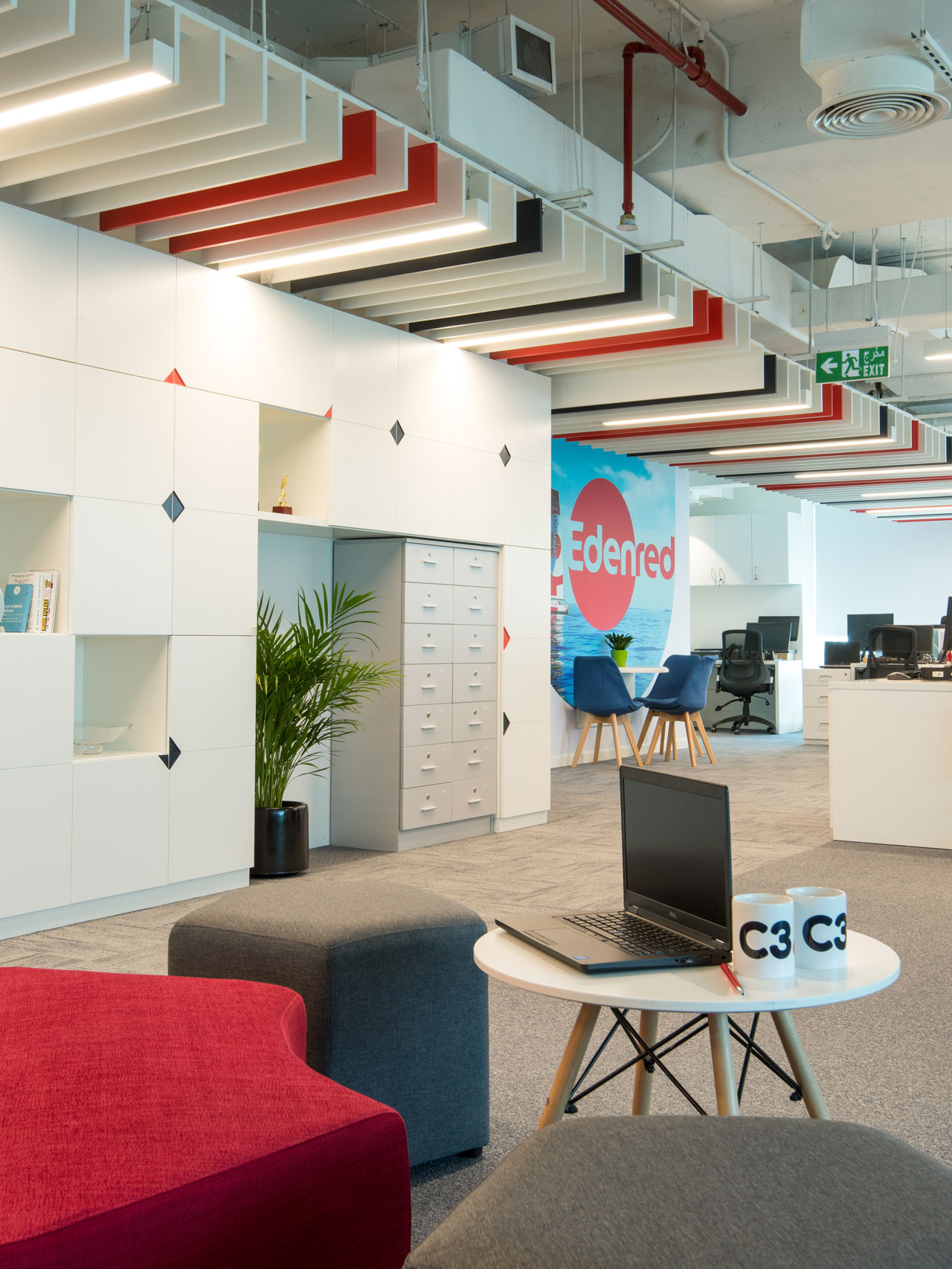 Publicis Media by AAID
The light, organic reception of the newly designed offices of this French conglomerate act as a central hub for the individual agencies under the corporate umbrella, as well as a sophisticated waiting area.
The Boardroom is a dedicated client meeting space used by all the agencies. It features curved glass, warm teak panelling and a bespoke centre console. The Executive Office emulates a home office, with timber flooring and soft finishes, as well as space for personal effects.
A refined neutral base unites the community, while allowing brand identity within individual areas and the central meeting spaces of the open-plan areas. Smart lighting and ergonomic furniture promote overall wellbeing, while glass partitioned cabins provide privacy yet allow natural light to penetrate into the interior.
A common pantry shared by all the agencies tells an industrial warehouse story through exposed brick walls and a concrete floor finish. Each of the brand colours appears in the graphics and furniture finishes.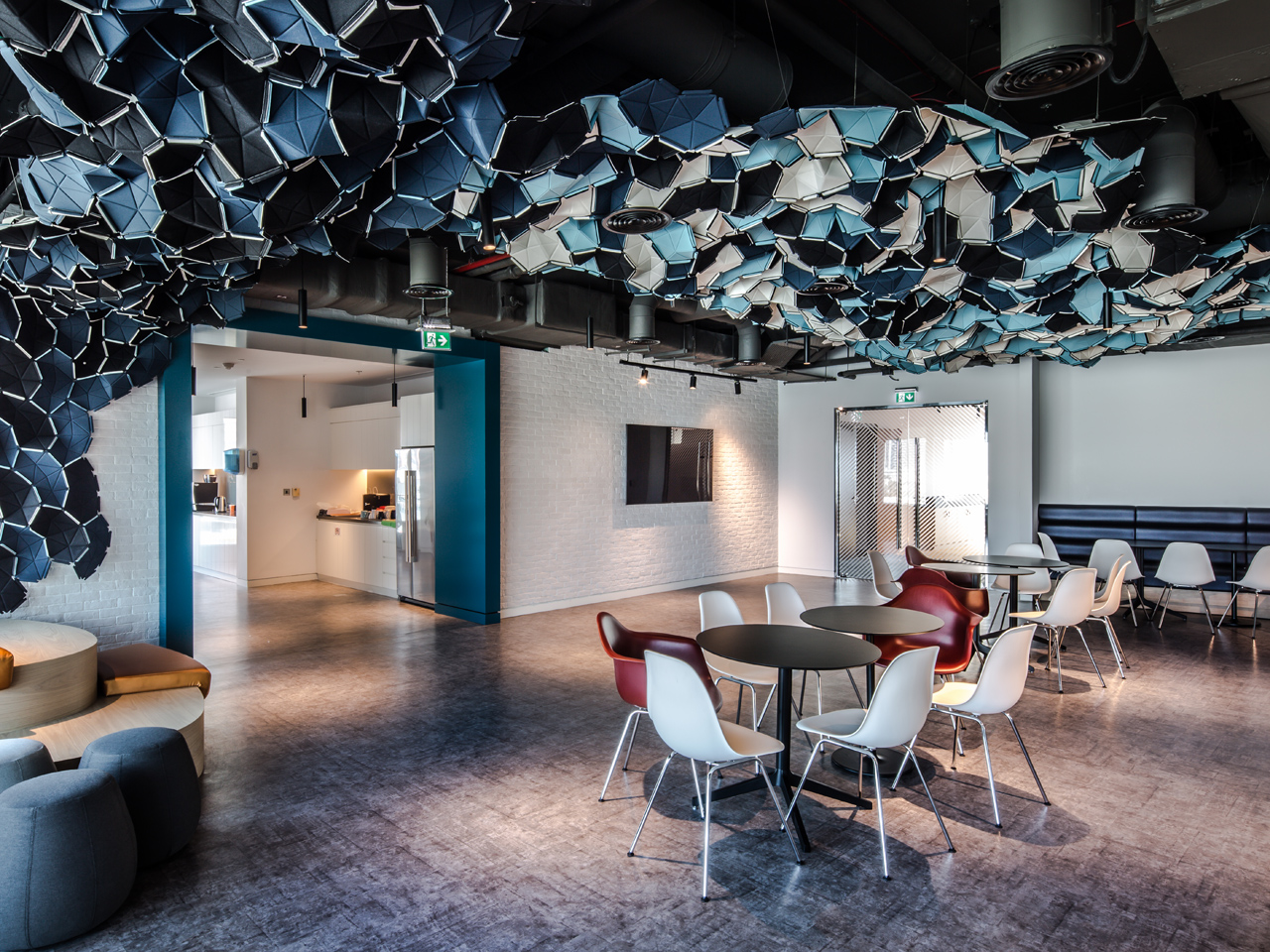 Property Finder head office by Swiss Bureau Interior Design
Rapid expansion required that the client increase their space on the same floor of Shatha Tower to accommodate its expanding workforce. A high table surrounding a central tree feature in the elevator lobby metaphorically represents the company's vision of limitless growth and expansion.
The varied types of working options include informal work areas as well as the traditional clusters of workstations. A planter feature acts as a cohesive divider between the existing and expanded spaces. Wood, utilised in various forms, was one of a small number of materials to be used in the minimalistic design. It added a warm ambience, contrasting with the colder concrete floors. Bold red provides an invigorating pop of colour.
One of the key spaces, the boardroom, contains a movable wall that allows the space to break into smaller meeting rooms. The large writable glass surfaces are functional for employees during meetings, but allow the boardroom to be used to host visitors.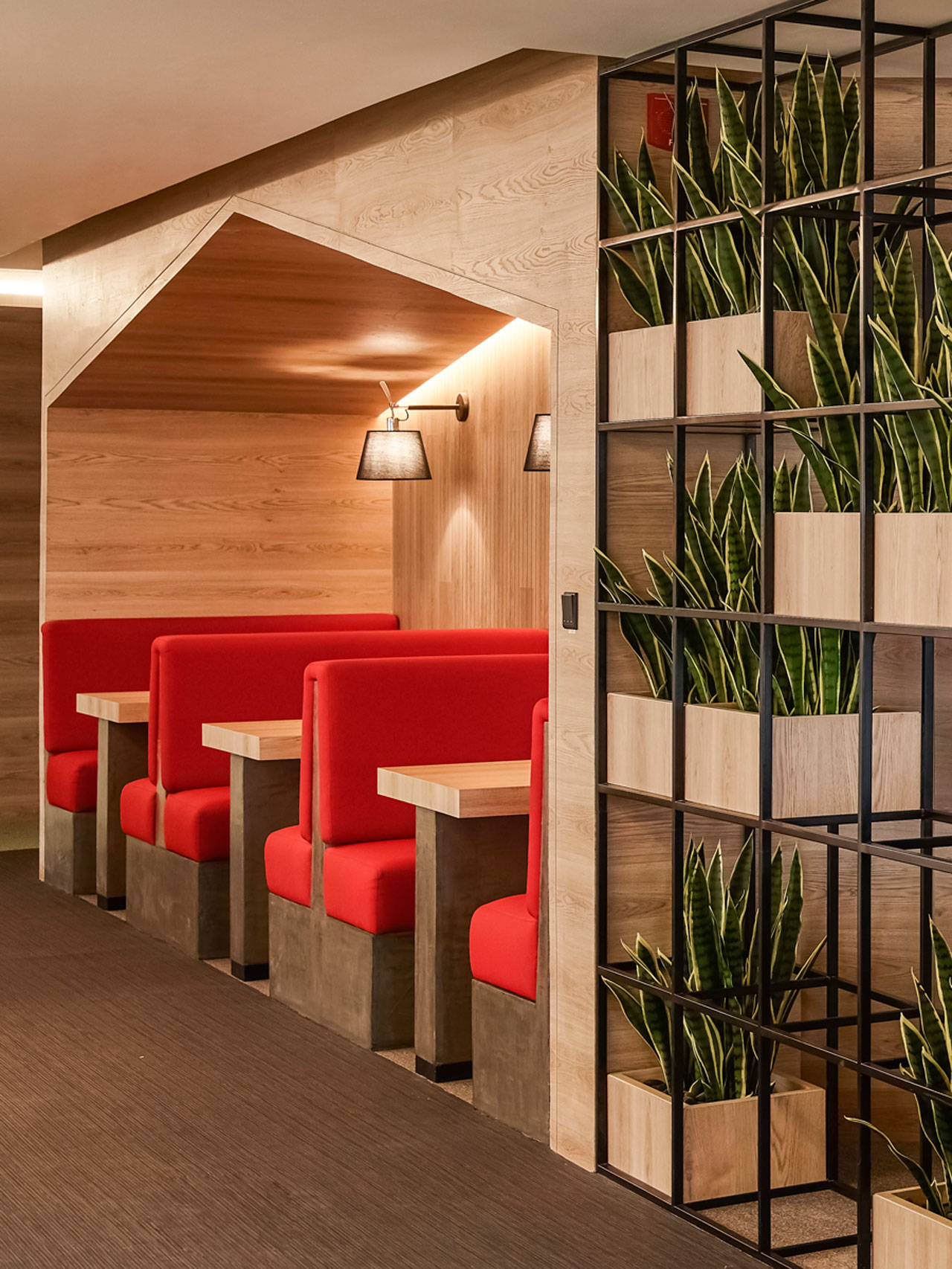 BRS Ventures by Design Infinity LLC
The global headquarters of a multi-national entity must showcase the company's vision and identity while providing an efficient, productive and friendly working environment. Ideally, it should provide for future expansion while having a low environmental impact.
These criteria were met by showcasing modern materials contrasted with upscale finishes and high-quality craftsmanship. Earthy corporate tones provide a timeless design combined with polished raw industrialised materials that evoke a sense of luxury and functionality.
The reception desk has an iconic shape that extends towards the ceiling, with backlit lights that give a star-studded sky effect. Customised, modular benches and TV walls feature in the waiting area, which also serves as a casual meeting space.
Various spaces support staff and clients, including airy workspaces designed with movement and colours to stimulate the mind to be more active and creative and, at the same time, promoting a healthy positive attitude. A well-balanced combination of individual and collaboration areas is also available. Adjacent to the training room is a breakout lounge. Straightforward elements such as oak veneer with moss grass bring nature into modern interiors. The chairman's executive office is polished and sophisticated, catering to the high-end clientele while also providing a fresh, new look for the brand.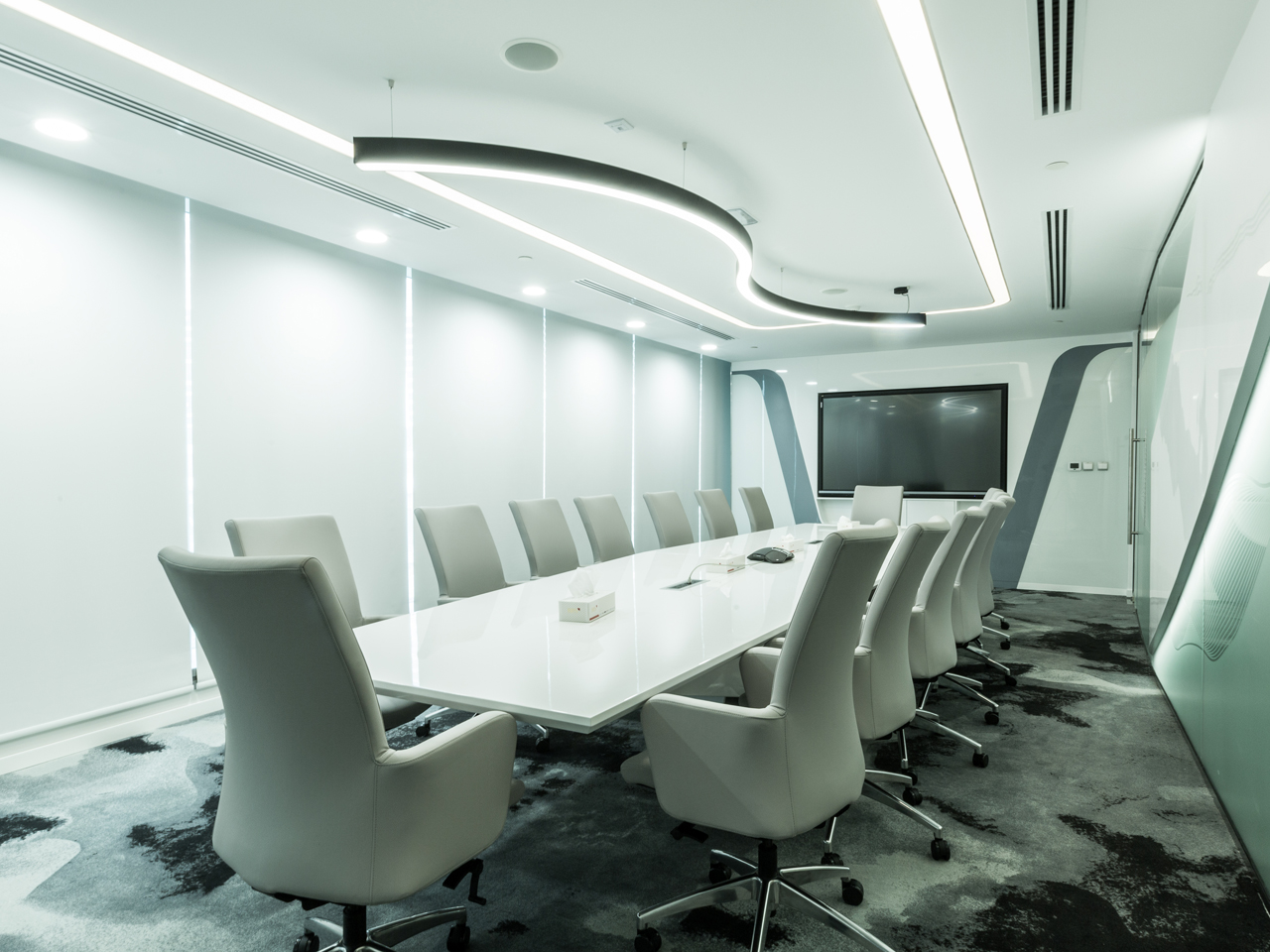 Ministry of Cabinet Affairs by Kart Group
Respecting cultural heritage was an important criterion for these government offices, along with the need to provide inspirational office climate and motivational workspaces, all within budgetary and time constraints.
A creative hand-made twisted natural jute net, representative of an early Dubai pearl diver's bag, forms a semi-enclosed lounge setting. Elsewhere, a clear mirror installed on the floor and ceiling create an infinite reflection of a central preserved tree, grounding the roots of the development and reflecting the growth of the UAE.
The executive offices were designed with clean lines in luxurious materials such as marble and wood and fitted with comfortable majlis lounges. Staff areas contrast with a more contemporary and playful industrial design, while multicolour accents and zones generate a friendly and creative atmosphere. Among the bespoke artworks is a creative installation of gradient colours superimposed on different layers – an abstract artwork when viewed from one angle and a contoured profile of Sheikh Zayed bin Sultan Al Nahyan when viewed from another.