Studio Terre describe their work as creating art "from the act of living" through collectible pieces that are both sculptural and functional. The brainchild of Eva Noemi Marchetti (Nino), Francesca Guarnone (Jufa) and Ricardo Brunetti, the studio embodies its philosophy of slow living by creating outside the bounds of materials and techniques, and is instead driven by creative instinct. The studio's work is embedded in the Mediterranean way of life, returning to the roots and foundations of the founders' shared culture.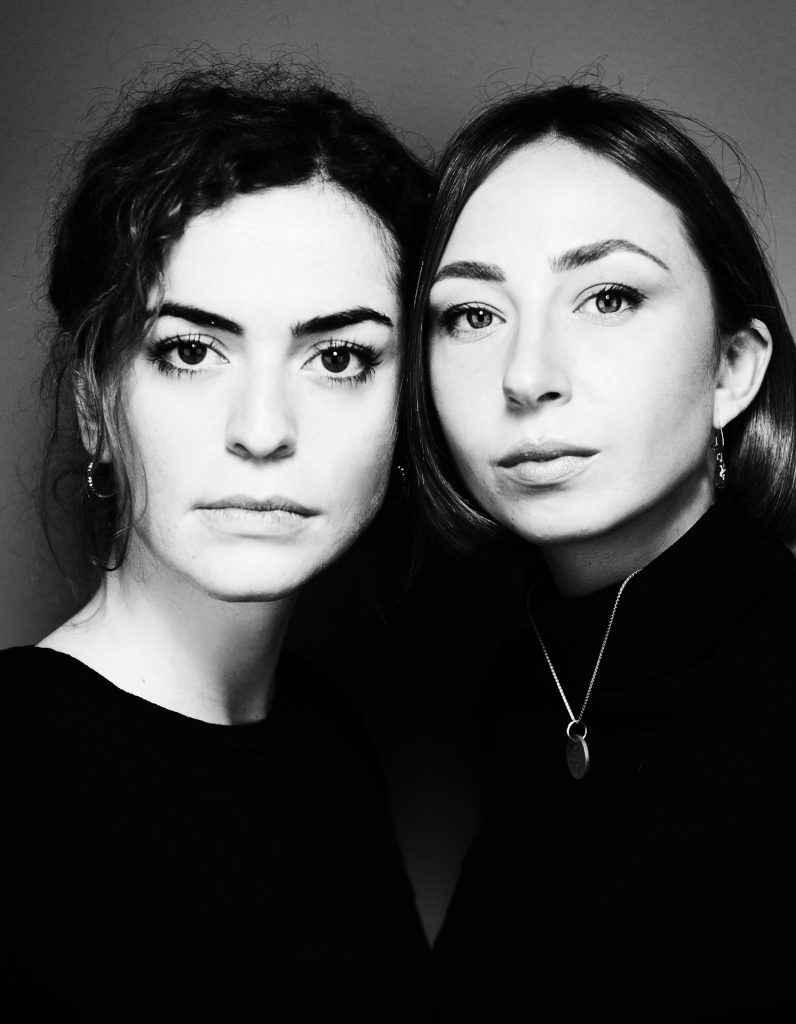 Aidan Imanova: What prompted you to start Studio Terre?
Studio Terre: We founded Studio Terre in 2020, in June. In the midst of the pandemic, we [became aware of] the direction we were going in and that we wanted something more real; something that would give us feelings of positivity. We were looking for a lifestyle and satisfaction that was closer to our ideals. Moving away from the chaos of the city to Trivolzio in the [Italian] Province of Pavia, close to nature and to a slower pace, we decided to set up our experimental art studio.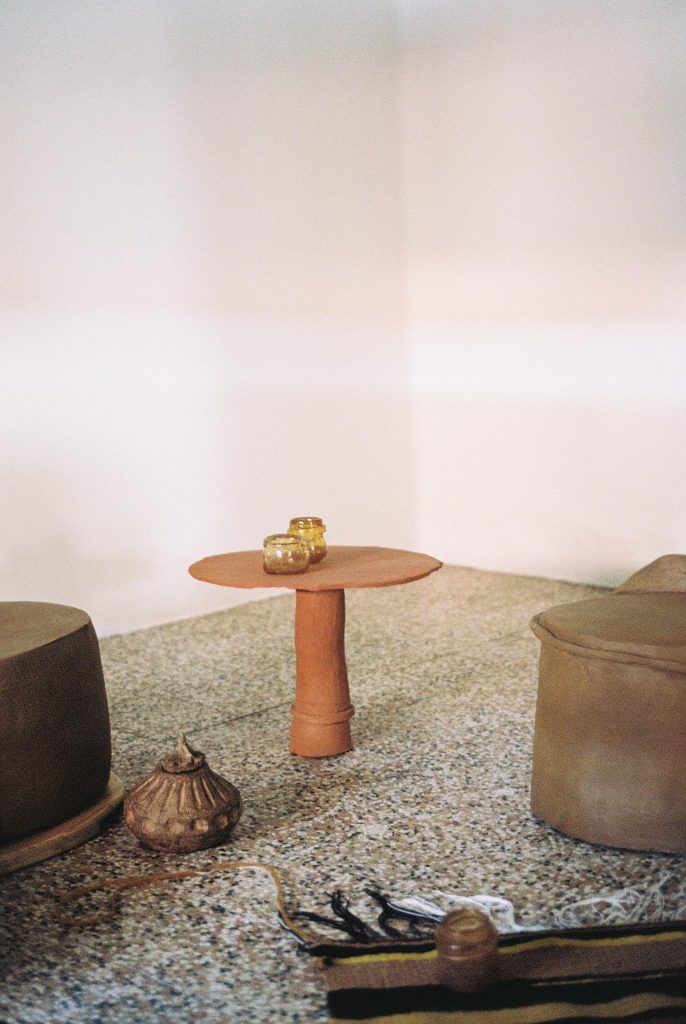 AI: What does the concept of 'slow living' mean to you as a studio? How is it reflected in the way you design, and the way design impacts your lives? 
ST: Slow living for us, as a studio, is also synonymous with 'slow design'. [We are] creating intimate and personal objects and environments that tell a story of their own, made of time and care, and the need for a Mediterranean way of living, linked to the origins. In our vision, there is a strong reference to the home, to tradition and to the land; a return to the roots and foundations of our culture.
AI: What do you think is the importance of creating awareness around the movement of 'slow design' in today's society?
ST: We think it is important to spread the message of 'slow design', to make people aware of the importance of using sustainable raw materials and the time needed to study and create objects that respond to this credo of sustainability and circularity, which is more necessary today than ever before.
AI: Can you tell us more about your work? What is your creative process and what materiality do you work with the most, and why?
ST: We don't usually define the object we are going to create in great detail. We have a more emotional, instinctive approach – in which we try to [define] the message we would like to send. We do not set ourselves any limits in terms of materials, techniques and tools to be used, in order to communicate our vision. We create unique pieces without creative constraints, where art, craftsmanship and design come together. We prefer sustainable raw materials such as earth – both cooked and raw – [and] Murano glass, combined with terracotta powder and naturally dyed Sardinian wool.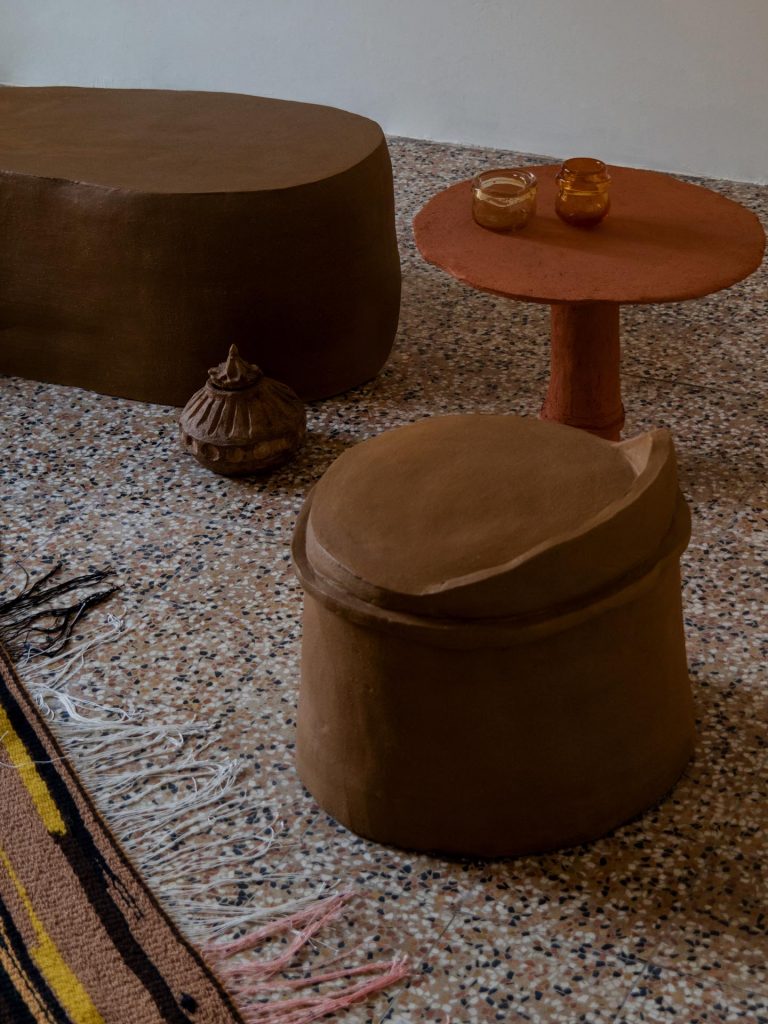 AI: You often speak about the concept of imperfection – how is that reflected in the way you design? 
ST: Imperfection for us is the real thing. We have been so beset by the perfect and the absolutely beautiful, that we now seek the opposite. We should go back to the awareness that our grandparents had, according to which, if an object has been scratched, or is not perfect, it does not automatically become less important or less valuable; it is the memory intrinsic to it that makes it live. We can define this as the extreme [interpretation] of the concept of the 'true and authentic'. It is not an ode to the crack, but a conscious and positive acceptance of the non-existence of perfection; accepting imperfection as one does within a family, and beginning to love it.
AI: Tell us about some of your collections.
ST: We started by working with soil from different Italian regions, in the Conserve series, in which jars and small jugs become containers of values to be shared. We were inspired by the typical jars of the Apulian tradition, historically used by peasant families to preserve food. It is the concept of preserving that is important to us; putting something aside for someone you care about and returning to methods and traditions of times gone by for a modern craft. Later, with the Maxi series, we made coffee tables, candelabras and larger vases, investigating the concept of imperfection even further. Shortly after, we felt like changing mediums, so in Terre in vetro – a small collection of four amber-coloured Murano glass and terracotta powder glasses – we wanted to experiment by creating a relationship between two apparently very different materials, a symbol of sharing and conversation.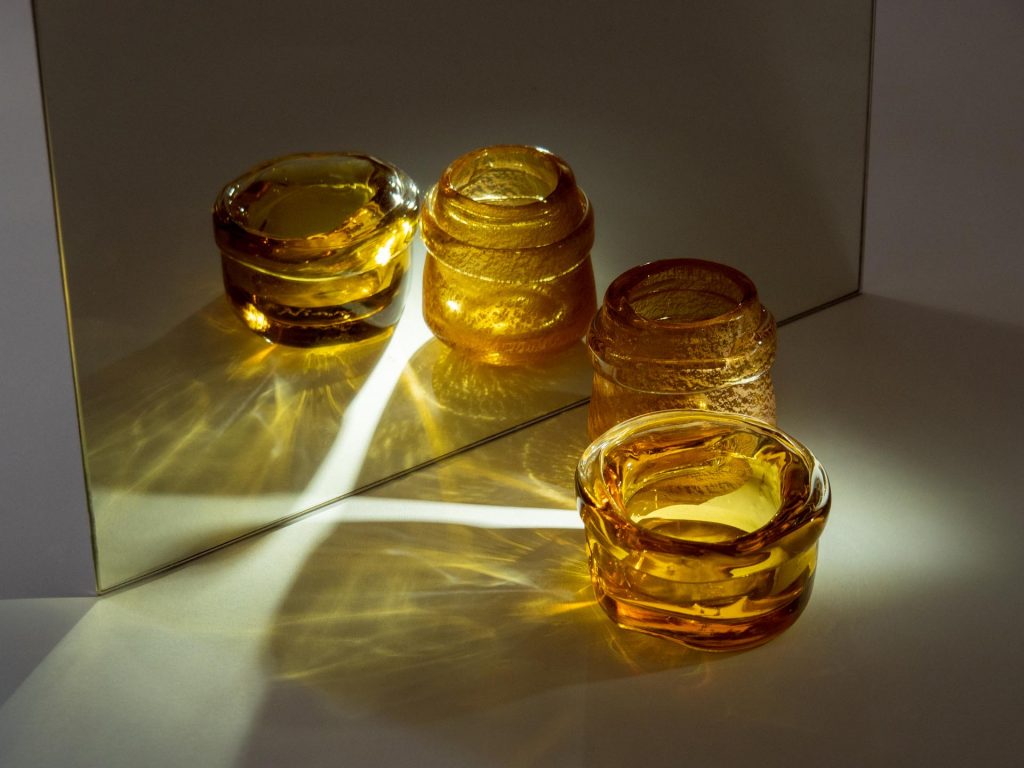 AI: What was your installation about which was showcased during last year's Milan Design Week?
ST: Last September, during Milan Design Week, we presented our first installation, entitled 'Interazione sperimentale'. It is a visualisation of a place of sharing and conversation, in which all the elements are in conversation, managing to create a dialogue within themselves. It is a reinterpretation of a living space, synthesised and maximised in its communicative value, [focusing on] the creation of usable art in actual use and not only through observation. The installation was composed of six integral parts: Terre in vetro, Incontri, Le Sedute, Mina, le Crude and i Comari; where, in each piece, the different mediums also communicate with each other, all with the aim of fostering an experimental interaction; a process that begins with the material and aims at the total involvement of the individual.
Photography by Giulio Ghirardi