When a high-profile personality from the music industry came to them for the design of his two-storey apartment, the members of architectural and design studio YODEZEEN (who have offices in Kyiv, Ukraine; Miami; and Los Angeles) knew that they had to get ultra-creative.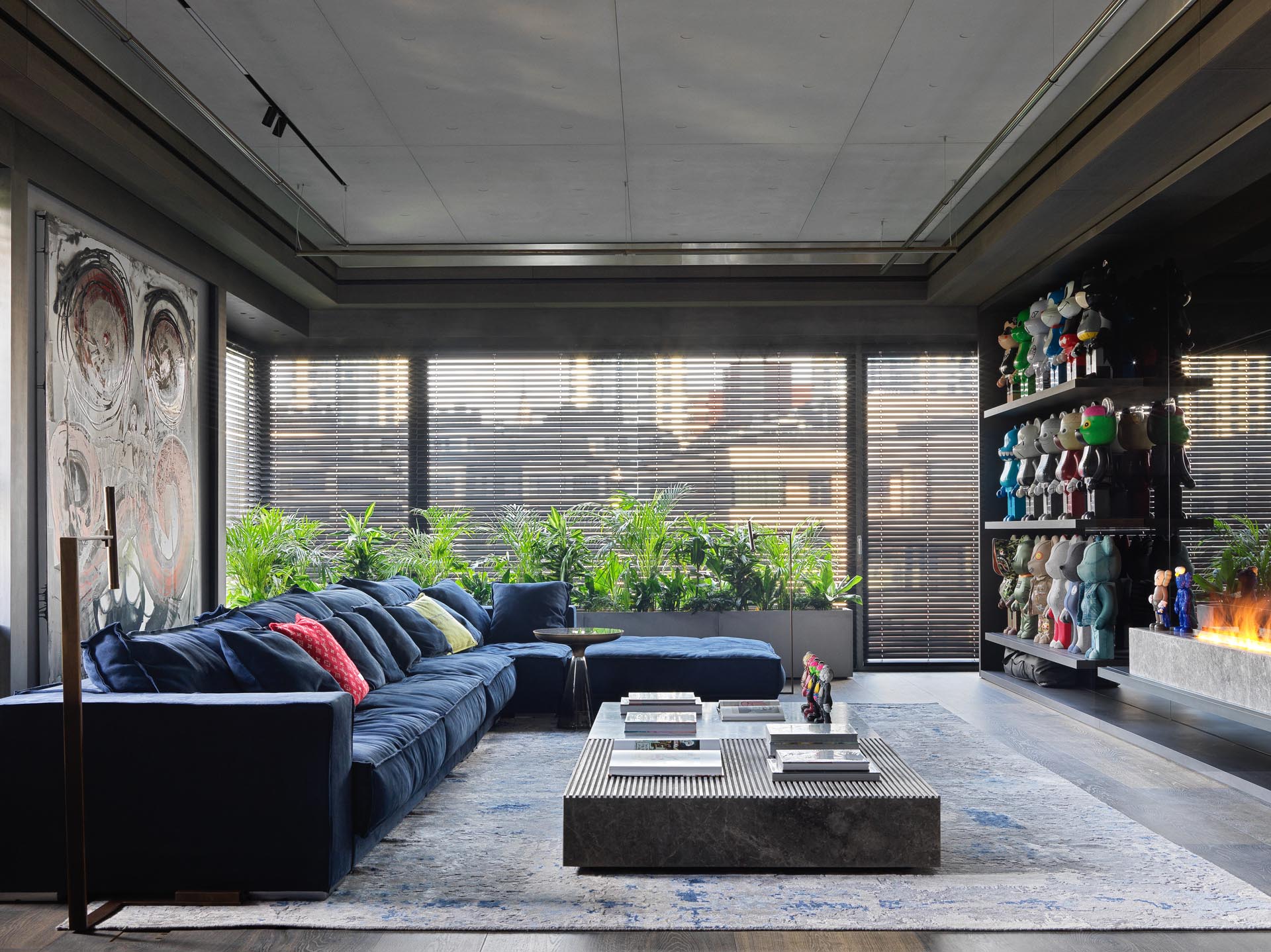 With 17 million followers on Instagram, Russian hip-hop performer, singer, music producer, actor and entrepreneur Timur Yunusov, better known as Timati, is also a passionate art collector, so it immediately became clear that his many colourful pieces would take centre stage in the home.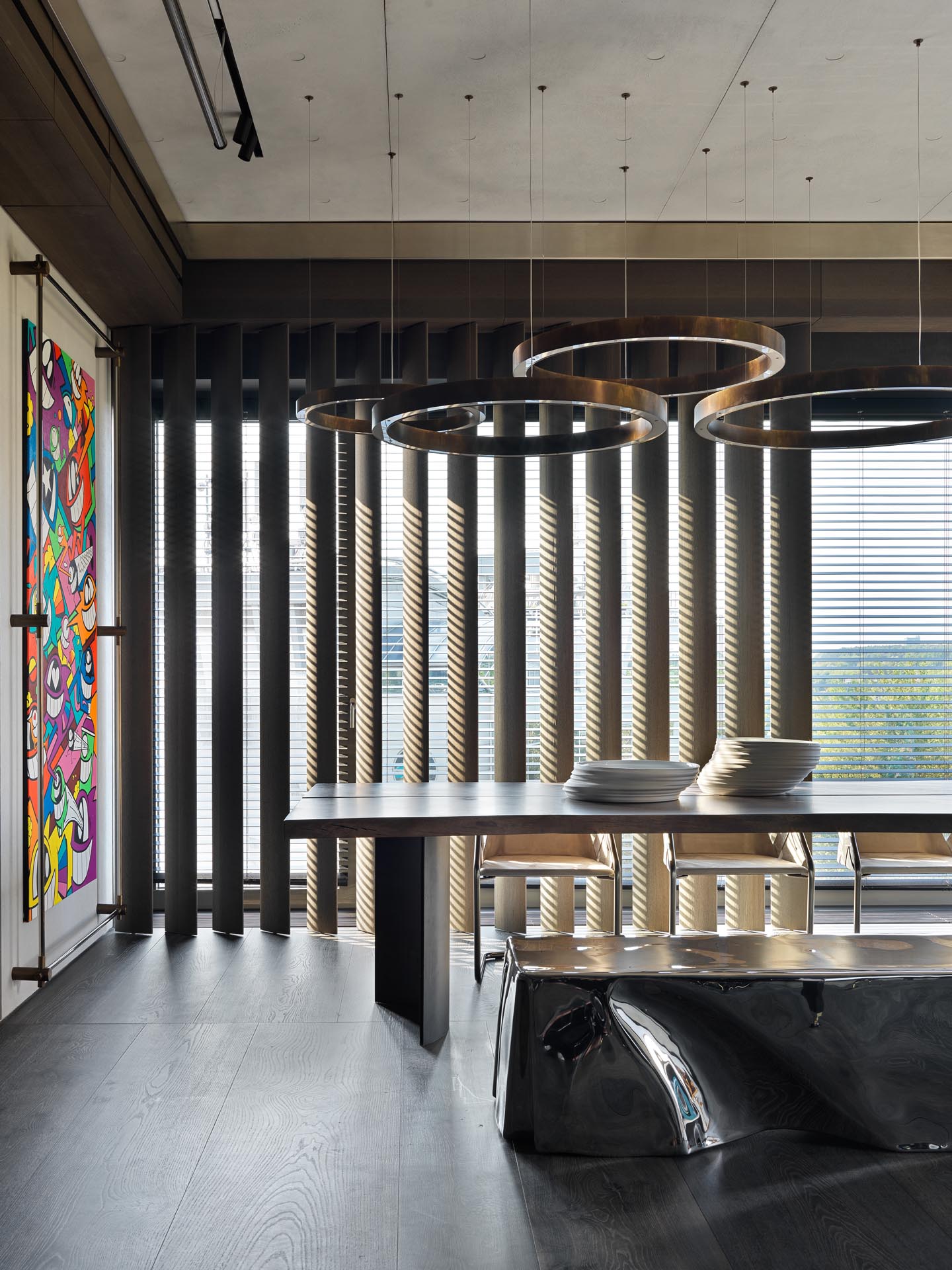 Located in Moscow, in a new development of premium low-rise buildings using environmentally friendly natural materials, and surrounded by a park and a lake, the apartment spreads over 650 square metres and two floors. The lower floor of 210 square metres comprises a spacious living room, two children's bedrooms, a guest bedroom, a kitchen-dining room, dressing room and technical rooms. The upper level of 440 square metres accommodates the master suite, another guest bedroom and a second living, kitchen and dining area.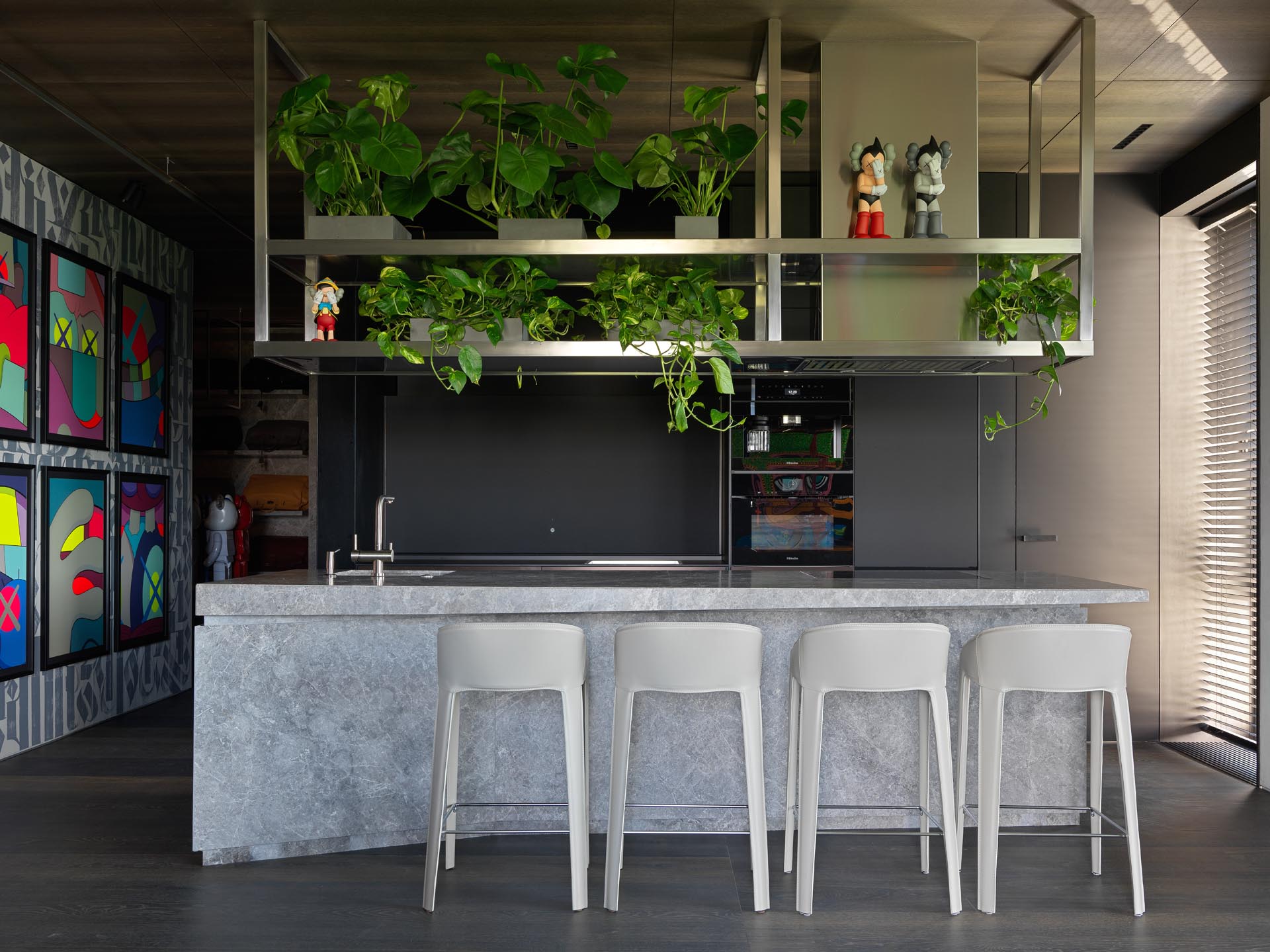 "The task set for us by the client was to create a home for the whole family, so that they can get away from the noise, reboot and be in an inspiring environment," says Artur Sharf, co-founder and chief architect of YODEZEEN. "We organised the spaces based on this prompt."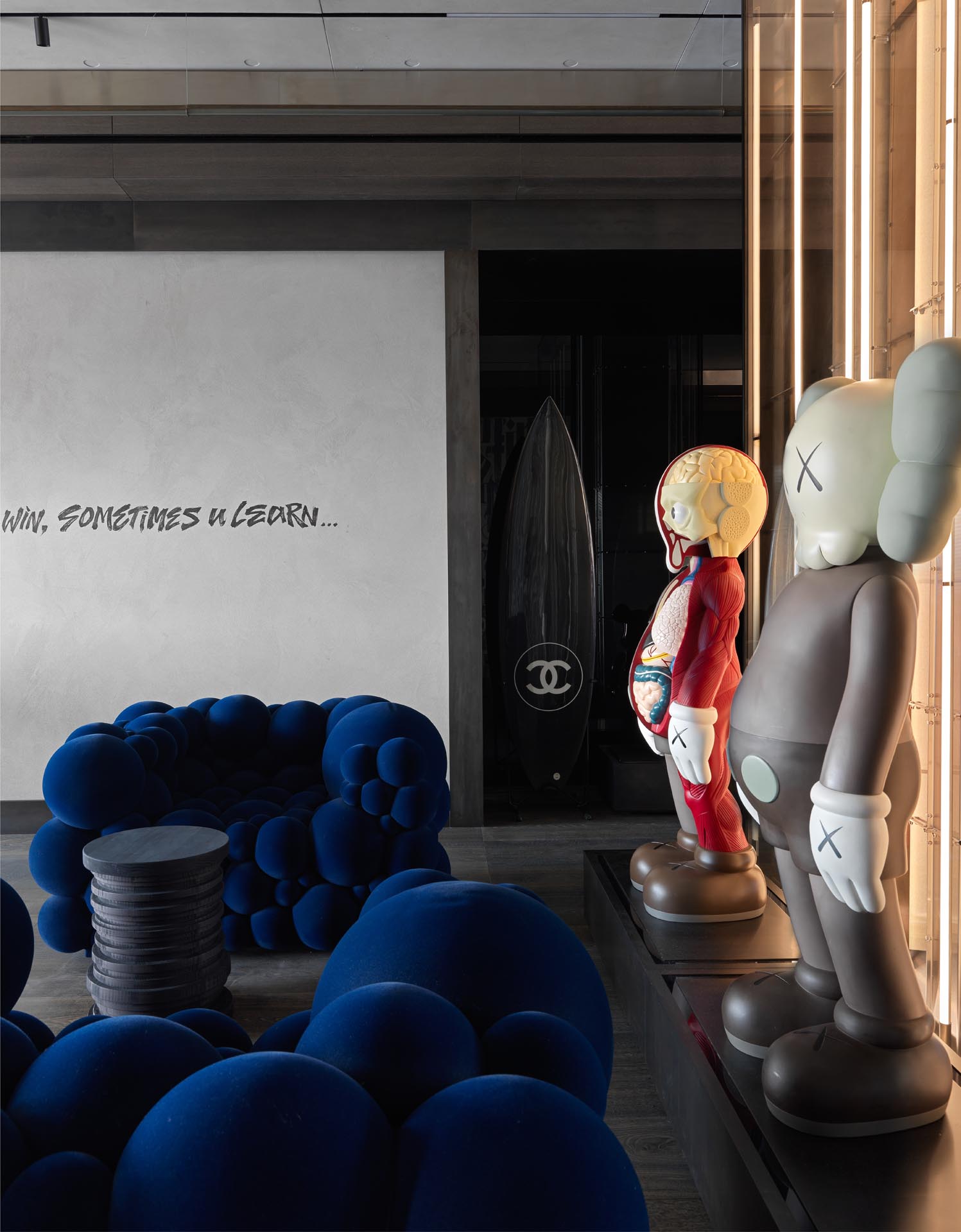 Throughout the project, where functionality and modernity were both key, the main source of inspiration was the owner's personality and lifestyle. Furniture and lighting fixtures by Baxter, Meridiani, Bonaldo, Henge, Moooi, Roche Bobois and Rimadesio, among other brands, are combined with custom-made pieces.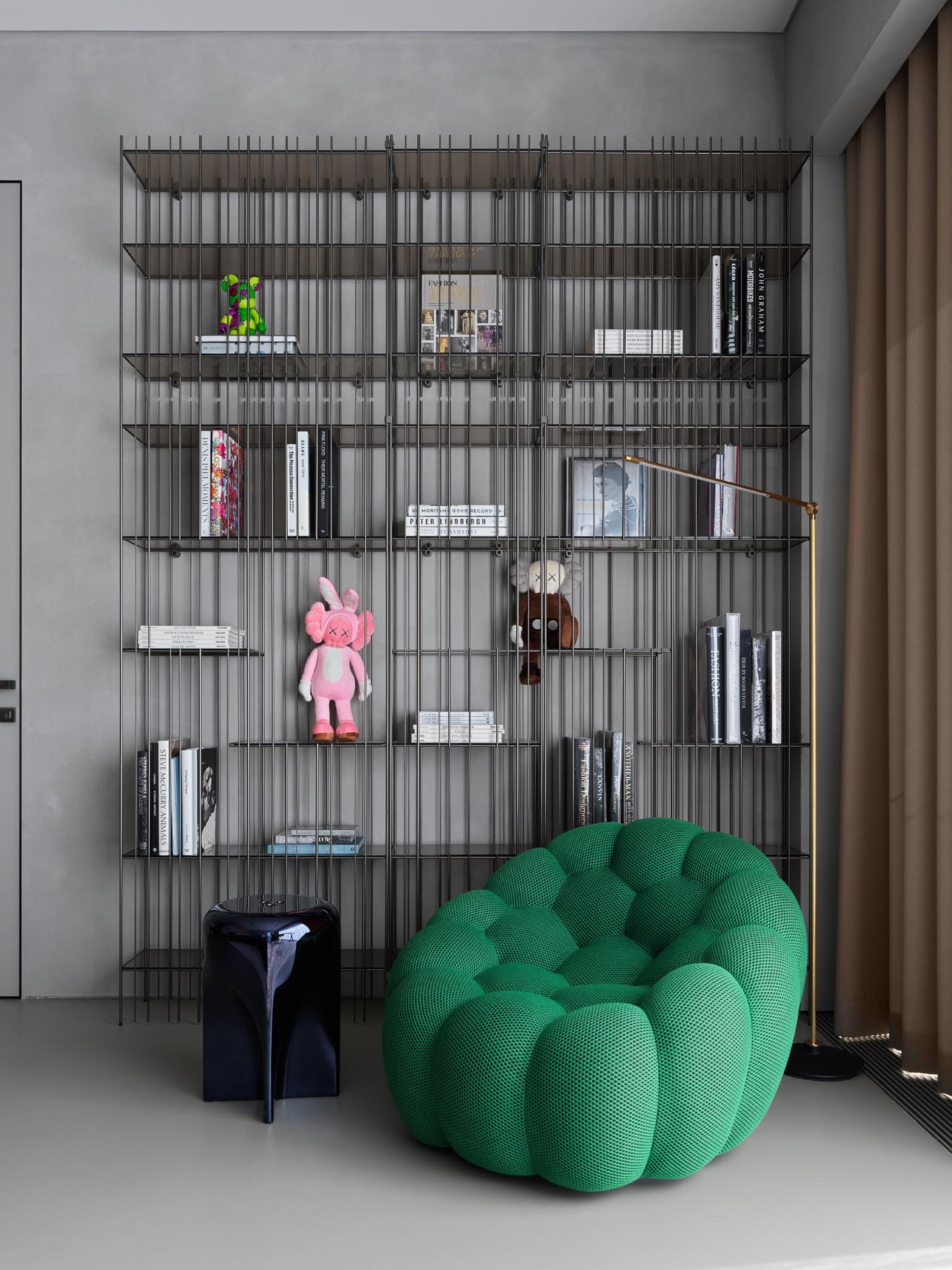 "This apartment has the largest number of items produced according to the sketches and drawings of our studio — from decorative lighting to pedestals for the art collection and even flooring," says Sharf. Every detail was carefully considered to create a cohesive visual result despite the vast mix of elements. "There are areas where four types of materials are combined: stainless steel, concrete slabs, wood panelling and parquet – all delivered from different countries."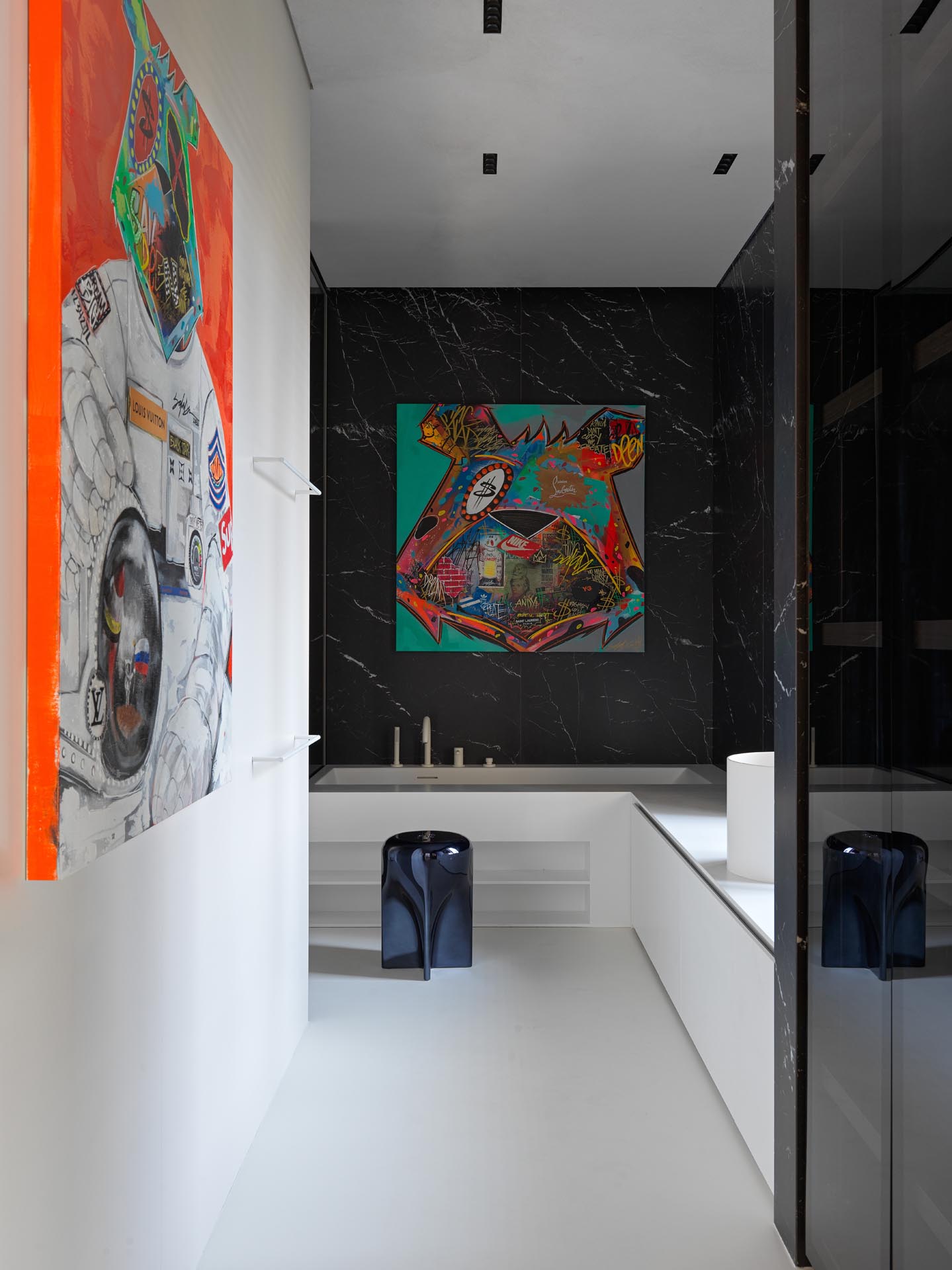 While the backdrop of most of the living areas is dark, pops of colour brighten and adorn many nooks. "At one of our meetings, Timur told me about Maarten De Ceulaer and the Mutation Club Chairs with their bubble shapes in electric blue," remembers Sharf. "He had spotted them at an Italian furniture exhibition and from then on, he had the idea of purchasing them. These armchairs were the starting point of the concept that includes touches of bright colour, emphasising Timur's art collection and his temperament."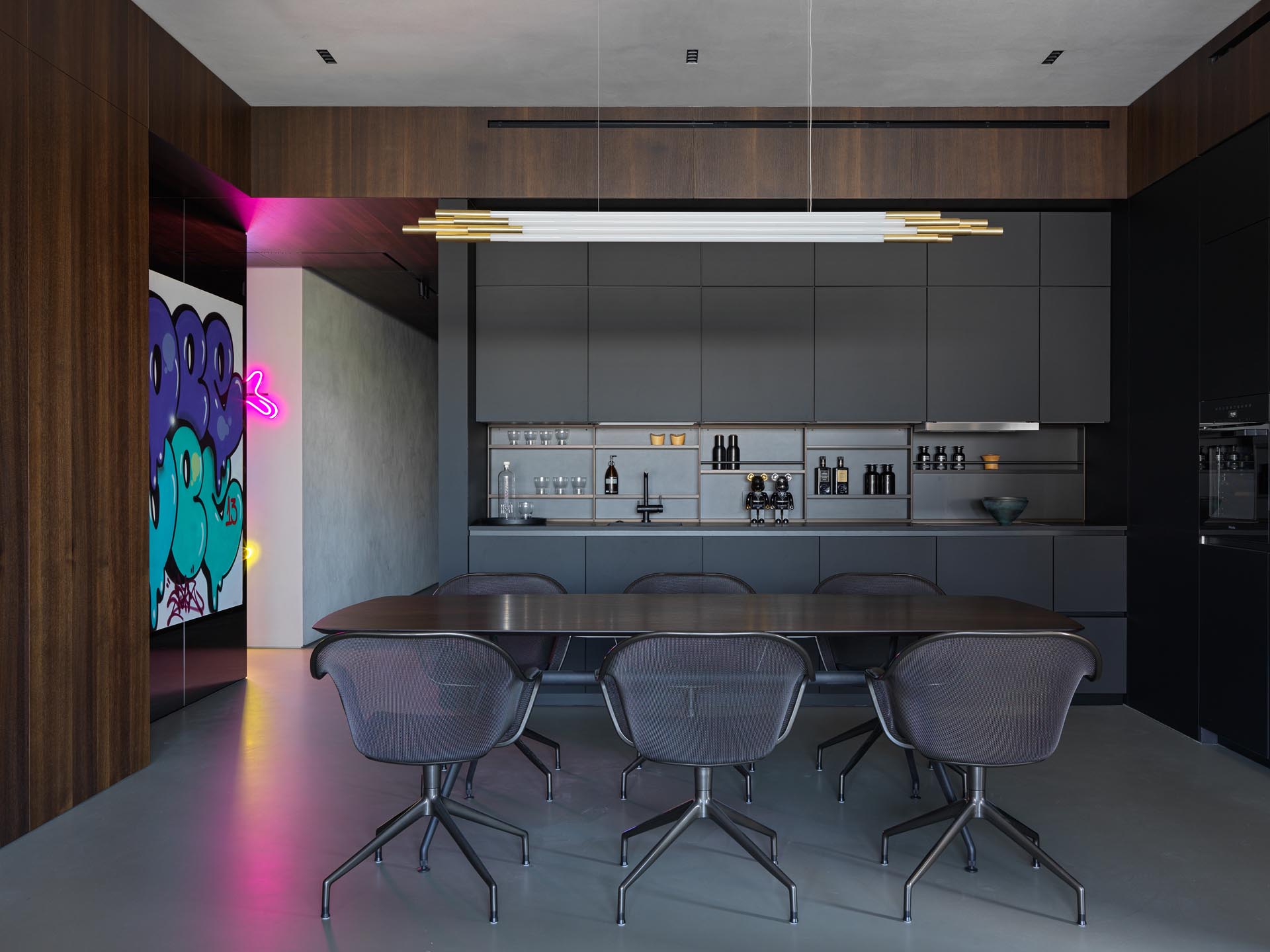 In the main bedroom, the hot-rolled podium bed, fully equipped with LED lighting, is the star of the show. "The idea was to interrupt the bright line of illumination on all four sides of the podium," describes Sharf. "The main difficulty was to cut the metal so that there was a solid hole in it around the perimeter, [while maintaining] its functionality." A luxurious bed from Italian brand Baxter with a bright blue finish complements the space, while the elegant bathroom is adorned with marble and includes several shower rooms and a hammam.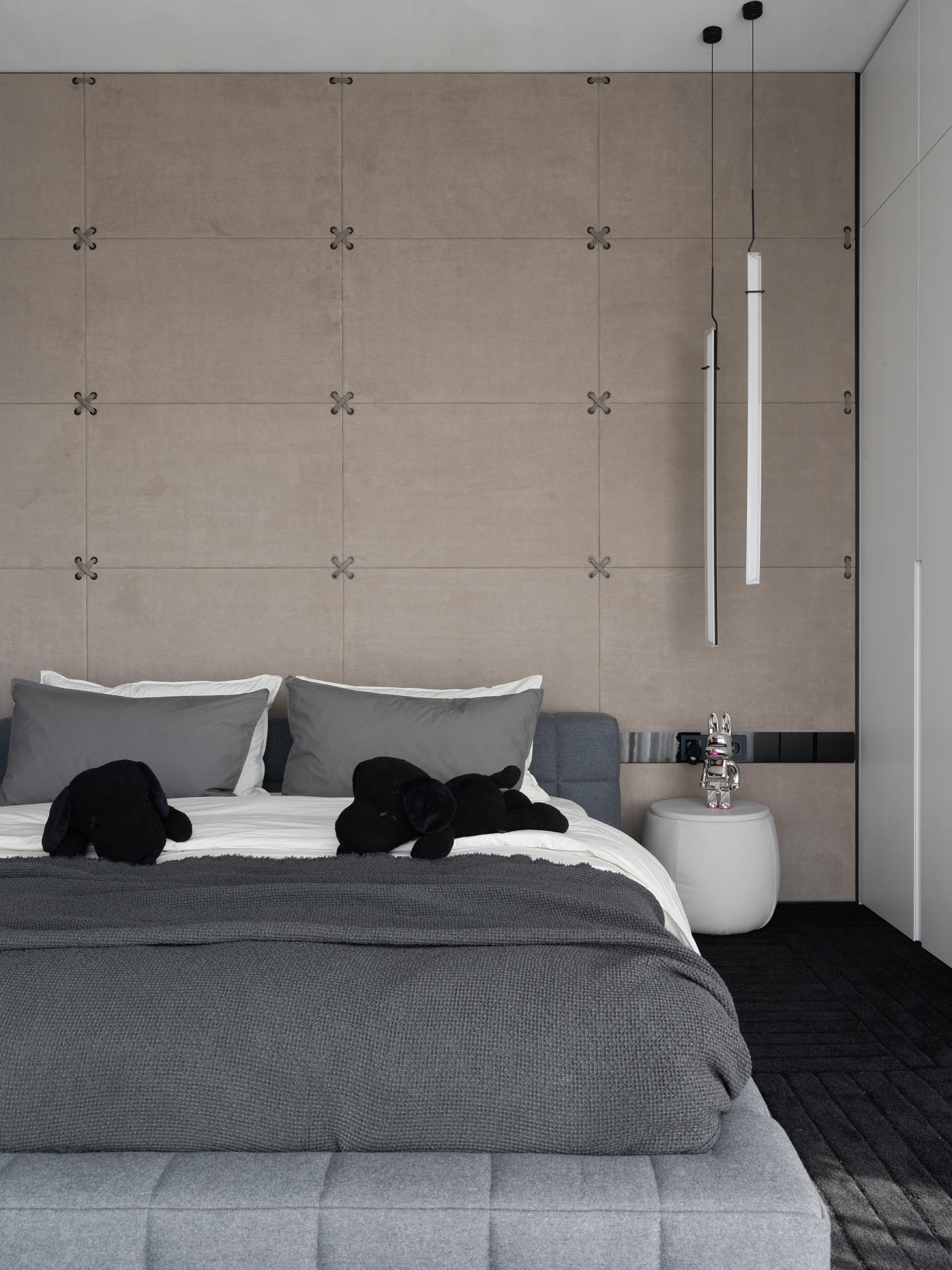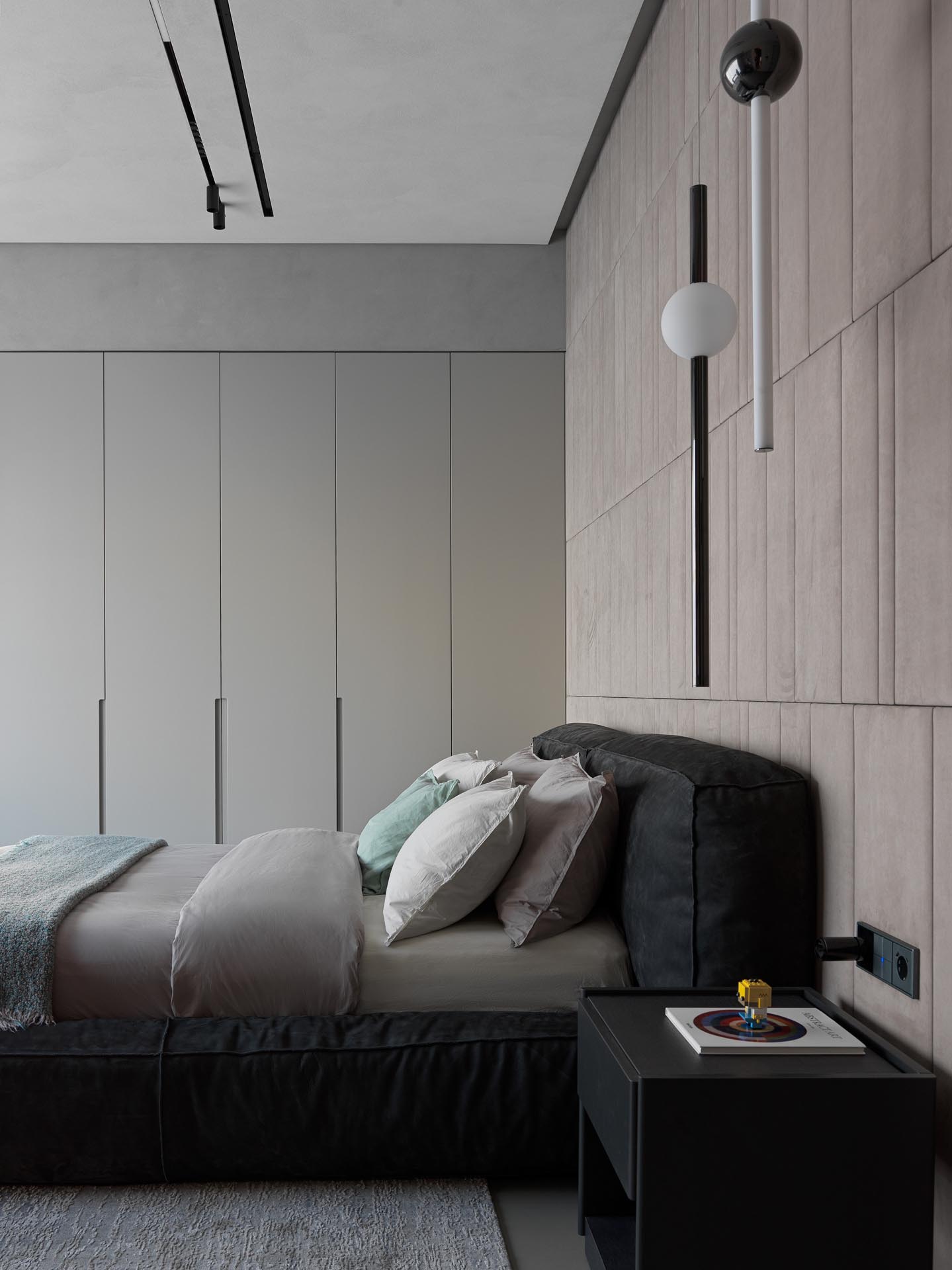 YODEZEEN paid significant attention to lighting throughout the apartment in order to make the extensive collection of Kaws paintings and sculptures, Bearbrick bears, Takashi Murakami and Alec Monopoly pieces, Mario sculptures, Supreme collectibles and other art objects stand out. "For example, if a painting is square [in form], we set the lens with such clarity that the [shape] is illuminated," Sharf says.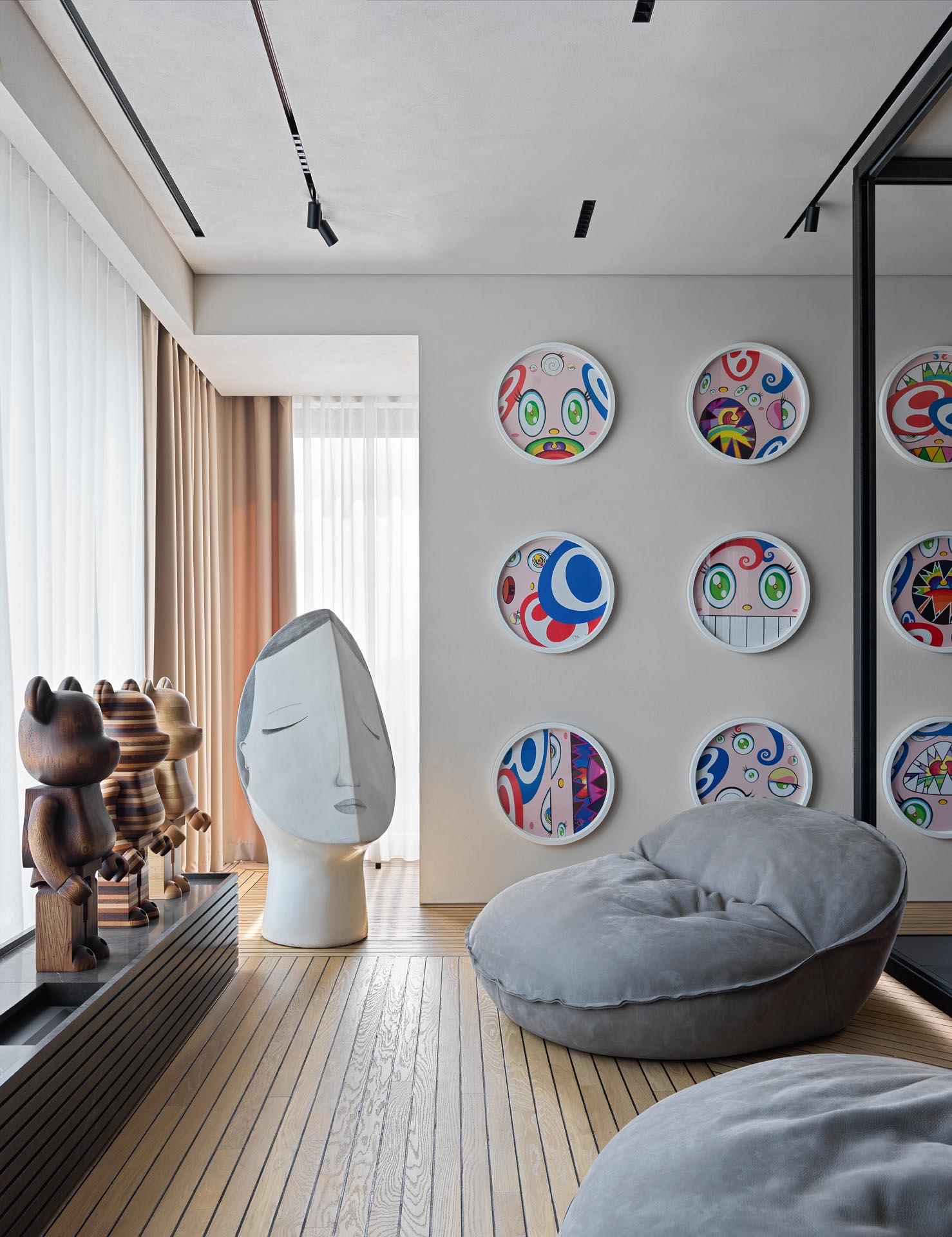 Always keeping in mind the necessity of giving life to a creative atmosphere without forgetting Yunusov's family's needs, YODEZEEN has created a one-of-a-kind home, which is a true feast for the eyes.