While The Gallery at sketch was widely recognised for its trendsetting 'Millennial Pink' colour scheme, conceived by French designer India Mahdavi (with artworks by David Shrigley), the time had come for the restaurant to bid farewell to its longstanding chromatic legacy, and welcome a new design in celebration of its 20-year anniversary.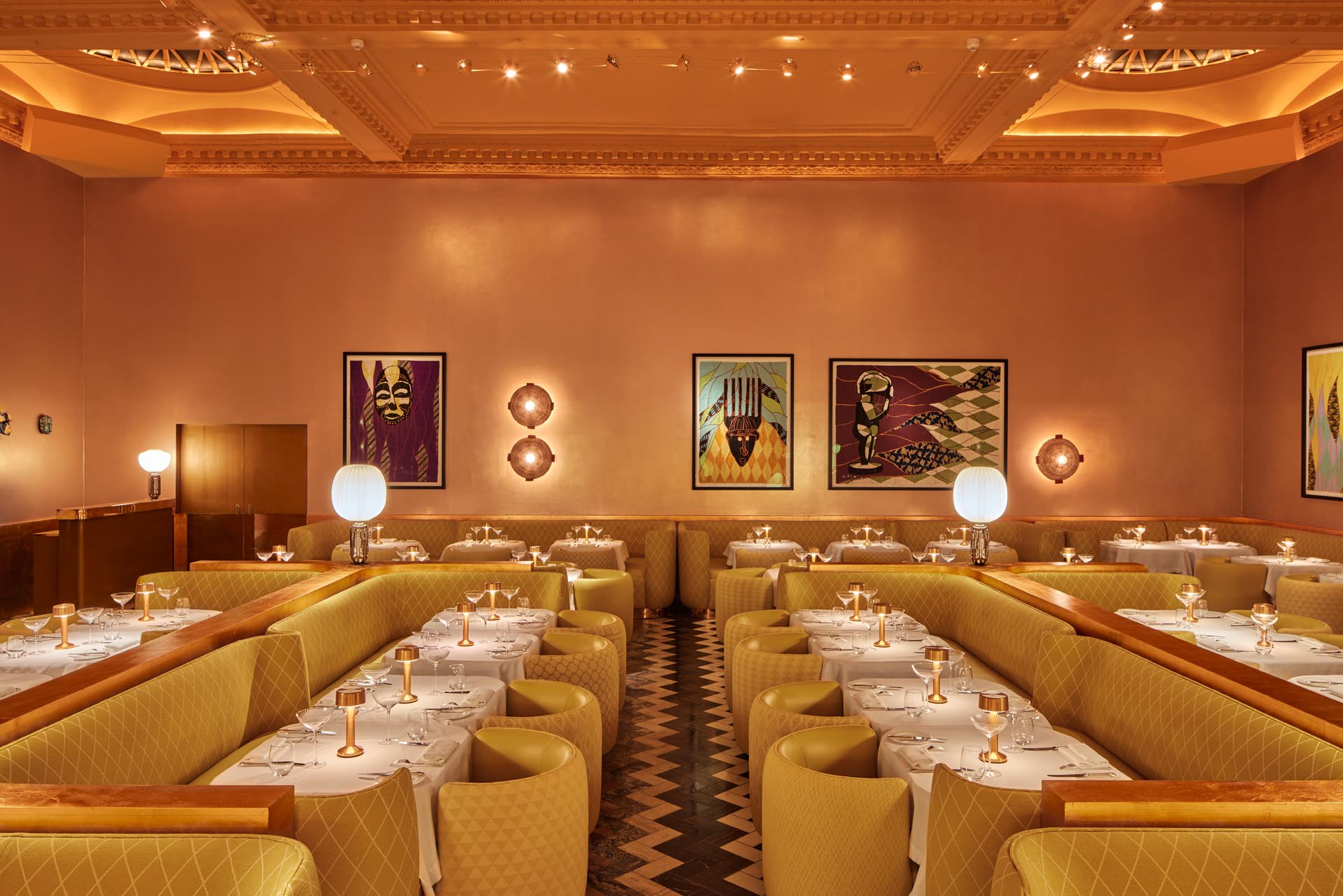 This time around, Mahdavi collaborated with renowned British-Nigerian artist Yinka Shonibare, transforming the restaurant with a new sunshine-yellow setting and a series of 15 new site-specific works that reimagine the space into a powerful celebration of African culture and legacy. For the colour scheme, Mahdavi has chosen a copper skin for the walls, paired with solar yellow fabrics.
"The Gallery at sketch has been linked to the colour pink for such a long time that it was very challenging for me to overcome this success," Mahdavi shares. "Yinka's artwork was a real inspiration and enticed me to work differently in this new version of The Gallery. Now textures will transcend colours with metallic copper wallpaper, Aissa Dione's textured fabric and Inès Bressand's woven wall-lights. These are elements that have allowed me to extend Yinka's artistic exploration of culture and identity and bring a warm feel of Africa to the space and furnishings."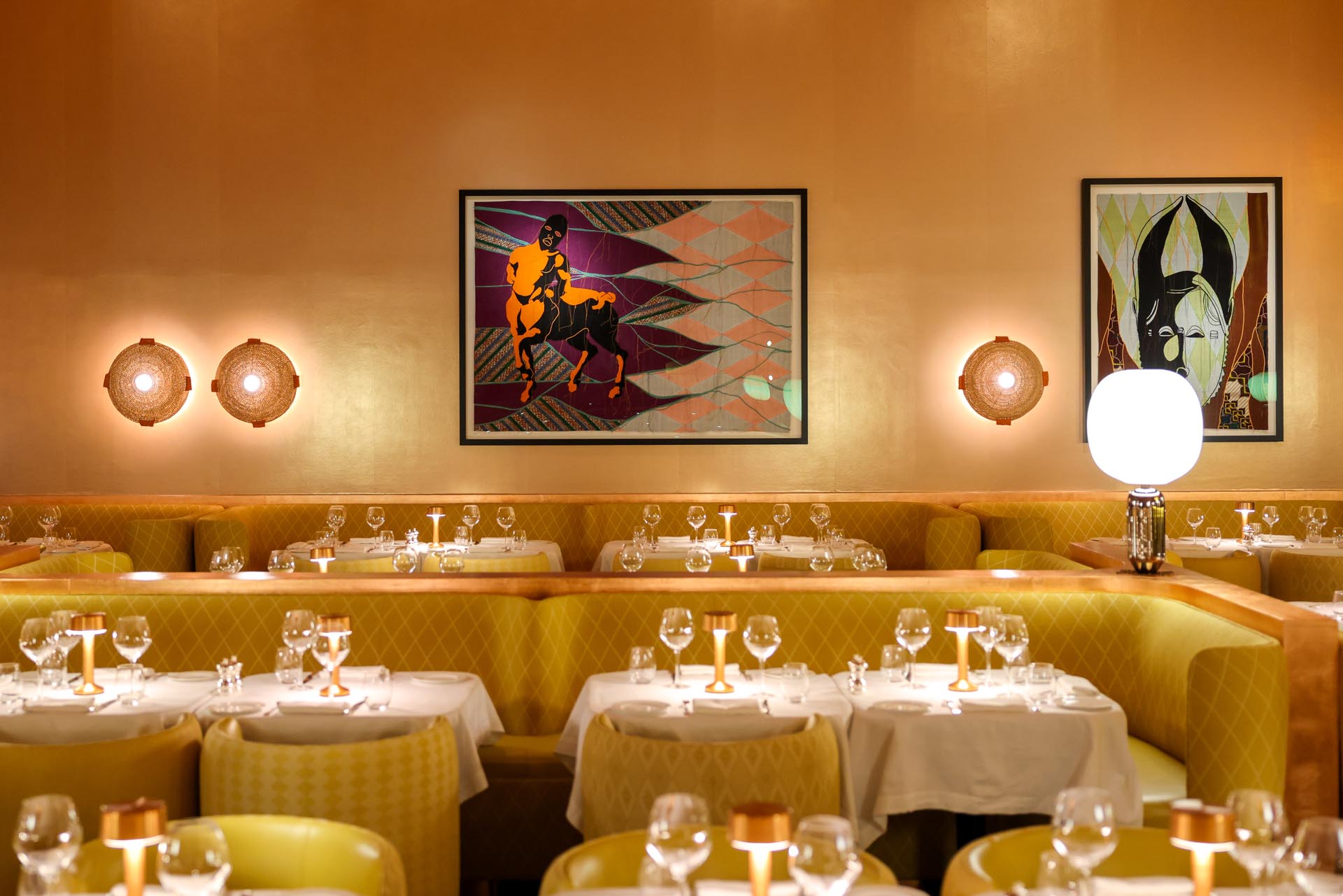 Under the title of Modern Magic, Shonibare's installation features five hand-painted masks carved from wood and 10 framed quilts that are a replica of the African masks found in Pablo Picasso's collection, referencing the objects used by African peoples to conjure new powers and realms and the inspiration they bore for Western modernist artists, expressed using appliqué and embroidery techniques on richly dyed fabrics.
"After Matisse showed Picasso's African art for the first time, it changed the history of modern art," Shonibare comments. "Picasso was interested in appropriating from another culture, and I also appropriate from European ethnic art. Cultural appropriation can be a two-way street. This collaboration with sketch has given me an opportunity to expand my creative process – creating a different environment [in which] to encounter and experience my art in a fun and relaxing setting."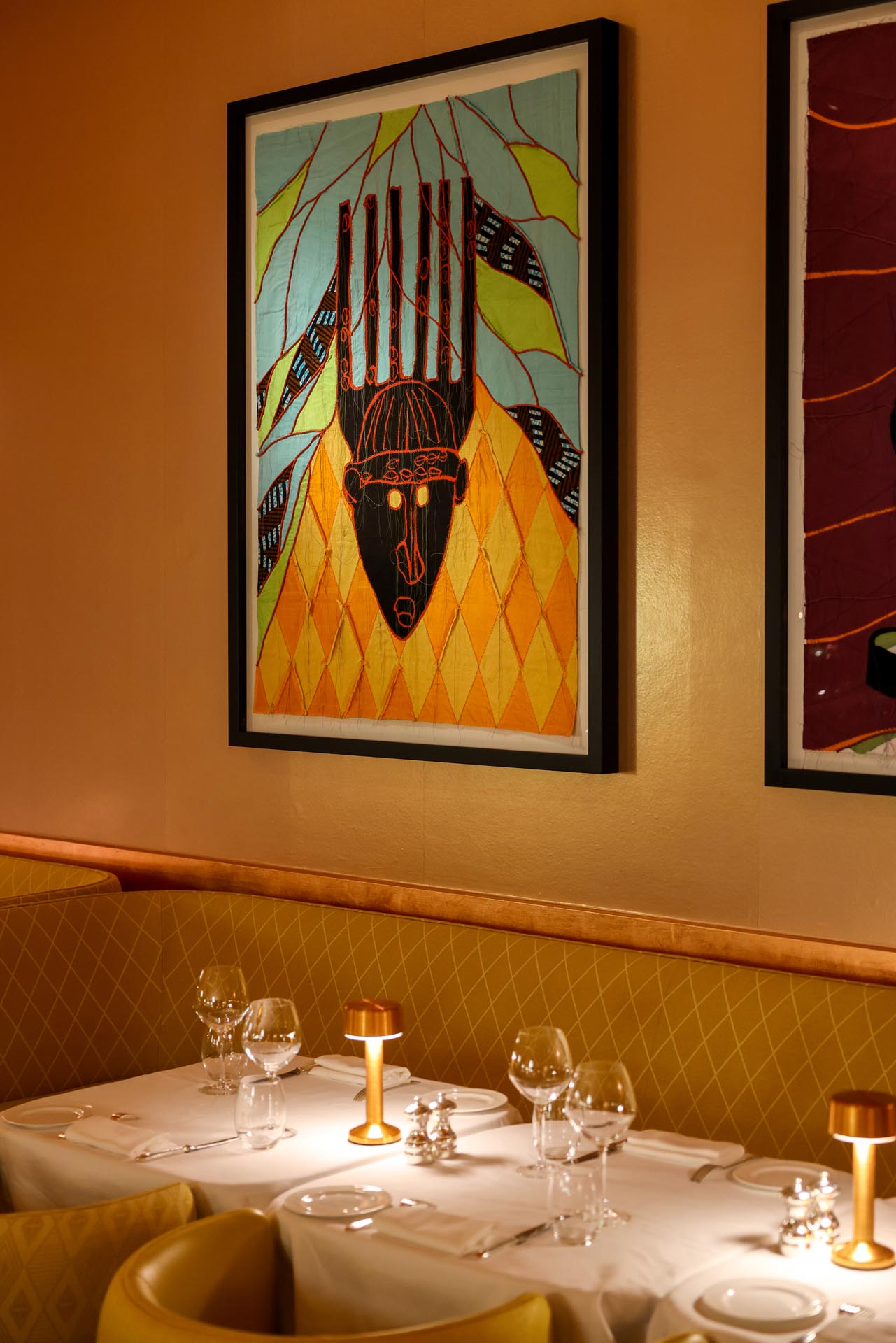 Shonibare's new artworks in Dutch wax batik patterns will stand alongside works designed by African artisans following Mahdavi's invitation, including Senegalese fabrics by textile designer Aissa Dione and wall lights designed by Inès Bressand, who works with weavers in Ghana. The ceiling will take on a Mandarine au Lait shade, a colour created by Mahdavi in reference to her famous 'Flowers' colour range for Mériguet-Carrere, and will tower above walls lined with copper de Gournay wallpaper.
A new ceramic tableware designed by Shonibare has also been debuted and masterfully manufactured by British heritage brand Caverswall. Each piece will be dressed in a diamond-shaped pattern, nodding to the Yoruba trickster in Shonibare's artworks on the walls.
Bespoke uniforms for The Gallery's staff, designed by French designer Sonia Taouhid, will also respond to the sunny redesign. These will include a romantic dress bearing Taouhid's signature frills, akin to Calla lilies, in violet streaked with golden yarn – a nod to the new golden surroundings.
"I was very afraid to change the pink room as David Shrigley is a part of sketch. Then I was introduced to Yinka Shonibare, and I thought, my God, the master himself wants to work with sketch. It was like I was dreaming," says sketch's proprietor, Mourad Mazouz. "Yinka's work is so powerful, intelligent and mythical, and I am so pleased to share it with sketch's visitors from all over the world."