Our congratulations to id Design Award-winner Roar, the interior design studio formerly known as Pallavi Dean Interiors. For this year's edition of Downtown Design, they collaborated with Oasis Paints to create a dramatic, eye-catching installation.
The design tells the story of Oasis Paints as a brand that's 'Made in the UAE', taking inspiration from the industrial shapes, colours and textures of its Sharjah factory. The home-grown brand of Al Gurg Paints has been manufacturing paints since 1989 as part of the Essa Saleh Al Gurg Group.
A key feature of the installation is also women's empowerment – something Oasis Paints is extremely passionate about.
'We began by commissioning an artist to create portraits of three women who we feel represent the cultural and artistic achievement of the region across different generations: Umm Kulthum, Zaha Hadid and Nancy Ajram', said Haneeta Chawla, Senior Designer at Roar 'To make them feel part of the space, we spliced the columns in half, displaying the portraits on the flat surface'.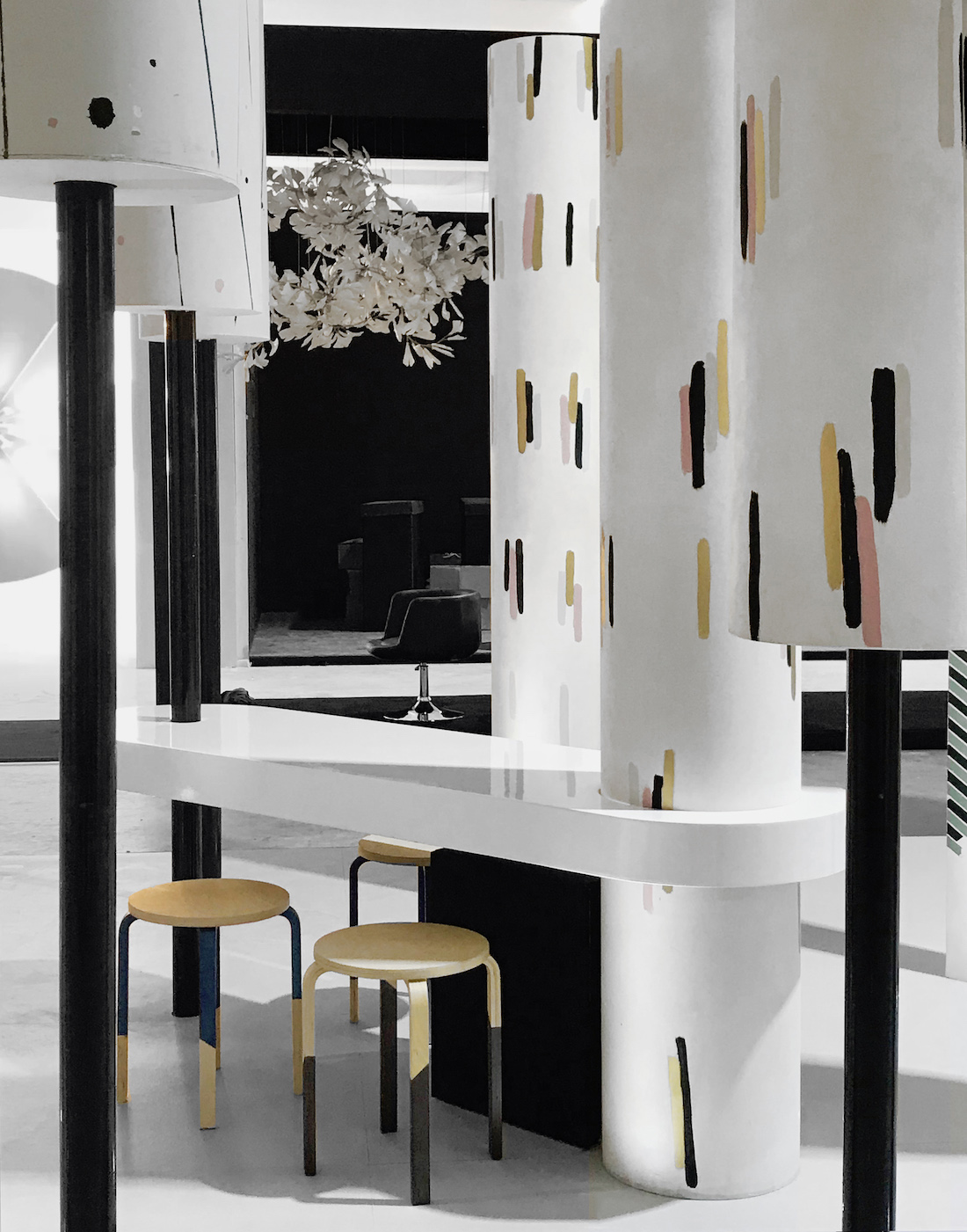 'We wanted to bring Oasis Paints to life, and far and away the most vivid way to do that was to bring the factory floor to the exhibition stand', said Pallavi Dean, founder and creative director of Roar. 'Not in a literal way, of course, but trying to capture the essence of a paint factory: it's such vibrant hub of creative energy, with heat, noise, colour, smell and texture everywhere. Our challenge was to reimagine that for the refined, serene atmosphere of a design fair'.
The teams at Roar and Oasis Paints used a range of design features to achieve this. They include:
Analogue and tactile. There are no digital devices on the stand, just physical things people can touch, feel, see and even take away!
The Oasis Paints logo is displayed in a three-dimensional font, in elongated perspective, showcasing the brand's vibrant colours.
Inspired by large paint drums seen in the factory workshop Roar created a network of colonnades on a linear grid – a modern, industrial take on a classic architectural form. Some columns are rooted to the floor, some create seating and tables for visitors, with others suspended from the ceiling, to create an organic, maze-like circulation through the space.
Spillage and splattering. The exhibition stands begins with pure blocks of mono-colours, gradually morphing into varying graphic 3D patterns.
Blending the different ranges of Oasis Paint range: subtle tones used in home décor collide with wood effect finishes and industrial coatings.