"I am a creative technologist," begins digital artist Orkhan Mammadov, who has been a pioneer in the digital arts sphere in his native Azerbaijan since 2013 through his first exhibition with Baku-based gallery YARAT. "If we talk conceptually, my paint is data, my brush is algorithms, and the displays are my canvas." Mammadov's works are a blend of his Azerbaijani heritage, along with popular aesthetics and references to surrealism, which combine to become Artificial Intelligence (AI) and Machine Learning (ML)-based installations.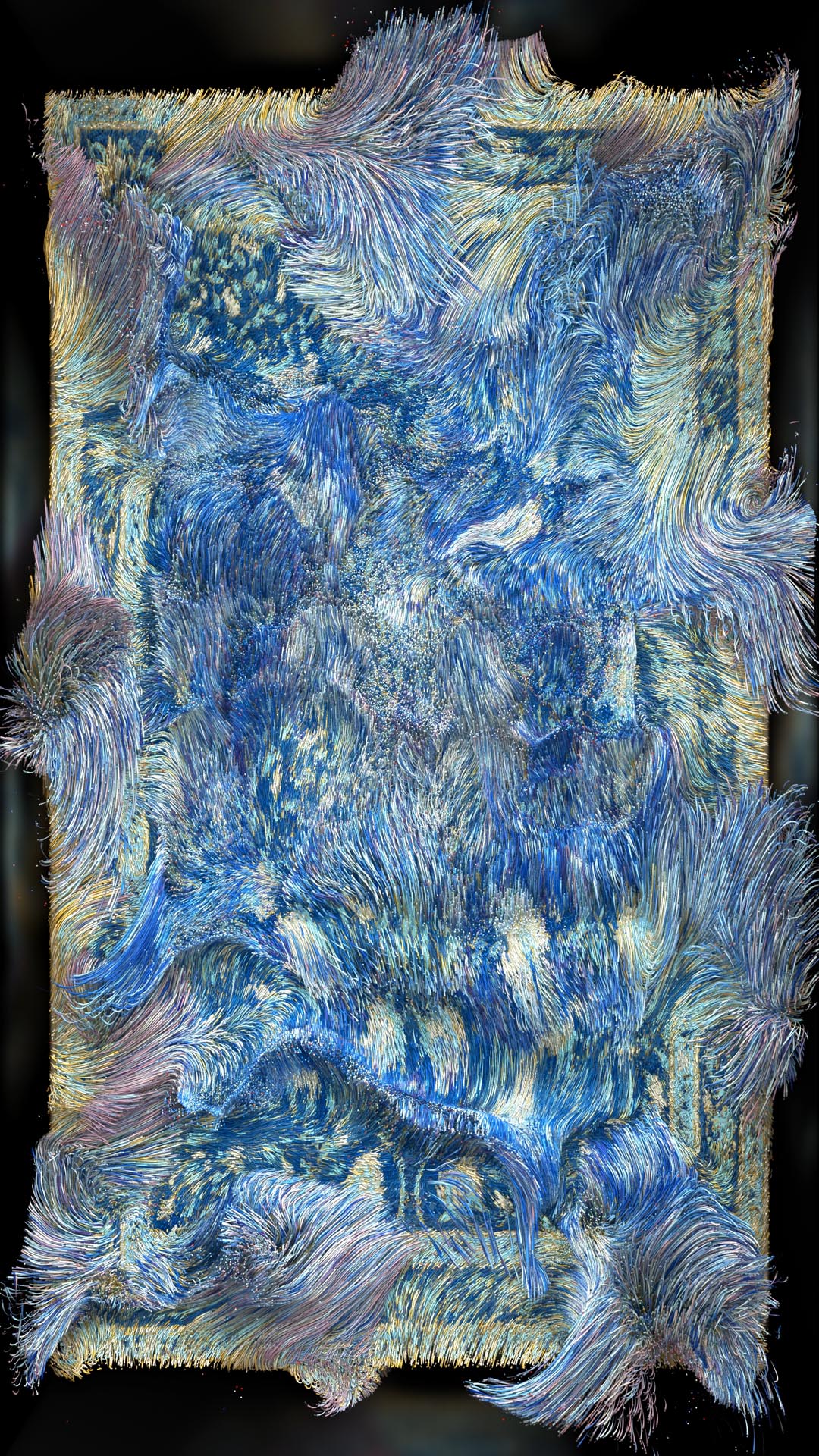 Mammadov's solo presentation with London-based GAZELL.iO, titled 'Singularity in Heritage', was shown during Art Dubai Digital, the fair's first experience of showcasing a body of digital artworks under the curation of Chris Fussner. Offering a glimpse into the artist's ongoing research project and autonomous AI art – which was first shown at the Venice Contemporary Biennale in 2019 and the Moscow International Art Biennale – it features a series of video works that are the result of an AI algorithm designed by the artist to understand and find similarities between carpet designs and traditional ornamentation across the Middle East. After processing over 150,000 archival images of carpets, rugs, kilims, miniature paintings and ornamental patterns found across museums and libraries worldwide, a neural network computing system brings together this amalgamation of heritage through a digital lens, enabling the viewer to encounter a visual history of traditional carpet designs – making them the first-ever carpets to be designed in the metaverse.
Historically, carpets, miniature paintings and decorative oriental patterns have played a significant role in forming Azerbaijan's heritage and aesthetics. And while the Middle East is home to a wide range of carpet traditions, many of them share similarities such as geometric patterns, floral motifs and calligraphic shapes.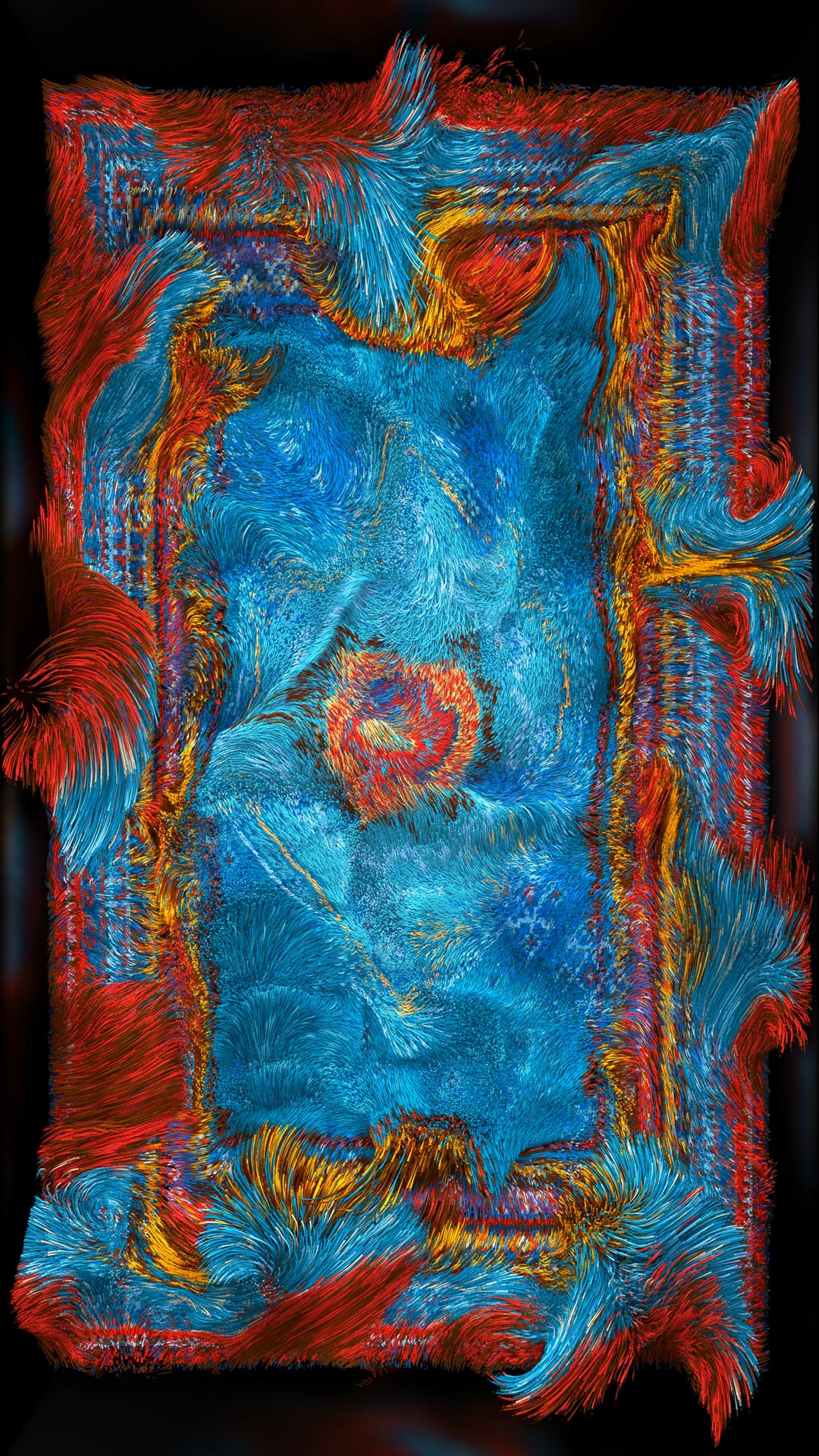 "Perhaps with machine intelligence, we can redefine the concept of repetition," Mammadov suggests. "The installation's visual component imitates traditional Azerbaijani patterns. As a result, viewers see how AI builds new alternatives. These alternatives have a synthetic nature that has nothing to do with the history of authentic ornament patterns. AI imitates and fakes a traditional learning process [that is] usually handed down from generation to generation. 
"By accessing the data of authentic ornament images, AI becomes an independent master that can invent new ideas to update culture," he continues. "Besides symbols, AI generates new concepts and meanings. It blurs the boundaries between [what is] real and [what is] fake. These actions further prove cultural development, as non-human intelligence replaces traditional craft tools."
Mammadov likens his creative process to "painting with data", and although the crafting process is executed entirely through digital means, tangible heritage is vital to his work. "The main goal that I want to achieve through my art is to remind visitors of the value of cultural heritage," he concludes.