Fashion does not have to equal frivolity. Because our everyday choices make waves across cities, nations – and lives around the world – we were especially thrilled to see this nuanced space open its doors.
The new Fashion for Good Experience –the world's first interactive, technology-driven museum dedicated to sustainable and circular fashion innovation created by experience design studio, Local Projects- is now open in Amsterdam.
Supported by founding partner C&A Foundation and corporate partners Adidas, C&A and PVH Corp, the museum aims to change the hearts and minds of visitors by helping them discover the stories behind their clothes, learn how they can take action and explore how they can have an impact on both an industry and international level.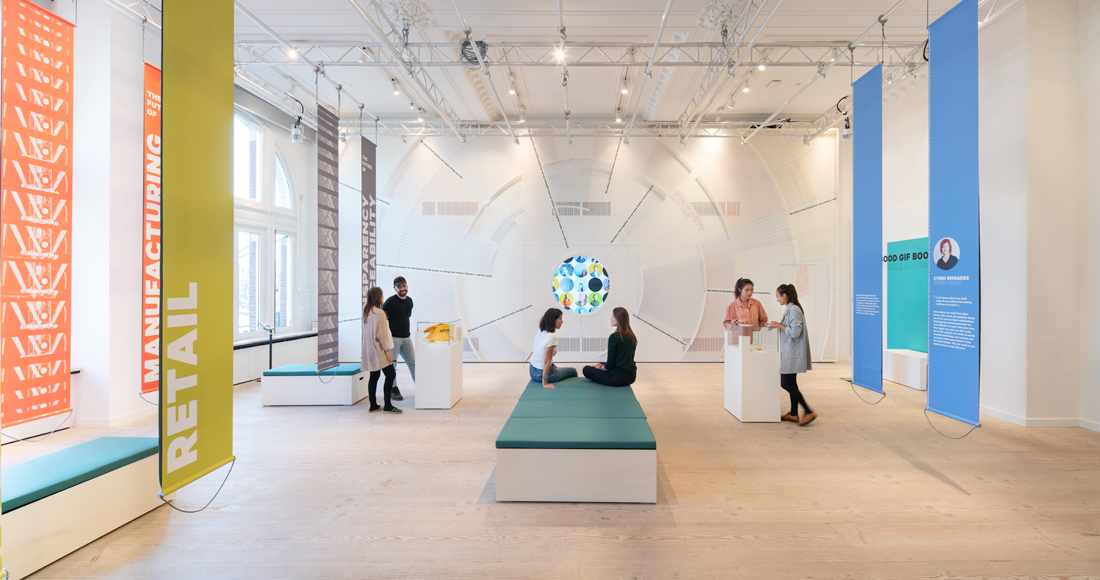 Through a personalized journey towards transformation, visitors will learn about the history of good fashion, discover more sustainable products and explore future fashion innovations.
Designed by Local Projects, the space incorporates a personalised digital journey with an RFID-bracelet you can learn about the history of good fashion, discover sustainable products and explore fashion innovations of the future.
Exhibition and Experience Highlights
● Good Fashion Journey. At the centre of the Fashion for Good Experience is a digitally-enabled Good Fashion Journey, designed with an eye toward gamification and informed by behavioral insights on influencing consumer change. When visitors enter the Experience, they are invited to take a bracelet that invites them to shop for both goods
and behaviors, creating a custom action plan for how they create a life that's both more sustainable and more beautiful.
● Custom Action Plan. Fashion For Good is committed to real impact from everyday lives, and invites all visitors to commit to a range of actions that can create a sustainable future for everyone. This simple guide is sent digitally and then followed up by joining the Fashion For Good community and movement, amplifying impact far beyond the walls of the Museum.
● Infinity Mirrors Entrance Installation. As visitors approach the building, a striking radial installation of yarns encloses the entry vestibule, drawing them into the space with a direct call-to-action. The yarn is ECONYL® regenerated nylon from Italian manufacturer Aquafil and is made out of nylon waste collected from landfills and oceans around the world.
● Impact Cascade. The Impact Cascade is an artistic visualisation of the collective impact generated by the Fashion for Good community. On a central video screen, visitors can view the commitments of visitors who came before them, as well as innovators and influencers who have joined the Good Fashion Movement.
● Design Studio. In our Design Studio, visitors can customise their own Good Fashion T-shirt design, using projection-mapping technology that visualises their design in real-time on a life-size mannequin.
● Good GIF Booth. Through an interactive photo booth, visitors are invited to take a personalised Good GIF and send it to our Impact Cascade installation and front windows to demonstrate their commitment to the Good Fashion Movement.
● The Good Shop. The Good Shop is a next-generation shopping experience that allows visitors to consider — within a retail store context— how they might go about asking questions and incorporating social and environmental considerations in the way they shop for clothes and accessories.
● History of Good Fashion Exhibition. This graphic timeline outlines the history of the fashion industry from the 1700s to the present, highlighting pivotal moments in labour rights, environmental sustainability and innovation.
● The Journey of a T-shirt Exhibition. This exhibit explores the complex process that goes into making one of fashion's most iconic staples: the T-shirt. Through bold text, illustrations and tactile elements, the exhibit takes visitors through the eight steps involved in designing, making and selling a cotton-polyester T-shirt, bringing to life some of the social and environmental issues that exist in the modern-day apparel supply chai