1×1 Art Gallery and Vida Heydari are pleased to present "Khonyagar", Khosrow Hassanzadeh's first solo exhibition at the gallery from 14 January – 28 February 2019.
Hassanzadeh explains the premise for his homage to pop singers: ' My attention was drawn to pop singers around in 2007-2008 when my ten-year long obsession with Pahlevan wrestlers was drawing to a close. I became interested not only in our own famous Iranian pop-singers like Googoosh and Javad, but also in Arab and Middle Eastern pop-icons including Um-Kulthum and Fairuz. I used tiles as traditionally in the Middle East we tend to commemorate sacred icons on tiles. The pop-singers project is a continuation of my fascination with celebrating popular icons'.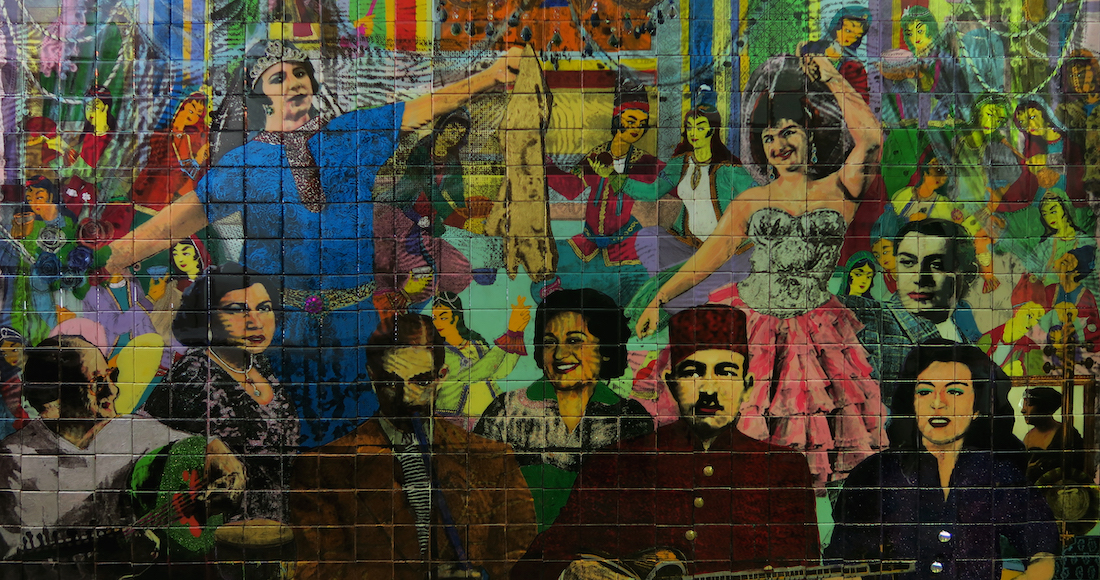 Since then his interest grew. 'I produced numerous works focusing on individual divas such as my singing Um-Kulthum light-box, which I love, until eventually I started drawing all of them together in homage to "Lalezar". Like Al-Hamra in Beirut, Lalezar in Tehran was a focal point in which pop-stars grew to prominence, where the cabarets and cafes were. It was a centre of popular culture, that since the Islamic Revolution has been banished to the relics of distant memory. In my most recent series, I attempt to preserve them and ensure they are remembered', he continues.
About the artist:
Hassanzadeh was born in 1963 in Tehran, to a working class Azerbaijani family who were fruit-sellers. He was just 17 years when the Iran-Iraq war broke out, and he dropped out of school and enlisted in the Basiji militia, but was subsequently obliged to remain as a conscript. When he returned from the war, he chose to work on themes that reflected his experiences of war. Following his return to civilian life, he studied art, enrolling in the Mojtama-e-Honar University (1989 – 91) where he studied painting and later at the Persian Literature at Azad University (1995 – 99), both in Tehran. His art teachers advised him to 'draw small' so that his work would be marketable, but he ignored this advice. From the outset, he was determined to paint large murals and posters.
His works often deal with issues that are considered sensitive in Iranian society and therefore he is frequently referred to as a 'political' artist or 'pop' artist. Scholars have described his style as somewhere between dissident and regime art. The artist, himself, calls his work "people's art" because it deals with social issues that affect everyday people. His work is influenced by the Saqqa Kaneh movement and traditional Iranian art.
Unlike many of his contemporaries who have left Iran, Hassanzadeh has chosen to continue to live and work as an artist in Iran. He is currently based in Tehran, where he works as an actor, visual artist, installation and conceptual artist. His work featured in many exhibitions in Europe and the Middle East. Time magazine described him as one of the country's
"hottest" artists.
He has had solo shows in Amsterdam, Beirut, Dubai, London, Phnom Penh, and Tehran. His work is held by the British Museum, the Tehran Museum of Contemporary Art, the World Bank and the Trope museum. Hassanzadeh works primarily with painting, silkscreen, mosaics and mixed media.