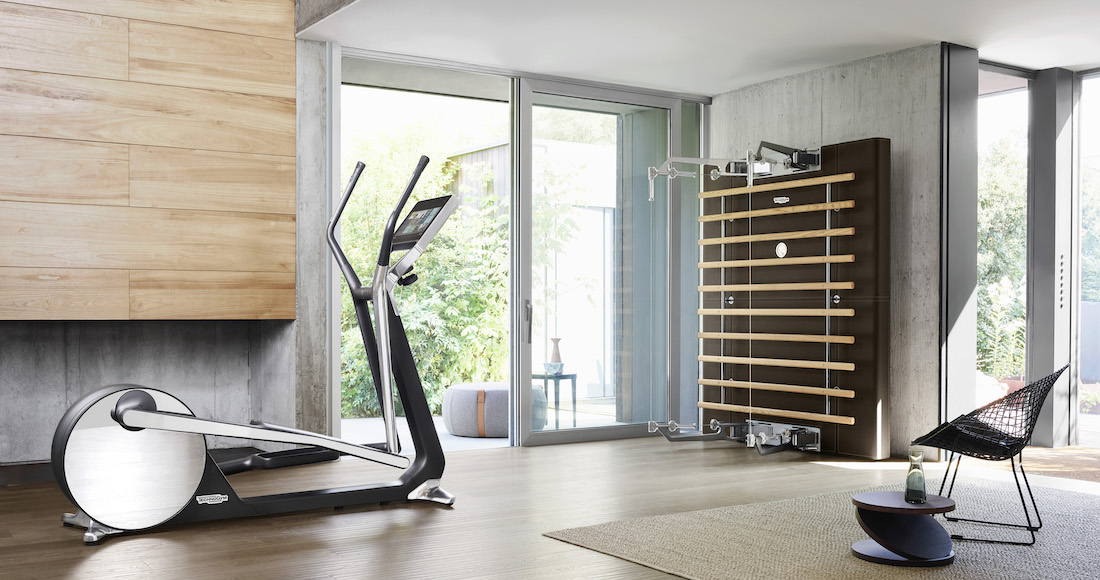 Taking inspiration from nature and science, Italian-based Technogym has developed the Personal line. It's stylish design was born from its three-decades of research experience in developing fitness and wellness products and world-renowned furniture designer and architect Antonio Citterio.
The Personal line is the result of research for a new iconic product family dedicated to Wellness in the home and marks the beginning of a new approach to pursuing physical activity in all environments suited to wellness. The line features five options: the Kinesis Personal, Cross Personal, Run Personal, Recline Personal and Power Personal. The Recline, Run and Cross Personal are now equipped with UNITY, the latest existing swipe-screen interface. 

Committed to a beautiful aesthetic, this award-winning line of interior design equipment is made using refined materials and top-level craftsmanship, built for places where people live in total harmony with a wellness lifestyle.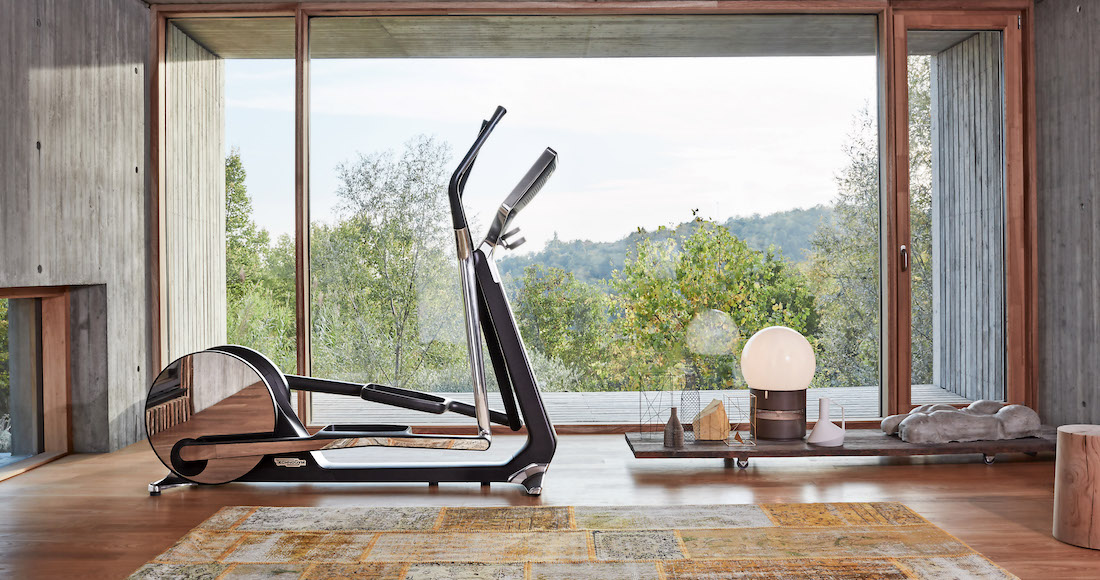 The CEO of Technogym took the time to answer some  questions.

What is your leadership/business philosophy? How was it formed?
Since the very beginning, my business philosophy has always been driven by one precise mission: spread the 'wellness' lifestyle. I founded Technogym in 1983. I was a young industrial designer very passionate about sports. In the 80s I was a member of a local gym in my hometown, Cesena (Italy), and I noticed that gyms lacked both technology and design and offered only very basic tools. I saw a huge opportunity for innovation by creating something safer and easier to use. I designed and built the first piece of equipment during my free time in the evenings and weekends in my parent's garage, all because I had a vision to do something that would help people live better.
In the years that followed, thanks to the work, commitment and passion of my team, we have created a strong international brand recognised as 'The Wellness Company' rooted in on our very own concept of Wellness: a lifestyle based on the balance between body, mind and spirit, achieved through regular physical exercise, a healthy diet and a positive mental attitude.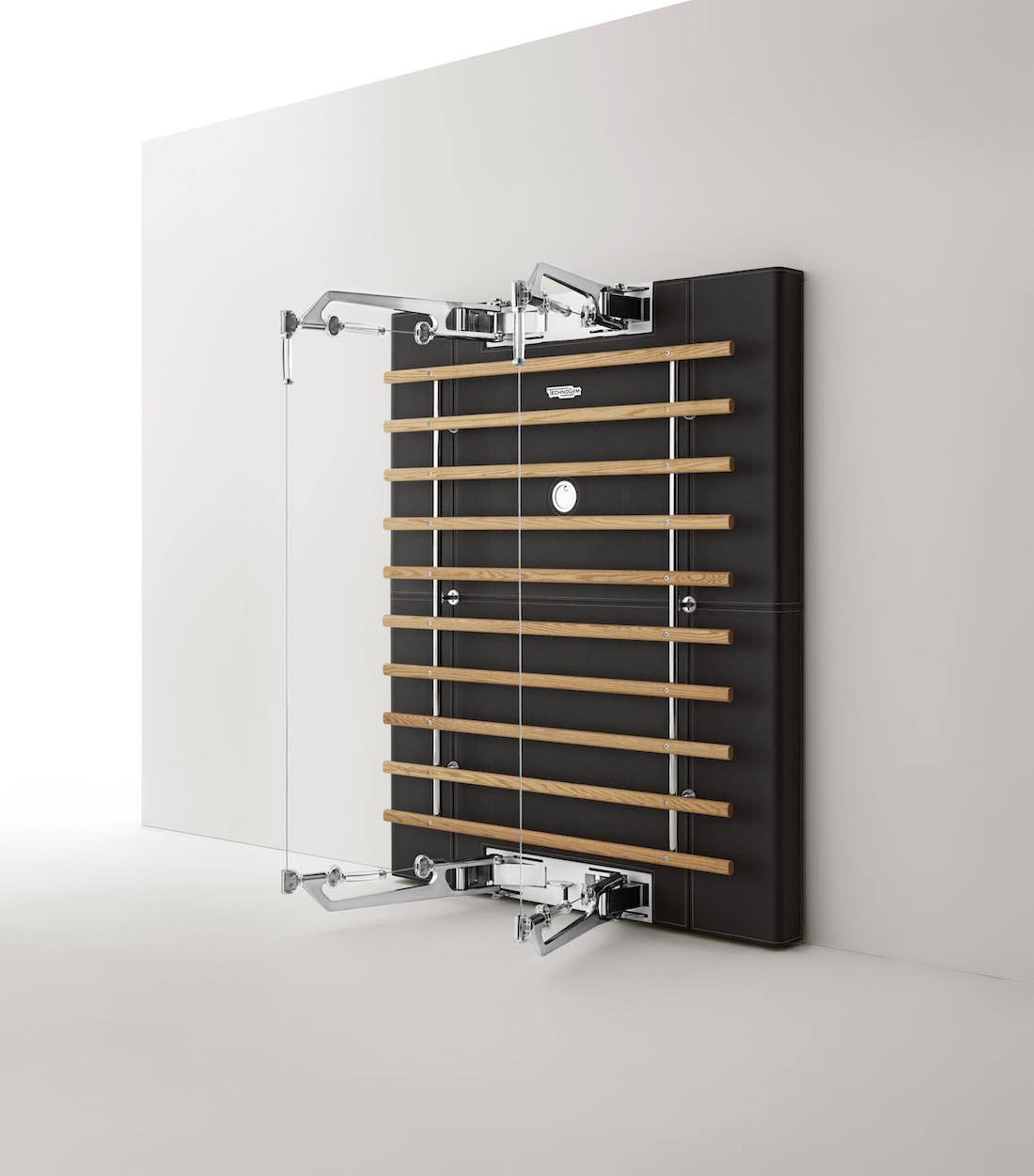 Which two people have been the most influential people in your career and why?
First of all, my brother Pierluigi. We are completely different: I'm a dreamer, he is more concrete. We complete each other and I believe that the combination of our personalities has been one of the key elements of Technogym's success. And then of course my wife Stefania. We have been together since I was 21 and she was 16. I am truly grateful to her because she has always been by my side and always believed in me. Today she is a fantastic mother to our kids and takes good care of our family.
What is the best part of your job?
I am very lucky because my job is also my biggest passion. I'm a designer and today I still define myself not as "President and CEO" of the company but as "Wellness designer". Design is by far the best part of my job and of course by design I mean not only products but also experiences, digital solutions…
What is the most difficult part of your job?
The most difficult part of my job, but at the same time the most strategic, is to find the right people for the right job because I believe that human capital is the most important asset of the company
What are the top three challenges your industry is facing right now?
The fourth industrial revolution is changing every day the way that we communicate, the way we interact with people both in business and private life, the way we get informed and the way we buy products and services.  In this scenario, being able to deliver a unique, authentic and personalized customer experience is key. Digital platforms have empowered consumers:  we now have sophisticated customers who know exactly what they want and won't settle for less. The only way we can stay relevant in this scenario is to embrace the change. Companies will constantly have to change their sales and marketing strategies, even when they seem to work, to stay relevant and keep up with new disrupters.
How do manage to strike a productive balance between your business and aesthetic needs?
It's not really a question of striking a balance. Design plays a very relevant role in our business. Today Technogym is a global lifestyle brand and therefore we need to offer people design and unique products as well as emotional and engaging experiences.
How do you define innovation?
My favourite motto is: "If it works, it's obsolete". Today, innovation and the digital revolution are rapidly changing the way we live our life every day: how we manage our business, buy products and services and communicate with other people.  Innovation means being pioneers in the industry, understanding and anticipating the latest consumer needs and transforming an idea into a solution. In fitness and wellness, innovation represents the game changer in how people access and experience sport and physical exercise and in the way every experience can become very personalized.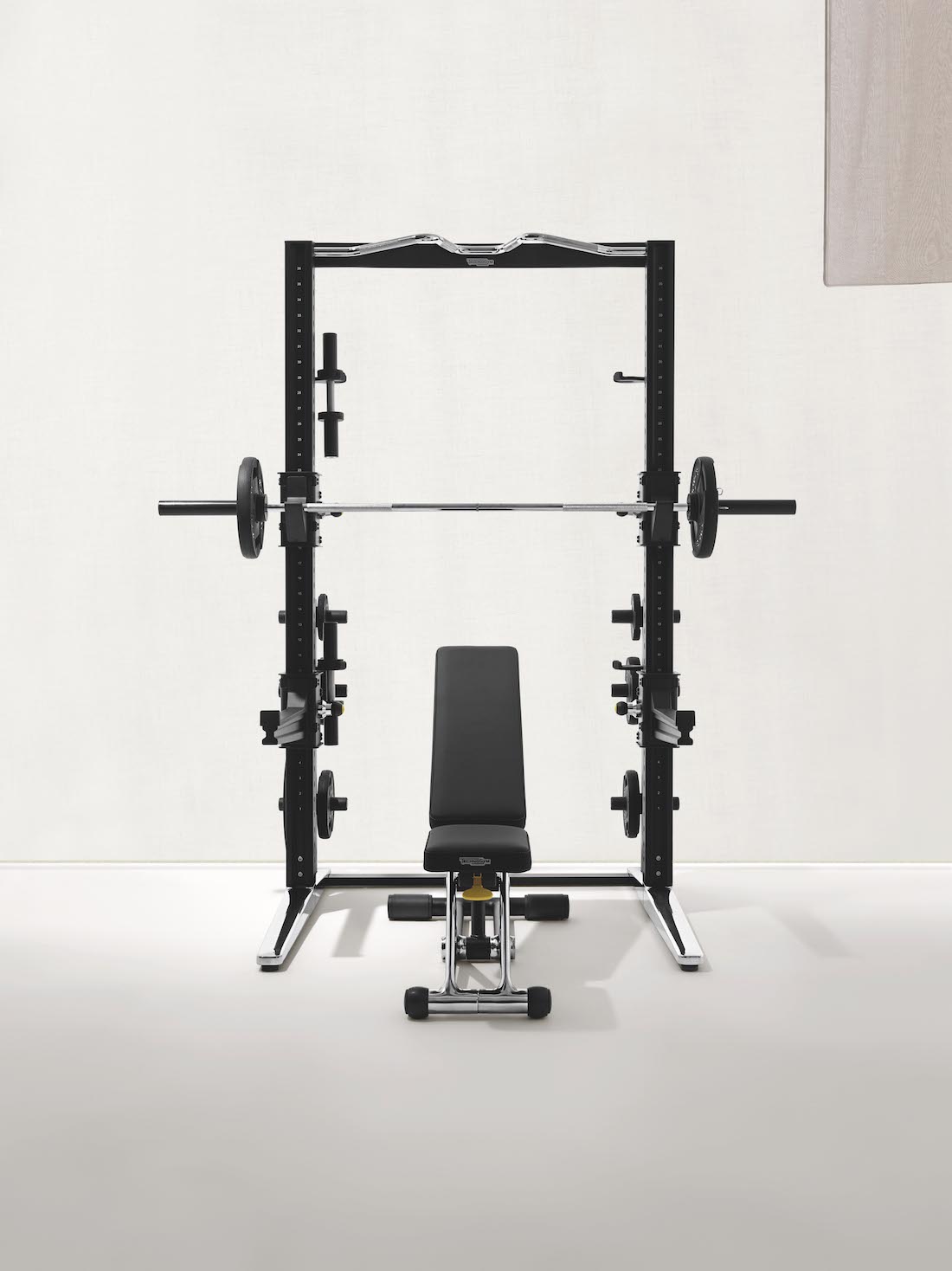 Can you tell us about your latest accomplishment?
I started Technogym in my parent's garage by myself 35 years ago. Now we are 2.000 people and Technogym has become the world leading supplier of products, digital technologies and services for fitness, sport and health. Every day, 40 million people in the world train with Technogym in over 80,000 Wellness centres and in more than 300,000 private homes.  Of course I'm proud of what we have accomplished up till now but rather than celebrating the past I like to focus on what we can do in the future. And I am sure there is still so much more we can do.
What is your favourite business resource?
My best business resource is people. Talking with people, discussing with people, listening to people, learning from people. Our future will be in the experience economy. And the experience economy will be based on people.
Where do you go for creative inspiration and to rejuvenate?
I have a fantastic family and time spent together is what truly helps me recharge my batteries
What advice do you have for young business leaders?

Be humble, be curious and most of all listen…listen to your customers, listen to your staff, listen to media and influencers because there is always something new to learn and to discover from every situation. Take inspiration from athletes who constantly work to reach new objectives and improve their performance with passion every day.  For me, every day is like the first day in the garage.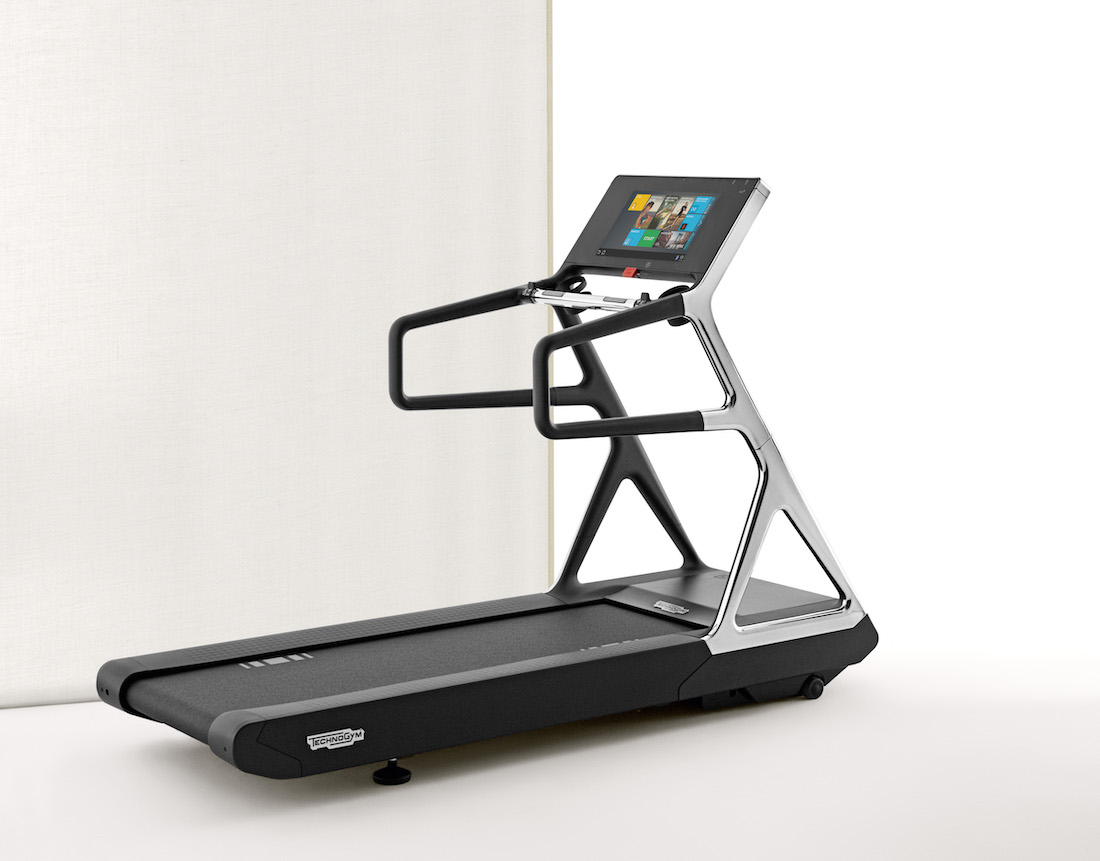 Why do you think Dubai is a top destination for the business of design?
I believe that in Dubai there is a perfect combination between investment opportunities in terms of capital and the possibility to start up new green field projects.
What does the future of your industry hold? The future of your brand?
Digital innovation is changing the global scenario and we all know very well how the fitness and wellness industry is changing every day, from the old days approach of a mainstream fitness center catering the needs of everybody to today's new concepts: boutiques, shop-in-shop studios inside clubs, cluster-based programs, digitalization of the club or even partnerships with other stakeholders such as corporates, insurances and health sector.
Technogym's answers to the scenario in which we are living today, dominated by the so-called experience economy is to provide consumer engagement, by offering different and unique training experiences to different people with different passions and needs wherever they are.
Company profile
Founded in 1983, Technogym is a world leading international supplier of technology and design driven products and  services in the Wellness and Fitness industry. Technogym provides a complete range of cardio, strength and functional equipment alongside a digital cloud based platform allowing consumers to connect with their personal wellness experience anywhere, both on the equipment and via mobile when outdoors. With over 2,000 employees and 14 branches globally, Technogym is present in over 100 countries. More than 80,000 Wellness centers and 200,000 private homes in the world are equipped with Technogym.
Design awards: 3 Compasso d'Oro awards, 12 ADI prizes assigned by the Italian Association of Industrial Design, 12 Red Dot Design Awards, 3 International Design Excellence Awards and 4 iF awards among many others.
Designer collaborations: Personal Line – Antonio Citterio, Technogym was the official supplier for the last seven editions of the Olympic Games: Sydney 2000, Athens 2004, Turin 2006, Beijing 2008, London 2012, Rio 2016 and Pyeongchang 2018.
Unique angle/mission/perspective: Research and innovation have always been the driving force behind Technogym, that over the years has always anticipated the trends of the industry: from the launch of the CPR system for heart rate monitoring in 1992, to the first wellness software in 1996 and the first cloud based open platform in the industry in 2002.
More about Nerio Alessandri:
Nerio Alessandri was born in Cesena on April 8th, 1961. After education as an industrial designer, in 1983, at just 22 years of age, he founded Technogym, today's world leading company offering products and services for Wellness and rehabilitation. The first pieces of gym equipment, designed and built in his own garage, are the result of his enthusiasm for sport, his skills as a designer and his passion for design. In the early 90's, Alessandri defines the Wellness concept, a lifestyle which aims at improving the quality of life thanks to regular physical activity, a healthy diet and a positive mental attitude. A profoundly Italian concept whose roots are to be found in the ancient Roman saying "mens sana in corpore sano" and which very soon asserts itself on the market as the evolution of the American fitness concept.