id partnership:  Having began his career designing for Czech manufacturing of bespoke lighting brand , Lasvit, designer Stefan Mihailović has moved on as an independent designer, although  his collaborations with the lighting brand remain strong: the latest being a luxurious villa in Kuwait City.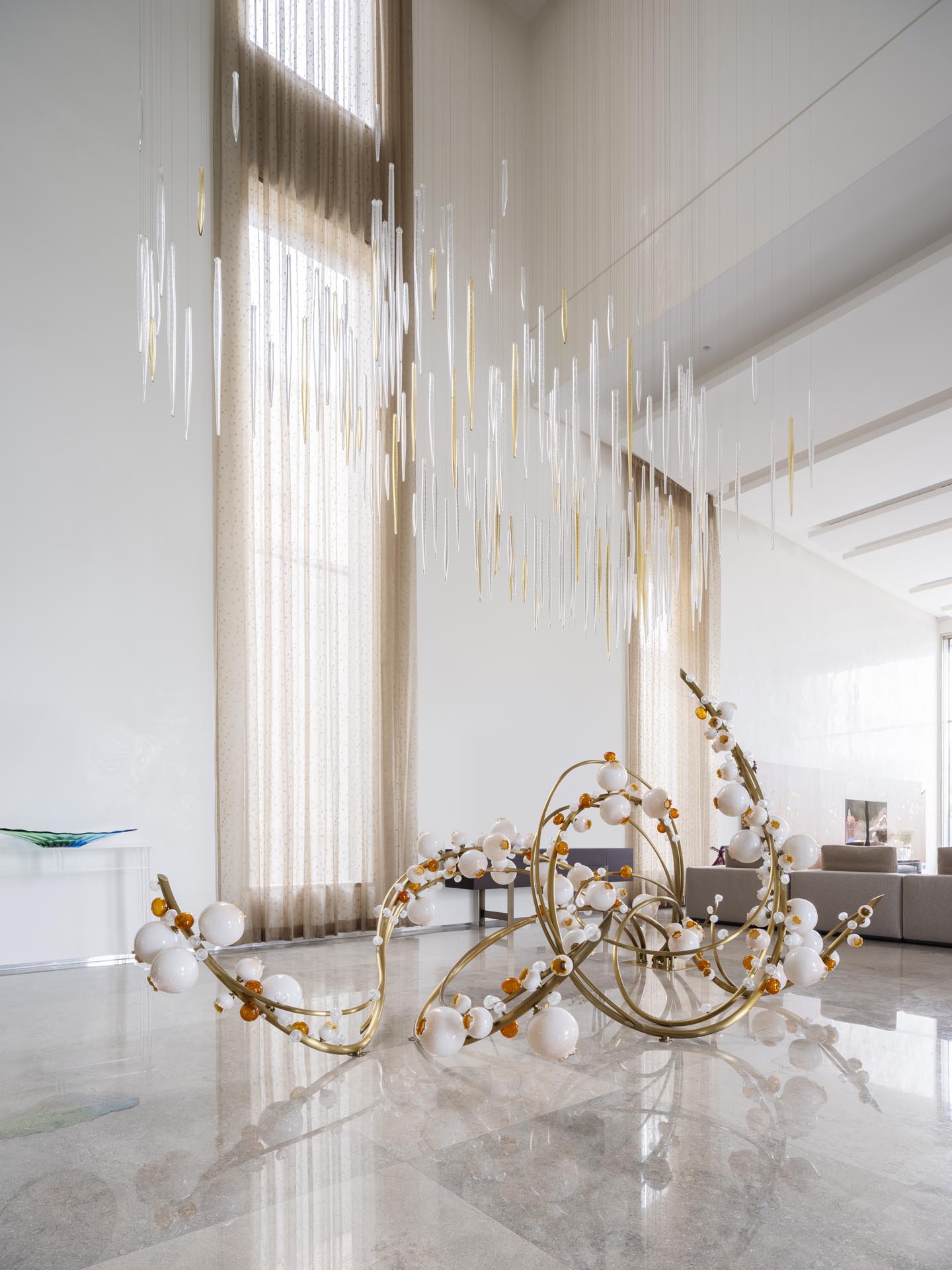 The installation, titled Fruits of the Desert, is abstractedly shaped like a fruit-bearing desert bush, consisting of over four hundred original glass components and more than 60 metres of metal branches, proving that no task is too big when using Bohemian glass. The desert inspiration plays a powerful role in the overall custom-made installation, referencing the regional landscape and heritage of the region.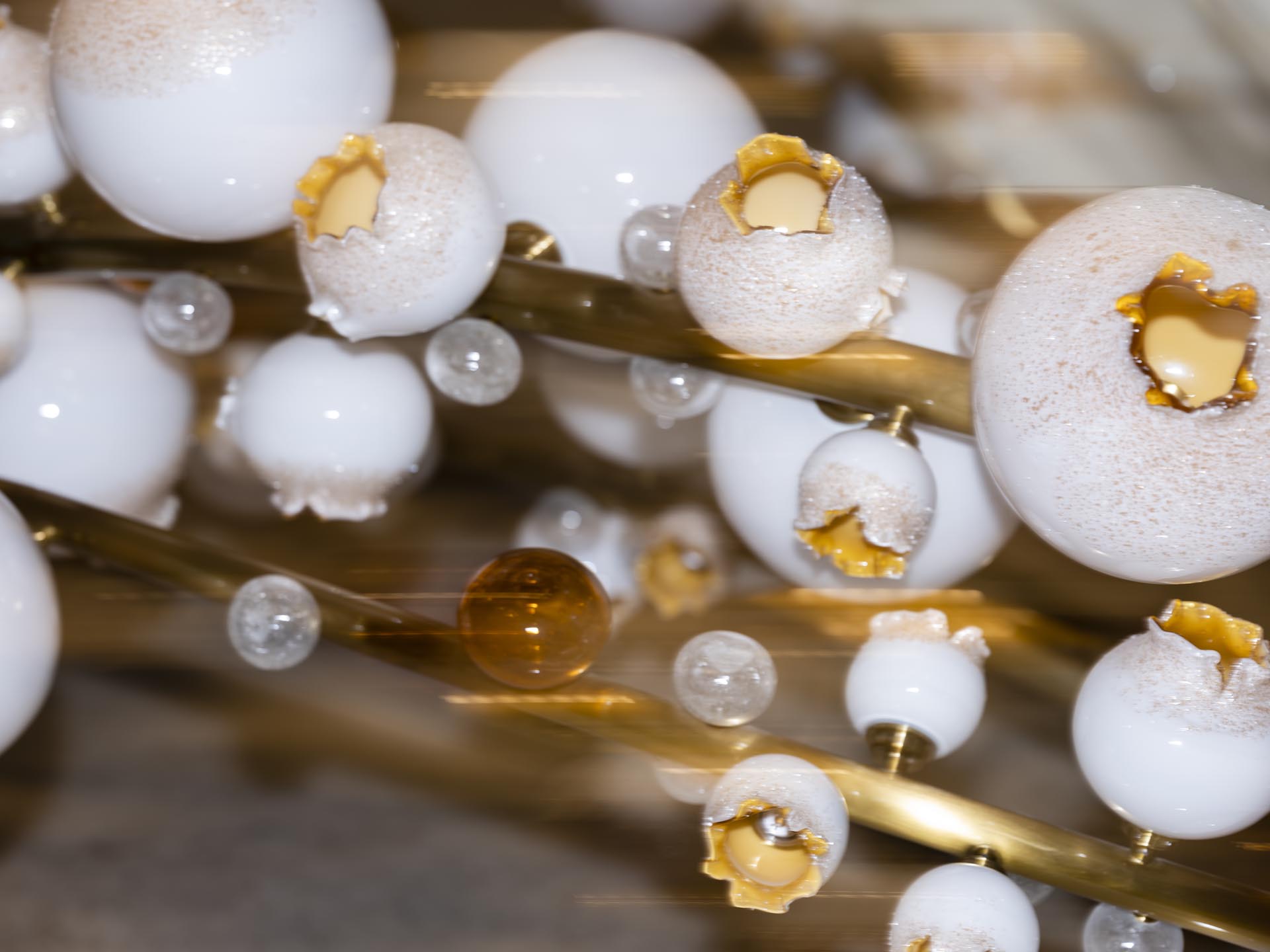 Mihailović also drew inspiration from traditional calligraphy by using fluid forms and organic lines. "I tried to imagine the people who lived here in the past, decades before us, before Kuwait became one of the richest countries in the world. I envisioned how they survived and how, in such a hostile land as a desert, they had no other choice but to depend on the gifts of nature. I captured that hopeful moment when fruits appear, as they float above an unusual tree," the designer says.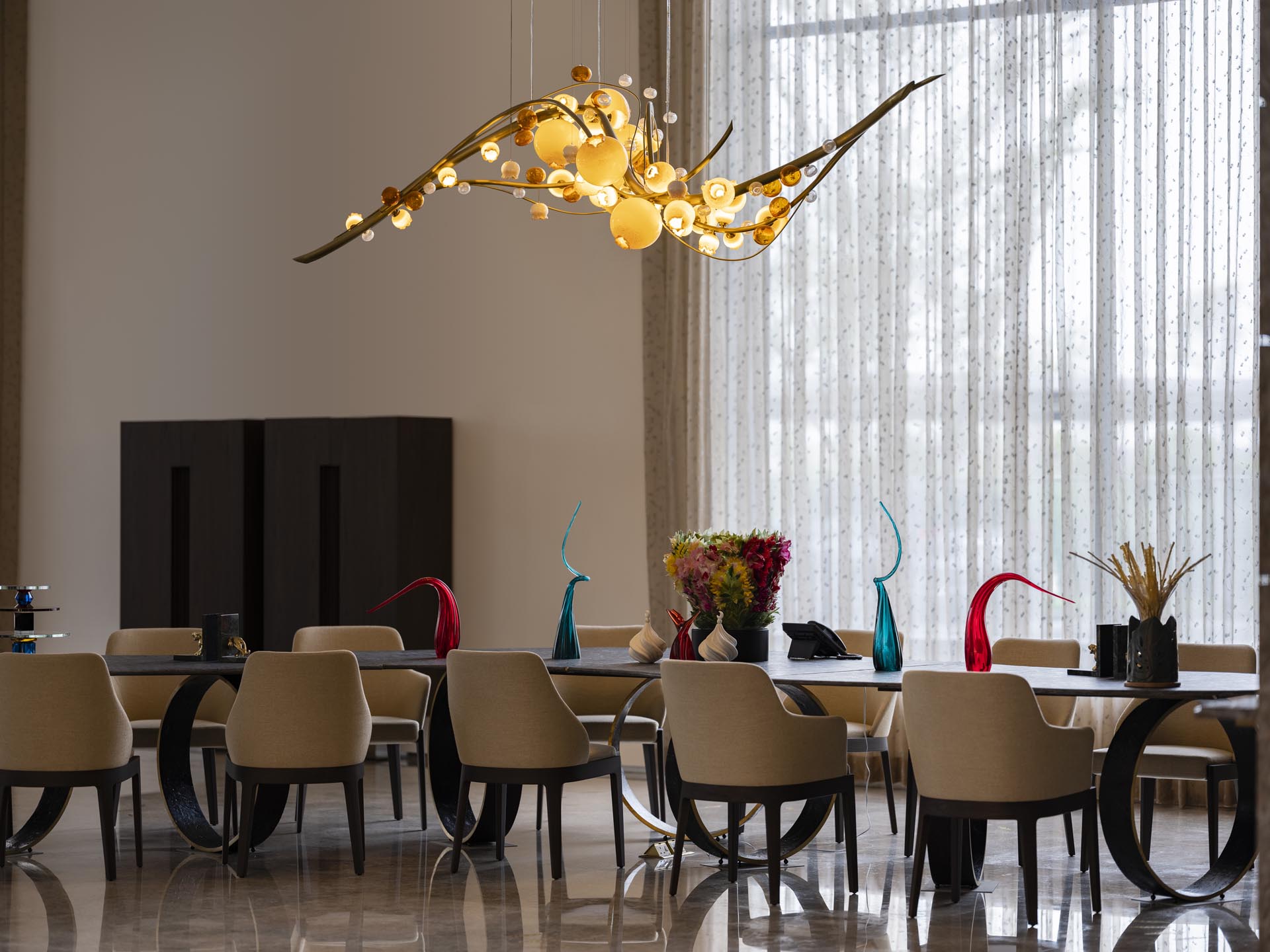 The glass sculpture plays with contrasting symbolism, representing a moment of fertility in an otherwise harsh climate with the depiction of the precious desert fruit, set against images of rainwater that is represented using crystal drops that levitate some five metres above the installation. "I connected the concept of fertility with the image of a fruit similar to a chestnut, pistachio or sunflower seed. I sketched the ideas and from the beginning, they formed into the shape of cracking balls. They best expressed the essence of the theme and prevented it from becoming too monotonous and obvious," Mihailović  explains.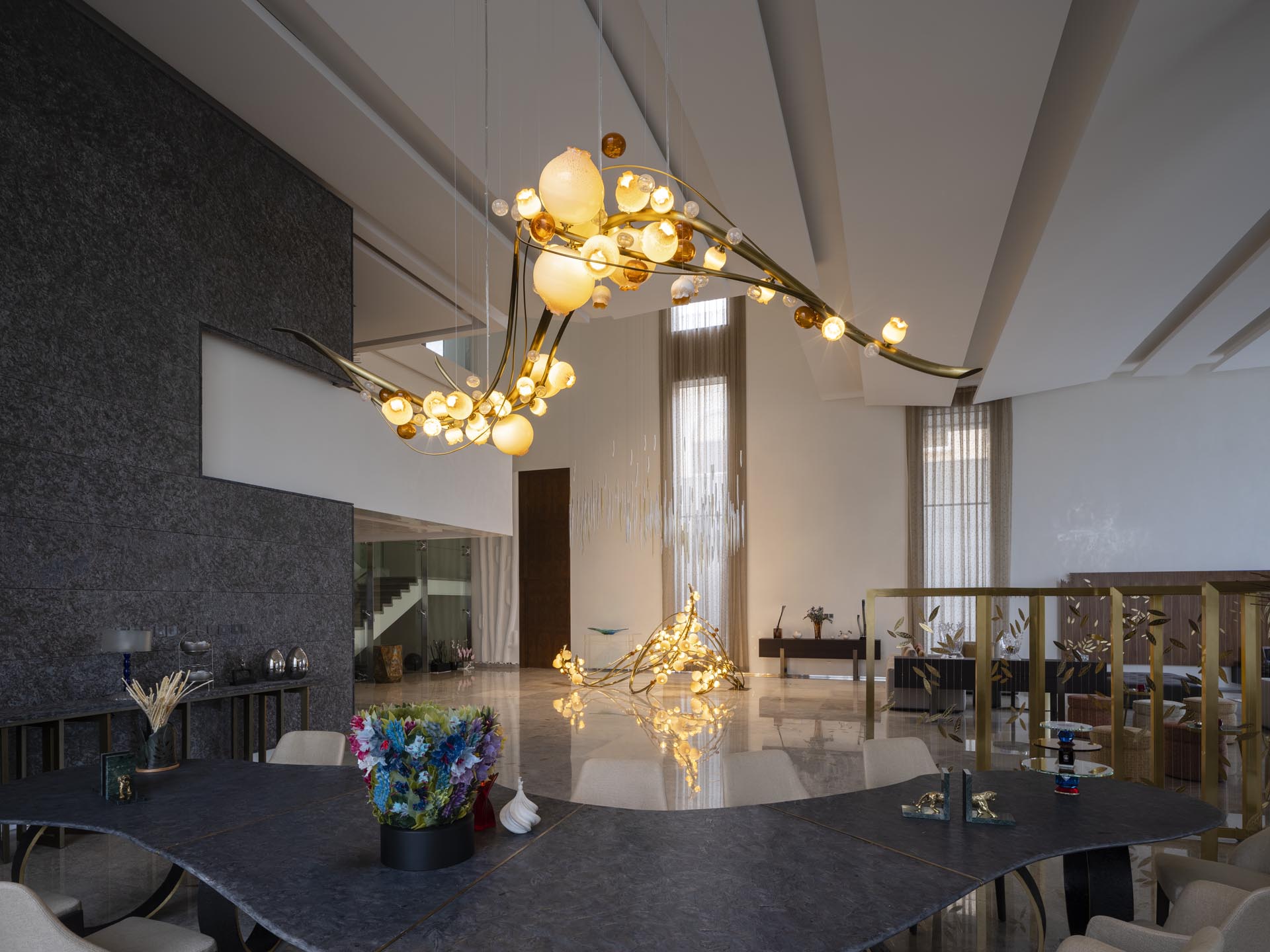 The lower section of the sculpture consists of 277 custom-made glass components of Czech crystal that are  organically shaped and encase the branches. The fruits are in clusters of 10, ranging from already opened to still ripening to closed, with the larger fruit  created using Lasvit's white opaque glass that features a slightly golden layer on the inside. Some of the smaller glass fruits differentiate in tone, while the entire installation is dominated by amber tones.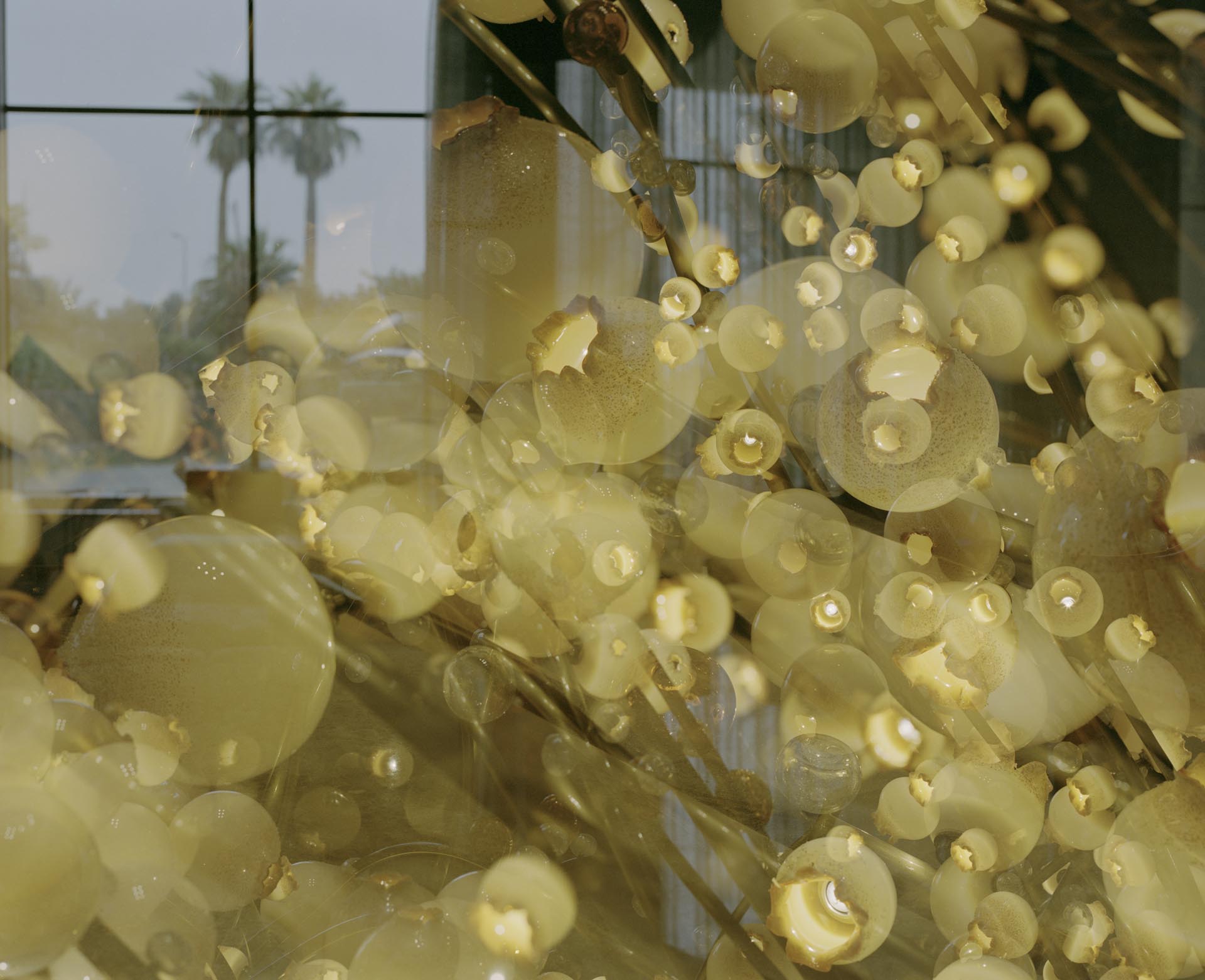 "This sculpture has sufficient breathing space surrounding it to function as the centerpiece of the interior," the designer explains. "Both daylight and artificial light enhance the overall impression from the installation and draw attention to the beauty of hand-made glass at any time of the day. The rays pass through transparent crystal and highlight its elegance, while the inner lighting shines from within, creating a warm and friendly atmosphere. These two effects may be combined to achieve a varied atmosphere."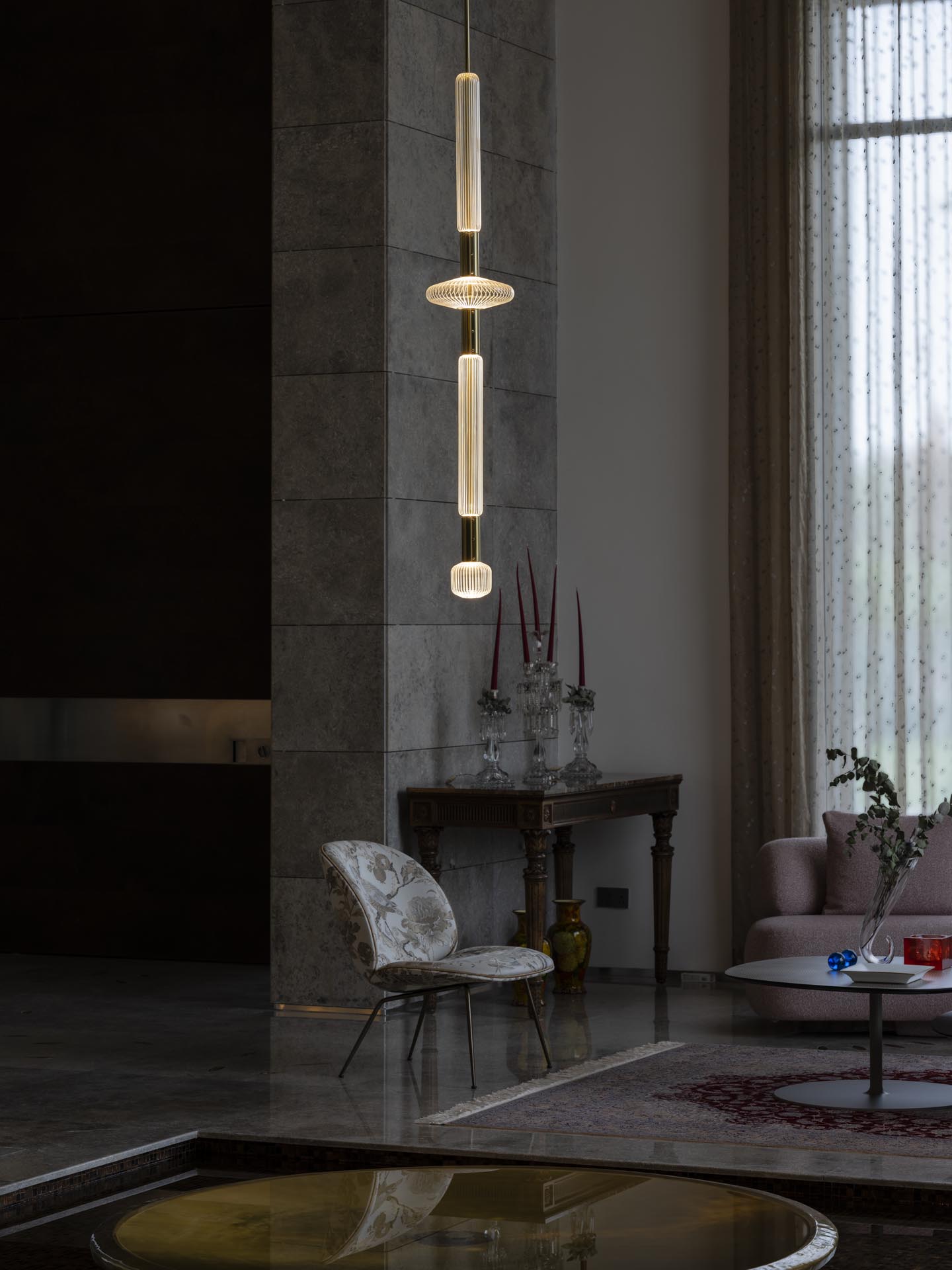 Because the desert landscape significantly affects Kuwait's architecture, most houses have a rectangular shape arranged around a central courtyard. Similarly, in this family residence, the courtyard provides an enclosed yet comfortably opened space, shielded from the wind and direct sunlight of the harsh desert climate. This provides a space for quiet contemplation – while enjoying views of the dynamic glass sculpture. The designer also carefully added a chandelier from the Cipher Collection by Yabu Pushelberg, placed over the meditation fountain feature, comprising 14 meters of branches and 86 original glass components. Together, the sculptures represent a unified vision while also acting as powerful individual elements. lasvit.com 
Read more: Lasvit's enchanting chandeliers have been scaled down for the home