Situated in the small fishing village of Kottegoda, near Hiriketiya beach in the southern province of Sri Lanka, the K House offers an architecture that is inspired by its tropical setting, using natural materials and climate constraints to inform its design.
Designed by Danish firm Norm Architects and Chinese studio Aim Architecture, K House is a secluded beachfront property surrounded by lush vegetation and striking views over the ocean, boasting an architecture that effortlessly blends into its surroundings through the use of large openings, soft transitions and natural materials.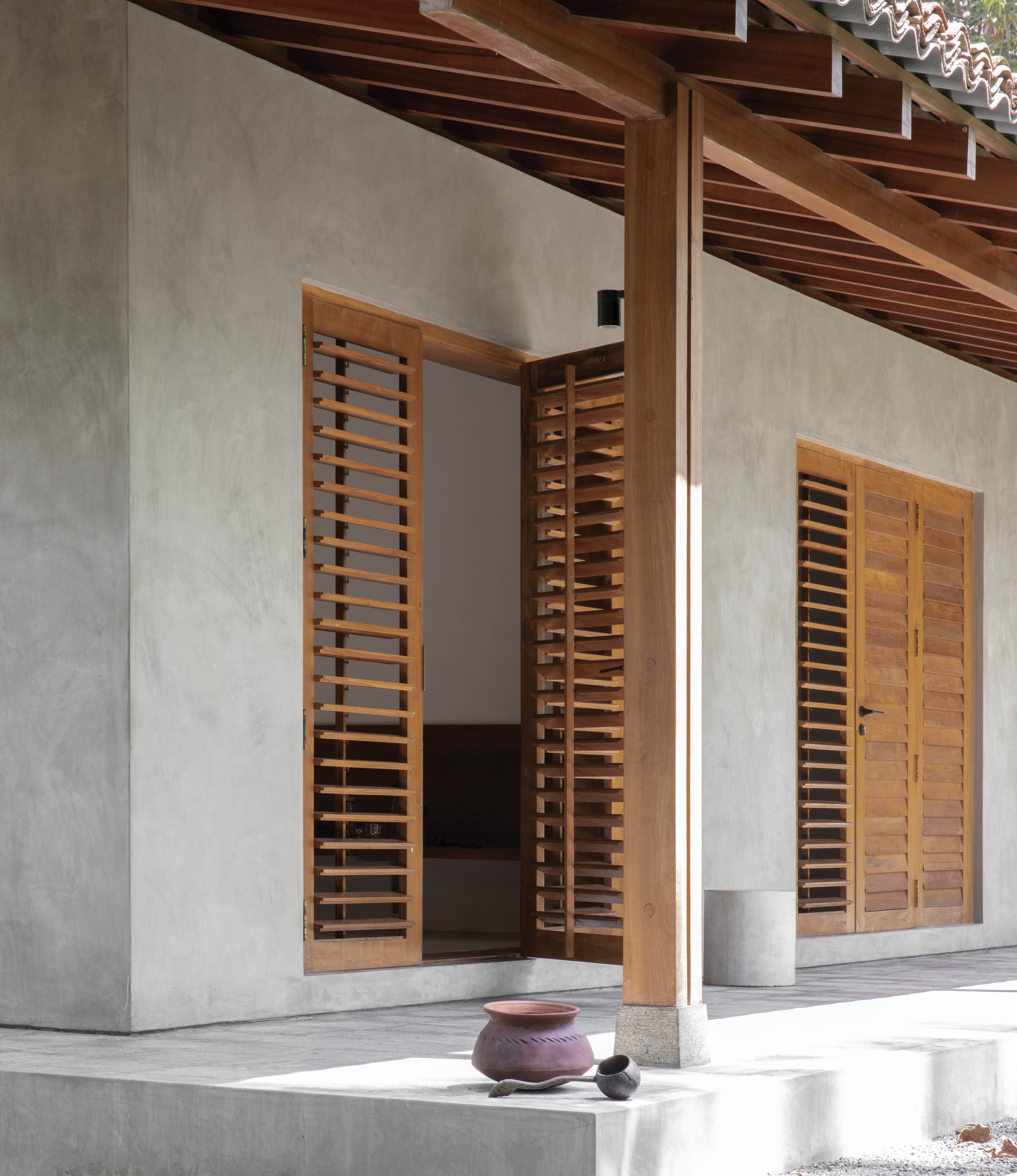 The exclusive villa resort is comprised of two peaked-roof concrete buildings – East House and West House – which together form an L-shape, framing a central garden and pool area that slopes down towards the spotless sandy beach.
While the East House sits atop the hilly part of the property, opening up to the sea, the West House is slightly tucked away behind a patch of leafy trees, providing a more sheltered feel and an added sense of privacy.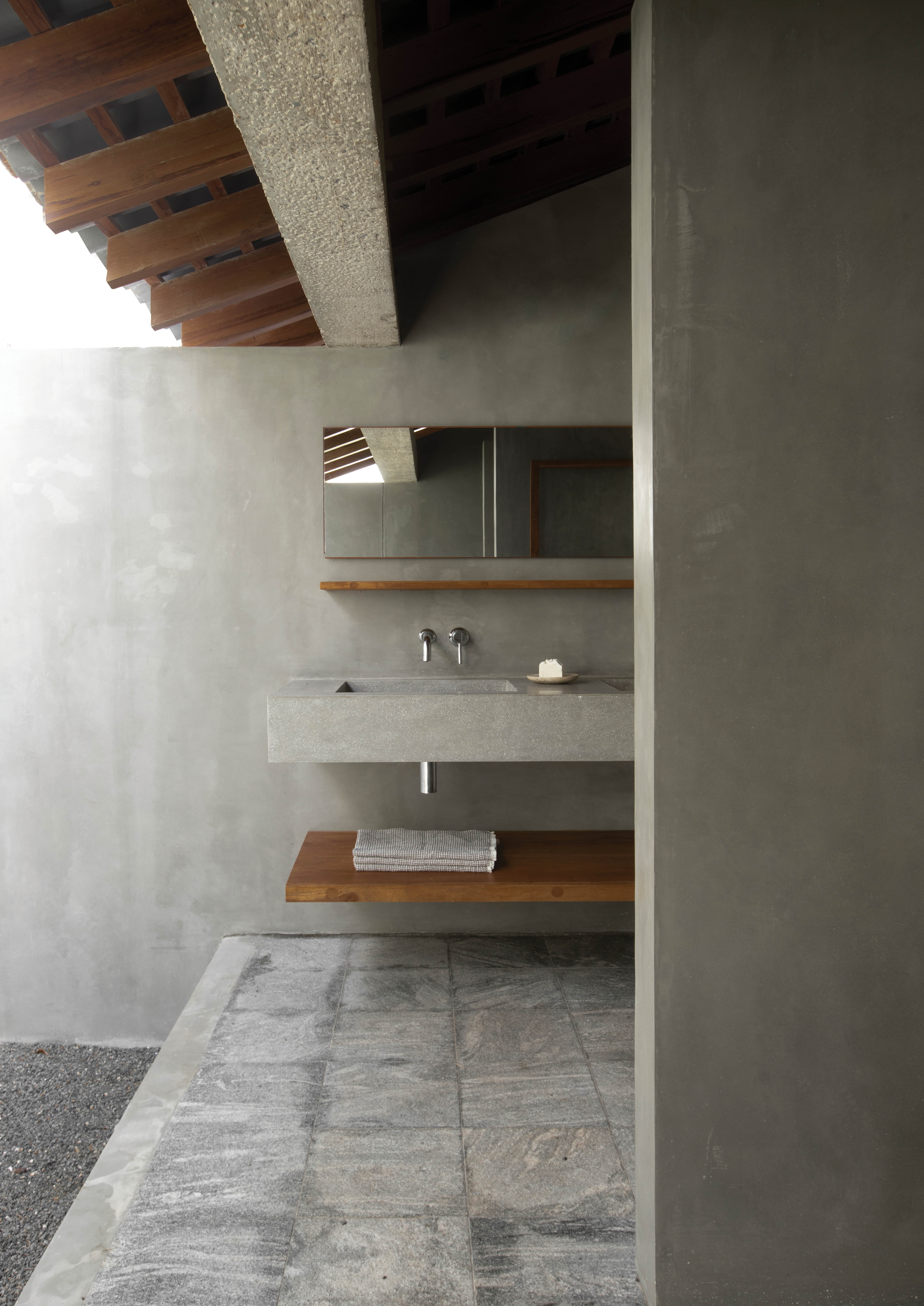 The barn-like structures feature a polished concrete façade while the roof is made out of recycled terracotta tiles, shading the outdoor areas of local granite stone. Both buildings feature a series of shutters made from local teak wood that can be pushed back to reveal the surrounding landscape, creating an interplay of open and closed spaces.
The West House comprises living spaces that evoke a more intimate and enclosed atmosphere, complete with polished cement walls and floors. The rooms are withdrawn and private, with minimal interiors and décor providing a peaceful place to retreat to when necessary.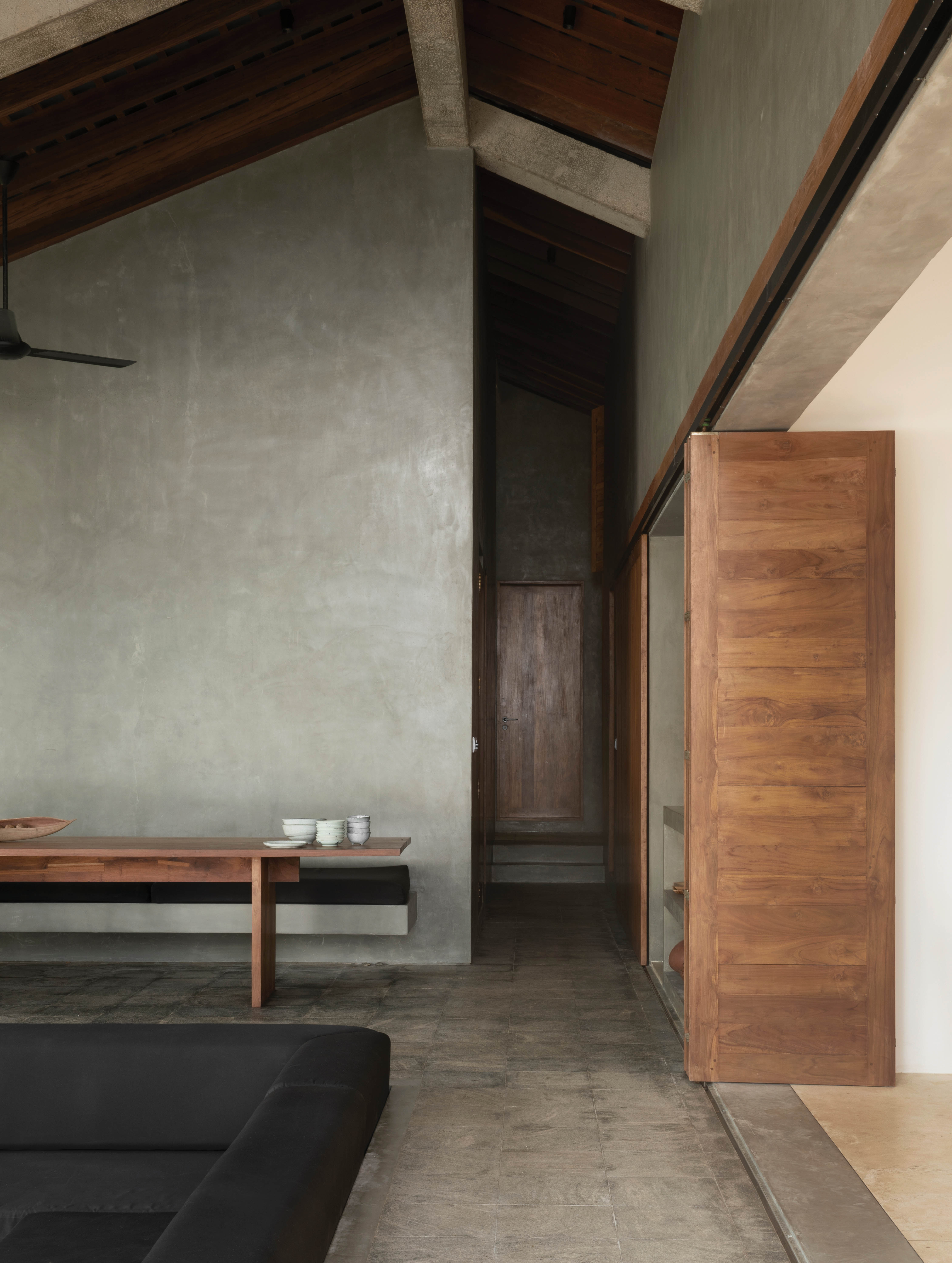 The chunky sink basins in the bathrooms are made from dark grey terrazzo, two of which open up to the private stone-walled courtyards, allowing for the luxurious sensation of showering outdoors. 
The property is also home to an array of bespoke furniture including an inbuilt sofa in the luxuriously pared-back lounge area and headboards that extend the full length of the bedroom walls, acting as either a seating option or a tabletop. Together with the teakwood dining tables and chairs, it graces the rooms with a touch of warmth. The combination of these modern and minimal furniture selections along with other locally sourced antique pieces and accessories creates an interior setting that is familiar while staying true to its locality.
Contrastingly, the interiors of the East House has a more open-plan layout featuring white-painted surfaces, that are adorned by locally sourced antique artworks.
The outdoor living and dining spaces make up the common areas of the villa complex, where large sliding doors open up to key spaces of the garden, while the generous roofs of the buildings shelter both areas from rain and sunlight, creating a comfortable feeling of being in nature, while simultaneously remaining protected.