Henning Larsen has revealed plans for Copenhagen's first all-timber neighbourhood, IKEA is constructing its greenest ever store in the Austrian capital Vienna and Ford is recycling coffee waste from McDonald's into car parts.
Here are some of the latest sustainable projects from around the world: 
---

Transformation plan
Architectural company Henning Larsen has revealed plans to transform a former junkyard into Copenhagen's first all-timber neighbourhood.
Fælledby is a sustainable housing scheme just beyond the centre of the Danish capital that will accommodate 7000 residents in timber homes.
Small nests for songbirds and bats will be built into the walls of houses, new ponds in the centre of each of Fælledby's three communities will offer a habitat for frogs and salamanders, and community gardens will create new flowers to attract butterflies.
Narrow roads and underground parking within the plan aim to reduce vehicle traffic and visibility, ensuring nature remains the focal point of the project, which has been developed in collaboration with biologists and environmental engineers from MOE and preserves 40 per cent of the 18.1-hectare project site as undeveloped habitat for local flora and fauna.
Signe Kongebro, Partner at Henning Larsen, said: "We're creating a city where biodiversity and active recreation define a sustainable pact between people and nature."
The neighbourhood merges traditional Danish urban and rural typologies to create a hybrid that balances the city and its natural surroundings.
Fælledby will be developed in phases, growing outward from three distinct 'cores' that provide residents with increased and direct access to nature and allow animal species to move freely through and within the area.
Kongebro added: "We see potential to build a new city that speaks to the sensibilities of younger generations; to create a home for people seeking a solution on how to live in better harmony with nature. For us, Fælledby is proof of a concept that this can indeed be done."
---

Solar star
A solar-powered unmanned aircraft designed to stay in the skies for a year has made a successful maiden flight.
Built by BAE Systems subsidiary Prismatic, the Persistent High Altitude Solar Aircraft (PHASA-35) has come through its first trial in South Australia.
The plane, which has a 35-metre wingspan, is designed to operate in the stratosphere, above the weather and conventional air traffic.
It is viewed as an alternative to satellites; other potential applications include forest fire detection and maritime surveillance.
PHASA-35 is powered by the sun during the day and by batteries overnight. The long-life battery and highly efficient solar technology could allow the aircraft to maintain flight for up to a year, operating in the upper regions of Earth's atmosphere.
Ian Muldowney, Engineering Director at BAE Systems, said: "This is an outstanding early result that demonstrates the pace that can be achieved when we bring the best of British capability together."
---

Transparent solar window
Ubiquitous Energy has installed what it claims to be the world's first transparent solar window façade at its company headquarters in California.
Each double-pane window in the 10-square metre project has been glazed into a fibreglass frame, matching the existing aesthetic of the building's windows.
The windows produce electricity that powers the LED lighting in an adjacent room while simultaneously maintaining the performance of standard commercial window glass.
The façade is also connected to an energy management system that monitors and logs its power generation.
---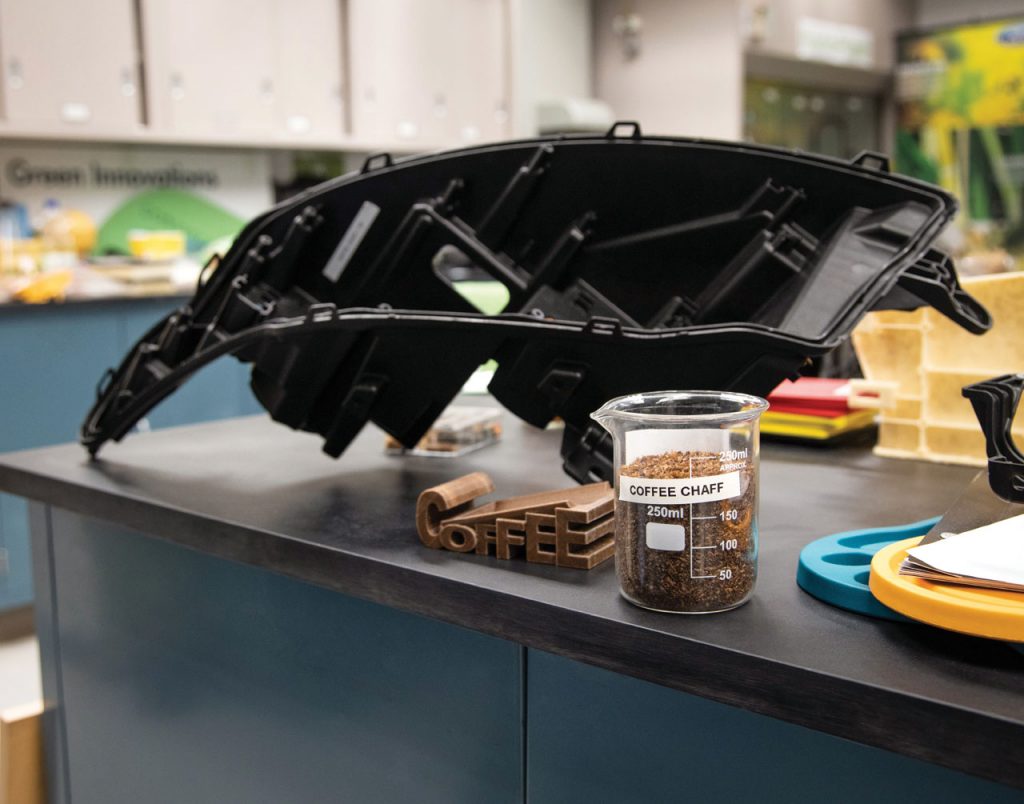 Coffee to go
Ford is recycling coffee waste from McDonald's into car parts thanks to an innovative partnership between the two companies.
They discovered that chaff – the dried skin of the coffee bean – can be converted into a durable material that reinforces certain vehicle parts.
By heating the chaff to high temperatures under low oxygen, mixing it with plastic and other additives and turning it into pellets, the material can be formed into various shapes.
The chaff composite meets the quality specifications for parts such as headlamp housings and other interior and under-bonnet components. The resulting components are about 20% lighter and require up to 25% less energy during the moulding process.
Heat properties of the chaff component are also significantly better than the currently used material, according to Ford. This is the first time the company has used coffee bean skins in the manufacture of vehicle parts.
Debbie Mielewski, Ford Senior Technical Leader of Materials Sustainability, said: "This is an example of jump-starting the closed-loop economy, where different industries work together and exchange materials that otherwise would be side or waste products."
---

Green move
IKEA is constructing its greenest ever store in the Austrian capital of Vienna.
Some 160 trees are to be planted on its façade, lowering the temperature by "at least two degrees", according to the company.
But the most radical aspect of the design, by local studio Querkraft Architekten, is that the store will not feature any car parking facilities at all.
The company stated: "Around two-thirds of people living in the inner city districts of Vienna do not even have a car any more.
"They come by public transport, walk, ride bicycles or take a scooter. IKEA Vienna Westbahnhof serves all these changed behaviours."
Customers will be able to take home products by foot or on public transport, while items can also be delivered home on the same day as purchase.
The building, meanwhile, will also accommodate a two-storey hostel on its upper levels, along with a roof garden and restaurants, as it aims to become an iconic meeting place.
---

Vision of the future
Jaguar Land Rover (JLR) has taken the wraps off Project Vector, a concept vehicle representing a "vision of an autonomous, electric, connected future for urban mobility."
It's a flexible vehicle that is four metres long and designed for the city, packaging all its battery and drivetrain components into a flat floor to enable a variety of uses.
The interior cabin space allows seating configurations for private or shared use and even the opportunity for commercial applications, such as last mile deliveries.
The concept has been developed at the National Automotive Innovation Centre, with an on-road pilot programme in the central city of Coventry scheduled from 2021.
Jaguar Land Rover Chief Executive Officer, Prof. Sir Ralf Speth said: "Project Vector shows JLR as a leader in innovation to make our societies safer and healthier, and the environment cleaner. Through this project, we are collaborating with the brightest minds in academia, supply chain and digital services to create connected, integrated mobility systems."