Construction of the petal-shaped Thematic Districts for Expo 2020 Dubai is now complete. More than 100 million working hours were required for the development of the site, which includes the completion of all shell and core works for the Opportunity, Mobility and Sustainability Districts. Dubai's plan to deliver all Expo-led construction a full year before the first World Exposition to be held in the Arab world are right on track.
Designed by Hopkins and Partners, the Thematic Districts evoke old Dubai. Facades resembling traditional Emirati wind towers and walkways will be lined with plants indigenous to the UAE. Outstanding features include smart shading, solar cells, moisture capturing mechanism and innovative logistics.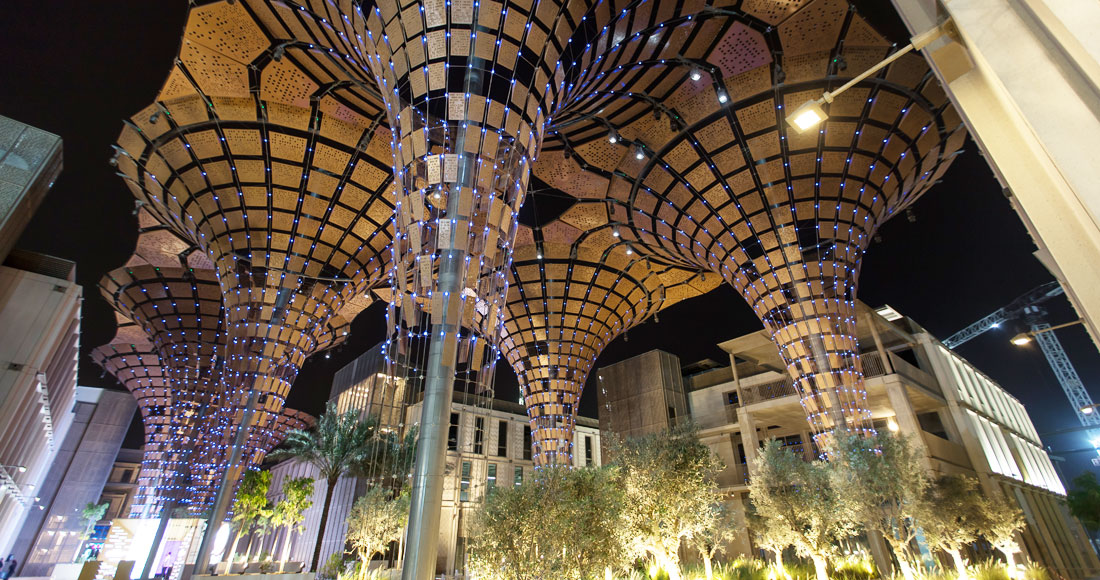 Built by the UAE's Al Futtaim Construction, the Districts are now ready for fit out. The Districts will include 86 low-rise buildings that will house Country Pavilions, food and beverage outlets, retail and performance spaces as well as leisure areas. The Thematic Pavilion anchoring each District will connect to the central Al Wasl Plaza with a centerpiece of a massive domed trellis that will act as a huge 360-degree projection screen.
All Expo 2020 structures are designed to at least LEED Gold standards. More than 80 percent of the Expo environment will be part of a mixed-use community after the event.