Designed by world-renowned architect the late Dame Zaha Hadid, ME Dubai is set to open its doors today. The property will take residence in The Opus by Omniyat building, located in the Burj Khalifa district of Dubai.
ME Dubai represents a legacy project for the Iraqi-British architect, as it is the first and only hotel for which she designed both the exterior and interior. The building is fully representative of her futuristic architectural style, which was characterised by curves, sharp angles and bold materials.
The ME brand's first Middle Eastern property, ME Dubai incorporates 74 rooms and 19 suites (including the Passion Suite, Personality Suite, Vibe Room and the ultra-luxurious 'ME Suite'). Hadid's design reinvents the balance between solid and void, opaque and transparent, interior and exterior.
The Opus itself spans 186,000 square metres, comprising two separate towers that connect in the form of a cube and featuring a 'carved' central void, which appears to hover above the ground. The centre of the building provides unexpected and dramatic views of the exterior. During the day, The Opus is a luminous surface that reflects the sun, while LED lighting highlights the building in the evening.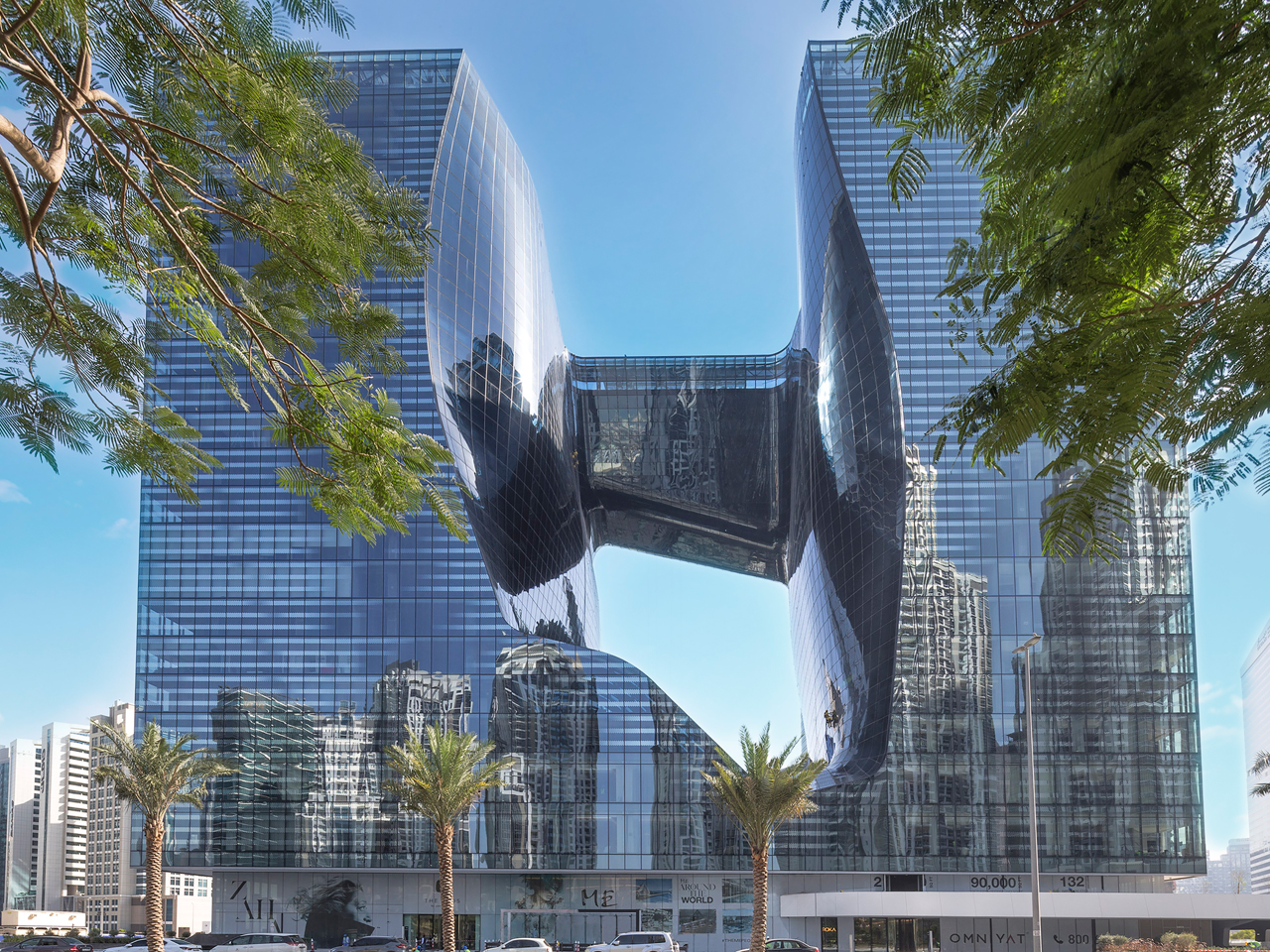 The property will feature signature furniture throughout the lobby, lounges and reception areas, all of which was either designed or personally selected by Zaha Hadid.
The hotel features three owned F&B outlets, including Central, the Refuel & Relax pool bar and The Opus Studio, as well as a luxurious spa.
ME says that ME Dubai "aims to raise the bar on sustainable practices for hotel operations in the city in line with the UAE's Vision 2021, to be among the world's leading countries prioritising evolving sustainable development while preserving the environment."
Initiatives being introduced across the hotel's operations include a partnership with UAE-based company 'No More Bottles' to install world-class drinking water filtration systems throughout the hotel. All rooms will be stocked with pure, filtered water in glass bottles, "demonstrating ME Dubai's commitment to being entirely plastic-free and reducing its carbon footprint."