On the eve of Dubai Design Week, the next top cultural destination in the region will be opening its doors: Jameel Arts Centre. Set to open this winter in Dubai's Culture Village overlooking the Dubai Creek, the three-storey multi-disciplinary space designed by UK-based firm Serie Architects will present curated contemporary art exhibitions and act as a hub for educational and research initiatives.
Designed by project lead Christopher Lee, it was conceived as a series of boxes of varying dimensions that are bound together by a one-storey high colonnade. The building's intelligent design offers a flexible and rich curatorial potential – from small intimate gallery for enjoying smaller works to large galleries with soaring height for large sculptures.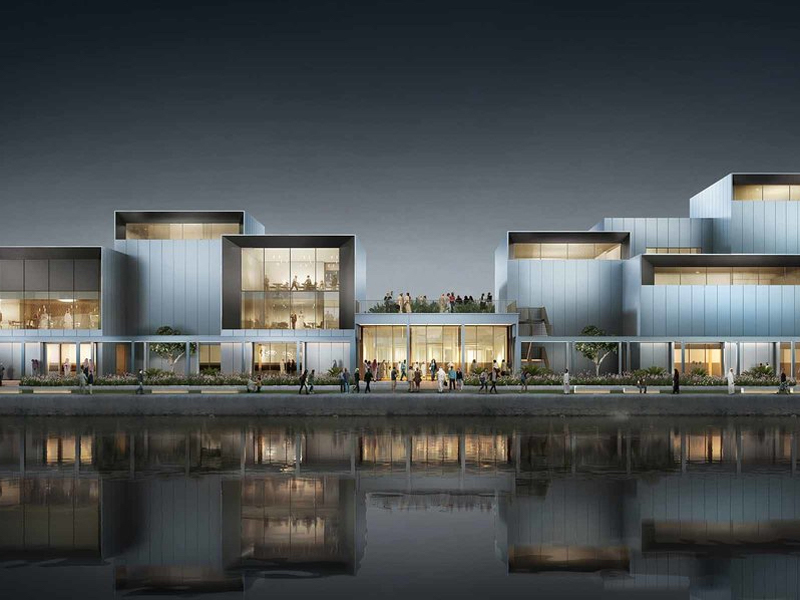 Connecting the exhibition spaces are public outdoor courtyards, which offer moments of repose and reflection as one moves from one gallery to another. The colonnade also works as an active social space, charging the edge of the building with activities and enlivening the waterfront promenade. The massing of the building, its spatiality, and its façade articulation draws from the rich architectural tradition of the region – interpreted with a modern simplicity and elegance.
The centre will be 10,000 square-metres overall, comprised of museum- quality gallery spaces and an open-access research centre and library. It will also feature dedicated events spaces, a roof terrace designed for film screenings and events. Visitors will be able to enjoy an outdoor sculpture area, café, restaurant and bookshop.
Designed by Swiss-born landscape architect Anouk Vogel, the courtyards will draw inspiration from botanical adventurers. They will feature a collection of sculptural plants native to the world's different deserts. Striking vegetal textures, subtle mineral hues and unusual paving slabs provide each garden with a unique character.