identity revisits one of the most striking interiors of the Gulf: the iconic Burj Al Arab which opened over 20 years ago, designed by Khuan Chew, founder of KCA International, who shares the story behind the important landmark
---
Together with Dubai Creek, the wind towers of Al Bastakiya and the World Trade Centre, Jumeirah Group's Burj Al Arab hotel (originally called the Tower Hotel) remains one of the icons of Dubai's built environment, boasting a level of opulence and luxury comparable only to royal palaces around the world.
Khuan Chew is the interior designer behind the project, whose firm, KCA International, was then headquartered in London. In 1993 WS Atkins, who was the lead consultant and architect behind the entire development at the time of construction, organised an international design competition, inviting 16 designers to submit proposals of which KCA was one. She initially won the design for Jumeirah Beach Hotel while another firm was appointed for the Burj Al Arab – Khuan didn't become involved in the project until the end of 1996.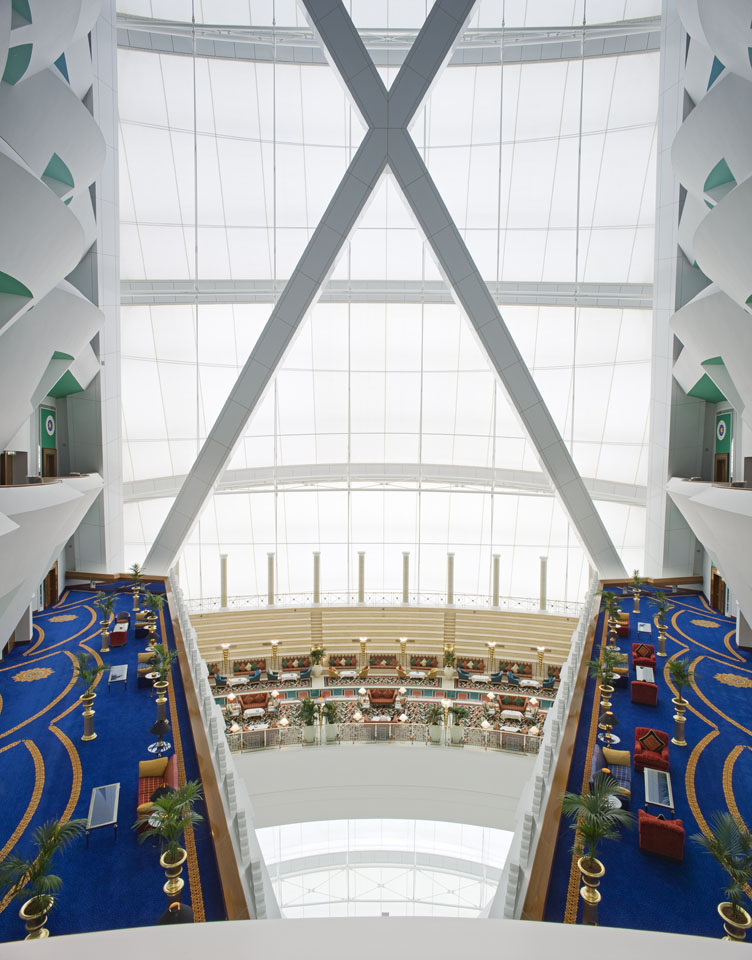 She remembers how she had been told that she was an "outsider" and was only included in the list of invited firms to make up the total numbers needed for the competition. After winning the Jumeirah Beach Hotel bid, she later won another competition that placed her at the helm of the interiors for the Burj Al Arab.
Her first instinct was to learn as much as she could about Dubai and the Gulf region, pouring over books and visiting museums across London to study Arab sciences, poetry and astronomy ("the Internet and Google hadn't taken off yet in the mid-90s," she adds). She later arrived at a subject that was later implemented across other Jumeirah properties. Chew explored the theme of 'Life in the Desert', focusing on the idea of "living with the elements" including water, fire, earth and air.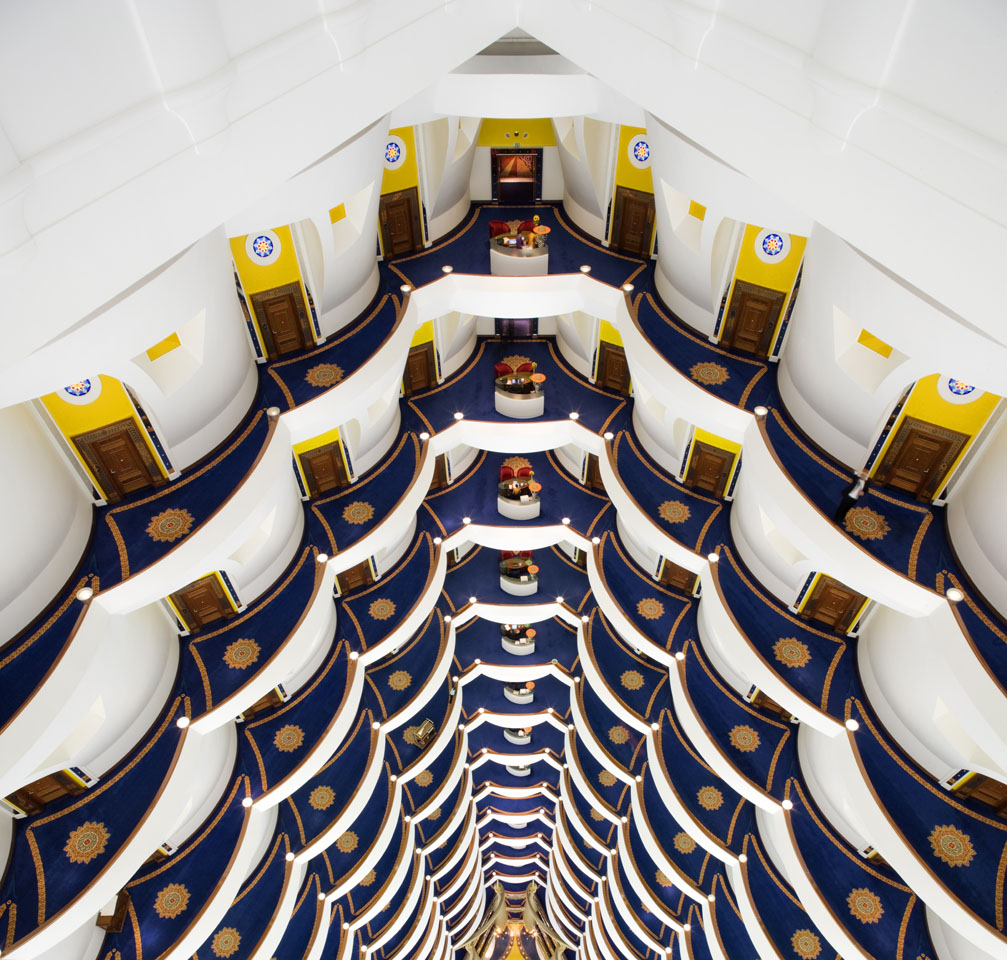 "Without these elements, no human would survive, and most certainly, not in such harsh desert conditions. It could only mean that the local people had a very close affinity and understanding and respect for these elements," she explains.
"The four elements of water, fire, earth and air were magical anchors to me," Chew recalls. "One naturally equates water to so many hues of blues. Blue was the underlying colour and probably the most difficult colour to work with as an artist and designer. But in this project, it definitely worked well since we are already by the sea. Shades of blue also featured in our 'Air' element where it is much lighter ad translucent. Blue changes with light as daylight and night light creates various challenges. 'Earth', on the other hand, offers deeper combinations of ochres and browns and a "yang" balance to the "ying" colours. And of course, 'Fire' was the brightest and strongest colour of all, filled with oranges and reds! It was the king of the palette!"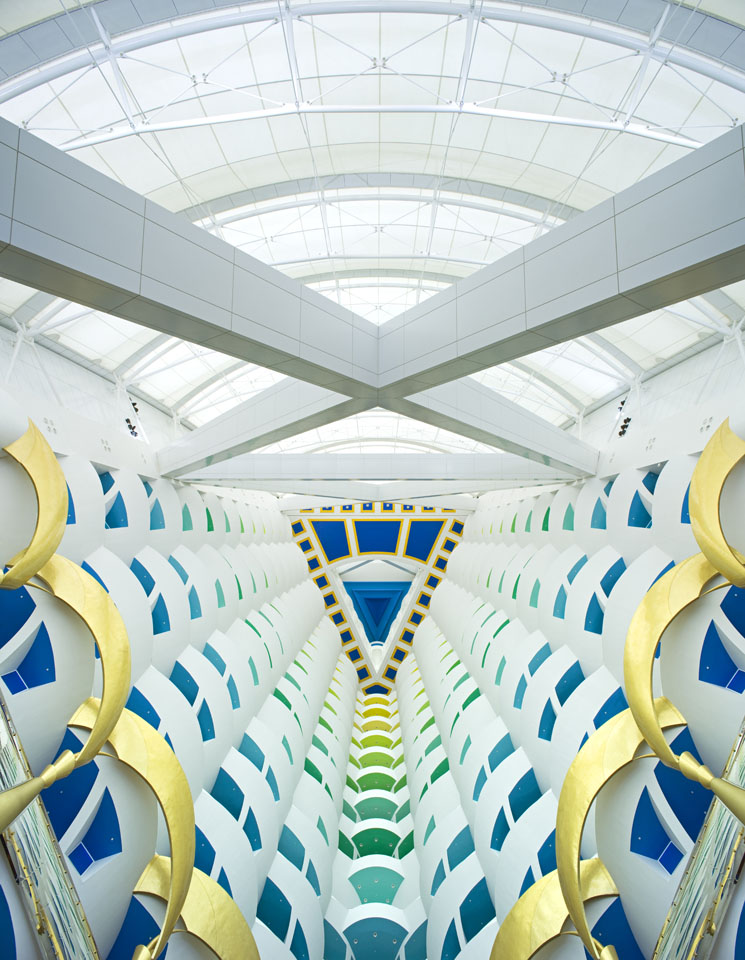 Chew adds that the idea behind the four elements was very attractive to His Highness Sheikh Mohammed bin Rashid Al Maktoum, the Vice President and Prime Minister of the United Arab Emirates and Ruler of the Emirate of Dubai – and the main client behind the project. Chew explains that His Highness played a key role in the process of developing the design of the hotel, encouraging her not to hold back in using the project as a canvas where colours come to life to attract visitors.
Chew sites one of her mentors, the late David Hicks (Lord Mountbatten's son-in-law, and cousin to Her Majesty the Queen of England), for inspiring her use of colour within the project. "He was infamous with his explosive use of colour and geometric design. Fuschia and bright pink were his favourites. I owe much to him, as hopefully working with such a genius did rub off me… slightly."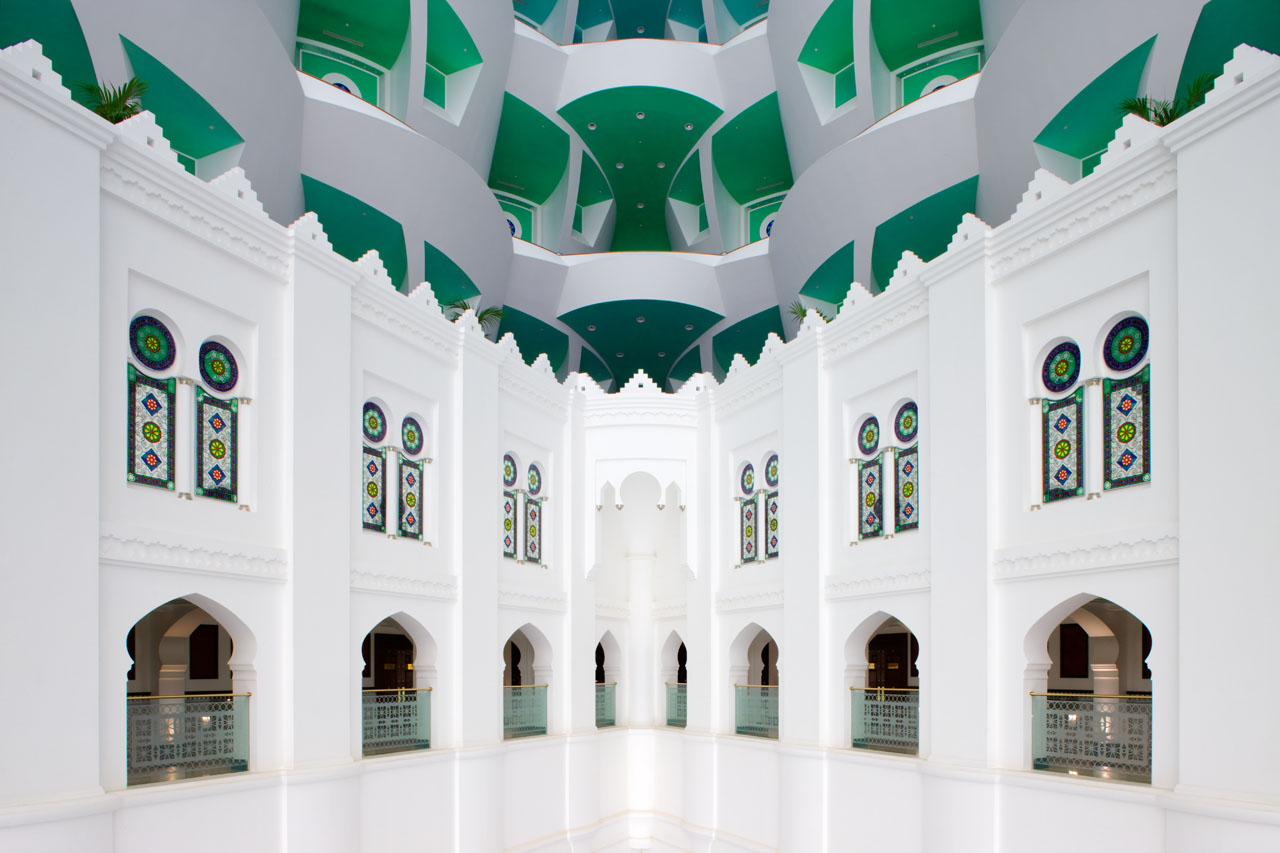 The hotel also features an abundance of design references from the Arab culture, be it a superior sense of geometry, traditional carpets, pottery, woven and painted fabrics or timber crafts. Motifs from all the different references were carefully combined to provide each area with its own identity.
"Additionally, our client was keen to welcome people from all over the world. He spoke of incorporating very subtle applications of artwork or furniture or sometimes motifs of other cultures into our design, so that the visitor would be pleasantly surprised when they recognised it and relate positively to it. And why not? For sure, one would find a few Chinese Ming vases in English Palaces and Japanese Screens in French Chateaus. We are all connected somehow in more ways than we know, and our eye is always drawn to what is beautiful. The Burj Al Arab is no different in this aspect," Chew says.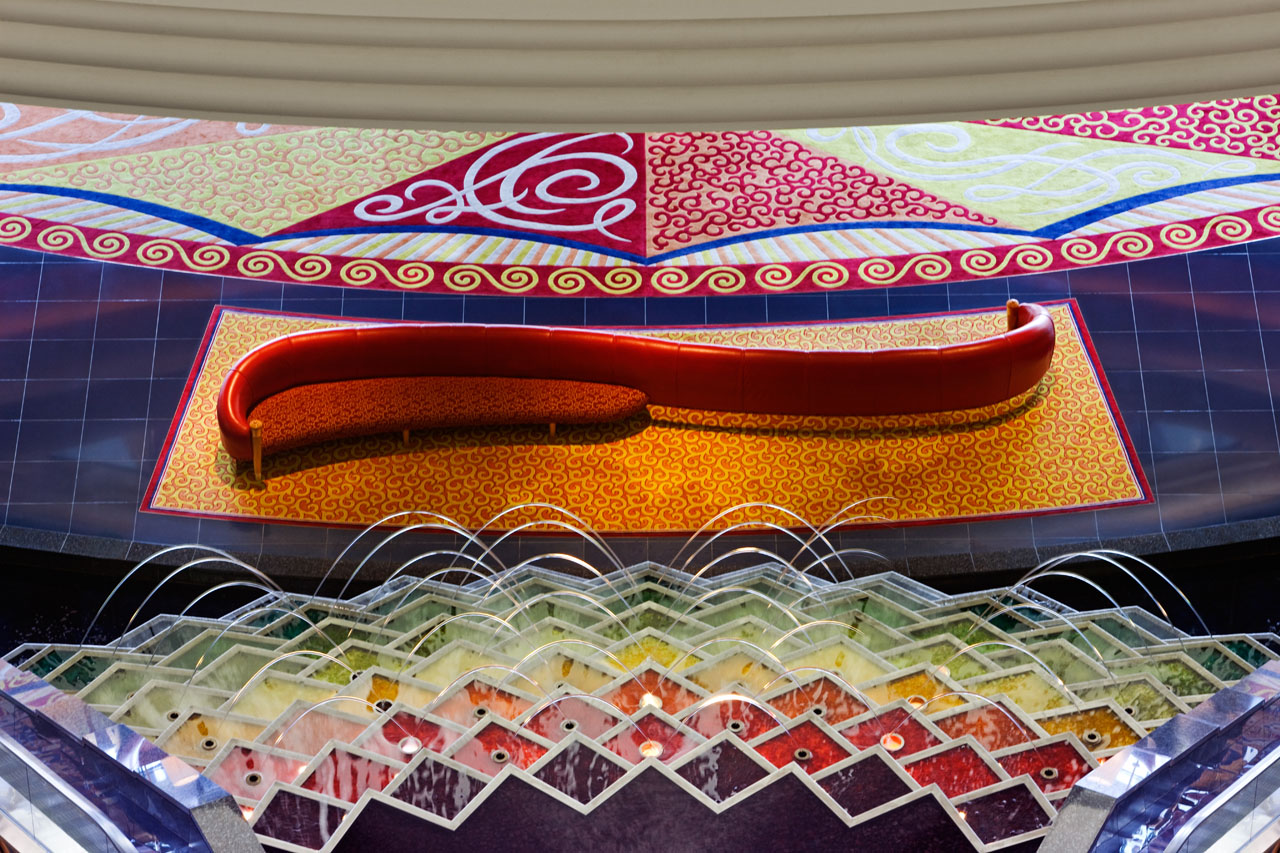 "My little black book also came in handy, having worked on high-end residential projects, and palaces in the past. My contacts of suppliers meant that I could access worldwide manufacturers of the most reputable hand-stitched gold embroidery for the walls of the Royal Suite, sourced from the archives of artisans in England, France and Italy who supplied Buckingham Palace, Versailles, Fontainbleau, the Medici Family, amongst others. We obtained rare marble and granite from Brazil and Italy. No expense was spared."
Chew reflects on what made the Burj Al Arab the icon that it is today: "We wanted to achieve a timeless feel and it is now a 'classic' icon. Like all things beautiful, you want to be part of it, to remember it, and if you could you can come back, to experience it again and again. I have met people who have told me that they have returned as guests over 50 times and I am flabbergasted. Although every time I visit the Burj Al Arab, I still feel the same thrill I felt the first time we opened its doors.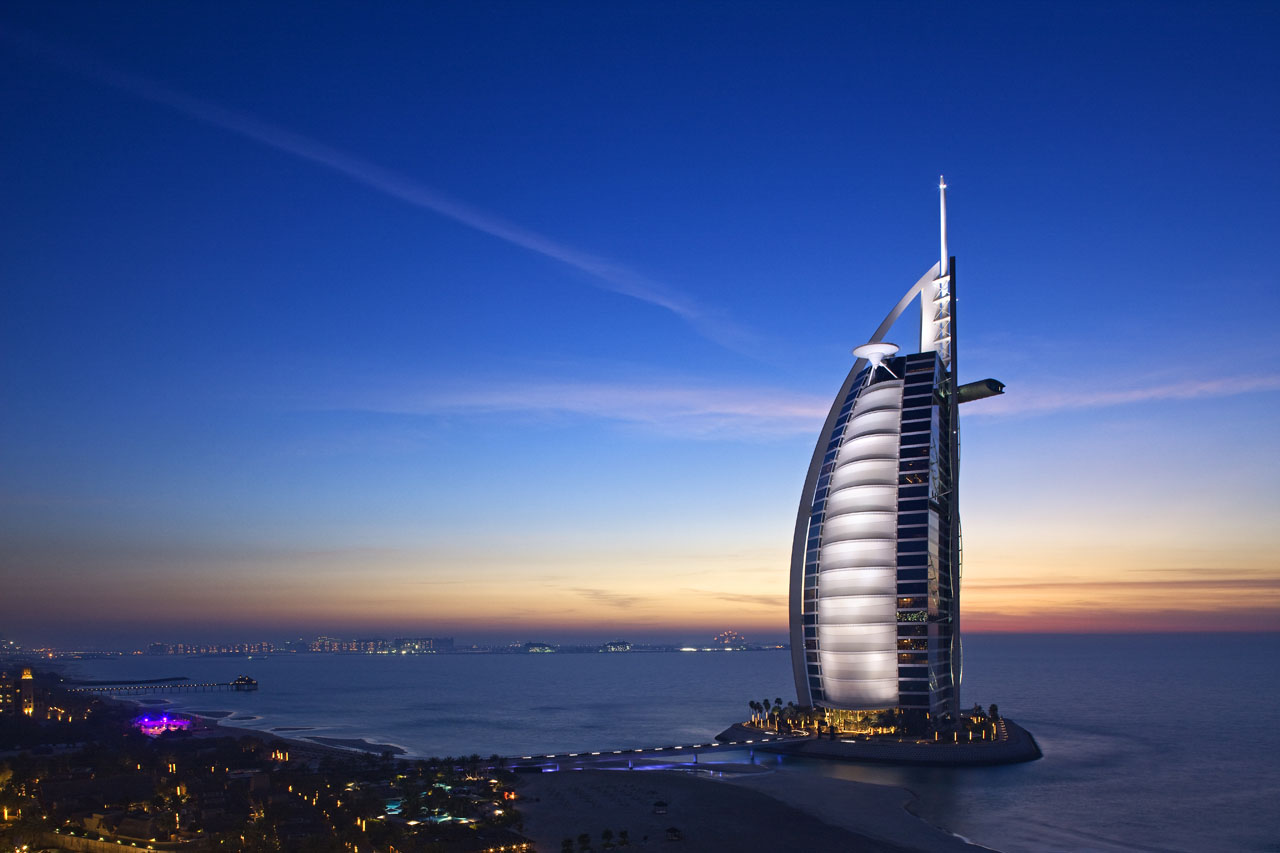 She adds: "I remember someone writing this so long ago: 'In Life there are three things you should do before you die: you must fly the Concorde, you must cruise on the QE2, and you must stay at the Burj Al Arab'. Unfortunately, you can't do two of those anymore but you can still stay at the Burj Al Arab!