For over four decades, Kelly Hoppen, MBE has elevated the standards of the design profession. Yachts, hotels, residences, plus countless residential and commercial projects – not to mention her impeccable business savvy, as demonstrated on Dragon's Den – have cemented her signature in design history. But Hoppen is still thinking ahead, as she reveals with her new residence in central London.
Defined by rare extremist architecture, her 840-square metre home – 'The Auction House' – used to be a Bonham's auction house, but is now bathed in her neutral, calm colour palette of taupe, whites, beiges and greys, complimented by beautiful pops of green, dusty pink, peacock blue, orange, bronze, nickel and rose gold.
The house took a year and three months to complete, and Hoppen had a clear vision from the start. "I absolutely adore my home. As soon as I walked in, I knew the house was special. It was entirely derelict at the time but I immediately knew that it was what I was looking for. It seems crazy, but that is why I do what I do! It had everything I wanted and more, and I was stunned that this kind of space existed in London at all. Once the design process started, firstly I planned, as I do with all my projects. I looked at the grid, the zones and the flow of the space," says.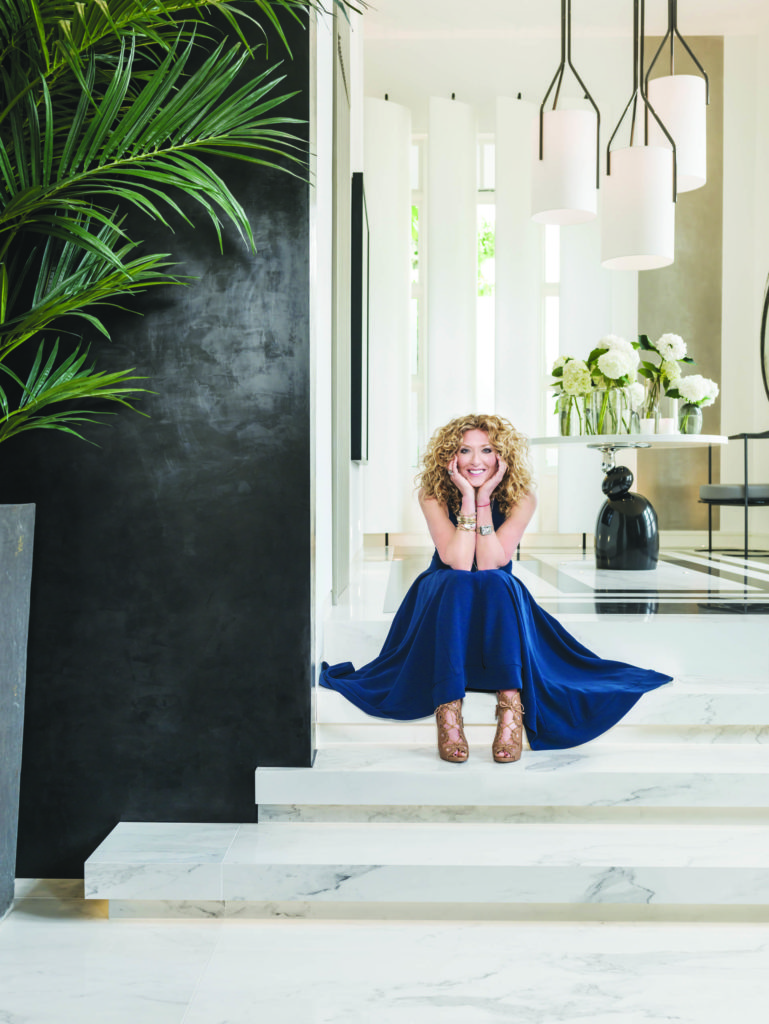 The space was filled with surprises, just like Hoppen. Most people don't know that she was born in South Africa and moved to the UK when she was two. And perhaps it's this origin that has made travel such a crucial component of her design philosophy and inspiration.
"Travel constantly keeps me inspired. I love visiting countries brimming with rich and authentic culture; the people, the markets, the smells, colours and textures can be so stimulating. I particularly love India for its vibrancy and Greece for its beauty and diversity. Mauritius is also a big love of mine. I go there as much as I can and stay at the LUX* Belle Mare, which I redesigned. I am also working on the new LUX* Grand Gaube – watch this space!" she explains.
"I have also always adored the Middle East. It's so rich with culture, and the architecture is absolutely astounding. I love its luxurious feel and how it is constantly buzzing with life."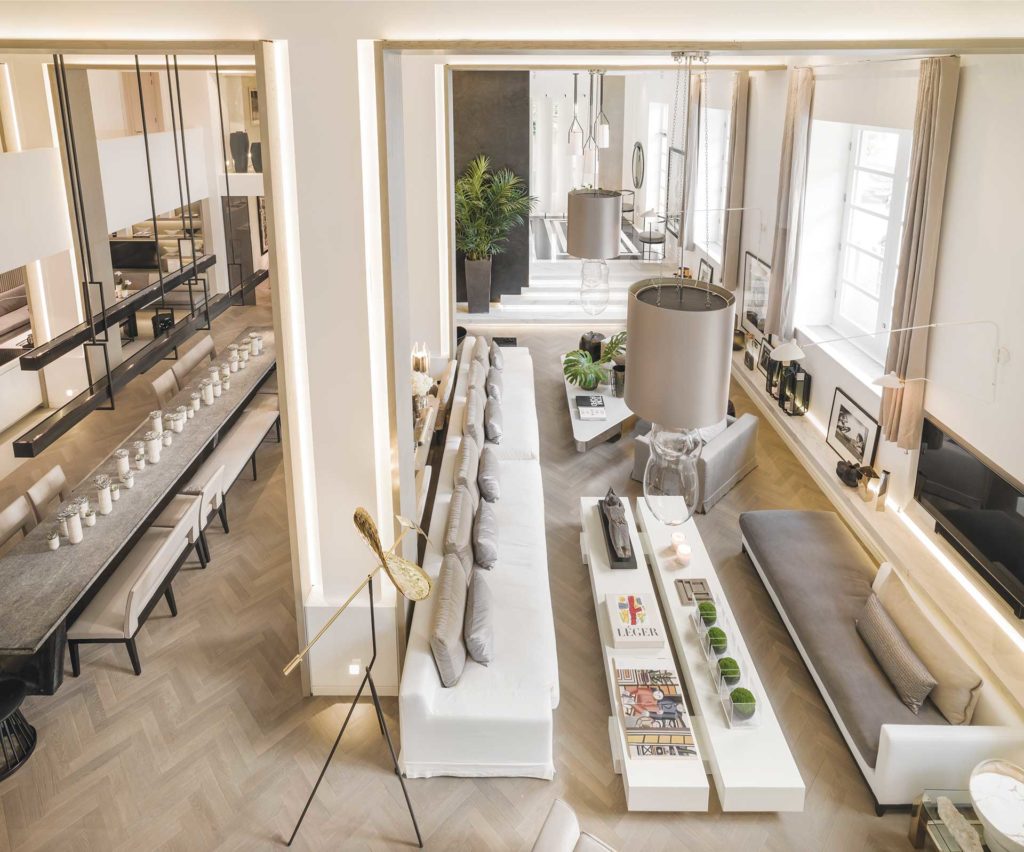 And as in life, the former auction house came with many challenges: "We noticed quite early on that the huge columns at the core of the structure required careful consideration. These keep the whole building up, so it was paramount to keep them where they were. I decided to build arches around these. They frame the room and add monumentality to the space, creating a grid from above and across the room."
Like being asked to choose a 'favourite child', it's almost impossible for her to select just one special corner – especially in an expansive residence with six bedrooms, bathrooms and walk-in wardrobes, a study, a gym, a laundry and flower room, a large open-plan high ceiling living/dining/kitchen space, plus a breakfast area and underground parking.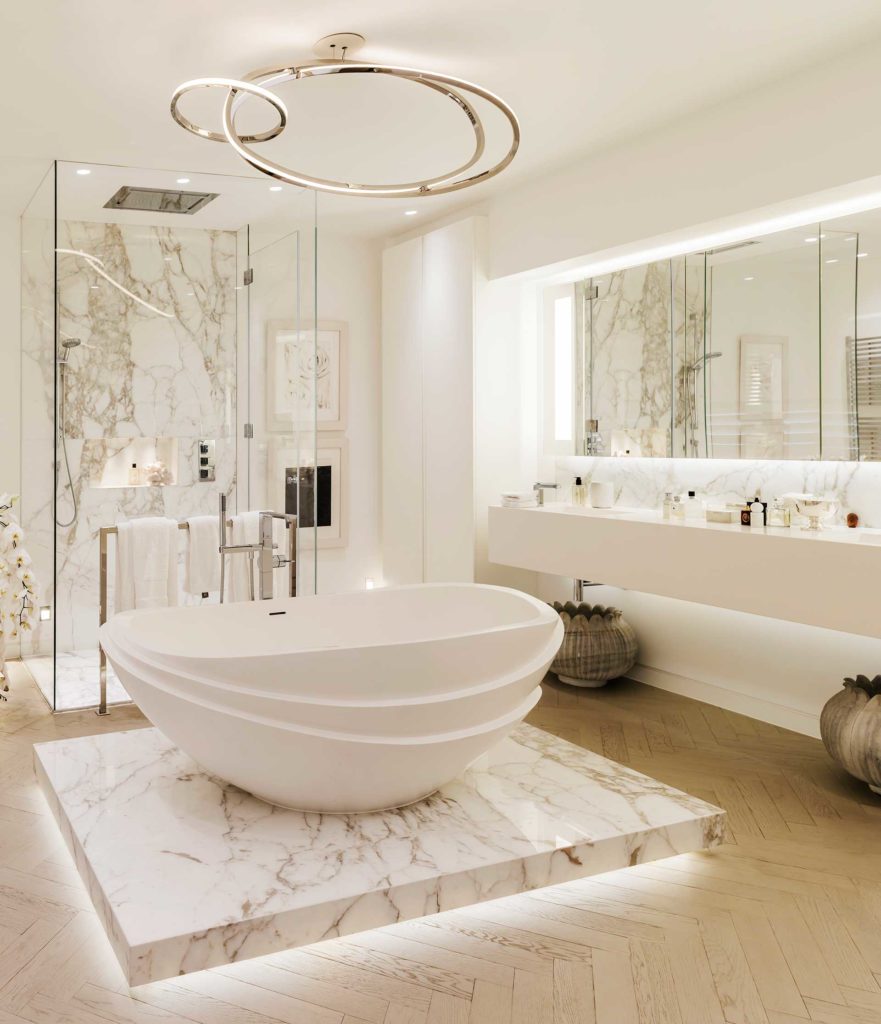 "I love it all! I adore the enormous love seats in the television room, and could spend hours there watching old movies. A home is a place in which to rebalance your body and soul. You must feel at ease and at one, and I most certainly do here," she says. "It's full of wonderful vintage and retro pieces I've collected and sourced over the years. I also designed many pieces, which are bespoke for the space. The pendant light above the dining table took six months to produce, and is perfectly aligned with the six-metre stone table over which it hangs."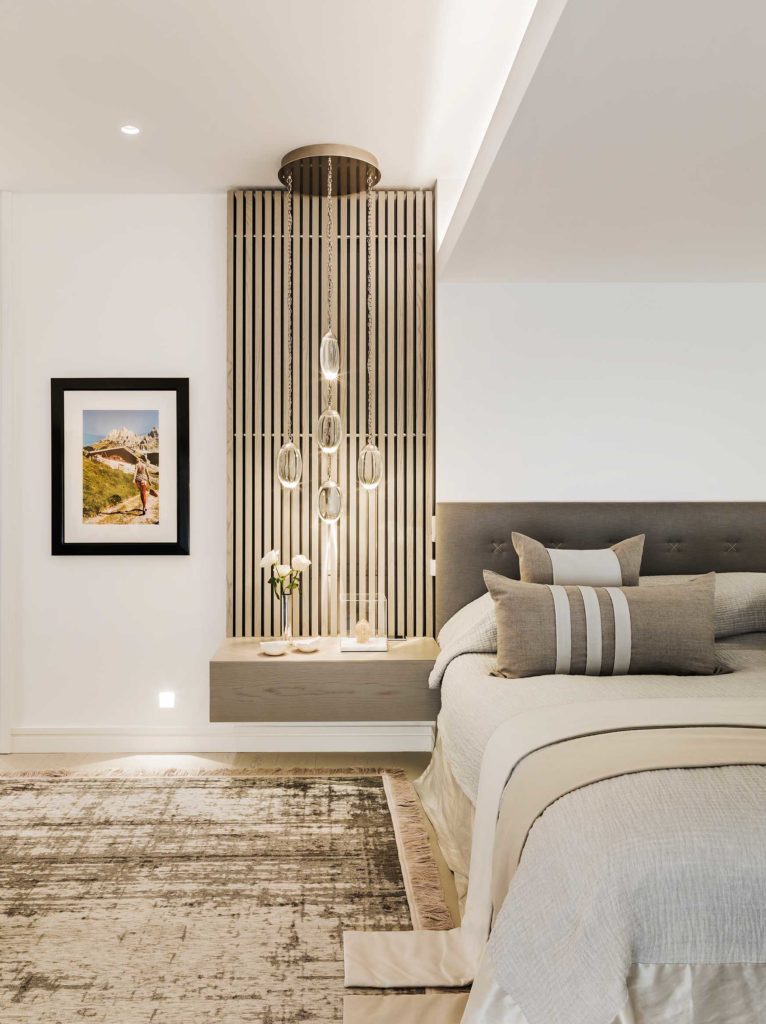 Those looking to duplicate her style are in luck: it's only a click away. In addition to her website and Resource Decor, plus bath ware with apaiser, Hoppen has designed wallpapers with Graham & Brown, and even a line of chimneys with Chesney's.
Having been a design leader for so many years, she is quick to observe its many changes. "Generally, the spectrum of what people want has expanded so much since I first began working in this industry 40 years ago. People are becoming a lot more fearless when it comes to interior design and I think that's fantastic," she says.
Hoppen's key to success in today's super competitive market? Confidence.
"This industry is not necessarily about competition by any means, but it is very important to put your ideas forward and to be sure of yourself. Passion, also, is absolutely essential in any aspect of life. Be fearless, be confident and be driven," she asserts. "Don't be afraid to speak up. If you have a passion for something then the only person who can bring you the success you're looking for is yourself. Determination never goes amiss so never, ever be afraid to take the next step."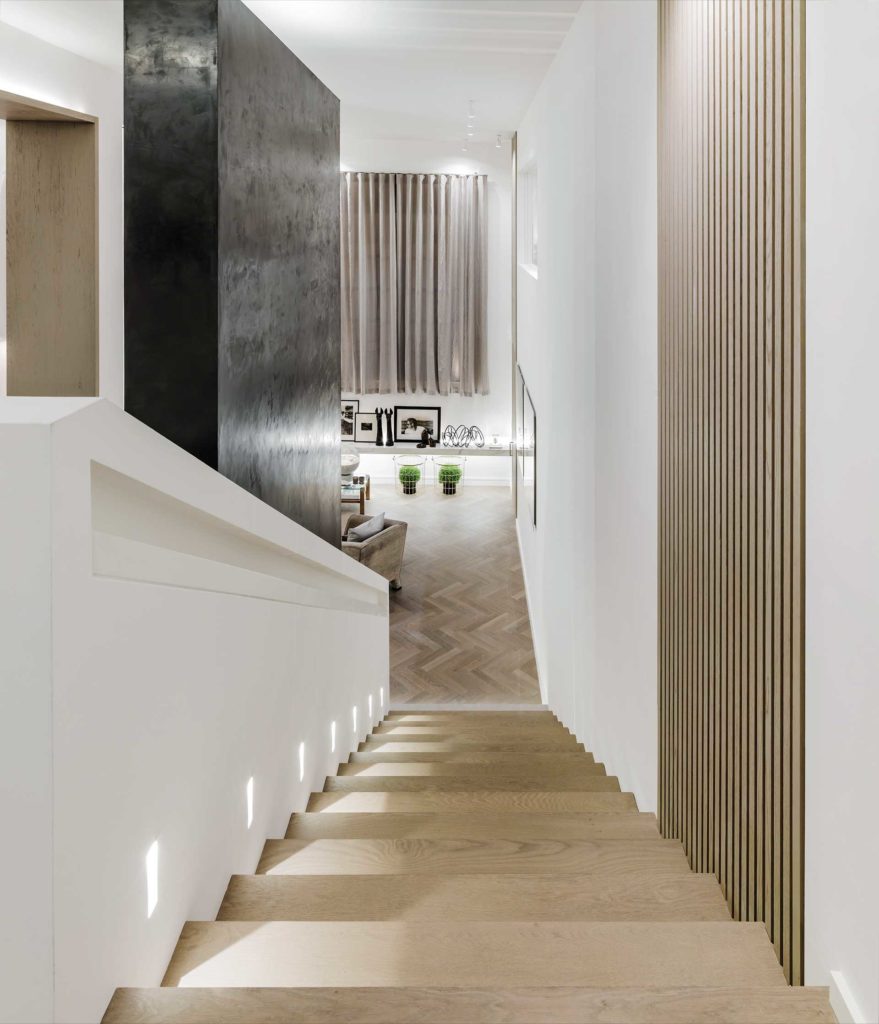 As with all exquisite people and projects, Hoppen's future is as illustrious as her past. "I have many exciting projects in the pipeline around the world, including many wonderful commercial projects all over Asia where I have been delivering turnkey properties designed to the highest quality. I have also designed the interiors of Celebrity Edge, the latest ship for Celebrity Cruise. It's one of the most exciting projects I've ever worked on as it's so innovative and transformational – people will be amazed."
Despite her global success, she still manages to find new challenges. "I'd love to design theatre and film sets; it would be fascinating being involved in bringing a story to life with performers and actors interacting with my designs." We can't wait for her green light.
Photographer: Mel Yates