Andrés Reisinger is arguably the most sought-after digital artist of the 21st century. In 2021, Dutch design brand Moooi partnered with Reisinger to produce his Hortensia chair – initially designed as a purely digital piece of furniture, it went viral on Instagram and got dubbed as the 'chair that cannot be made'. Fast-forward to earlier this year, and the artist sold ten pieces of virtual furniture in an NFT online auction – with the most expensive piece fetching almost $70,000.
"I remember when growing up, all of my friends were obsessed with playing video games, while I saw in myself the desire to create the environments in which those video games happened," Reisinger recalls.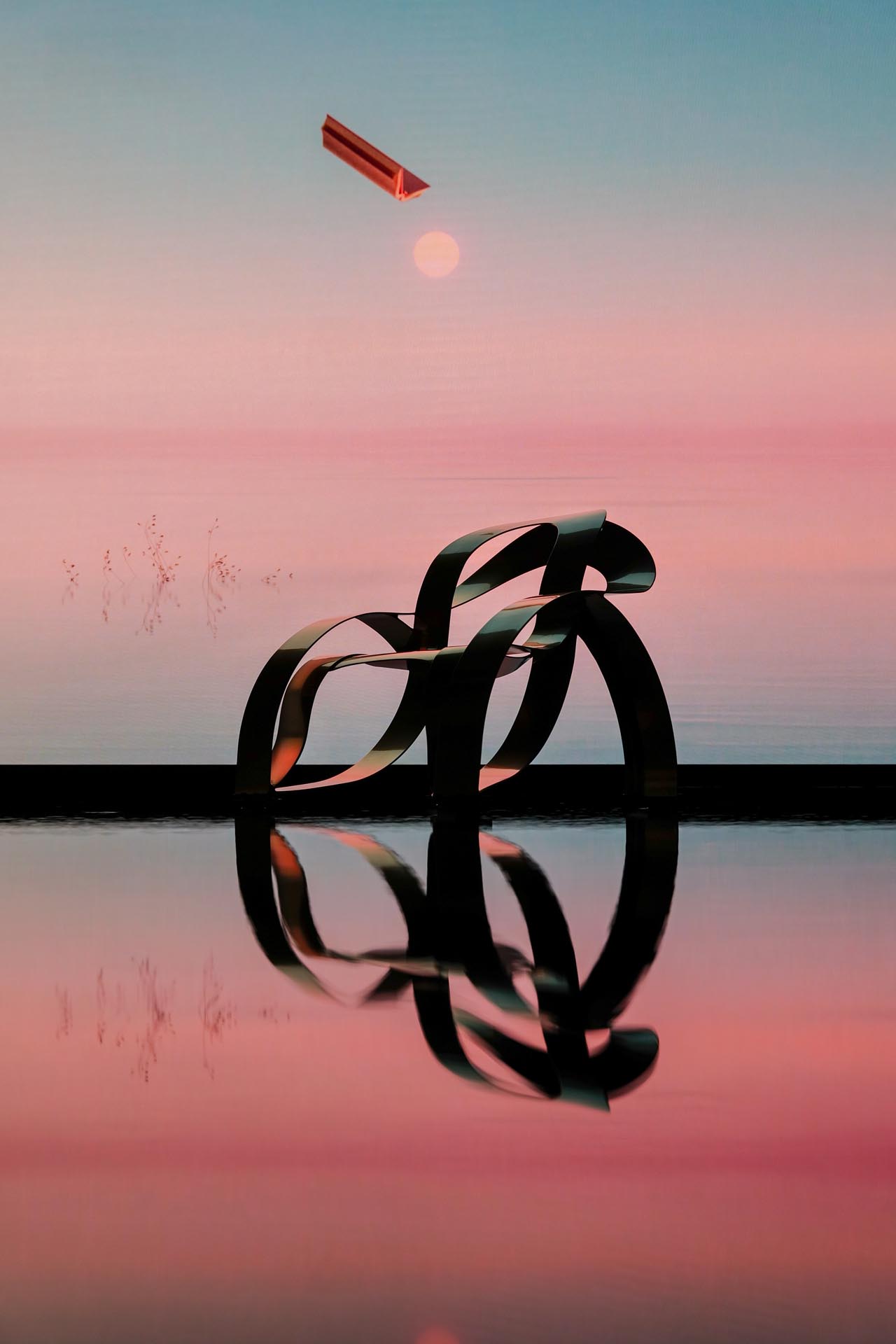 "I pursued that interest and dedicated my time to learning how to use the digital sphere as a creative outlet from a young age. I soon understood that it is a realm that allows for wider experimentation and thus [an] expansion of possibilities, which is the same reason why I still enjoy it so much today."
His latest endeavour is also his first ever public art piece. Commissioned by Gallery Collectional, the Gulf's first permanent collectible design gallery, it presents a 'phygital' (physical and digital) installation called 'SUN/LEAF', exhibited at the gallery's space located at Eden House.
Unveiled during this year's Art Dubai fair, 'SUN/LEAF' consists of a digital artwork named 'Sun', and its physical counterpart, dubbed 'Leaf'. The installation features a 90-second audio-visual loop with a subtly animated landscape that is projected onto an LED wall which was placed at the borders of a water feature outside of the gallery. The physical artwork, a chromed metal armchair, is staged in the pond and in contact with the water, set in front of the screen.
"My practice is concerned with the introduction of a new way of experiencing art – a hybrid of digital and physical, two spheres that become complements of each other and offer a richer understanding," he explains. "'SUN/LEAF' embodies that idea, with a physical and [a] digital element that are [each] built to speak [to], coexist [with] and enhance each other – the same way I understand the world we live in today."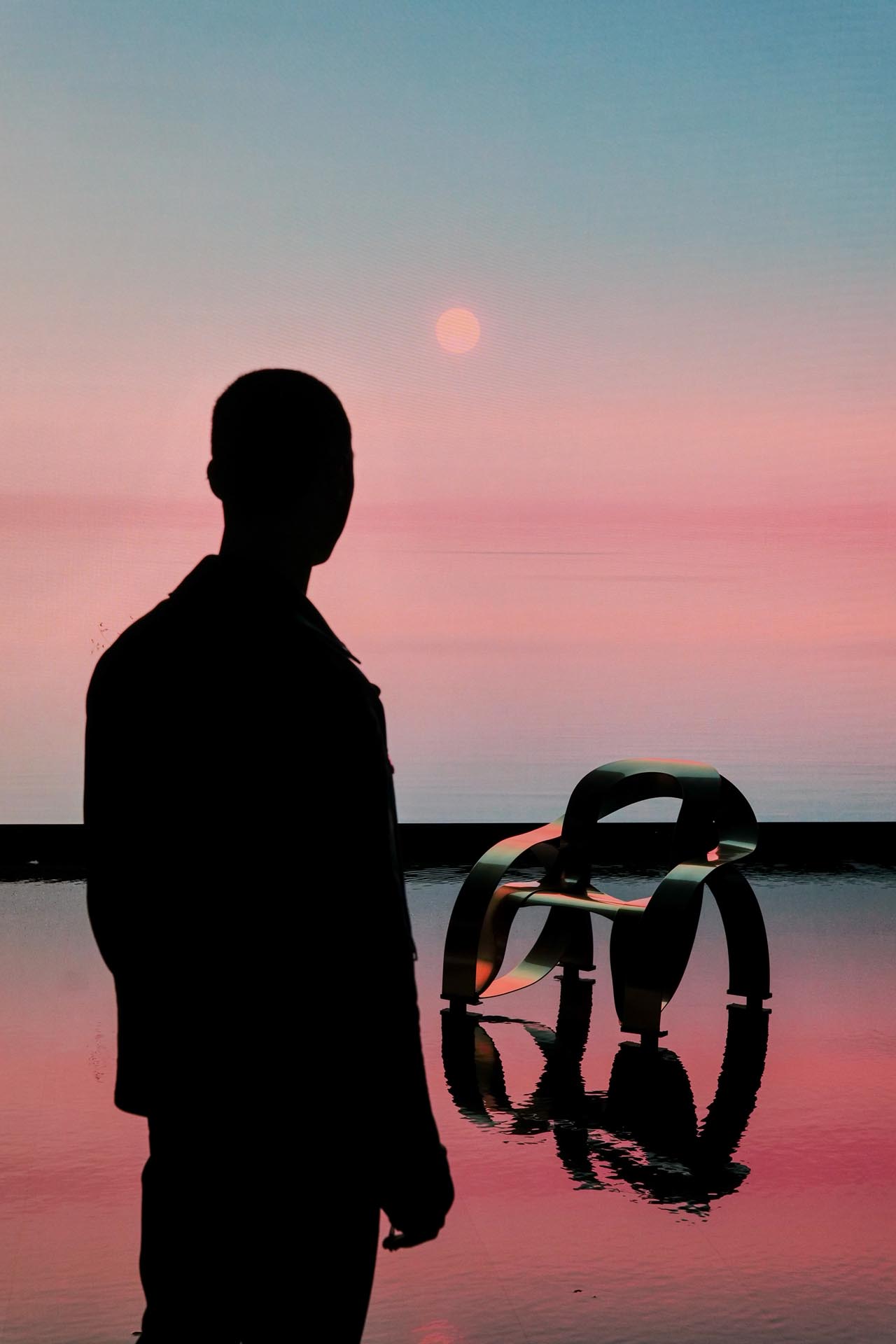 Reisinger has conceived the artwork as a single unicum piece, composed of digital and physical halves, with each half intended to be tied together forever. The main inspiration for the work, according to the artist, is a tree "or any kind of plant with leaves" – one of nature's most iconic symbols, as it is seen to reflect so many of its aspects.
"Many of my works have a physical and digital counterpart, and 'SUN/LEAF' was my first ever public installation of this kind – I have reached a point in my career where I am interested in showcasing my work to a wider public, so I am looking forward to more of this type of work," he says.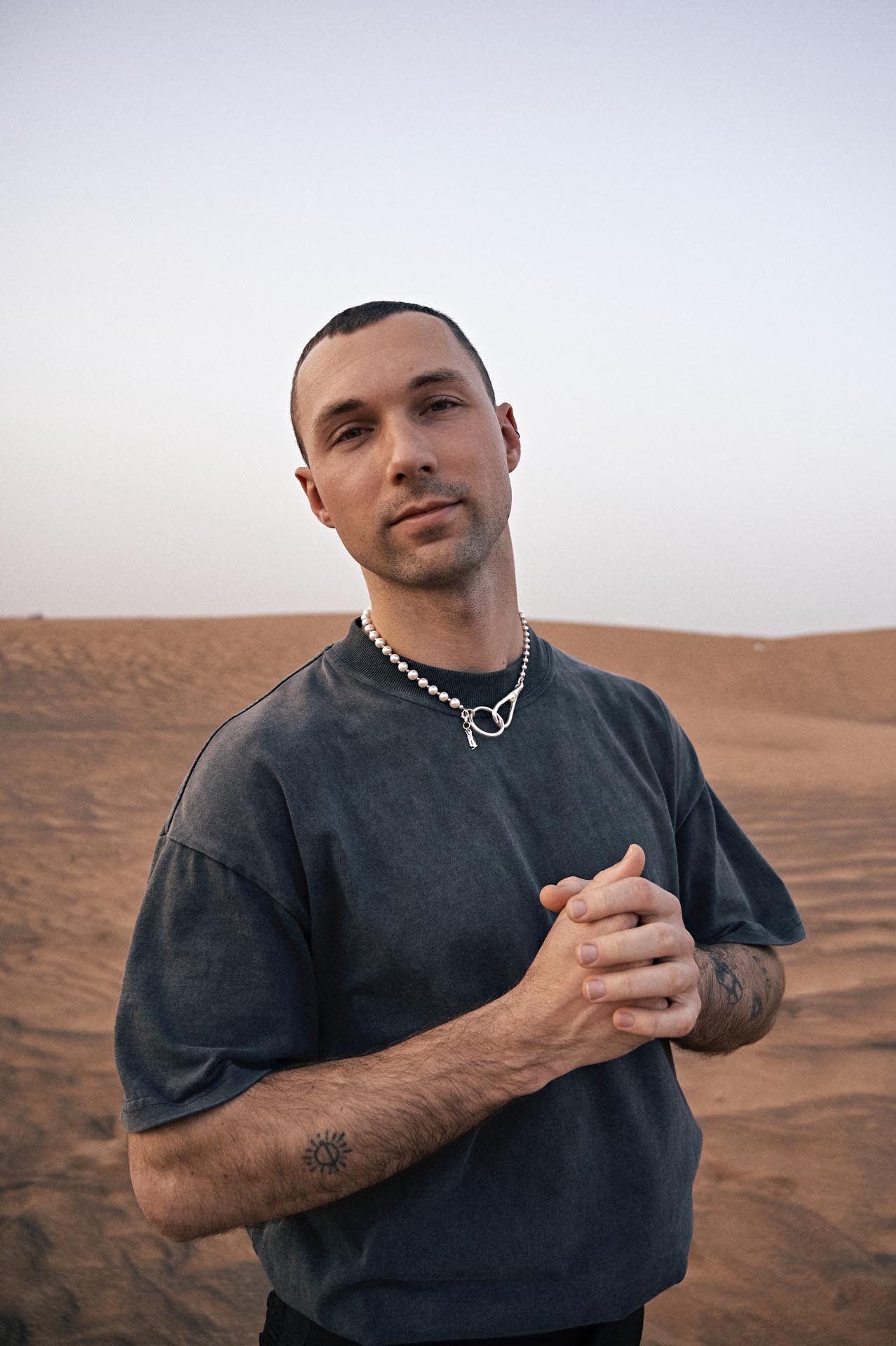 For Reisinger, 2022 is set to be a big year. "At the moment, I am focusing on my next exhibition at Salone del Mobile with Nilufar Gallery, and [also] on POLLEN, a complex new project that revolves around recombinant art and involves collectors as key denominators in the evolution of a work."