Motifs reflecting stories of Palestine adorn a selection of 10 'thobes' designed by Jordanian design studio Naqsh Collective and embroidered by refugee Palestinian women and artisans who are part of UAE-based social enterprise 81 Designs.
Exhibited during Abu Dhabi Art, at the Manarat Al Saadiyat, the traditional garments – worn both by men and women across the Arab world – recall nostalgic stories and missed experiences of growing up in Palestine. These are handstitched onto the thobes using a traditional technique called tatreez, that has been passed down through generations.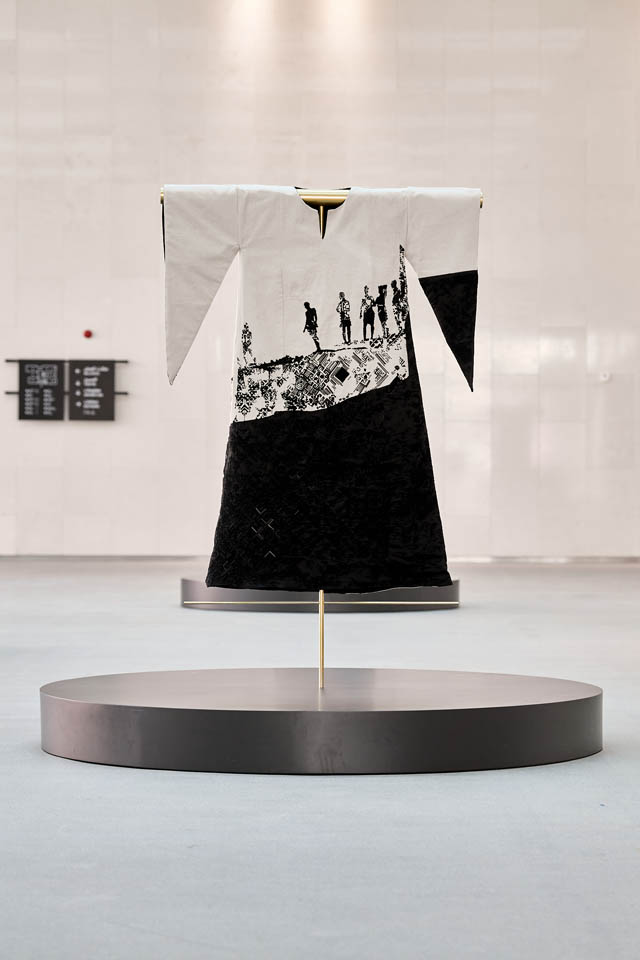 'A Thobe Story' celebrates culture and heritage that has been transformed using a modern visual language with the aim of keeping traditions alive. Depicting narratives of lost and unfulfilled memories of a diaspora growing up away from their homeland, each of the 10 thobes relates to three of Palestine's major cities: Jaffa, Akka and Gaza. The narratives also relate to Naqsh Collective's wider body of work that aims to preserve memory using brass, marble and woodwork. The sister-duo of Nisreen and Nermeen Abu Dail founded Naqsh Collective in Amman in 2010, integrating aspects of art, architecture and heritage.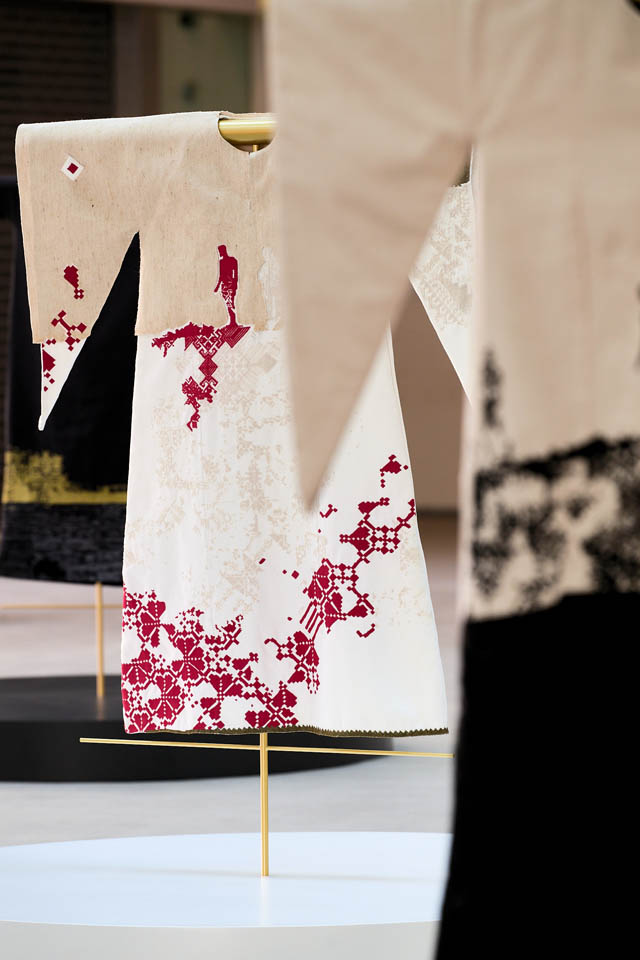 "Our aim in creating a Palestinian thobe is to imagine living our missed experiences of our beloved Palestine, like jumping off Akka's cliff and going on a fishing trip by Jaffa's Port. The thobes will connect with grandmothers and can be passed on from generation to generation," says Nermeen.
The thobes referencing Akka feature its well-preserved old city walls. In the garment called 'Leap of Faith', a ritual that serves as a rite of passage is depicted, where boys jump from the famous cliffs of Akka to prove their manhood. Featuring layers of tatreez stitching, it captures the intricacy of the jagged rocks, highlighting its beautiful texture.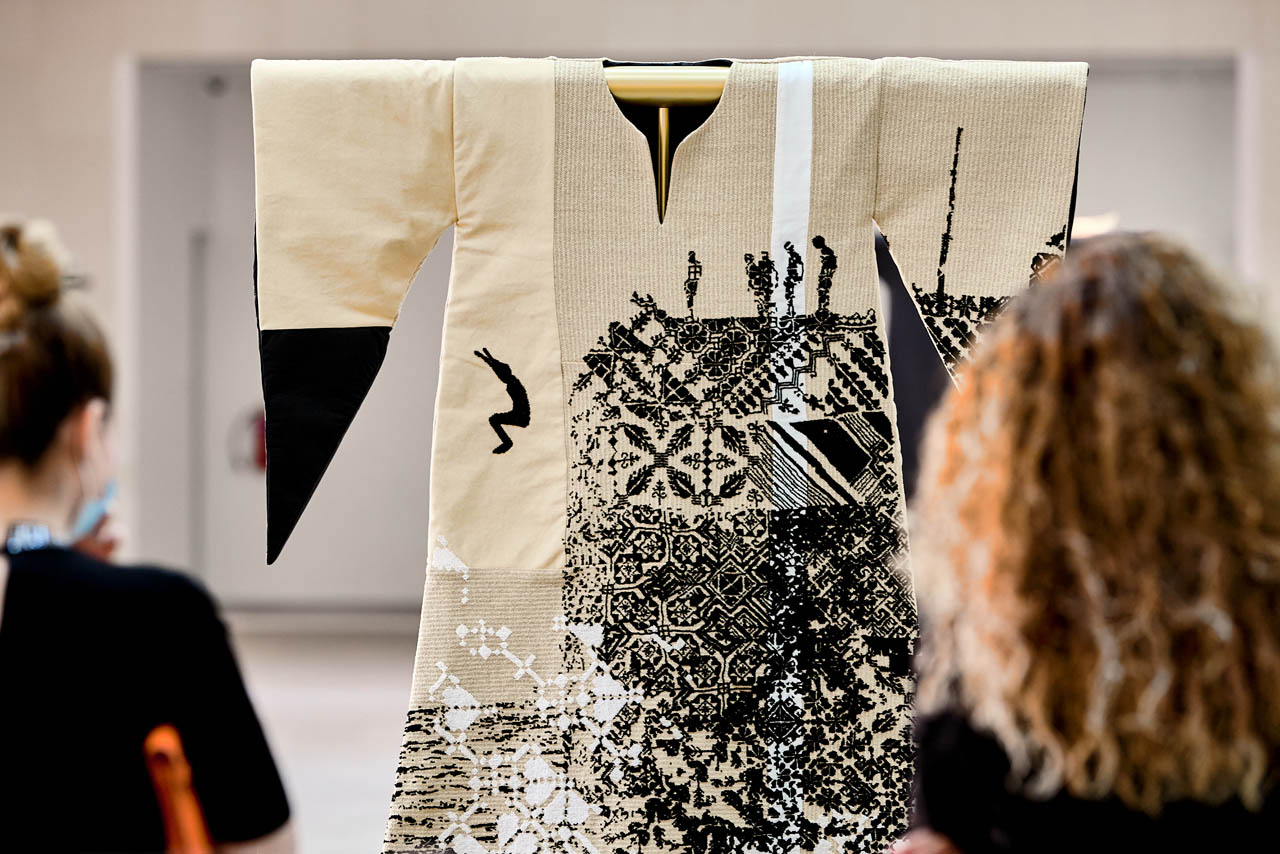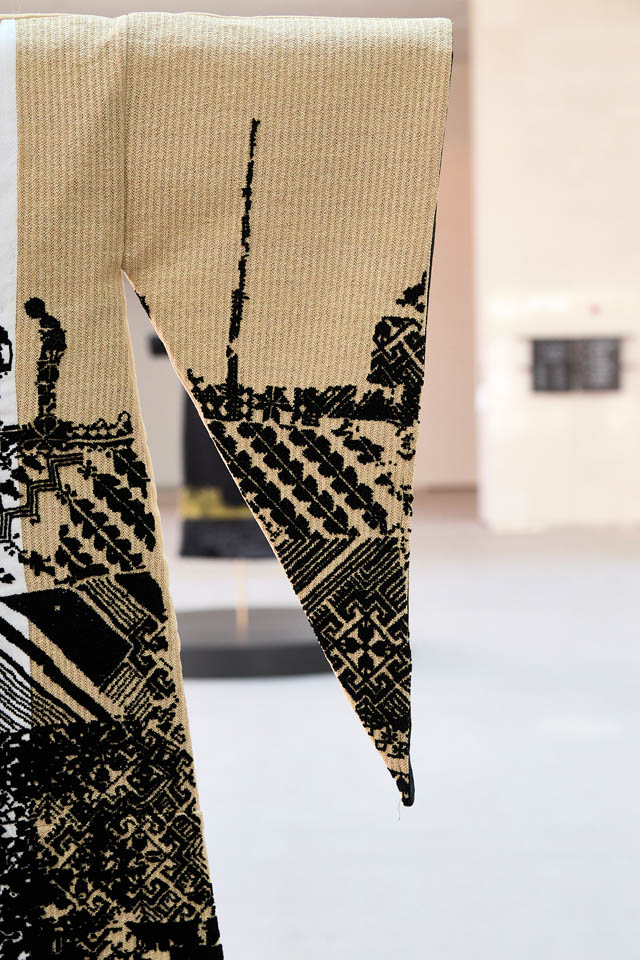 Another thobe in the Akka series is stitched in bright red and gold thread while a more pared back design, called 'My Journey', focuses entirely on the mental journey of the young boys who are about to perform a dangerous feat. The top right corner of this thobe features a brass sculpture of one young man suspended in mid-air.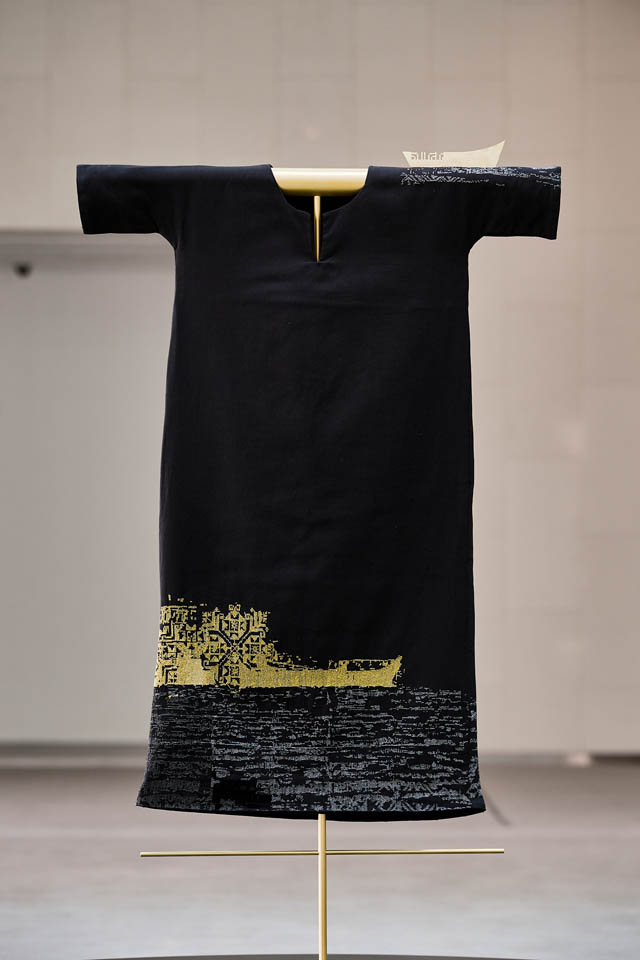 Jaffa, which was once a great fishing village and trade hub on the Mediterranean, is also captured within the collection of thobes – each piece is priced at US $10,000. The piece called 'The Fishing Trip' depicts scenes of fishermen in their small boats, rendered in a minimalist design using white and gold thread. Another piece, called 'Jaffa', features a simple black fabric embellished in rich gold thread, focusing on the boats which used to cross to the famous trading port, while to the top right of the thobe there sits a solid brass vessel.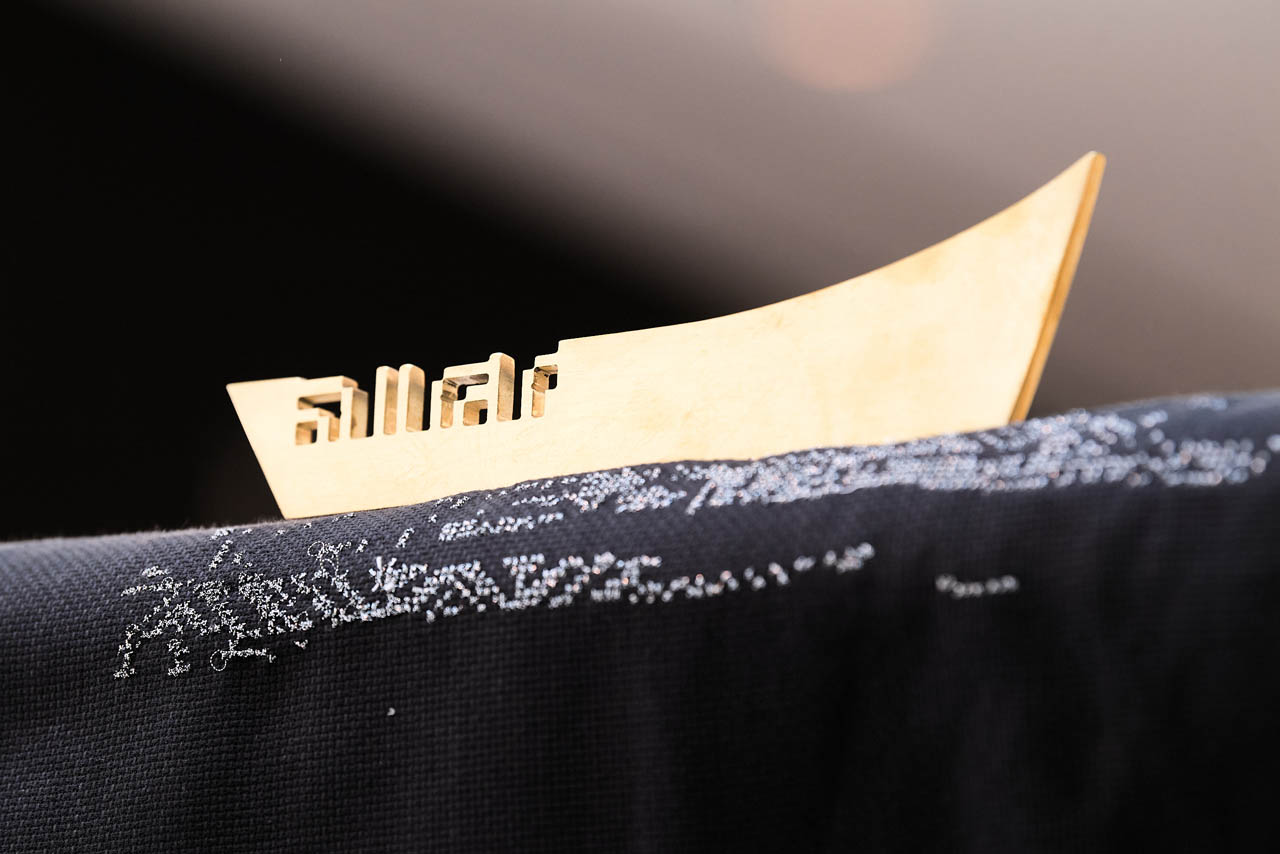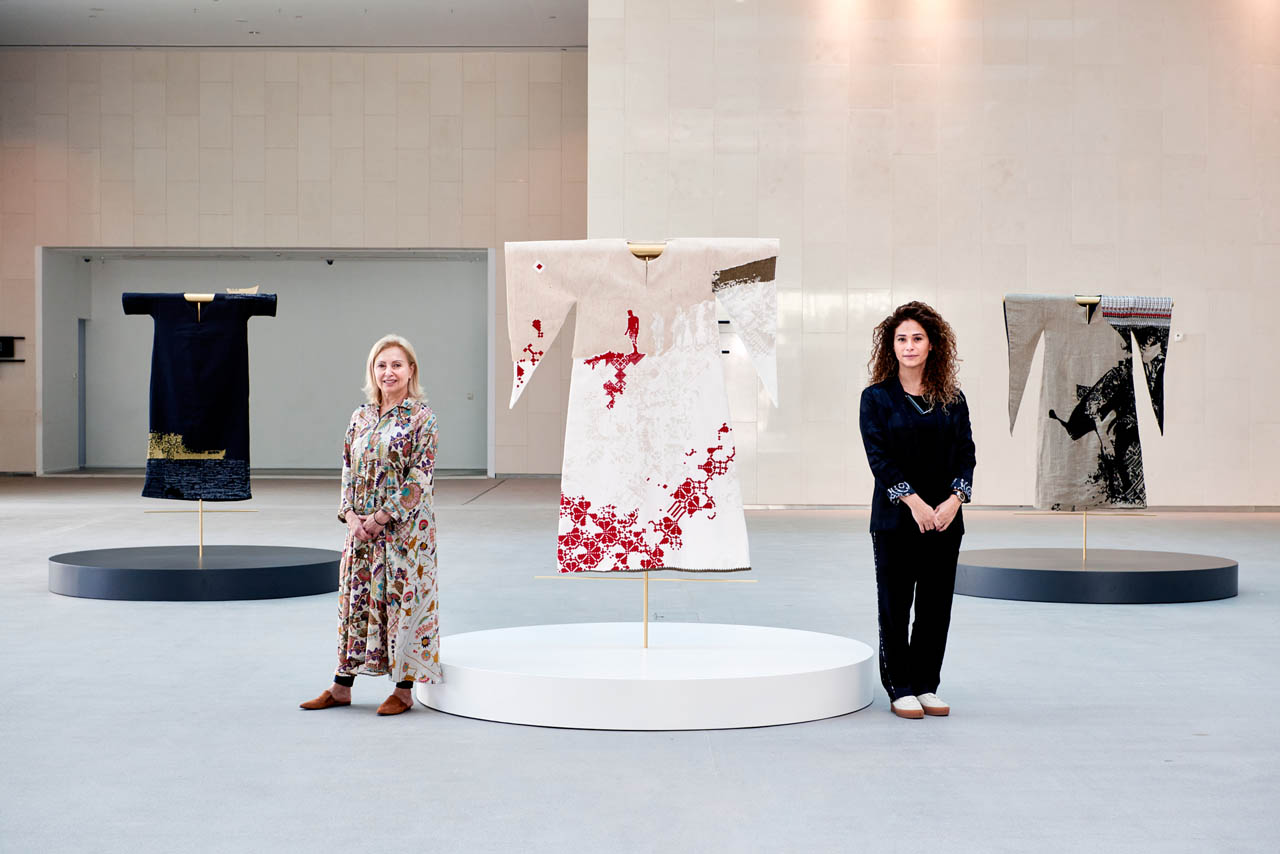 In Wa Mashat ('So She Left'), a world of free movement is imagined, with a motif that depicts a woman bearing a basket of Gazan fruit and goods on her head, taking them home to her family across the border, in Jordan. The back of the thobe shows an image of a dove, the symbol of peace. The women of Gaza would often turn flour and sugar sacks into embroidered garments, so this particular thobe is made from a similar material as a tribute to these women and their craftsmanship.