It's been said that a Flexform sofa is like the blue blazer of fashion: simple, deconstructed, refined. They can be identified at a glance as contemporary classics and also by touch – from the goose down cushions to the luxurious upholstery. Now in its third generation, the family-owned company was originally launched in 1959 as a workshop – called Flexform di Galimberti – by two brothers in Brianza, a region of northern Italy known for its artisan workshops specialising in wood, metal and upholstery.
The original Flexform showroom was designed by Gigi Radice with the help of Gino Colombo, and described as 'exhibition palace' because of its innovative characteristics. It served as a launch pad, showcasing the ideal living room space – a fitting backdrop to its now iconic designs. 1959 was a special time for design; in post-war Italy many up-and-coming designers were training at the School of Architecture in nearby Milan. One of these was Antonio Citterio, whose 40-year collaboration with Flexform speaks for itself.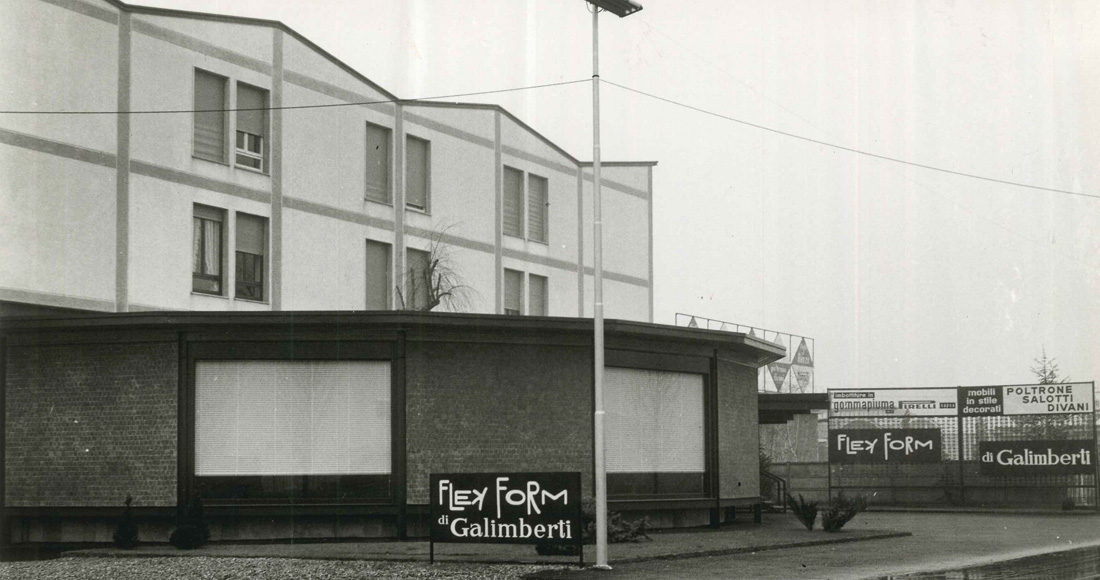 To mark the brand's 60th anniversary, the in-house design centre's concept for the showroom (which spans three floors and covers more than 2000 m2) involved using materials already synonymous with the brand. Hence travertine flooring and walls, dark wood slat ceilings and large windows, with linen curtains that filter the natural light. There is an enviable abundance of green space – from indoor conservatories to the gardens outside. This is not a conventional store, rather an authentic brand experience. Flexform prides itself on the 'knowing hands' of its master craftsmen, and in addition to showing new products the showroom houses iconic pieces. Take, for example, the Antonio Citterio-designed Groundpiece seating system, A.B.C. armchairs and Infinity bookcase, in addition to an area dedicated to the Mood collection. Upholstery fabrics – velvets, devoré and leathers – are in the so-called 'Morandi palette' of neutrals, from ivory and sand to warm greys and burnished metal hues. The overall sense of serenity and comfort is reinforced by an effective 'Made in Italy' advertisement.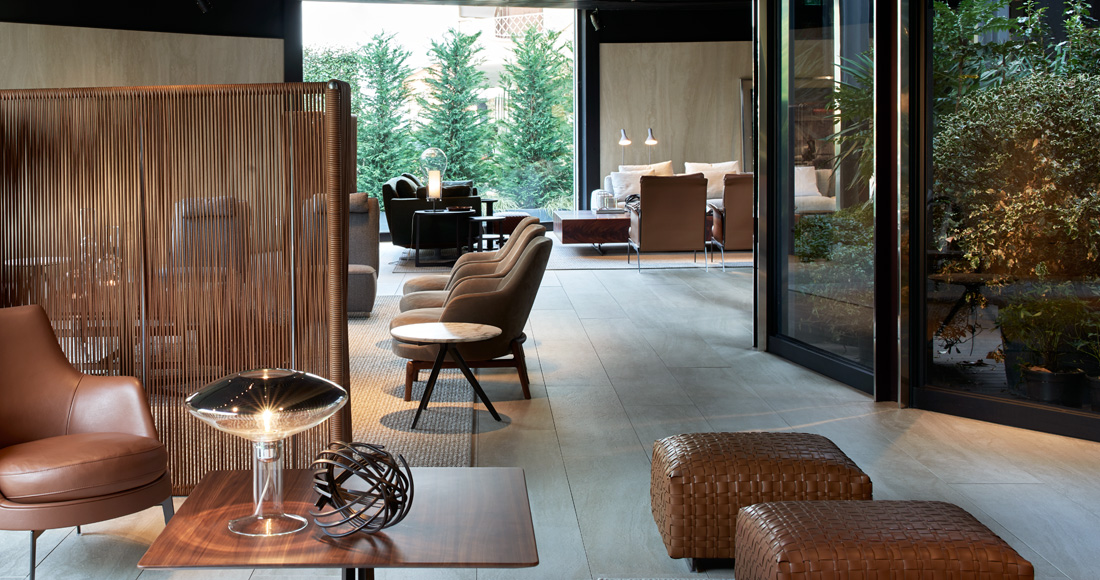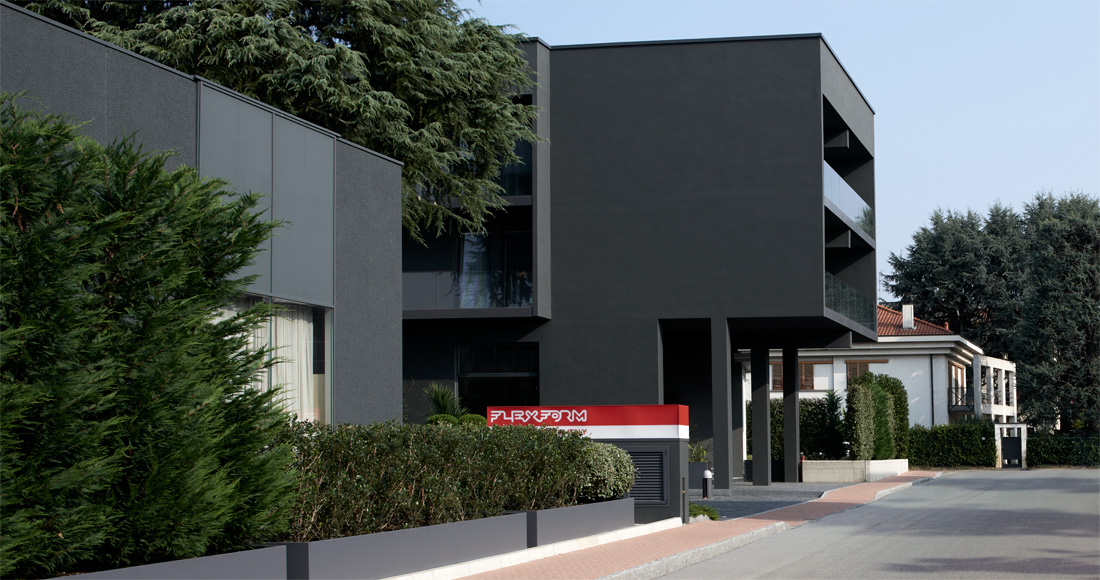 MAGISTER (1982) by Antonio Citterio and Paolo Nava
Both designers were influenced by Modernism and by the Bauhaus movement. Their understated, minimal Magister sofa replaced traditional buttons with a more modern two-hole tufting technique. Other features include a retractable metal shelf behind the seat back which transforms the sofa into a comfortable single bed.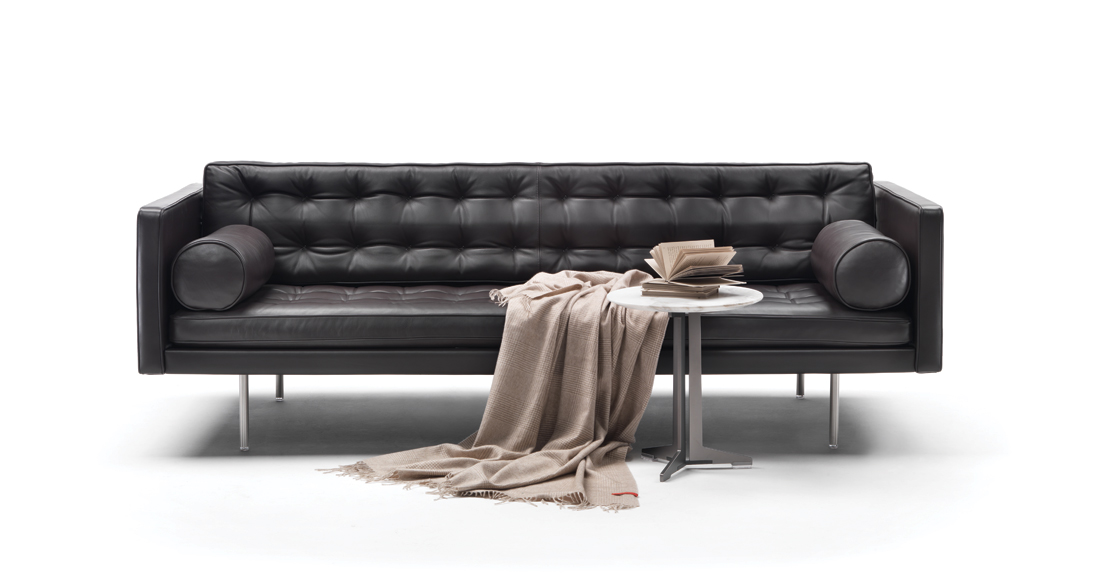 GROUNDPIECE by Antonio Citterio
This best-seller transformed the concept of the sofa. Innovations included its deconstructed lines and new proportions. Groundpiece is low and deep, and designed in response to changing lifestyle needs – as can be seen in the innovative armrest concept. In Groundpiece, the armrest can either be padded and upholstered or can come with a cowhide-clad metal console, which can be used as a flat surface for accessories and provided with shelves to hold objects of all kinds.
A.B.C. by Antonio Citterio
With a nod to Modernism in its use of black leather and tubular metal, this contemporary low armchair can be paired with an ottoman-footstool and is equipped with a mechanism for reclining the seat back. The removable upholstery is available in all fabrics and leathers, even cowhide.