"In the new Fendi Casa line, beauty finds its purpose in objects with the highest craftsmanship," says Silvia Venturini Fendi, the Italian maison's artistic director of accessories and menswear. "This is our idea of interior design: elegant and light, classic yet innovative."
Carrying on the vision of her mother Anna Fendi, who 35 years ago was the first to launch an interior design segment within a fashion label, Silvia continues to push the brand further through innovative initiatives, including collaborations with established designers and architects.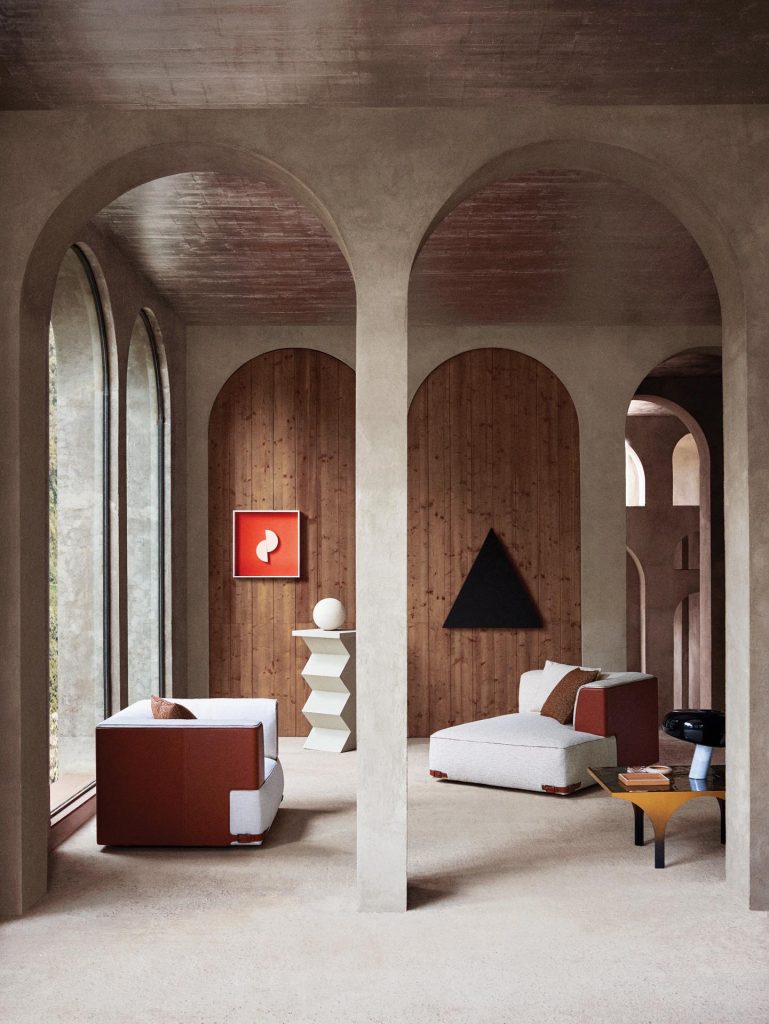 "I think that today, more than ever, it's key to engage in a continuous conversation with international creative minds and visionaries who can add their own contribution to the evolution of the Fendi aesthetics," she says. Case in point: the new Fendi Casa collection, which is set to be fully unveiled at the next, highly anticipated 2022 edition of Salone del Mobile in Milan (from 7 to 12 June). To provide a sneak peek at what awaits us, an exclusive preview was organised last October in the iconic Palazzo della Civiltà Italiana in Rome – Fendi's headquarters – followed by a photo shoot at the Barcelona home of celebrated Spanish sculptor Xavier Corberó, where arches characterise the poetic architecture.
Big names put their talent at the service of the fashion company, starting with Dimorestudio, who revisited the iconic day bed – created for Fendi Palazzo Privé, located in the Italian capital – to form the Roma day bed. "The furniture line designed for Fendi Casa is inspired by Rome, the 1960s and the luxurious yet unpretentious aesthetics of that time," describe Dimorestudio's co-founders Britt Moran and Emiliano Salci.
In addition to the Five sofa and Annabelle armchairs, Marcel Wanders' studio brought to life a new bed with a headboard that's over three metres long, in a patchwork of different materials, paying homage to the brand's artisanal heritage.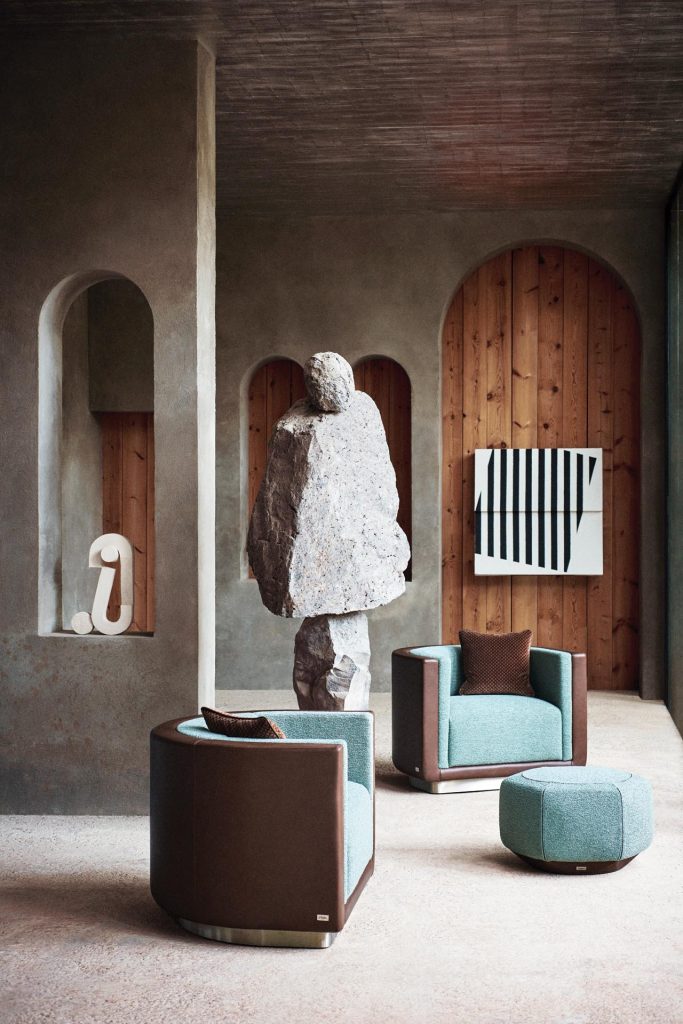 Having worked with Fendi Casa for a decade now, Toan Nguyen continuously experiments and highlights the excellence of Italian craftsmanship. Among some of the 2022 pieces is the new version of the Soho sofa (three seats) and the Sandia modular sofa with curved lines, as well as the Marrakesh ottoman and the Groove & Groovy armchair with long-hair yellow shearling.
For Atelier Oï, "Inspiration from nature and the transformation of materials are part of [our] DNA and play a key role in the way we work," they say. "For Fendi, we have chosen authentic, raw materials such as marble, leather, metal, wood, glass and fabric." The Fun modular sofa features a gridded design and nubuck upholstery with a peekaboo effect; the Blossom screen comprises an intricate system of mirrors and wooden shelves; the Arches tables are made from white or black marble blocks; and the Vanitoso lady desk in marble paired with metal, wood and leather echoes the arches of Fendi's headquarters.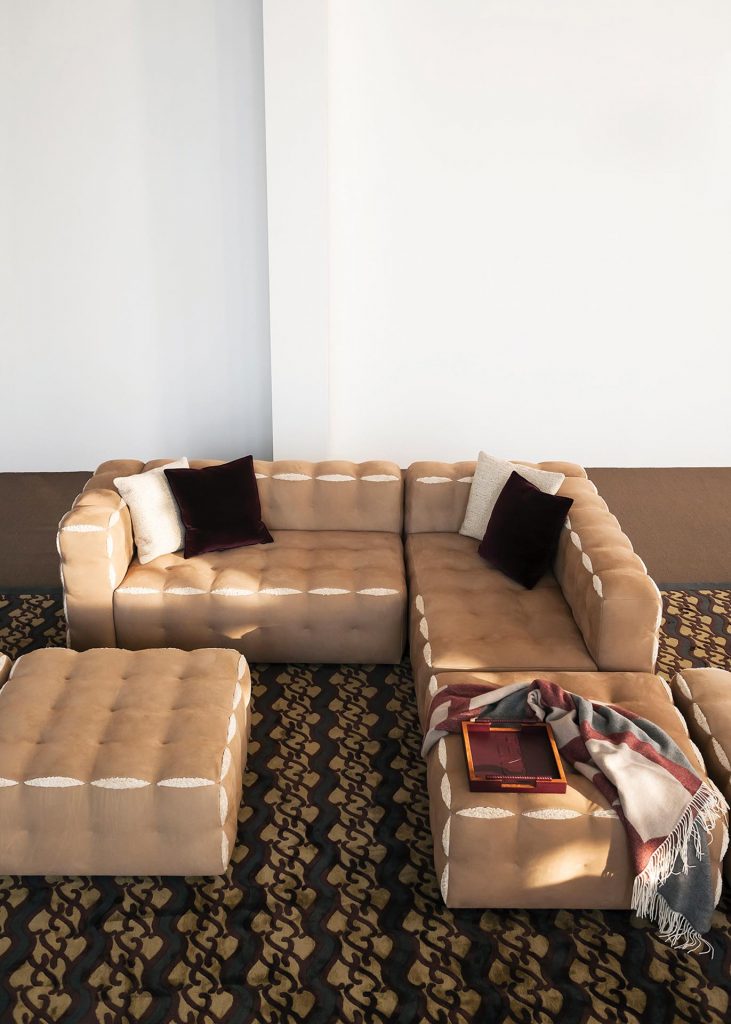 Piero Lissoni focused on outdoor furniture with the Sagano sofa, armchair and coffee table. "Bamboo has always been a dominant theme in the outdoor world, from art nouveau to the present day," Lissoni says. "I basically salvaged a material that was perfect for making these things and reused it, in the most responsible way possible, approaching it with a more contemporary standard of design."
Designers Chiara Andreatti, Cristina Celestino and Thierry Lemaire are also contributing, to keep Fendi Casa's values of craftsmanship, innovation and style alive through this mesmerising new collection.