Yves Béhar LivingHomes YB1 have presented the first in a line of high-quality structures at the leading edge of prefab building. In forging a long-term partnership, Yves Béhar and Plant Prefab are innovating in the field, with the aim of increasing accessibility, livability, and sustainability of the units.
Known as Accessory Dwelling Units (ADUs) — city-based "Tiny Homes" — as urban and suburban areas grapple with rising demand (and rising costs) for housing, especially in California, where density is an issue, interest in building ADUs is being recognized as a solution for family members, aging parents,
students and people who are starting out.
'Following our work on efficient living with robotic furniture company ORI, I'm excited to extend the passion for tiny homes and prefab by partnering with LivingHomes. For me, the next frontier of design is to think of the entire home as a product that a homeowner can shape to their needs in terms of size, usage, aesthetic and lifestyle'. said Yves Béhar , founder and CEO of fuseproject.
'This is why we're interested in the customizable nature of prefabricated ADU's: people want their living environment to be a reflection of their specific life needs. The design goal of the LivingHomes ADU is adding urban density with a range of sizes and home designs while providing a building system that delivers on sustainable and efficient living in urban areas', he continues.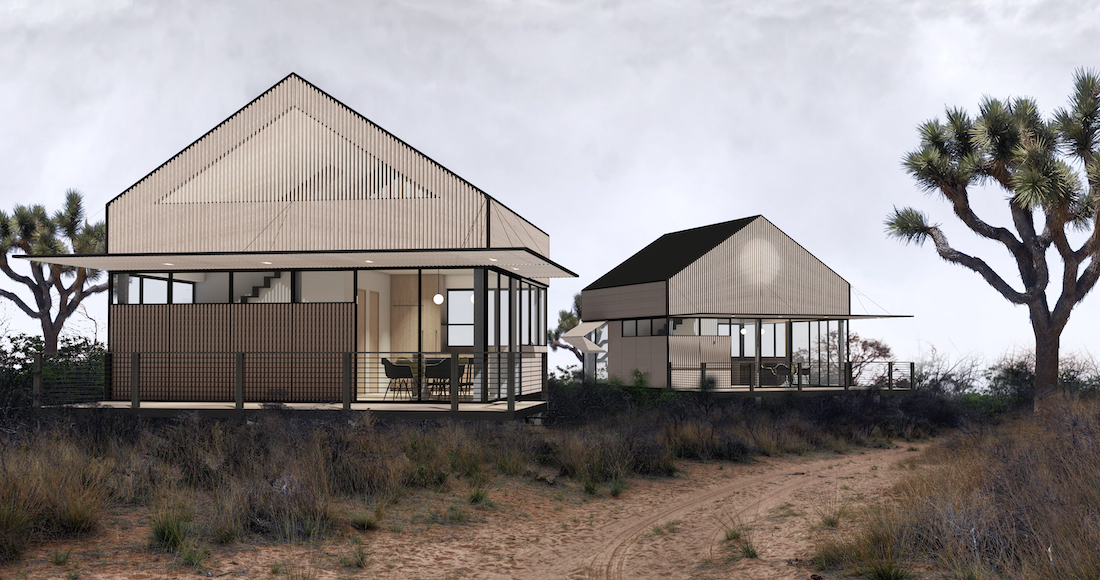 This new model of ADU has a series of exciting features that reimagine the functionality and comfort of the units, ranging from:
● Custom design: The YB1 is designed from a system Yves developed with LivingHomes to accommodate different roof lines, different sizes, different layouts for windows, various interior requirements and different climatic conditions. The first three versions of YB1 are available in three different options that cover three different floor plans and roof systems. Starting today, customers can visit livinghomes.net or plantprefab.com see the three options.
● High-quality features: The YB1 can be configured to include a full kitchen, bathroom with a shower, a living room, and a bedroom or office. Appliances, finishes and lighting and electrical in the YB1 can be selected by the owners and all come pre-installed and ready to go. The Summit YB1 features all appliances, HVAC and (TV) by Samsung, and lighting by Flos, and state-of-the-art smart home technology, uniting in a refined and timeless aesthetic with durable, quality materials.
● Modular: The YB1 presented at Summit is 625 square feet. The YB1 4' grid system allows for a range of 250 to 1200 square foot units.
● Flexible layout for light and privacy: The layout of the YB1 is fully customizable, designed to respond to the environment in which it will be constructed. Windows for light and privacy could be positioned anywhere, and designed at full height, half height, or as clerestory windows.
● Climate sensitivity: The design is environmentally friendly, using materials like Forest
Stewardship Council certified wood siding and cement panels. There are also two roof options, designed for application in different climate zones — flat roofs in 2 heights with the option of a clerestory, which are material efficient and work well in southern climate and allow for solar panels or green roof, and pitched roof version that is ideal in colder regions or to fit more traditional rooflines in the neighborhood. Smart Home capabilities to monitor energy consumption, water usage, energy production are available.
● Sustainable construction methods: Constructed in Plant Prefab's groundbreaking facility and using helical metal piles to anchor the units to the ground, the construction of prefab ADUs are exceeding environmentally-sensitive and cut down on the impact of construction significantly. The homes are constructed in one month, and take one day to install on-site.
● Cost effective: Pricing for YB1 is around $280,000. Future Yves Béhar LivingHomes will be available for less than $100,000.
Head to Plant Prefab for more information.