Everything started on a plane, while flying back from Mexico to Canada after a family holiday trip. Sarika (one of the homeowners, who lives with her husband and their two children) and Ben Leavitt (co-founder of design studio PlaidFox, and who happens to be Sarika's brother-in-law) started to draw up the living room concept for this house on a paper napkin. The rest is history.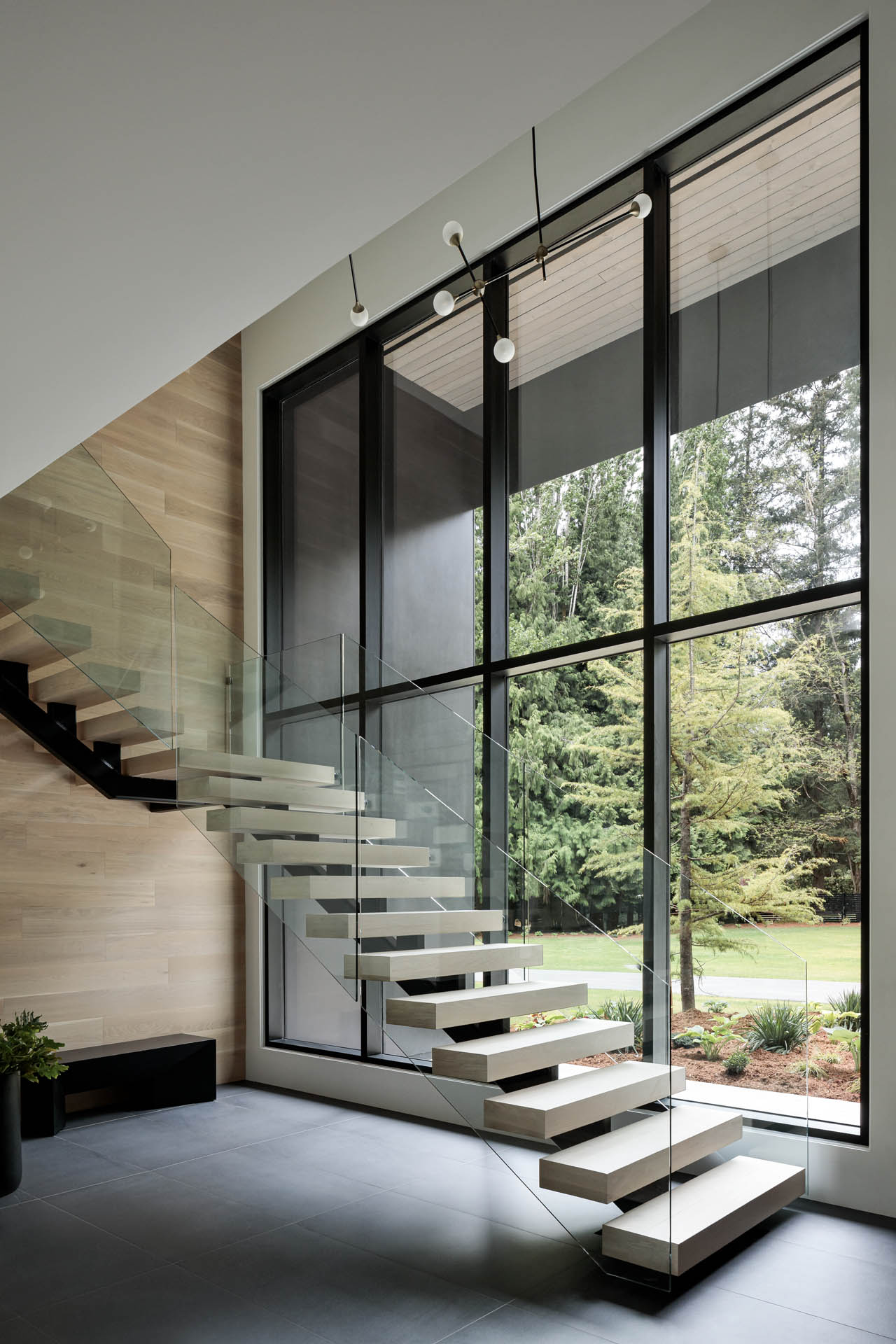 Despite its site of over 740 square metres, the house – situated in Vancouver, Canada – feels warm and inviting. Organised across two floors, it comprises an open-plan main floor, as well as six bedrooms and eight bathrooms. With such a large space, one of the main challenges was finding the best way to visually delimitate the different areas without using walls. Colours helped achieve this; neutral and earthy tones were mostly used, as requested by the homeowner, but some bright touches were introduced to bring some energy and a sense of youthfulness throughout.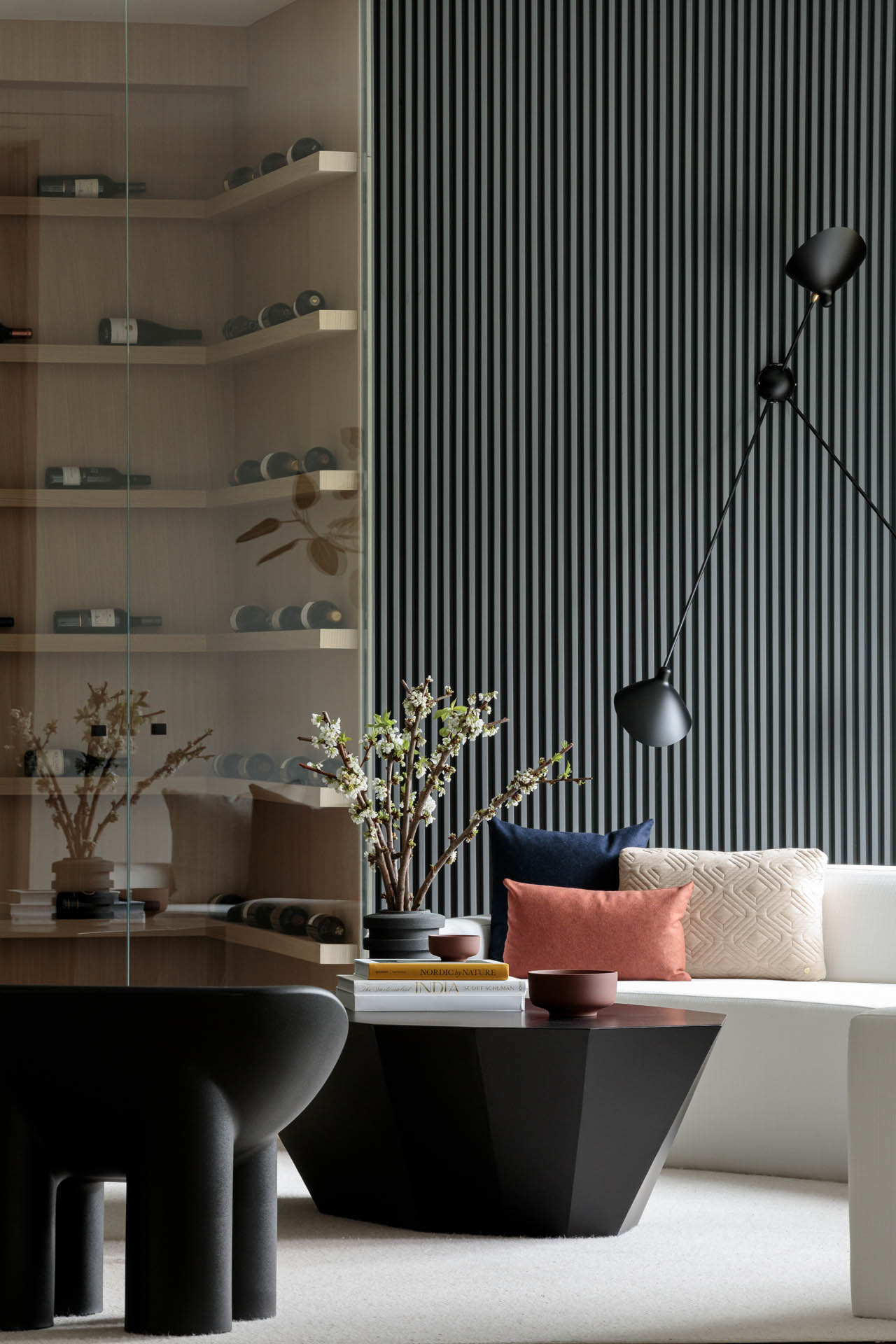 In this project, not everything was planned – on the contrary, there was some room for new ideas along the way, such as the decision to adorn part of the dining room with some pink. Instead of having a specific aesthetic in mind at the beginning of the process, Leavitt explored several possibilities during the different phases through materials, colours, textures and shapes.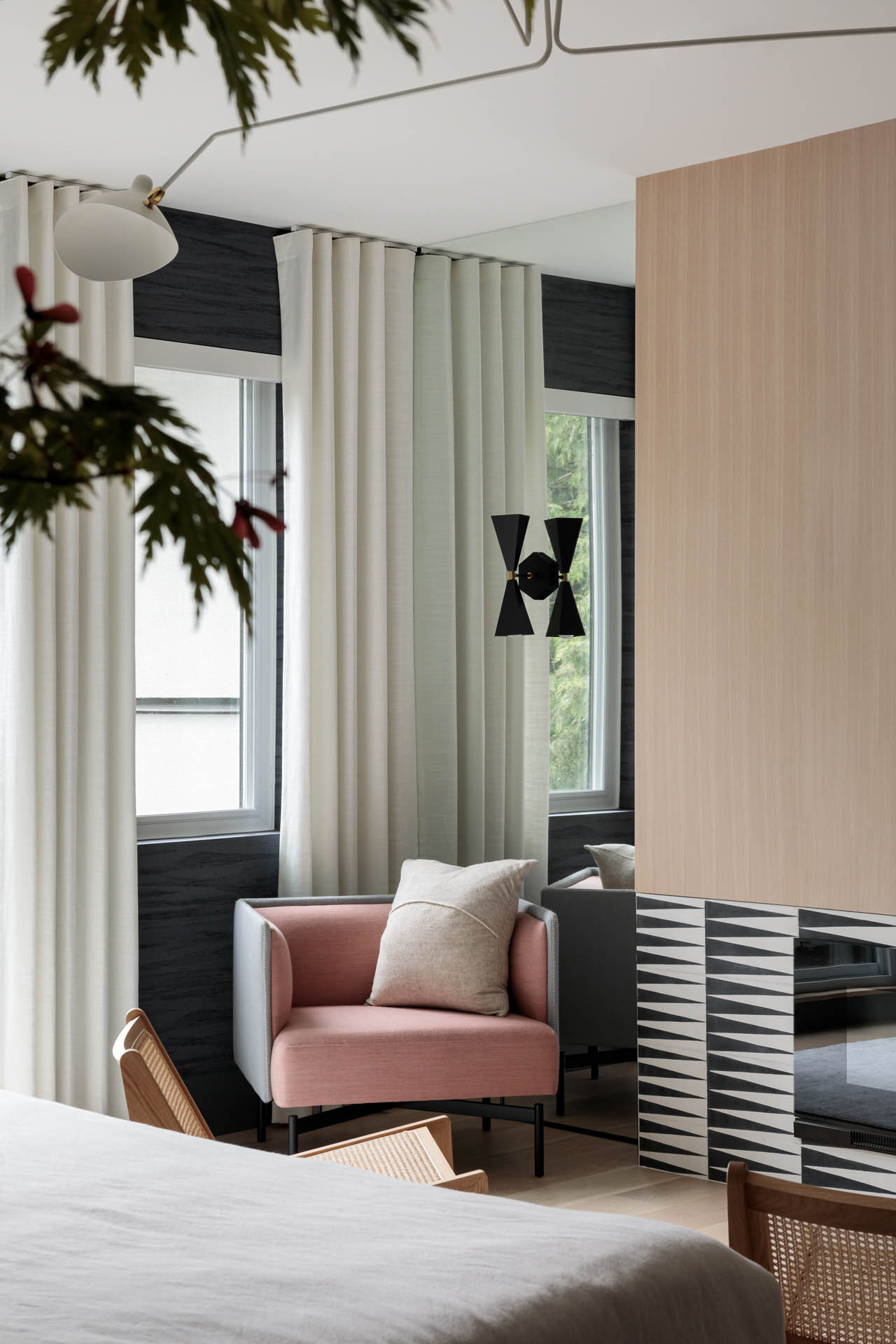 "With a large and modern home, in order to create depth and warmth, you want to use natural textures layered with high and low pile to make the house feel cosy," says the designer. "Our goal was to treat each room as a separate jewel box. And while the home's architecture is open-concept in nature, the individual spaces feel distinct, but remain connected."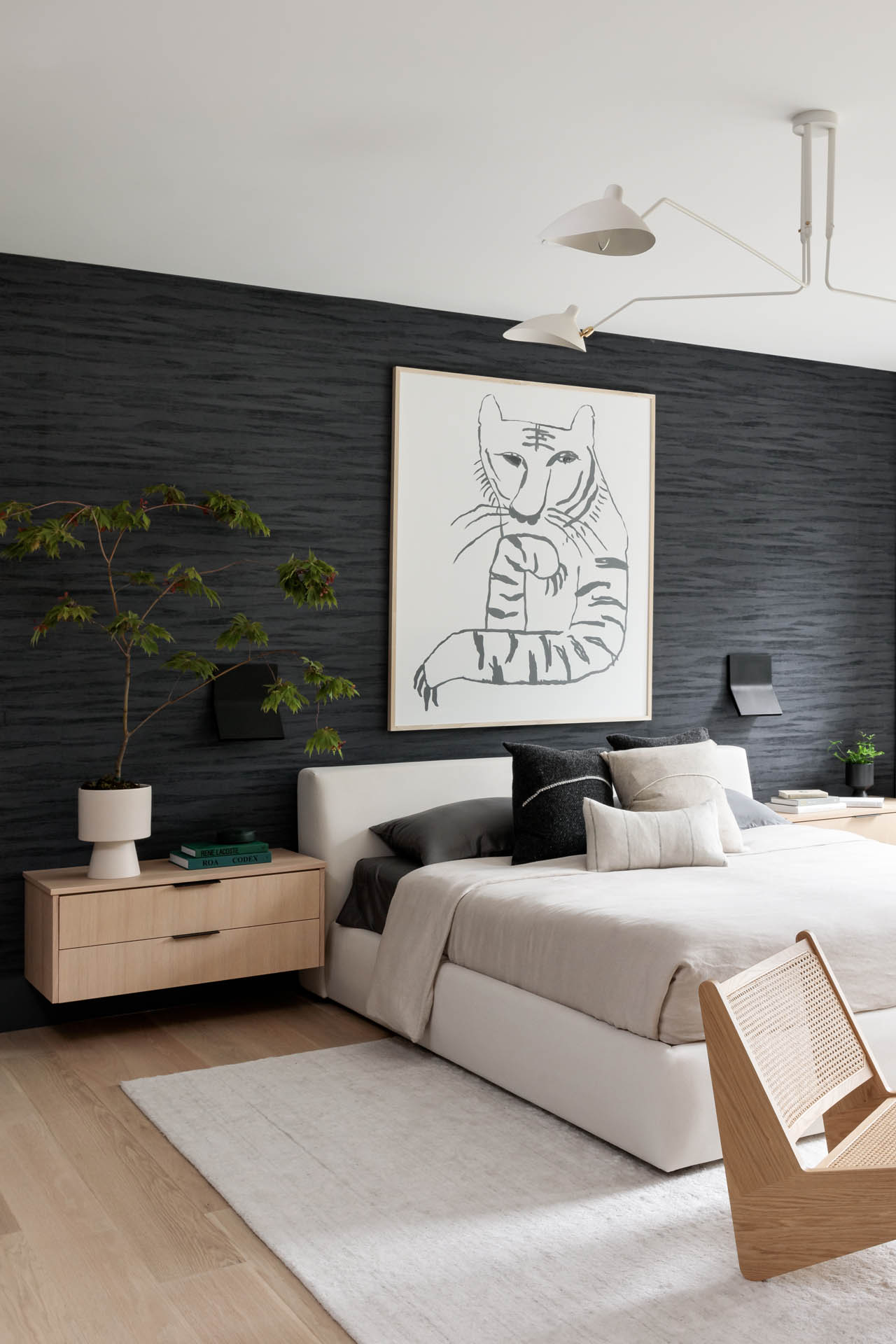 In the living room, edgy, curvaceous and faceted furniture prevails. Occupying the centre of the home and connecting several common areas, the dining room is streamlined and minimal, with a modern floating staircase made of glass in the background, overlooking the Japanese-inspired garden. The kitchen was painted in a smoky dark blue for a chic look and easy maintenance; the expansive family room also serves for large gatherings and the playful breakfast nook is the children's favourite space.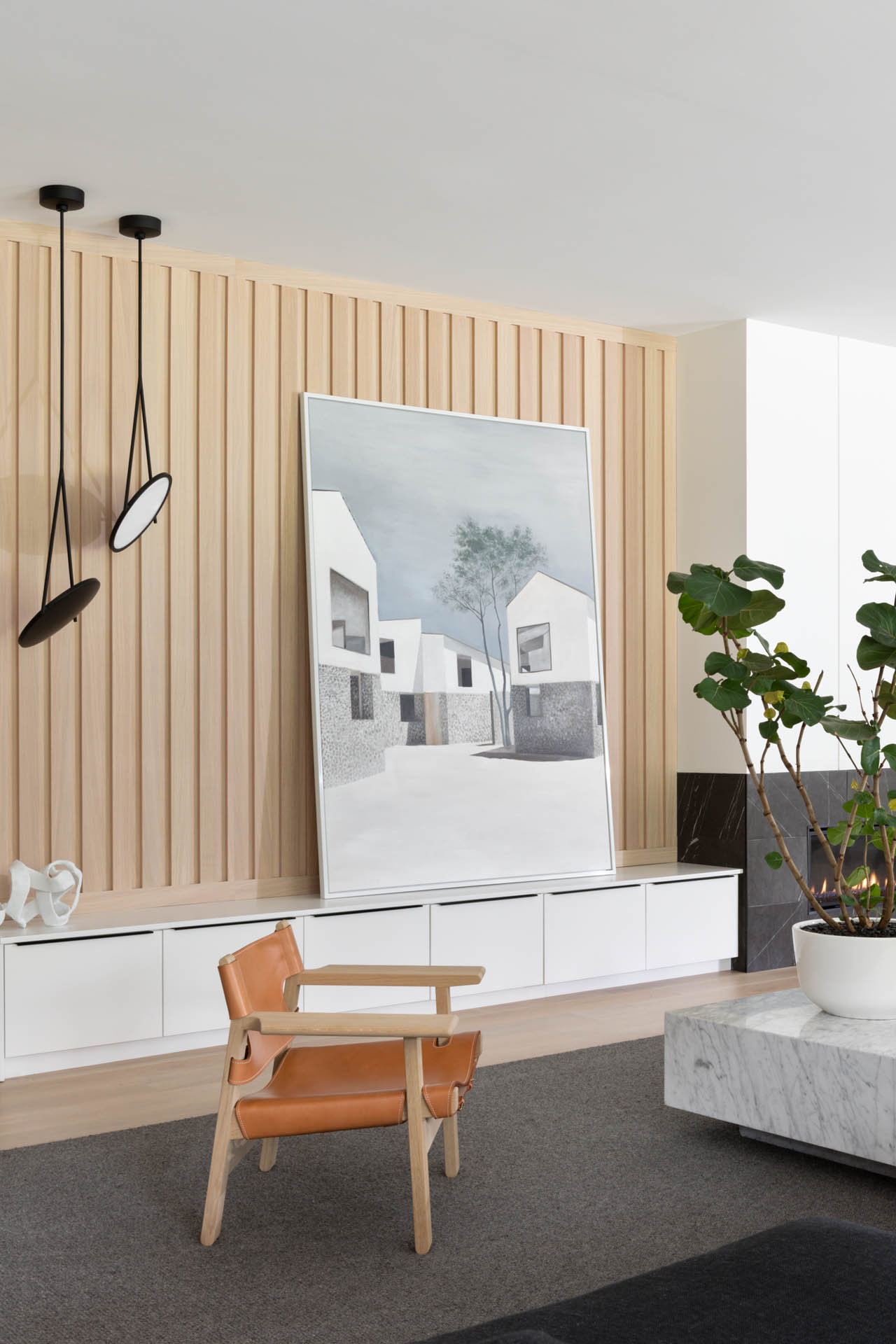 "This home is a youthful fusion of a modern artistic approach to design and functional family living," says Leavitt. Danish design and some sleek elements of what can be seen in Montreal guided him. "Within Canada, I find Montreal and Vancouver are two cities that really interpret modern in a liveable way," adds Leavitt.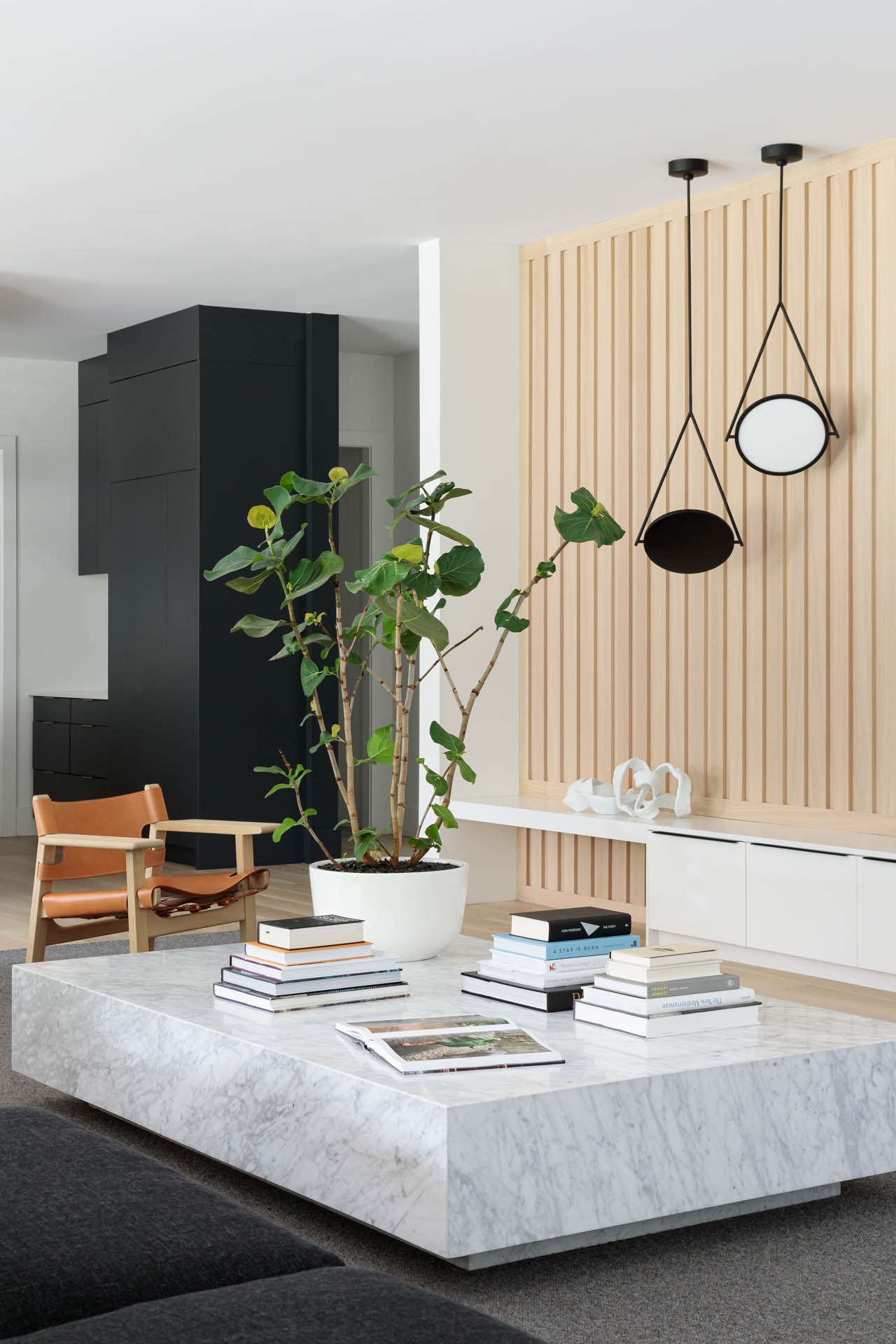 A Scandinavian influence, by way of pieces by HAY, Normann Copenhagen and Muuto, dialogues with creations by Kelly Wearstler, Bernhardt Modern and Phillip Jeffries, among other designers.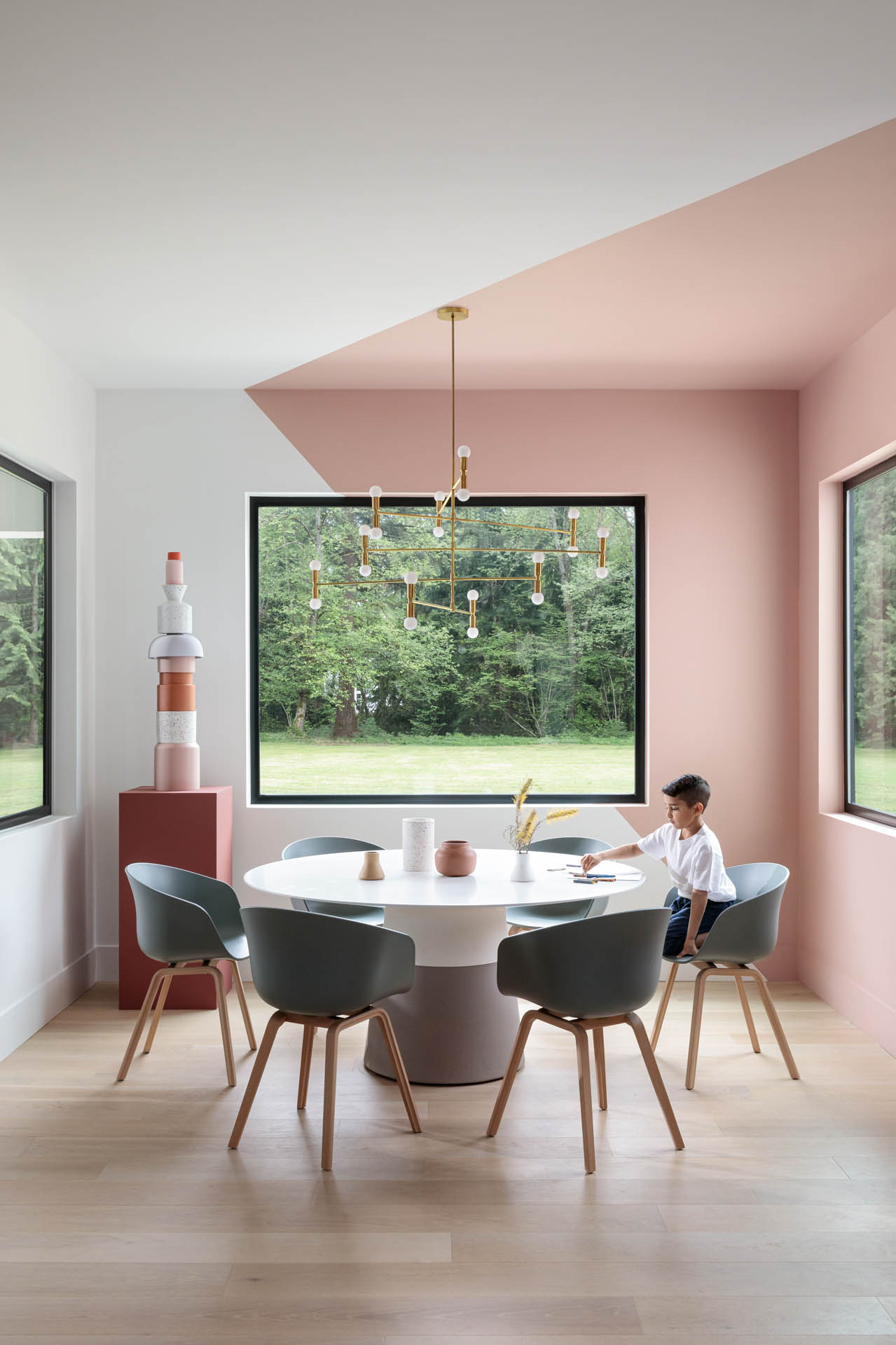 In the living room, the custom-made, commissioned artwork 'Hold On Let Me Overthink This' was a gift from Leavitt to Sarika, as a reminder that design has to be fun – something they both experimented with during this project. Sarika doubted every suggestion made by Leavitt before always coming back to his original ideas – though only after overthinking for hours or even days.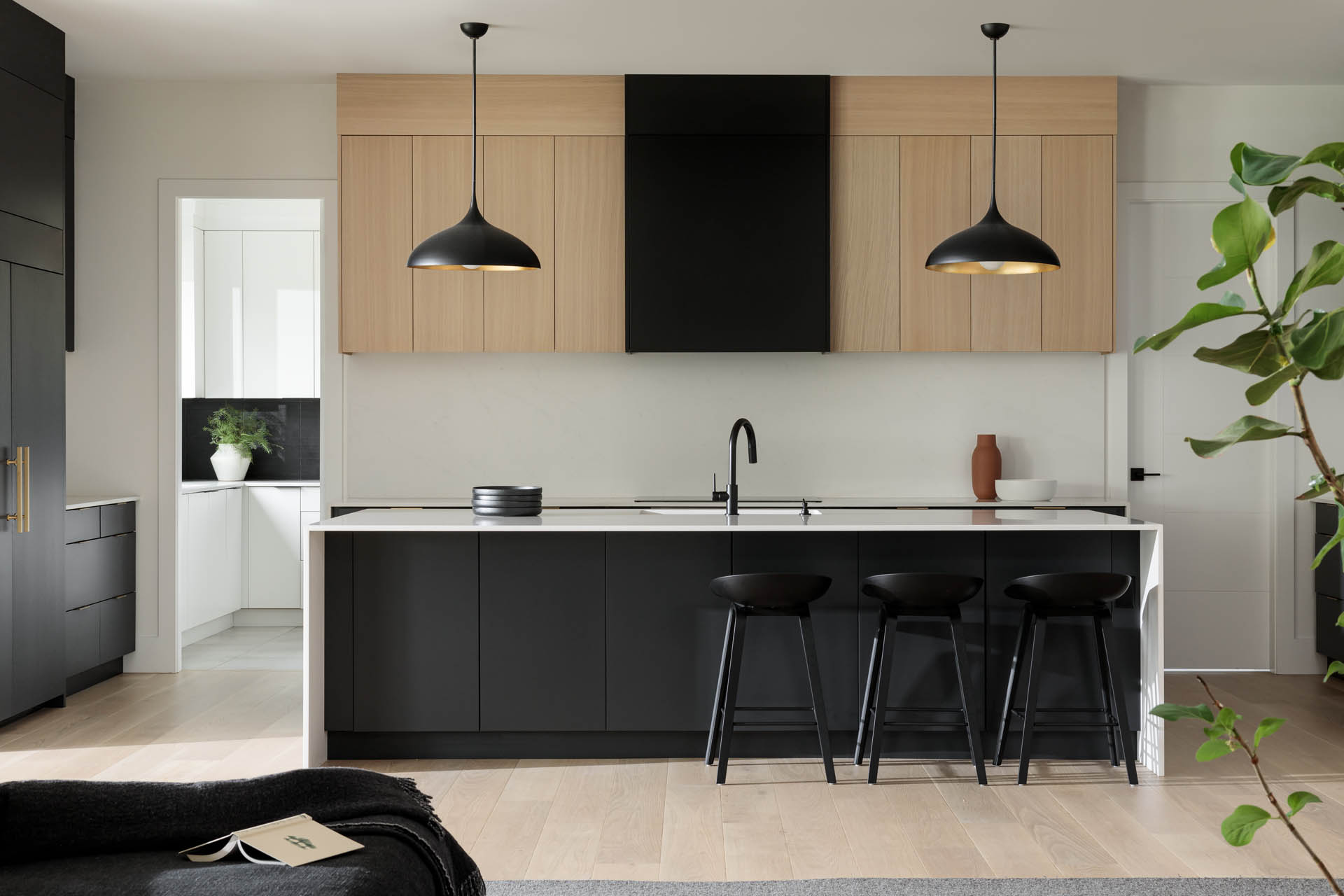 "I don't think the house takes itself too seriously," says the designer. "I wanted elements of whimsy in each space, whether that's the Mutina tile in the wet bar or the Lambert & Fils Parc light fixture, which is a nod to the woods and looks a bit like a flashlight."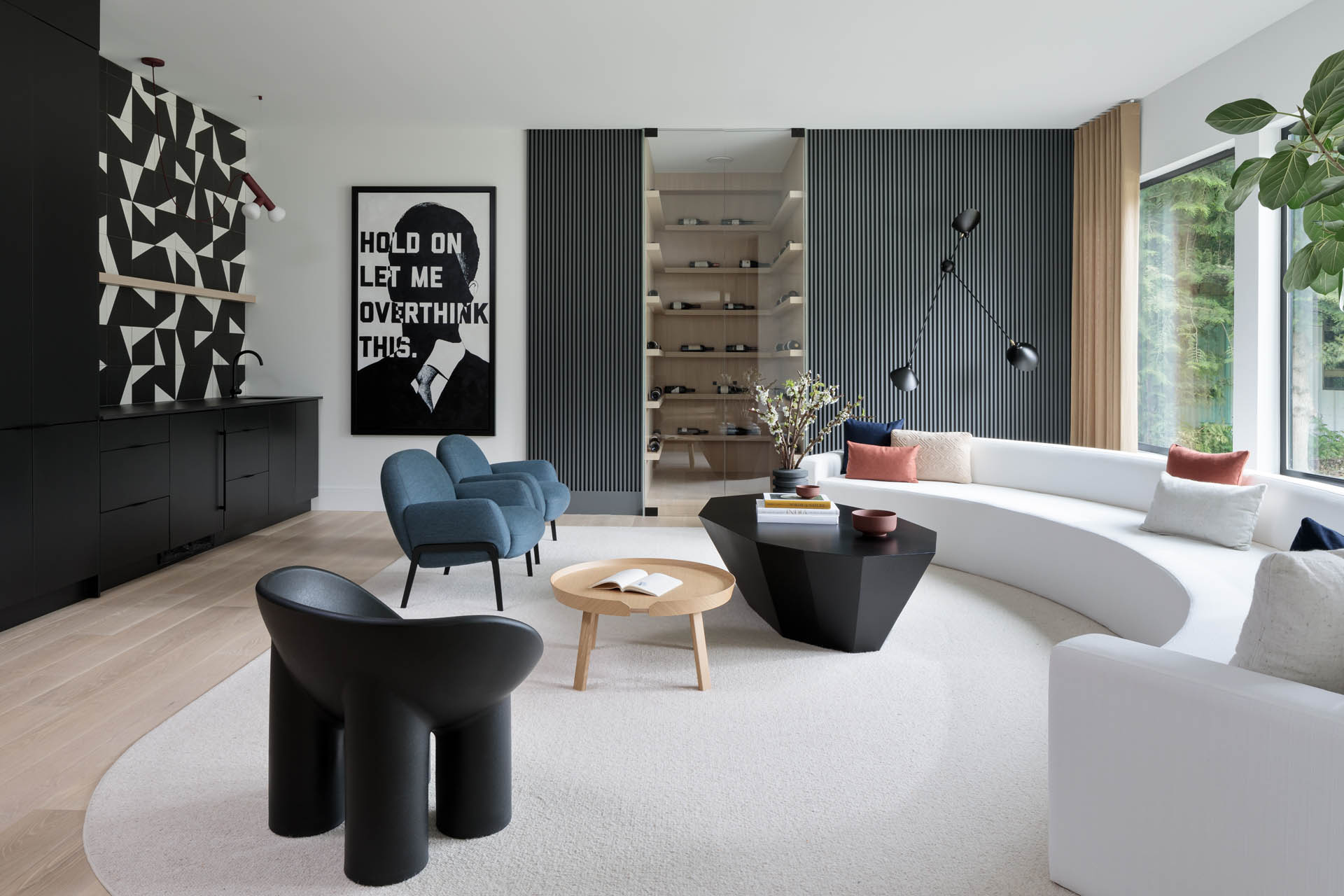 Other originalities include the sculpture made of stacked ceramics in the breakfast nook, the sole white chair among the black seats in the dining area, and the tiger artwork in the main bedroom.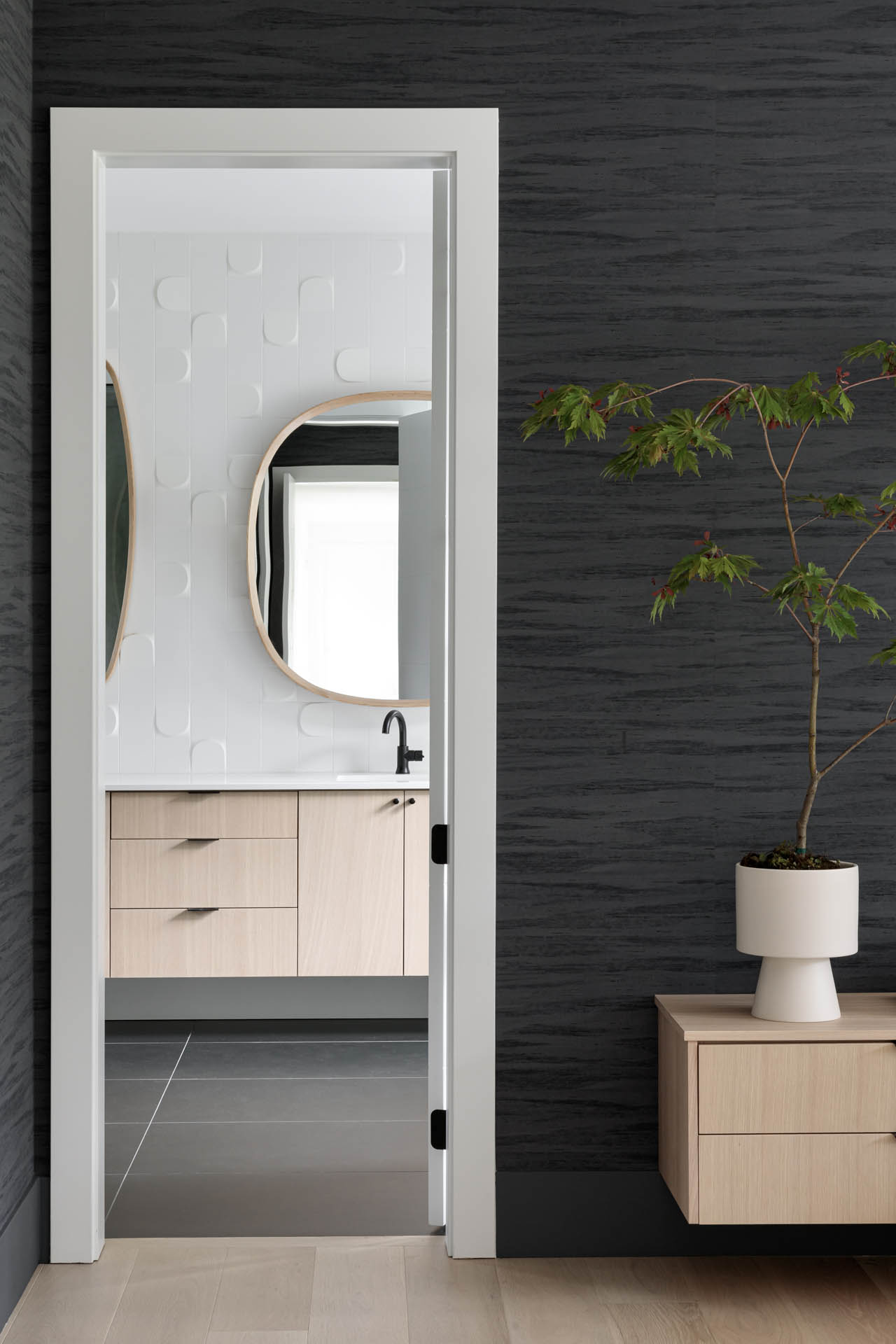 "We wanted the house to be fresh-looking and inventive, but also classic and minimal," concludes Leavitt, who clearly achieved the goal. 
Photography by Ema Peter