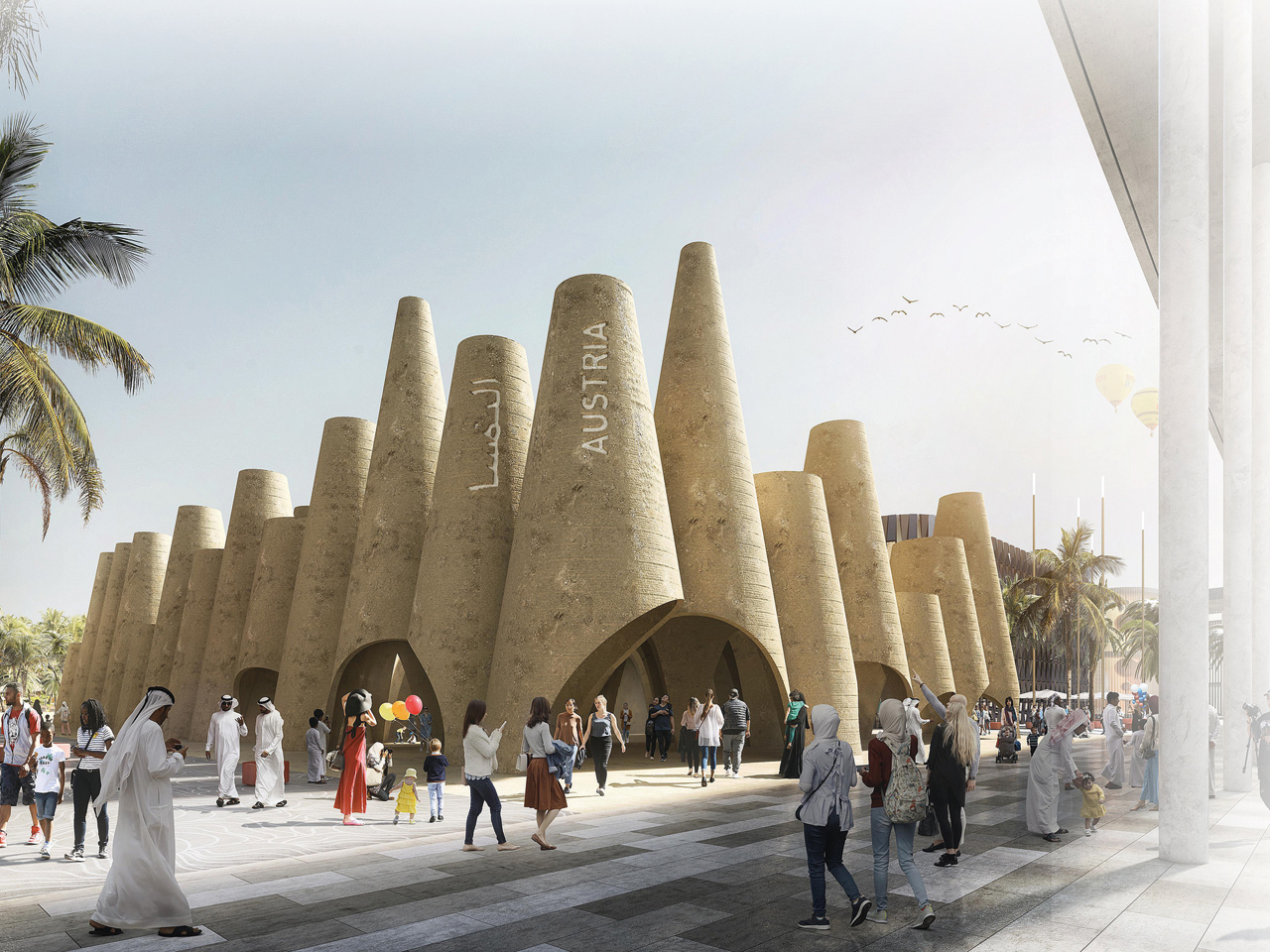 AUSTRIA
Opportunity District
Theme: Every Good Idea Begins with the Right Question
Architects: querkraft
About: Some 47 truncated cone towers constructed from loam, a building material used across the globe for more than 9000 years, create a striking contrast to the pavilions made from steel and glass that are so common at world exhibitions. This structure requires no mechanical air conditioning as the cones – which are cut off at varying heights – have been arranged to ensure moderate air movement, while the loam has a complementary high thermal storage capacity. The pavilion will house exhibitions, workshops, installations and a Viennese coffee house.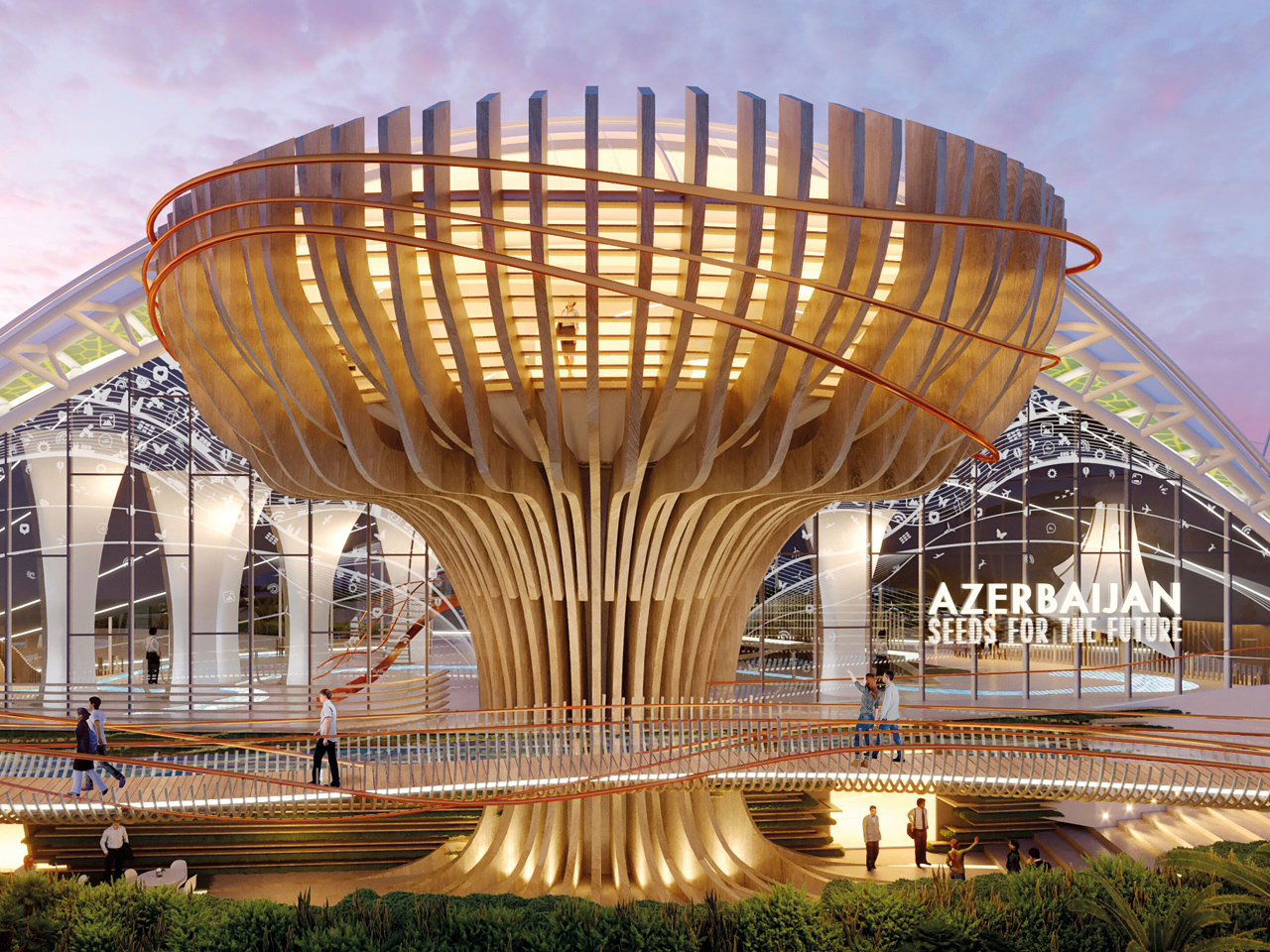 AZERBAIJAN
Sustainability District
Theme: Seeds for the Future
Architects: Simmetrico
About: The pavilion's focus on the environment is reflected by the architects following the 'Mean, Lean, Green' philosophy guidelines that were first applied at the London 2012 Olympics. The leaf-shaped roof of the nature-inspired structure functions as a thermal passive buffer and aims to encourage visitors to consider the impact of individual choices, ensuring that balance is restored to our natural world for a sustainable tomorrow. Visitors will also learn about the ways Azerbaijan is protecting its biodiversity, and about strategies that focus on renewable energy.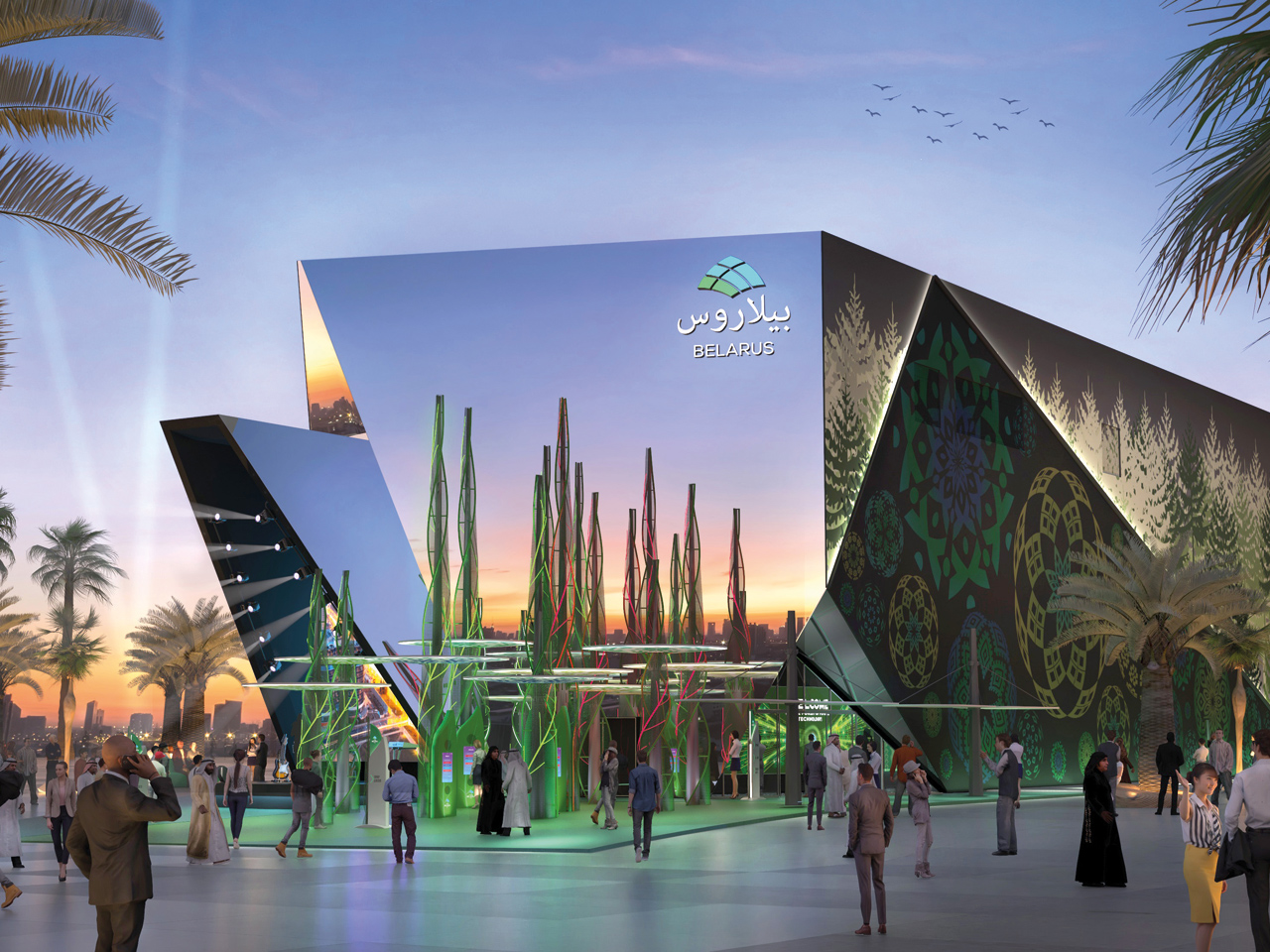 BELARUS
Opportunity District
Theme: Forest of Future Technology
Architects: NÜSSLI Adunic AG
About: This Eastern European nation is renowned for its primeval forests, which have been strongly referenced in a pavilion that explores the themes of innovation and investment. Just as trees grow stronger and live longer when they stand together, it is hoped that visitors will collaborate to ensure a better, shared future. And as well as encouraging people to connect minds for the greater good, the pavilion will enable Belarus to showcase its high-tech creations, sustainability initiatives and investment opportunities.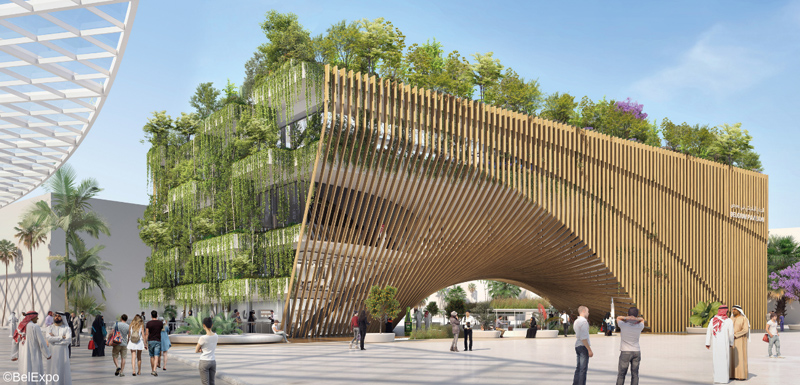 BELGIUM
Mobility District
Theme: Smart and Green Belgium 2050
Architects: Assar Architects / Vincent Callebaut Architectures
About: Some 10,000 plants dominate a zero-waste structure featuring a wide range of sustainable design initiatives. This 'green ark' draws on renewable resources for its energy requirements, while hanging gardens will create a 'carbon sink' that helps reduce temperatures by creating a well ventilated and shaded outdoor area. Visitors will be able to interact with a host of Belgian innovations and also enjoy some of the nation's renowned culinary specialties – including, of course, its world-famous fries, known locally as frietjes.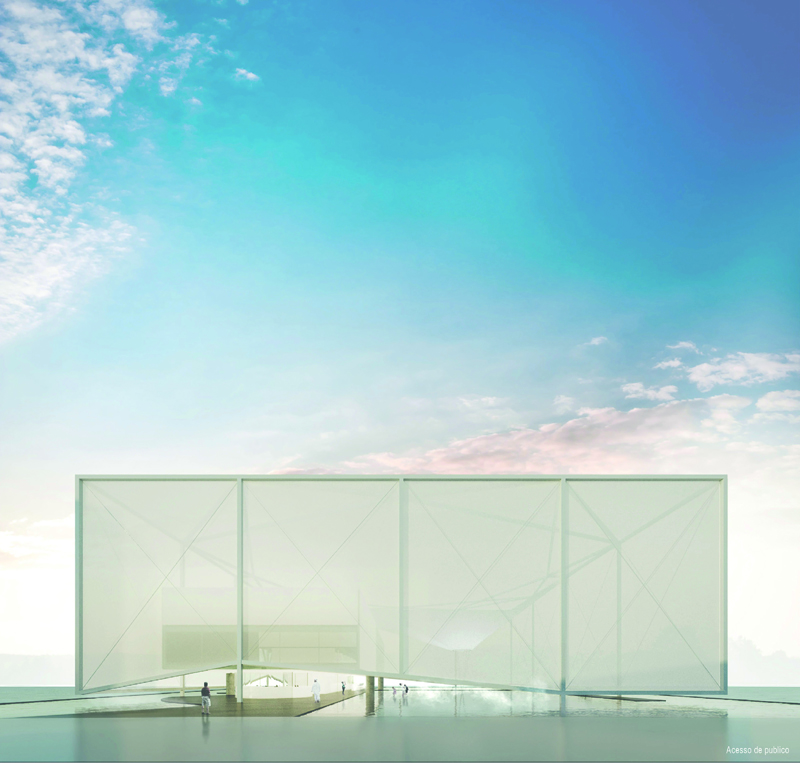 BRAZIL
Sustainability District
Theme: Together for Diversity
Architects: JPG.ARQ / MMBB / Ben-Avid
About: Three architectural studios have collaborated on a design that incorporates water as its most striking feature, recreating the Amazon basin for visitors to walk through – and around – as they experience the sights, sounds and scents of one of the natural world's greatest attractions. A café, restaurant and shop are also planned, while on the first floor of the pavilion there will be a multi-purpose room for lectures and film shows on Brazil's rich biodiversity and its potential in sustainable production.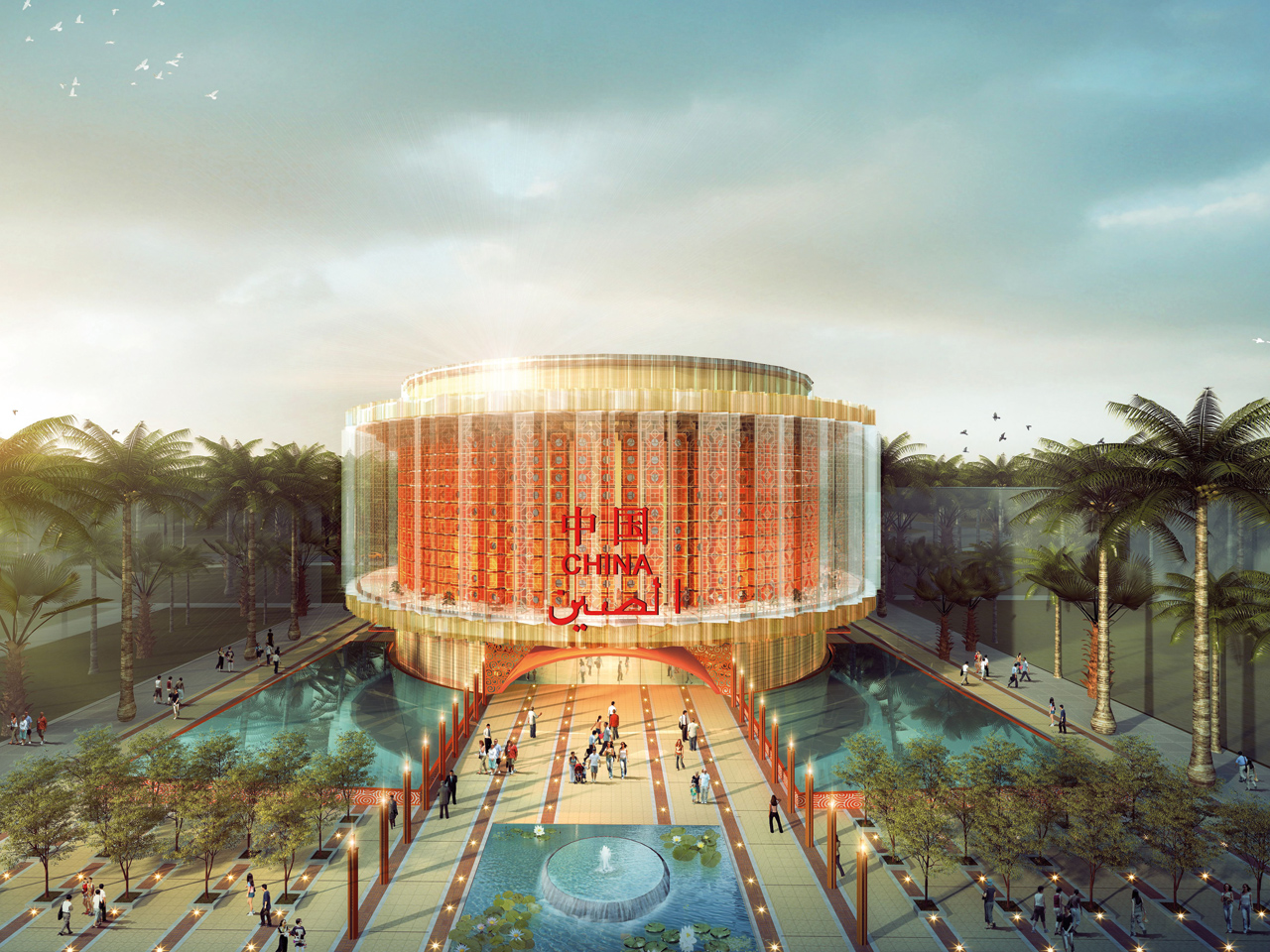 CHINA
Opportunity District
Theme: Building a Community with a Shared Future for Mankind – Innovation and Opportunity
Architects: Construction Engineering Design Group Corporation
About: At more than 4600 square metres, this will be one of the largest pavilions at Expo 2020 Dubai. Symbolising hope and a bright future, the design has been inspired by the traditional Chinese lantern, with architecture that references ancient Chinese innovations, including a display inspired by moveable type printing technology which turns into a dazzling light show at night. Chinese music, culture and cuisine will also be showcased, along with the nation's long history.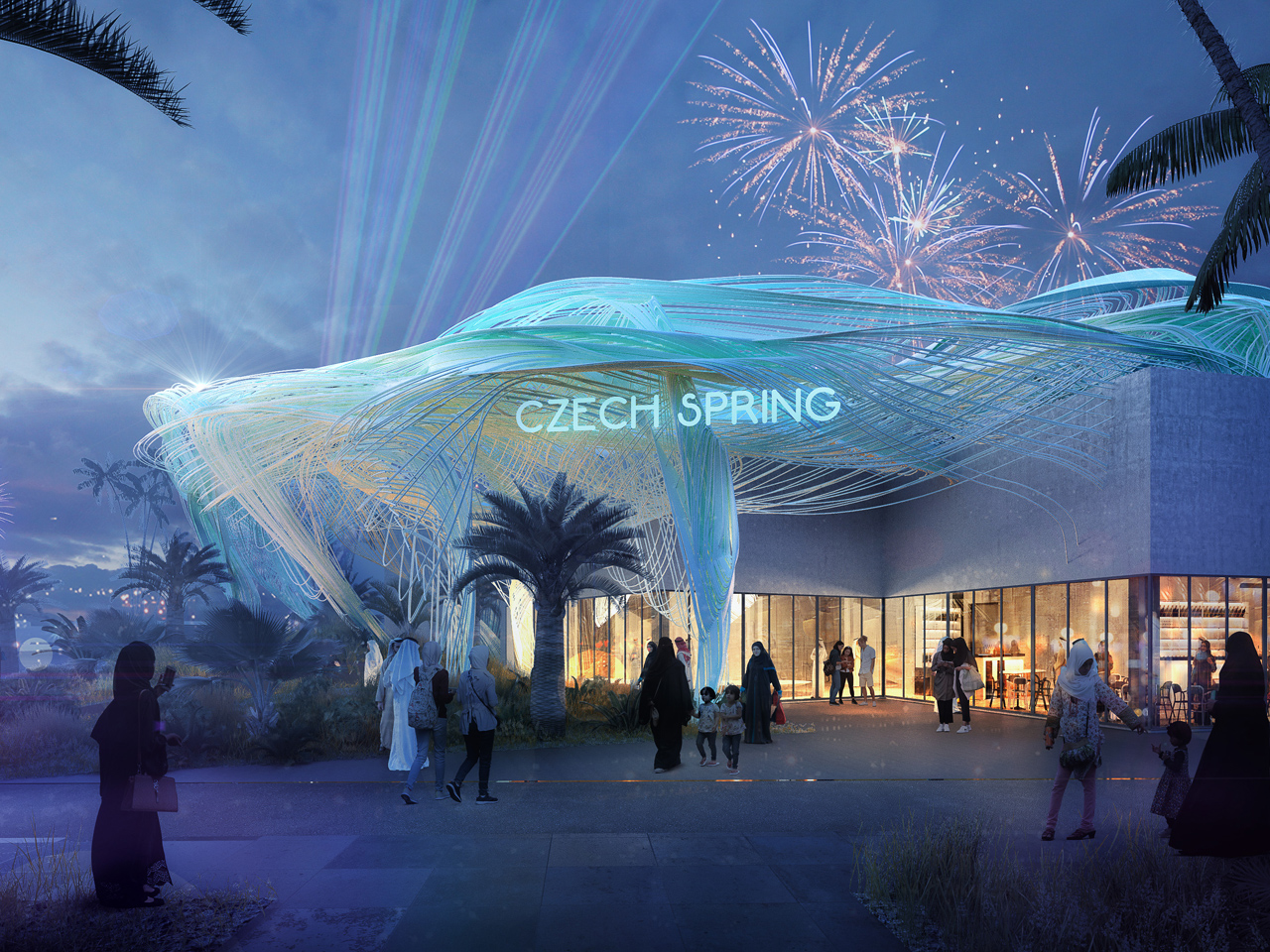 CZECH REPUBLIC
Sustainability District
Theme: Czech Spring
Architects: Formosa AA
About: This 2200-square metre pavilion showcases the work of young architects who are also doctoral students at the Czech Technical University in Prague. They have designed an innovative Solar Air Water Earth Resource (SAWER) system, which transforms barren desert into fertile land by extracting water vapour from the air thanks to the use of solar power. It also utilises an organic structure made out of bioplastic pipes. Visitors will also be able to enjoy a large-scale installation that showcases the nation's long history of glassmaking, as well as rotating displays of exhibits and a Czech restaurant.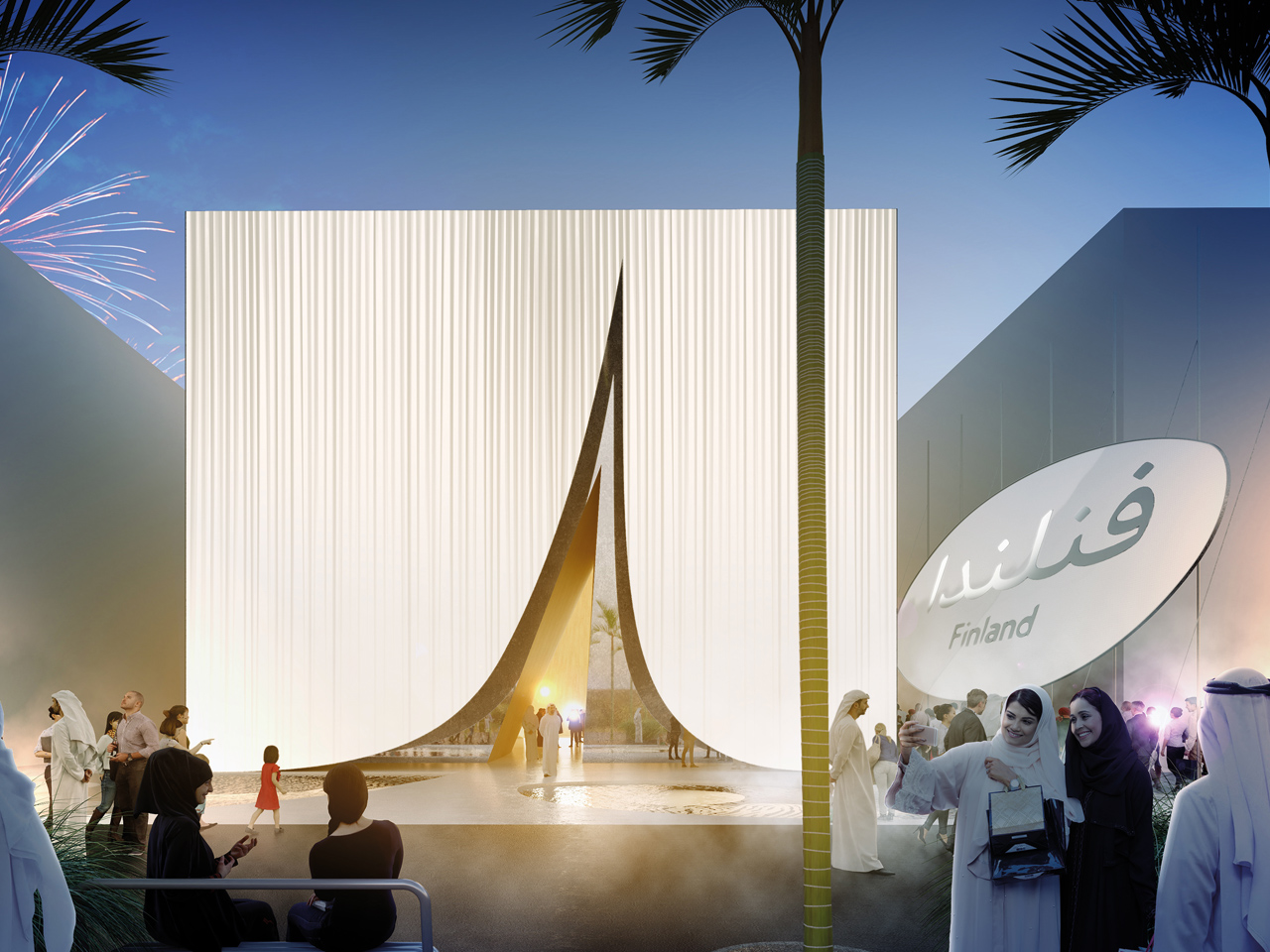 FINLAND
Mobility District
Theme: Sharing Innovative Competences
Architects: JKMM
About: The cultures of Finland and the UAE have informed the visual identity of this 'Snow Cape' pavilion. Snow and ice cover the Finnish landscape in winter; while the pavilion's main entrance gives the impression of arriving in a traditional Arab tent. Inside, visitors are assured of a peaceful haven offering clarity and serenity, as well as displays that showcase the history of Finnish innovation in fields ranging from education and sustainable technologies to health and wellbeing, along with an insight into the nation's natural beauty.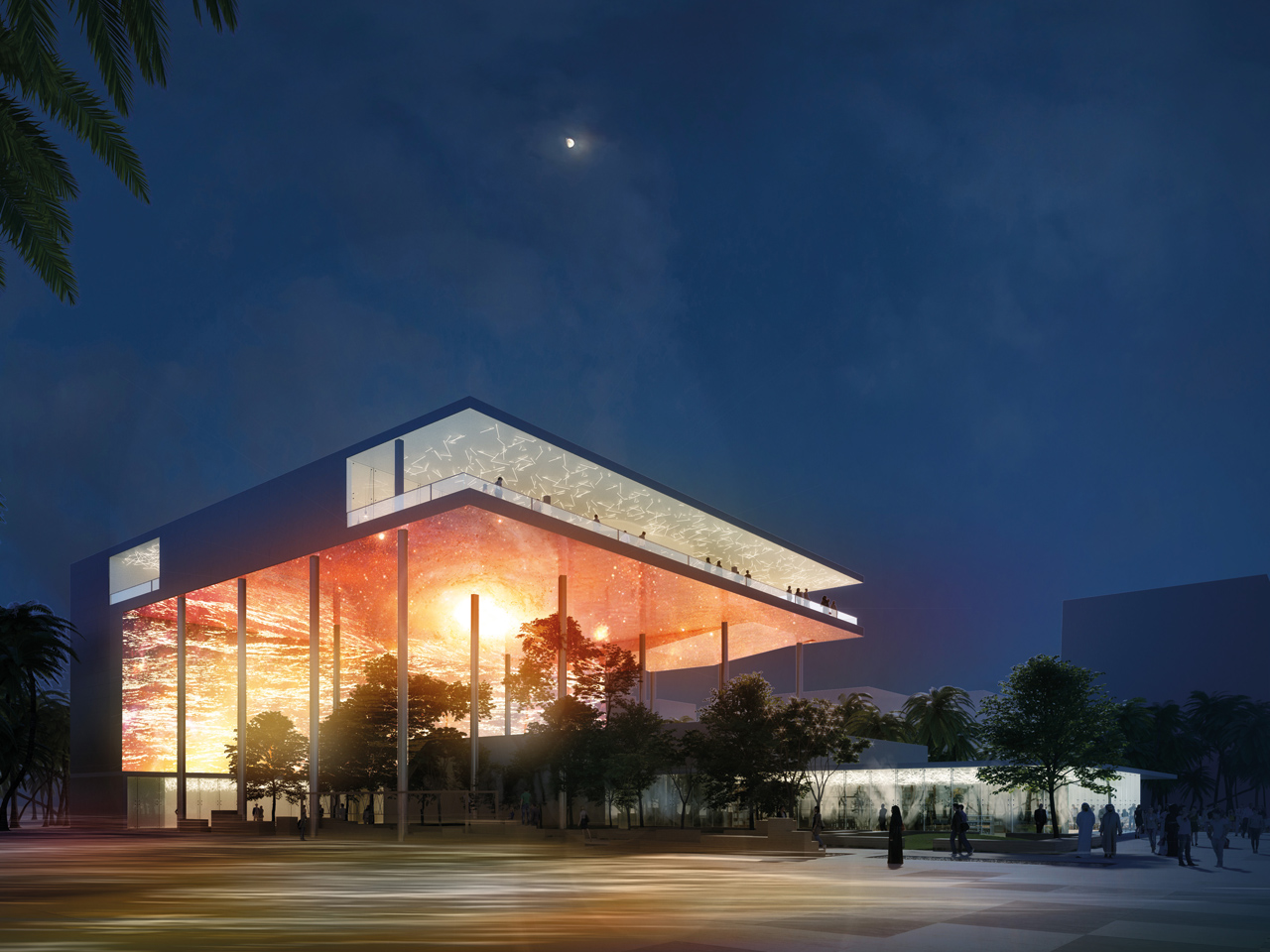 FRANCE
Mobility District
Theme: Light, Lights
Architects: Atelier du Prado Architectes / Celnikier & Grabli
About: The pavilion's theme explores light as an enabler of progress, a vehicle for connections and a source of heat and creativity. It also seeks to embody the Age of Enlightenment, the 18th-century movement spearheaded by French intellectuals that emphasised concepts such as knowledge, exchange and tolerance. More than 80 per cent of the pavilion's power will be drawn from sunlight, while a micro water treatment plant will reduce demand for freshwater by an estimated 30%.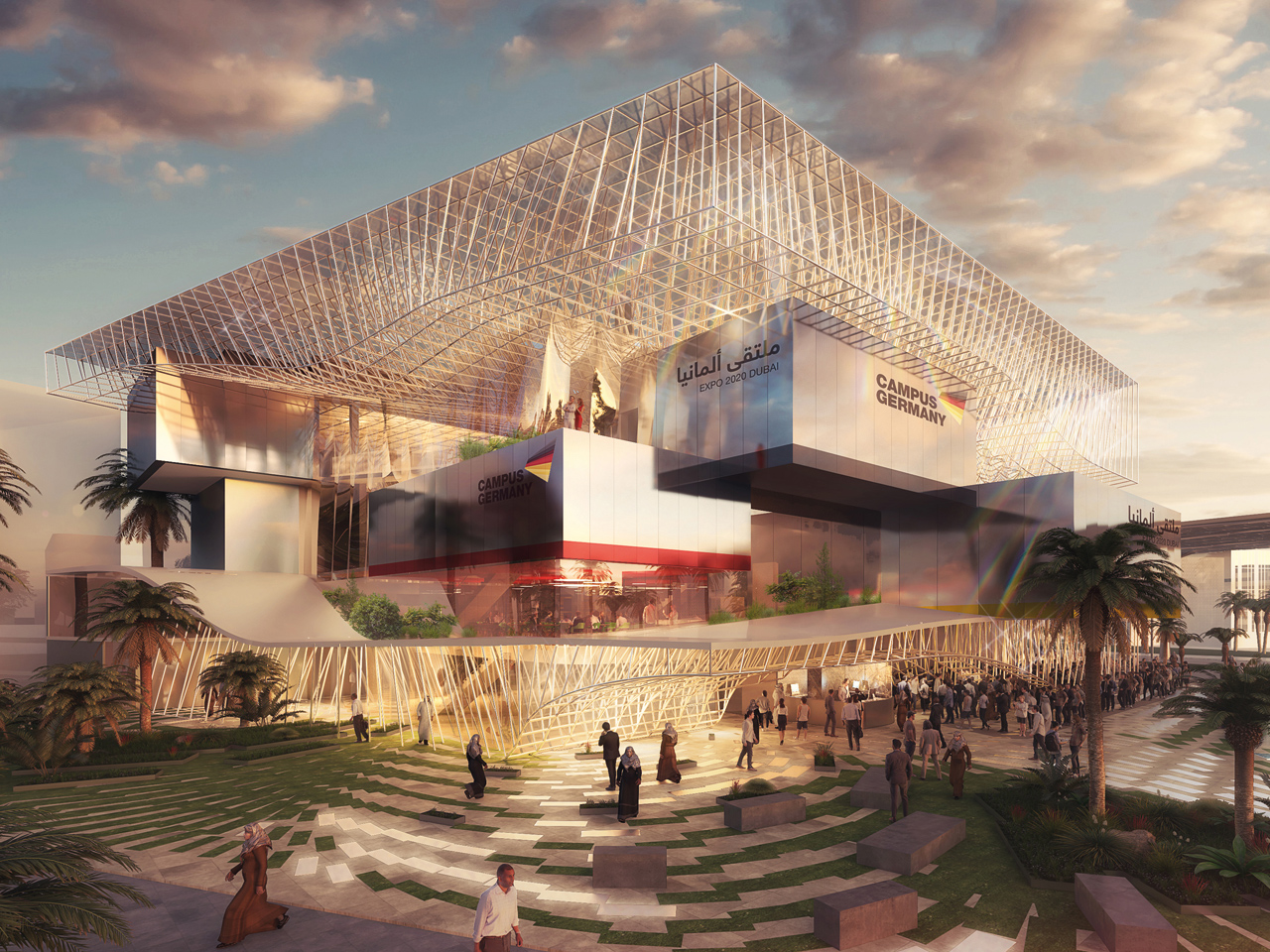 GERMANY
Sustainability district
Theme: Campus Germany
Architects: LAVA / facts and fiction
About: Visitors to Campus Germany can wear cutting-edge connected devices and 'enrol' for what is being described as 'the lesson of a lifetime'. Themed areas include The Energy Lab, The Future City Lab and the Biodiversity Lab, which all converge on a spacious atrium with a restaurant and stage, while the welcome hall will feature a large pit containing 155,000 balls that can be scanned to highlight a sustainability leader from Germany or tell a sustainability-related story as visitors learn about pioneering sustainability efforts.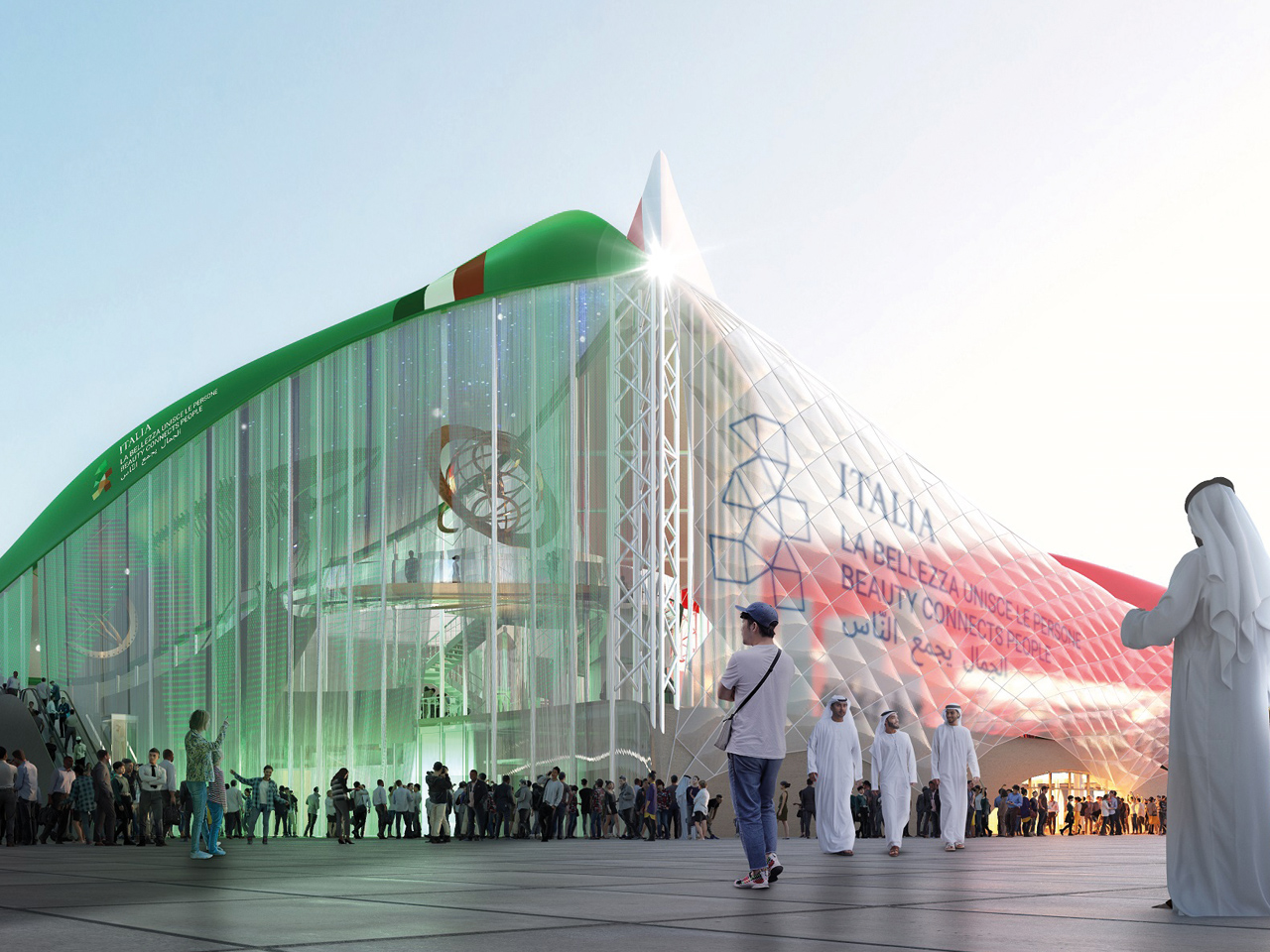 ITALY
Opportunity District
Theme: Beauty Connects People
Architects: Carlo Ratti / Italo Rota, Matteo Gatto / F & M Engineering
About: This pavilion is set underneath the overturned hulls of three ships which have been painted in the colours of the Italian flag, drawing inspiration from the historical tradition of ocean-going populations and fishermen. Visitors will be taken on a journey telling a story covering culture, art, education, science, security and innovation – with the pavilion reflecting the skills, products and innovations of Italian companies and communities as well as highlighting best practices in areas such as the circular economy and sustainability.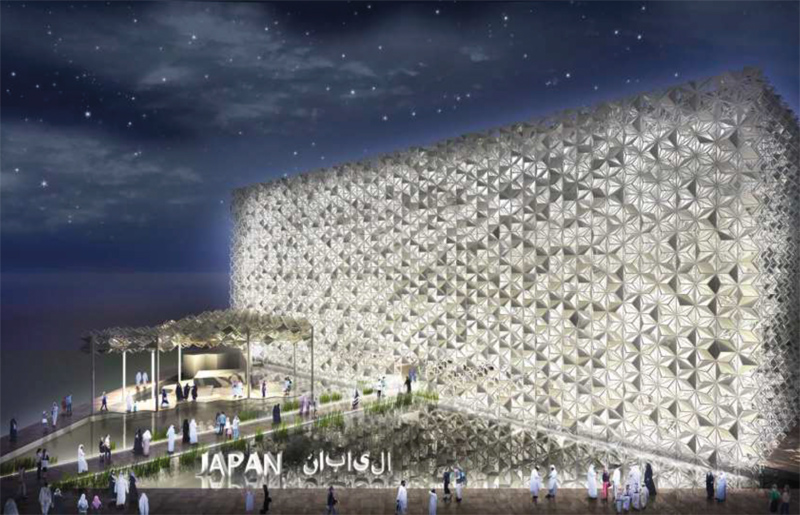 JAPAN
Opportunity District
Theme: Join. Sync. Act.
Architects: Yuko Nagayama / NTT Facilities
About: The pavilion's lattice exterior combines traditional Japanese and Arabesque patterns, paying homage to the ancient Silk Road trade route that connected the Middle East and Japan. Visitors will be able to experience Japanese traditions, art and culture and technology through what is described as 'a sensory journey powered by the latest Japanese technologies'. There will also be chances to sample Japanese cuisine and to attend diverse presentations, as well as to discover more about the city of Osaka, which will host Expo 2025.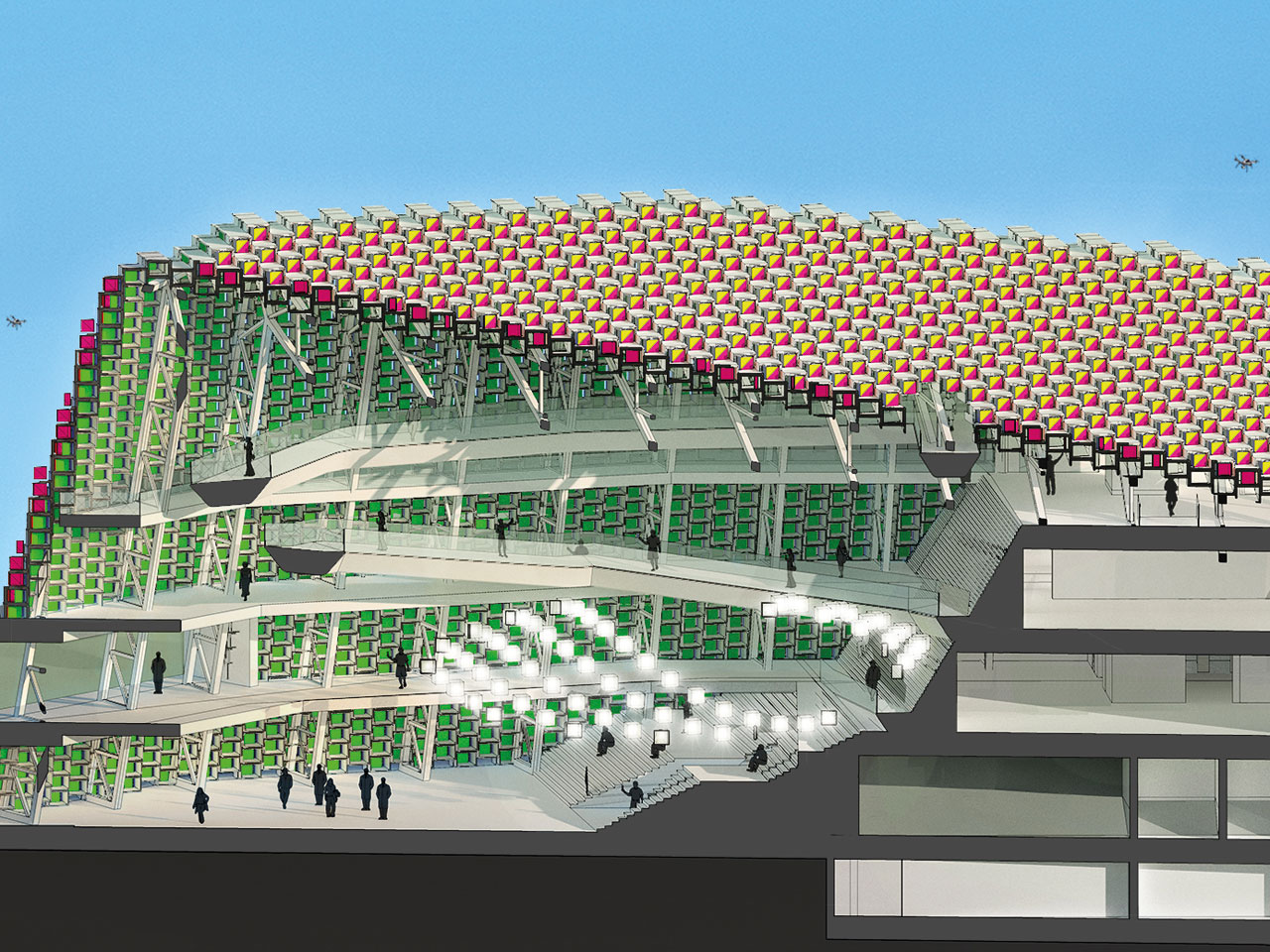 KOREA
Mobility District
Theme: Smart Korea, Moving the World to You
Architects: Mooyuki Architects
About: Rotating cubes continuously change the design of a pavilion that will accommodate a spiral-shaped exhibition space aimed at helping visitors discover Korea's plans to lead humanity towards a brighter tomorrow, and its growing influence on global culture. The structure will explore how mobility is set to change our lives, and will feature the best of Korean art, style and technology – including virtual reality and artificial intelligence – while the nation's modern culture, including its world-famous K-pop music, will also be on show.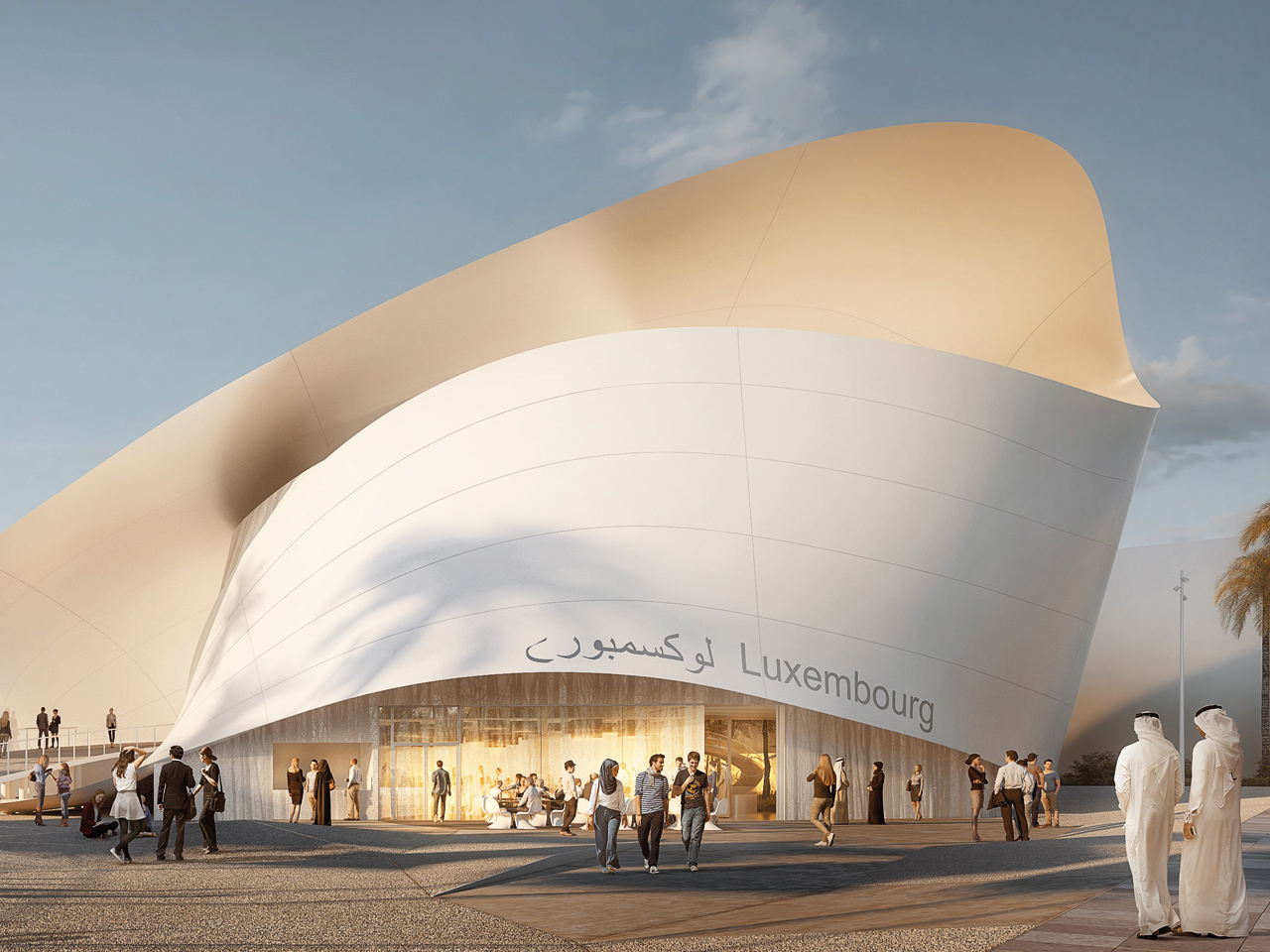 LUXEMBOURG
Opportunity District
Theme: Resourceful Luxembourg
Architects: Metaform
About: The design of this three-level pavilion, complete with tubular slide, has been inspired by a Möbius strip – with the twisting and folding of a ribbon resulting in one single surface that has no beginning and no end, to symbolise the circular economy. It also reflects the openness, dynamism and reliability of a country that has based its success on its human, natural, technical, industrial and financial resources, as well as the essential need to preserve them and create new opportunities through their intelligent use.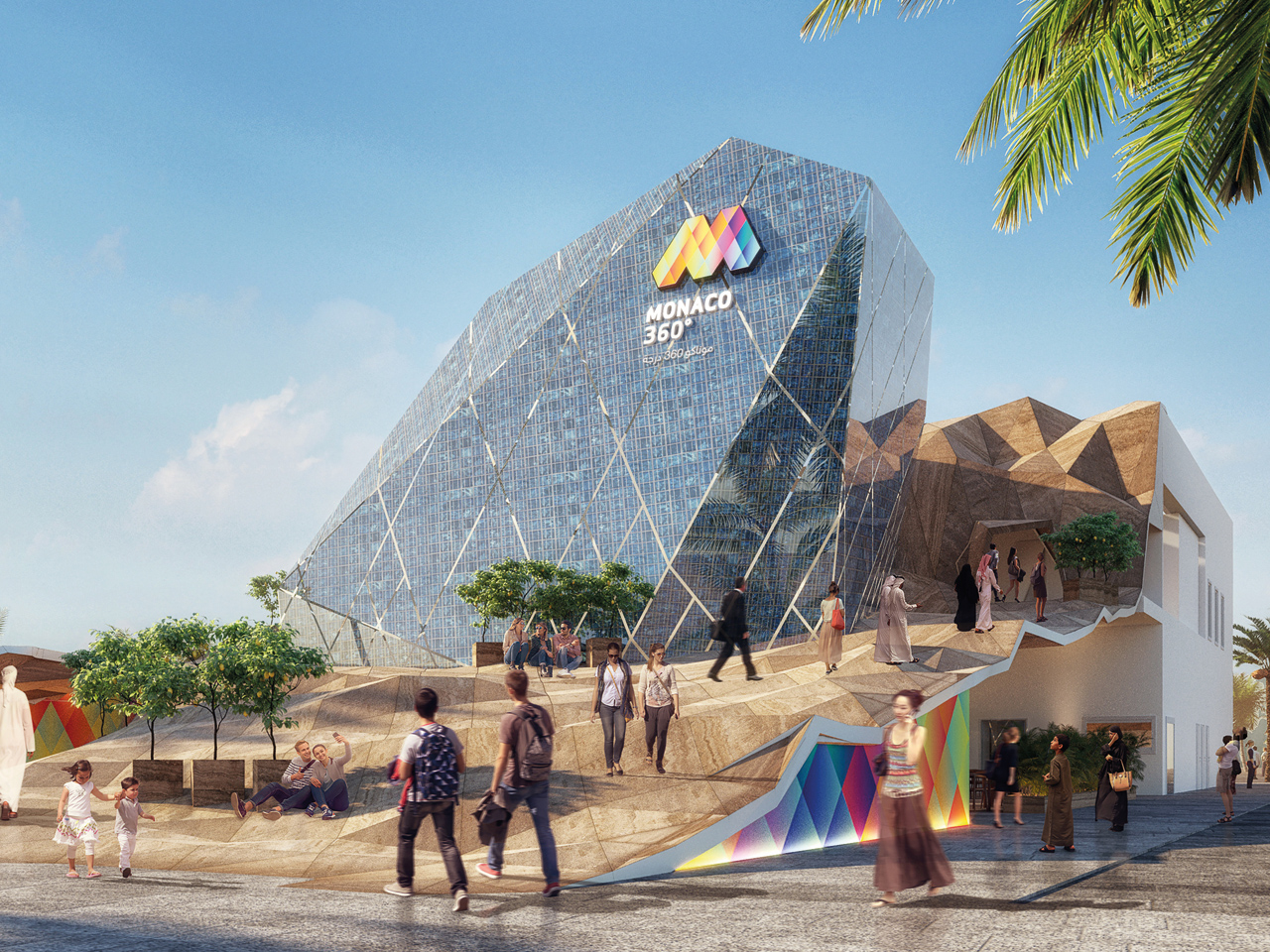 MONACO
Opportunity District
Theme: Monaco 360° – a World of Opportunities
Architects: AODA / OOS
About: A gem-like polygonal pavilion has been inspired by the Rock of Monaco, a 62-metre monolith on the Mediterranean coast, and promises to take visitors on a multi-sensory journey through mirrored exhibition spaces that replicate the sounds and smells of the French Riviera. The structure features two main exhibition areas. The Garden of Opportunities includes a variety of interactive experiences that will bring to life Monaco's warm, sunny climate, while 'Kaleidoscope' will showcase the country's art, culture, innovation, history and gastronomic traditions.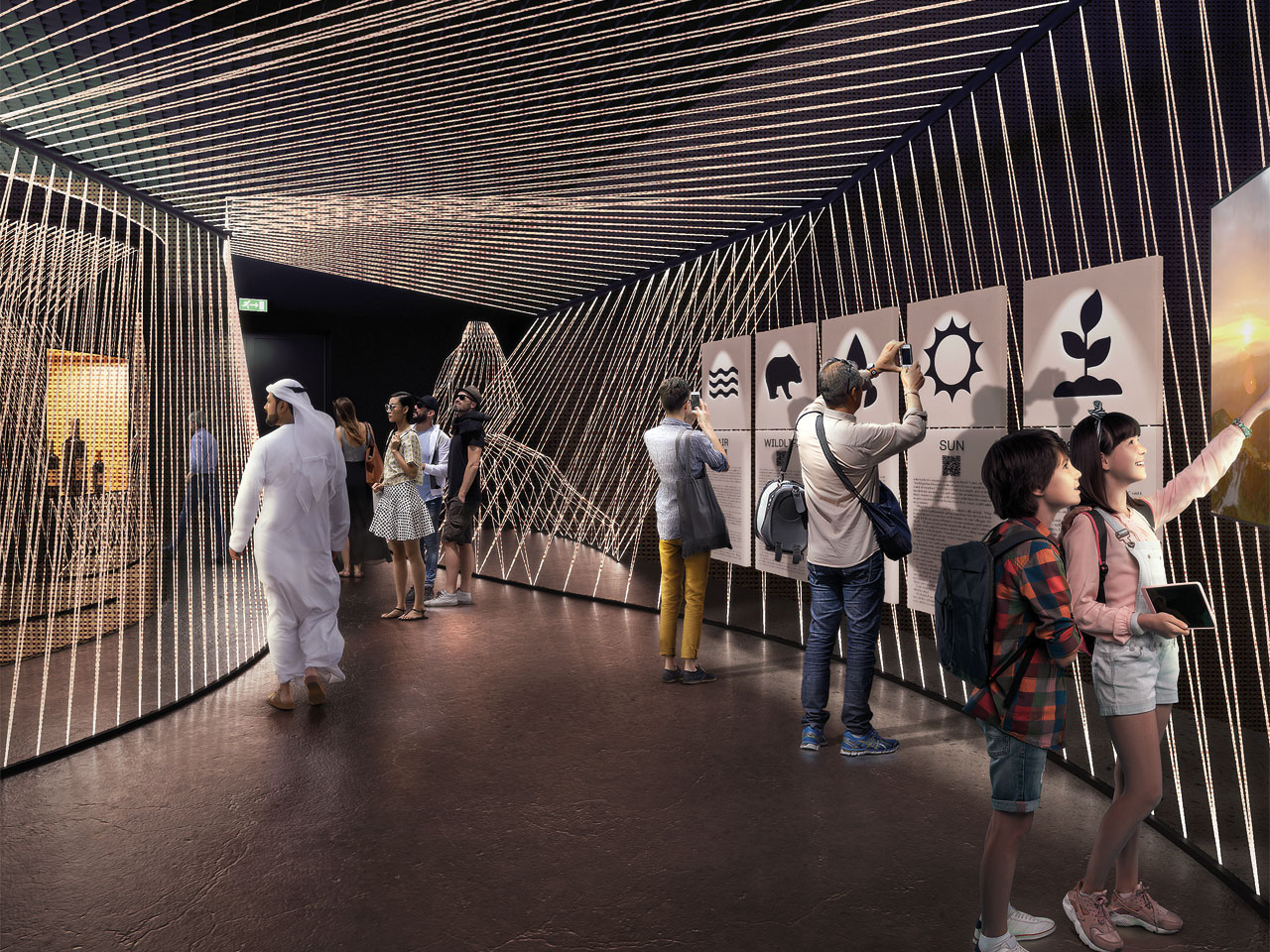 MONTENEGRO
Sustainability District
Theme: Montenegro – Blessed by Nature
Architects: Matija Vukovic
About: Visitors will be offered an insight into the country's multi-religious cultural heritage, its national parks, water resources and its diverse ecosystems while celebrating Montenegro as an open and safe investment destination. The richness of the nation's biodiversity will also be highlighted, as well as innovative efforts to strike a balance between man and nature plus its strategy for rapid economic development that seeks to preserve the environment for future generations. Visitors will be taken on a walk along a wool-woven path complete with a forest of lights.
MOROCCO
Opportunity District
Theme: A Kingdom of Inspiration
Architects: OUALALOU + CHOI
About: The pavilion architecture combines modernity and tradition with a building that has been inspired by ancestral methods of construction. Visitors will be offered an immersive experience as they venture along a continuous ramp that recalls the streets of the Moroccan medinas and its 'Wast Eddar' patio, symbolising the chance to seize opportunities in an innovative nation. There will also be a shop, gourmet restaurant and a tea room, along with the chance to enjoy one of the best views of Expo from the top of this vertical village.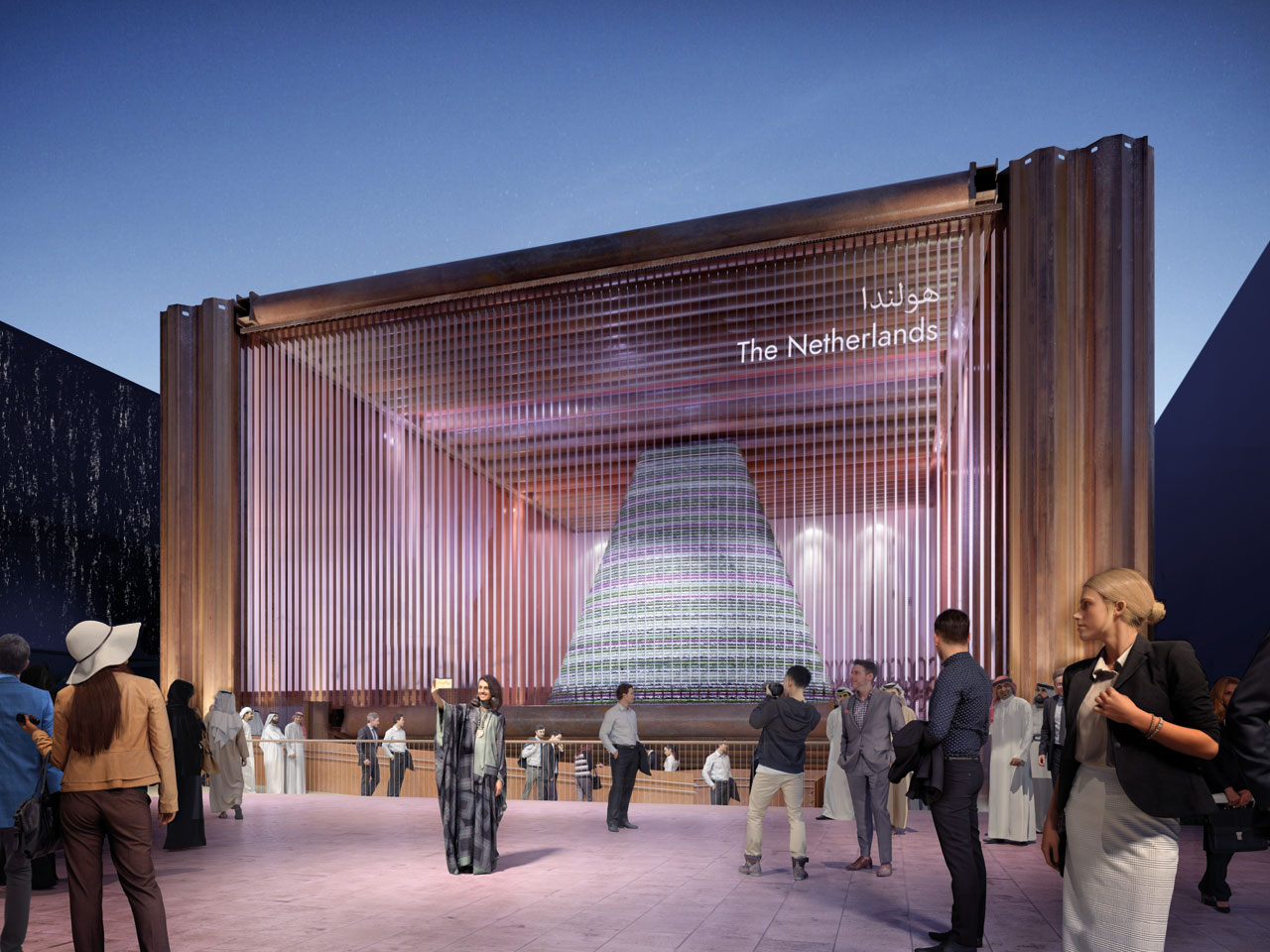 THE NETHERLANDS
Sustainability District
Theme: Uniting Water, Energy and Food
Architects: V8 Architects
About: The Netherlands has designed a pavilion which it says is "more a biotope than a building" thanks to the creation of a space that showcases how climate is controlled naturally, with water, energy and food being intrinsically linked. The biotope will also produce water harvested from desert air thanks to the use of solar power. The entire installation is being built from local resources and with locally rented materials, which after Expo 2020 will be given back or will go to a new destination, minimising its ecological footprint.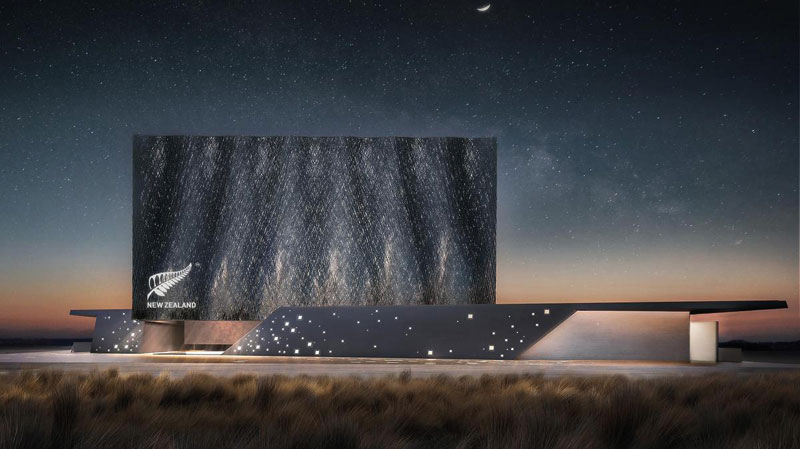 NEW ZEALAND
Sustainability District
Theme: Care for People and Place
Architects: Jasmax
About: The design of the pavilion was inspired by waka taonga, receptacles made by Māori, the indigenous people of New Zealand, to safeguard items of considerable intrinsic value and which were gifted to strengthen relationships, create new partnerships and maintain traditions. The pavilion's theme also reflects the Maori value of kaitiakitanga, which emphasises the deep kinship between people and the environment. Visitors will be able to experience New Zealand culture and values, cuisine and design as they explore the pavilion and its restaurants.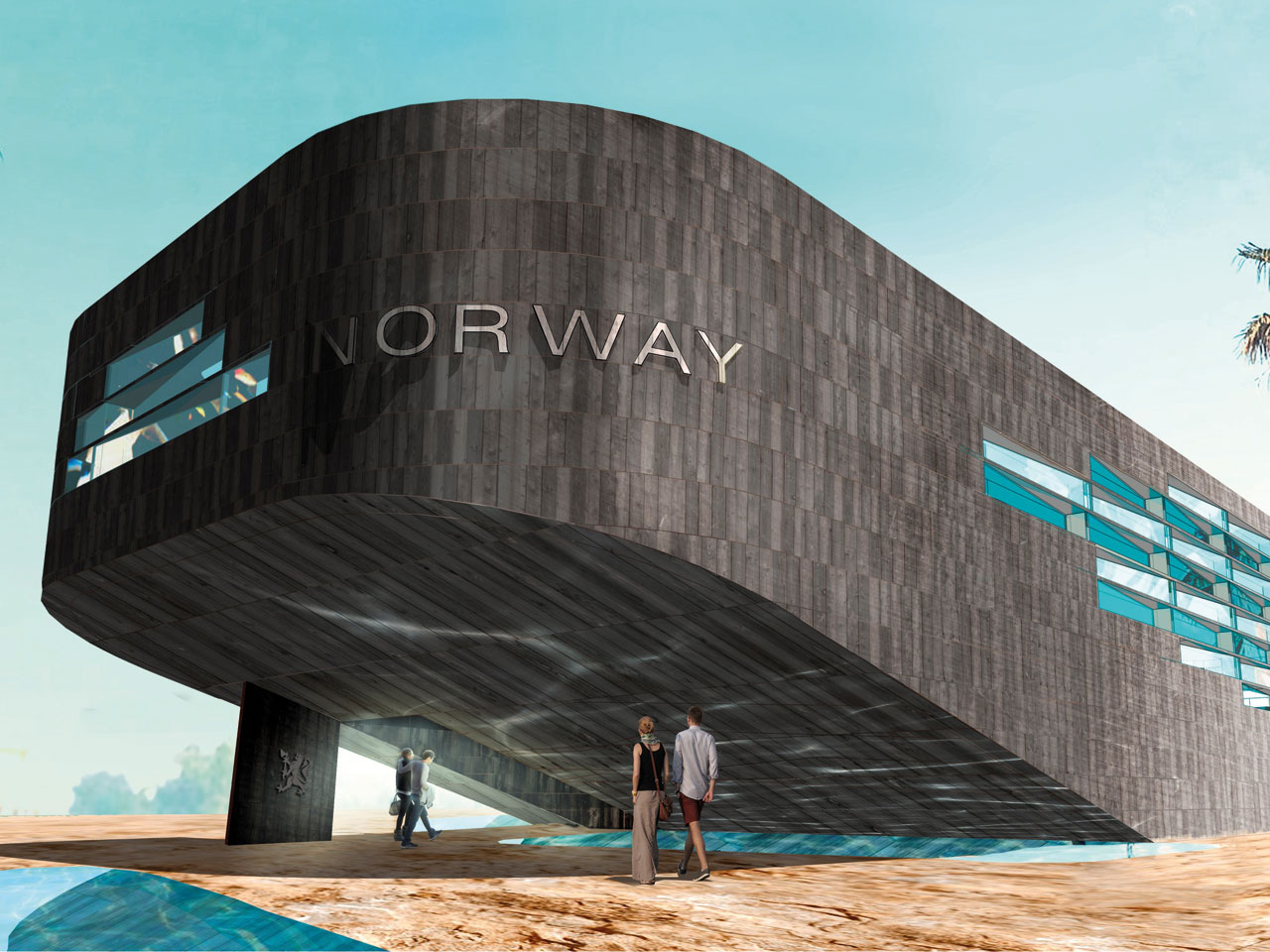 NORWAY
Opportunity District
Theme: Norway as a world-leading ocean nation
Architects: Rintala Eggertsson Architects / Expomobilia / FiveCurrents
About: The exterior of this pavilion was modelled on the shape of a ship and features aluminium and glass panels, while the interior boasts an underwater topography, encouraging visitors to explore the deep sea and learn about the importance of ocean conservation. Digitally guided tours will provide an insight into an often-hidden world, with fishing and Norway's rich maritime culture being brought to life both physically and with augmented reality, while there will also be the chance to control an underwater robot.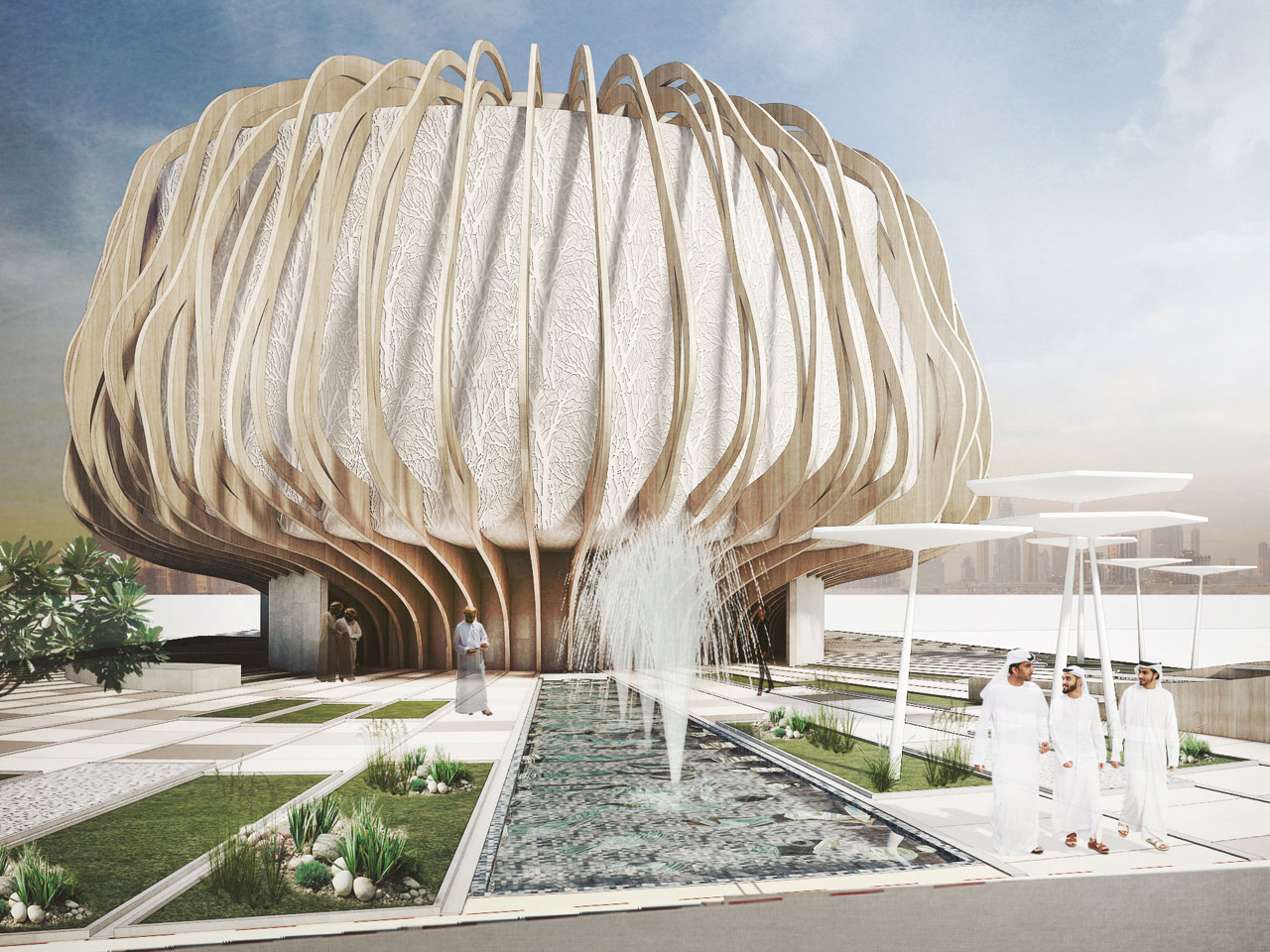 OMAN
Mobility District
Theme: Oman – Opportunities over Time
Architects: Adi Architecture
About: Frankincense, described as Oman's gift to the world, has played a vital and varied role in the nation's development, and this pavilion pays tribute to the valuable resin, recognised as a bridge between civilisations of the ancient world. The exterior resembles the tree that produces frankincense while inside there are five zones detailing the diverse ways in which it has benefitted Oman, spanning from medicine and food to cosmetics as well as sustainability through the care of trees and land.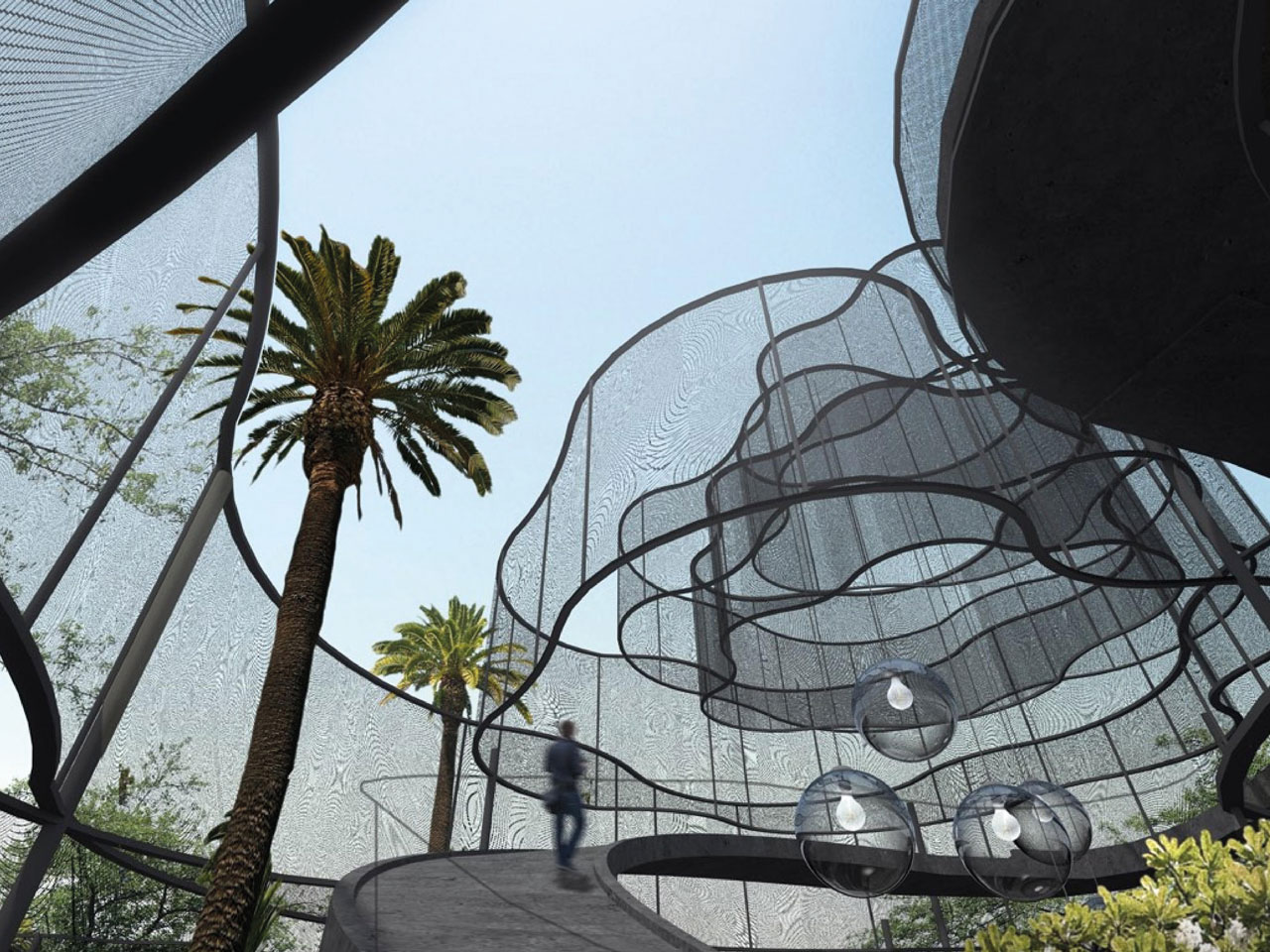 PHILIPPINES
Sustainability District
Theme: Bangkóta: Philippine Coral Reef
Architects: Budji + Royal Architecture + Design
About: This 3000-square metre pavilion has been designed to resemble a coral reef or 'Bangkóta'. It will be divided into eight zones featuring a tropical forest, an area detailing the country's rich natural heritage, a cultural area, the making of bangkóta, a store selling merchandise, a garden on the roof deck, a plaza and a café. The multi-level structure is built on the idea of connectivity and permeability, enabling visitors to experience the island nation and its resilient people as well as showcasing a vibrant vision of its future.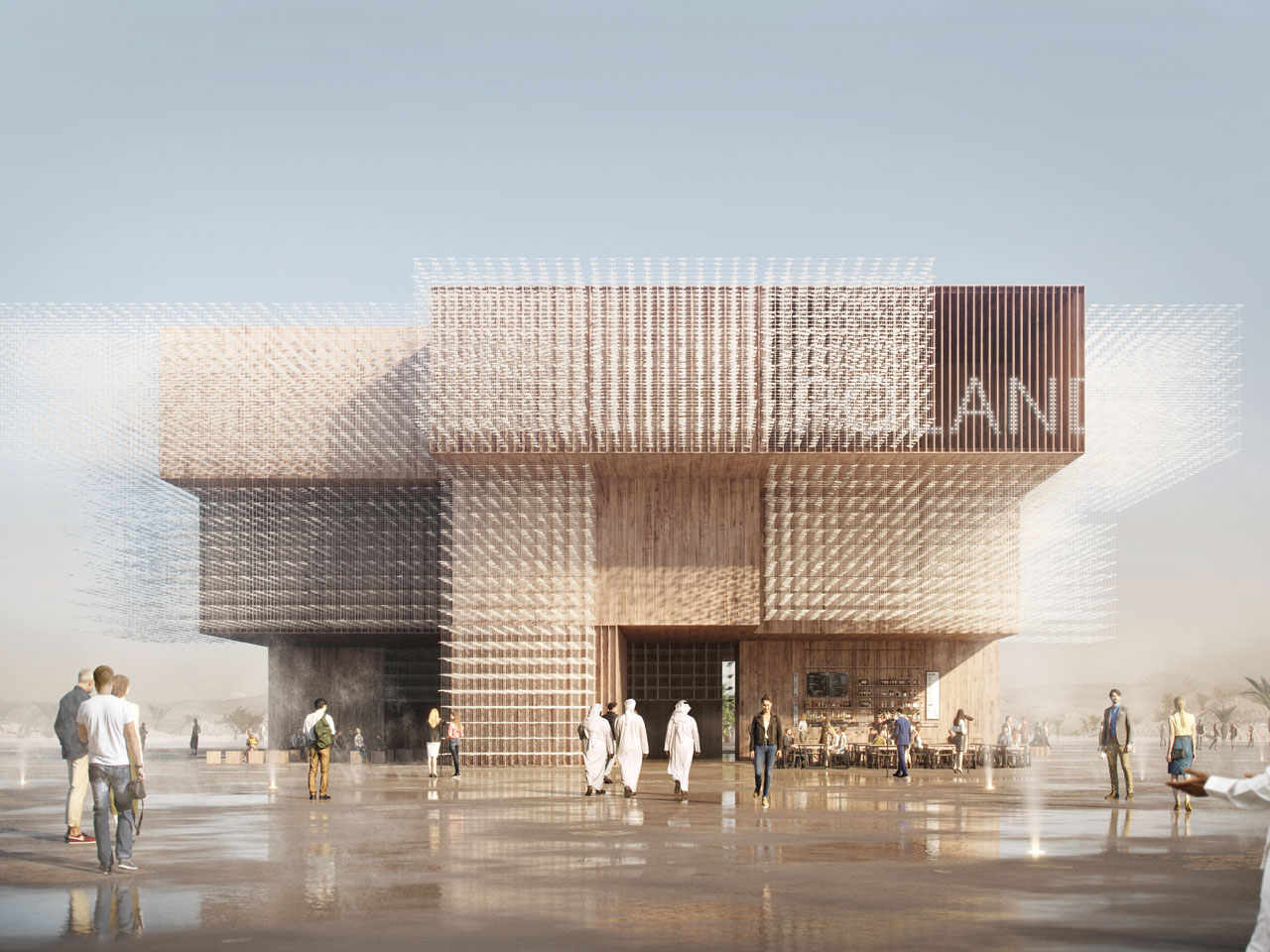 POLAND
Mobility District
Theme: Creativity Inspired by Nature
Architects: WXCA
About: The large-scale migration of birds from Poland to the Arab world has inspired the design of this tree-like pavilion, which sits on a plot of 2000 square metres. Thousands of paper birds hover throughout the wooden structure, which also explores the nation's diverse global connections as well as its role as a leading producer of goods. Visitors will be able to enjoy new displays of Polish culture and technology, while there will also be a dedicated children's zone.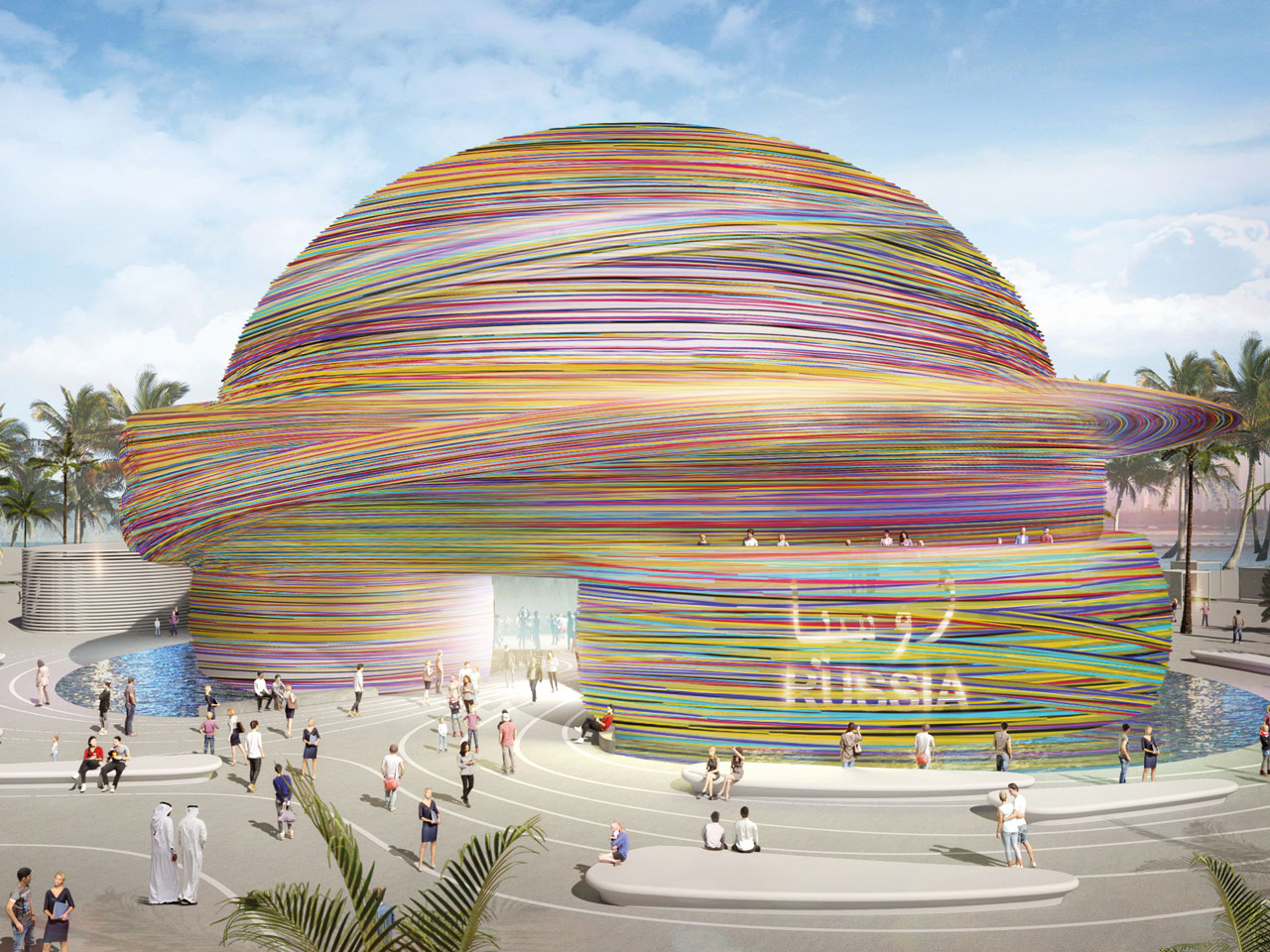 RUSSIA
Mobility District
Architects: Theban SPEECH / Simpateka Entertainment Group
About: This pavilion asks questions such as "How can we better understand each other despite our differences?", "How do we find our places in the world?" and "How will we connect people and minds without moving them physically?" And it helps visitors find answers by providing an insight into how Russia sees the future. It also showcases Russia's extensive knowledge in a wide range of fields and offers visitors the chance to experience the possibilities of tomorrow, as well as a variety of Russian food.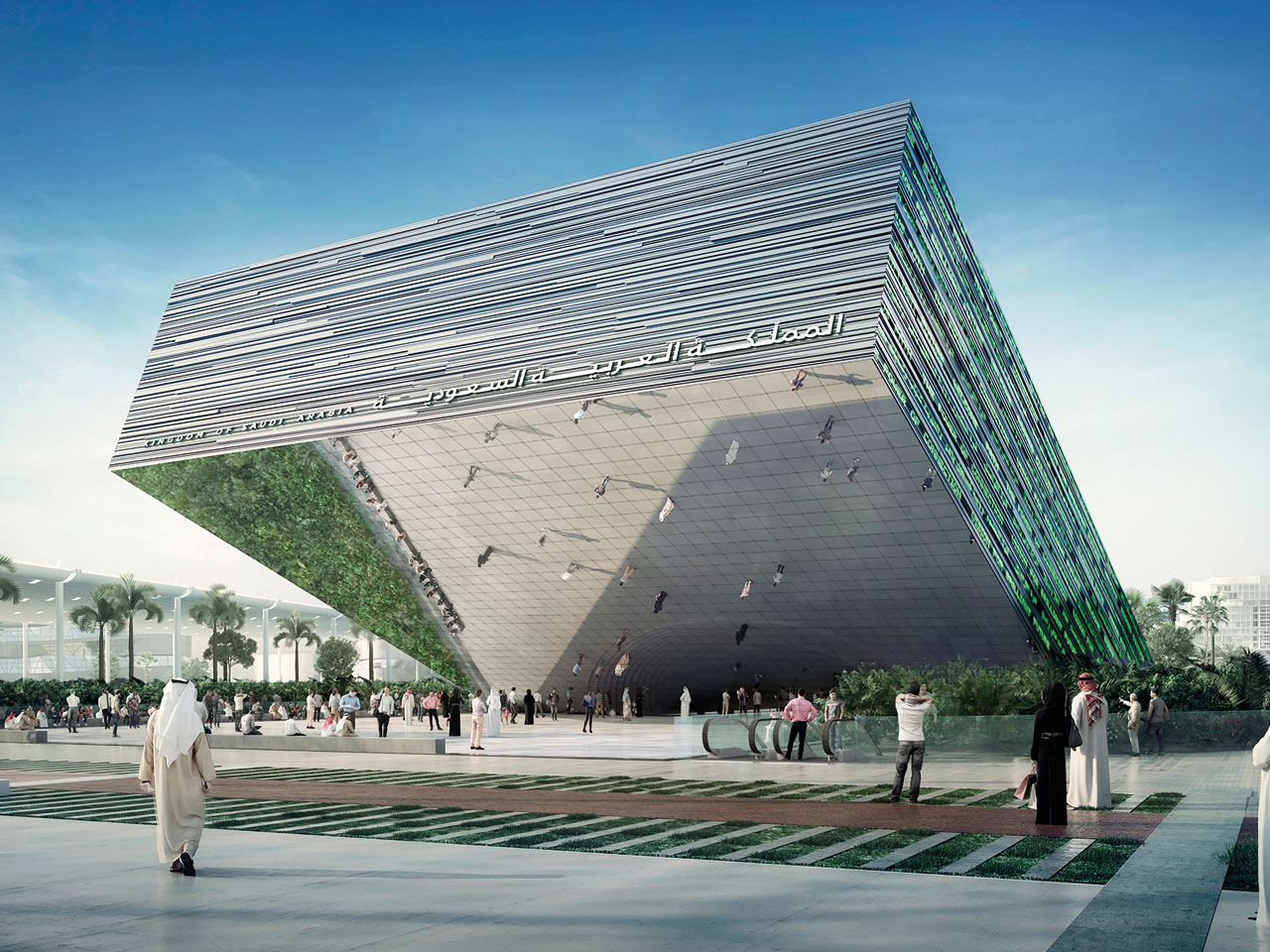 SAUDI ARABIA
Opportunity District
Theme: The Sky is the Limit
Architects: Boris Micka Associates
About: This pavilion covers an area equal to the size of two football pitches and resembles a huge window that opens up from the ground and reaches into the sky. It offers visitors an immersive experience of the Kingdom's transformation, tracing its traditions and laying out its ambitions for the future. The pavilion will also demonstrate how Saudi Arabia is shaping both its own and the world's future through balancing its rich heritage and natural wonders with the energy and creativity of its people.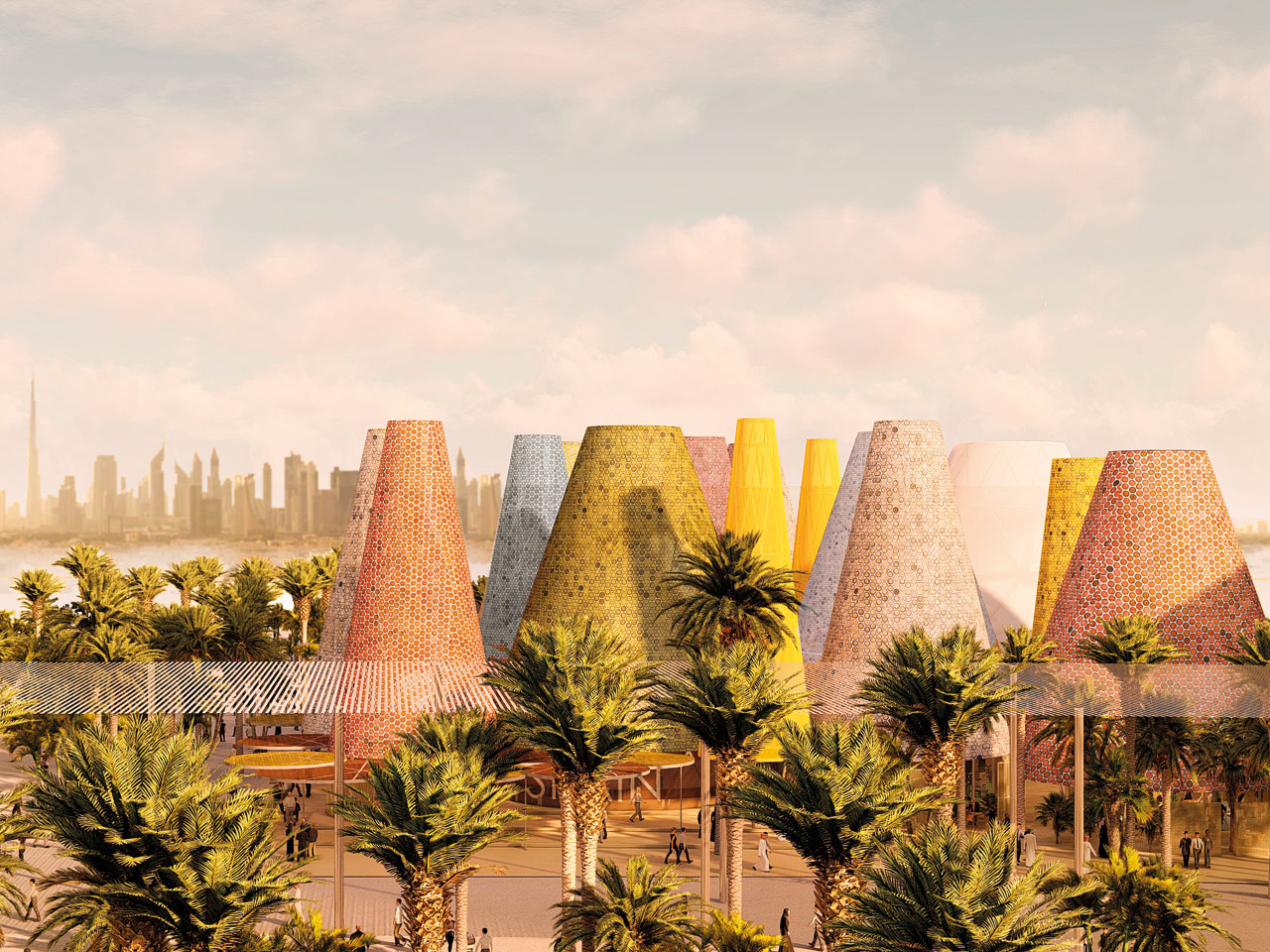 SPAIN
Sustainability District
Theme: People and Places
Architects: Amann-Cánovas-Maruri
About: A series of recyclable domes that encourages airflow provides a visual focal point for a pavilion that explores a range of subjects, from historical innovation and adventure to biodiversity and organ transplants. The structure's conical shape increases airflow to keep visitors cool as they enjoy traditional entertainment and delve into 800 years of Islamic rule in Spain, while they can also enjoy small 'town squares' to rest, shop and eat in. The pavilion is constructed from reusable materials including wood, iron and fabric.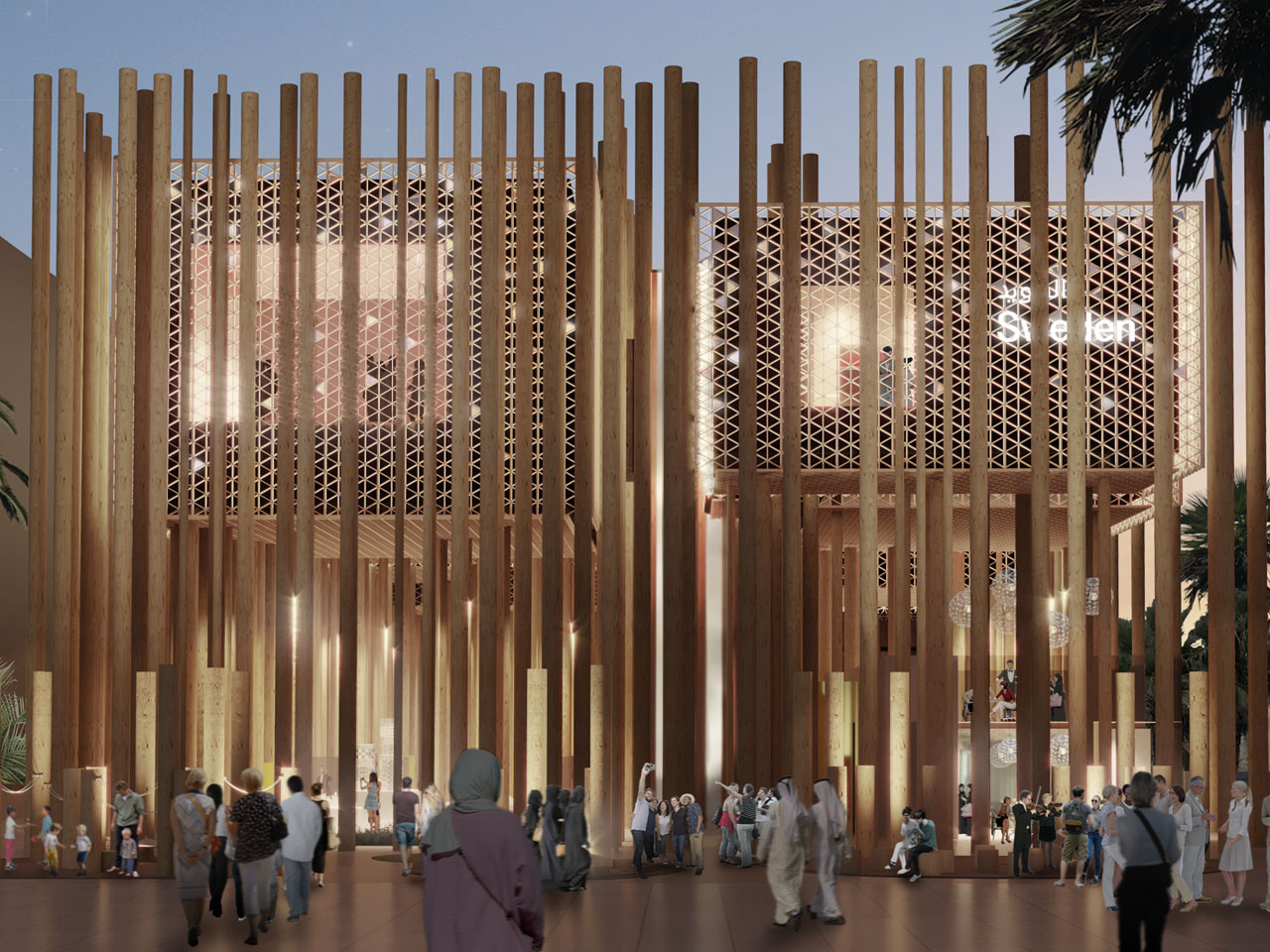 SWEDEN
Sustainability District
Theme: Co-Creation for Innovation
Architects: Alessandro Ripellino Arkitekter / Studio Adrien Gardère / Luigi Pardo Architetti
About: The architecture of this pavilion has been inspired by Scandinavian woodlands and Islamic geometric design, and showcases a unity between Western and Eastern culture. Visitors can stroll through a forest on the ground floor, discovering the innovative identity of Sweden and how the country is building smart cities, developing the next generation of travel, innovating life sciences and developing a bio-circular economy. There is also the chance to enjoy relaxing views over the Expo site and fika – a Swedish coffee break.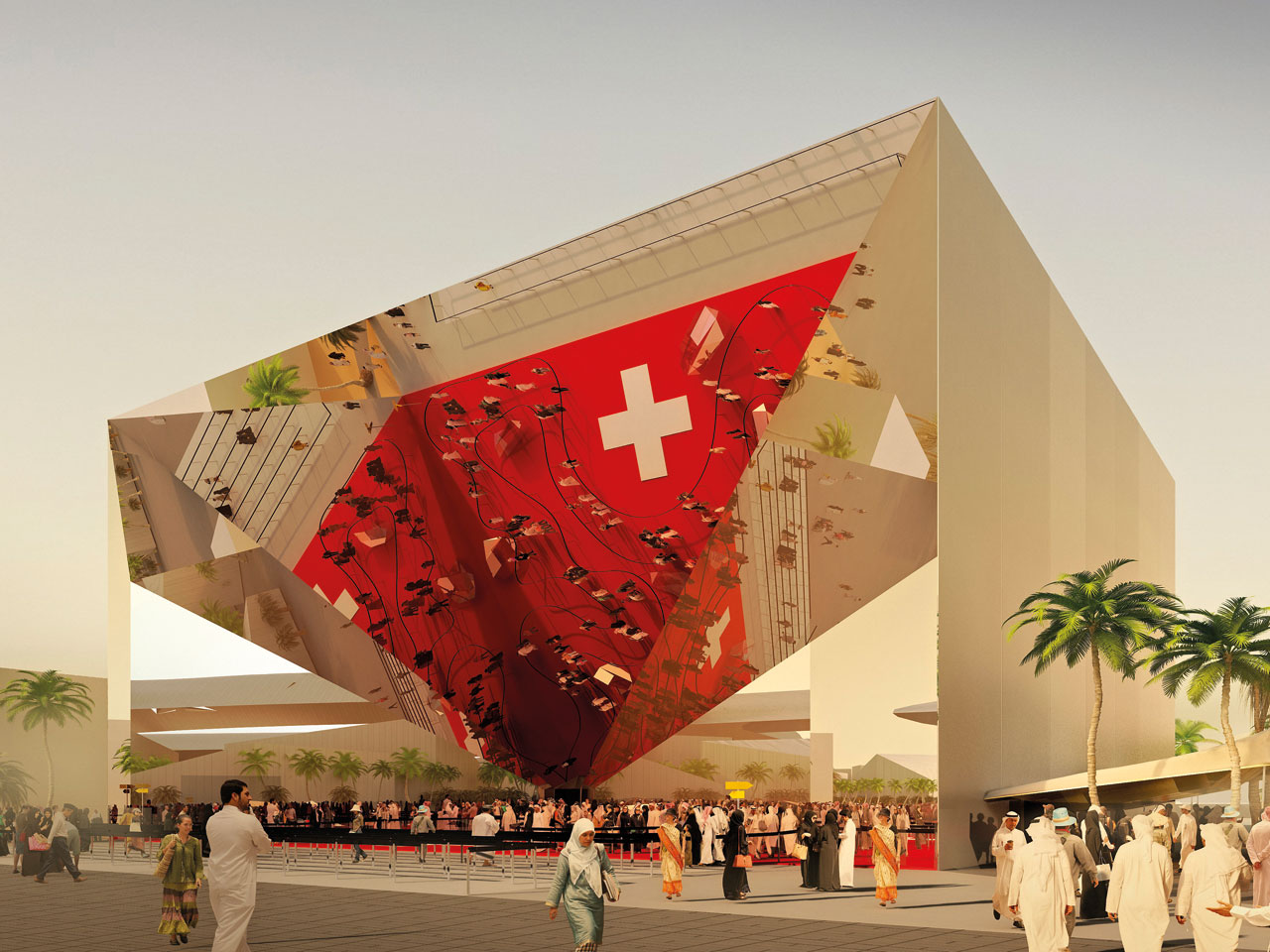 SWITZERLAND
Opportunity District
Theme: Belles Vues (Beautiful Views)
Architects: OOS
About: This pavilion makes a bold architectural statement, being created from scaffold elements and textiles that reference temporary Bedouin tents and which can be easily installed and removed. Visitors can 'hike' through a showcase of the country's cultural values and progressive ideals, heading up to the rooftop for views of the Expo site or to taste some of Switzerland's national specialties. There will also be exhibitions highlighting Swiss innovations, the services and products of private-sector partners, and the Swiss tourism sector.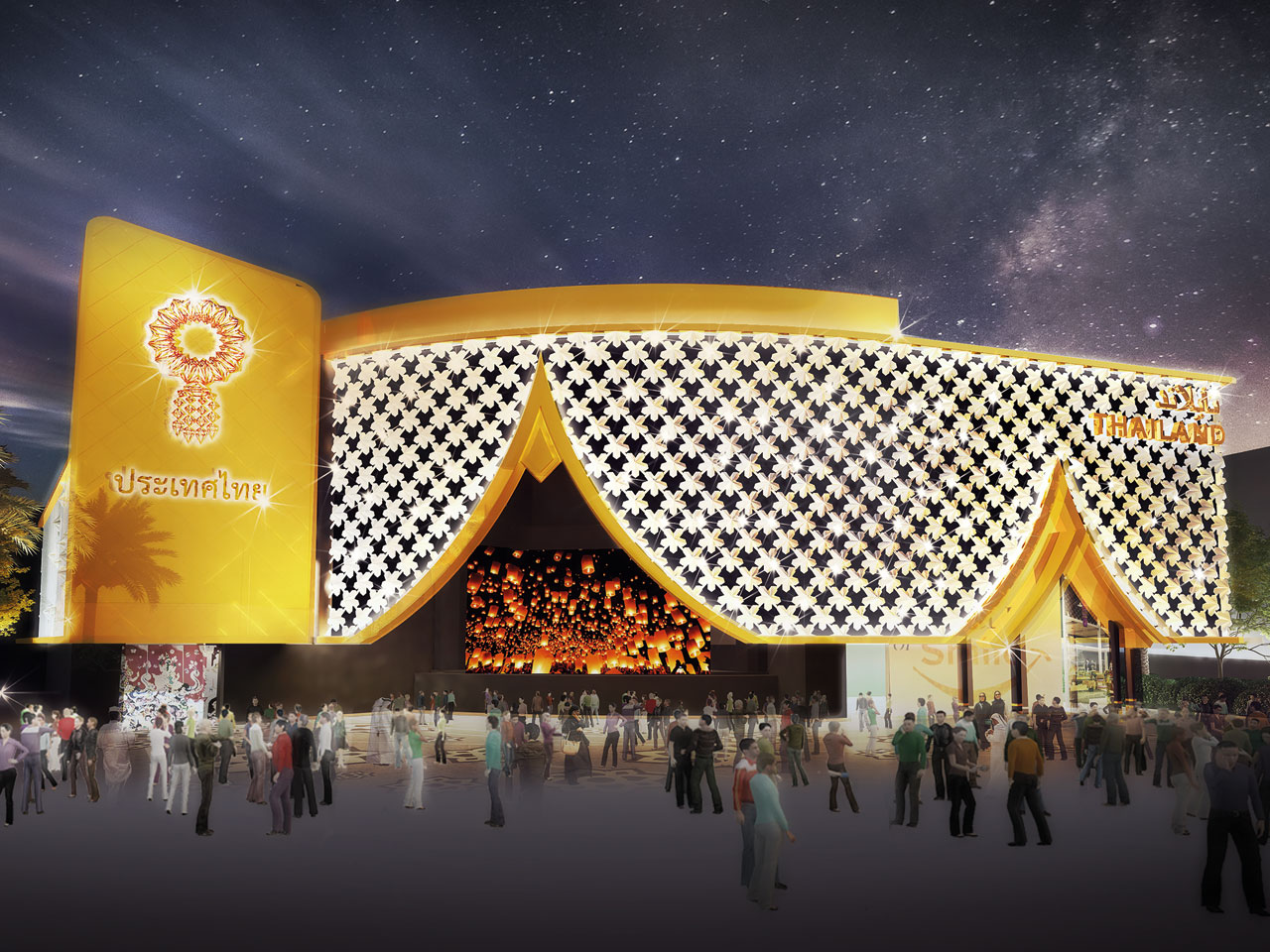 THAILAND
Mobility District
Theme: Mobility for the Future
Architects: Index Creative Village
About: A curtain of more than 500 woven artificial flowers will cover the outside of this golden pavilion, which will showcase Thailand's digital capabilities with the aim of attracting international investors through the concept of 'Digital for Development.' The gable roof, a defining feature of Thai architecture, has been utilised at the entrance of the pavilion to express the delicacy of Thai greetings, while inside there are four technology-driven exhibition halls. Solar orientation and natural shading will reduce the power and energy requirements of the pavilion.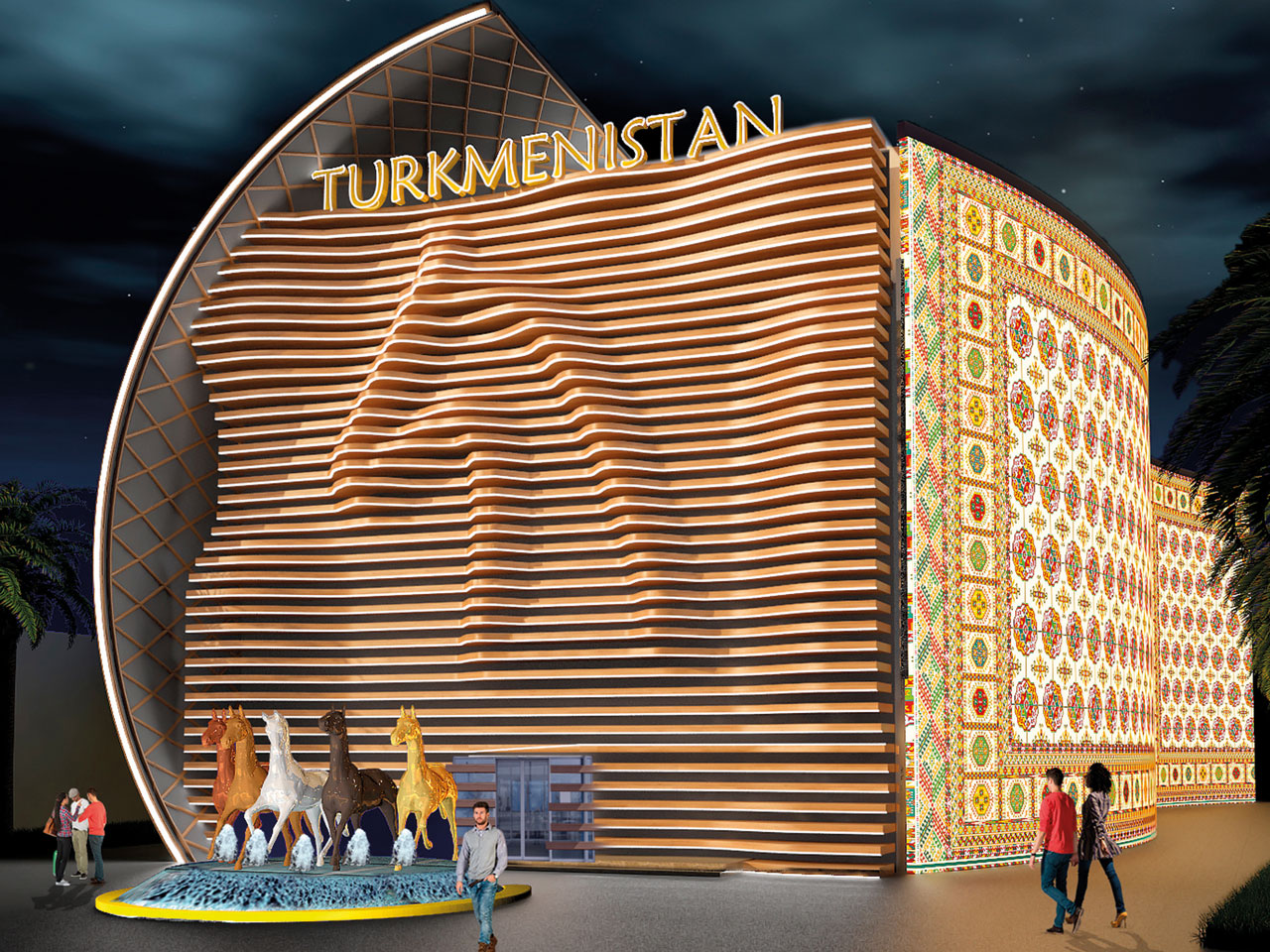 TURKMENISTAN
Mobility District
Theme: Power of Five
Architects: Tekmil
About: Visitors will be greeted by a fountain sculpture featuring five Akhal-Teke horses – Turkmenistan's national emblem and an animal known for its speed, endurance and distinctive metallic sheen – and a 50-metre LED façade depicting the country's attractions. The pavilion will further highlight the nation's agricultural connections through elements that represent wheat, cotton and wind, with a 'digital crop' that will move and grow as it responds to touch. Turkmenistan's modern achievements, development priorities and international ties and progress towards sustainable development goals will also be showcased.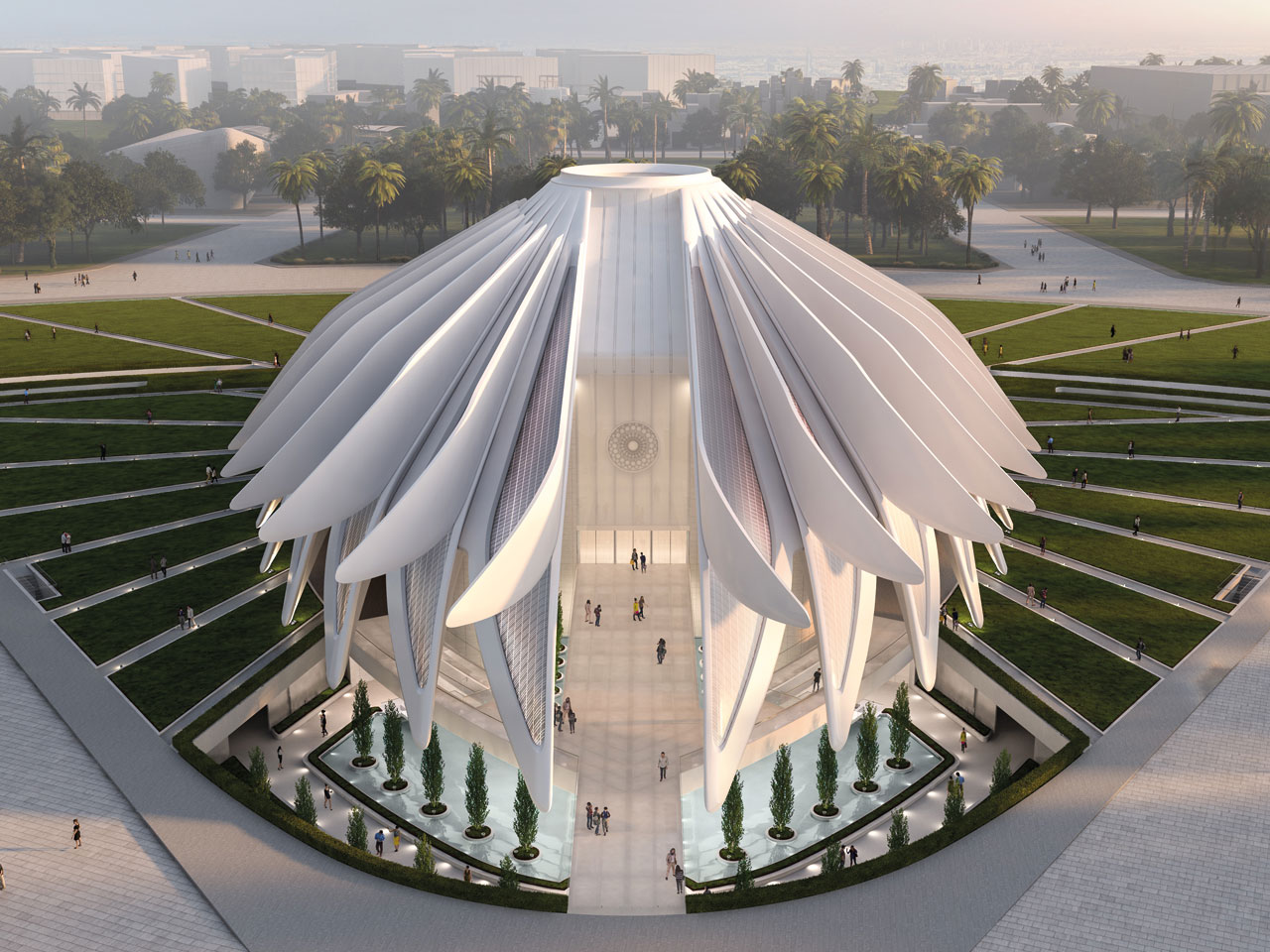 UNITED ARAB EMIRATES
Architect: Santiago Calatrava
About: Designed in the shape of a falcon in flight, this pavilion will tell the history of the nation as a connected global hub, and the vision of its leaders to create a peaceful and progressive society with ambitious plans for the future. It will be four stories tall and cover an area of more than 15,000 square metres with the uppermost level dedicated to hospitality. A 588-square metre mezzanine floor will accommodate support units, with the two remaining floors featuring more than 12,000 square metres of exhibition space showcasing Emirati culture.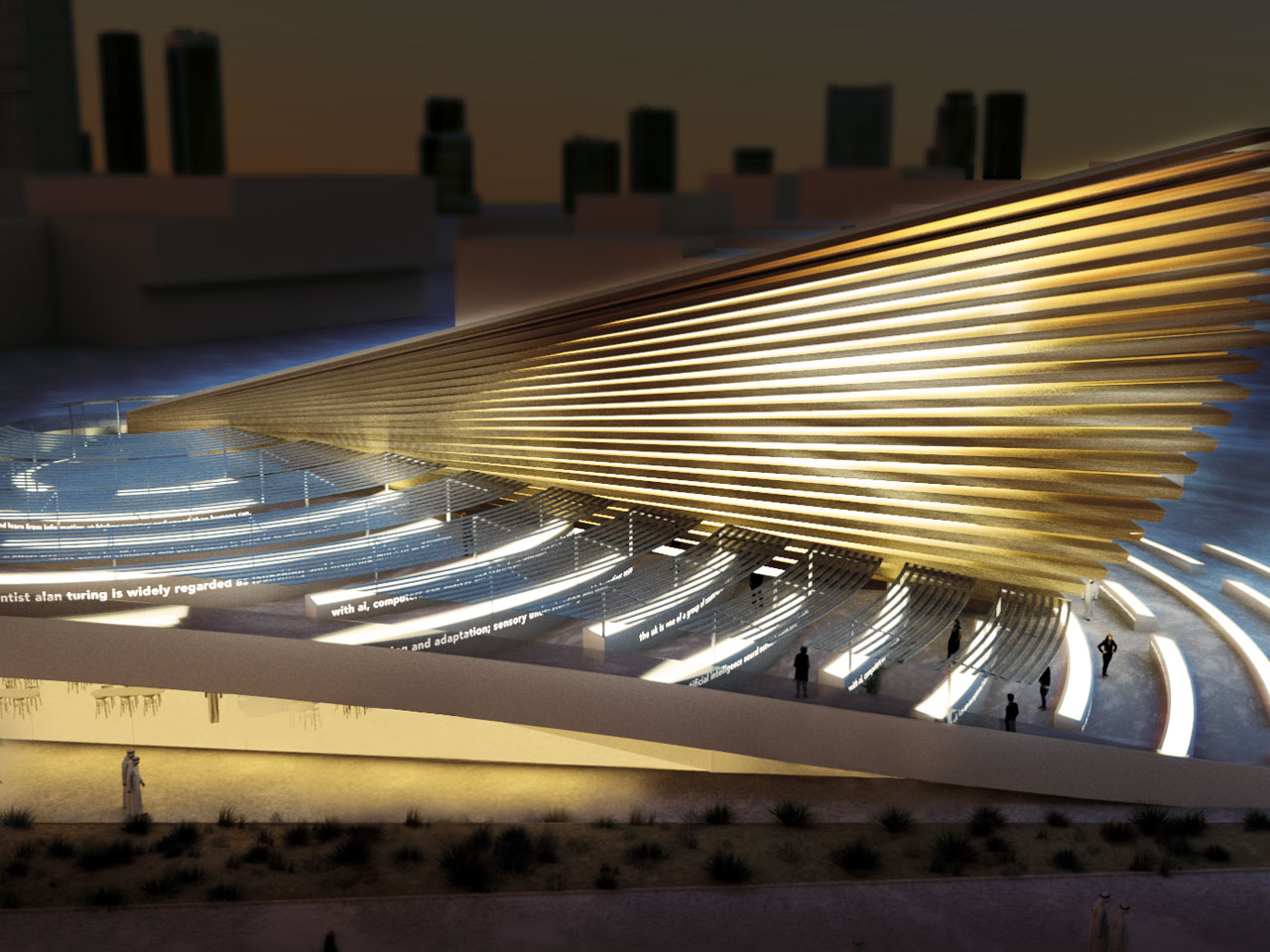 UNITED KINGDOM
Opportunity District
Theme: Innovating for a Shared Future
Architects: Es Devlin Studio / Avantgarde / Veretec
About: The late scientist Stephen Hawking inspired this pavilion by pondering how humanity could express itself to an extra-terrestrial civilisation. The 20-metre-high structure will be composed of protruding slats that extend outwards to form a circular façade featuring an ever-changing poem created by Expo visitors. People will be able to donate one word in Arabic, English or Chinese. The pavilion will also offer a glimpse into the future, exploring subjects that range from the commercialisation of space to creating exoskeletons for the disabled.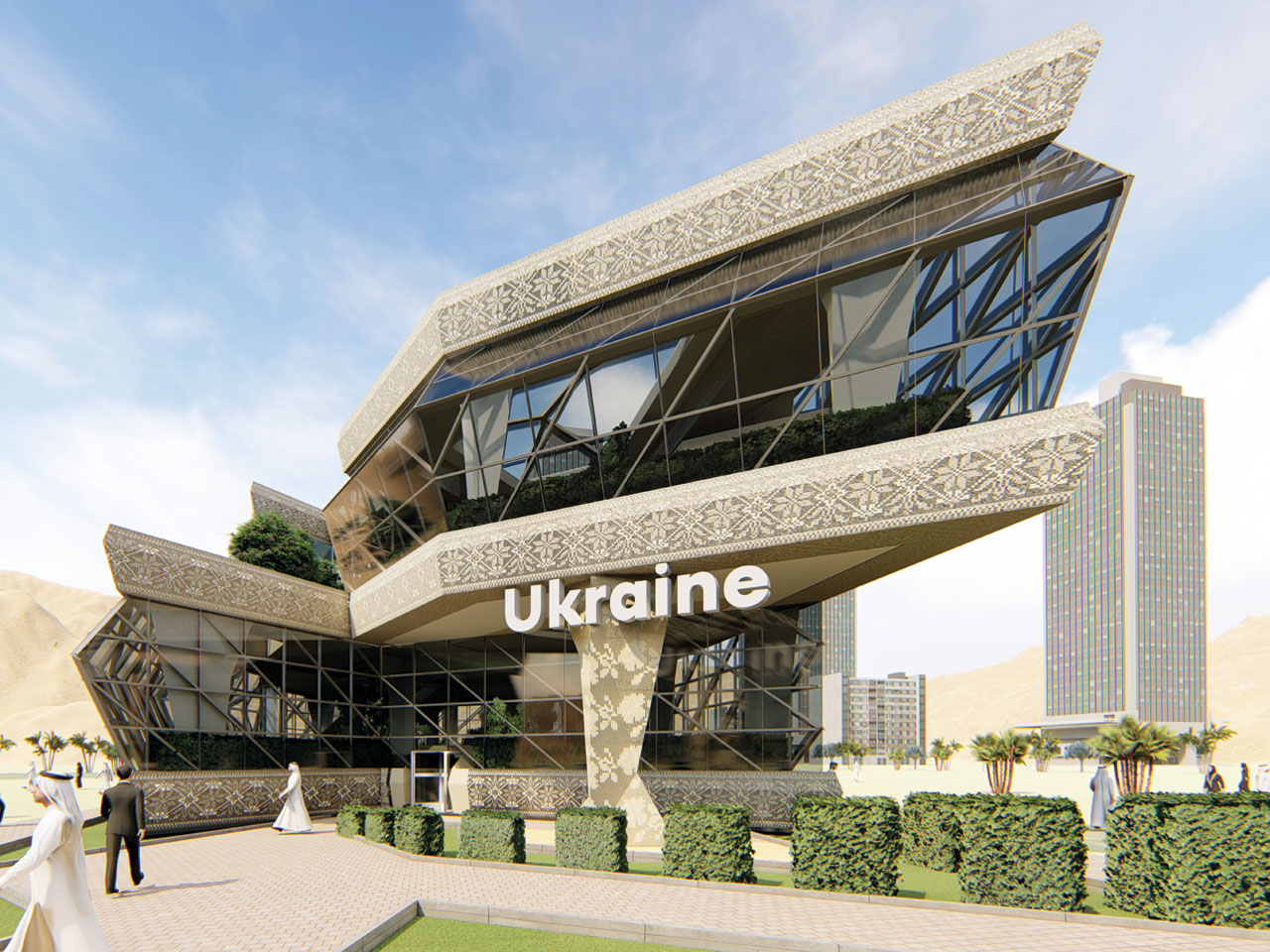 UKRAINE
Opportunity District
Theme: Smart Ukraine: Connecting Dots
About: This pavilion will accommodate three zones – Smart life, Smart thinking and Smart feeling – to showcase the innovative spirit of Ukraine and explore its cultural heritage. Inventions on display will range from an e-bike that can travel 380 kilometres on a single charge to blinds that use sunlight to generate electricity. The pavilion will use picturesque flora to create a restful experience for visitors, who will also be able to enjoy an entertainment programme that includes fashion shows, topical seminars and creative performances.