HP's ZBook x2 is the latest in the hugely popular Z workstation series and HP's most powerful detachable PC.
With a high specification and a rich suite of features, the ZBook x2 is ideal for designers looking for an accurate, reliable, flexible and comfortable workstation.
Its anti-glare touchscreen incorporates what is claimed to be HP's most advanced detachable PC display. Able to show up to a billion colours, the 10-bit, 100% Adobe RGB, 4K multi-touch ultra-HD DreamColor display makes it comfortable to work in any lighting environment.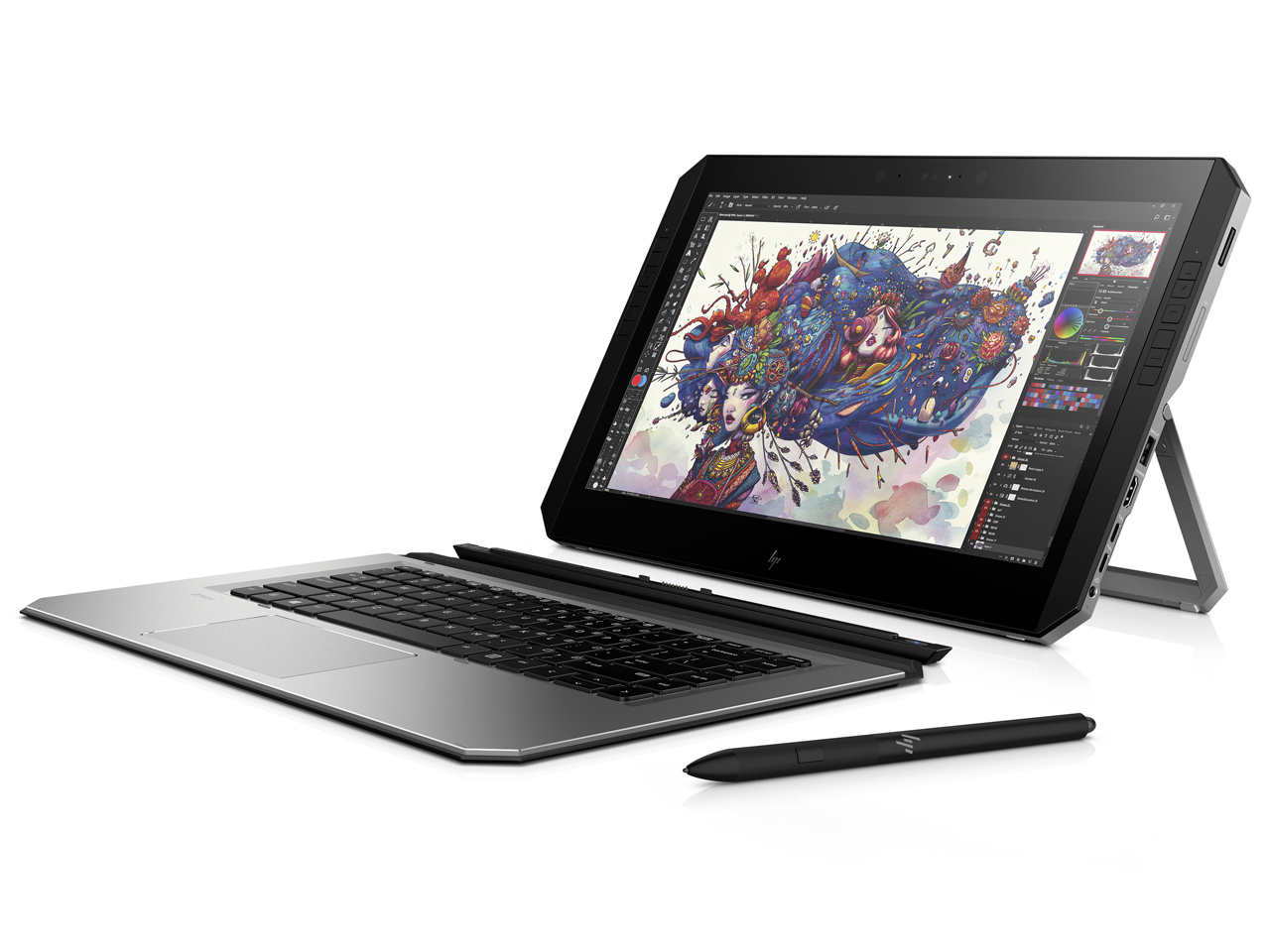 An invaluable and unique feature of the tablet is its HP Quick Keys, which are positioned on either side of the screen. The Quick Keys are fully customizable – for example, to operate 18 Adobe app shortcuts – making it easier to work without the keyboard when desired. Additionally, the Quick Keys can be used to turn the touchscreen function off, avoiding accidental actions.
With a unique matte surface, the touchscreen feels natural to write on, as though writing on paper. A Wacom EMR pen is supplied as standard, which is quick to respond, never needs charging and has almost 4,100 pressure-sensitive levels – both when writing and erasing – plus tilt sensitivity.
The detachable Bluetooth keyboard of the HP ZBook x2 provides flexibility and control, especially for designers who use keyboard shortcuts. The keyboard charges while attached to the main tablet and so requires no connecting cable when separated from the tablet. It incorporates a touchpad – making it possible to utilise the gestures of Windows 10 Pro.
Designers will also appreciate the flexibility and comfort delivered by the x2's built-in stand. Turning through more than 160 degrees, including nearly flat, it allows users to choose their ideal position for use.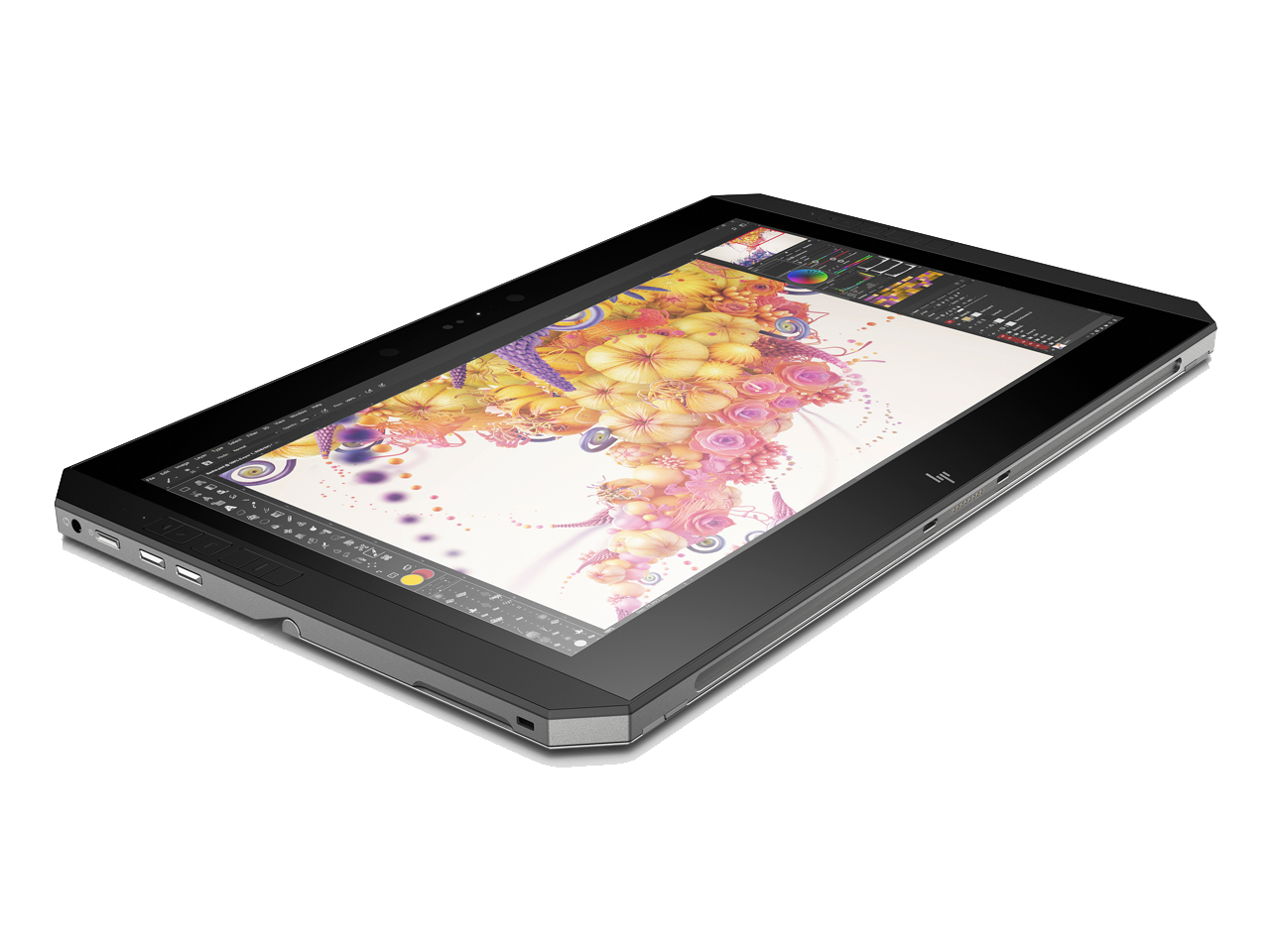 Users can also connect their ZBook x2 to dual 4K displays using the HP ZBook Dock with Thunderbolt 3.
The ZBook x2 is as powerful as it is vivid and flexible. At its heart are quad-core Intel® Core™ i7 Processors and Intel® Turbo Boost Technology, together with NVIDIA® Quadro® graphics.
With 32 GB RAM Dual Channel Memory, ZBook x2 has twice as much memory as any other detachable PC, while its HP Z Turbo Drive storage is four times faster than SATA SSD and 14 times faster than traditional HDD storage.
Those who use their ZBook x2 while on the go will appreciate its battery life of up to 10 hours, as well as its ultra-fast recharge – enabling it to charge the battery up to 50% in just 30 minutes.
Two Thunderbolt 3 (USB-C) ports are included as standard, as are an HDMI 1.4 port and a USB 3.0 port. Designers using digital cameras, in particular, will also appreciate the fact that an SD card slot is provided.
Bang & Olufsen speakers are also standard, delivering excellent quality sound.
The HP ZBook x2 has also been tested to the intensive MIL-STD 810G standard, providing protection against the shocks, drops and vibrations that can easily occur when travelling and moving around.
In line with its brief, the ZBook x2 can be purchased with a bundled license of the Adobe Creative Cloud Suite preinstalled. The available specification has been configured to meet the needs of creative roles and the Adobe applications they commonly utilize, specifically professional digital artists and photographers (most likely to use Photoshop, Illustrator, InDesign and Lightroom). If you use a different set of applications and need help finding a device most suited to you, you can visit hp.com/go/z to access HP's workstation selector tool.
You can buy your workstation now, from here.