Having worked on residential palaces and top hospitality projects including the Burj Al Arab, Grosvenor House Dubai and W Hotel The Palm, Neel Shukla is synonymous with dramatic lights and installations.
In retrospect, the Burj Al Arab marked the beginning of my career in the UAE. It placed Dubai at the epicentre of design and hospitality in the world. For many newcomers this iconic structure became an inspiration and fuelled visions for growth and expansion. 
There is a growing trend for customisation and one-off bespoke design lighting masterpieces. We are challenged to design and develop jaw-dropping lights every day. Our creative bandwidth is constantly 'on steroids'.
W Dubai, The Palm represents a turning point in my company's large scale art sculpture development and manufacturing capacities. The W signage is made of steel and weighs 5500 kilograms and erecting it on The Palm, where it sits on the edge of an elevated grass bed, was a tremendous challenge. It was truly a joint art and engineering project involving lots of research to produce and complete.
The ambitious VIDA sculpture project for Mafraq Hospital in Abu Dhabi comprises four unique sculptures of more than five metres in height and two metres in width, weighing over one tonne each. The sculptures were fabricated as a single unit, making this one of our most challenging assignments. As the sculptures are erected on a water feature, a suitable material for this environment and installation had to be considered.
Our move to Dubai Design District (d3) and the creation of a boutique showroom coincides with our company's rebirth. With our new identity, chic new flagship gallery and product offering, both for retail and private projects, we have entered a new phase.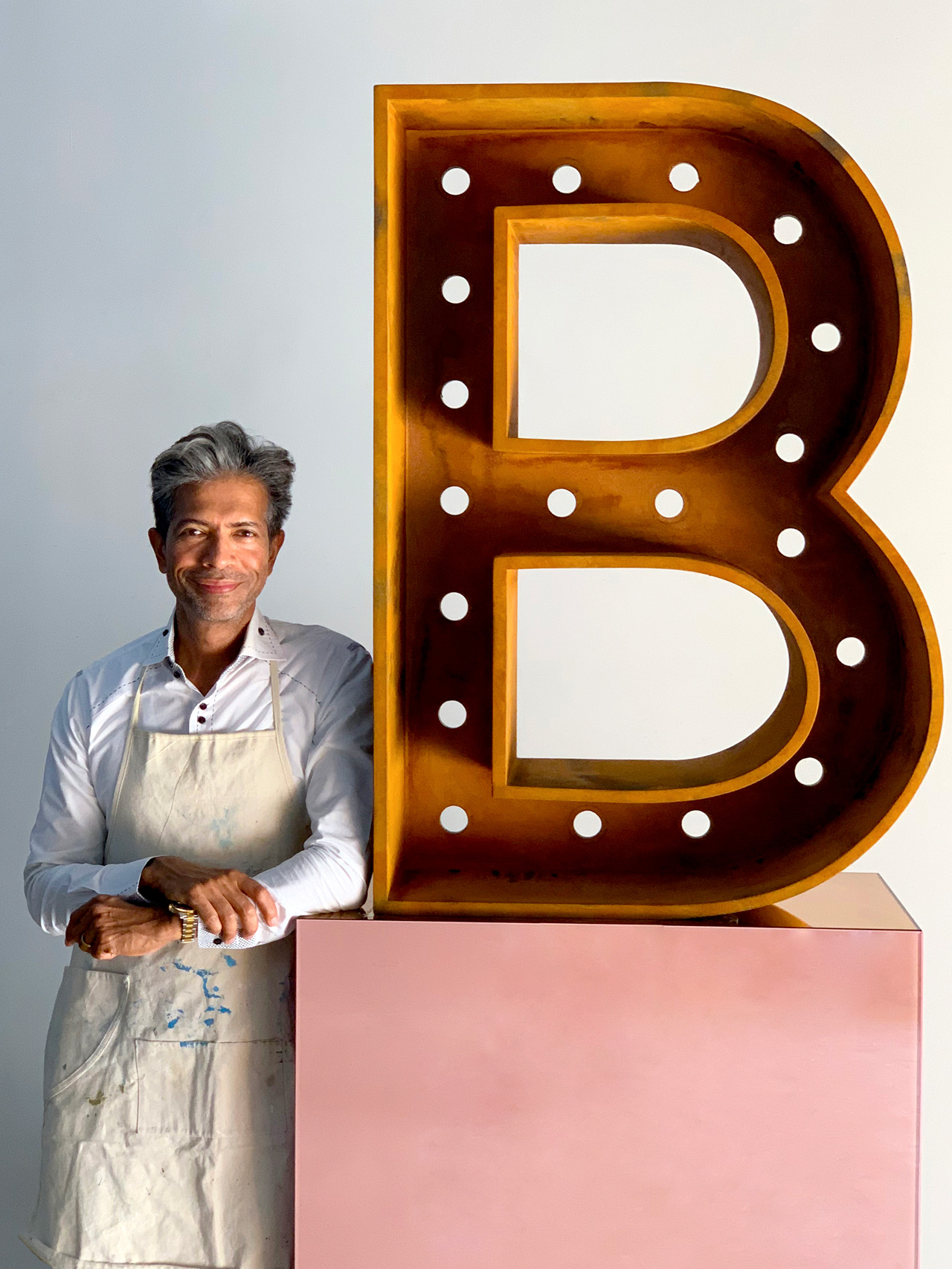 Our new name and identity suits our work and focus on international projects. The name of our gallery for the last 15 years was Four Seasons Ramesh Gallery (FSRG), and in my personal opinion that was too long. I wanted to simplify it yet keep the identity of the brand. After almost a year of contemplation I decided on IV (Four).
Our partnership with Jonathan Adler has created a unique design buzz in d3. Adler has always been a design rebel. He always recounts how his professors had no faith in his design capabilities, which inspired him to persevere and achieve his goals.
For nearly 50 years, our lighting design partner has been Robert Sonneman, a pioneer of contemporary lighting, who worked as CEO of Ralph Lauren Home Product Development, founded his own lighting company and has had his eclectic modular fixtures and work exhibited at museums all over the United States.
I have always admired Steve Jobs; the way he was able to incorporate tech with design was astonishing.
Jacques Garcia is my top design icon. My first visit to Hôtel Costes and coincidently meeting him was surreal; I was immediately drawn into his eclectic design world. I appreciate his understanding of art and history and how he has integrated this philosophy into interiors for hotels and homes. He merges Arabian and Napoleon II styles with furniture, artworks and lighting, and creates spaces which arouse passion; this is his gift.
Nature has always inspired me. We always remember a beautiful sunset and the gradual dimming of the light as evening progresses. In the same way, lighting is the most essential element for any space. We try to incorporate lights in our home and yet many times the effects are over-exaggerated.
When investing in light fixtures make sure the dealer prepares a scaled presentation, in order to avoid miscalculations in actual sizes. This can lead to expensive mistakes and lost time. My basic tip is to always ensure light fixtures are installed with dimming systems.
2020 will be an exciting year and the world will gather in Dubai for Expo 2020. Our new identity has come at the perfect time – we have many opportunities to showcase our brand to new audiences.