This year marks the 60th anniversary of the Salone del Mobile, which once again became the home for the latest in design. Following a year-long hiatus, brands have had time to reflect on their concepts for new living spaces. This edition saw a plethora of ideas: the importance of modularity and adaptability; a return to brighter, more colourful spaces; a renewed sense of theatricality; a commitment to the environment; and the honouring of heritage. Here are identity's picks of the latest pieces defining the home.
Optical illusion
Alain Gilles has created a number of successful pieces for Bonaldo, and the Dogma bookshelf is his latest addition. Playful and modular – an approach that is becoming increasingly prominent in the design arena – the bookshelf plays with different shapes and juxtapositions of modules that give it a variety of visual effects, depending on its position in a space. It is designed around the basic element of the teardrop-shaped uprights, which enables a change in visual perception, allowing the design to become rounded and soft, or sharp and narrow, depending on the angle from which it is viewed. Comprising three modules, Dogma can be configured to taste and placed along a wall or left free-standing to double as a partition.
Miniature Architecture
Pedrali's vibrant collections of this year are a culmination of relaxed forms and harmonious volumes that are not afraid to incorporate a funky colour palette. One of such pieces is the contemporary modular sofa system, Jeff, designed as a set of 'miniature architectures' that combine to create reconfigurable scenarios The square backrest pairs with a delicate seat that softens its overall volume and adds balance to the structure. The lining is removable for easy maintenance while connecting hooks make it possible to dismantle and customise the sofa to adapt to the evolution of a space.

Metal head
Run by Oskar Zięta, Zieta Studio specialises in technology-backed collectible objects and is known mostly for its collection of metal seating, manufactured using the FiDU technology through which it experiments with forms and qualities of various metals. Balancing function and aesthetics, its pieces are both functional and decorative. The design studio premiered its entire roster of products this year, with mono-material approach. Some of the key pieces include the Morph table, which is based on parametric design exploration and draws inspiration from tree branches to shape the interwoven legs, and the steel rotation vase.
Tropical Inspiration
One of the leading designers defining the Poliform point of view on contemporary living is Jean-Marie Massaud, whose Ube stool is described by the brand as an "element of rupture". Its sculptural and contemporary form is a nod to the art world, and the pieces itself is not unlike a functional piece of art serving the living area. Inspired by the seed of coco de mer, a tropical fruit famous in the Seychelles for its evocative and sensual shape, the stool has a distinctive concave figure that forms a comfortable cradle to sit on – and is made from a block of solid wood in a classic black elm finish.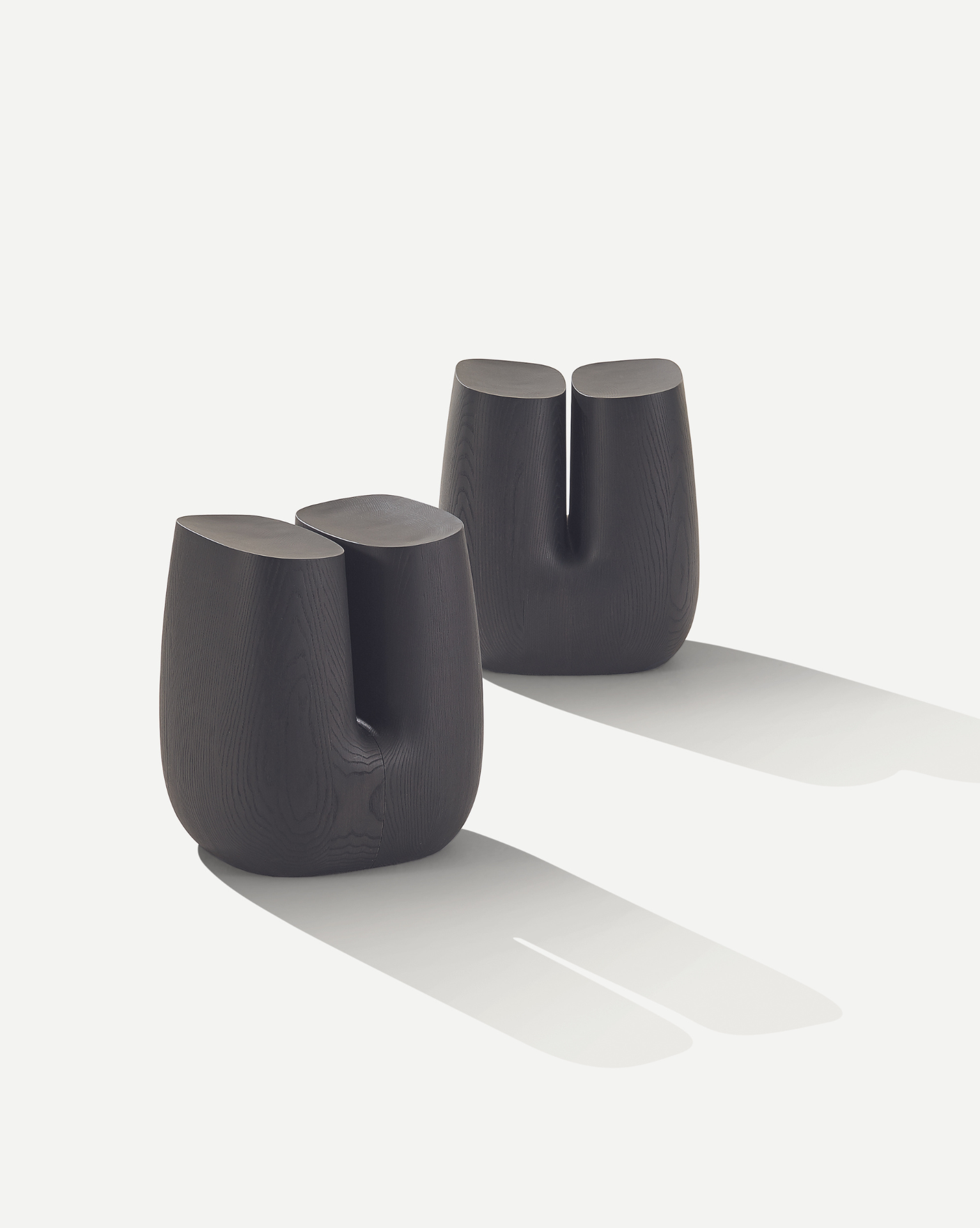 Natural future
The conversation between Raphael Navot and Loro Piana Interiors began three years ago and has since given rise to a collection with a shared design language of comfort, timelessness and contemporaneity – the first being the Palm Duet chaise lounge which is now accompanied by an ottoman. Other pieces in the collection include a sofa, méridienne, armchair, stools, and a side table and coffee table, all under the same Palm family – referencing the palm of the hand as a symbol of welcome, protection and repair. Navot emphasises the human components of these pieces that are influenced by the sense of touch (featuring the brand's Cashfur fabric). The collection is designed with a futuristic approach in mind, which to Navot is less about a "cold, hyper-technological vision of the future" and more about looking at the past as a place of possibility for what's to come.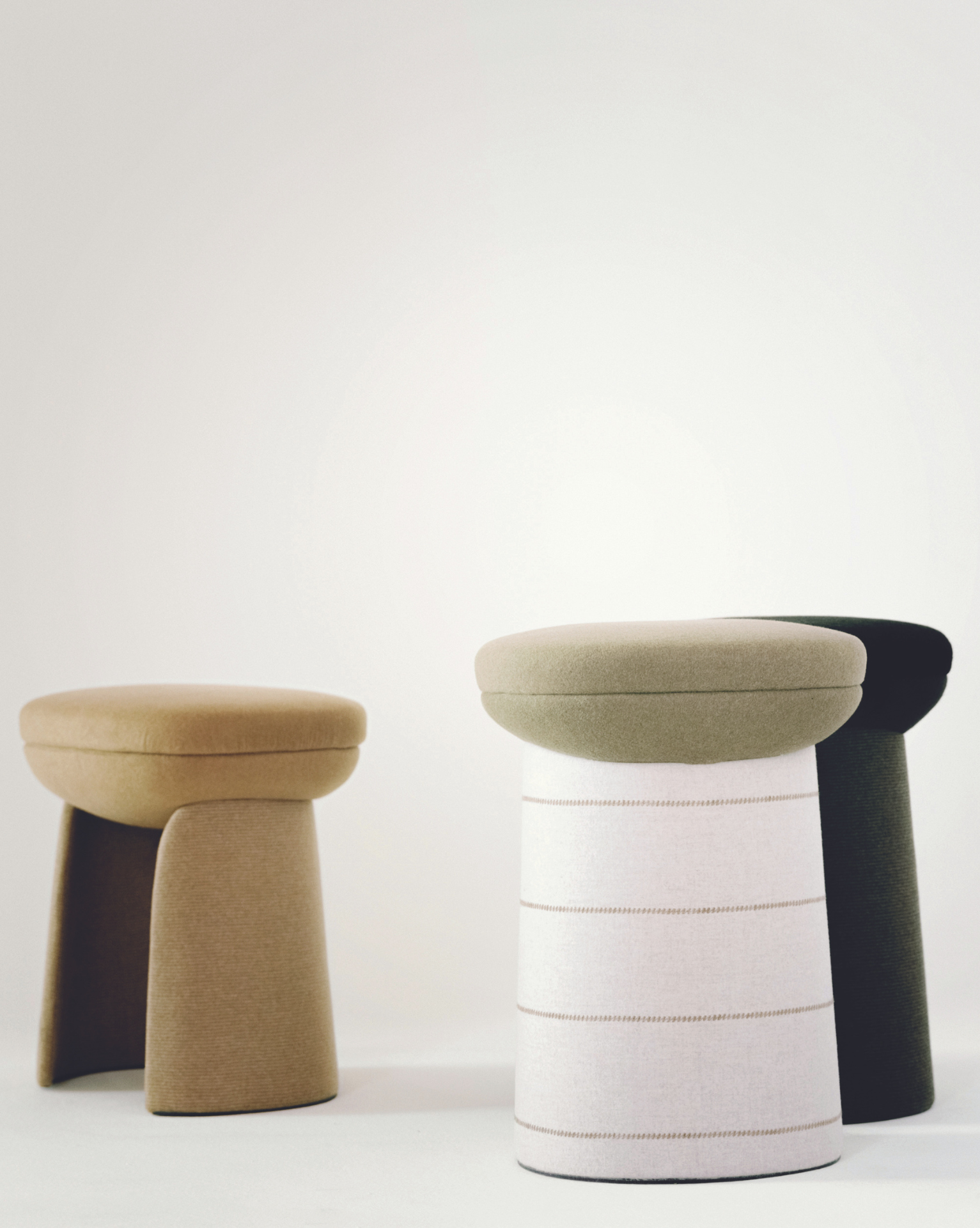 Material revolution
Kohler's collaboration with artist Daniel Arsham is part of the brand's Artist Editions collection which fuses creativity, craftsmanship, technology and innovation. Rock.01 is a 3D-printed sink that references the natural world through its organic form, featuring an asymmetric vitreous china basin made using the latest innovation in 3D-printed ceramics that Kohler has been developing over the past three years. The basin is perched on a hand-cast brass 'rock' with a patina finish. "Rock0.1 melds the future of 3D-printing technology with the most basic methods of hand-cast brass. It is literally the new resting on top of the old, and I find that incredibly poetic," Arsham says.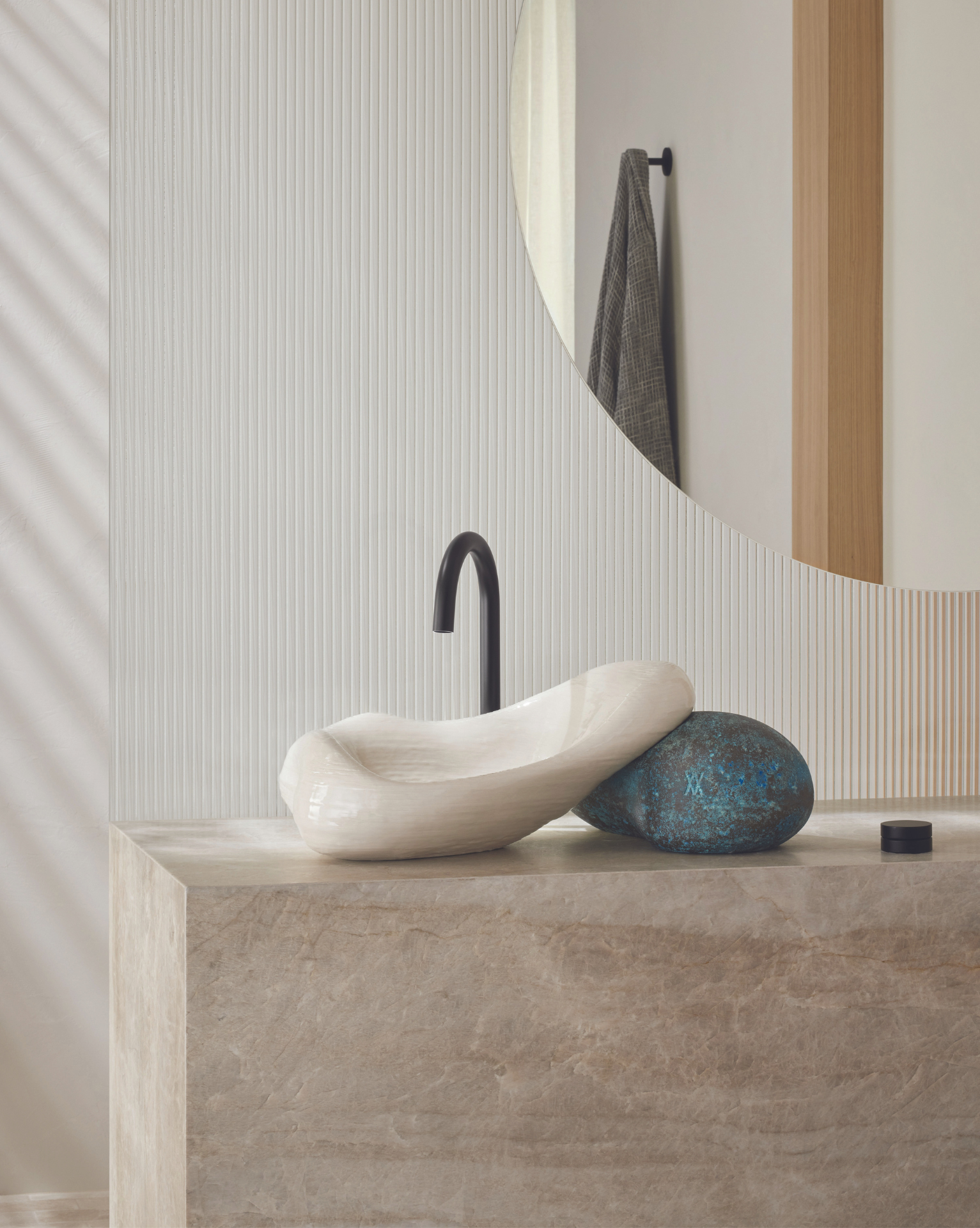 Icons reinterpreted
An icon of MDF Italia's product portfolio, the Neil chair by Jean-Marie Massaud has now been reinterpreted in denim by luxury brand Jacob Cohën. Celebrating material research, the seat's clean lines, versatility and structural simplicity have allowed the brand to constantly renew the collection, offering new finishes. The collaboration with Jacob Cohën is a product of shared passions for design, research and detailing, as well as attention to sustainability. Focusing on the ecological impact of production has guided the brands in the creation of an easily dissembled chair that is also a model for experimentation and innovation.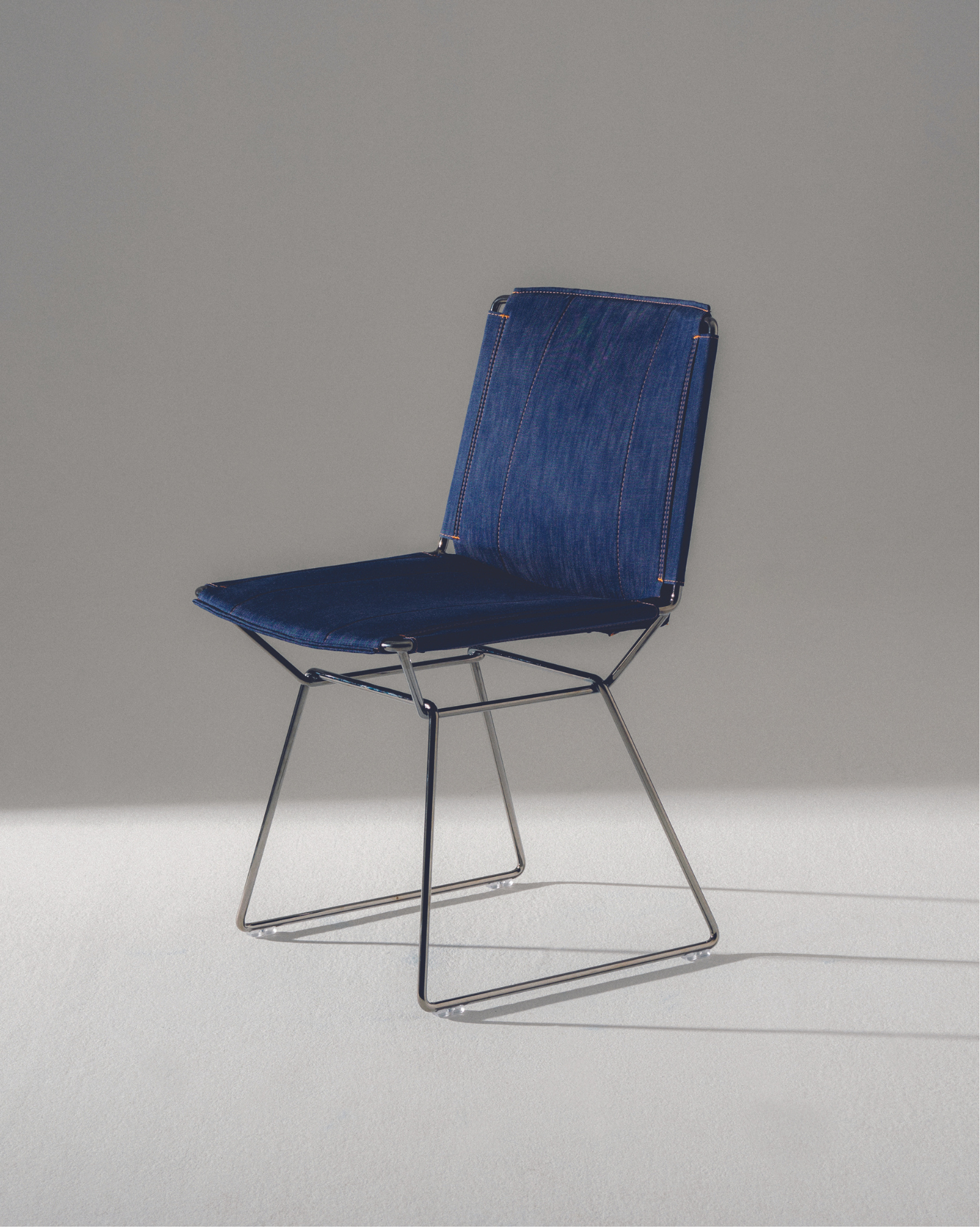 Sartorial roots
Gianfranco Ferré's latest home environments are an ode to the Maison's sartorial roots, such as the cut of its furnishings, its Milanese spirit and the vintage undertones that converge to display a chromatic palette that is rich in both warm and dark colours. Also drawing on the temples of New York jazz, the collection is as sophisticated as it is eclectic. The Seattle modular sofa crowns the collection with its bold character and a clear affirmation of the brand's contemporary metropolitan style. Expressing a juxtaposition of materials, it is a meeting of the soft and sensual shapes, fabrics and leathers with the geometric precision of the shelves, which together create a balance of lines, aesthetics and function.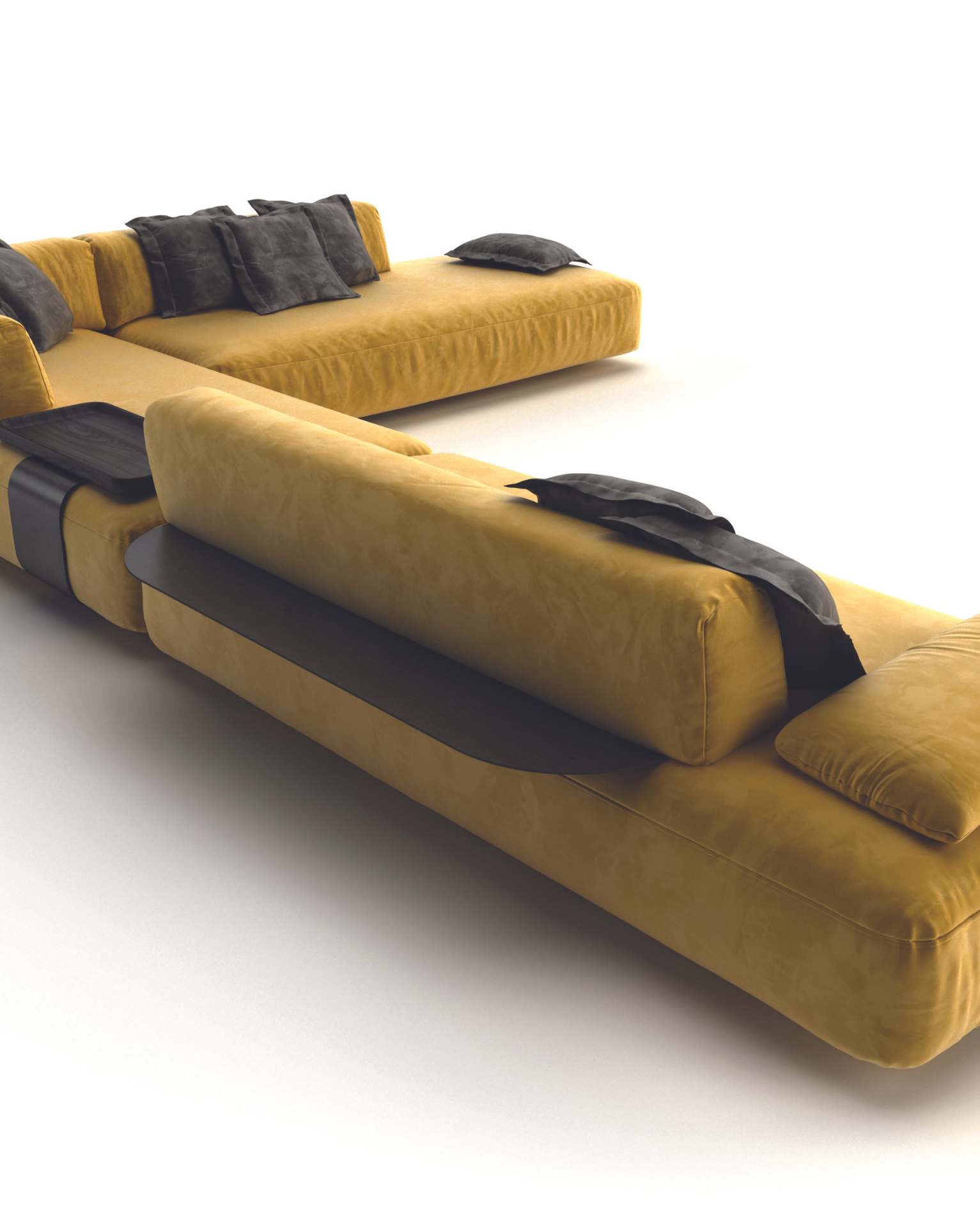 Block party
Some may be unaware that the late Virgil Abloh had a master's in architecture. Having become a visionary of contemporary culture, it was only natural that the creative polymath tried his hand at envisioning a new kind of living space that is centred on the creative processes of play and personal configuration. Modular Imagination, designed for Cassina, comprises matte-black 'building blocks' in two
different sizes that are designed to create, adapt and rebuild space as one sees fit – whether in a public or domestic space. The secret to modularity is also in its texture and material: while appearing rigid and almost industrial, the blocks are actually soft, allowing them to be used as a seat and a supporting surface or even as a pouf, bench or table. All in all, Modular Imagination represents how we can best live in a modern home in a versatile world.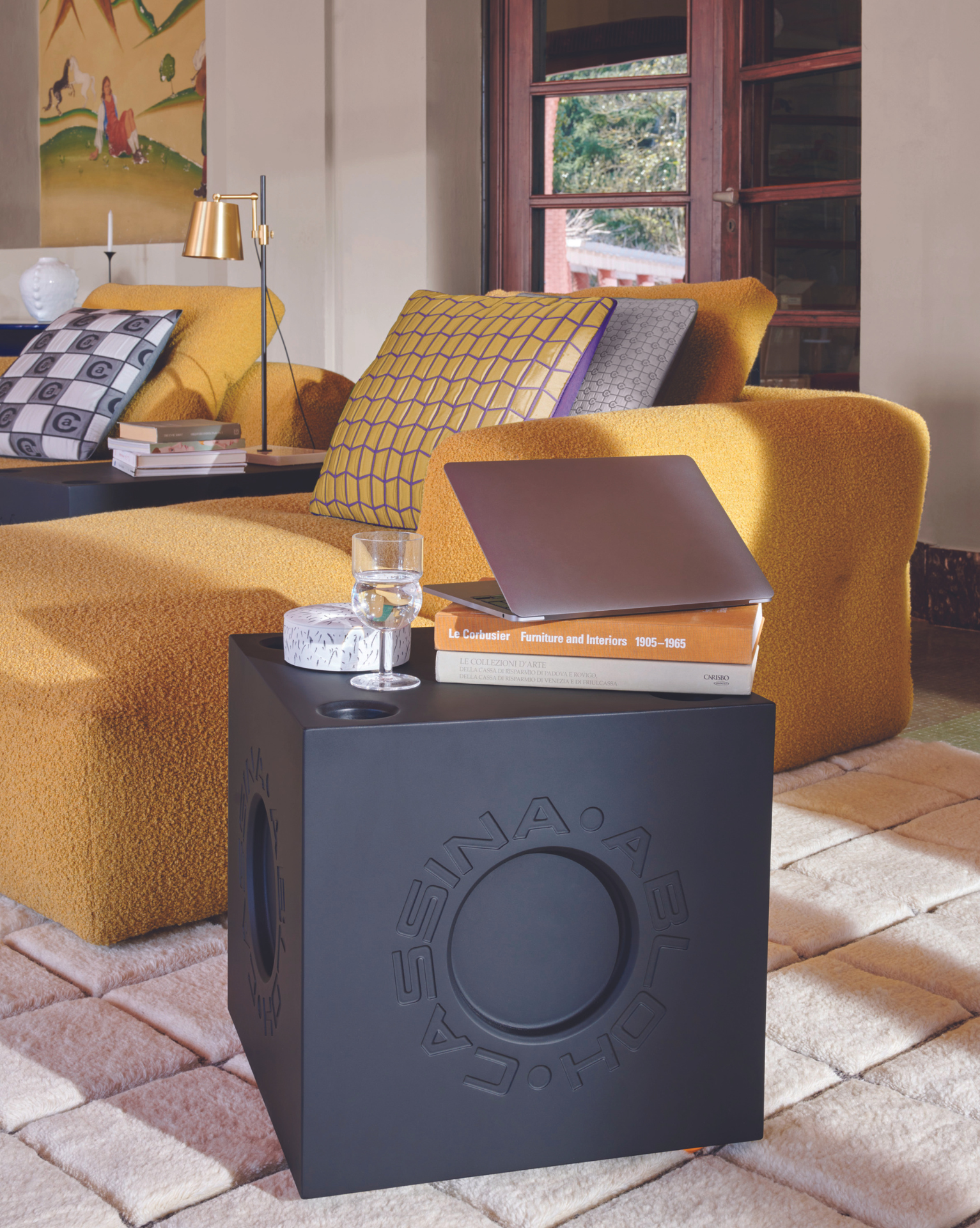 Clear cut
Continuing its exploration of the bold use of glass, Glas Italia's showcase features an orchestra of poetic pieces that mould glass in unexpected ways. Take, for example, Pierro Lissoni's Tête-a-Tête collection of sofas that are characterised by formal and clean lines and a light design – with a structure made up of 19mm-thick transparent glass extra-light glass that is shaped, tempered and UV-bonded. Adding softness are the removable cushions, available in various fabrics or faux eco-leather. The padding, which is said to be 'as soft as goose down', is made of hypoallergenic, cruelty-free and eco-compatible material, obtained by recycling plastics called from the ocean.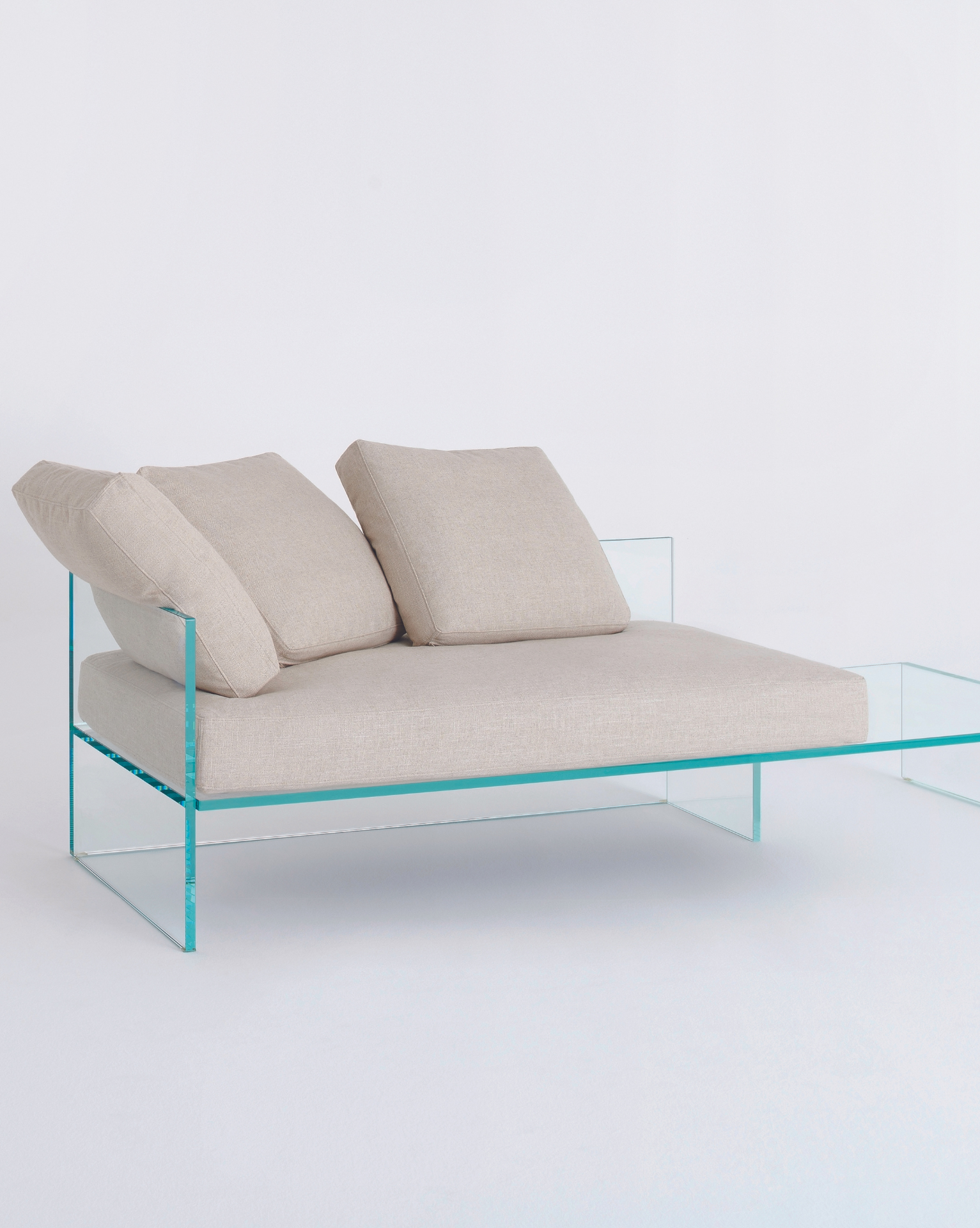 Transparent design
When the goal is to create design that lasts for generations, it is only natural that sustainability is at top of mind. And this is so for Artifort, which offers an eco-material passport that displays the material composition of all its products. "Today, the burden of responsibility in creating any new item is significant," the brand asserts, which is why the quality of material and build is of utmost importance. The organic Gilder seat designed by Luca Nichetto checks these boxes. Keeping comfort in mind, it combines a generous seat with shapely arm fins – as well as elegant stitching that shows off its expert construction and the attention to detail on its upholstery. Nichetto shares that making this chair was not unlike "having a bespoke suit fitted".
Images: Supplied