Mohammed Adib is a graduate of the AA School of Architecture and a postgraduate in interior architecture from Barcelona. He has worked across the globe, acquiring experience in the UK, Spain, Jordan, North Africa and Asia. Currently, he works between Spain and the Middle East.
In 1993, Adib established Intercon in London as a niche design company specialising in large-scale commercial interior design projects. Under his guidance, Intercon has completed over 180 projects in 15 countries and has gradually expanded its services to include architecture, product design, signage and wayfinding. In 2017, Adib joined Dewan Architects + Engineers as partner and Chief Design Officer. His primary responsibilities in the role include the protection and development of the design language as well as establishing new markets. 
When did you begin your journey with Intercon?
Intercon (which comes from International Construction) was a construction company founded by my father in Iraq, with projects across the Middle East. In 1990 I joined the business by heading the in-house interior architecture and design department, based out of London. Slowly, as the design arm started developing its identity and capturing more direct work, I decided to split from the group and set up my own practice in Barcelona in 1993. In April this year we celebrated our 30th year as an independent interior design consultancy.
What were some of the sectors Intercon was part of in its initial days?
After I started my journey in 1990, for the first couple of years we did a lot of high-end residential refurbishment work in London for the mother company. Even when we moved to Barcelona in 1993 the majority of the work was in London. Slowly we started getting interest from the Middle East market and we ended up working on residential projects for clients in the UAE, KSA, Jordan and Egypt. In 1994/1995, we started doing fewer private residences and got into commercial projects covering retail, F&B and hospitality. The project sizes started to grow, especially after Maria Escale came on board as joint partner of Intercon. As an interior designer she had experience working on large-scale projects like shopping malls and hotels, so we began to develop those sectors. 
Back then, there were a lot of interior decorators and boutique firms who did small projects – and on the other end of the spectrum, giants who worked at massive scale. There was hardly anyone one in between, so we saw that as an opportunity and focused on filling that unique gap in the market. 
As a medium-sized lead interior design consultancy, we were pitching for projects where we were pitted against only two or three companies. It was easier to win the work. Between 1994 and 1999 we won projects that put us on the design map. Our breakthrough projects were the London HQ for Swedish company Securitas, and Shaza in Iraq, a five-star luxury hotel managed by Kempinski.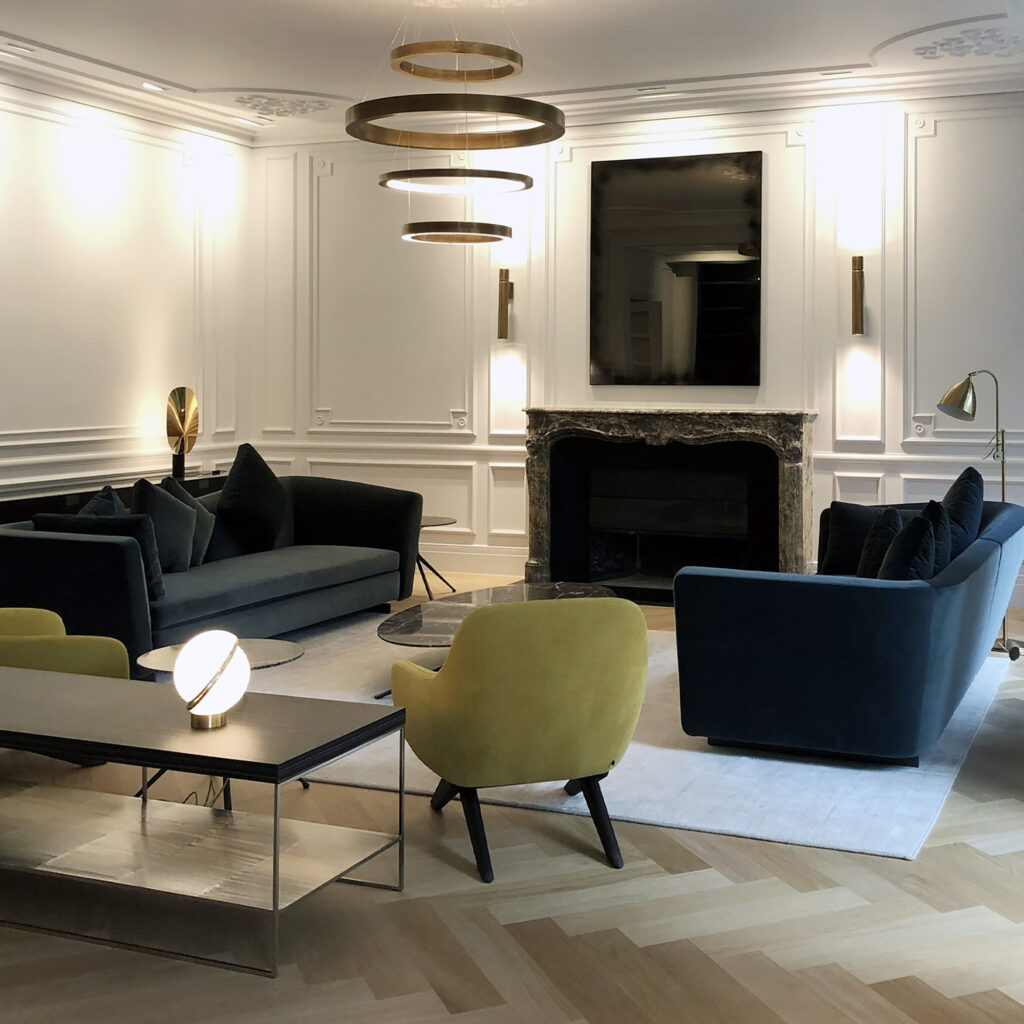 How has the company expanded over the years?
In 1992, London had a big financial crash, so I moved to Barcelona to set up the company in 1993. That year Spain was faced with the big post-Olympics depression. That was when I decided that I would never depend on a market again. Since then, every two-three years I would choose a developing country and keep visiting the market till I landed a project. That's how we expanded into Egypt, Libya and Kazakhstan. Interior design is easier to pitch for than an architecture project. Whenever I travel to a new place, I ask a taxi to drive me around so I can check for boards of new projects and developments. Then I just go in and pitch. 
When we started, it was just me and my partner. Up until 2003, we were a team of thirteen. We have never had a business development manager. Most of our projects are repeat business from clients who have been with us for several years. When we cracked our first major project with Securitas, I realised that there was no limit to how much we could grow. We also did two things which boosted our progress: hired a company to restructure the company to make it more effective and transitioned from CAD to BIM. In a few years we shot up to 60-70 people and had lots of work from everywhere.
Another thing that has worked in our favour is that we are based out of Barcelona. As a design city, the calibre of designers we have access to is phenomenal; plus, we can offer competitive rates. [These] are aspects our clients value very much. In 2018, we won Best Large Scale Interior Design Specialists at the Build Design 2018 Awards in Spain and following that we were invited to enter a strategic partnership with Dewan Architects + Engineers in the UAE.

In what countries does Intercon design for?
Currently, 70 per cent of our work is focused on Saudi, UAE, Egypt and Kazakhstan. We also have some work in Europe and Africa, and projects in Thailand and Vietnam.
Can you select a stand-out project from the last two years? What makes it unique? Were there any challenges or unique methods used for the design?
In the last two years we have done some megaprojects in Saudi: a shopping mall and entertainment centre in Obhor for Saudi Entertainment Ventures (SEVEN); and Qiddiya, the world's largest themed water park outside Riyadh, which is under construction at the moment. We've never done projects like this before. There is a lot of learning and complex challenges – but it is all very rewarding. 
The main challenge we are facing is the unreal time pressure on these projects. But that's part of the learning curve that will give us an edge over other firms.
What are your goals for the company in the coming year?
I feel that we are now on the cusp of another growth spurt. It is my hope that in 2024 we will be able to reap the benefits of the huge projects we have delivered in the last two years. In fact, there are very few companies that can now do the kind of work we do. 
Any expansion plans? If yes, where, when and why?
Our idea of international expansion is very different from that of other design firms. At Intercon, we are a family. I have team members who have been with us since the very beginning. When team members move to another country, we set up a working cluster there headed by a Cluster Manager, supported by designers and other staff. That is how we expanded to markets like the USA and Greece. Similarly, we organically expanded to India, Thailand, Kazakhstan and Vietnam. Ours is a multi-cultural team that speaks several languages, from Catalan to Arabic, English, Portuguese, Italian, German, French and Russian. This has helped us deepen our presence in multiple markets. We now see a huge demand for international interior design companies in south-east Asia – so we're planning to set up there as well.
"There is a lot of learning and complex challenges – but it is all very rewarding." – Mohammed Adib