FMA. introduces Josafat Zalapa, a culinary haven harmoniously melding the culinary heritage of Mexican culture with Oriental influences, arising within a 19th-century house in the heart of Morelia City. The inception of the restaurant is rooted in the concept of crafting a groundbreaking dining ambiance, inspired by the Japanese term "Omakase," which encapsulates the essence of "I trust you" or "the chef's selection." Through an exclusive dining encounter, patrons embark on a gastronomic voyage, engaging actively as they observe the crafting of their dishes.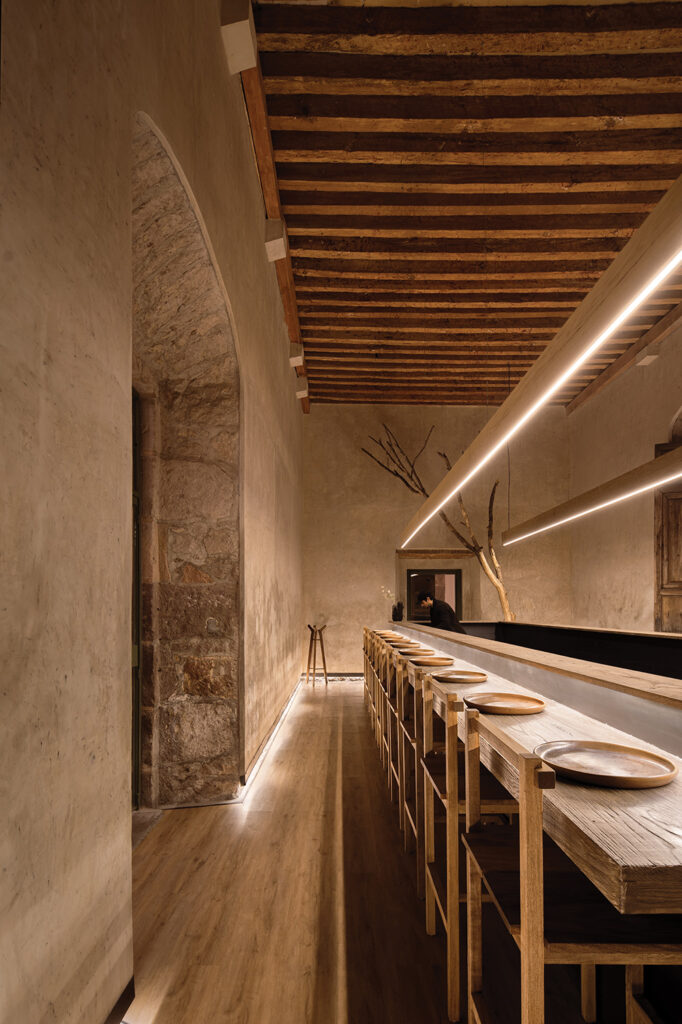 The user experience begins with access to the historic building, where visitors are welcomed by a corridor and a gallery leading to a cloister adorned with various artworks along its perimeter. In the center, a sculptural piece featuring dead vegetation alludes to the passage of time within the building.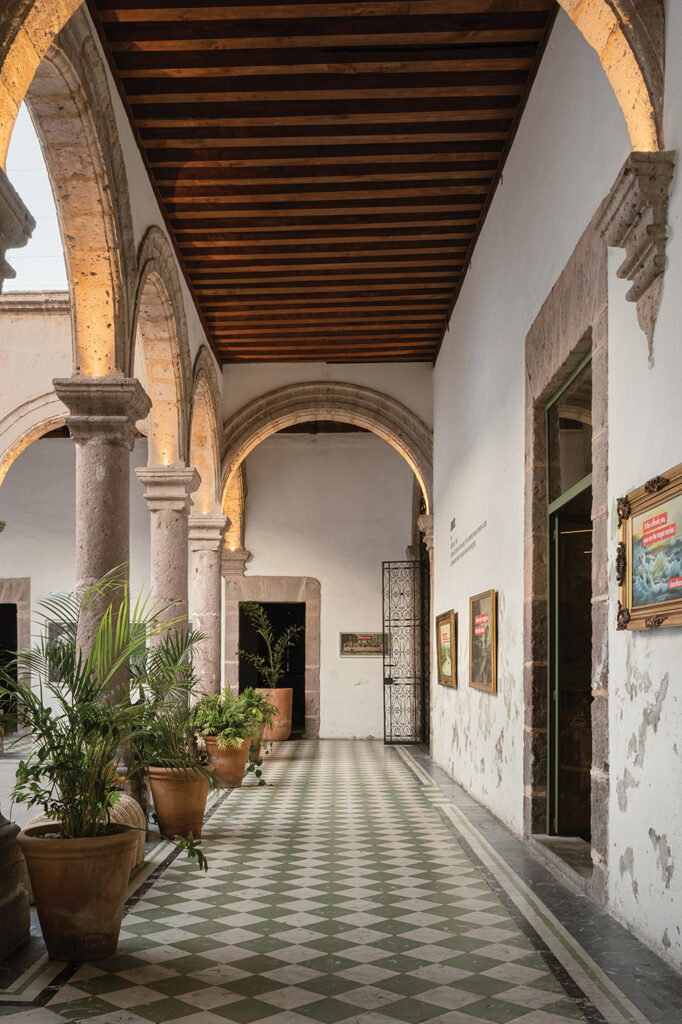 The architectural layout comprises two rooms adjacent to the courtyard, flanked by Baroque-style architectural elements. The main space houses a sculptural bar with 20 designer chairs, while a second room with a bar is subtly displayed on one side. As one enters the restaurant, the massive stone walls encase the project's centerpiece: an elongated bar where patrons gather around the chef, preparing for the culinary spectacle. Through interior design, the project achieves a balance between the architecture of the past and contemporary elements expressed in the furniture, decor, and materials. This approach creates an introspective, elegant, and sober atmosphere.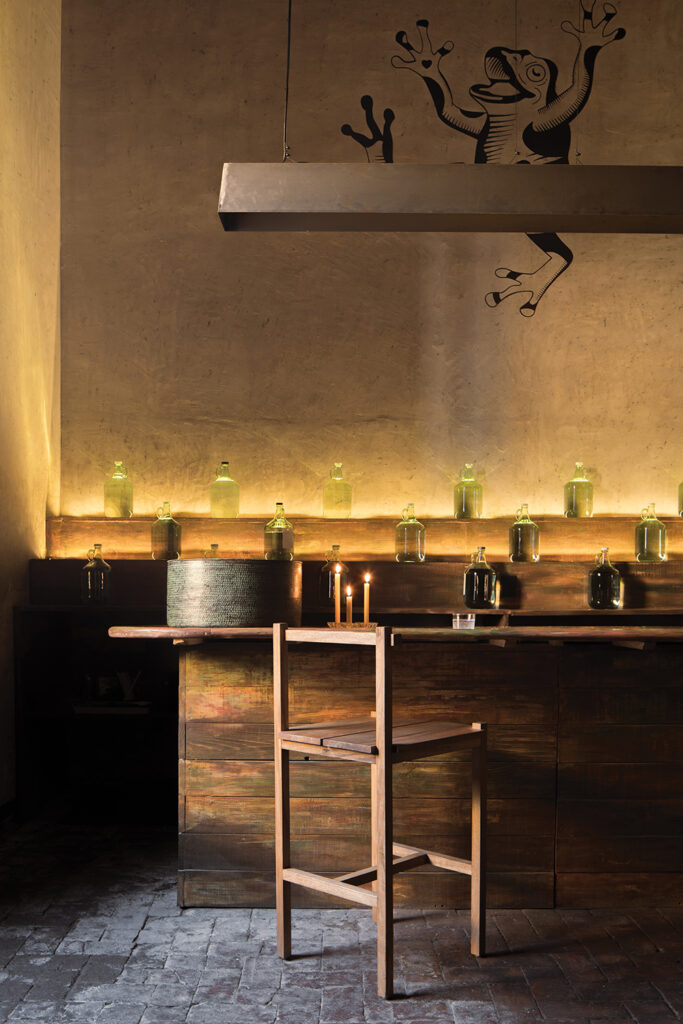 The concept of the bar further emphasizes the dishes prepared by the chef, while indirect lighting along the floor's edge frames the existing limestone walls. This lighting highlights the layers of history that have been preserved over time, accentuating their architectural value. The design premise revolved around respecting the architecture of the place while subtly intervening in the interiors, achieving a timeless proposal that integrates seamlessly with the historical layers of the building. The material selection remained essentialist, incorporating wooden floors and pigmented cement coatings on the walls.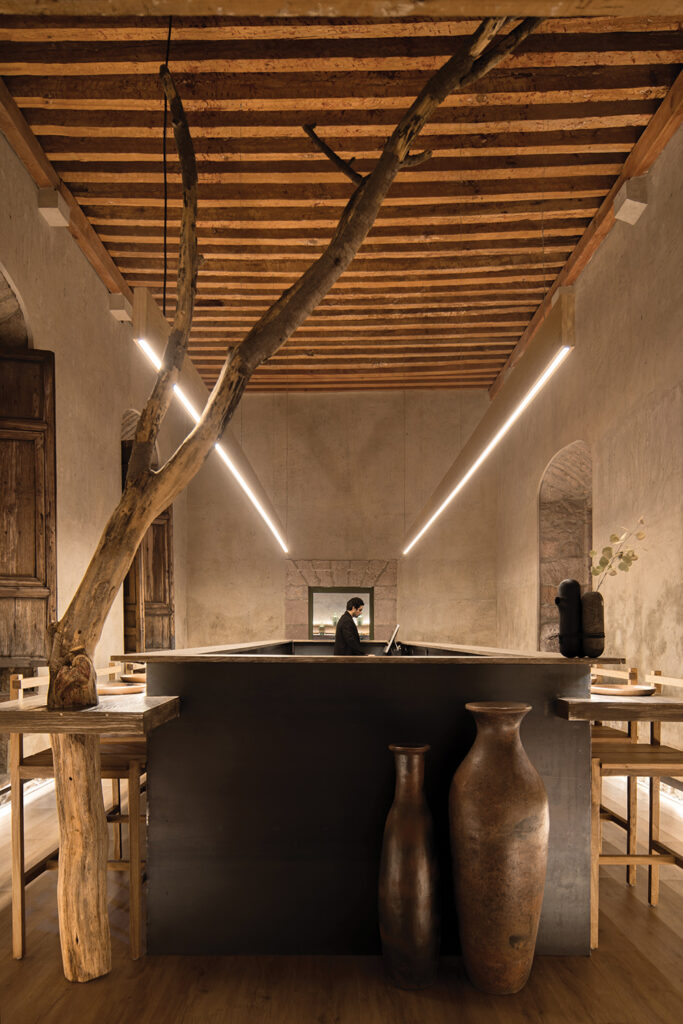 During the intervention, particular emphasis was placed on lighting design and furniture integration. This led to the custom design of each element, from the linear lamps that accompany the bar, to the chairs where diners will savor their meals.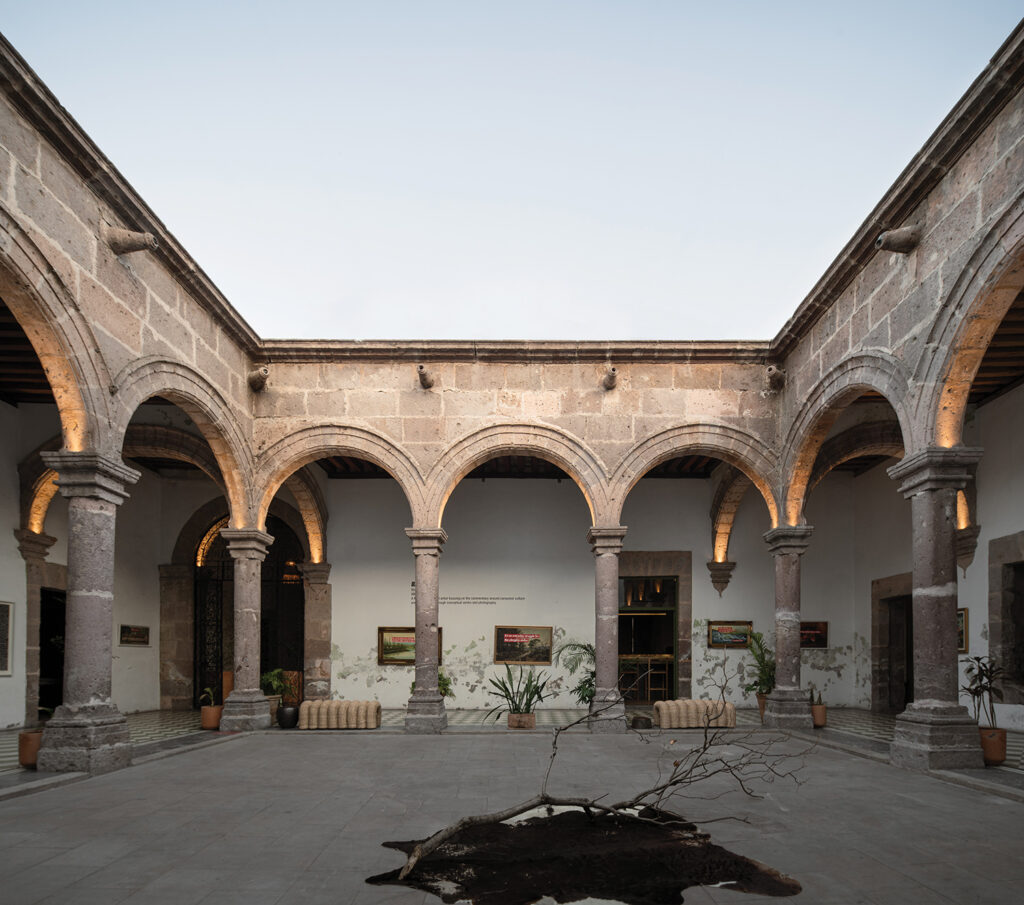 Technical sheet
Architecture Office: FMA.
Architect in charge: Francisco Javier Méndez Rodríguez
Furniture: Axoque Studio
Photographs: César Belio
Gross Floor Area: 75 m2
Location: Morelia, Michoacán, Mexico