identity is pleased to announce the shortlist for the sixth annual identity Design Awards 2020, which is set to take place on 4 November in Dubai, UAE.
Over the coming week, we will be releasing this year's shortlisted projects.
The Project of the Future category recognises any innovative interior or architectural project that is under construction or nearing construction phase .
Here is the full shortlist for Project of the Future: 
Al Ain Archaeological Museum by Dabbagh Architects – Al Ain, UAE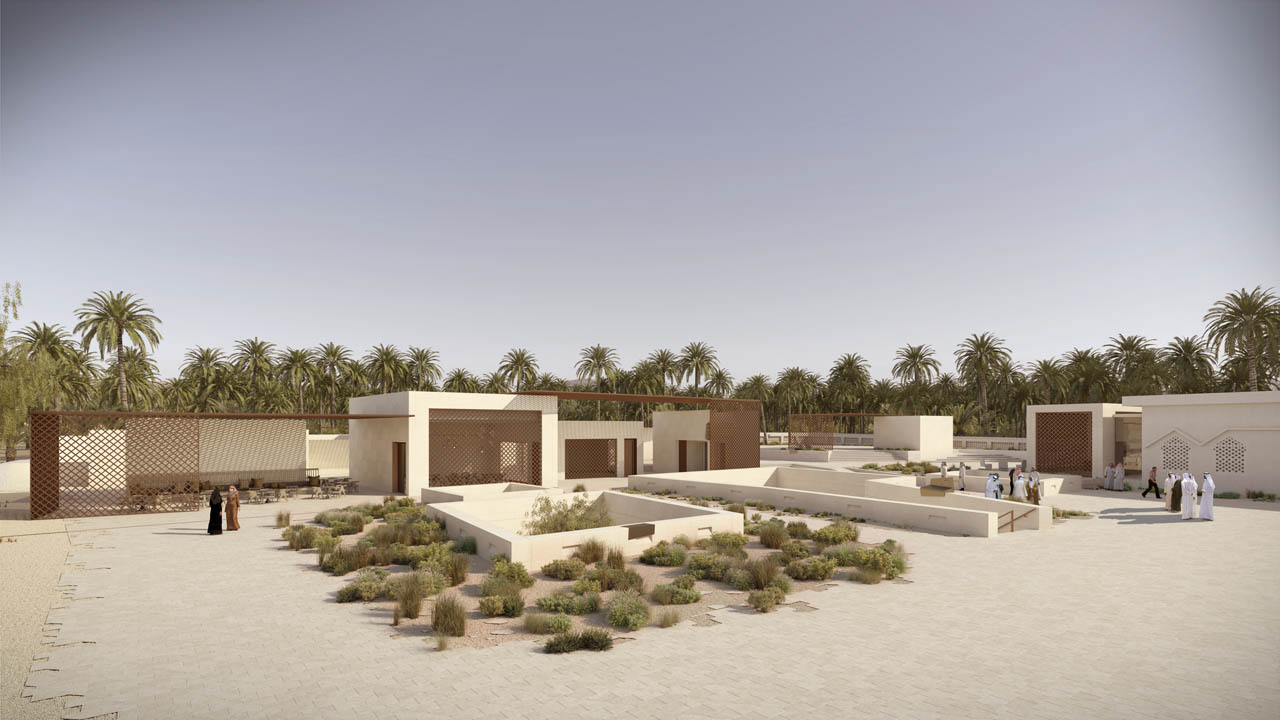 The Al Ain Archaeological Museum will be a center for collecting, researching, conserving and interpreting the material culture of Abu Dhabi and the UAE, creating a structure that connects two existing structures. At the end of the nineteenth century, the fabric of the area adjacent to the Sultan Fort was made of dispersed, low density, single story mud-brick dwellings surrounded by courtyards. This area used to be referred to as "Harat Al Hosn", meaning "Fort neighborhood". The proposed design aims to bring back the human scale of the historic fabric of "Harat Al Hosn". By incorporating the originality of this early form with a modern adaptation, the new design is comprised of a series of small closely-knit buildings distributed across the ground floor. The majority of the museum's facilities are located underground allowing for a minimal impact to the surrounding sensitive historical context as well as a visual connection to the oasis.
Dynamic Advanced Training Center by Binchy and Binchy Architecture – Dubai, UAE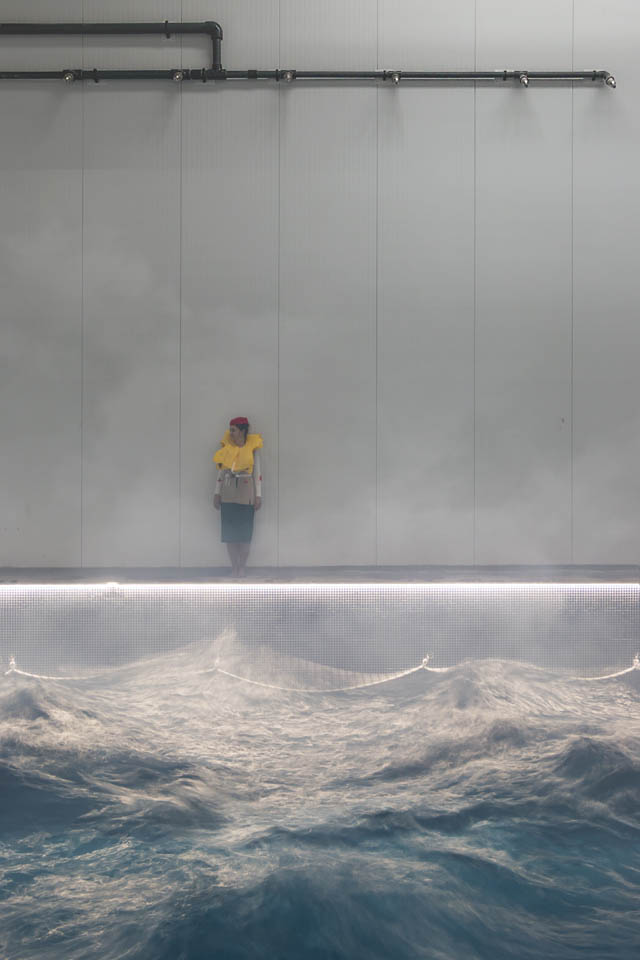 The first and most advanced, independent, Aviation Safety Training Centre in the MENA Region is a state-of-the-art facility offering comprehensive, next-generation training for corporate as well as commercial jets. The main hall contains four jet simulators covering both narrow and wide body commercial jets as well as business jets, including real-firefighting facility, water survival, and exit door training. A 3.4m deep water survival pool equipped with fog, wind, driving rain, and meter-high waves. The flight cabin simulators incorporate the latest in motion technology with synchronized, cabin and cockpit audiovisuals to create an authentic experience.
Modular villas by LOCI Architecture + Design – Dubai, UAE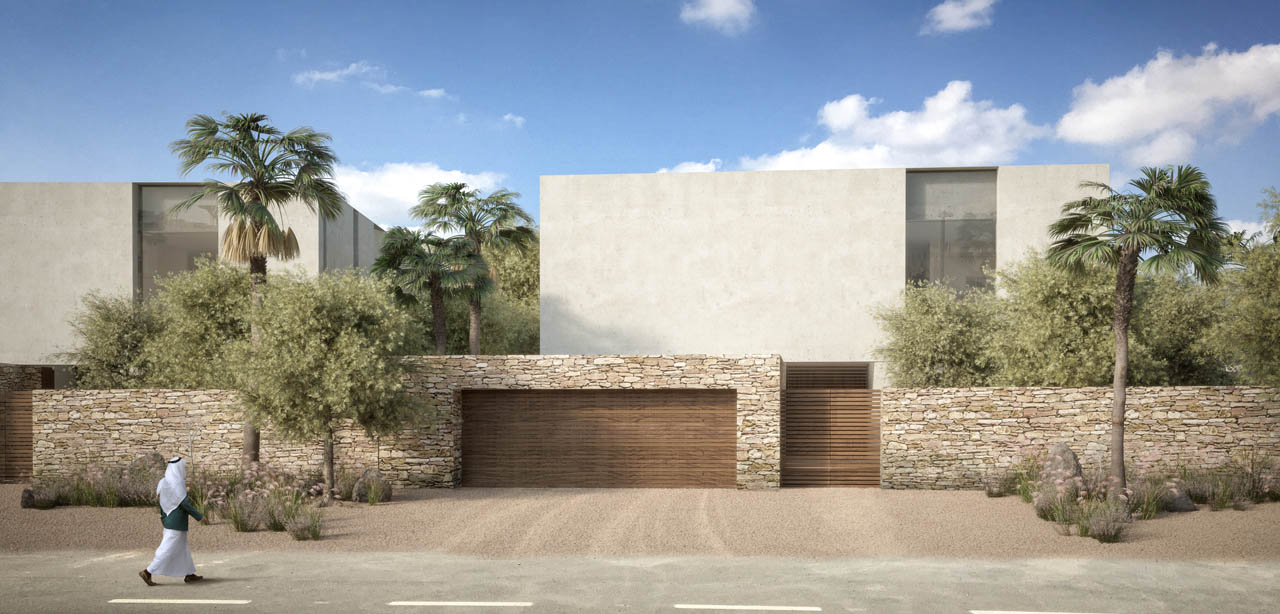 A series of modular villas in varying locations throughout Dubai, and designed for young Emirati couples and young families, offering highly designed but affordable housing. Set within a rectangular footprint, in a 2:1 proportion, the two storey volumes were conceived as a reinterpretation of the traditional Arabic courtyard house. Carved out of the pure massive volume, deep-set full height openings and a variety of courtyard spaces provide maximum natural light and privacy to the interior spaces. A simple unembellished palette of materials is employed to reinforce the local concept of the house. Walls are rendered externally with sand coloured textured plaster, natural stone floors throughout, panoramic windows and thermally treated wood screens, in a minimal but warm composition. The villas are carefully designed to offer a range of room uses and adaptability, and detailed to be cost effective and durable. Locally-sourced random rubble stone boundary walls and extensive local landscaping varieties helps embed the villas within their context.
Development of Ras Al Khor Sanctuary- Main Observation by AE7 – Dubai, UAE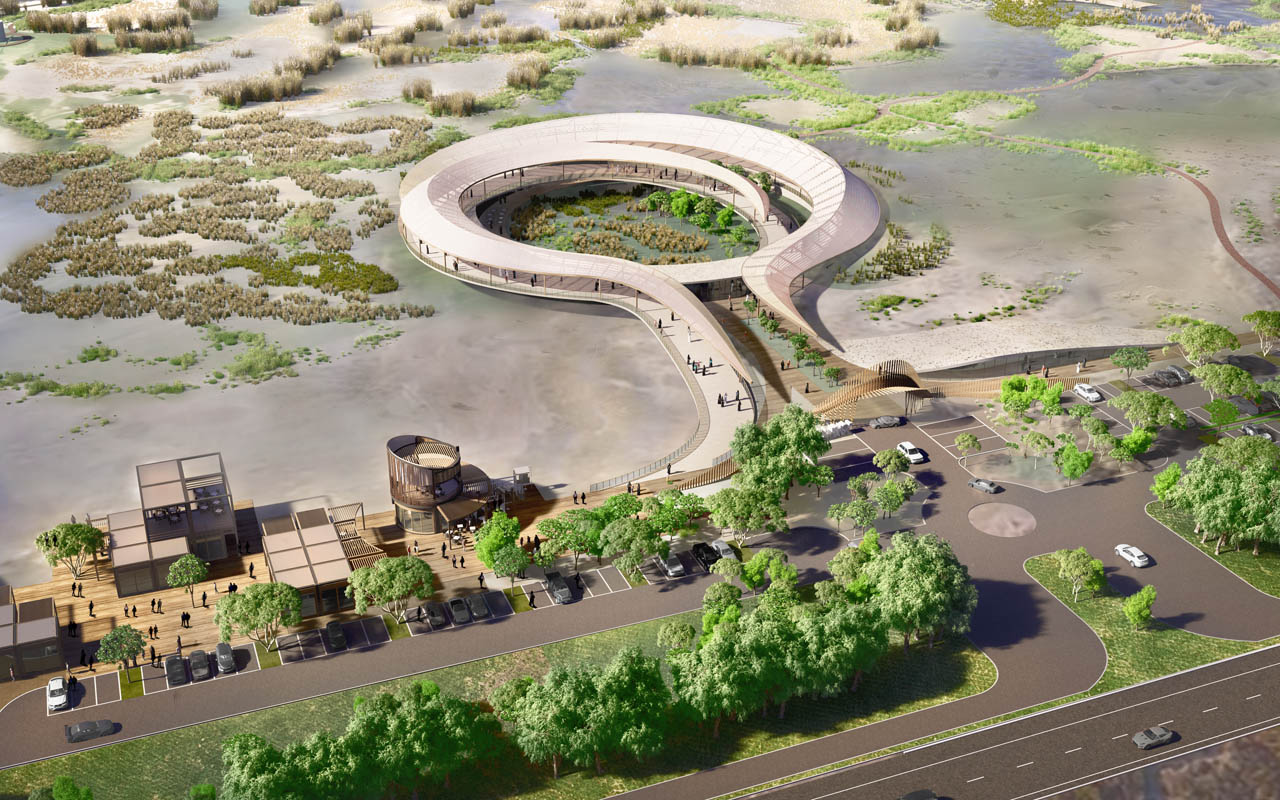 Located in the heart of Dubai, Ras al Khor Sanctuary, the Main Observation Platform is a symbolic architectural form, inspired from the surrounding and its patterns. The Center acts as a delicate interface between the sanctuary's wildlife and its visitors of. This project paves the way for other eco-architecture items, intended to highlight the sanctuary's main attractions, and provide a unique experience for the visitors. The Main Observation Platform is part of the master plan that identifies the opportunity to showcase this natural asset to the millions of visitors that fly into Dubai every year.
The Gardens of Samarra by Croquis Design Studio – Samarra, Iraq
Sited in one of the most historically important destinations in Iraq, the Gardens of Samarra complement existing cultural sites with a new landmark firmly centred on human interaction on a cultural, commercial and social level. Crowned by its striking observation tower, and with flora prominent on its rooftops two public plazas are linked by a bazaar, where the treasures of ages and modern craftsmanship coexist and people mix and mingle along pathways.
Villa Nadia by Carl Gerges Architects – Beirut, Lebanon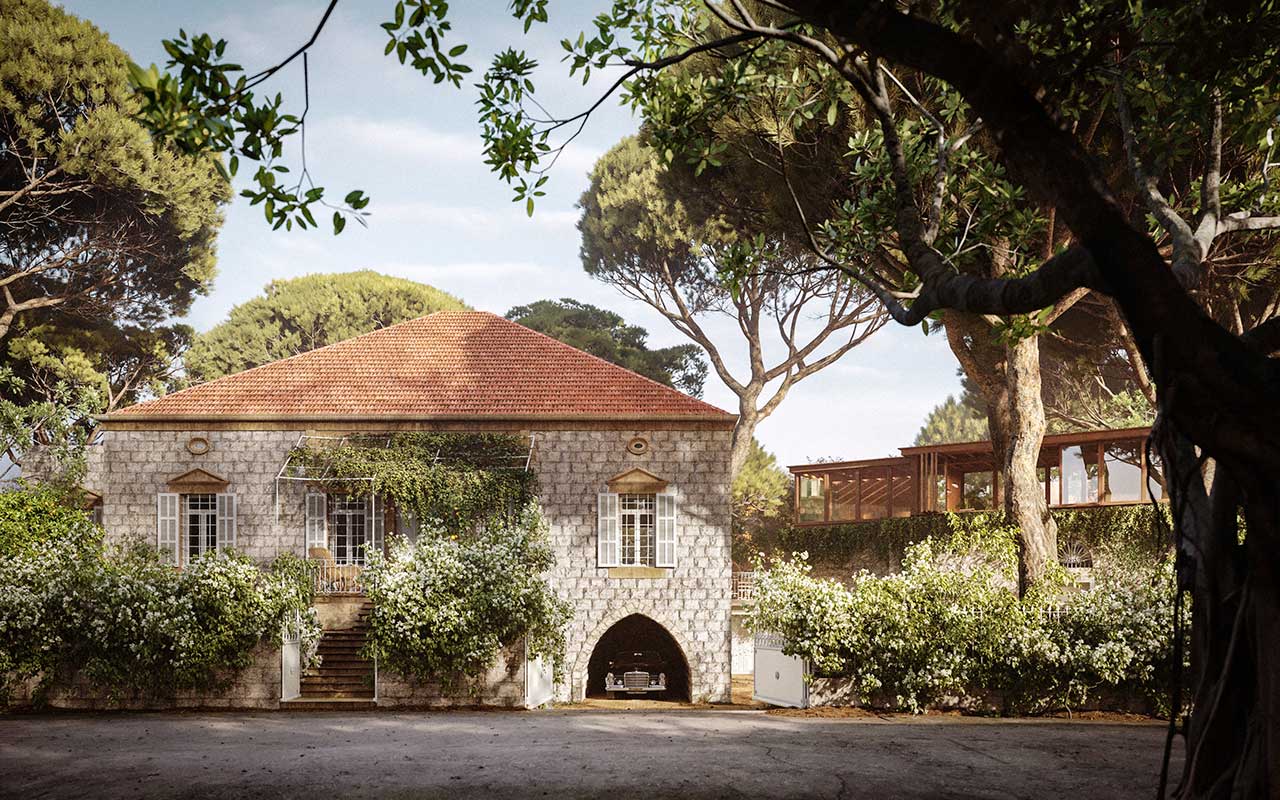 Built in the mid 1800's by a well-travelled businessman and cultivated collector, Villa Nadia is a testament to Lebanese architectural history. Unfortunately, the third generation family inhabiting this heritage plot comprised of a large main house, a house staff quarter and massive garden space, fled the region during the civil war leaving it vulnerable for squatters. Abandoned for 45 years, this stately home takes a dilapidated yet monumental stance with broken doors, barricaded windows, ruptured ceilings and wilted gardens.Traces of past stories nostalgically hold on to these remnants, as vines and other wild plants form reclaimed settlements throughout the entire site. In 2018, the great grandson bought the property and wanted to convert this old summer residence into a year-round family home. A library, a jardin d'hiver, a private spa, and a guest pavilion are part of the programme. The villa also houses his massive art collection that ranges from Phoenician pottery to works by contemporary Lebanese and Arab artists. The rehabilitation concepts and techniques adopted for this project, embrace a deep desire to not only renovate the space physically, but also spiritually. This is accomplished in favor of preserving the natural aging effects and historical layers, while incorporating modern comforts.