identity is pleased to announce the shortlist for the sixth annual identity Design Awards 2020, which is set to take place on 4 November in Dubai, UAE.
Over the coming weeks, we will be releasing this year's shortlisted projects.
The new Interior Design –Nightlife award recognises any interior space dedicated primarily to drinking and socialising including bars, clubs and event spaces. 
Here is the full shortlist for Interior Design – Nightlife: 
St.Trop by LW – Dubai, UAE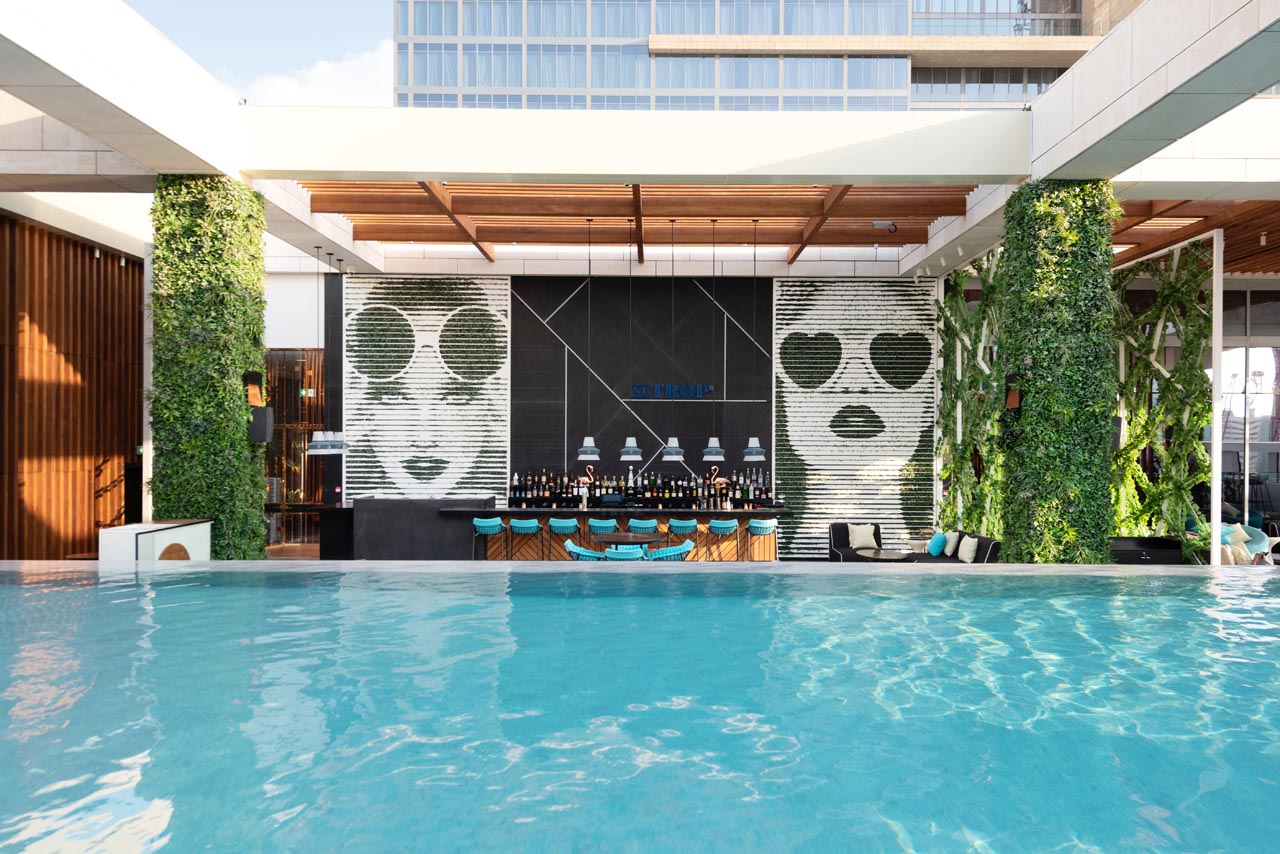 Located at the Waldorf Astoria DIFC, St. Trop is a pool deck on the rooftop. During the day, it offers a spaced for relaxation at night, it transforms into a fun party venue. In the brief, the client proposed that LW create an energetic poolside bar that's inspired by St Tropez trends and the area's aesthetic of enjoyment for locals and visitors alike. To bring the concept to life, the LW Design team came up with the idea of a teak floor with geometric cuts and bold fabrics featuring monochrome stripes. Behind the bar, a mural of different faces made from greenery-based artwork is an ode to the people of St Tropez as it channels their spirit and charisma. Meanwhile, the aqua fabrics reflect the colors of the Mediterranean Sea. To set it like a pool deck, they added sun loungers that can be lowered easily, and grouped to set up a lounge for guests in the evening.
Train Bar & Lounge by L.S.Design – Dubai, UAE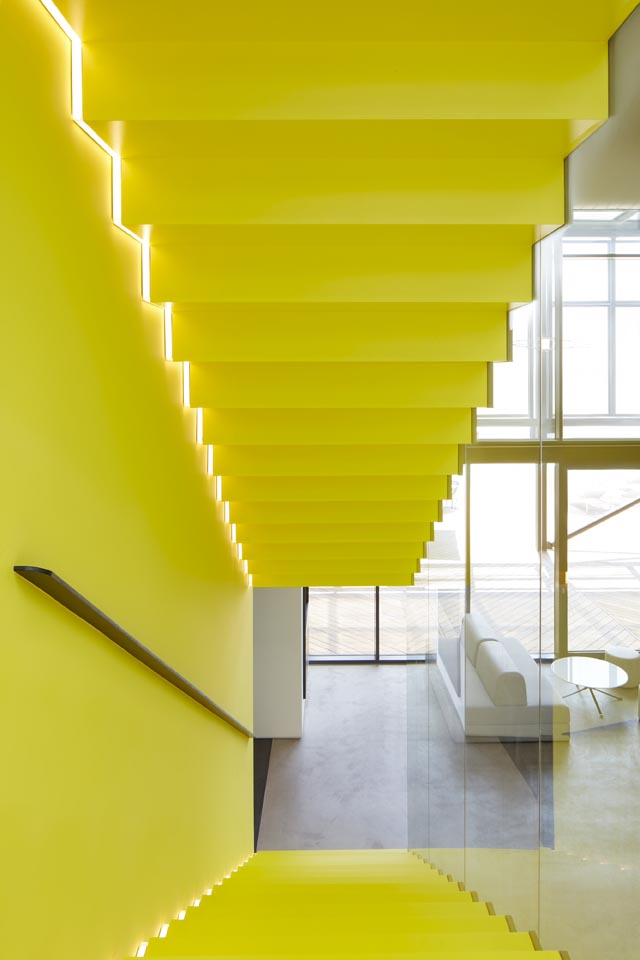 Following the overall project theme of "industrial chic", the industrial space is softened by the internal green wall to the left and olive trees taking centre stage in a circular banquet-seating planter, all washed with delicate yet robust lighting features that are both architectural and decorative. Hidden around the corner from the entrance a striking yellow inverted staircase made from raw steel and glass steals the spotlight transporting guests to the mezzanine VIP Lounge. The lounge is juxtaposed against the exposed mechanical equipment in the ceiling and the raw materials that make up the mezzanine and railings, the leather and fabric clad banquet seating and lounge chairs offer the exclusive patrons a perch on which to see and be seen.
Wavehouse by Bishop Design – Dubai, UAE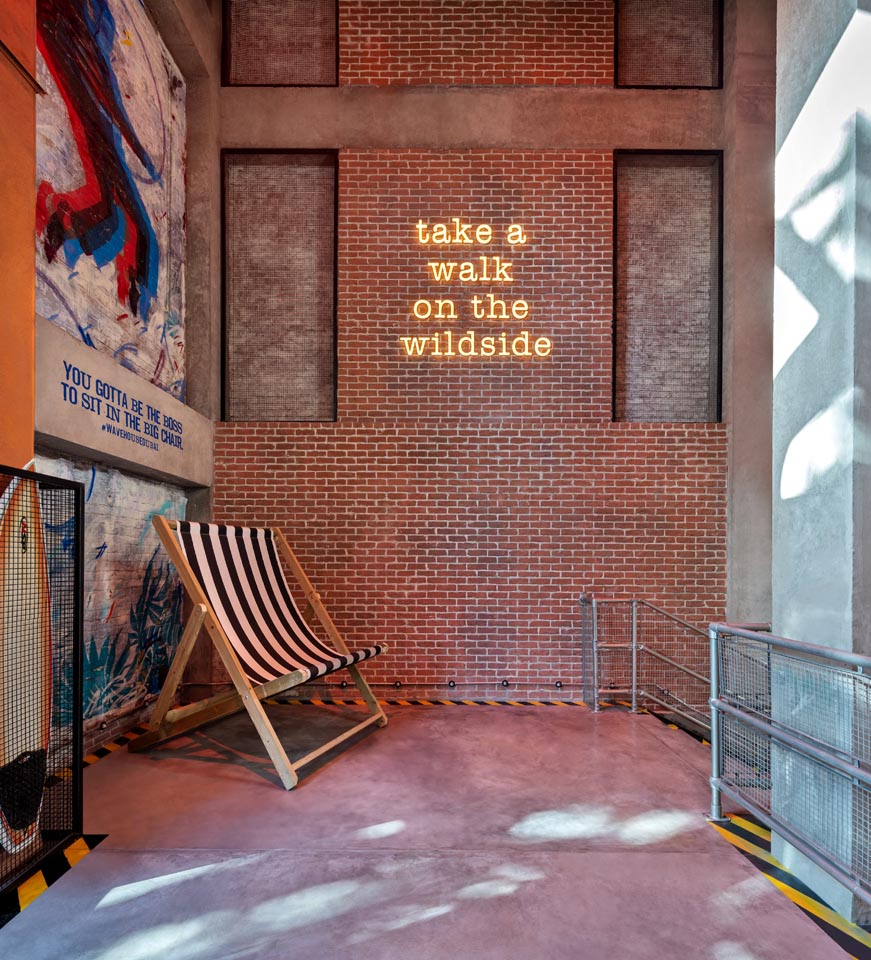 Bishop Design was commissioned to create a dedicated entertainment in the heart of Dubai's Atlantis The Palm hotel. The brief was for the venue to become a collection of spaces which would seamlessly morph into each other offering up endless dining and entertainment scenarios, from dedicated restaurant, an adults-only bae and external terrace as well as soft play zones, an augmented reality experience and a bowling alley. Aesthetic aspirations called for a hybrid industrial meets surf shack that is stripped back and refined yet synonymous with an urban style.