Samer Yamani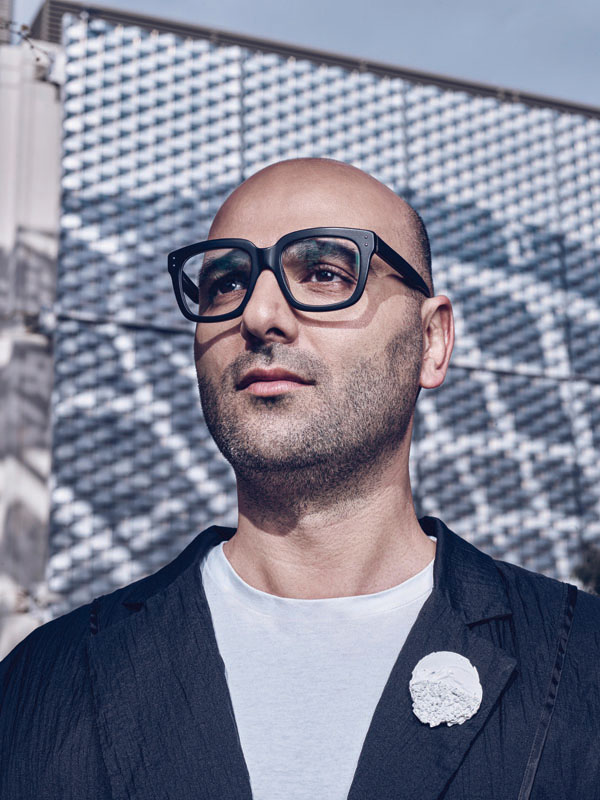 Spanish contemporary design expert, curator and creative director, Samer Yamani is specialised in design and contemporary crafts. Through his Barcelona-based creative consultancy 'Creative Dialogue', Yamani has worked on curating design projects for museums, design institutions and galleries as well as curating design trips for young creatives and helping launch design collections for brands such as BD Barcelona Design – for which he is a brand ambassador – and emerging designers. Yamani's experience spans over 23 countries with a special focus on the GCC and its crafts, launching the first of its kind design accelerator programs for local designers, in addition to working with crafts institutions to explore innovative local crafts techniques and applications through bespoke design collections. His work as creative director and curator has been presented in several international and regional design fairs such as Salone del Mobile.Milano, London Design Fair, Paris Design Week, Mexico Design Week as well as Dubai Design Week and Downtown Design. The Post Crafts Collection, which was created under his leadership and curation, was the first-ever art-design collection for BD Barcelona Design that featured five Arab designers from the GCC. More recently, Yamani has been appointed as creative director and curator of the Design and Crafts Programme at Expo 2020 Dubai, for which he is curating a programme that will present Emirati crafts through a new approach that is both contemporary and experimental while establishing collaborations between international designers and local talent and artisans – all of which will be presented exclusively through the programme at Expo 2020 Dubai.
Shahira Fahmy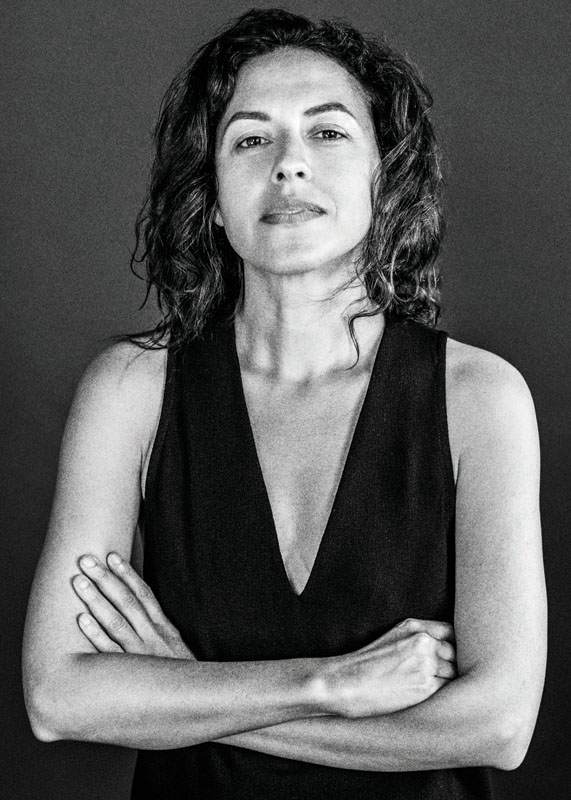 Shahira Fahmy is an Egyptian architect, urbanist and creative researcher. She is the founder and principal of Shahira Fahmy Architects, a practise spanning the fields of architecture, urbanism, interiors and product design, established in Cairo, Egypt in 2005. Fahmy is a three-time recipient of Harvard's postdoc fellowships for her groundbreaking and award-winning architectural work and has taught at Columbia University's Graduate School of Architecture, Planning and Preservation. Fahmy has built projects in the Middle East, London and Europe, and has been hailed by Phaidon as one of the "architects building the Arab Future". Some of her notable projects include the Wooster Group Theatre in New York, the Delfina Foundation in London, the Master Plan of 'Andermatt Swiss Alps', the 'Mask Architects Project' for the United Nations Environment Programme UNEP, as well as the Malak Gabr Theatre interiors at the American University in Cairo. She is also a recipient of the Tamayouz Excellence Award for Women in Architecture in the Near East and North Africa in 2019. Fahmy is currently working on affordable housing projects in Cornwall, UK and Egypt.
Stephane Malka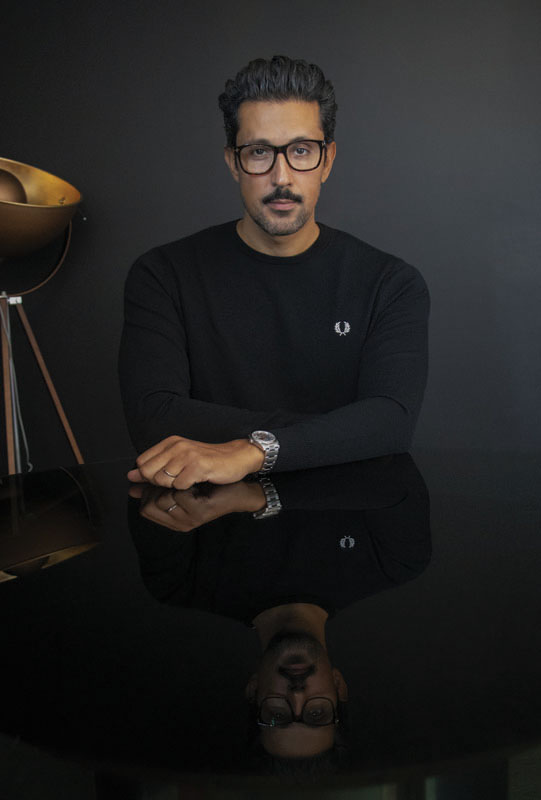 Architect, urbanist, theorist, author, lecturer and former graffiti artist, Stéphane Malka has founded Studio Malka Architecture in 2010 in Paris, later opening an office in Los Angeles. Malka has collaborated with prestigious international firms such as Ateliers Jean Nouvel, and architects and designers such as Rem Koolhaas and Philippe Starck, among others. His body of work aims to blend art and architecture from a humanist perspective while remaining positive and sustainable. His signature projects include Oxygen La Défense, Europe's biggest business centre's new gate to Paris, UNESCO's COP22 in Marrakech and Pernod-Ricard's new headquarters in Paris. Of late, Malka has contributed an array of projects – both built and under construction – that aim to elevate and celebrate Egypt and its contributions to architecture. Some of these projects include the gold-clad student housing complex in Paris which houses the Egyptian Embassy's reception, intended to create an emblem of Egyptian culture while reflecting the country's diverse fabric. Other projects include the Cheops Observatory located on the plateau of the Giza Necropolis, offering an observatory and artists' residence that consists of a series of spaces including a garden, swimming pool and a 'time room', all of which are oriented to offer spectacular views of the Pyramid of Khufu. Malka's work has been exhibited around the world including the MoMA in New York City, La Cité de l'Architecture et du Patrimoine in Paris, Smolny Sobor in St-Petersburg, the Museum Victoria in Melbourne, MUBE and MIS in Sao Paulo as well as the Royal Academy of Arts in London.
Studio Toggle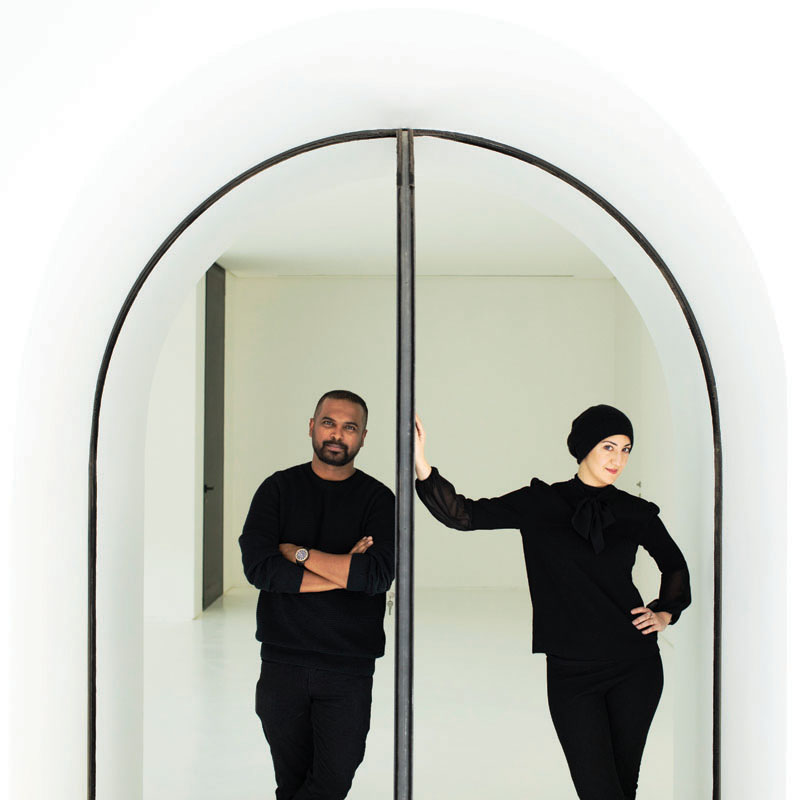 Studio Toggle was established in 2012 by architects Hend Almatrouk and Gijo Paul George, upon graduating from the University of Applied Arts (die Angewandte) in Vienna. The practise focuses on logical design and problem-solving techniques with a specific emphasis on architecture and urban design. Studio Toggle believes in the balance between the opposites, that form follows function, that simplicity is complex, and that even chaos can be organised. Studio Toggle's expertise ranges from public-sector, commercial, residential and hospitality architecture to interior design. Operating from its two offices in Porto, Portugal and Kuwait City, Studio Toggle has designed, supervised and handed over multiple projects including private villas, apartment buildings, public pavilions and retail and hospitality interiors, bearing testament to its varied range of expertise across multiple scales and typologies. Although a relatively young firm, Studio Toggle has emerged as one of the most celebrated boutique architecture firms in the region, displaying a strong handle on design parameters of architecture within the Arabian Gulf. Its multicultural architect-led team is composed of highly accomplished architects and engineers from Kuwait, Portugal, Brazil, Latvia and India. This rich diversity adds depth to Studio Toggle's practice and enables it to deliver its ethical, site-specific version of desert modernism without the danger of being one-directional. The practice operates in cities as well as remote areas of Kuwait, Portugal and Oman.
What is architecture, but a dance of the ephemeral on that which is timeless?
Studio KO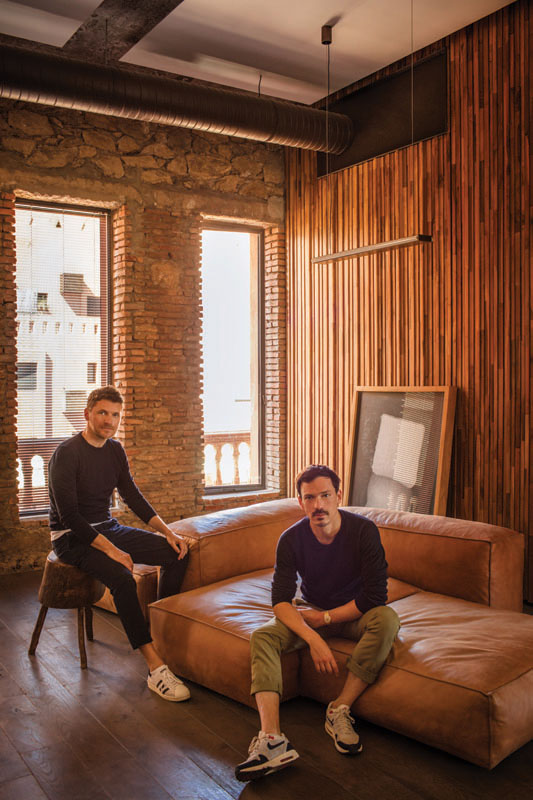 Since the beginning of Studio KO's creation ten years ago, architects Karl Fournier and Olivier Marty have marked their influence through projects across Europe, the Americas and North Africa. The creative duo embodies an eclectic spirit, approaching each project with a fresh perspective. The team has developed an array of styles out of a penchant for storytelling – a narrative framework in which light, space and texture become the protagonists. Whether private residences, public spaces, or contemporary homes in a natural setting, Studio KO's method seeks to enliven a space by considering its context, which becomes the starting point for any design whether a Parisian bistro or a monolithic architecture in a desert landscape. The French architects have two offices: one in Paris and one in Marrakech and have made notable contributions to Morocco's urban landscape, from contemporary private residences with powerful architectural forms that stay rooted in the local context to the award-winning Yves Saint Museum in Marrakech that pays homage to the famed fashion designer's oeuvre, while making use of local materials and building techniques.
The true meaning of modernity is to at once recover the past and divert from it.
Sumaya Dabbagh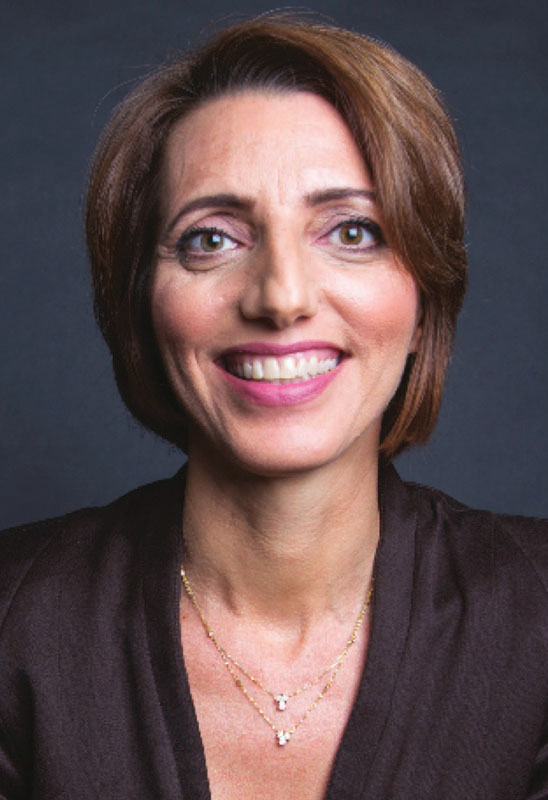 Multi-award-winning Saudi architect Sumaya Dabbagh is the founder and principal of Dabbagh Architects, which she founded in 2008 as one of the first RIBA-Chartered practices in the Gulf region. Educated in the UK, Dabbagh's diverse experience in architecture and interior design spans over 25 years. Following an education at Bath University under the guidance of the late Peter Smithson and Sir Ted Happold, Dabbagh began her career in London and Paris in the 1990s. Her return to the Gulf region was part of a quest to gain a deeper understanding of her own identity, a unique mix of influences and sensitivity towards both Western and Middle Eastern cultures. Dabbagh Architects since its foundation has seen the completion of a range of projects across various sectors including commercial offices, retail, residential, educational, as well as cultural. The award-winning Mleiha Archaeological Centre building has been globally recognised as a significant example of a newly emerging approach to architecture in the UAE. Her practice has since completed the design of Al Ain Museum, a recent addition to its renowned portfolio of sensitive, contextual designs. Through her work in architecture and design in the Gulf region Dabbagh's quest to bridge the cultural and gender gaps continues. She has participated in a number of conferences to share her design philosophy and approach and has played an instrumental role in setting up the RIBA Gulf Chapter in 2009 with a passion for bringing further awareness to the region on the value of good design. She has served as the Chair of the RIBA Gulf Chapter from 2015-2019.
Dabbagh Architects is passionate about creating meaningful architecture that is contextual to its setting and relevant to its communities.
Talin Hazbar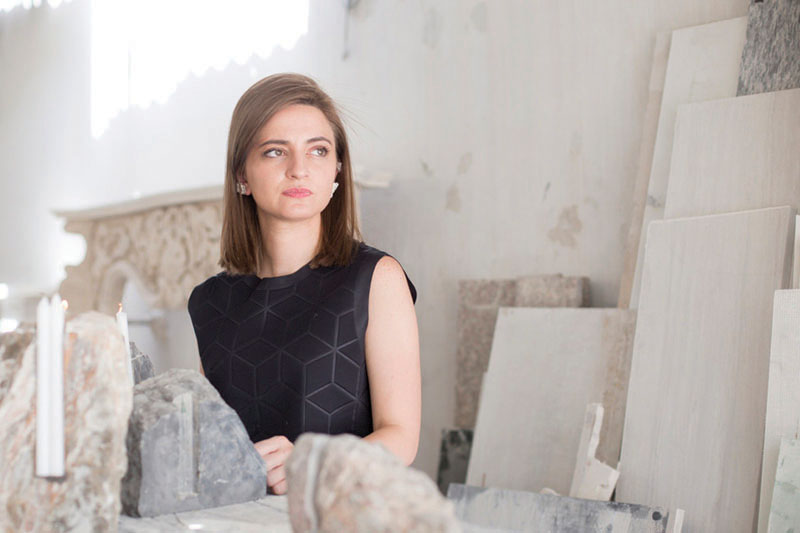 Syrian artist and architect Talin Hazbar works across different disciplines including architecture, research and art. Her work stems from an interest in understanding and exploring natural matter and its formations, qualities and potentials. Hazbar has been developing a body of work that can be referred to as 'structures of impermanence' that accentuate the importance of designing within natural systems and challenging materials' properties of accumulation and decay. Her work encompasses the pursuit of recalling naturally built structures and understanding the relationship between nature and architecture. Her research-led projects examine the natural and urban landscape of the Middle East, from the Sharjah desert to traditional Syrian architecture, showcasing the role of nature and architecture within social contexts and in the ways it influences cultural heritage. She has exhibited at Warehouse421 in Abu Dhabi, Tashkeel in Dubai as well as at the Louvre Abu Dhabi, which featured an exhibition that showcased columns of sand collected from archaeological sites across the UAE. Hazbar has been the recipient of various regional and international art awards including the British Petroleum Award, Skyward Award and the Gulf Research Meeting Award.
Tarik Zaharna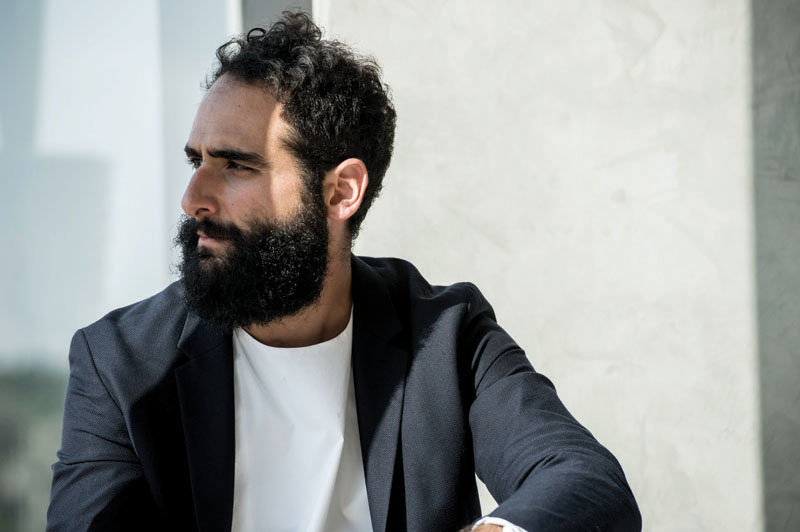 Founder and director of T.ZED Architects, Zaharna is a graduate of the Bartlett School in London, and has a wide range of international practice, including his work with Urban A&O in New York and Bolles+Wilson in Germany. Zaharna views architecture as a craft-science that responds to a plethora of factors tied to human and spatial behaviours, which attempts to improve human activity and interaction. Based in Dubai and Luxembourg, Tarik has a passion for developing a global architecture and design language. His experiences have allowed him to position himself as a young pioneer in the steadily growing design and architecture scene of the Middle East. Through on-going research and an attempt at a deep understanding of context, Zaharna aims to promote a new language within the region that reflects the birth of a new contemporary, modern architectural movement. T.Zed Architect's timeless and craft-driven approach can be observed throughout his portfolio of projects that include the likes of mixed-use developments such as KOA Canvas and the members-only co-working space Nasab, in addition to retail, hospitality, residential and dining projects across the Middle East and Europe. Zaharna has additionally served as a mentor for the British Council for the Cultural Excellence Fellowship Program launched by Abu Dhabi Music and Art Foundation.
For T.ZED Architects, architecture is a craft shaping and defining a 'place' for successful human experiences.
waiwai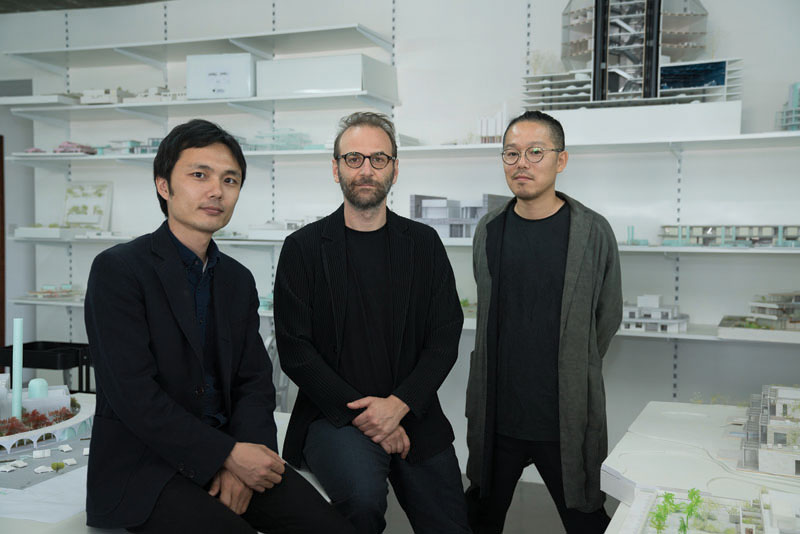 waiwai is an award-winning multidisciplinary architecture, landscape, graphic and urban design studio with offices in Dubai and Tokyo, led by Lebanese architect Wael Al Awar, and Japanese architects Kazuma Yamao and Kenichi Teramoto. Known for addressing the social, environmental, economic and technological aspects of architecture, the firm has worked on prominent cultural institutions including Dubai's Jameel Arts Centre, Jaddaf waterfront sculpture park, Al Warqa'a mosque, Hai d3 and Jeddah's Hayy: Creative Hub. Al Awar founded waiwai in 2009 as the principal architect, after moving back to the Middle East from Tokyo. Formerly known as ibda design, the firm was renamed to waiwai in 2019 to mark its 10-year anniversary. Dubai and Tokyo each foster multicultural diversity and the range of cultural backgrounds in the waiwai team inspires communication through a clear, simple and deliberate approach. Each has unique stories that first led them away from their home countries, then later to collaborate in Dubai. They share an ability to observe a city up-close and intimately, yet also from afar, with the attentive eye of an outsider. The principals share extensive experience in designing projects of various scales and programs, including art centres and parks, school and university campuses, mixed-use developments, private villas and mosques. The firm was a shortlisted nominee for the Aga Khan Architecture for Award in 2019, with Al Awar and Teramoto selected to curate the National Pavilion UAE for 2021 Venice Biennale under the theme 'Wetland', exploring how salt compounds found in the UAE's Sabkha (salt flats) could inspire renewable building materials.
The GCC is a tabula rasa offering opportunities for architects to experiment.
X Architects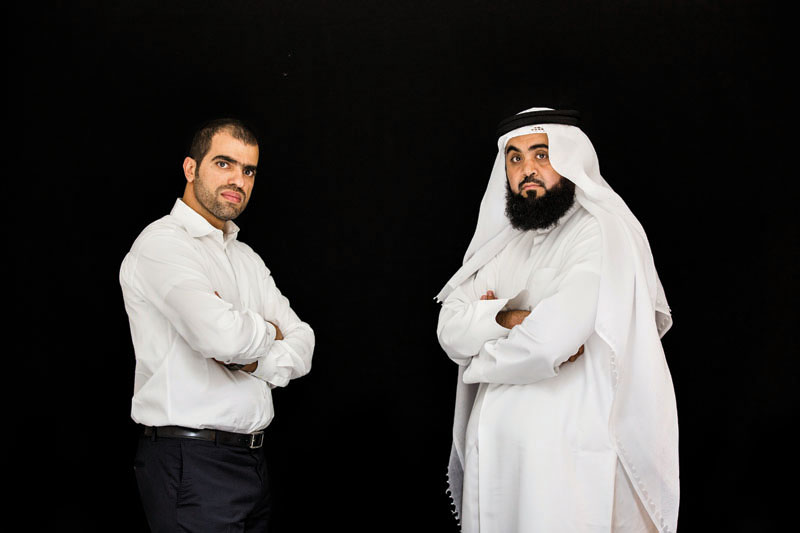 Architects Ahmed Al Ali and Farid Esmaeil established Dubai-based multi-disciplinary practice X Architects in 2003 and over the course of its 17 years, the firm has developed an international reputation for its significant portfolio of diverse projects in the Middle East, ranging from master plans, civic and cultural buildings, offices and residential buildings to private houses. The studio's research-driven approach has created built environments that are both adaptive and contextual. X Architects' projects have gained continuous recognition and have been exhibited by the Royal Institute of British Architects (RIBA) in London and the Louisiana Museum of Modern Art in Copenhagen. Recently, the firm was awarded the prestigious Aga Khan Award for Architecture for its Wasit Natural Reserve Visitor Center in Sharjah.
At X Architects, we see architecture as a language that speaks of the place.