Isabel Pintado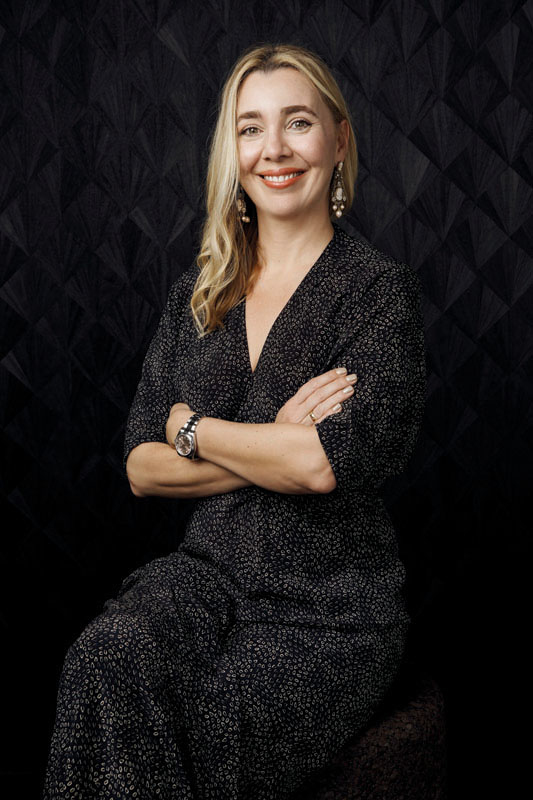 Spanish-born designer Isabel Pintado has been at the forefront of the interior design industry in the Middle East for over a decade, helping establish the interior design department at Godwin Austen Johnson in 2005, and later moving on to LW Design as managing director. She is currently senior vice president for Africa, China, Middle East and Thailand at Wilson Associates, as well as regional managing director for Bangkok, Dubai and Shanghai. With an invaluable familiarity of the region' culture and business landscape, Pintado generates opportunities for Wilson's global design studios, while overseeing the design direction of all projects across the three studios.  With Pintado's leadership, Wilson Associates has quickly become one of the most sought-after hospitality design studios in the region, accumulating a range of high-profile projects including the Palace Hotel Downtown, the contemporary Marriott Resort in Taghazout Bay, north of Agadir, Morocco, and a nightclub in Vietnam, as well as numerous luxury hotels in Makkah, Saudi Arabia, Egypt, and the UAE. Pintado was also ambassador for global non—profit organisation, Surge for Water that works to provide access to clean water to communities across three continents and 11 countries.
Jean Nouvel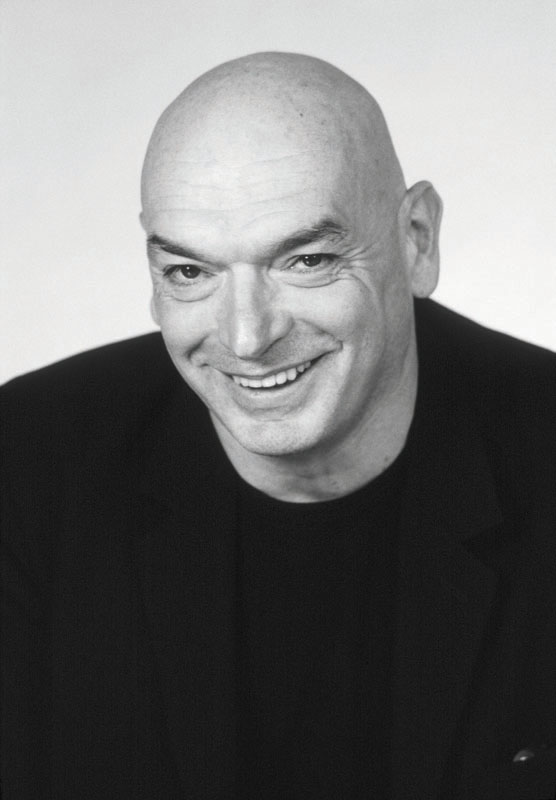 Pritzker Prize-winning French architect Jean Nouvel has long left his mark on the Middle East since establishing his practice in 1970 and with the completion of the Arab World Institute (Institut du Monde Arabe) in 1987 that won the Aga Khan Award for Architecture for its role 'as a successful bridge between French and Arab cultures'. Since then, Nouvel has gone on to design a number of highly-acclaimed projects in the region, many of which are located in the Gulf – most notably the Louvre Abu Dhabi museum located in the UAE's capital. His strong beliefs and somewhat provocative opinions on contemporary architecture in the urban context, together with his unfailing ability to inject a sense of originality into all the projects he undertakes, have formed his international reputation. He was also a founding member of the Mars 1976 movement whose purpose was to oppose corporatism in architecture. He also co-founded the Labor Union of French Architects in marked opposition to the existing national Board of Architects. In a recent announcement, Atelier Jean Nouvel revealed its design for a new hospitality project in Saudi Arabia's UNESCO World Heritage city of AlUla. The monumental Sharaan Resort will serve as an anchor point to a larger portfolio of hospitality offerings in the city.
Jesper Godsk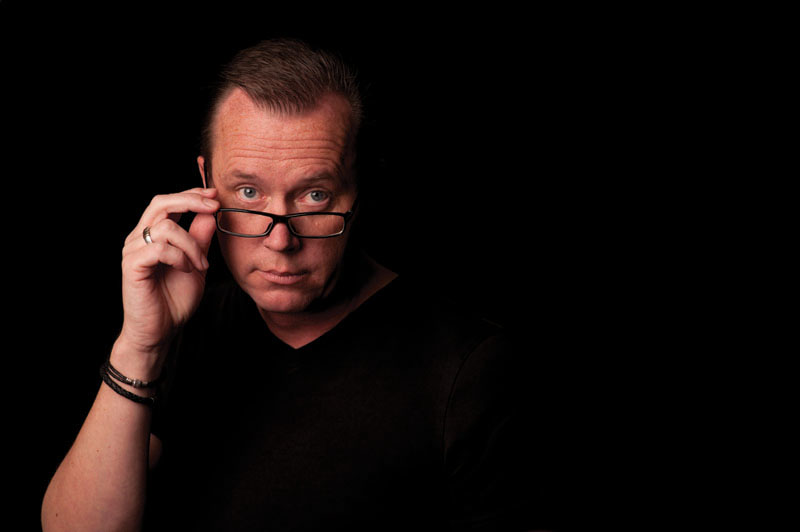 Jesper Godsk co-founded LW Design in 1999 with the aim of creating bespoke designs for the Middle East.  20 years later, the firm has come to be known as one of the most recognised interior design company in the region, highly regarded for its hospitality and dining spaces. Under his leadership, LW has completed projects for some of the world's most well-known international hotel brands, from Zabeel House to Grosvenor House, Hyatt Regency to JW Marriott Marquis, and Le Royal Meridien Beach Resort and Spa to the magnificent Dusit Hotel. Godsk has applied his Scandinavian sensibilities to LW's portfolio of projects, resulting in modern contemporary designs and timeless spaces. From the Middle East, LW Design expanded into Hong Kong, Sao Paolo and London, growing a small, local company based in Dubai into a multi-national, multi-disciplinary firm.
Jonathan Ashmore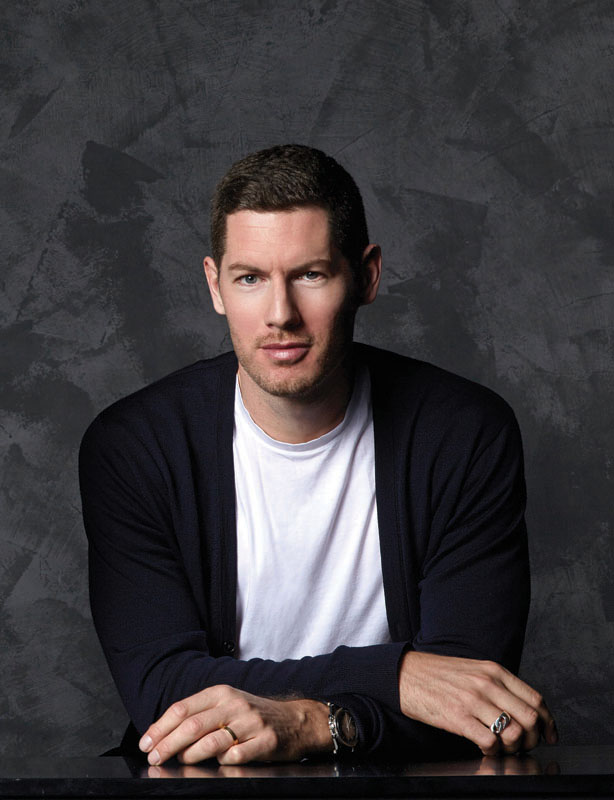 British RIBA Chartered architect Jonathan Ashmore founded his boutique practice Anarchitect seven years ago in Dubai and has since expanded into London, with the firm now working on projects across the globe. With a vision to forge projects across the globe that embody contextual modernism through an approach that embodies a global perspective through local relevance, Ashmore and his team deliver contextual architecture and interiors that are informed through local research and fused together with a progressive design outlook, creating spaces that are culturally responsive and intrinsic extensions of their natural environment. It purposefully specifies local materials and techniques for projects across the Middle East, Asia, Europe and Africa, championing a passive approach to design and a non-green-wash approach to sustainability. British Council Cultural Excellence Fellowship Mentor, Ashmore is committed to the development of young professionals through participating in professional mentoring schemes and engaging in design critiques at UAE's schools of architecture. Anarchitect has delivered a number of acclaimed projects in the UAE, including Al Faya Desert Lodge in Sharjah and modernist luxury residence Dubai Hills Villa, with other residential projects currently under construction, including the Sri Lankan Harding Boutique Hotel that features a fresh take on Tropical Modernism. The practice has also recently broken into the African market with an urban design hotel scheduled for Nairobi, Kenya. Anarchitect is also designing its first residential project in London this year.
Working in the UAE has given ANARCHITECT great opportunities over the years to truly explore and develop our passion and interest for contextual, progressive and detail-driven architecture and interiors.
HH Sheikha Lateefa bint Maktoum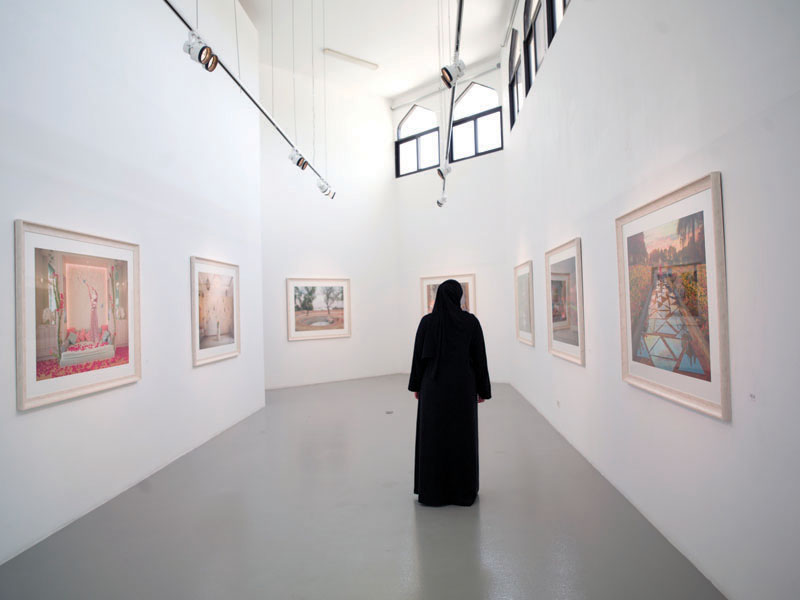 HH Sheikha Lateefa bint Maktoum is the founder and director of Tashkeel, a centre for contemporary art and design founded in 2008 that provides specialist facilities for artists and designers living and working in the UAE.  She graduated from Zayed University Latifa College in 2007 with a B.A. in Visual Arts and has gained widespread recognition for her digital montage work. Her artwork can be found in private collections nationally and internationally. An exhibiting artist since 2004, she has participated in exhibitions in cities including Berlin, Venice, Washington, Paris, New York, Denver, Brisbane, Shanghai and Seoul. In 2011, Sheikha Lateefa became one of three artists selected to exhibit at the National Pavilion United Arab Emirates – la Biennale di Venezia 2011, curated by Vasif Kortun. She is a recipient of the Sheikh Mohammed bin Rashid Al Maktoum Patrons of the Arts Award and the Distinguished Patron of the Arts Award. Since its establishment in 2008, Tashkeel has provided a nurturing environment for the growth of contemporary art and design practices rooted in the UAE. Through multi-disciplinary studios, workspaces and galleries located in both Nad Al Sheba and Al Fahidi District, Tashkeel enables creative practise, experimentation and dialogue among practitioners and the wider community. The programme has given rise to a number of initiatives including Tanween, which promotes emerging UAE-based designers, and has supported the likes of The Van Cleef & Arpels Middle East Emergent Designer Prize and the Abwab exhibition for Dubai Design Week.
It is my sincere hope that the programmes and initiatives of Tashkeel help foster widespread curiosity in the resources, knowledge and skills abundant in the country and nurture a belief in innovative design that is rooted in the UAE.
HH Sheikha Latifa bint Mohammed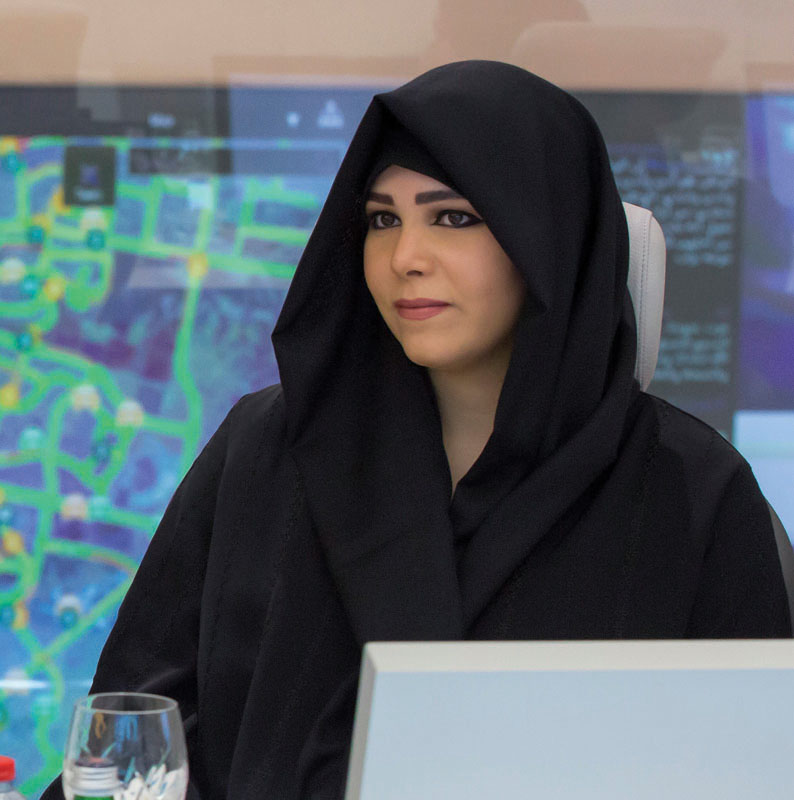 HH Sheikha Latifa bint Mohammed bin Rashid Al Maktoum has started her career at Dubai Culture & Arts Authority since its establishment in 2008. In 2014, she became the Vice-Chairperson, and in September 2019, was named as Chairperson. Through her continued commitment to the cultural and creative sector, she has become one of its main champions in Dubai, while working towards fulfilling His Highness Sheikh Mohammed bin Rashid Al Maktoum's vision to position Dubai as an international cultural centre. Under her patronage, guidance and direction, Dubai Culture has launched its renowned Dubai Art Season which includes Art Dubai, the SIKKA Art Fair and the Global Grad Show which is part of the annual Dubai Design Week, set under the Sheikha's patronage. These projects and others have helped establish Dubai's position as the first city in the Middle East to become UNESCO's 'Creative City of Design.' Drawing on her own cultural outlook that stems from Dubai's distinctive Emirati heritage, its contemporary urban identity and its futuristic vision, Sheikha Latifa is dedicated to communicating the cultural narrative of Dubai and catalysing creative enterprises through landmark initiatives.
Through my work at Dubai Culture, I continue to support and enable the creative industry and hope to further strengthen the city's cultural scene and its talents to make an impact in the region and the world.
Lina Ghotmeh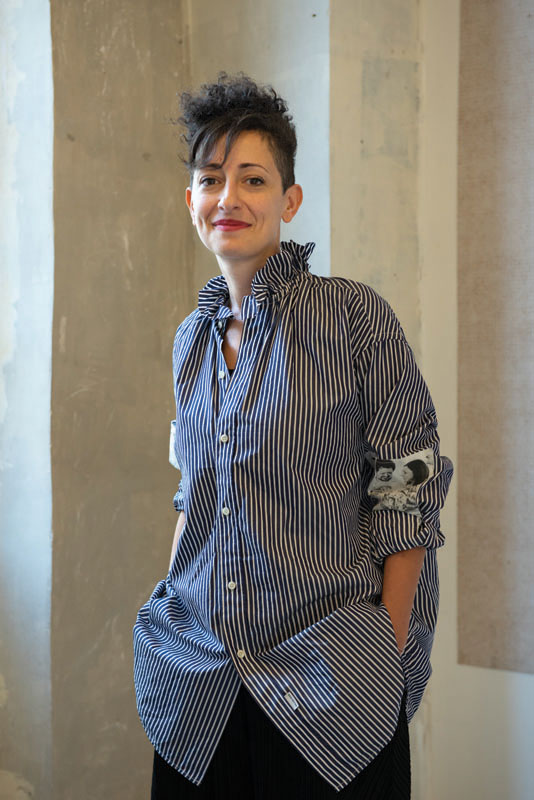 Lina Ghotmeh is a French-Lebanese architect and founder of critically acclaimed international studio Lina Ghotmeh – Architecture. Ghotmeh was raised in Beirut in the aftermath of the Lebanese civil war and studied at the American University of Beirut after which she left the city to collaborate with Ateliers Jean Nouvel in Paris and Norman Foster in London. The archaeologist-architect founded her practice in Paris in 2016, bringing together architects, designers, and researchers in the pursuit of innovative and cutting‐edge projects. Crossing scales and geographies, from objects to museums and with projects from France to Japan, her work draws a historical and sensitive approach to architecture. Ghotmeh's internationally-recognised projects include the Estonian National Museum, an ethnographic museum sitting by an ex‐military airfield in Tartu, the Stone Garden tower with its handcrafted envelope in Beirut, as well as the Les Grands Verres restaurant housed in the contemporary art museum, Palais de Tokyo in Paris. Her studio is currently designing the wooden tower 'Réalimenter Massena' dedicated to sustainable feeding in Paris, a passive building for the New Ateliers Hermès in France, as well as an urban renovation for the Maine Montparnasse site. Her work will also be exhibited at the upcoming Biennale Architettura 2021. With ties to the Middle East, Ghotmeh's projects establish a humanistic approach to architecture, bringing with it references from the geography of her upbringing in Lebanon's capital.
The Middle East, my land, my roots. The earth that continues to inspire my architecture into a welcoming realm of encounters, of textures, traditions, mystical beauty, and swaddling warmth.
HE Shaikha Mai Bint Mohammed Al Khalifa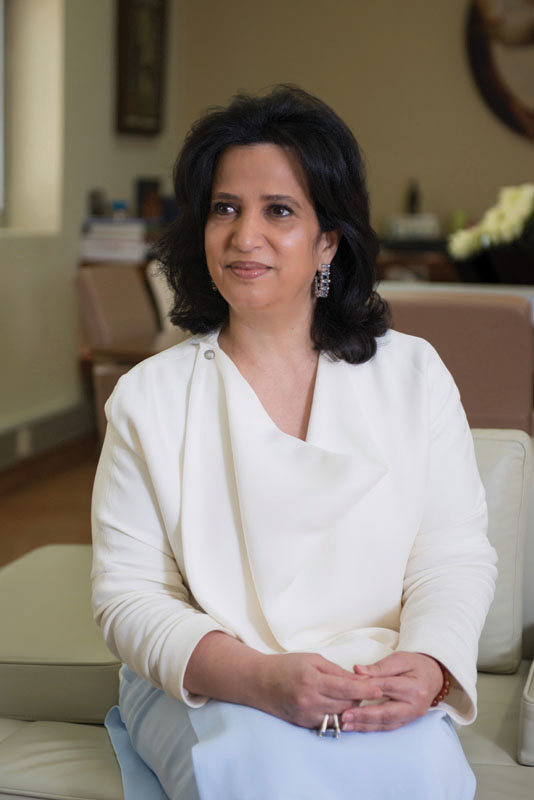 Bahraini politician and government minister HE Shaikha Mai Bint Mohammed Al Khalifa is a leading figure in the Arab culture and art scenes, having spearheaded national efforts to develop infrastructure in the Kingdom of Bahrain for heritage conservation and propel the growth of sustainable tourism in the country. She is currently President of the Bahrain Authority for Culture and Antiquities and has previously served as Minister of Culture from 2010 to 2014, Minister of Culture and Information from 2008 to 2010 as well as Assistant Undersecretary for Culture and National Heritage at the Ministry of Information. Holding an MA in Political History from Sheffield University, she has been awarded the Creation and Heritage Prize from the Comite Colbert as well as the Watch Award by the World Monument Fund in 2015 for her role in the preservation and protection of culture and heritage in Bahrain, the first-ever Arab personality to receive the recognition. In 2017 she was made the Special Ambassador of the International Year of Sustainable Tourism for Development by the United Nations World Tourism Organization (UNWTO). As the founder of the Shaikh Ebrahim bin Mohammed Al Khalifa Center for Culture and Research and Chair of its Board of Trustees since 2002, she works actively to foster culture and preserve the traditional architecture of Bahrain. The centre has since conserved and rehabilitated over 25 traditional Bahraini houses and spearheaded the urban regeneration of the historic city of Muharraq. Amongst her myriad achievements have been the inscriptions of the Qal'at al-Bahrain, the Pearling, Testimony of an Island Economy and Dilmun Burial Mounds as UNESCO World Heritage Sites in addition to the founding of the Arab Regional Centre for World Heritage, a UNESCO Category 2 Centre.
Nabil Dada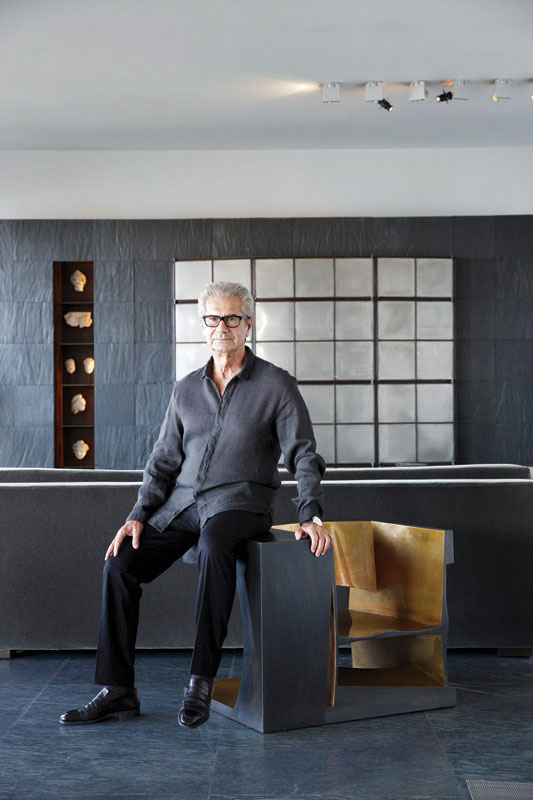 Lebanese interior architect Nabil Dada studied at the Libanaise des Beaux-Arts with already a number of small-scale interior decoration projects under his belt. Shortly after, Dada opened his store, Schemes, in West Beirut – being one of the only two stores in the country to stock contemporary furniture and fixtures, also supplying demand in Saudi Arabia. Through championing brands such as Tekno, Rosenthal and Saporitti,  the store grew into Dada & Associates through which Dada established close ties with a number of Italian furniture manufacturers. Due to the civil war in Lebanon, Dada was forced to relocate to Saudi Arabia which brought him a succession of projects, and through which he established connections with gilders, embroiders, carpenters and other craftspeople in Italy and Lebanon, enabling him to put his own stamp on the more classically-oriented projects that were commissioned to him during his time in The Kingdom. Since relocating back to Beirut, Dada & Associates has grown into a sizeable practice with recent projects including the new Beirut souks cinema and the Beirut Yacht Club as well as Al Amin Mosque. While the practice may be best known today for its mastery of the classical style – Dada is mostly partial to the Midcentury Modern style and many of his earlier projects in Beirut are a homage to it. This may be why, even at their most ornate, Dada & Associates' projects possess a degree of simplicity associated with modern design.
Nada Debs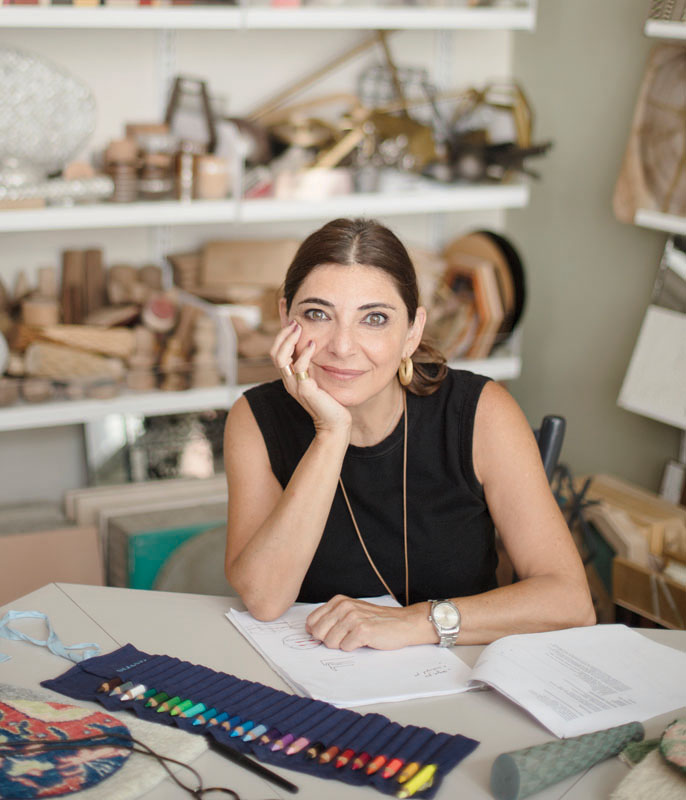 Nada Debs is a Lebanese designer living and working in Beirut and whose work spans from product and furniture design to one-off commissions across craft, art, fashion and interiors. Debs grew up in Japan, studied design at the Rhode Island School of Design in the United States and has spent significant periods of time living and travelling the world, finding connections between different cultures. What ties her work together is her ability to distil culture and craftsmanship to create pieces of emotional resonance. She calls her approach "handmade and heart-made". Fascinated by the role of the human hand to tell stories and to evoke a sense of belonging, she describes craft as a feeling that goes beyond geography, language and culture. Debs opened her first showroom in the Saifi district of Beirut in 2003. Her work embodies various crafts and techniques found across the Middle East, presented in a contemporary language and often interacting with global techniques and crafts. Debs was the first designer from the Middle East to have a solo show at the Rossana Orlandi gallery during Milan Design Week in 2018. She is also known for supporting artisanal crafts, with one of her projects – the 'You and I' rug collection commissioned by the Fatma bint Mohamed Bin Zayed Initiative (FMBI), being created in collaboration with female carpet weavers in Kabul, merging traditional techniques with a contemporary application.
Local is the new global.