Private villa by Kart Group
The idea of movement begins in the wide entry hall and U-shaped stairway of this 10,000-square metre villa. Wallcoverings shimmer with wavy iridescent lines, patterns on the floor inlays evoke movement, and the central table takes the eyes in the direction of an elliptical chandelier.
A striking two-metre-high chandelier made of multi-diameter rings flows through the double-volume family majlis and upper floor. In the evening its light glows, extending into the garden. False ceilings are treated as artistic features, giving personal ornamental touches. Light, neutral tones are accented with the brash and vibrant colours of cushions and floor rugs. Warm wood veneers are used in wall panels and as architrave to contour the angles, in contrast.
A gradient of art-deco style rays extends over the lounge area of the master bedroom. Thin ebony lines contrast with the soothing white and pearl, while light bronze liberty drapes and hand-made stencil wall panels recall a delicate landscape of textures.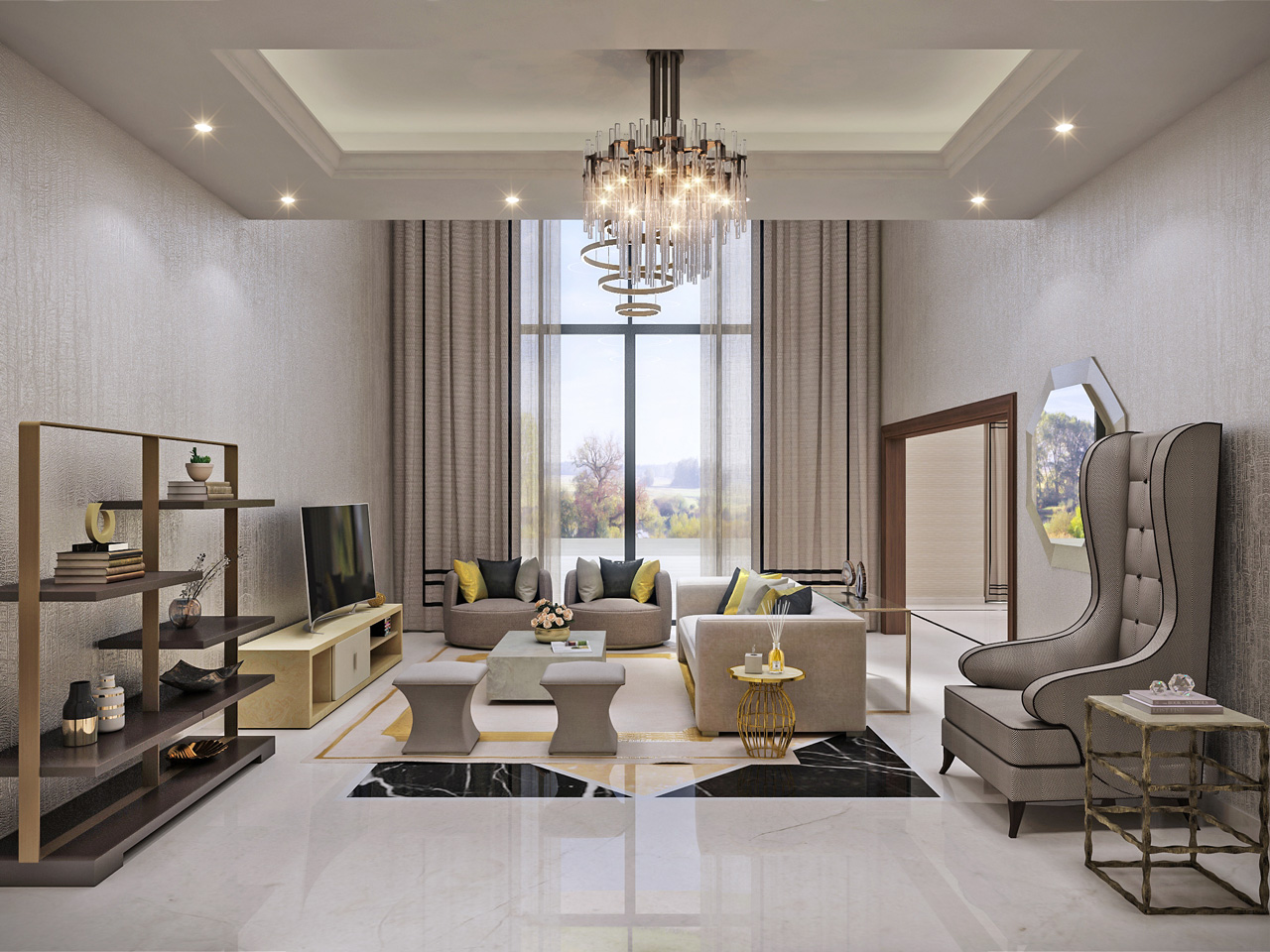 Private villa – Emirates Hills, Area V by XBD Collective
The eye is instantly drawn to the custom chandelier above the expansive foyer in this home of a family that loves to entertain. The ground floor areas, including the landscaping and pool house, can accommodate 200 guests, while the first floor above is a dedicated family space.
Everything from the wall coverings to the furnishings evokes a light, relaxing vibe, with transparency, symmetry and carefully crafted design features throughout. Among the many stunning features are the handmade crystal leaves encased between two sheets of crystal glass, highlighted by up and down lighting.
Functionality ruled the design of the pool house. Unusual features include champagne buckets hidden within the backrest of the custom sofa and a cleverly concealed projector screen.
The upstairs family area was designed to comfortably meet the family's specific requests. In addition to specially designed bedrooms, this level also features a family room, a dedicated shoe and bag closet, and a private gym and spa.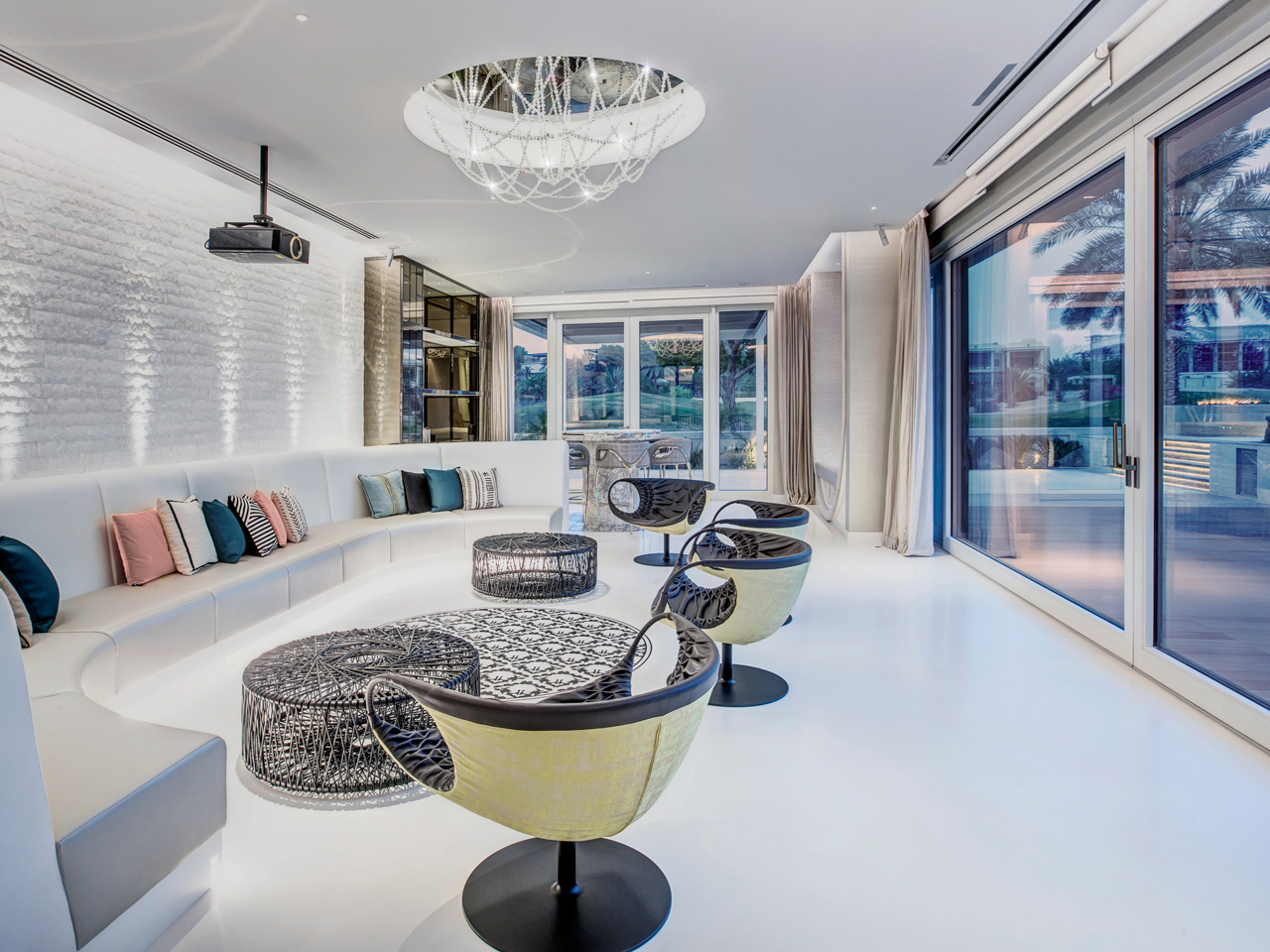 Villa D by Roar
Definitely not for everyone, this formerly 'cookie-cutter' house was re-imagined into the perfect home for the family of four. With a limited budget and two active young boys, the home needed to be liveable and functional yet possess character, personality and colour.
Internal walls were demolished to create an open-plan kitchen, living and dining area. Sliding, folding doors to the outside further extend the usable space during the cooler months to enable complete indoor/outdoor living. Library space that doubles as a home studio and homework station were added by reconfiguring the ground floor.
Upstairs, the master suite gained a walk-in closet and a free-standing bathtub and shower within a new configuration. Another bathroom was converted into a small, functional yoga studio. Vibrant reds, yellows and blues accented with industrial black, a smoked mirror-clad column and other quirky touches have transformed the house into a unique home designed specifically for its inhabitants.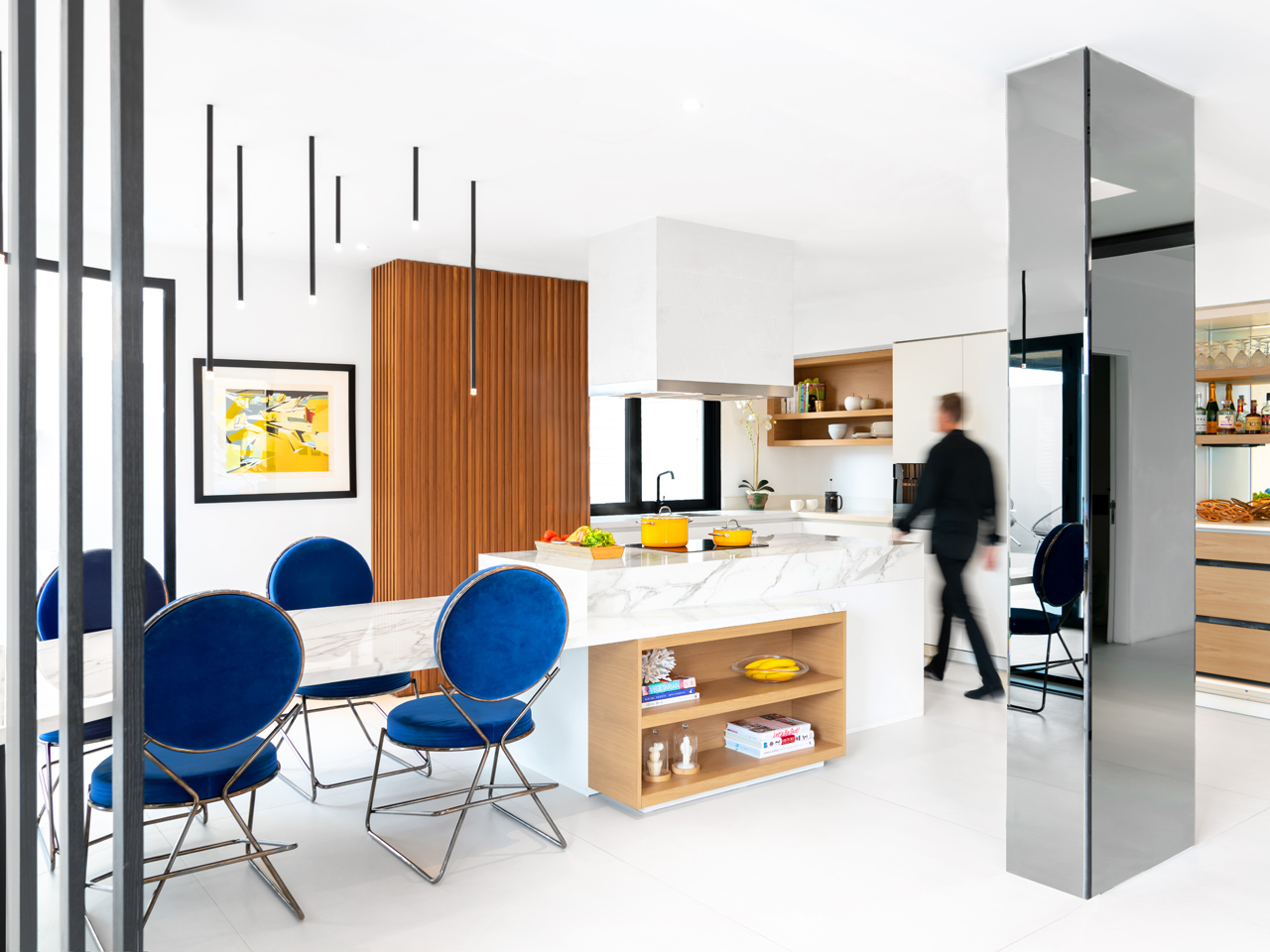 The Family House by The NIU Studio
A young Arab family wanted a warm, informal home that would reflect their culture as well as their love of Italian art. Masterpieces from their extensive art collection influenced the interiors of their one-story Dubai villa. Each room features iconic signed pieces to create bespoke, original spaces that reflect the passions of the inhabitants.
Layers of colour were added to the underlying palette of pastels and natural hues within the different living area through the addition of soft furnishings and original artwork from recognised Italian artists. Natural materials include marble flooring and wood parquet blend, highlighting bespoke rugs designed by favoured artists and handwoven by Mooi. Walnut flooring, rosewood cabinets and a bespoke II Pezzo Mancante dining table are offset by a stunning Venetian Murano glass chandelier by Zanetti.
The result is a relaxed, liveable home that reflects the personalities and passions of a modern local family.