A company's values and culture are reflected in the design of its offices. Potential clients and customers know within minutes if the atmosphere is compatible with their needs. Equally importantly, office design affects the productivity and welfare of the employees – and the bottom line.
---
Binary Office by MyPickOne
The client needed its new offices to reflect the nature of their highly sophisticated business operations. They wanted a workplace that would integrate daylight within a minimalistic approach. With executive offices close to the windows, the interior workplace needed access to natural light. Glass concrete walls, inspired by the Hermès building by Renzo Piano in Ginza, Tokyo, allow light to penetrate the interior meeting rooms and workspaces. This solution also addressed another important issue – the need for privacy, especially in the meeting room.
The boardroom is the focal point of the space, given its placement in the centre of the open space. This location promotes engagement without obstructing natural daylight. High-end ergonomic furniture adds a touch of elegance and provides sophisticated comfort. A 3D concrete feature wall enhanced with goldfish tiles promotes a positive, professional and productive work environment.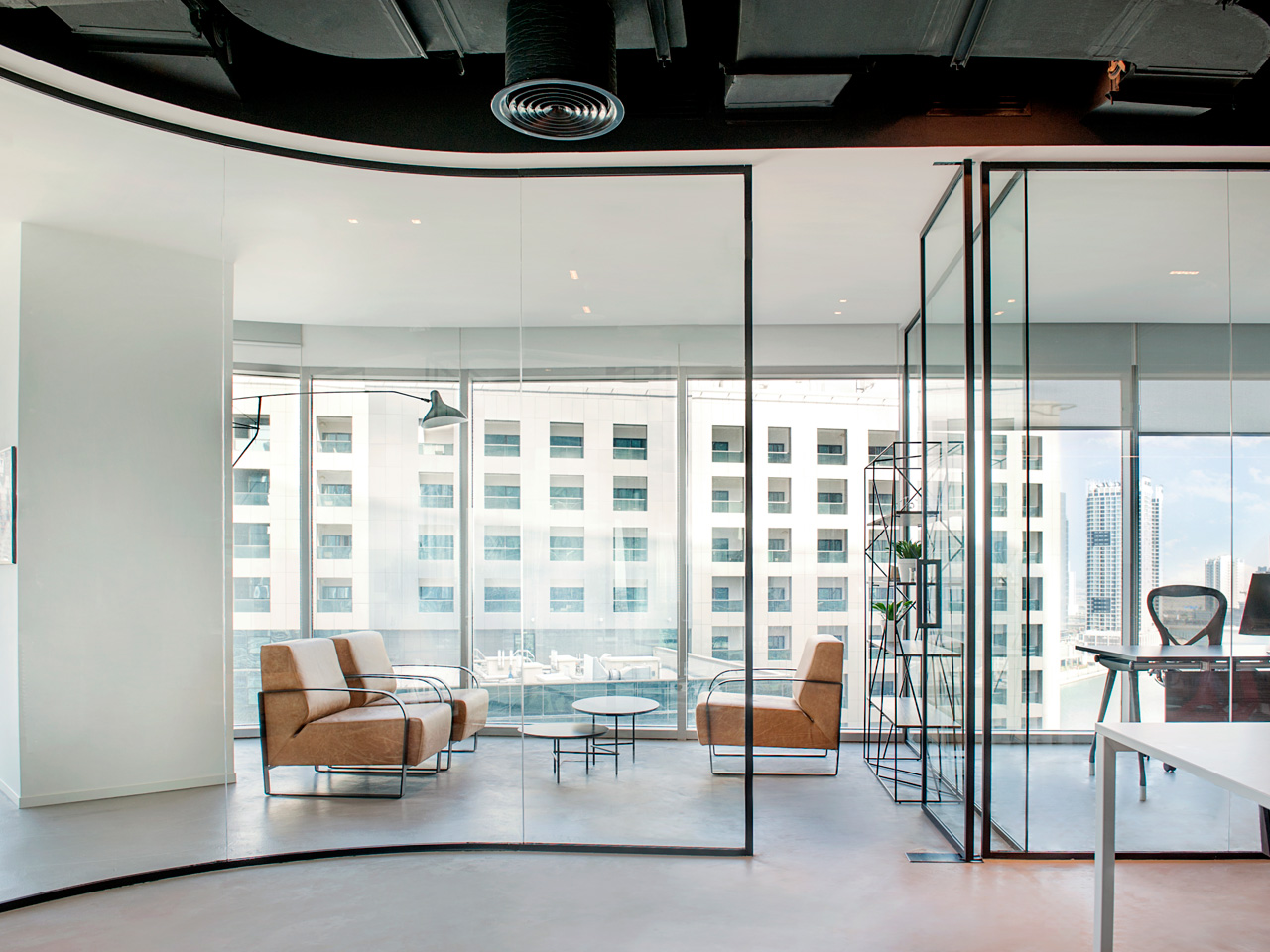 Evoteq by ROAR
Flexibility was the keyword for this company which required space that could be easily rearranged to host meetings, run workshops or launch products. It was also important that furniture play the role of creative collaborator, inspiring engagement within the team. As a result, a variety of activity-based workspaces are tied together to form one immersive and interactive office.
An outstanding feature of the space is the incredible view of the Burj Khalifa, located across the street. One important design consideration was highlighting the view and allowing natural light to penetrate the entire area.
The circular, glass-enclosed boardroom nurtures the idea that everyone is equal. The room also features writable glass surfaces, ideal for jotting down ideas without obstructing the view. The shared CEO-COO office reflects the corporate culture; it is accessible to everyone by a series of pivoting glass doors that can be closed for private meetings, though which are typically left open.
A window-side workstation lets team members be inspired by the towers they can see, while a suspended stand-up worktable provides an alternative to sitting all day.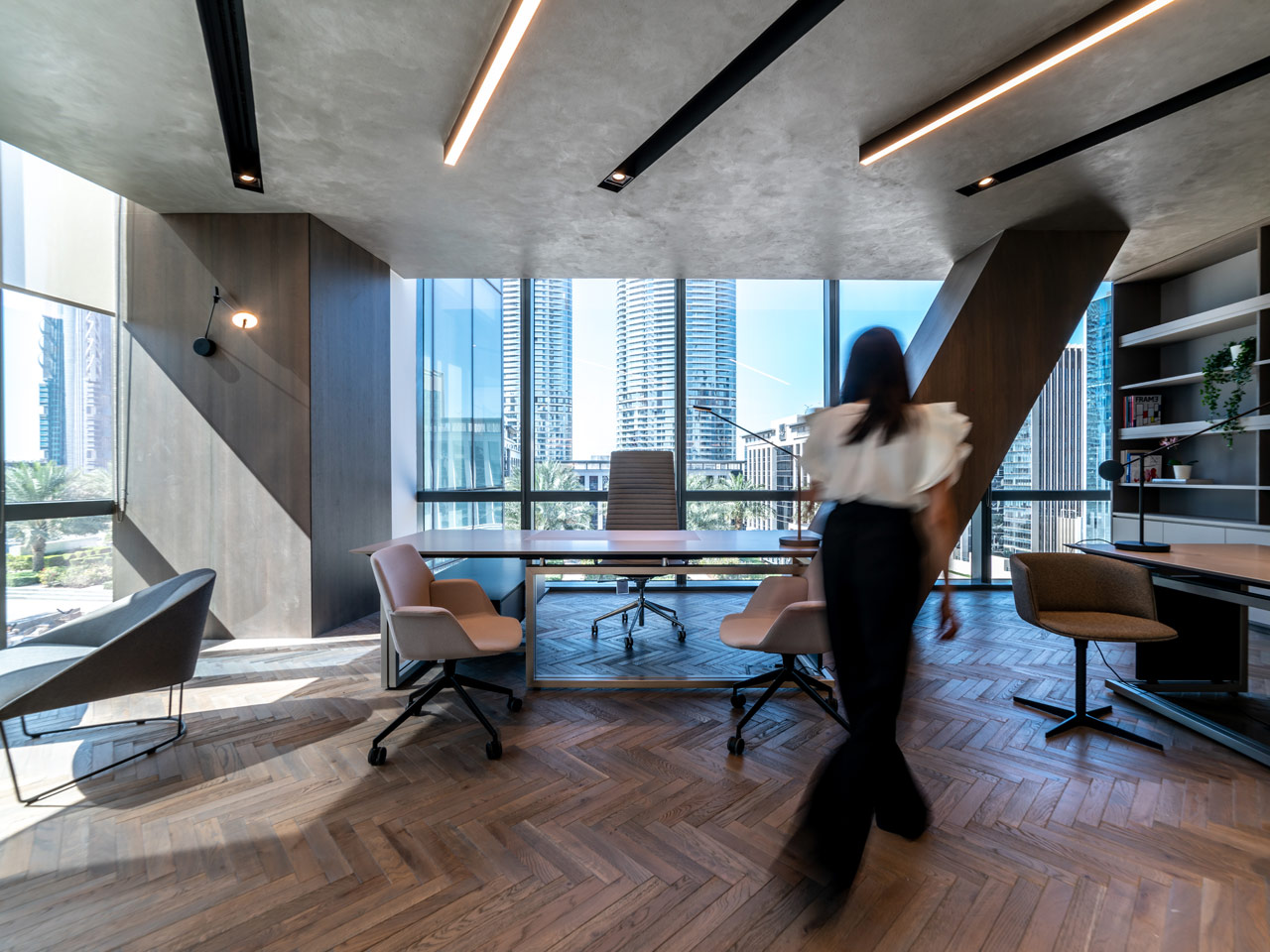 Sheraa University of Sharjah by ROAR
Creating a space to help Sheraa deliver on its mission "to unleash a generation of entrepreneurs who will build a better forte for our societies and beyond" required a space suitable for a wide variety of people – students, faculty, investors, government officials and entrepreneurs, all of whom make up the entrepreneurial ecosystem. Additionally, it had to be built within a restrictive budget yet be flexible enough to accommodate a broad range of work scenarios, including co-working and private spaces for important negotiations.
Movement and interest were generated by a staggered look and wave-like graphics created in-house. Colourful handles are used to access lockers, which have been provided because very few people have their own workstations. The injection of colour adds a sense of play and vibrancy, which attracts the target demographic of young start-ups and budding entrepreneurs without offending more mature mentors and investors.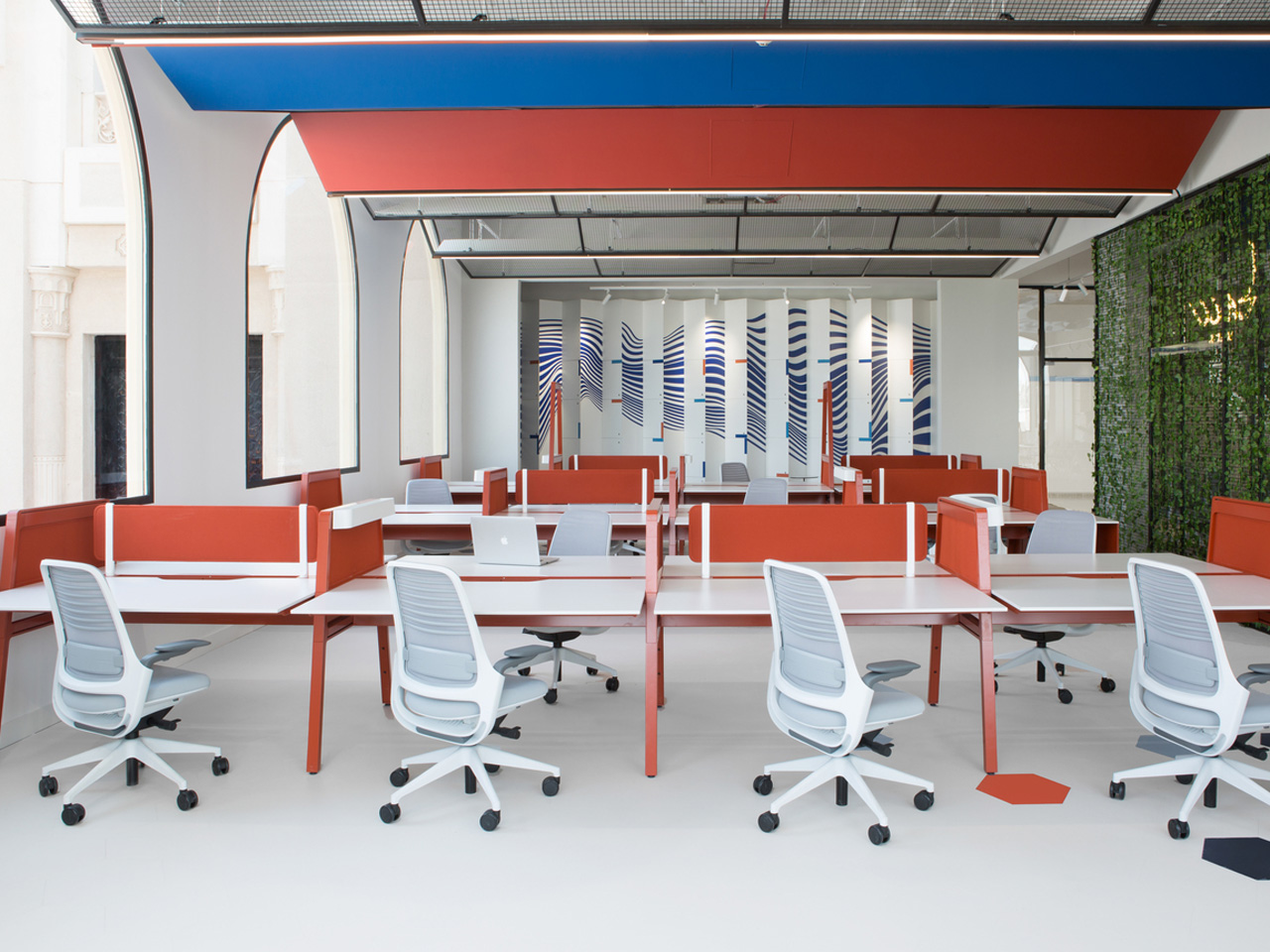 Easa Saleh Al Gurg Design Hub by Schwitzke & Partner
A sleek monochromatic interior with a series of free-standing 'boxes' proved to be the perfect solution for providing separate display spaces in which to showcase the seven companies under the client's umbrella. By housing each brand within the same space, the client is positioning itself as a single destination for everything related to interior design.
Targeting an audience that includes contractors, customers and property owners, the individual pavilions highlight each of diverse brand's unique aura and emphasises their most captivating pieces. A dynamic pathway leads from one section to the next, maintaining individual branding standards while promoting the concept of unity among the components.
Workspaces are positioned to allow brands to cohabitate in a stimulating work environment. Smart lighting and window blinds implement comfortable energy-saving features, as do the carbon-neutral carpet tiles.