More than merely a place to grab a quick bite to eat, the Dubai café is also a place to go for casual entertainment and to gather with families and friends over a beverage or meal. A café must be welcoming, as well as able to generate an exciting atmosphere.
---
Zeste Café by LW Design
A café both for grab-and-go and dine-in customers needed a distinctive identity in the transitional space between the lobby and all-day dining areas of a new-built hotel. To achieve the illusion of separation in an open space, full-height gypsum partitions, rope screens and semi-open timber shelving filled with electric accessories and plants were installed. This innovative solution satisfied the challenge of creating intimate and inviting spaces within the unalterable constraints and parameters that were already approved and in place onsite. Additional planter boxes with pendants created visual separation while still allowing glimpses of the other side. A mix of eclectic lighting and lifestyle collectables displayed on full-height walls add to the playful dining and lounge seating. The result is an inviting, casual, yet relatable design.
Nar Social by Brand Creative
The relationship with the client began six years ago with the total conceptualisation of a new brand and its flagship café. Substantial growth plans required the re-analysis of market-specific needs. This involved understanding the behaviours and needs of the mixed demographics of Motor City. Nar Social is a casual, laid-back version of the original Nar Café concept that is designed to appeal to Arab families wishing to enjoy during the day. An open, wood-burning fireplace and hand-made tiles encrusted in cement provide an edgy, yet contemporary aesthetic to the non-smoking downstairs area. Rough surfaces and industrial elements in the shisha/smoking level above is designed to attract a livelier crowd of young, single professionals looking to enjoy their meals with live and televised entertainment at night. The venue also offers board games and a great shisha experience within a comfortable yet moody environment.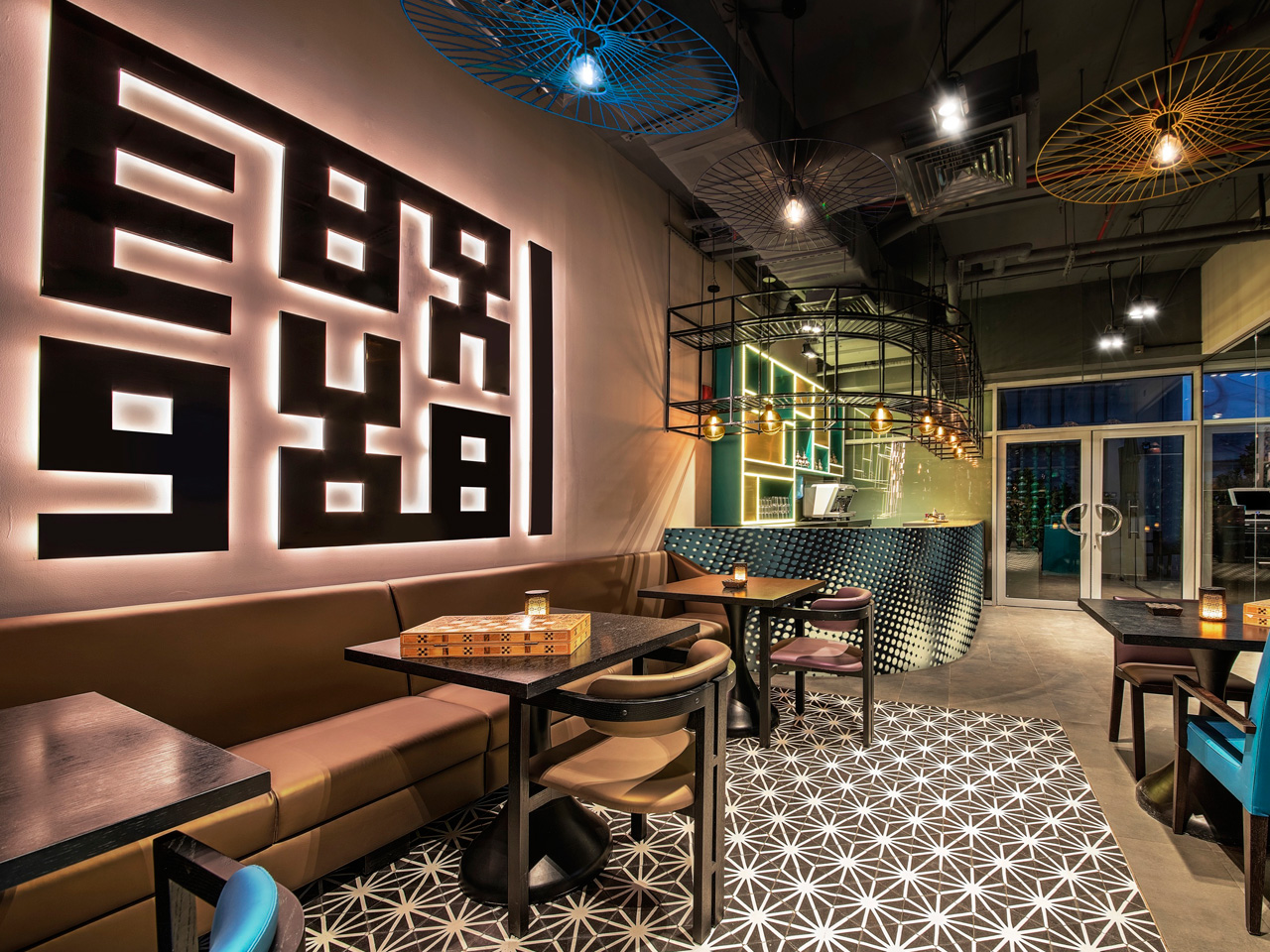 Falla by Bishop Design
The developer of the Emirati cartoon series Freej wanted to deliver a humorous, approachable and witty experience when it created its casual, stand-alone F&B destination in Jumeirah. Targeting Emirati families, the design needed to reflect the local culture by offering something distinctive and engaging with amusement, innovation and unexpected experience – while also appealing to expats in the area seeking something different. Colour waves and striking art are part of the graphic-oriented and highly 'Instagrammable' setting. Dynamic lines in the flooring solutions are mirrored in the ceilings, and vertically through the stairwell to the second seating level. The quick-service restaurant strives to make the customer happy, comfortable and welcome. The innovative fabrics, furniture and styling in this outlet have propelled it into a model for international franchisees.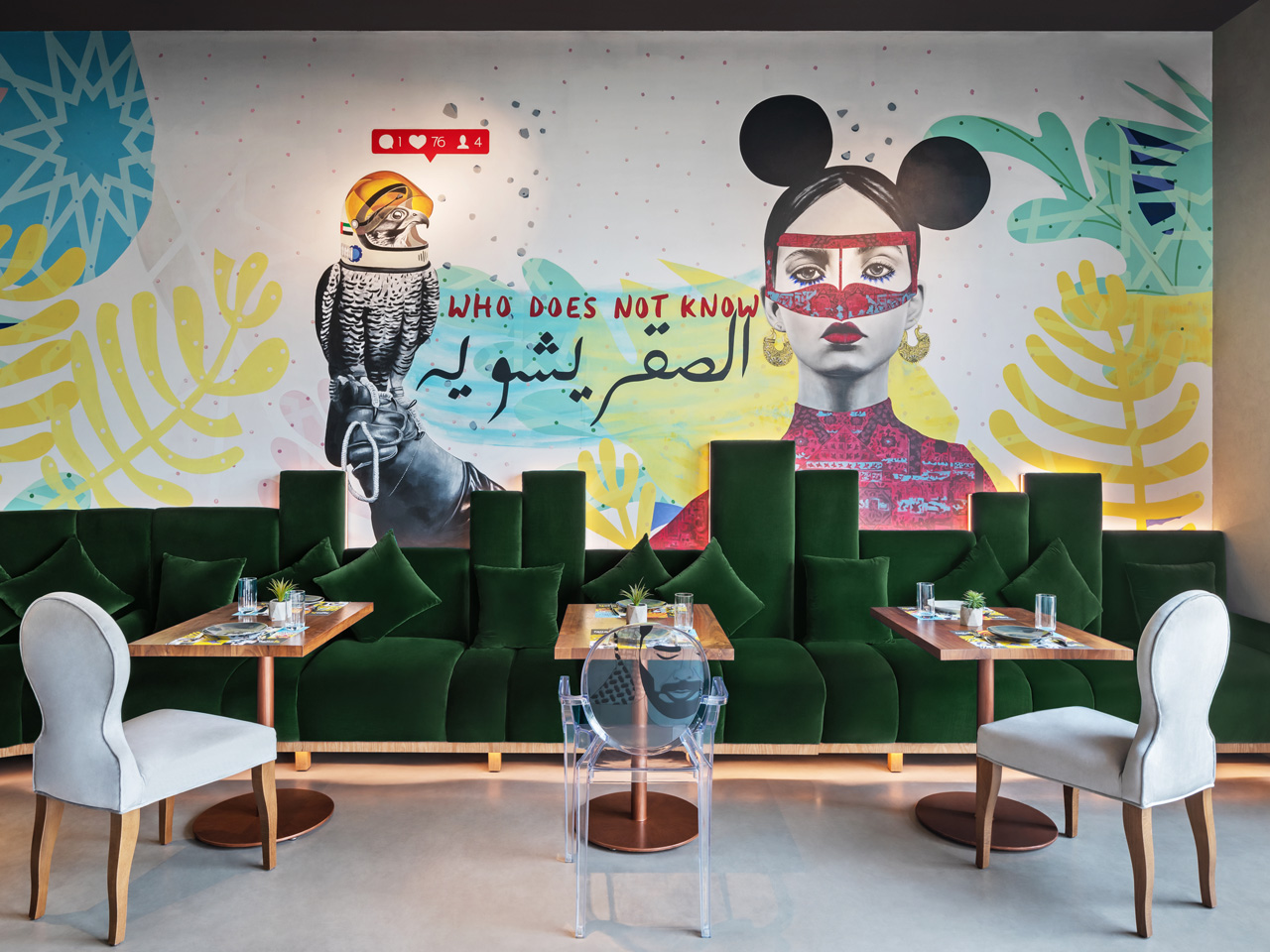 Larte by Bishop Design
With the goal of breaking the mould of the typical, mundane hotel all-day dining facility, Studio City's Ròya Hotel wanted an arty, off-beat vibe with surprising details that supported its four distinct areas: bar, wine area, lounge and bistro. Inspired by cinematic fashion and art as well as the creative audience of the hotel, the ambience breathes eclectic art to achieve an unconventional yet comfortable and desirable dining attraction. A light palette provides a backdrop for highlighting unique art pieces and vibrant splashes of colour. Modular furniture and diversifying projections ensure ever-changing capabilities. Instituting the collective concept store model, the space combines dining with retail to showcase the client's own products and furniture. Dynamic full-length windows provide a bright, airy space that requires little artificial lighting.