identity visits Paris Design Week – and Maison & Objet – to scout the new voices in the capital's design scene, with highlights including collections by designers from Lebanon, South Korea and France.
A masquerade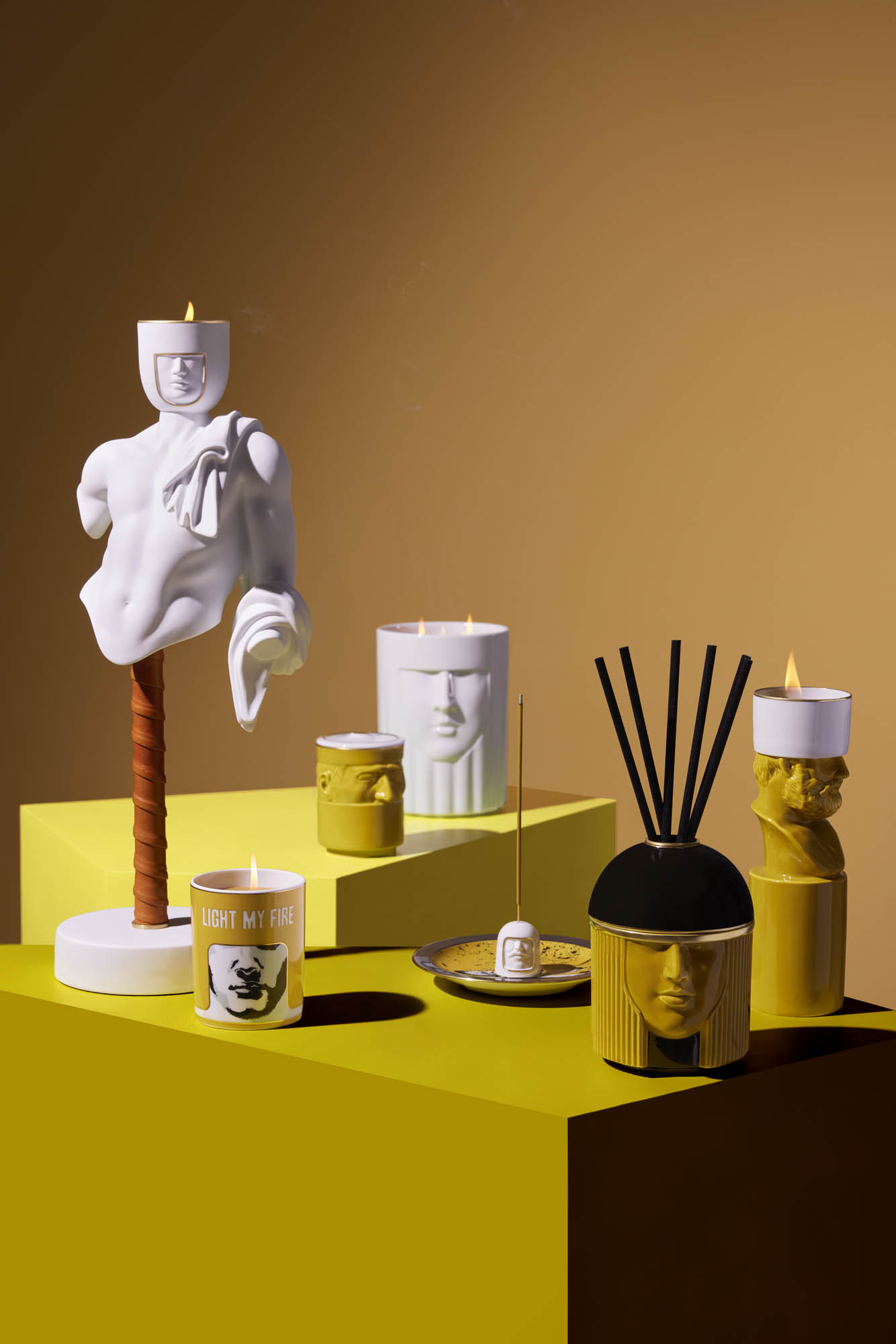 A sense of mystery prevails in Ginori 1735's home fragrance collection Le Compagnia Di Caterina – designed by revered multidisciplinary Luca Nichetto – which now offers two new fragrances: Amber Lagoon and Musk Road. Comprising candles, incense holders and fragrance diffusers, the collection is inspired by characters in the court of Catherine de' Medici, who travelled with the Queen from Florence to Paris. It also takes cues from lucha libre masks, the illustrations of Jean-Paul Goude and graffiti art, which together form the statuesque faces of the archetypal protagonists of the collection. Mixing classism with rigorous lines, the faces and sculptures take on an iconic and mysterious dimension, creating a fusion of graphic symbols and colours that recall the ingredients used to create fragrances. Available at THAT Concept Store (thatconceptstore.com)
A meeting of worlds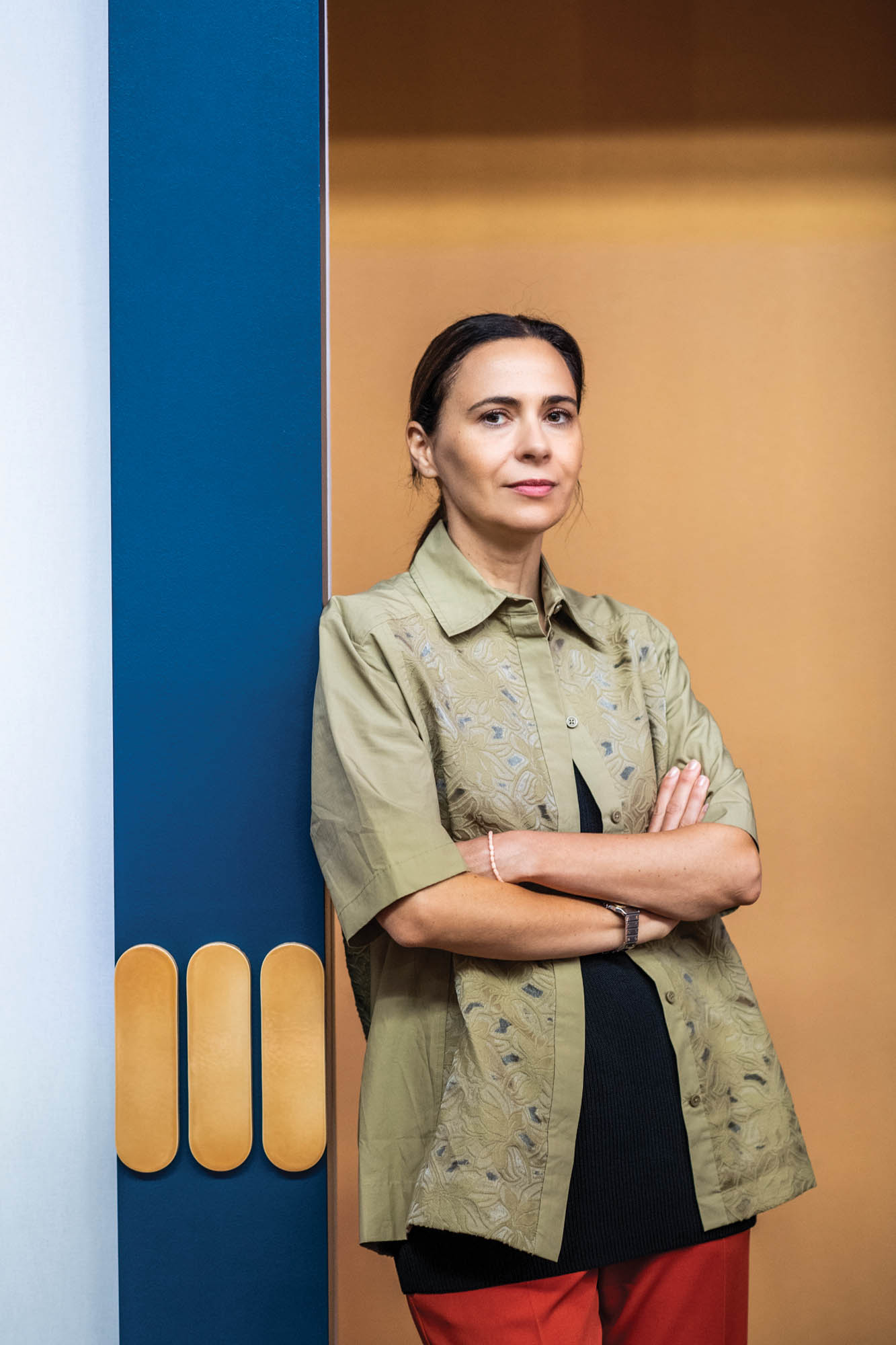 The sought-after Italian designer Cristina Celestino – who is Maison & Objet's September edition's Designer of the Year – threw open the doors to her Palais Exotique ('Exotic Palace') during the fair: an eclectic and whimsical restaurant space that aimed to pull visitors into another world, in which Celestino once again asserted her creative flair and wide-ranging oeuvre. It's one she has accomplished in an extremely short period of time ("I'm very tired," she jokes). She has designed interiors through her own eponymous practice, and accessories for her brand Attico Design, but has also collaborated on furniture pieces and jewellery for brands such as Etel and Fornace Brioni. Palais Exotique is reminiscent of the city's coffee and tea rooms of the last century, with elements borrowed from different cultures around the world. Defining features include bright-coloured garden fences, architectural forms typical of a palace, and wallpapers and coverings in geometric patterns or tropical flower designs. The space is also an exhibition of Celestino's collaborations: from her wallcoverings for Misha to her chairs for Billiani and sofas for Moooi. 
Soft textures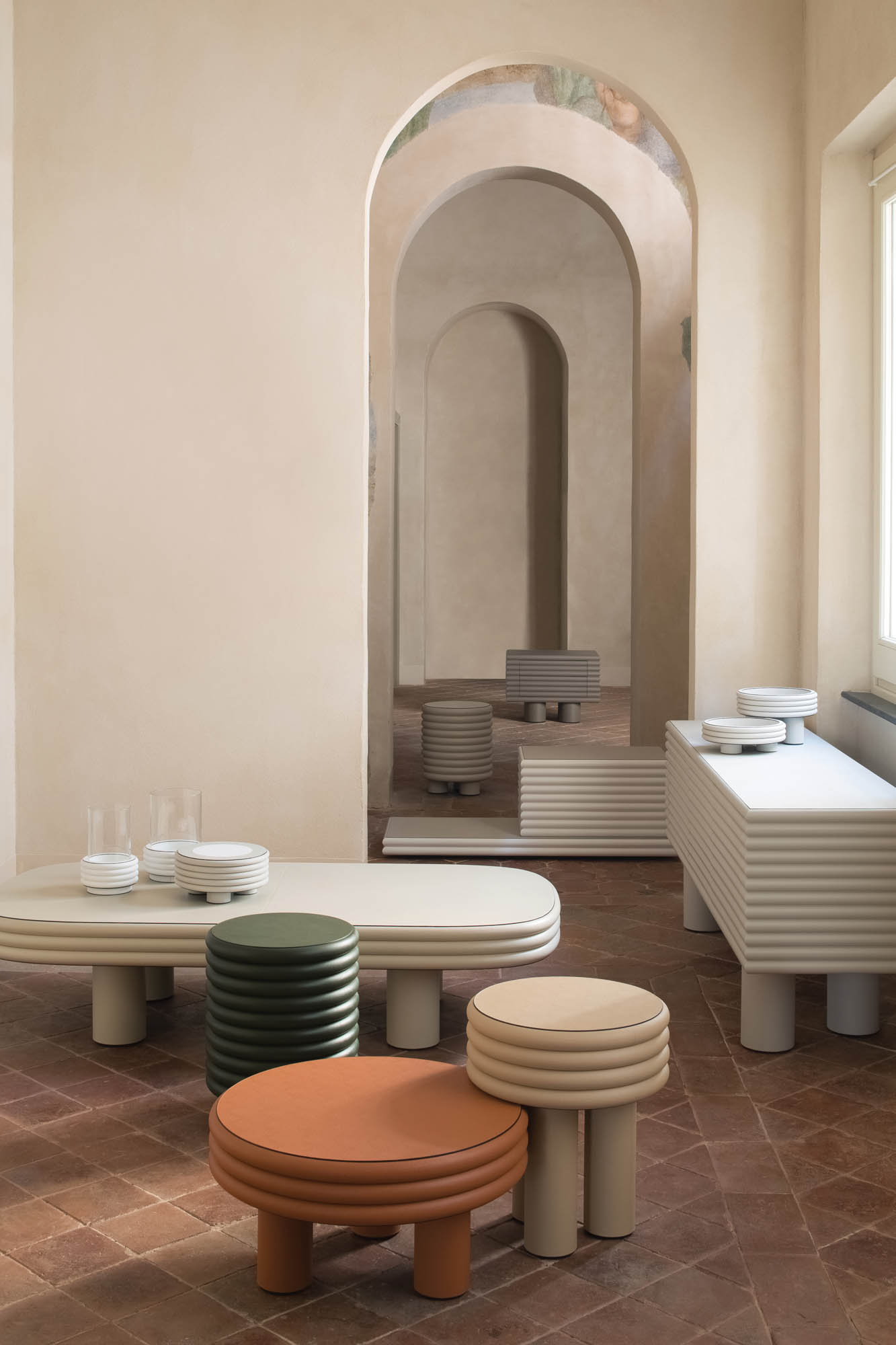 Acclaimed for luxury leather homeware, Gio Bagnara's elegant creations have long been the standard for traditional know-how and craftsmanship in leather products, and the brand has become a key partner for a large number of interior decorators as well as yacht and private jet designers. The brand's collaboration with designer Stéphane Parmentier (who is now its creative director) officially began in 2017, born from a shared passion for refined detailing and modern elegance, and has since given rise to a number of creations, from home décor pieces to furniture designs. Scala is one such collection, inspired by the 'stacked' shape often seen at the base of some Italian buildings and in Salvatore Ferragamo's celebrated heel. At times, a pure cylindrical shape stands alone; at others a duo or a trio form a stool or occasional table; yet the key to these pieces' elegance is the absolute precision of their proportions.
Coastal dreams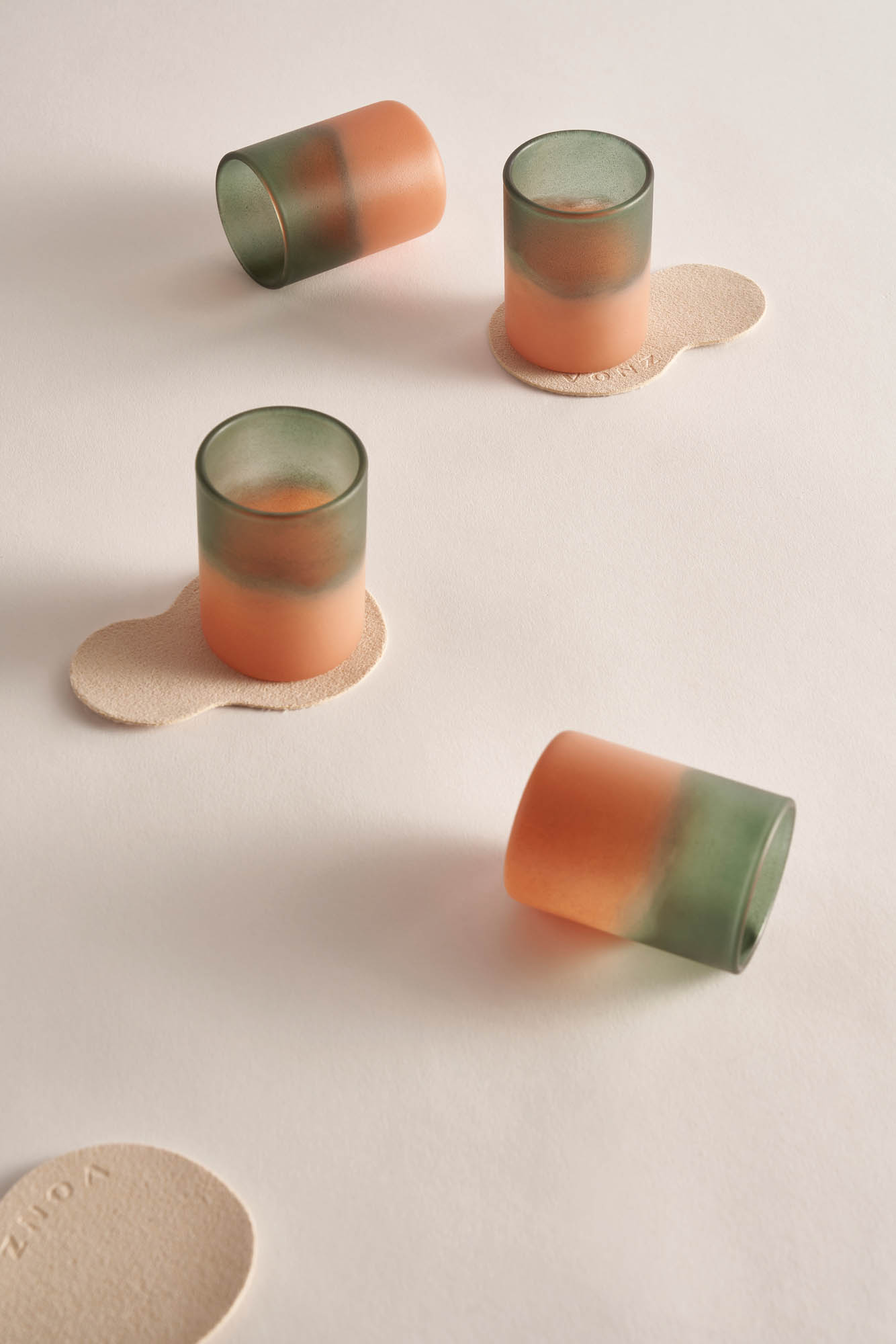 Seoul-based artist and designer Jeongeun Kang – founder of experimental brand VONZ – focuses on the cultural research of Korean traditions and materiality, creating functional yet artistically-inclined objects that seek to bridge the gap between traditional craft and contemporary living. Since 2018, VONZA has been experimenting with textures using Ottchil (Korean lacquer), mixing it with tofu and modern-day industrial by-products such as sawdust, roof tile dust and ceramic powder – all created by craftspeople in small workshops in Korea. Her collection, Midsummer Seaside, features fresh green and amber tones inspired by foamy waves that are washed up on red rocks – an effect created by applying thin layers of Ottchil. The collection is an ode to the sense of serenity and consolation that the designer experienced along the Olle Trail in Jeju Island in South Korea. 
Natural world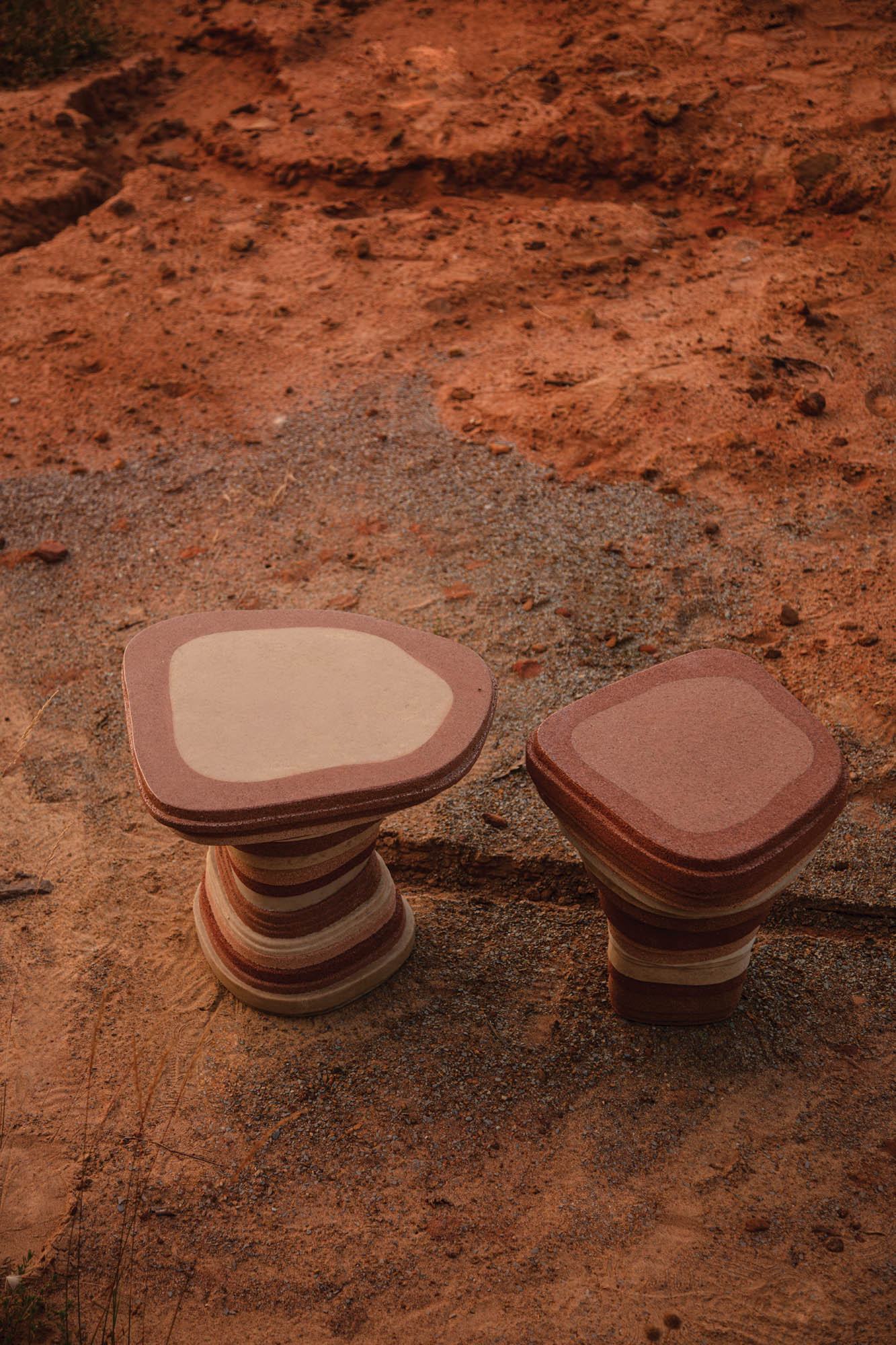 Taking cues from the natural world, Beirut-based designer Roula Salamoun introduces her latest pieces: Archipelago seats and Strata tables. The seats evoke the visual language of insular landscapes seemingly shaped by the passing of time. The tapered base hints at coastal erosion, while the prominent backrest is reminiscent of mountainous highlands. Mimicking island clusters and peninsulas, the organic silhouettes are available in an array of colours and dual textures, reflecting natural environments. Made and upholstered by hand, the core features foam on a solid wood structure. Similarly, the Strata tables are rooted in topographical studies and are an evolution of the designer's rug collection under the same name. The Strata tables echo terrain variations, inviting the user to imagine how they came to be. The pieces are hand-cast using resin and natural marble, applied with an intuitive moulding method. To translate the rich colours of the natural realm while being mindful of environmental impact, the designer carefully selected natural stones left over by the construction industry.
Cultural ties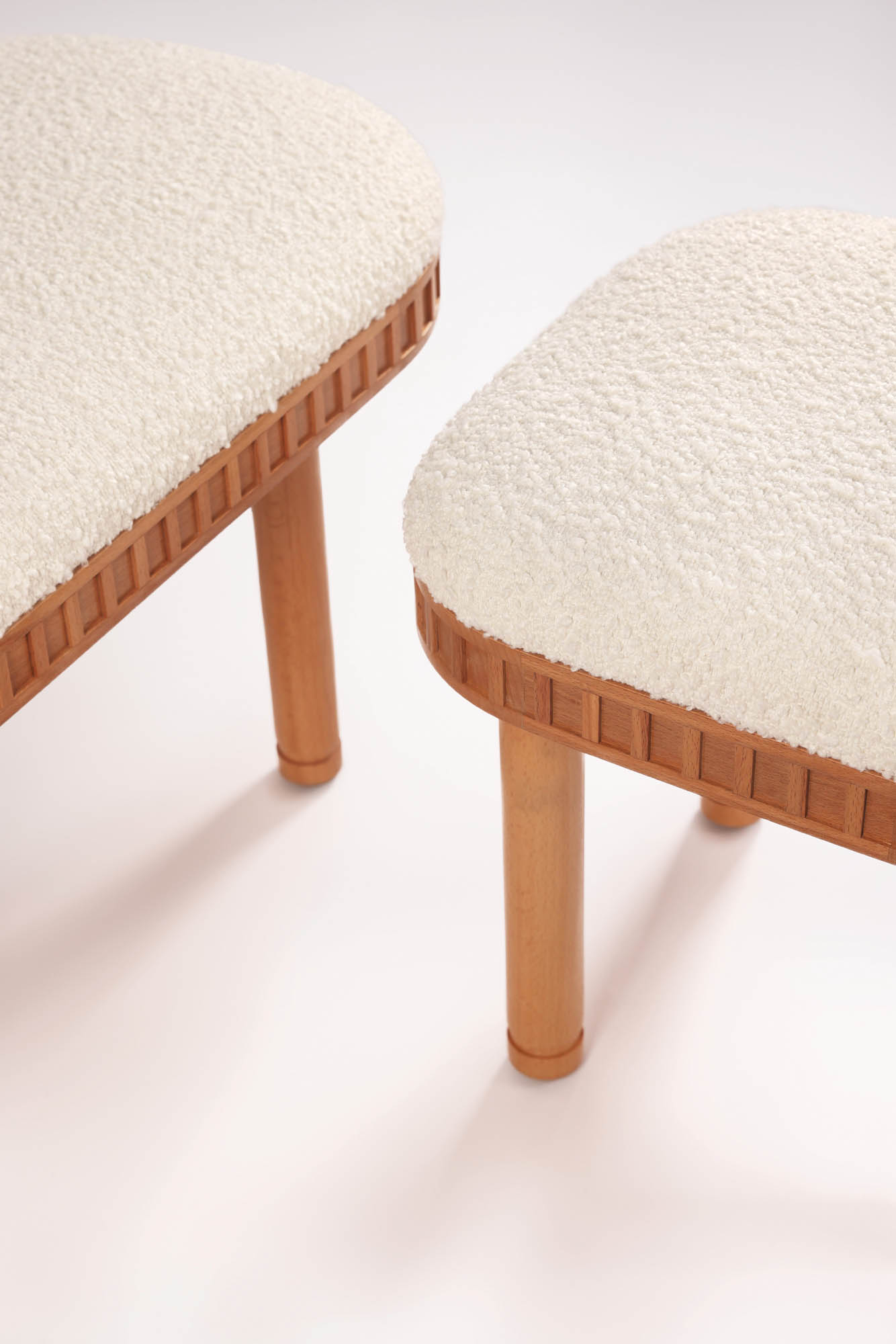 Supporting and promoting Lebanese designers is at the heart of Beit Collective, a platform created by Emilie Skaff that brings together designers and craftspeople to create tributes to Lebanese culture. The Groove collection was born out of one such partnership, and created by Beirut-based Studio Caramel – led by Rami Boushdid, whose works strive to create a 'collective curiosity'. Encompassing an aesthetic from the 1950s, the collection marries historical elements with the present, stemming from the designer's fascination with Lebanon's archaeological and artistic sites, all while aiming to preserve its craft traditions. Comprising a bench, stool, side and coffee table that feature precise geometric carvings, Groove is crafted by Lebanese woodworkers who have passed down their craft for generations. 
In the clouds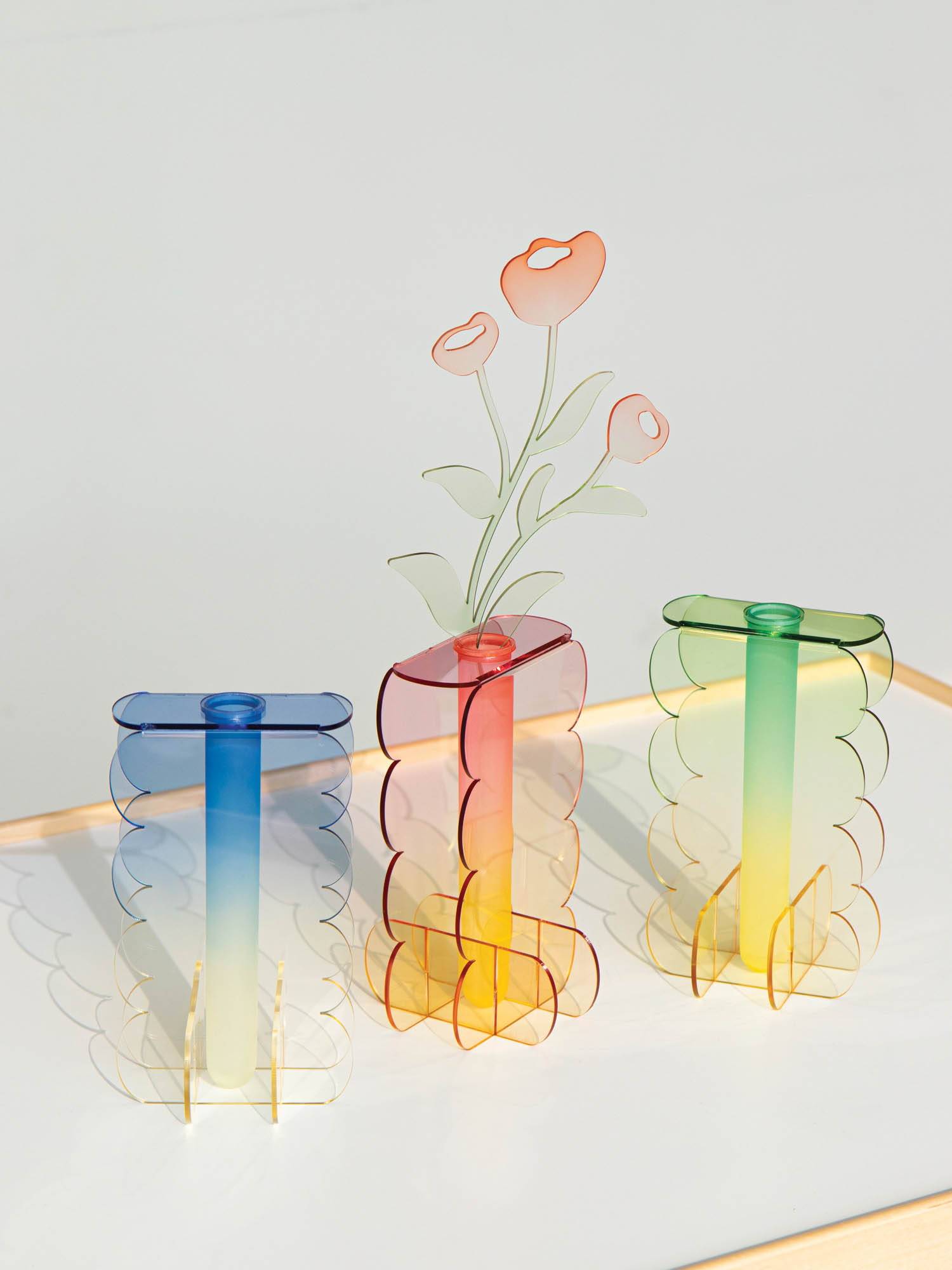 Creating objects that evoke the concept of rest in everyday life, Seoul-based Studio Riposo's works are based on handicrafts, many of which use acrylic to create home décor objects – such as this acrylic Cloud vase, designed by installation artist Kim Tae Woo and created using a hand-dyeing technique that is typically used in textile crafts and now seen in this transparent acrylic material. The vase evokes the image of a puffy cloud rising in the summer sky. "I want it to be a visual pleasure, like a break in a corner of daily life," the designer says. The same material is used across other objects, using the same hand-dyed technique.
Metal scene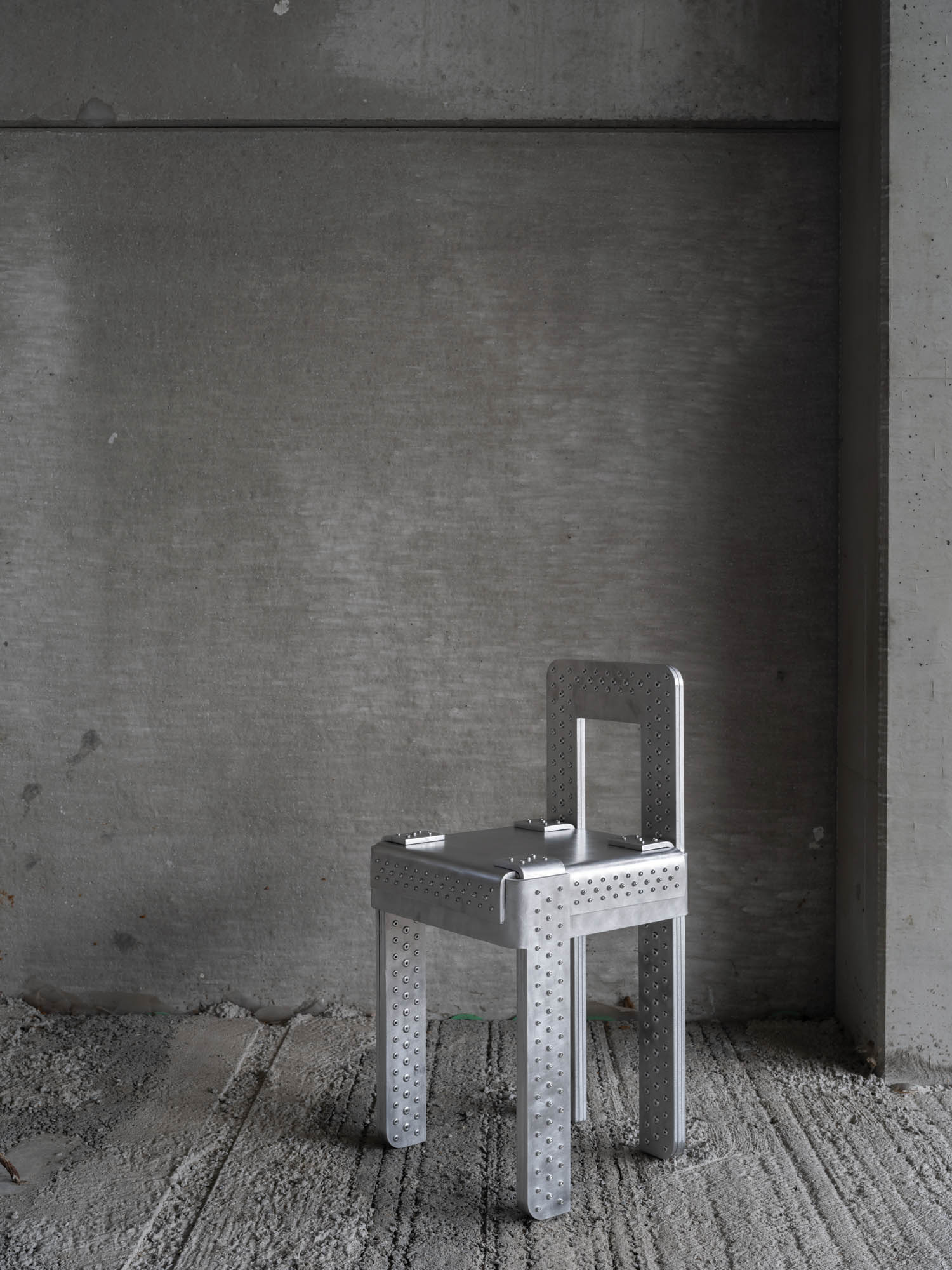 Arthur Vandergucht is a young Belgian designer and craftsman, and a specialist in TIG (tungsten inert gas) welding, who has created a table and seating collection made of folded sheet metal compartments using a series of repetitions, inversions and bends that are neither hidden nor obscured, and finished by applying circular movements with soft steel wool to create a matte effect. The designer then contrasts this by applying the same movement for the final finishing coat, now using a glossy product. "My love for industrial materials and traditional connections came from an early age. I grew up in my father's garage, where I saw him working with cars and car parts [and] I remember seeing so much sheet metal being repaired and restored that I got fascinated by the many possibilities the material offered," says Vandergucht. 
Rational design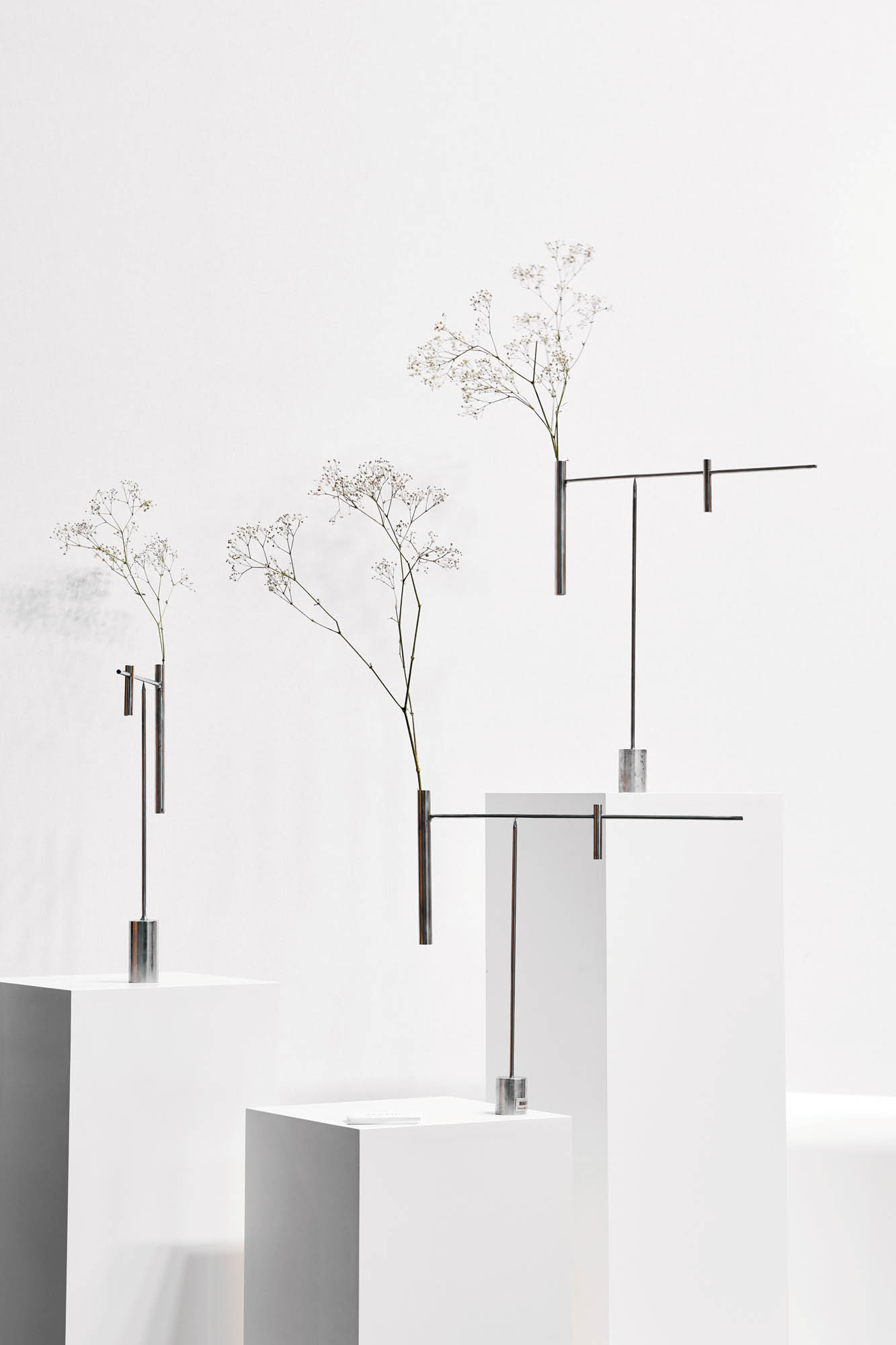 "We create objects that do not rely on a combination of materials but rather on the purity of a mono-material," proclaims young French brand Manip, headed by entrepreneur Nicolas Caillet and industrial designer Maxime Lis, who claim that the ethos of the brand is centred around designing without a manual: a coffee table turns into a seat, a glass into a vase, and a knife into a screwdriver. At the heart of their designs is a desire to create human objects for humans, to be used as one deems fit, and interchanging based on functionality and need. But while this notion is at the forefront, there is nothing utilitarian-looking about their designs. Created with a deep sensitivity, each object represents a balance between an art object, an everyday object and a tool that contributes a sense of lightness and timelessness.
Minimal forms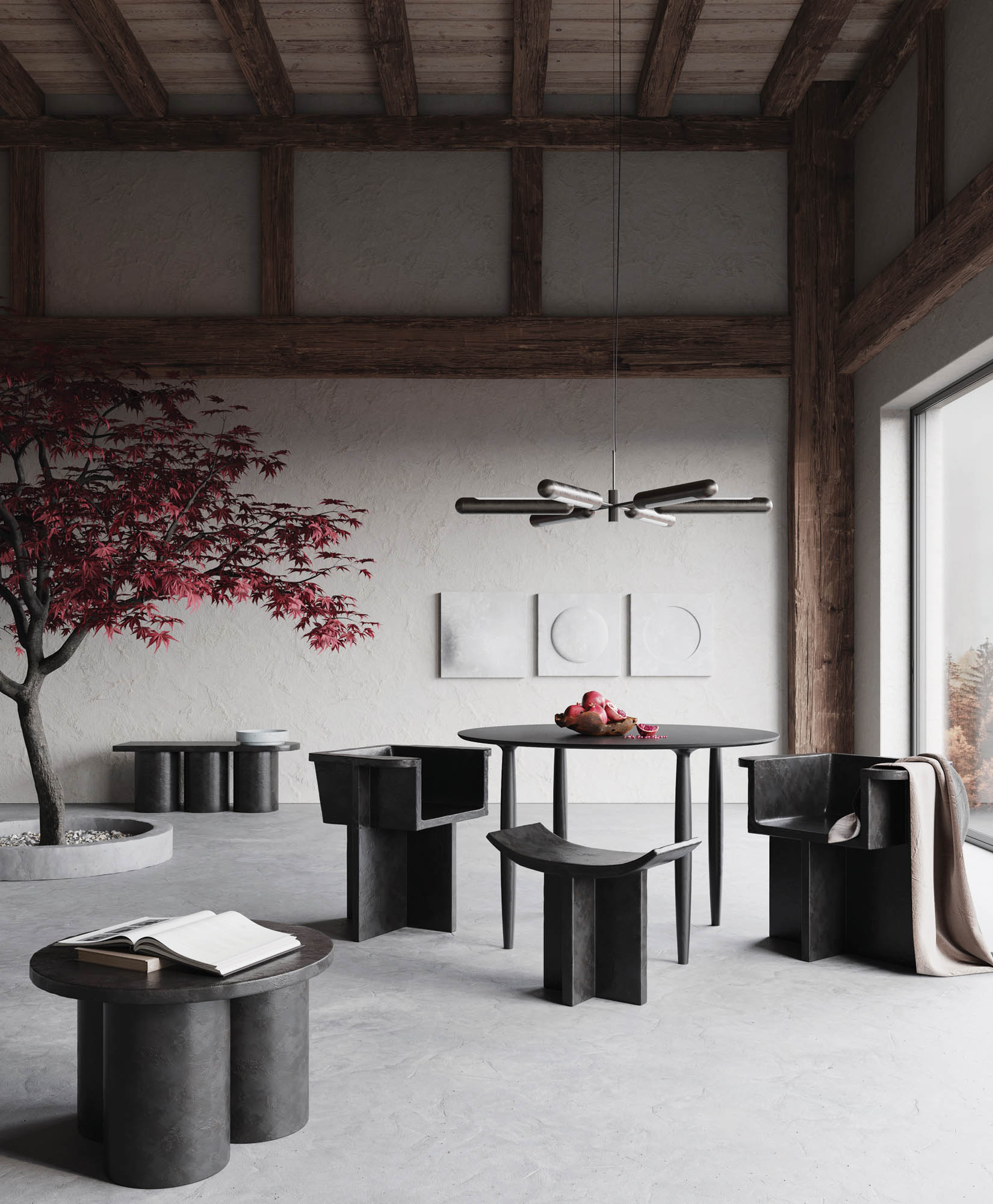 While 101 Copenhagen's autumn collection is inspired by minimalist Japanese aesthetics, the brand is maintaining its Nordic roots, resulting in sharp contrasts between textures and forms. The monumental shapes and refined details of the collection are timeless yet remain undisputedly contemporary, reflecting its Eastern inspirations. The Brutus stool is the latest addition to the eponymous collection inspired by the Brutalist architecture movement, and is cast in lightweight fibre concrete, creating a distinctive surface texture that increases its mobility. Designed by Kristian Sofus Hansen and Tommy Hyldahl, it draws on traditional Japanese wooden stools with a curved seat and signature cross legs. The designers are also behind the new Lotus vase, which was inspired by the floral shapes of the lotus flower, emphasised by its organic shapes that form this sculptural ceramic vase. Completely handmade, the smooth and organic surface is contrasted by sharp lines, running from the feet to the top of the vase, creating a star-shaped opening.