"What is a contemporary art centre today?" asks Wael Al Awar, half of the dynamic duo that runs waiwai, a multidisciplinary design studio based in Dubai and Tokyo. "A contemporary art centre can no longer be defined by a fixed programme – we know what it needs to be right now, but we don't know what it will need to be three or four years down the line. Therefore, the building must be flexible in order to react to fast-paced changes."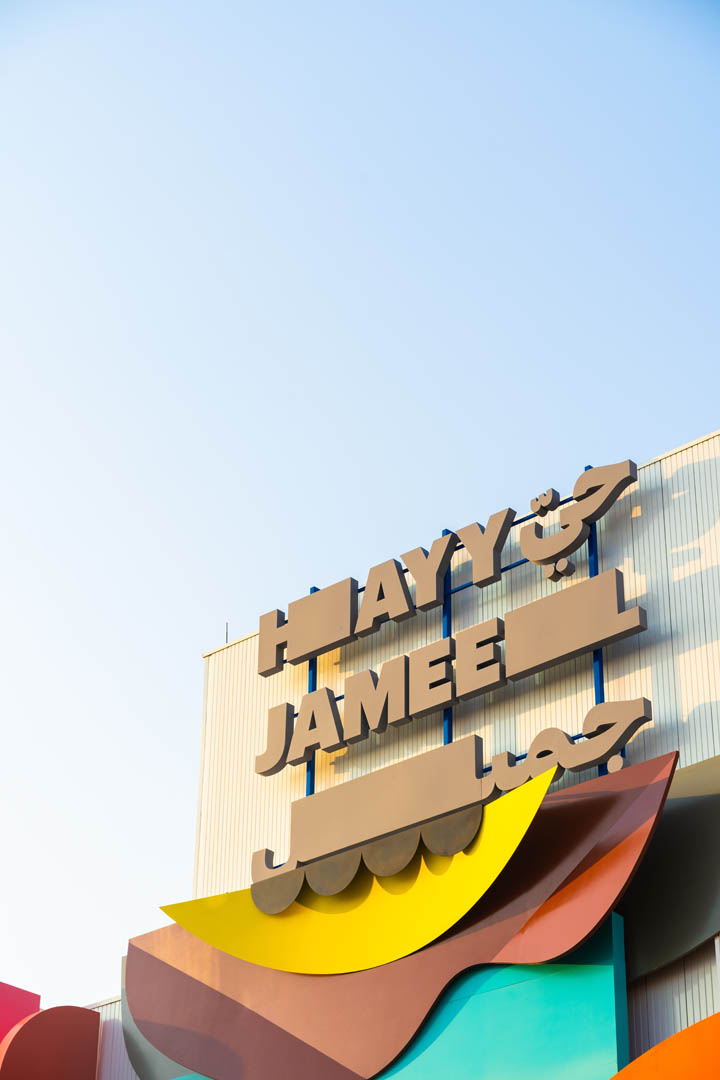 Awar and partner Kazuma Yamao recently completed Hayy Jameel, a mixed-use art centre in Jeddah. Spanning nearly 17,000 square metres of built-up area, the three-storey building contains gallery spaces, offices, artist studios, a cinema and theatre, a restaurant and more, including a spacious courtyard landscaped with local vegetation. Offering a variety of areas that can cater to different forms of art and performance (including Jeddah's long-standing comedy club), as well as room for production and commercial activities, Hayy Jameel is the extended version of its predecessor in Dubai, Jameel Arts Centre. And while differences between the two buildings abound, so do similarities, which include a strong visual resemblance marked by a pearlescent steel structure, fragmented sectioning and barren concrete interiors ideal for displaying artwork.
"The Jameel Arts Centre in Dubai is an exhibition space, not a space for production," says Awar. "Hayy Jameel, though, has spaces where artists can create and people can work. So, its architecture could not be so refined and delicate because you don't want to limit the capabilities of those using it. That's why we approached it as a kind of factory space."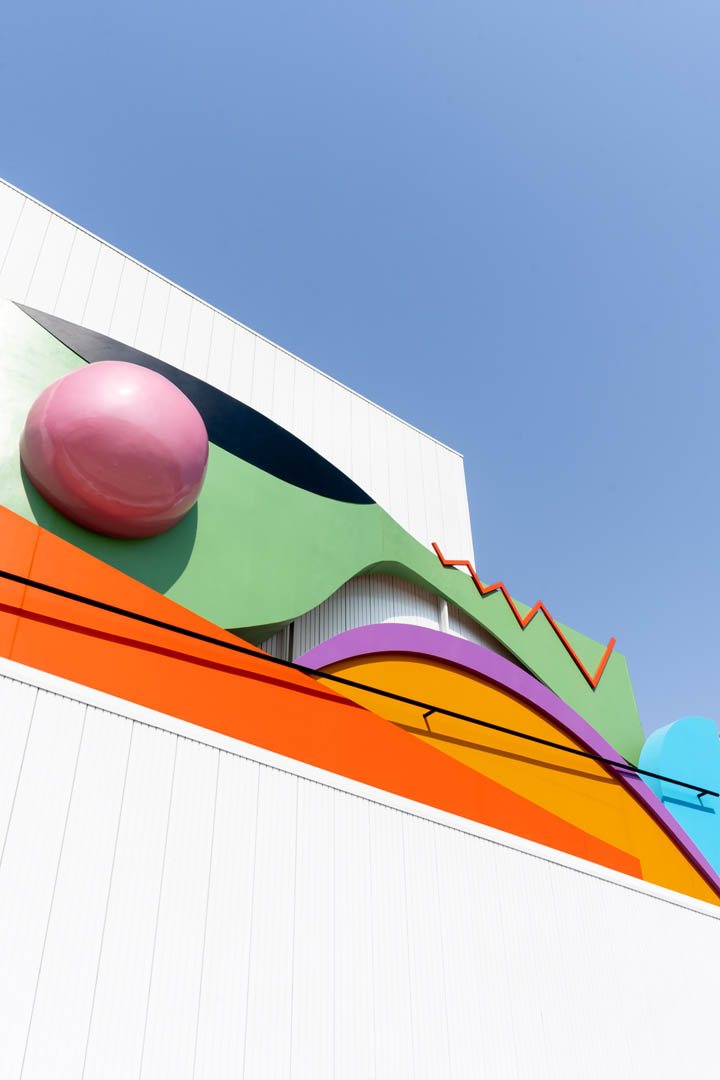 However, due to the project's location, creating a factory-like space took some sensitive manoeuvring. Located in Jeddah's northern residential area, Al Mohammadiyyah, Hayy Jameel is surrounded by villa complexes, as well as three empty sites that are earmarked for further residential development. In response to brief requirements and a local culture that treasures privacy, waiwai opted for an 'inward looking building' that features no openings towards the streets and surrounding areas, but instead opens towards a large central courtyard.
Oriented towards the south, the courtyard is perhaps the project's most standout element – it enjoys direct sunlight in the morning and shade in the afternoon and evening, allowing users to be comfortable for the majority of day. Featuring a timber platform that stretches across the centre of the space, and decorated with local vegetation that requires little irrigation, Hayy Jameel's courtyard draws inspiration from the ancient Greek agora, which is reflected in the stepped access points.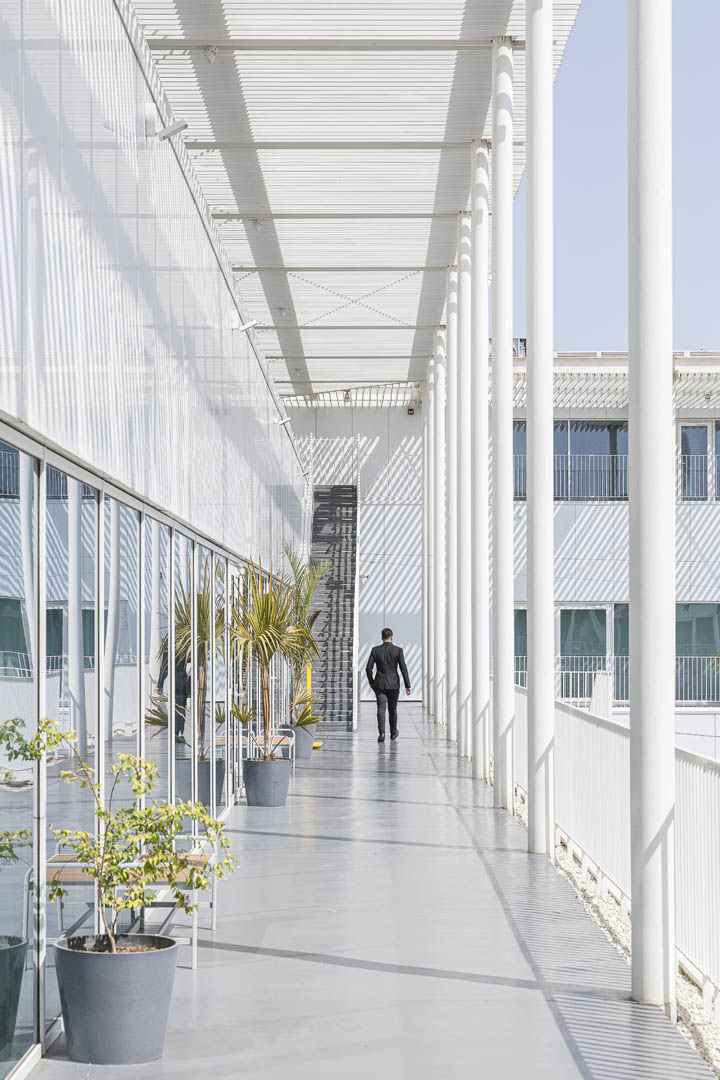 "For us, architecture is about creating environments for humans to inhabit and for activity to flourish. So, what would be better than a semi-outdoor space protected from the harsh environment?" asks Awar. "We thought about having three or four courtyards, but then that could lead to segregating the arts, and contemporary architecture is about flexibility and inclusivity rather than clear zoning. So, in the end, we designed one courtyard and made it three-dimensional, meaning that it appears upward."
Surrounding the courtyard are shaded terraces that extend outward from each level, allowing onlookers to observe from different points. Its placement also lets sunlight flood each storey, keeping the inaugural art exhibitions brightly lit. According to Awar, once the matter of the courtyard was settled, the form of the rest of the building quickly took shape. Appearing fragmented, the centre makes use of ready-made steel sections, sustainably sourced from the Saudi market, that could be reassembled or recycled to respond to changing demands.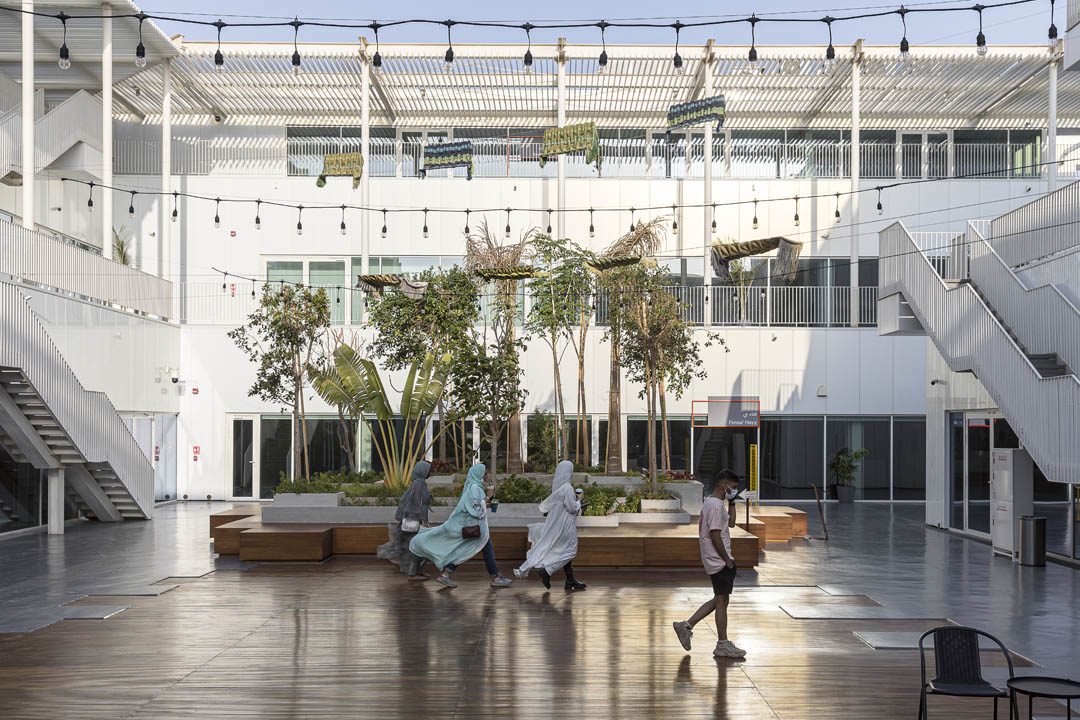 waiwai was not particular with the programming of each space, says Awar. Although certain spaces needed to be anchored, such as the cinema, which was placed on the ground floor in order to contain large audiences, the other spaces – like the studios and exhibition areas – more or less flow into one another.
Throughout, the idea of supporting artists and creatives is evident. waiwai's intention of creating a space that aids creation itself is intrinsic to the overall project, starting with the façade, which is open to artists as part of the Hayy Jameel Façade Commission, an annual programme that offers creatives the opportunity to develop public work. At the moment, a colourful piece by Saudi artist Nasser Almulhim, in collaboration with Tamara Kalo, stretches across the 25-metre surface, but in the future, artwork will be selected through open calls.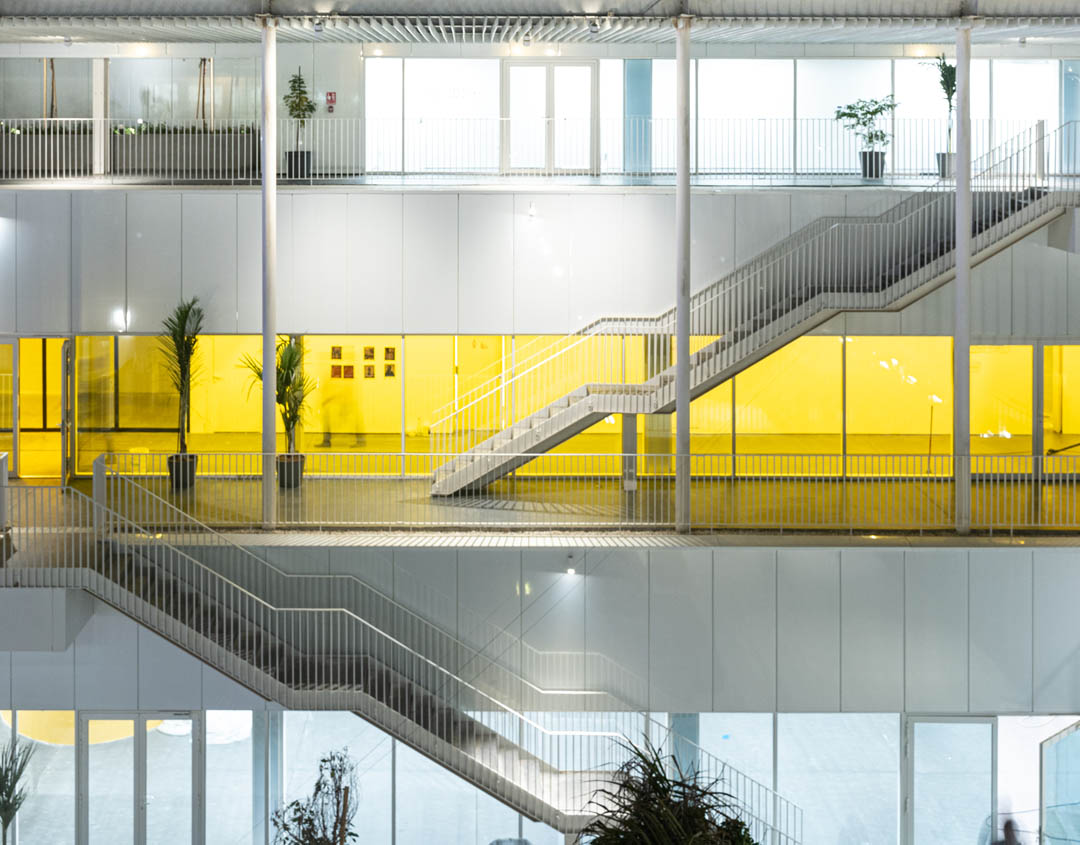 "Jeddah, and Saudi Arabia in general, just opened up," says Awar. "So there's this hunger for platforms where people can go and experiment, be that through music, art or cooking. Hayy Jameel is that platform where people of different backgrounds can come and express themselves, and that's made possible through the sensibility of the design. Rather than imposing a certain form on the activities, we let the activities themselves take their own shapes."