Located only a few minutes away from the city centre of Aix-en-Provence, and close to the Mediterranean sea, it only took a year and a half for this contemporary dwelling to rise under the guidance of Bertrand Guillon's eponymous architecture practice.
Educated at the École Nationale Supérieure d'Architecture in Marseille, the young architect trained for nearly two years before founding his own studio in 2013. Guillon's style is always attentive and seeks to translate the ambitions of his clients, while guiding them towards new scenarios.
When first approached by Nathan and Carole – a couple in their thirties – to design their new home, there was nothing but a neglected house sitting on 600 square metres of land, surrounded by fig and olive trees.
The young family of three had originally left their duplex apartment in Marseille to settle in this very handsome region, surrounded by an aromatic countryside full of authentic Provençal houses and traditional French-style gardens.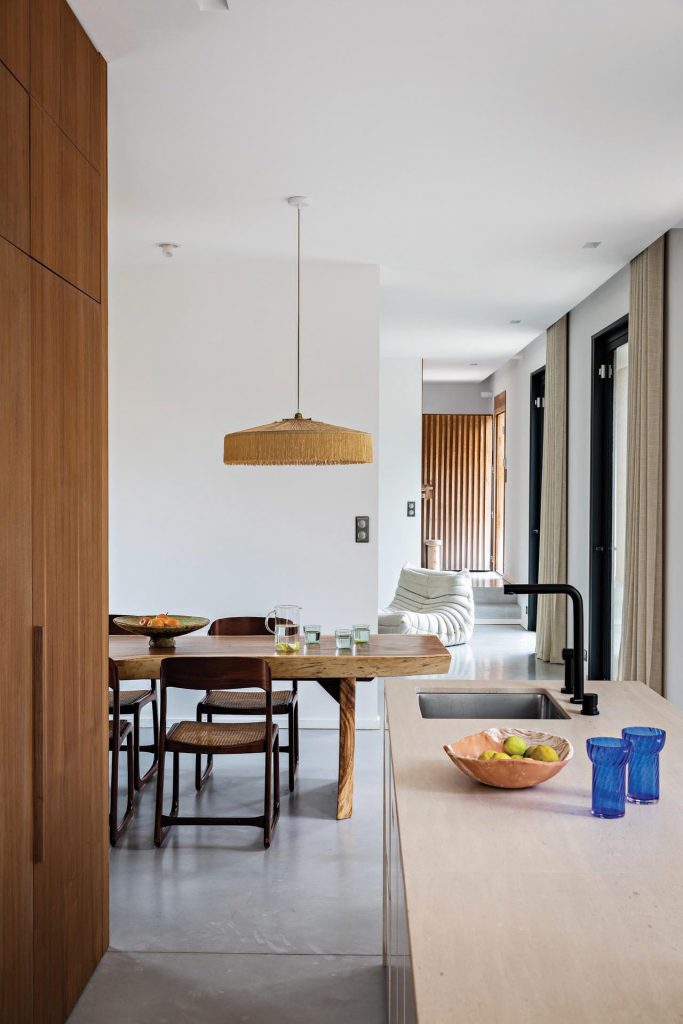 Initially, the couple had only envisioned a traditional renovation, leaning towards a project in keeping with the style of the region: a dream they had cherished for many years. However, their design rapidly evolved and took an unexpected turn.
Guillon, whose expertise offers a contemporary approach, suggested a decisive intervention: to entirely demolish the current house in order to rebuild a brand new one, while respecting the appearances of the local architecture.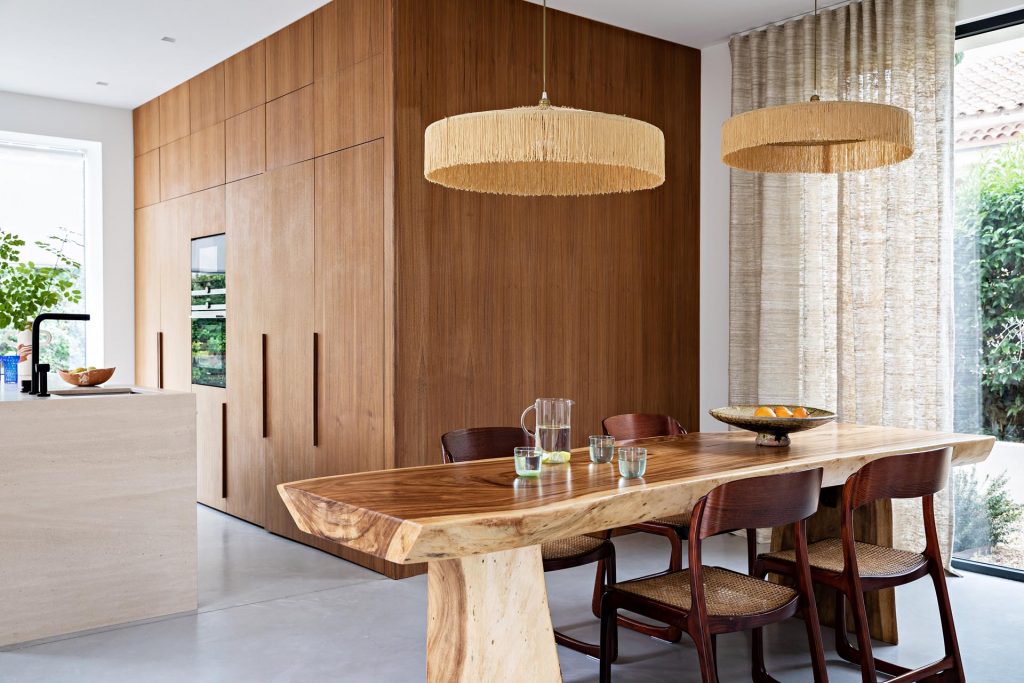 "The whole dwelling was damaged and [the structure poor]," the architect recalls. "Faced with the complexity of the rehabilitation, the decision was taken on both sides to demolish it entirely and favour a brand new construction that would propose, in a traditional form and construction method, a certain architectural contemporaneity."
Very quickly, and following some exchanges, a sum of ideas came to life. The house was designed according to a classic plan respecting the codes of the region's style: a roof with two slopes covered with canal tiles, Provençal Frieze and, outside, dry stone walls. All this was later associated with a more modern interior style.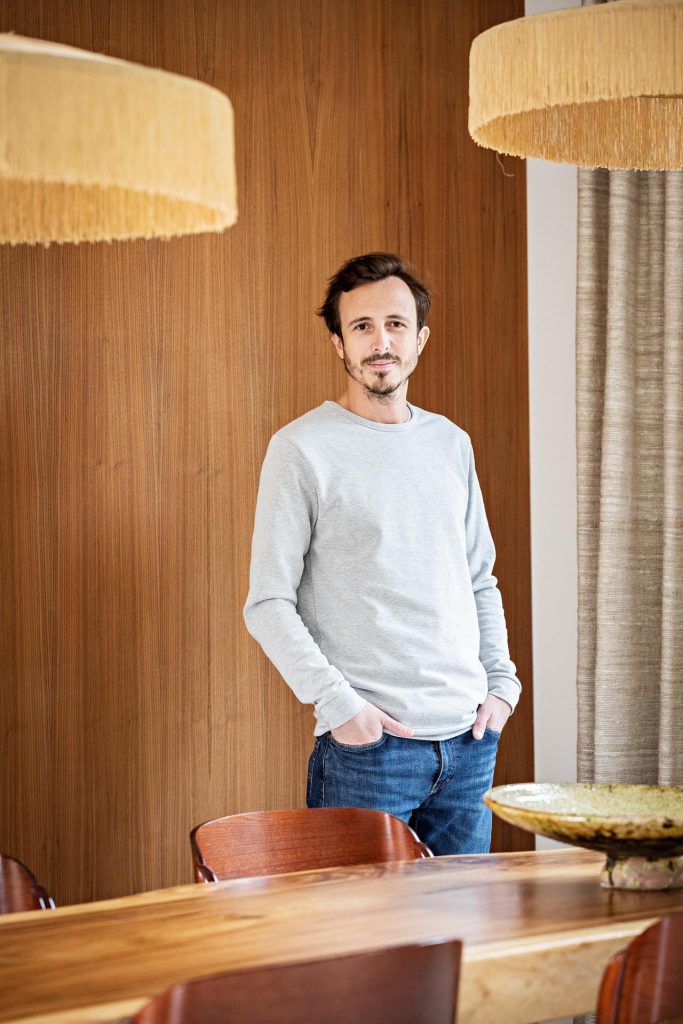 The living areas, distributed over two floors, were imagined in a luminous manner and conceived using beautiful natural materials in soft colours – such as stone, concrete and wood. "It is a fairly sober architecture to live in," Guillon comments. 
The arrangement of interior spaces is in a row, one following another – from the kitchen, dining room, living room, to the entrance leading upstairs. All areas of the house are simply punctuated with striking elements such as the oiled walnut wood volume of the kitchen, the stone wall of the entrance, and the claustra from the entry.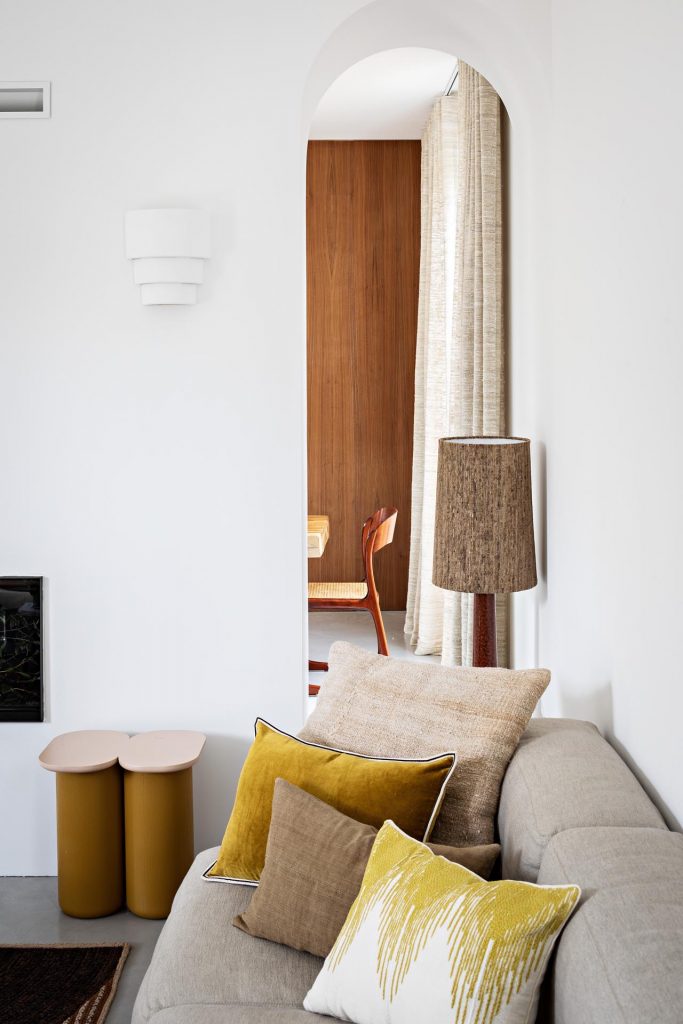 The open spaces were arranged to create cosy nooks, such as in the living room that is organised around the fireplace whose flue doubles as a partition, creating a relaxed corner with an abundance of cushions and soft lighting arrangements.
To adorn the floor and connect the living areas together, the architect chose to work with helicopter-smoothed concrete. This 12-centimetre-high flooring made it possible to incorporate underfloor heating. In addition to being shock-resistant, it is also more affordable than the usual waxed concrete finish.
Adding a sense of warmth to the space are delicate curtains, furniture pieces and accessories that are imbued with soothing brown-beige tones.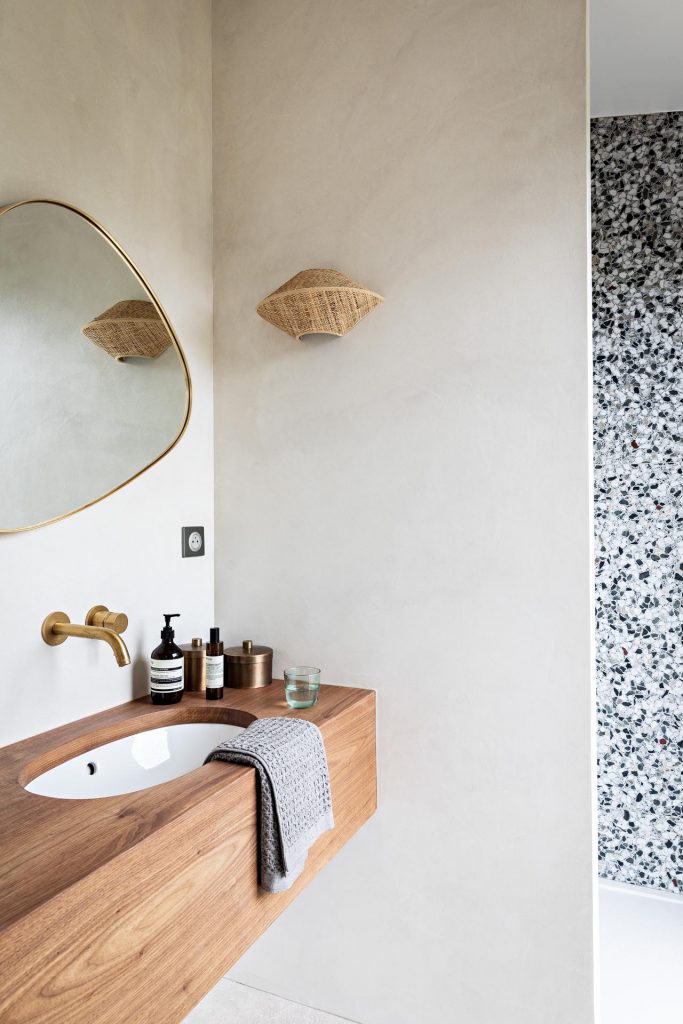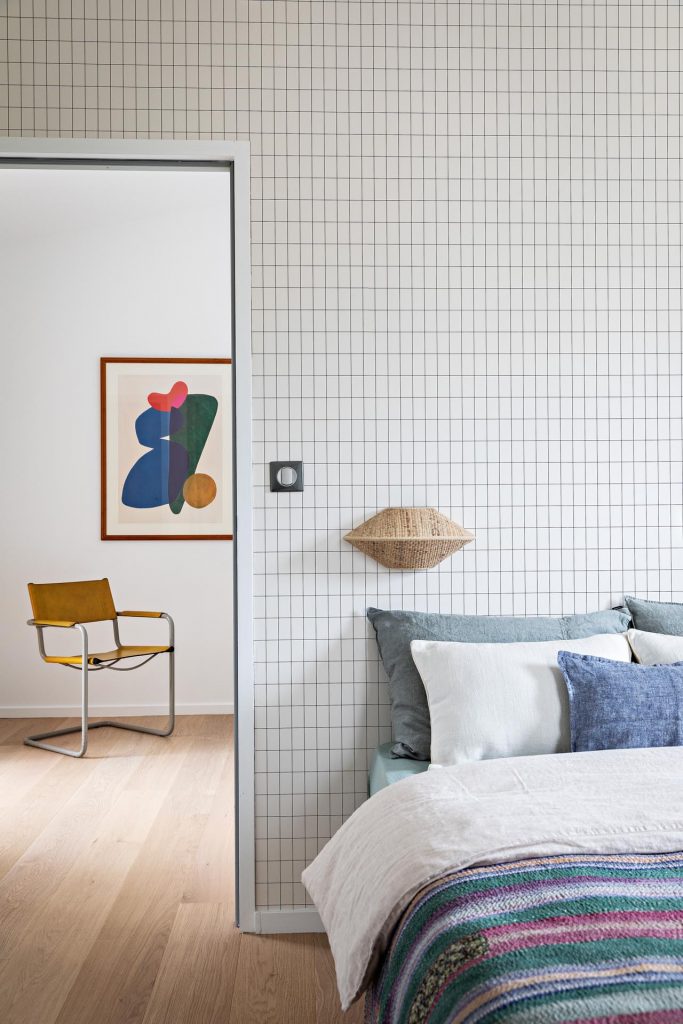 To guarantee a bright environment all year round, large bay windows have been selected and installed in place of more traditional openings, offering a calming view onto the shaded terrace and the newly designed garden. Outside, the décor is completed in sandy tones that are magnified by the azure sky.
"In this warm region, it was primordial to benefit from a bright and widely open house on a beautifully landscaped garden, while preserving intimate and warm interior spaces," Guillon notes. 
During the more pleasant days, it is a delight for the whole family to be able to live so easily indoors and outdoors, in accordance with the rhythm of the sun.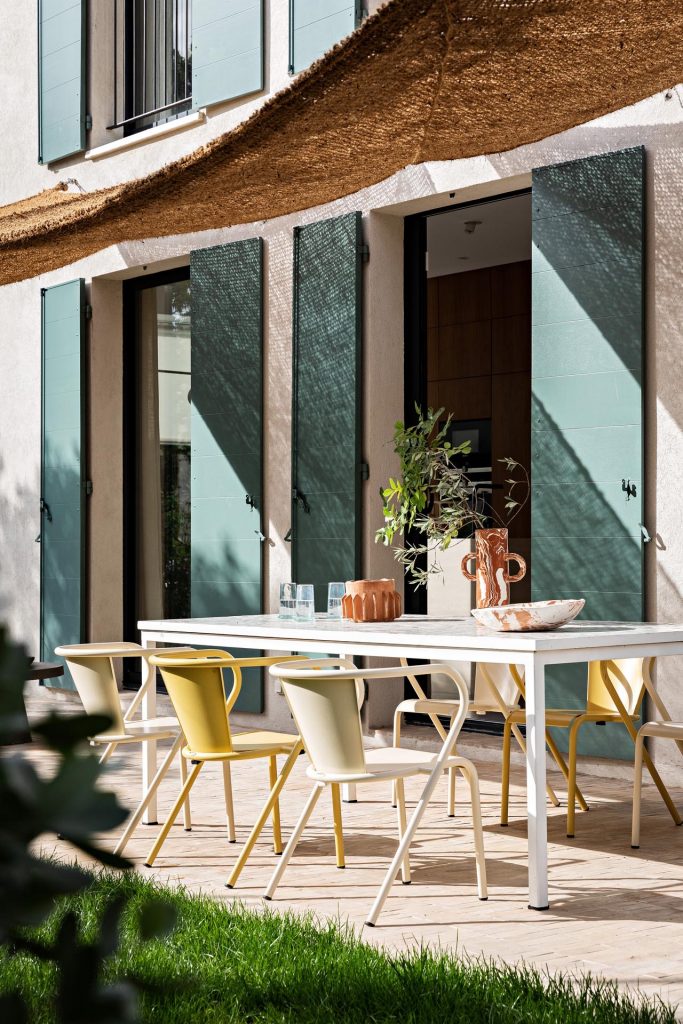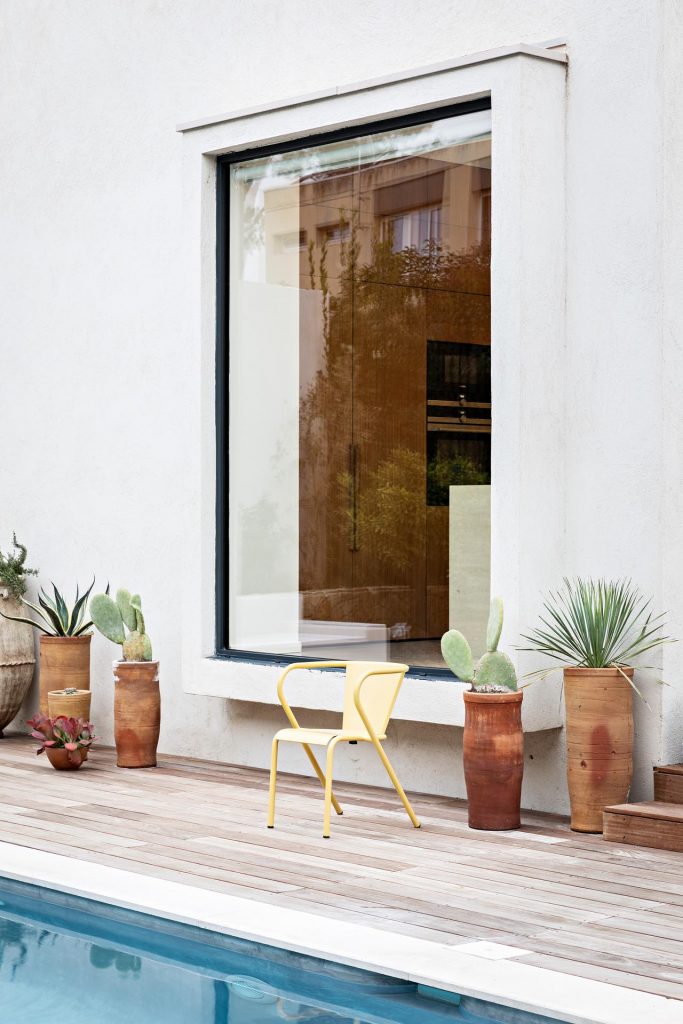 For the rest of the décor, it was Caroline who beautifully arranged objects and accessories. With a long-term passion for flea markets, where she uncovers many treasures, her style predominates and merges without Guillon's own architectural intervention.
"This interest in decorating comes from my mother, who always paid particular attention to the environment in which we lived, with the guiding principle of a good mix between new and old furniture. I love to unveil the 'beautiful' that can be found in colours, materials, objects and furniture. It's really fun to combine different objects and furniture; to mix styles; where in the end, everything is harmonious," enthuses Caroline.
After a year and a half of work, the couple and their young child Léon are finally enjoying their nest to the fullest. "It is a place that provides you with the feeling of being on a vacation all year round," Caroline concludes.
Production & styling by Marie-Maud Levron
Photography by Yann Deret