Minimalism is taking over the city – and Roar's pared-back design for Drop Coffee's second Dubai location is the latest addition. The city's coffee culture, which has also become an important part of the urban lifestyle, has in turn established the importance of creating spaces that prioritise good design and customer experience.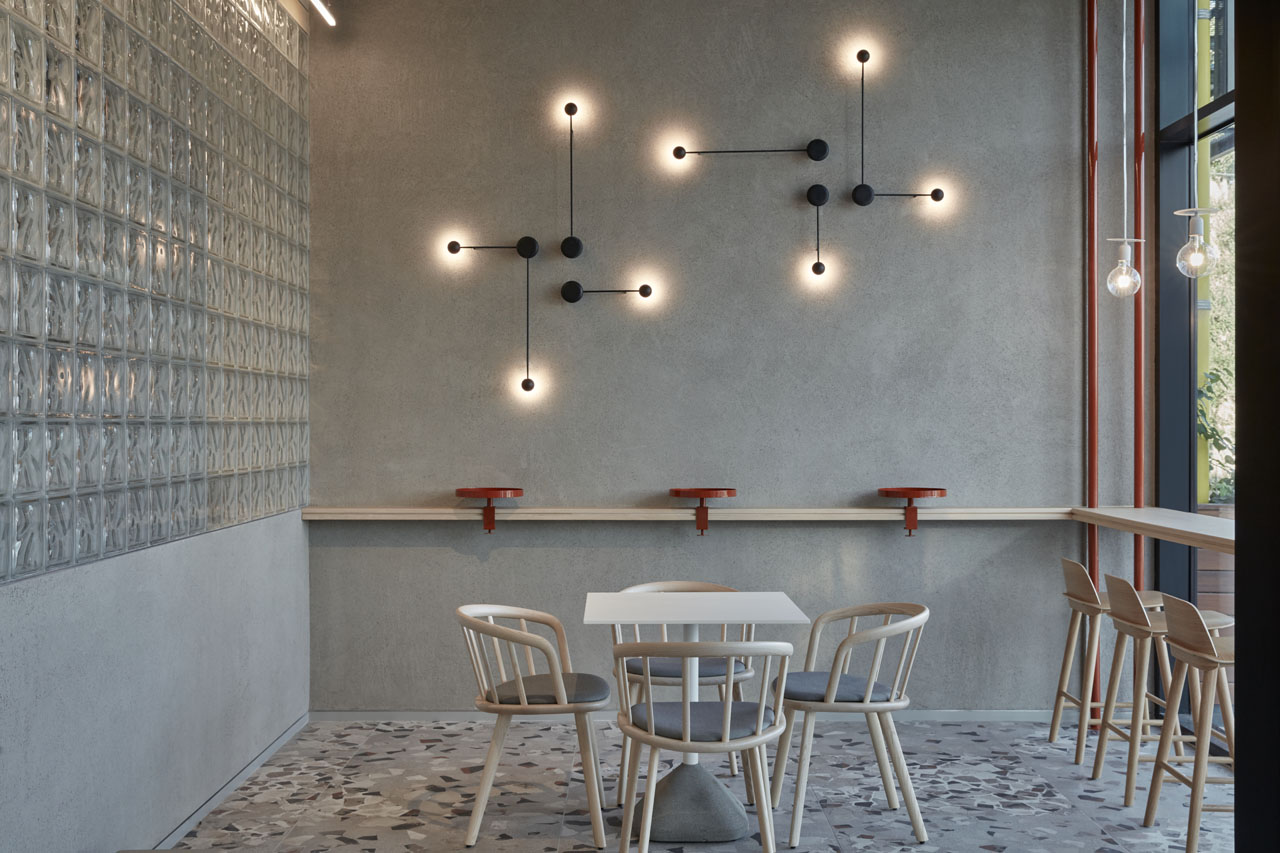 For homegrown Emirati brand Drop Coffee, the idea is that each branch of the local coffeehouse becomes associated with its own specific colour – in this particular case, burnt orange. The warm hue can be seen on the La Cividina sofa as one enters the space, as well as on the clamp-style coffee tables which were created for customers who prefer to enjoy a quick espresso shot while standing up.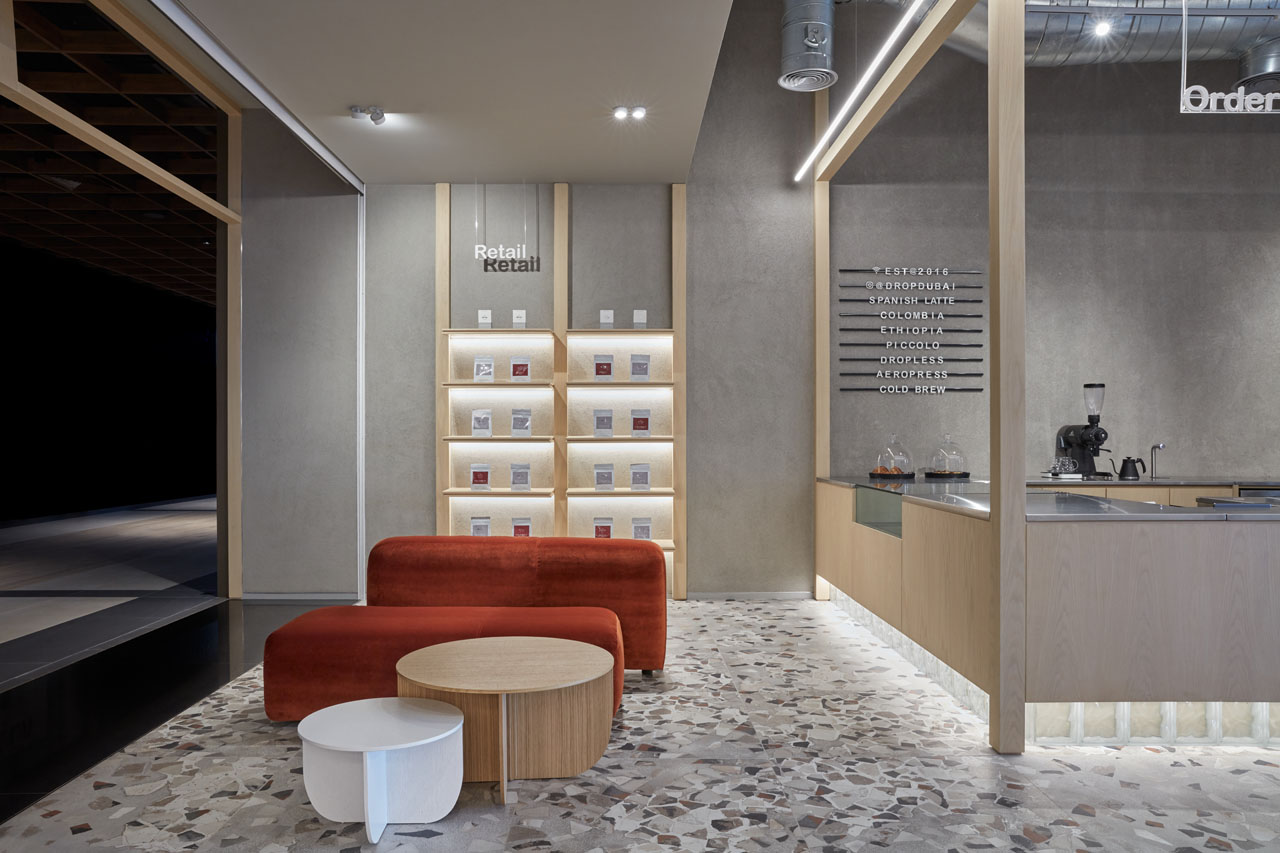 The overall colour palette, however, was inspired by the roasting process of the coffee beans; terrazzo-effect tiles include mixed tones of rusted brown and dark terracotta, while dominant hues consist of light oak wood coupled with a concrete paint finish.
Read more: A restrained colour palette and dramatic arches make up Sensasia Spa by roar
The café includes two entrances – one connected to the outdoors while the other connects to Dar Wasl Mall. To accommodate the flow of customers from both access points, the design studio, run by Pallavi Dean, set the grab-and-go bar at the centre of the space. "We used very simple framing to form a structure around the bar, which anchors it within the space and highlights its prominent location," says Dean.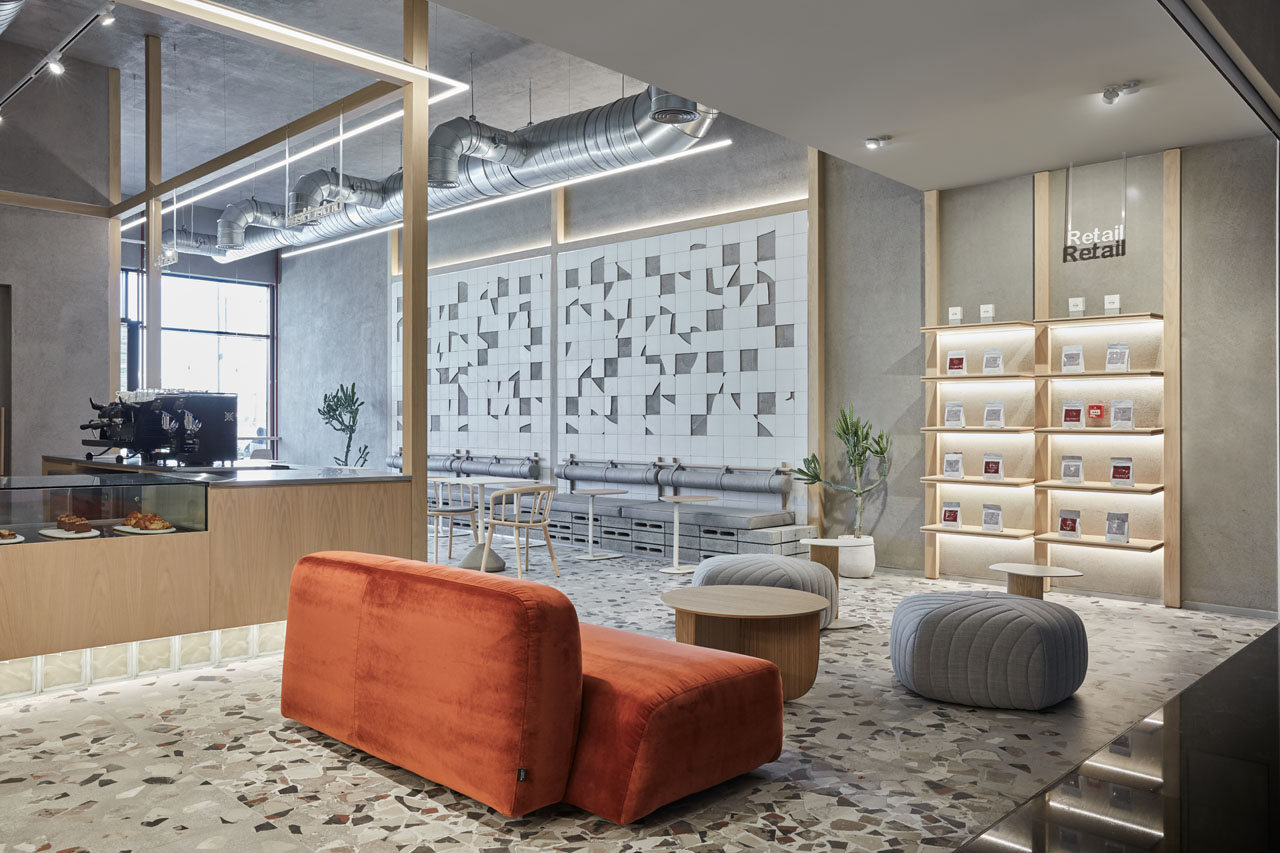 The bar gives the illusion of floating, the result of lighted skirting created out of glass blocks that are supported by a wooden structure running across the base.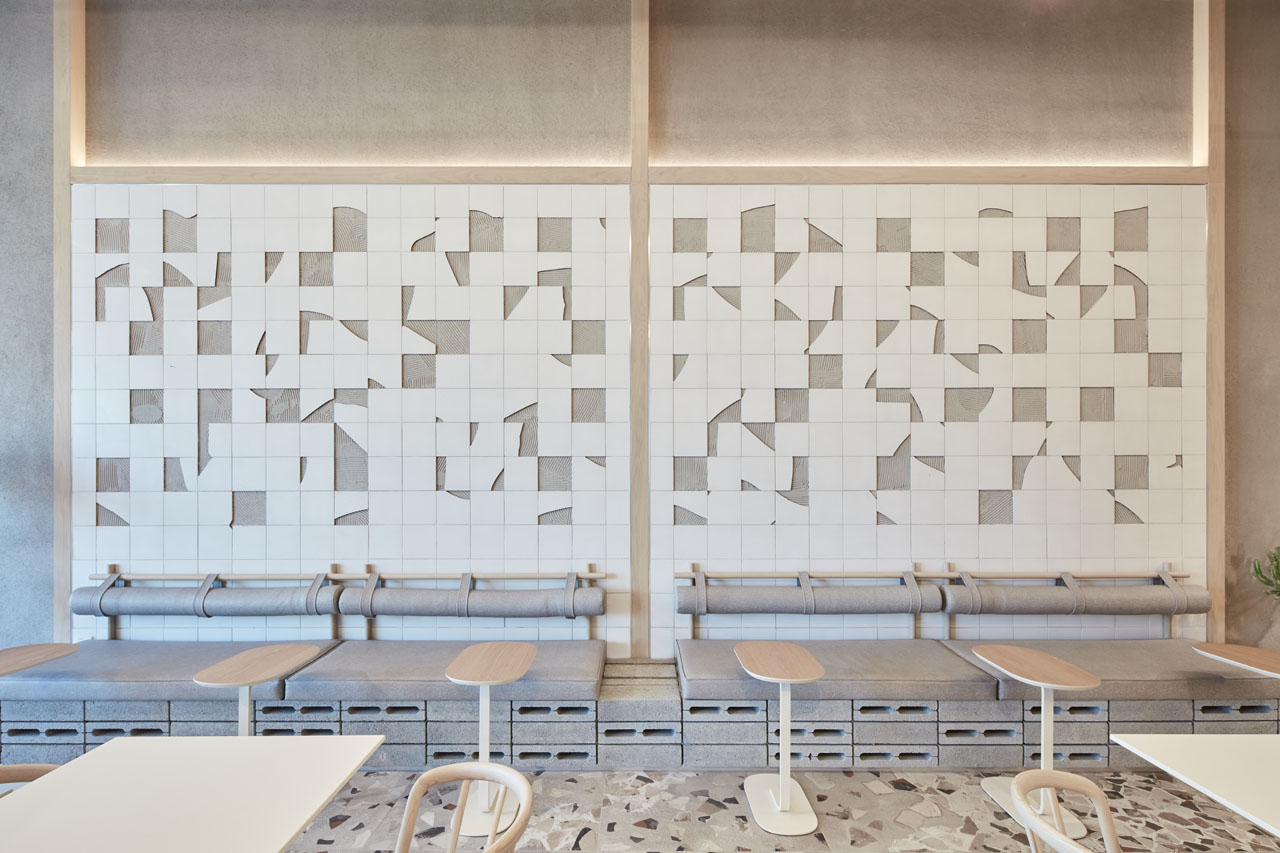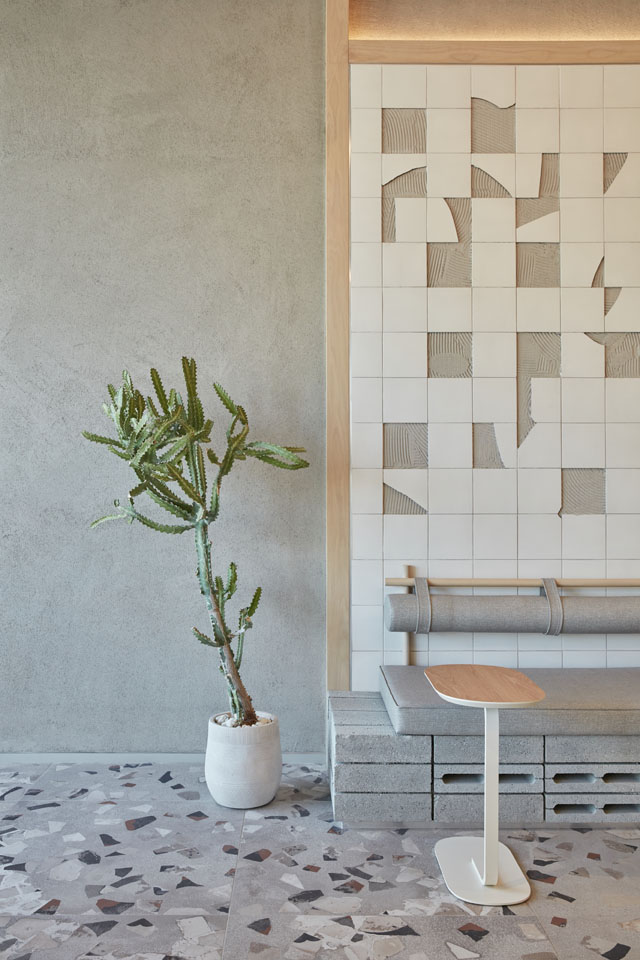 A wall ornament has also been created in the banquette area, where an assortment of broken white tiles have been playfully arranged.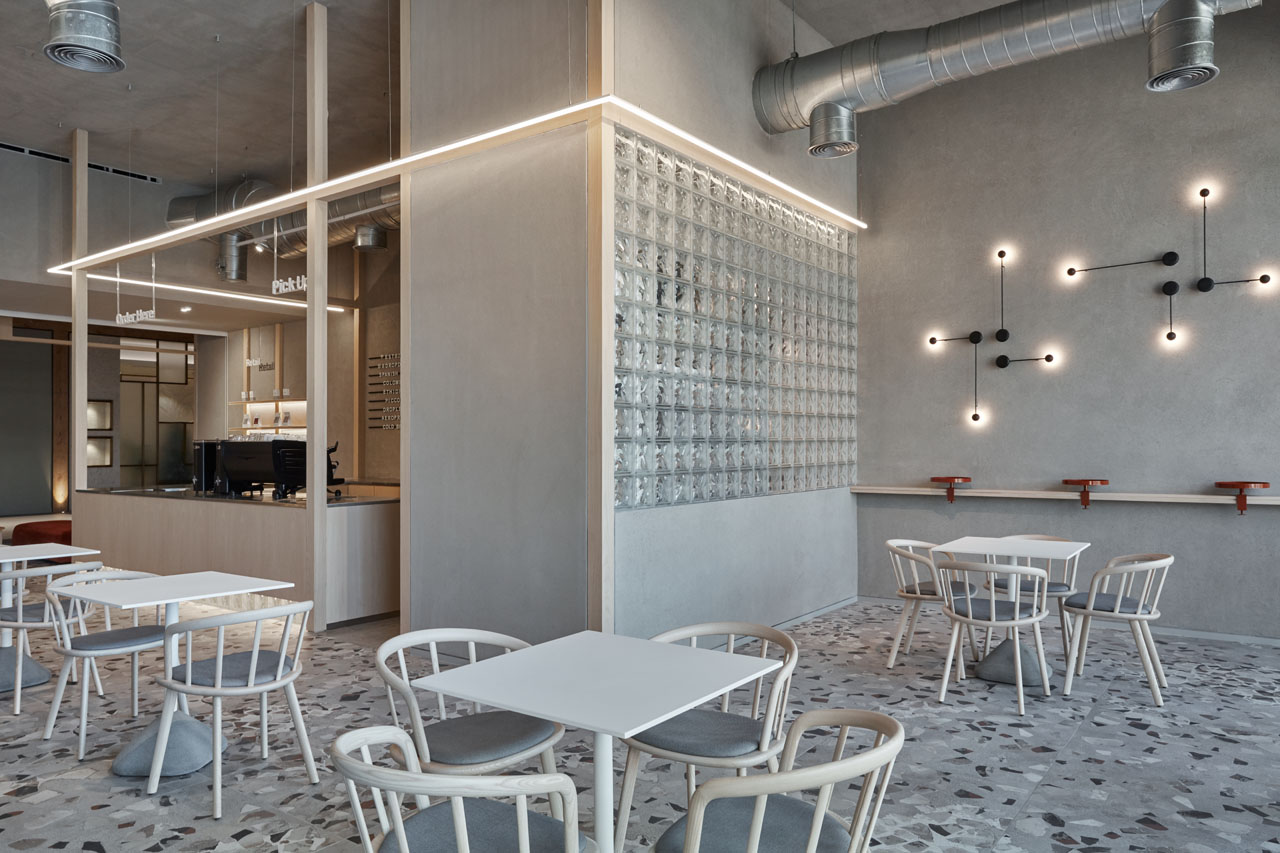 "We wanted the interior concept to be consistent throughout and for all the different elements to be streamlined and respond to one another," Dean explains. "That's why the idea of the wall piece [stems] directly from the terrazzo floor, as though the leftovers from the tiles had been imprinted on the wall before being chipped away."
Read more: Azaz Architects' coffee shop references Islamic architecture
Photography by Oculis Project