When two creative minds meet and collaborate on a project, the result is inevitably one-of-a-kind. A case in point is the Moscow apartment of fashion designer Ksenia Chilingarova, who trusted Harry Nuriev from Crosby Studios to make the spaces visually daring yet sophisticated.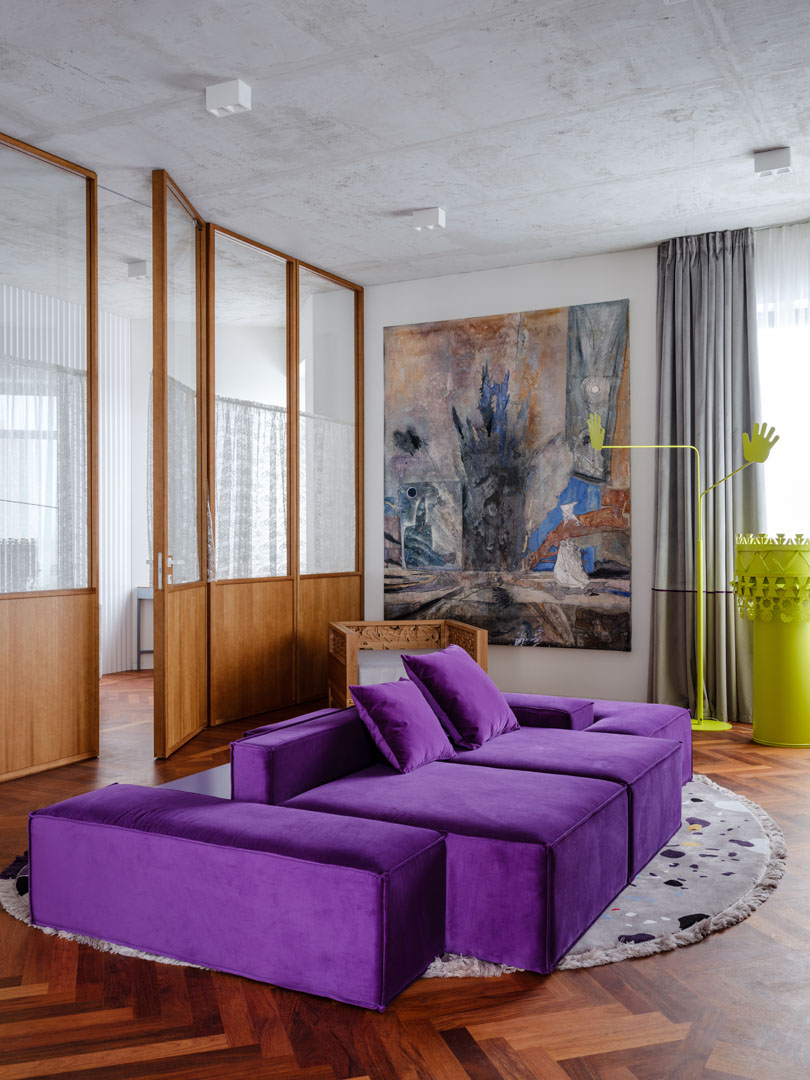 "I met Ksenia through a mutual friend, and we had an immediate connection based on similar tastes in art, design, fashion and architecture," remembers Nuriev. "She was open to my design approach, and I had a feeling that [it was] going to be a great collaboration." The Russian-born Moscow- and New York-based architect and designer had carte blanche to transform the blank apartment into a kaleidoscope of colours and a true reflection of the owner's personality and style.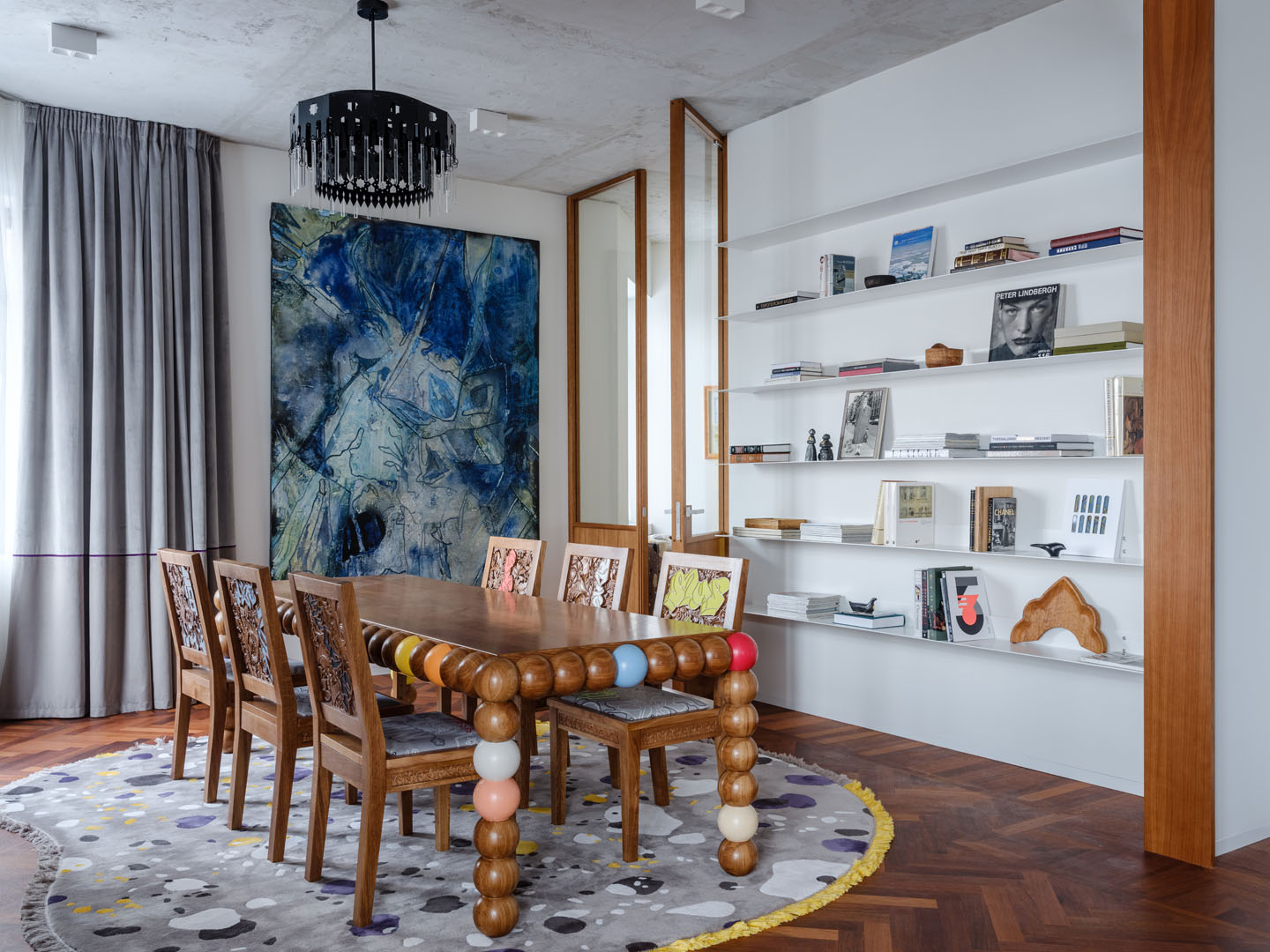 Located in the Kutuzovsky district – an historical area near the city centre with beautiful post-war buildings – the 280-square metre home was not an easy find for Chilingarova. "I had been looking for a big apartment for a long time, because I realised at some point that I need more space for myself," she explains. "It is difficult to find large spaces with high ceilings and an abundance of natural light in the centre of Moscow. That's exactly what I found in my new apartment, which is why I fell in love with it. I also wanted [to have] lots of walls to hang beautiful artworks on and a large dressing room. All of that came together [here]." With two bedrooms (master and guest), two bathrooms, a living room, a separate kitchen and a study, the feeling of spaciousness is present in every corner of the apartment.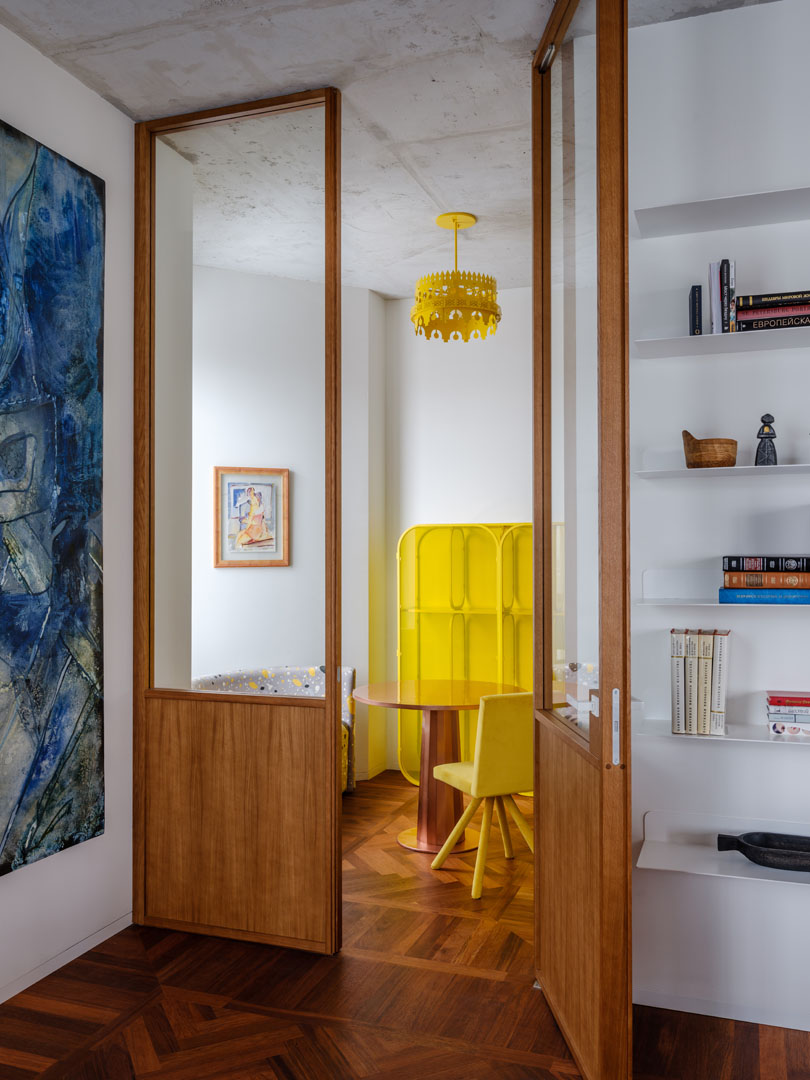 "Most of the walls are white for two reasons," Nuriev explains. "First, we wanted to add as much light as possible. Second, we needed a suitable backdrop for the art collection – we didn't want the walls to steal the attention. But we added many different colours by experimenting with the custom-made furniture: there are light blue chairs, a purple sofa, a pink stool, a green sculpture, etc. We [also included] some nostalgic wooden details like a Soviet-style hardwood floor and furniture pieces, which give some warmth to the space."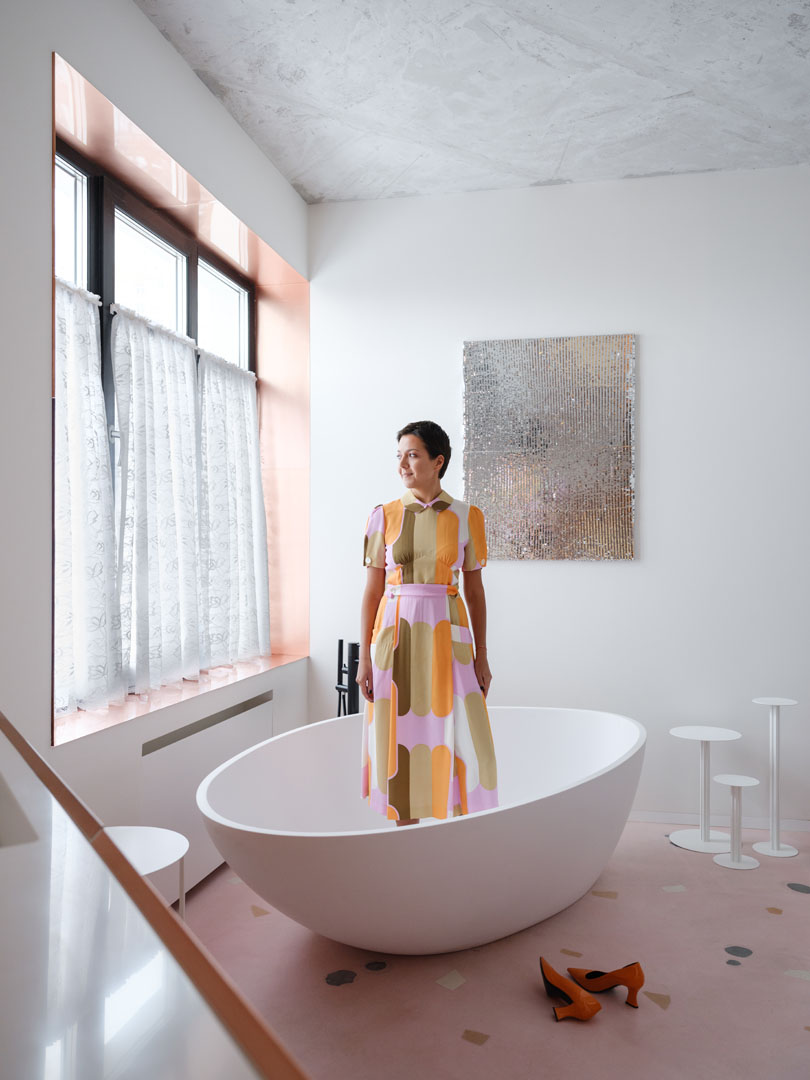 Featuring purple powder-coated shelves designed by Crosby Studios and a pair of carved-oak totems, the living room clearly epitomises all of these concepts, becoming a feast for the eyes where contrasts between colours, textures and styles are used to create balance throughout. Natural fabric for several decorative elements, steel for some objects and an abstract terrazzo pattern for the bath complement the look.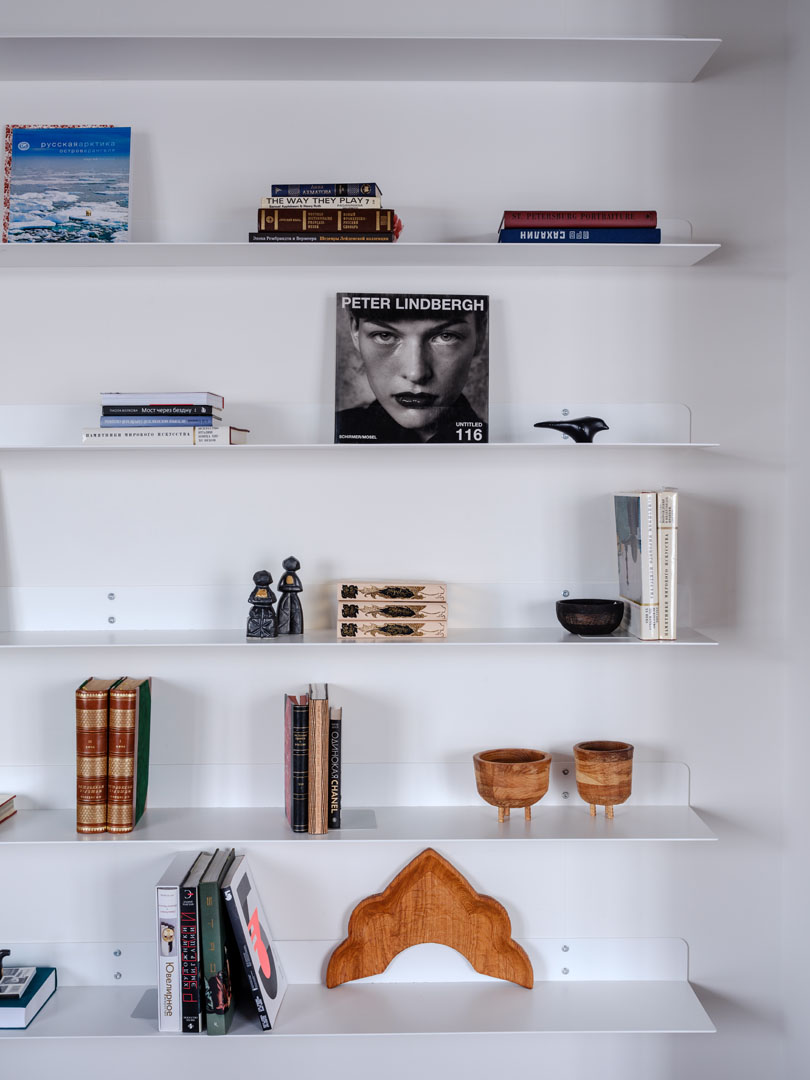 For inspiration, Nuriev started with Chilingarova's fashion taste. Deep research into the apartments of the Soviet intelligentsia, however, helped to bring this project to life with a vintage touch. Both the architect and fashion designer watched the 1977 movie Office Romance in their childhood, and it also became a reference, in particular for the windowed, wood-panelled walls.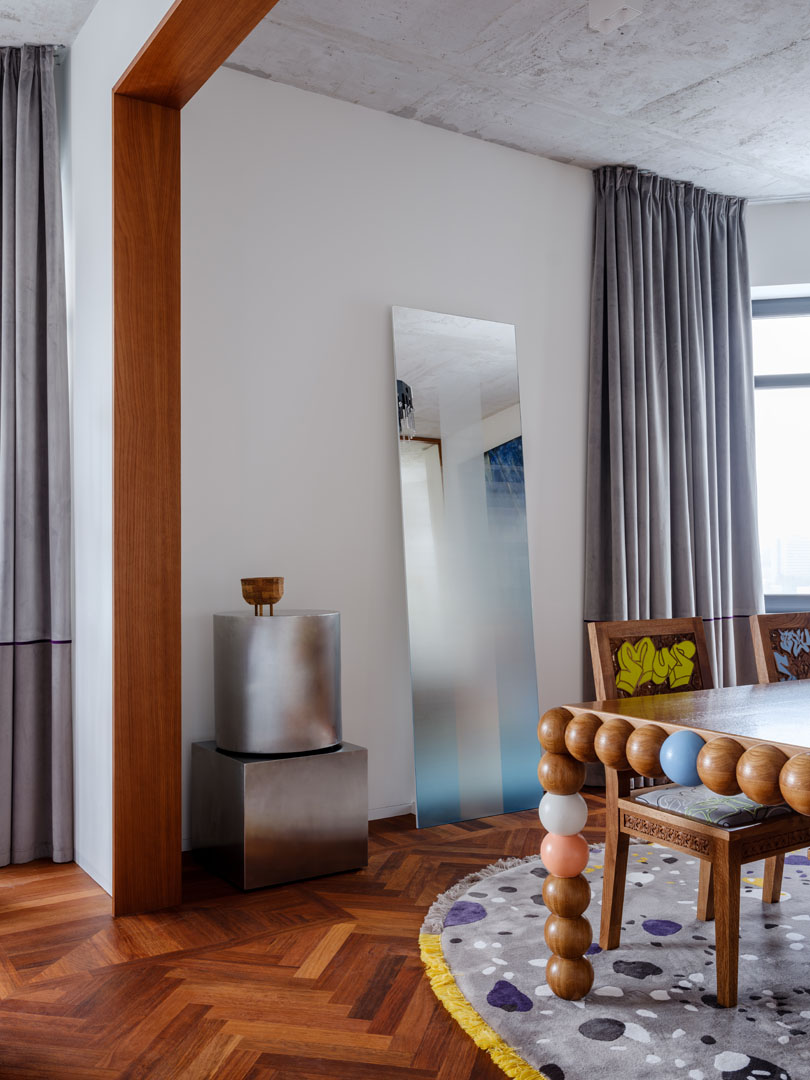 "We wanted to take the best from Russian heritage but make it bold and elegant at the same time," Nuriev says. The custom-made furniture, which Chilingarova loves, was a result of her discussions with Nuriev about combining traditional Russian folklore and street art. From start to finish, the duo fine-tuned every detail until achieving a completely unique atmosphere.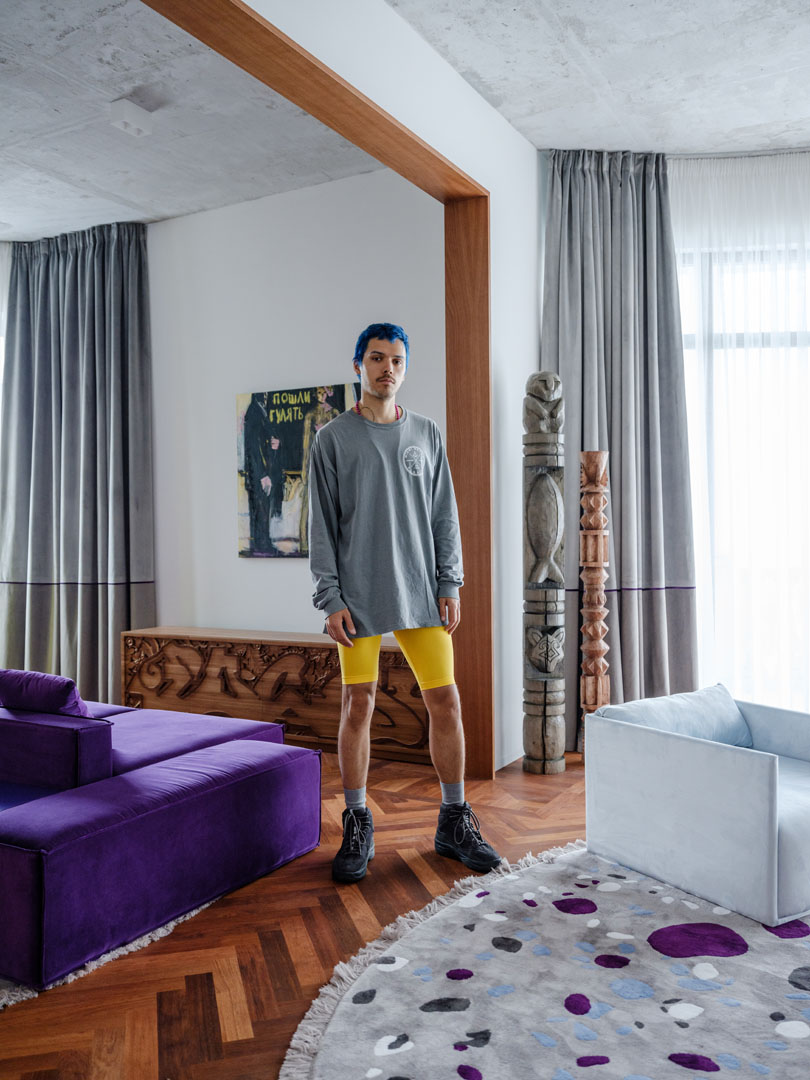 "We've been coming up with new ideas during the whole time of working on this project," Nuriev says. "For example, once I saw a photo of a traditional Russian house from Ksenia's trip to a small town not so far away from Moscow, and immediately started thinking about these white linen curtains that you can still see in Russian villages and post-Soviet countries – and we build a whole story around that particular aesthetic that you can notice in the kitchen." Mostly black-and-white, this area features pops of bright yellow through the chair, transparent cabinet and chandelier.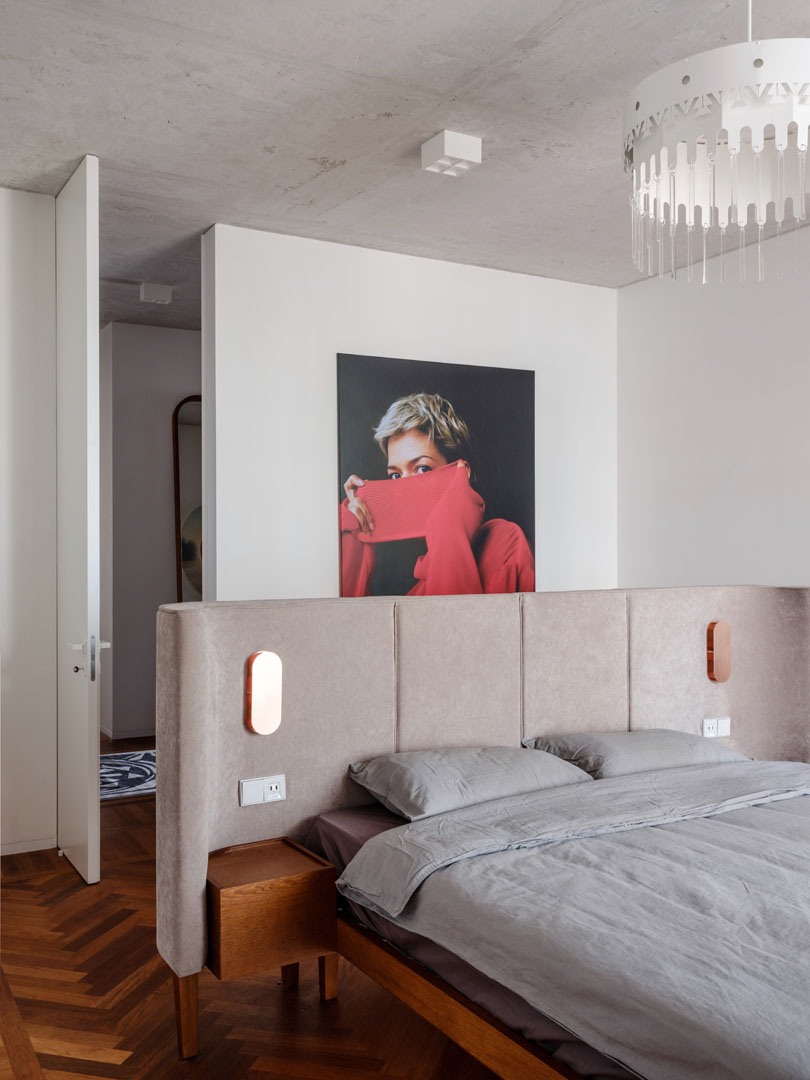 "From the interior, you usually instantly get the idea of what the homeowner is like, and it was important to me that people coming to visit could understand two things: that I love, support and invest in contemporary Russian art, and that I love, write about and invest in fashion too," says Chilingarova, who also wanted to express a sense of cosiness and comfort in order to share moments and conversations while at ease with her friends.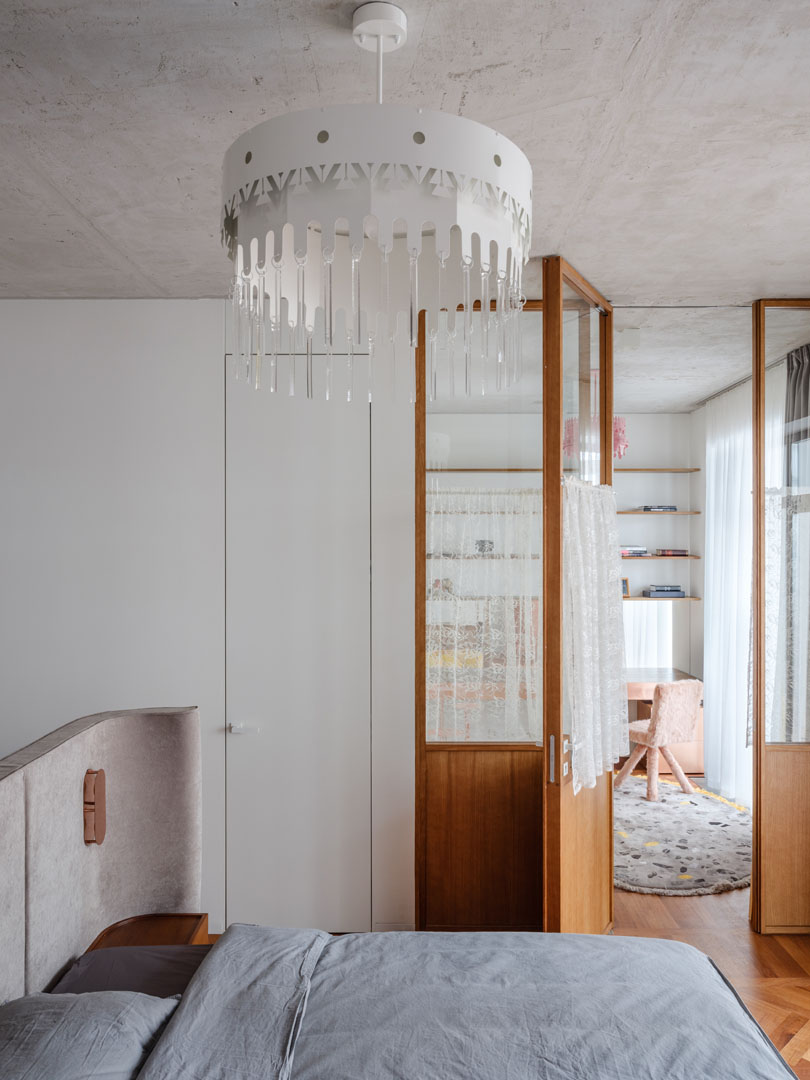 Artworks by emerging and famous Russian artists – including Nikolay and Vika Koshelev, Anna Titova, Evgeny Antufiev, Sasha Pasternak, Maria Kacharava, Dmitriy Mironov, Sofia Stupenkova and Olga Chernyshova, among others – adorn the home. It has become Chilingarova's refuge, but it is also used by the owner to host small parties for young artists, stylists and journalists, as well as fashion and art photoshoots. Filled with rare art and design objects, the apartment, however, doesn't feel like a museum. On the contrary, it exudes the character and taste of its dweller.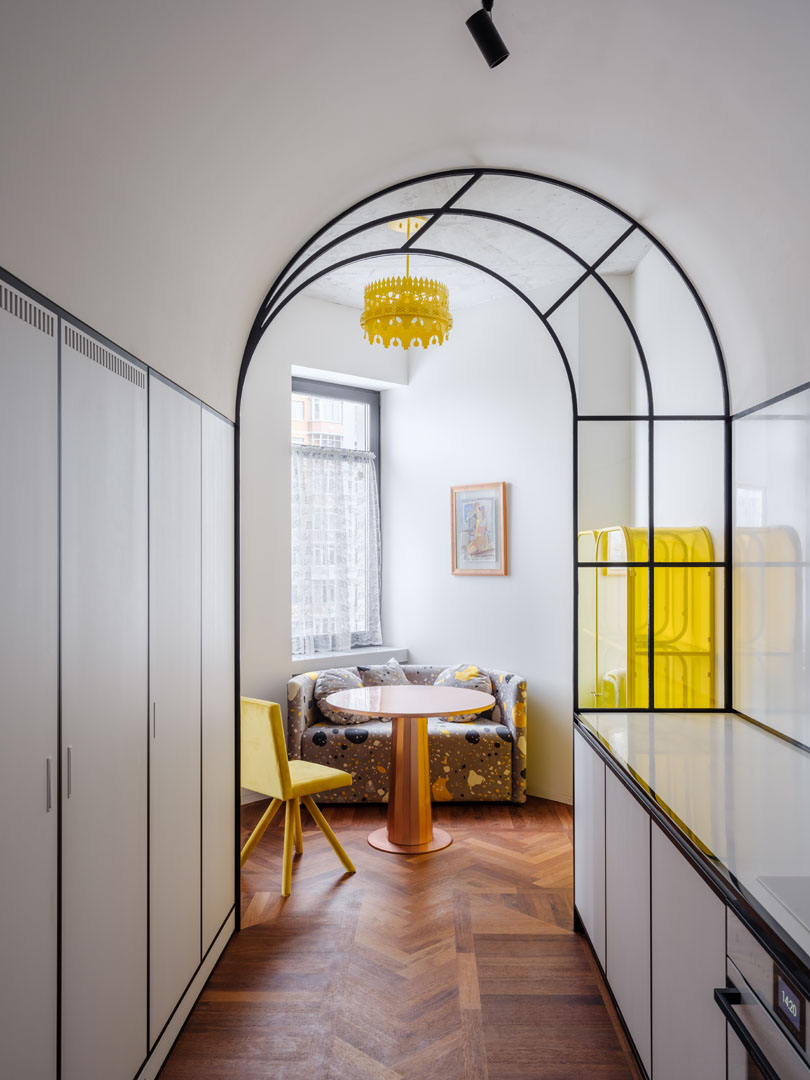 "It is a place where my soul feels good," she says. "My apartment has secluded corners where I just enjoy spending time, watching or researching something, reading, writing." Some of the spaces Chilingarova particularly loves are the small home office where she works and, above all, the fabulous dressing room, which is a true showstopper – not surprising for a fashion expert. The walls were painted in a very sophisticated pink tone to highlight the collection of clothes and accessories, while acting as a backdrop to a hairy pink ottoman – one of Chilingarova's favourite pieces.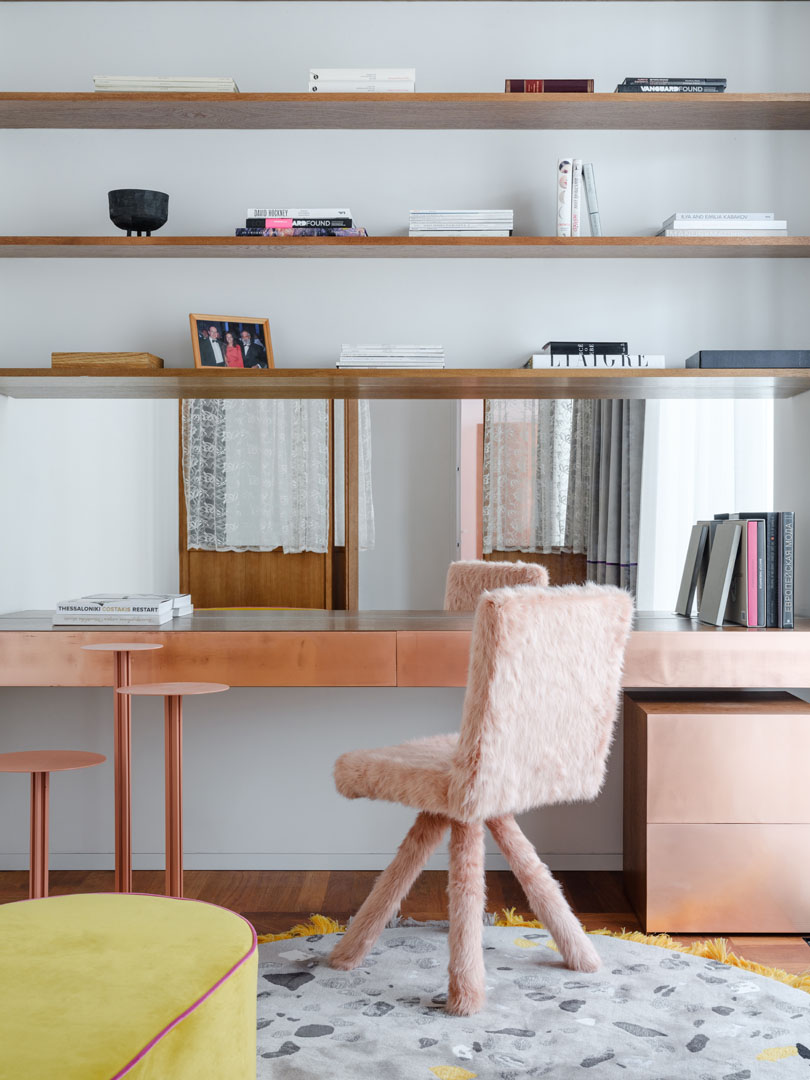 "My apartment is my fortress; I feel very secure," says Chilingarova. "Home is where you rest and recharge. Therefore, it is important to be surrounded by things that follow that goal, raise your spirit, inspire you and [do] not irritate, but on the contrary, give you energy."