Set along the shore of Egypt's Red Sea, Common Architecture-designed Casa Cook El Gouna reveals a design that goes back to basics.
---
On the warm shores of the Red Sea, in the stylish Egyptian resort town of El Gouna, sits the latest addition to Casa Cook's line of boutique beach-side resorts, all of which cater to a growing generation of independent travellers, offering simple, laid-back luxury.
Casa Cook El Gouna, designed by South African architectural studio Common Architecture, is tucked further away from the bolder structures that grace the landscape of the coastline town and its islands, some of which are designed by famed architects including American Michael Graves, resembling traditional rural Egyptian architecture that is found across its countryside and Nubian villages.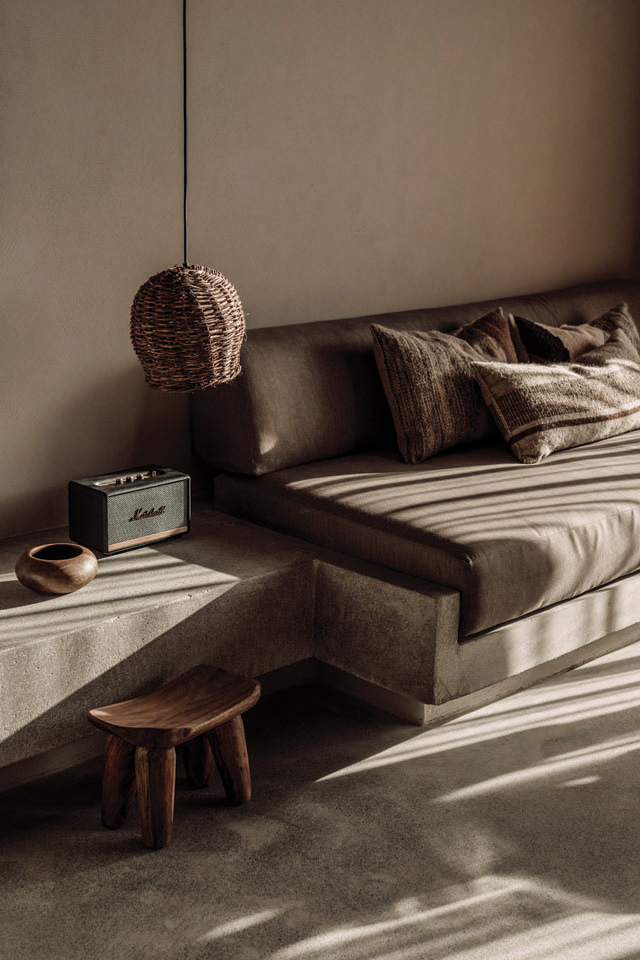 Inspired by the rugged terrain, the contextually-driven architectural approach produced a series of "background buildings" that are subtle and subdued, creating a vessel for a memorable escape. Its strong tactile appeal is enhanced through the use of rough-hewn timbers, textured plasterwork and a neutral colour scheme, which is offset by the soothing hues of its surrounding nature of sand and sea.
"By drawing inspiration from common construction methods, humble materials, and simple forms, we aim to design projects which respond with sensitivity to their unique environments – a philosophy that has worked well at Casa Cook El Gouna," says lead architect, Mark Bellingan.
Clean lines and sculptural forms that are juxtaposed by tactile elements like brass, rattan and linen, result in a design that is rooted in the history of the area while maintaining contemporary sensibilities.
"Whether you are in shared or private spaces, the design is pared back and combines minimalist elements with tactile materials creating a contemporary feel that remains true to the sense of place and history of the area," Bellingan explains.
"In shared areas, creating a sense of community and togetherness was a priority and in the private spaces, combining indoor and outdoor areas creates secluded sanctuaries."
Indoors and outdoors connect seamlessly through terraces and courtyards that balance between private and public spaces, encouraging a cool breeze to flow naturally throughout, all while maximising the undiluted natural light.
The pared-back, considered architecture lays the foundation for the interior design, which follows a similar philosophy with fittings, fixtures, furnishings and accessories.
Textured fabrics, geometric patterns, natural tones and clean lines seamlessly blend classic and contemporary elements that speak of the structure's location and the rich history of the region.
The use of tactile materials continues with the interior design, that utilizes raw wood furnishings and tarnished ceramics with simple and chic décor elements such as rattan furniture, patterned cushions and neutral lines. The bathrooms feature an equally minimalist approach, complete with black matte sanitary ware and textured plasterwork.
The rooms each boast their own private terraces – ranging from Standard Rooms to Villas – and feel earthy and private, with the Premium Roof Terrace rooms offering expansive sunset views. The hotel also offers a myriad of shared spaces, including dining areas, a spa, and the lagoon-side Beach Club, creating zones for guests to curate their own experience.
"Our philosophy was to create a considered escape for the discerning city dweller that links indoor and outdoor spaces and balances private and shared areas," Bellingan says.
Photography by Ana Santl