Known as a preferred outdoor furnishings brand for Dubai's top architect's and designers, Talenti Outdoor Living has a solid reputation in the region. At this year's Downtown Design Dubai they brought award-winning Italian designer Marco Acerbis recently debuted his Cleo Alu collection for Talenti at Dubai's Downtown Design.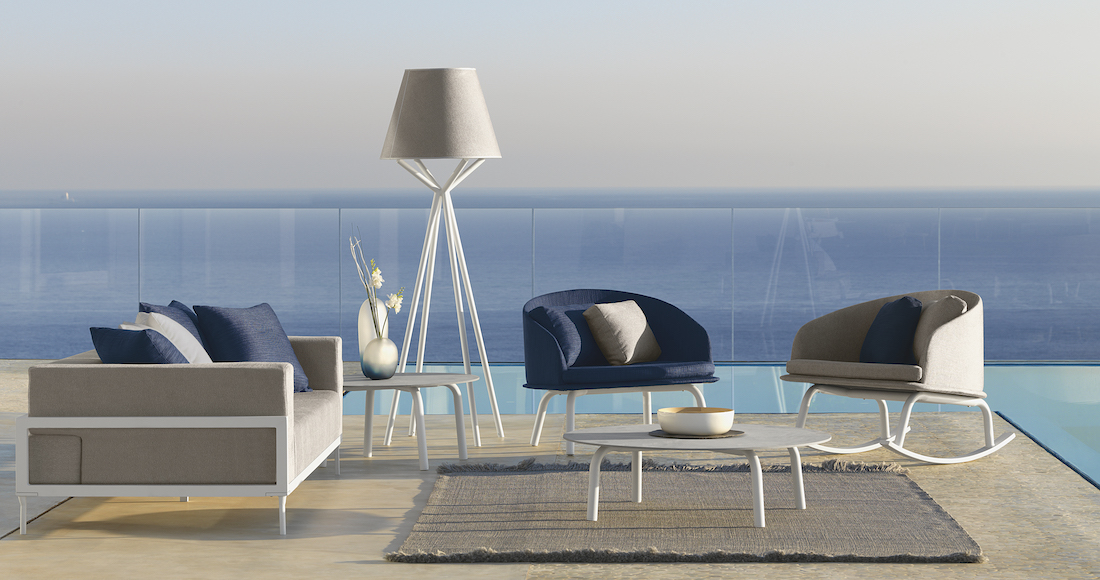 In addition, Talenti is already ahead of the game and on-trend for 2019, as it launched Trocadéro, the new collection signed by the famous Spanish designer Ramón Esteve and inspired by the French furniture that characterized the terraces of Paris at the beginning of XX century.  To make this line even more fascinating and trendy, the newest version in Living Coral, the Color Pantone 2019.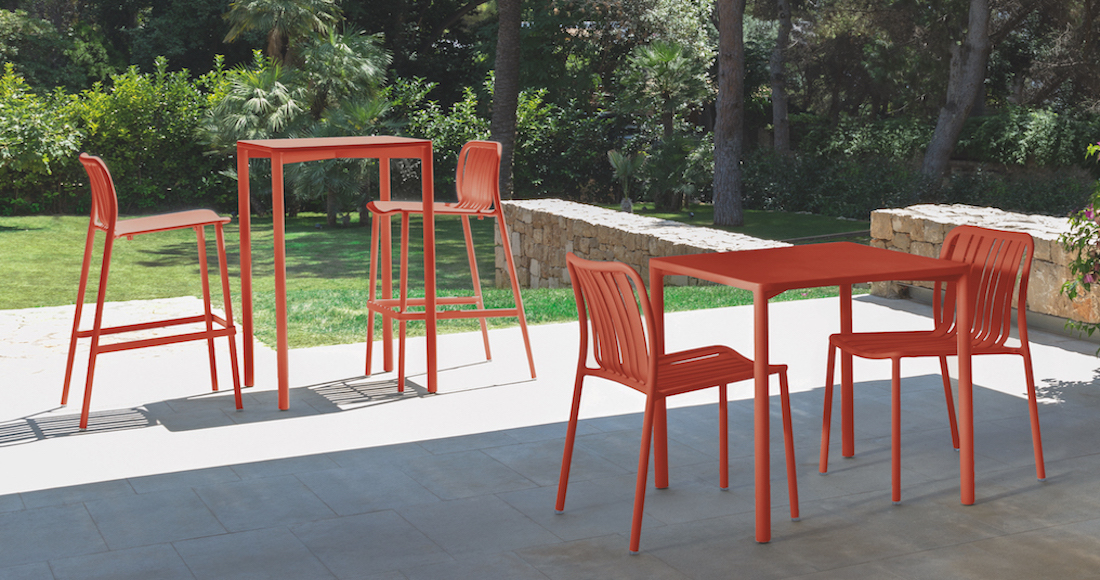 A worthy heir to the tradition of French ateliers, the synthetic forms of Trocadéro make the collection contemporary and capable of adapting to both public and private spaces. The materials that compose it, the aluminum in primis, give the furnishing accessories a light appearance. The slats on the chairs, organized according to asymmetric compositions, combined with the wooden carvings of the armrests and the processed fabrics, make Trocadéro a collection with a unique and timeless design.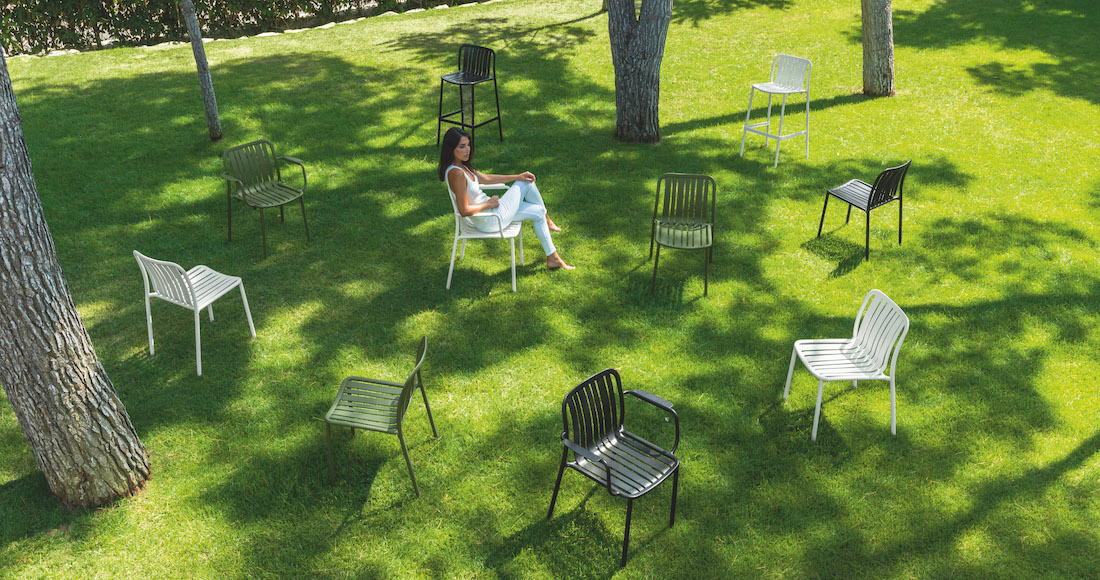 The name derives directly from the gardens of the Trocadéro in Paris, which capture the attention of anyone walking towards the Seine with the Palais de Chaillot behind them. The gardens are prospectively aligned to the Eiffel Tower, the heart of the city, from which streets full of bars and cafes, where many masterpieces of world literature have been written.An inspiration that is also a reinterpretation of the style typical of that era in a modern key that preserves romanticism intact.
CEO Fabrizio Cameli kindly agreed to be interviewed for the Business of Design section of identity's website.
What is your business philosophy?
Our company is founded on four pillars: talent, family, innovation and Italian elegance. The Talenti universe is constructed around people, men and women, who bring their talents to the company to make it shine. To unite the design and planning with the production, the warehouse, and the business office, there are people who have a light inside and who are here to bring that light out. Always looking forward is an attitude, a philosophy, a challenge. Talenti loves to discover trends, master materials, work with design to move ahead and meet the needs of those who are going to use these chairs, these tables and these home accessories.
 What two people have been the most influential during the course of your career?
My parents, my family, have encouraged me to be able to do this work, as well as the big names in design. First and foremost there is Karim Rashid with whom we started and who inspired us with his style. Over the years the other designers we work with have also become very important for us!
What is the best part of your job?
The best part of our work is that Talenti is a family. Those who work with the company become part of a family in which the working relationship isn't limited to the execution of the necessary tasks but includes respect and responsibility for the work of others, shared successes within a personal commitment without which we would never have been able to achieve the broad goals we have in recent years.
What is the most difficult part of your job?
Currently, one of the most important challenges for businesses is sustainability. At Talenti we're also working on this front and in the future it will be increasingly important to have socially responsible products. This is exactly why we're always very careful about selecting the raw materials we're going to work with while respecting the environment and recycling materials.
What is the biggest misconception about working with designers?
Doing business with a designer is easy if we're talking about professionals who are well established in the contract sector, such as those who are working on hotels, restaurants, etc. Karim Rashid and Ramon Esteve brought us in on major projects (hotels around the world, villas, etc.). On the other hand, working with a designer whose primary focus is on niche market or even artistic projects and products, and not oriented to the contract world, makes it more difficult to develop the business.
What are the top three challenges your industry is currently facing?
Making Talenti a global benchmark company in the design world, increasing the contract segment in order to grow even more, implementing that which is currently our workhorse—which is to say retail, and the third big challenge is to use materials that are increasingly fashionable, very beautiful and of the highest quality but that, with respect to environmental sustainability, do not have a negative impact on the environment.
How do you strike a productive balance between the business and aesthetic needs?
Certainly it's very important for our company to strike a productive balance between the business and aesthetic requirements of our brand. Today, creativity and aesthetics are the core of commerce, but at the same time they must be supervised and supported by technical experts who confirm the feasibility of a project, and sales managers whose task is to figure out if the new product will inspire our clientele.
How do you define innovation?
For us, innovation means always looking forward, it is an attitude, a philosophy, a challenge. Talenti loves to discover trends, master materials, work with design to move ahead and meet the needs of those who are going to use these chairs, these tables and these accessories. Research and experimentation are the driving force behind discovering new solutions that allow us to improve comfort, durability and usability, to try and apply materials and finishes that, when combined, become unique, very appealing, and increasingly functional.
Can you tell us about your latest accomplishment?

Certainly our most recent significant project was the acquisition of the former Federici pasta factory, which we purchased in order to develop the new headquarters for our business, providing us with a large space for the exhibition, production, and sales of garden furniture. This is an important industrial area redevelopment project that enhances the surrounding territory. We're working together with institutions and local entities to bring development, jobs and economic revival to the area.
What is your favourite business resource?
By being alert to market trends, and fashion, we try to follow the shapes and colours of the moment.  What still counts for us, even more than new technologies, is human resources. Through the people who travel around the world, several of us make that sacrifice, all of our staff—that's what makes the difference. We put a lot of focus on human resources, doing research and development.
Where do you seek advice?
I go to my children with their youthful energy, to my wife who has been by my side for many years and, why not, my own "madness" is also my consultant!!
Where do you go for creative inspiration?
My secret garden is in Argentario, in Tuscany, which is to say … in the sea… it's a boat! It's my refuge, a place where I'm able to relax and concentrate, especially when I need to plan the next season… the best ideas always come to me when I'm at sea.
What advice do you have for young business leaders?
They have to have genius, creativity and style. Create elegant products, offer solutions in terms of materials and shapes, dealing with the technical department to see how to give form to their ideas.
Why do you think Dubai is a top destination for the business of design?
International markets are the present and the future of business. Made in Italy, our savoir-faire, is still an added value that makes the difference, this is why the international market is the lifeblood of our company. There are those who are betting that in the next few years the design language of the Emirates will be Italian. The bet is based on the creative ferment taking place in Dubai and the increasing interest in Western furniture in general and, in particular, Italian furniture. People like Italian design, but there are still few companies able to present themselves to the public directly, through a local dealer or single-brand store. Our company has changed its approach to this market, choosing to bypass the distributor, which implies higher costs for our products in this market, and we've opened our own showroom so that buyers can come and get to know us and make their purchases in person. Despite the period of stagnation we're developing interesting projects in the area.
What does the future of your industry hold? The future of your brand?
Talenti started from a family structure, and evolved to meet the needs of a young, trendy and cosmopolitan consumer with a wide and diversified range of refined design products, which are suitable both for residential and contract spaces. In addition to realising important projects in countries around the world—from the very recent Temptation Resort in Cancun, Mexico to other projects in the UAE, Turkey, Costa Rica, Greece, and Tanzania—we participate in all of the major international industry trade fairs including Milan's Salone del Mobile, Maison&Objet in Paris, the International Furniture Fair in Singapore, imm Cologne, Dubai's INDEX, the Saloni Worldwide in Moscow, Medinit in Casablanca, Kiev's Interior Mebel, and Medinit IDF in Oman. For us, our connection with the territory is fundamental for the future and this is why we move in every direction in search of the brilliant idea or the contribution that can make the difference.
Company Profile: Talenti is an Italian company specialized in the design and realization of outdoor furniture that combines elegance, functionality and quality. The Talenti collections, signed by international designers, such as Karim Rashid, Marco Acerbis, Ramón Esteve, Ludovica + Roberto Palomba, offer products for dining and living characterized by a strong reference to the indoor world, suitable both for contract projects and for residential ones. Over the years the company has shown increasing attention to the world of design and today offers with its collections products that can satisfy not only the most classic tastes, but also the most contemporary ones. In consolidating its identity Talenti has proven over time to be very attentive to the global market and currently is present in about 40 countries with a qualified and articulated sales network. Every year the company also participates in the main trade fairs in the sector and its products are chosen for international fit out.
Established: 2004
Designer collaborations: Karim Rashid, Marco Acerbis, Ramón Esteve, Ludovica + Roberto Palomba, Roberto Serio, Cristian Visentin
Unique angle + mission: Outdoor living areas that are living rooms on the world, tables and chairs inspiring relax and comfort, accessories designed to live the space in a complete and functional way. These are Talenti's products: products in which design and research come together to create original and innovative objects.
Talenti realizes furnishings that are first of all original in their form: they are always refined lines that do not exist anywhere in the market, do not resemble anything, they are furniture with authentic shapes that reflects a minimal and elegant style. It is thanks to the designers who choose and are chosen by Talenti, who share the company philosophy and give prestige to the collections: thanks to their genius they deliver products that become real life styles.